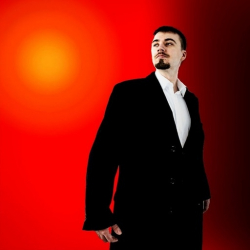 Latest posts by Stefan Stevanovic
(see all)
Although Black Panther was never this high-earning comic book character, he has become extremely popular due to the success of the movie. Since then, we've seen numerous toys, collectibles, and other objects featuring this agile night prowler.
The movie Black Panther had a lot going for it. Aside from featuring an incredibly well-written character and having an intriguing story, Marvel also did great promoting this piece of art. They invested heavily in an ad campaign and printed numerous posters to promote the movie. Some of them have become so iconic and recognizable that the fans have basically memorized them.
The thing I like about these posters is not only that they portray the actors, but some of them also showcase Wakanda. Many critics have compared this imaginary location to Africa, stating that this is how Africa would look like if it weren't for all the misfortunes that affected the continent.
When the movie came out, I was exhilarated. Although Black Panther was on and off Avenger, most people don't know his story. The thing I like the most is that the character is depicted through relationships with his tribe. Unlike other superheroes, who are usually protectors of a country or a city, Black Panther focuses on saving his kin.
For me, this always differentiated the character from the others, which is why I always gravitated more toward him than, let's say Hulk or Iron Man. In this article, I will review the iconic Black Panther posters, whether they're the Marvel posters advertising the movie, posters made by other companies, or fan-made creations.
Key Info Up Front
Black Panther posters are simply incredible. I think that Marvel did a great job promoting this masterpiece, and you can tell it by the high quality of all the ads and printed material released prior to the cinema premier.
My favorite poster is the one that only features Chadwick Boseman. He is looking at his vibranium claws as if he's trying to figure out this newly found power. It is an excellent depiction of the superhero, but it also shows us what these characters have to go through.
What were the selection criteria?
When making this list, I started with the official posters released by Marvel. They represent the majority, but not all the items on this list. Keep in mind that I also skipped quite a few Marvel posters giving way to some fan-made creations that deserved to be on this list.
Anyway, here are the selection criteria that I used in this particular case:
I focused on the official Marvel posters showcasing the most important characters in the movie. However, I also wanted to add a few fan-made posters that deserved to be featured in this article.
If the poster was made by a fan, it needs to be relevant to the source content.
I tried to prioritize posters with the main characters, omitting the rest.
As mentioned, you will see a lot of Marvel's official posters on this list. I sprinkled a few other items that looked very cool. As for Marvel's publications, I will also add links to Amazon and other online shops where you can purchase them.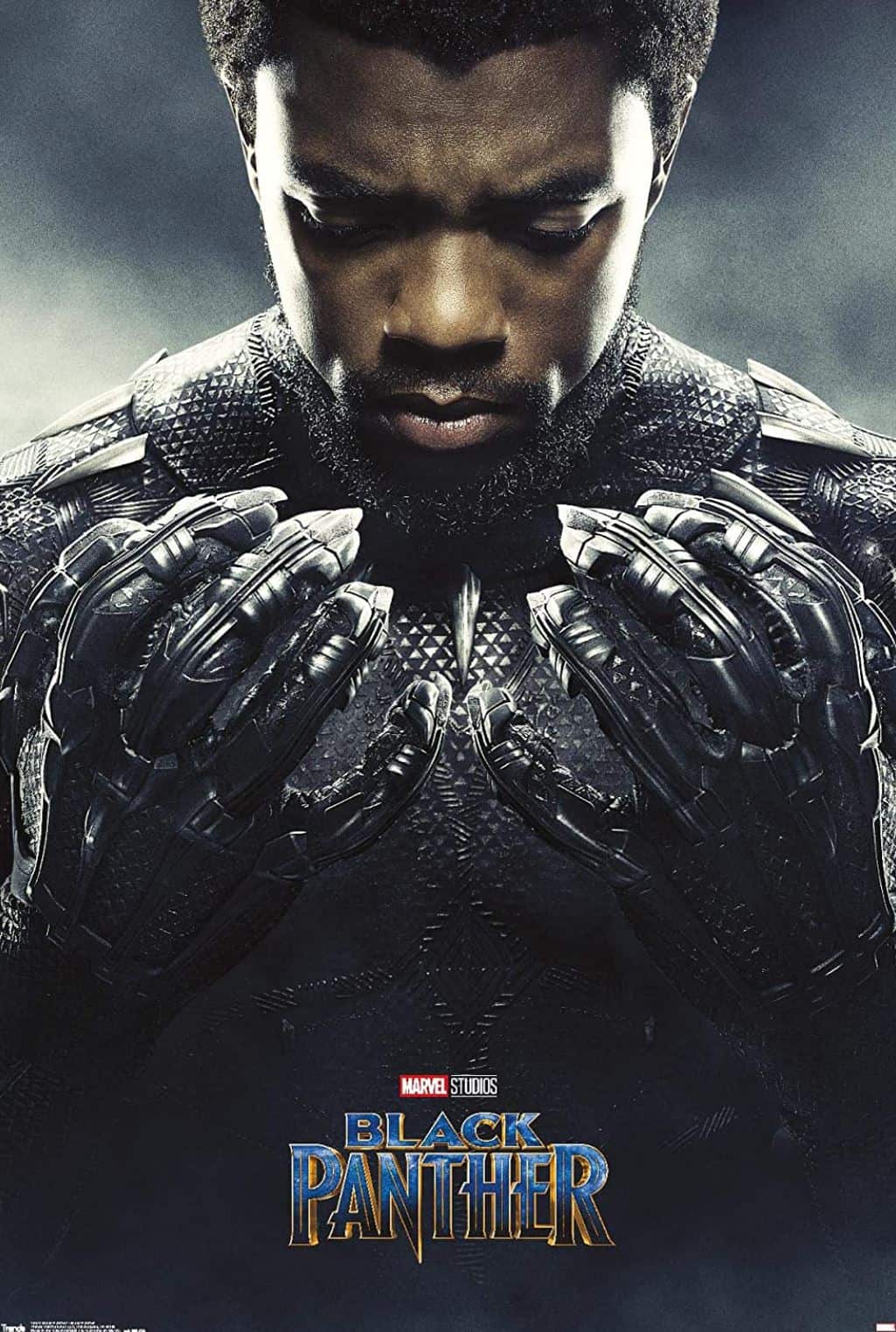 When talking about iconic Black Panther comics, this is the first one that pops in my head. It showcases Chadwick Boseman, a late actor that has become synonymous with the comic book. Even if we disregard the fact that it's Black Panther on the image, I would still probably add it as my first choice just because of how cool it looks.
My favorite poster shows Chadwick Boseman as he's staring down at his claws. His posture is very symbolic. The way I interpret it, Black Panther is coming to terms with his new power and all the responsibilities that power carries. By gaining the panther's strength, he has officially become the protector of Wakanda's people.
My first impression was that this poster depicts the character as powerful but, in a way, also fragile.
Pros
Incredible poster in so many ways. As I've just mentioned, I love the subtle symbolism on it. If you haven't watched the movie, there is a chance you will miss it. However, the fans who figure out the meaning behind the poster will definitely appreciate it.
Given that Chadwick Boseman has passed away, we won't be getting new ads or posters featuring the individual. In that regard, this could be regarded as the best photo of the actor, and we should cherish it as such.
I simply love the lights on this one. Although there aren't many colors on this ad, it simply looks fantastic.
Cons
I think this poster is perfect just the way it is. Even if I had some complaints, I wouldn't mention it because of its historical importance.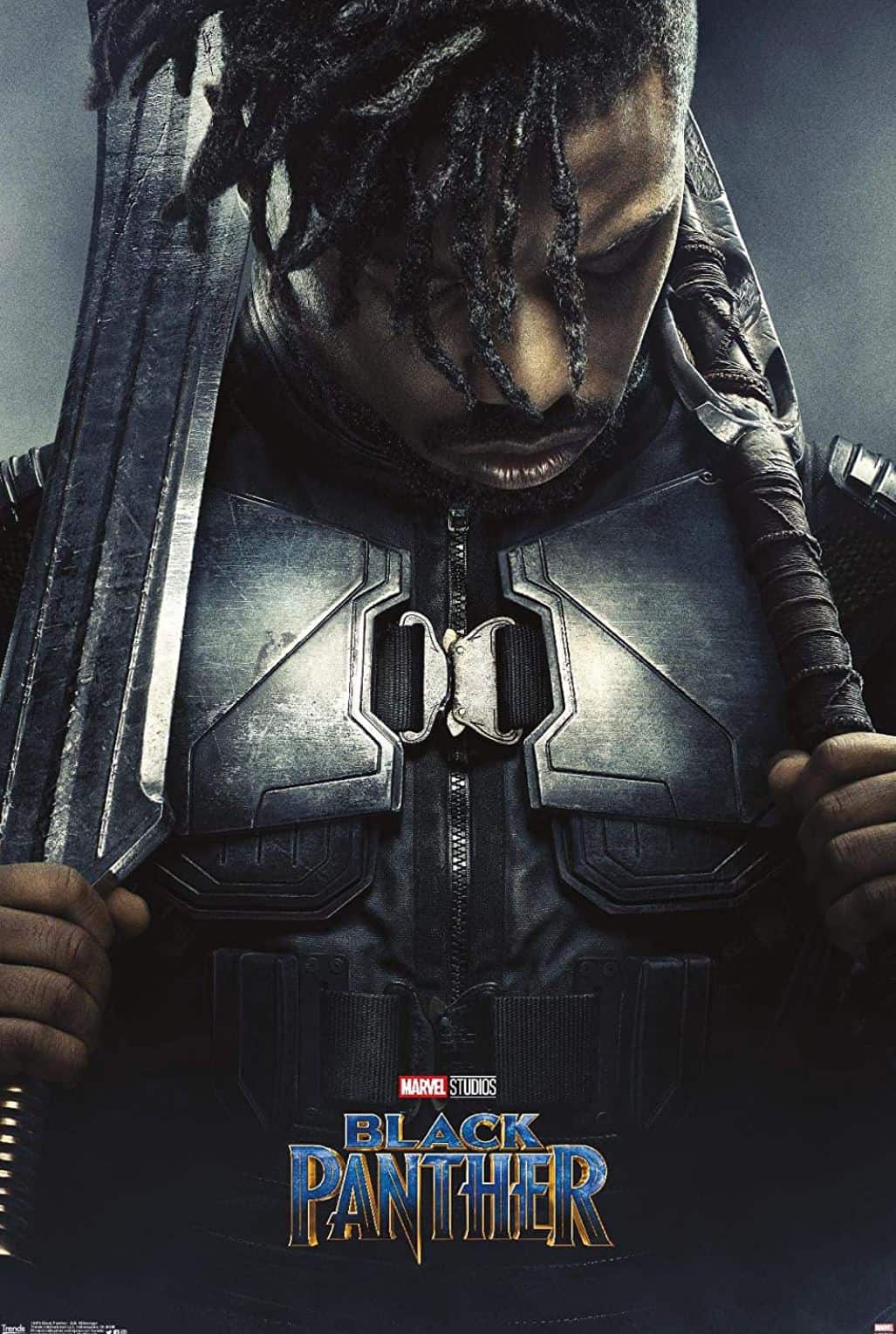 The reason why Black Panther was such a success is not only because of the story and the main protagonist. The movie also had an excellent villain in Erik Killmonger. At one point, he even drove Black Panther to his limits, making him look like a legitimate threat to the superhero.
The role was entrusted to Michael B. Jordan, who did a great job with it. He is shown holding two weapons in the picture, and similar to Black Panther, his head is bowing down. However, Unlike T'Challa, I think that Erik is doing it so he can focus on the upcoming battle. Although both actors used the same head gesture, they look entirely different and give off different emotions.
In my opinion, the character looks very ruthless and determined.
Pros
I love Erik's body armor. It shows the character is no longer a part of Wakanda and, in fact, that he is the enemy.
The two weapons indicate Erik Killmonger's proficiency and help establish him as a legitimate threat.
If you think about it, T'Challa's and Erik's posters utilize very similar colors and lighting, which could tell us that these two characters are not as different as they might seem on the surface.
Cons
Although the posture is excellent, I'd like to see how Erik Killmonger would look if he had a bit more aggressive stance.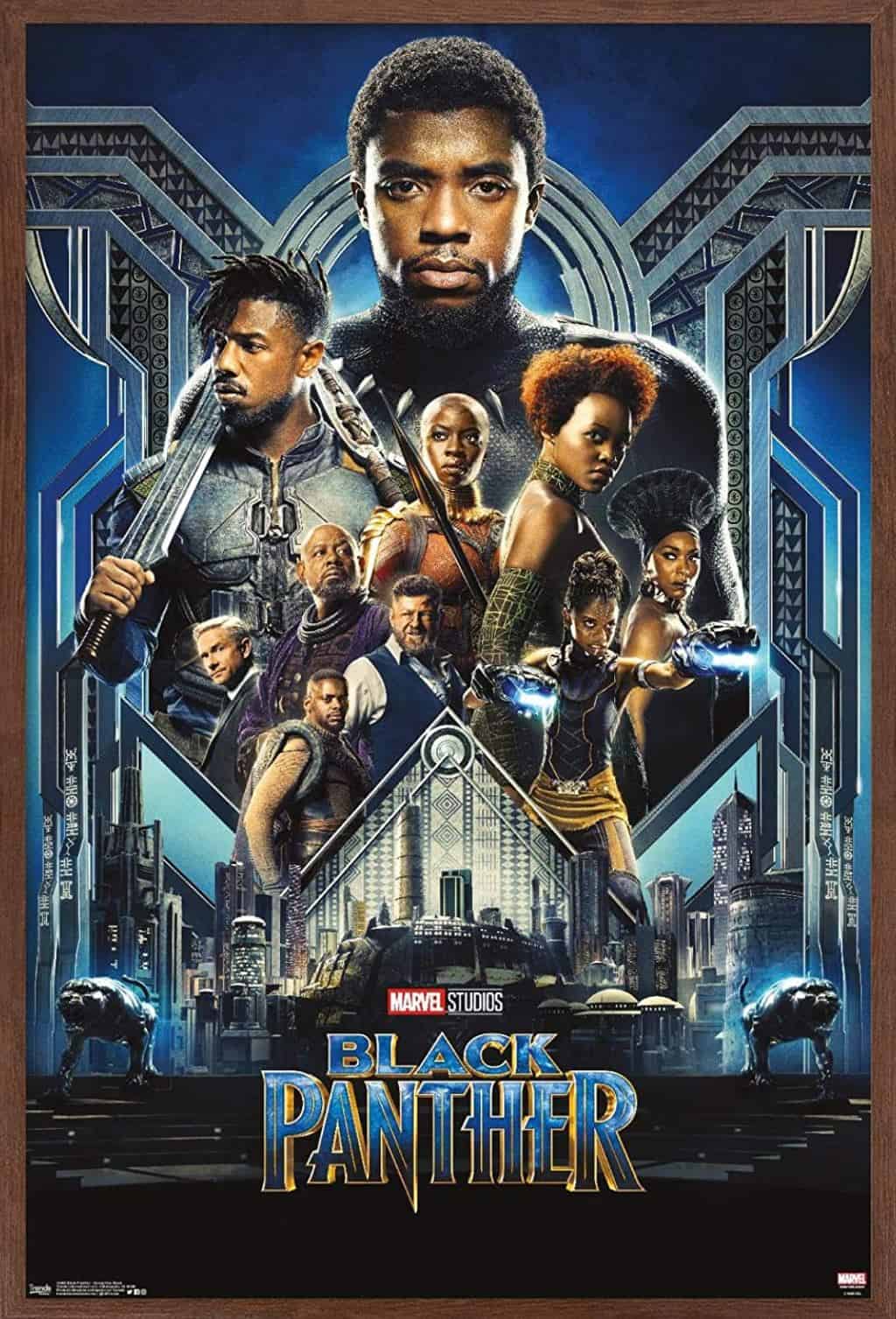 There were a few Black Panther posters involving the main protagonists of the movie. This particular ad shows T'Challa, Erik Killmonger, M'Baku, Nakia, Shuri, Okoye, and other actors. It is a somewhat dynamic setting, with Wakanda in the back.
As you could presume, the actors are presented in the order of importance, with T'Challa, Erik, and Nakia taking the center stage. The company used blue background while the "Black Panther" name is at the bottom of the poster. All in all, lovely color combinations that go well with the actors featured on the poster.
Unfortunately, although this poster is very polished, it would have persuaded me to buy a ticket. In fact, if I had to choose just one poster from the movie, I wouldn't go with this one.
Pros
A nice photo that features the main characters.
The background looks tremendous so do the patterns and colors.
Cons
While very pleasant to the eyes, the poster is somewhat dull.
See also: Best Spider-Man Fan Art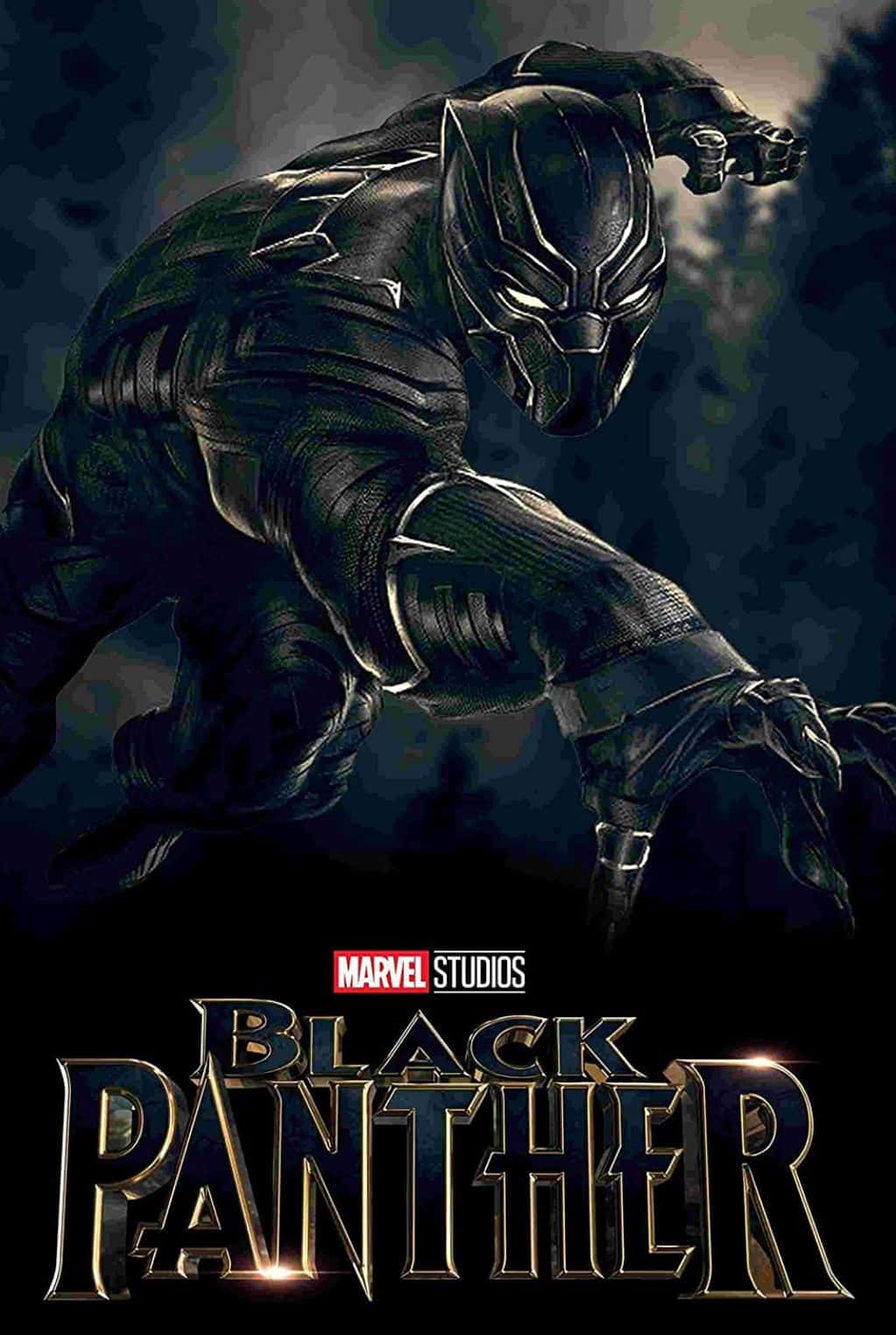 Most people need to see something exciting to visit a cinema. While the previous three posters looked great, featuring Black Panther's biggest stars, they couldn't convey that excitement that would make you jump on your feet and force you to drive to the nearest movie theater.
"Black Panther Movie Chadwick Boseman Famous" remedies this flaw. Instead of portraying actors, it actually showcases the superhero. You can see Black Panther front and center in all its glory. The superhero lunges forward, seeking its prey. The poster's background is black, and if it weren't for the white sections of the Black Panther's outfit, there is a chance you couldn't even see the superhero.
I love this ad. Black Panther looks almost like an antihero with all the darkness surrounding him. It is very provocative, and it looks apart from other Marvel protagonists. It is something you would create for an antihero.
Pros
If you want to promote a movie, you should go with something like this.
The character is surrounded by darkness, which is ideal for an entity such as Black Panther.
His face and claws look especially vicious.
Cons
It could be a bit troublesome to ascertain what's on the poster.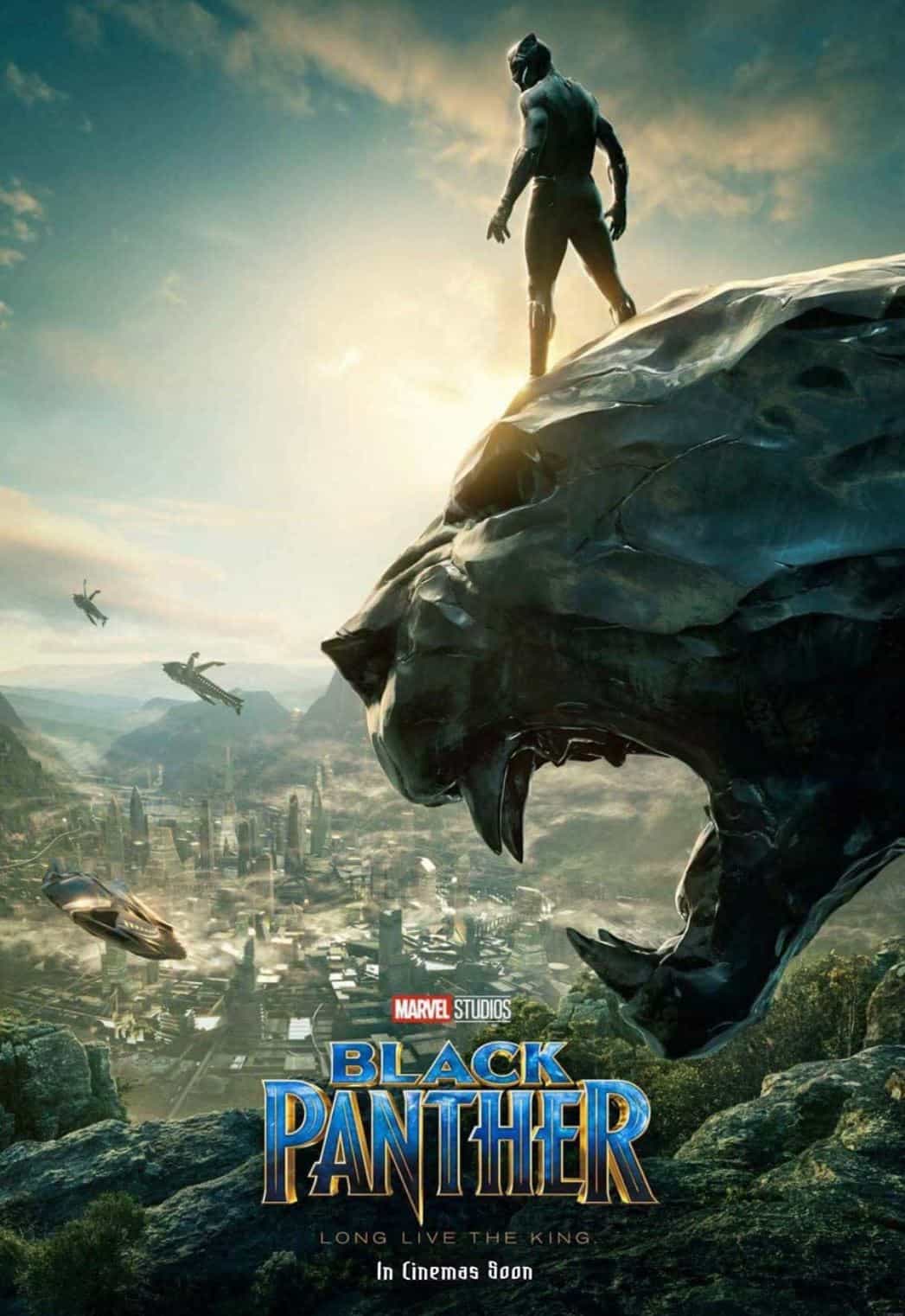 There are quite a few posters that showcase Wakanda. This makes sense, given that this imaginary location carries a lot of symbolism not only for the characters of Black Panther and T'Challa but for the storyline as a whole. This land is used as a reference to Africa, and it is perhaps more important than the superhero itself.
So, all posters depicting the fantastic location are really excellent in their own regard. In this particular image, you can see the superhero standing on top of a massive Black Panther statue. He's overlooking the bustling city of Birning Zana, as numerous flying vehicles are making circles around it.
There is a lot to go through on this poster. The superhero is showcased as the protector of the city and Wakanda as a whole. The sun and blue skies in the background add to the overall sensation. This poster is definitely one of my favorites, not necessarily because of its beauty but instead because of the message it sends.
Pros
Lots of symbolism in the image.
I like the fact that T'Challa is standing on top of a Black Panther statue, thus signifying the connection between the two but also continuity.
The city looks great, like something you would see in sci-fi movies.
Cons
My only issue is the marketing team used a lot of yellow colors. It is the color that Hollywood commonly utilizes for the depiction of Africa, Central, and South America. While I do understand the decision and the fact that fans are used to this kind of portrayal, it also takes away from Wakanda as this unique place.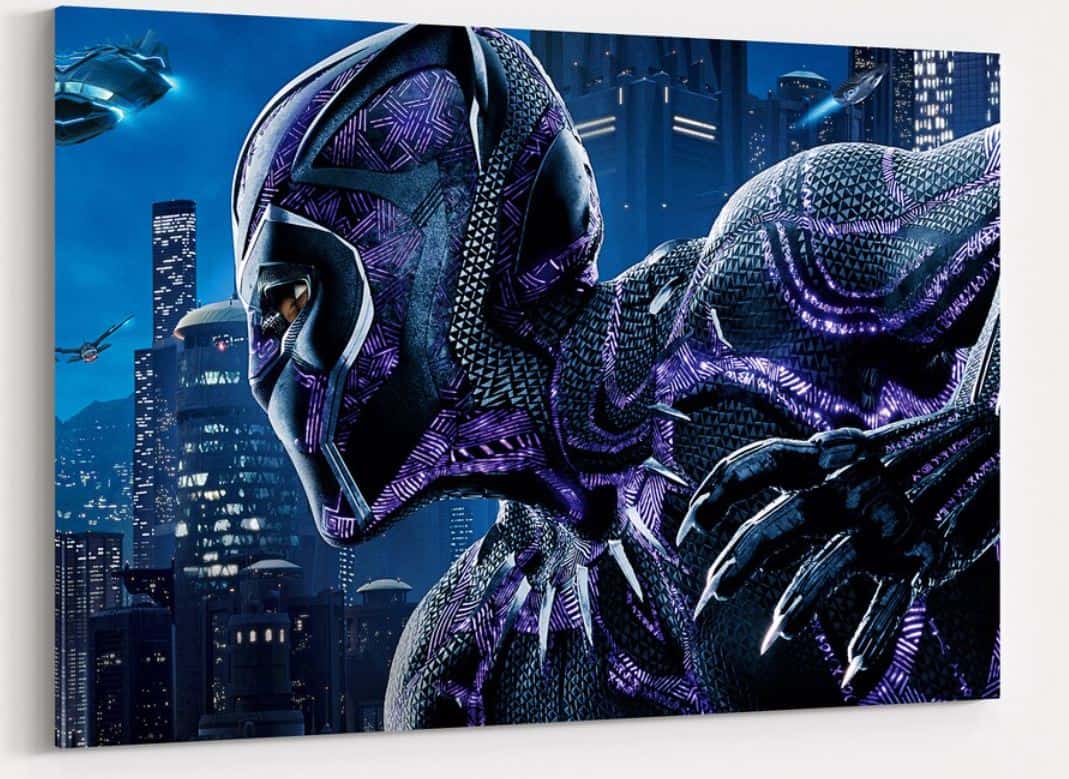 Finally, I want to share one of the non-official Black Panther posters. This is simply a marvelous work that every fan of the movie could exhibit in their home. The superhero is placed at the center, with Wakanda in the back. The creators focused on dark blue and purple shades, with lots of white sections that are used as the lights of Birning Zana. Furthermore, Black Panther's costume is also shining in the moonlight, and you can easily notice all these metallic parts.
One of the things I really like is the Black Panther's eyes. The company used orange, making them look like the eyes of a predator. His claws are primed to strike, indicating that the superhero is always ready to jump into the action. The city is also incredible, with modern buildings and flying vehicles.
My first impression was that this is an extremely futuristic-looking piece of art.
Pros
The reason why this poster is so awesome is because of its color composition. The creators didn't want to overdo it by adding various colors that don't necessarily fit each other. Instead, they primarily relied on different shades of dark blue and purple.
Numerous parts of Black Panther's suit are shining in the moonlight, giving him a phantom-like appearance.
The poster looks almost as if it's hand-drawn, as I can see a few minor blunders (it just might be). If that is the case, it is even more impressive.
Given that this is not an official Marvel ad, the company that made it didn't plaster "Black Panther" words all across their work.
Cons
I really like this one and don't have any specific issues with it.
See also: Captain America Serpent Society Explained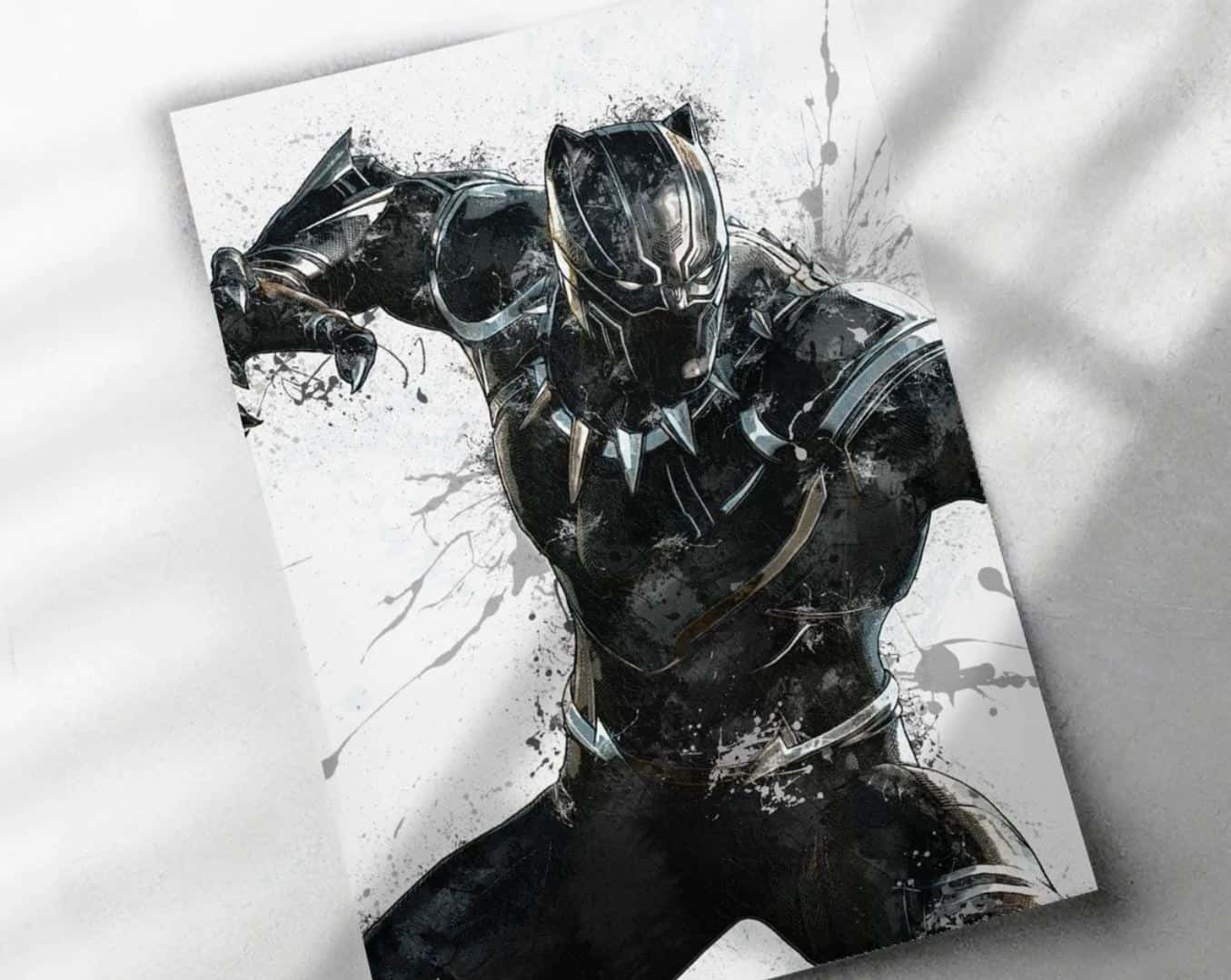 Out of all the Black Panther posters I've seen online, this might be the most vicious one. It shows the superhero striking with his right claw, probably against a human target. If you didn't know that Black Panther is a good guy, you might just think that he is a professional killer.
The things that make this work so incredible are the color blotches. Truth be told, I've seen several similar items in various online stores, but they are not that impressive and definitely cannot compare to this one. These gray blotches almost look like censored drops of blood. In fact, it would look much more authentic if they were red instead of gray.
As for the Black Panther, he doesn't have that many details. In fact, everything below his collar is rather minimalistic, and you can barely notice his muscle definition or small intricate details on his suit that are otherwise present in the comics and movies.
Pros
An extraordinarily vicious and cerebral portrayal of Black Panther. Unlike most other posters, this one shows T'Challa as if he's getting ready to kill.
The blotches are simply amazing, and they are crucial for this small piece of art.
Black Panther's hands and head are very well done.
Cons
Unfortunately, it seems almost as if the company neglected the lower parts of the superhero's costume. Compared to the rest of the outfit, they are rather lame.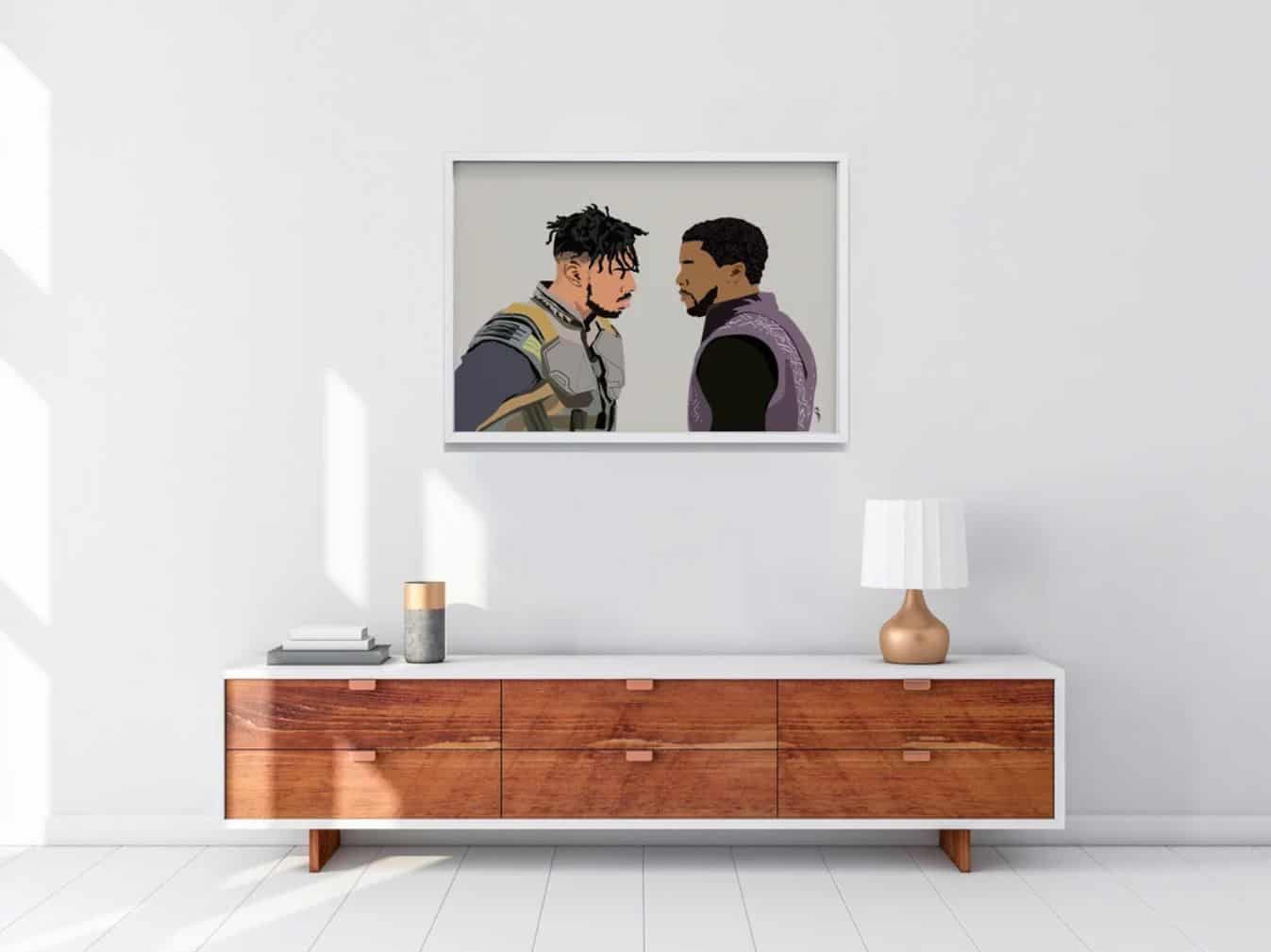 The relationship between Erik Killmonger and T'Challa is one of the basic premises of the Black Panther movie. According to many critics, Killmonger had some reasonable arguments. So, while he is definitely a bad guy in this movie, there are lots of things to like about this character.
On the poster, you can see Erik in his combat suit staring at the ruler of Wakanda, T'Challa, who is wearing a beautiful ceremonial dress. Both characters don't have eyes. Although I didn't fully understand the symbolism behind this, it does look apart. If you check their outfits, T'Challa and Erik are drawn with minimal details. The white background behind them enhances the minimalistic sensation.
It reminds me a lot of a modern-day rap posters.
Pros
I like the majority of posters showcasing these two characters. They are the perfect nemesis, and they are one of the movie's selling points.
The minimalism on this poster is simply perfect. Whether we're talking about white background, lack of eyes, or basic outfits, everything comes together nicely.
Although the characters are static, their stand-off looks very dynamic and intimidating. You can cut the tension with a knife.
Cons
Some people simply won't like this art style.
I don't think it is perfect for children's room as they probably won't appreciate the artistic expression behind the work.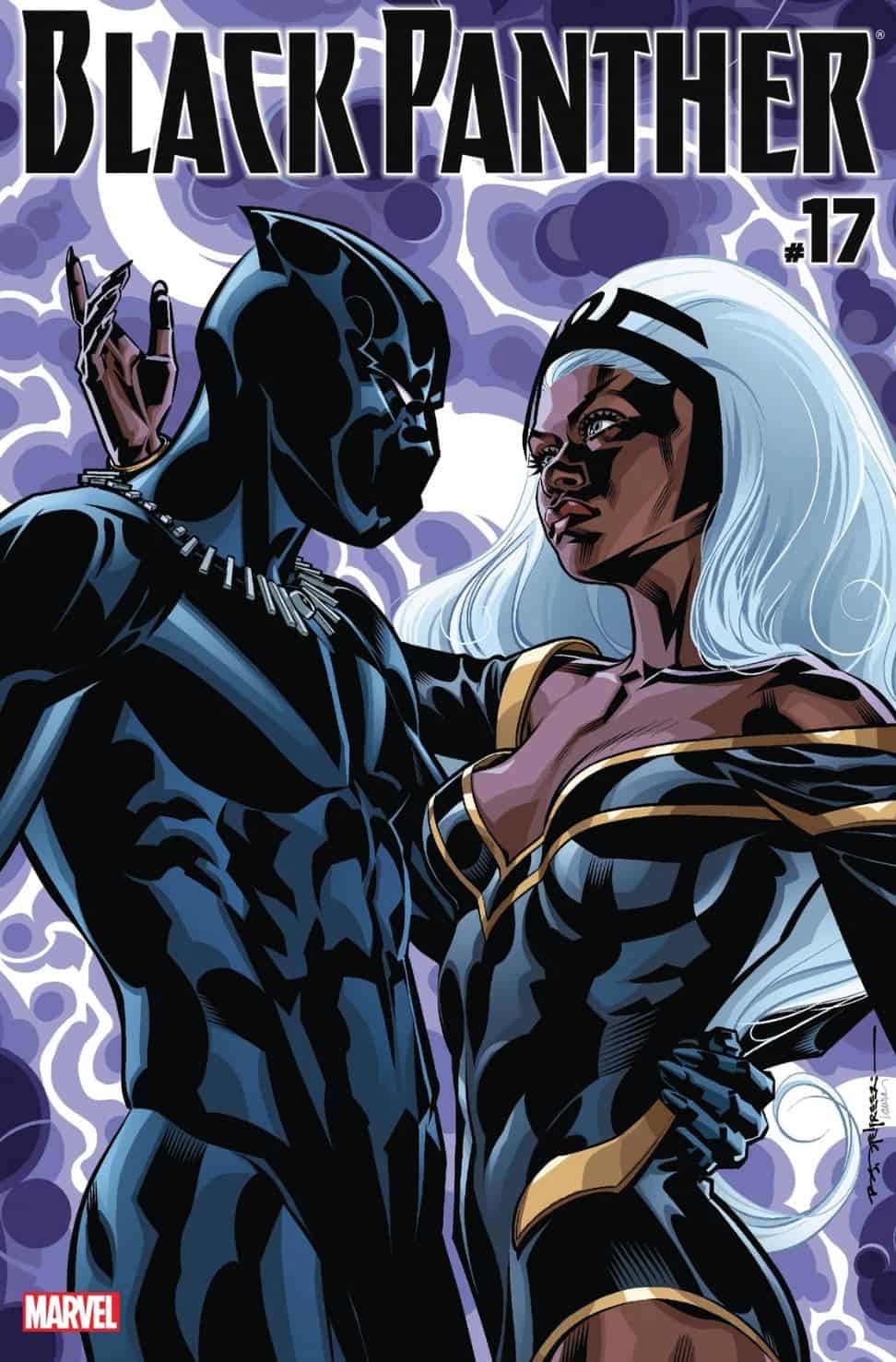 At one point, T'Challa and Ororo Munroe were married. This pairing makes all the sense in the world: Leader of Wakanda, who possesses extraordinary powers that help him protect his people, and goddess of the storm, that regularly assists struggling African farmers.
This particular poster showcases the two of them as they were depicted in the 17th issue of the Black Panther comic book. The two lovers embrace each other as the storm rips the skies apart behind them. Given that this was a comic book cover made by Marvel, you can expect the top-notch quality of the drawing.
I think that this particular item is especially great for people who appreciate both of these characters. However, if you're into Black Panther because of the movie, you might as well go with the previous entry on the list.
Pros
High-quality drawing, although I don't feel that it is particularly inspirational.
The contours of superheroes' bodies look incredible.
Cons
Although I can't say that this is a bad poster, there are numerous better items on the market.
Storm looks very different compared to her depiction in X-Men.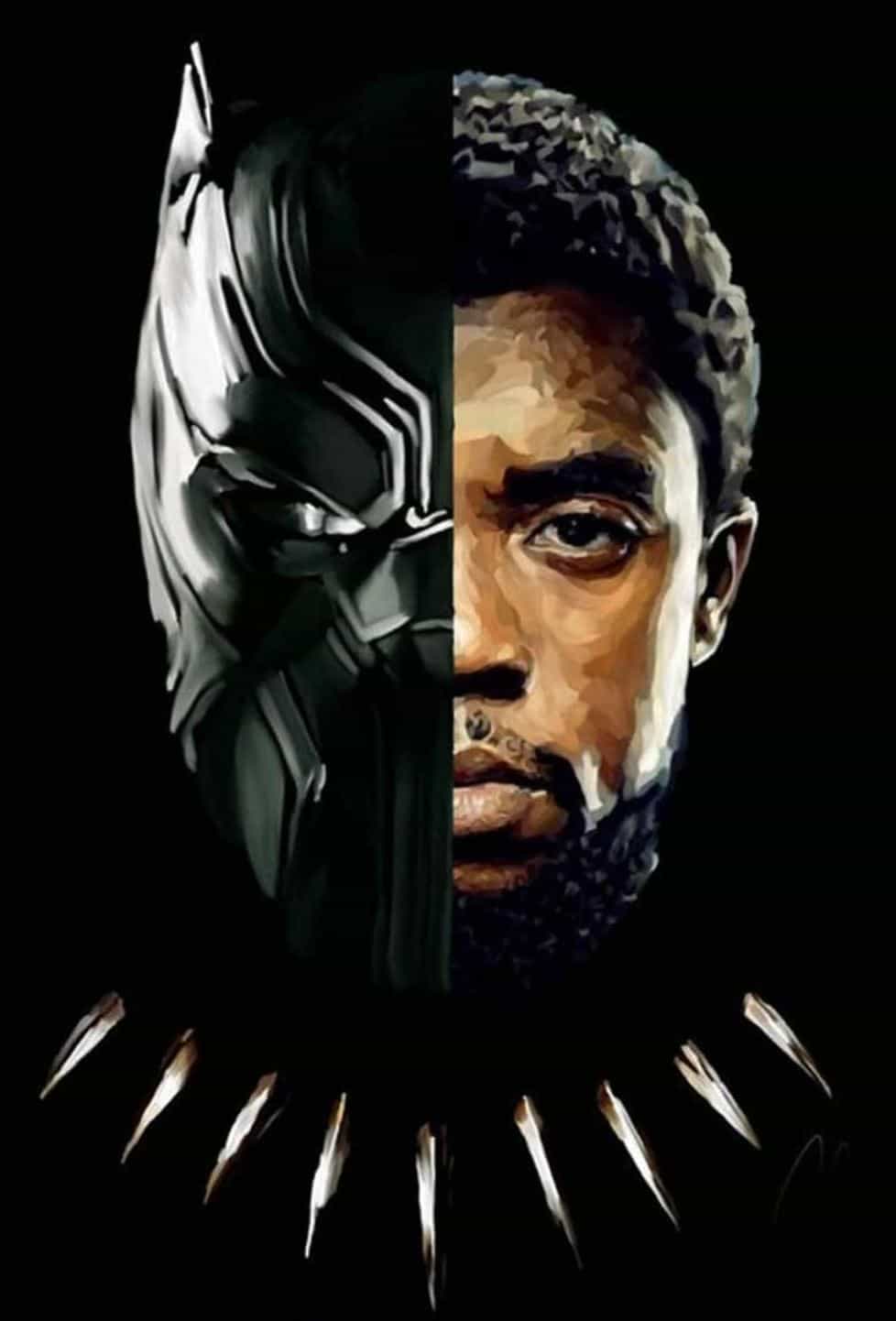 Like Heath Ledger's portrayal of Joker, Chadwick Boseman was the perfect actor for T'Challa. After his passing, I don't think there will ever be an actor who could replace this charismatic professional.
Boseman embodied the role of Black Panther, and you can see this in every media and even on the posters. For example, this particular work mashes the right half of Black Panther's face with the left half of Chadwick's face. It is a hand-painted poster that could fit just about any man cave.
One of the things I really like is how Boseman is calm, and the Black Panther is focused and intense. This showcases the difference between the two entities and how much the actor had to change during the movie to properly portray both of them.
Pros
Due to the fact this is a hand-painted poster, it can pass as modern art of a sort. In other words, you can hang it in the living room, or you can put it in the section of your house reserved for comics and other collectibles.
T'Challa and Black Panther were placed on a black background, so the poster is somewhat simplistic and can go well with different types of interior design.
I like the addition of the collar as something that ties the two entities together.
Cons
I don't actually have any problems with this one. Some people might not like the art style, but I wouldn't call it bad.
Back in the day, Black Panther looked very different compared to its modern iteration. He had a simplistic blue suit with lots of black shading. His gloves and boots had stripes that almost made him look comical. All in all, I prefer the modern portrayal to the old one.
In my opinion, this product would be even better for collectors of antique posters than it would be for young Black Panther fans.
However, that doesn't necessarily mean you should avoid buying this poster. It is a great homage to the original Black Panther, but also the comics of the yesteryears. Aside from the large red letter "Black Panther" in front, you can also notice "Wakanda Forever" in the back, which, in my opinion, is a nice touch.
Pros
This is an incredible purchase for the fans who read older Black Panther issues.
It can go really well with retro furniture but also with retro collectibles and artwork.
Cons
Compared to modern posters, this one just looks goofy.
Given that most fans of Black Panther have become fans because of the movie, they probably won't care about this particular product.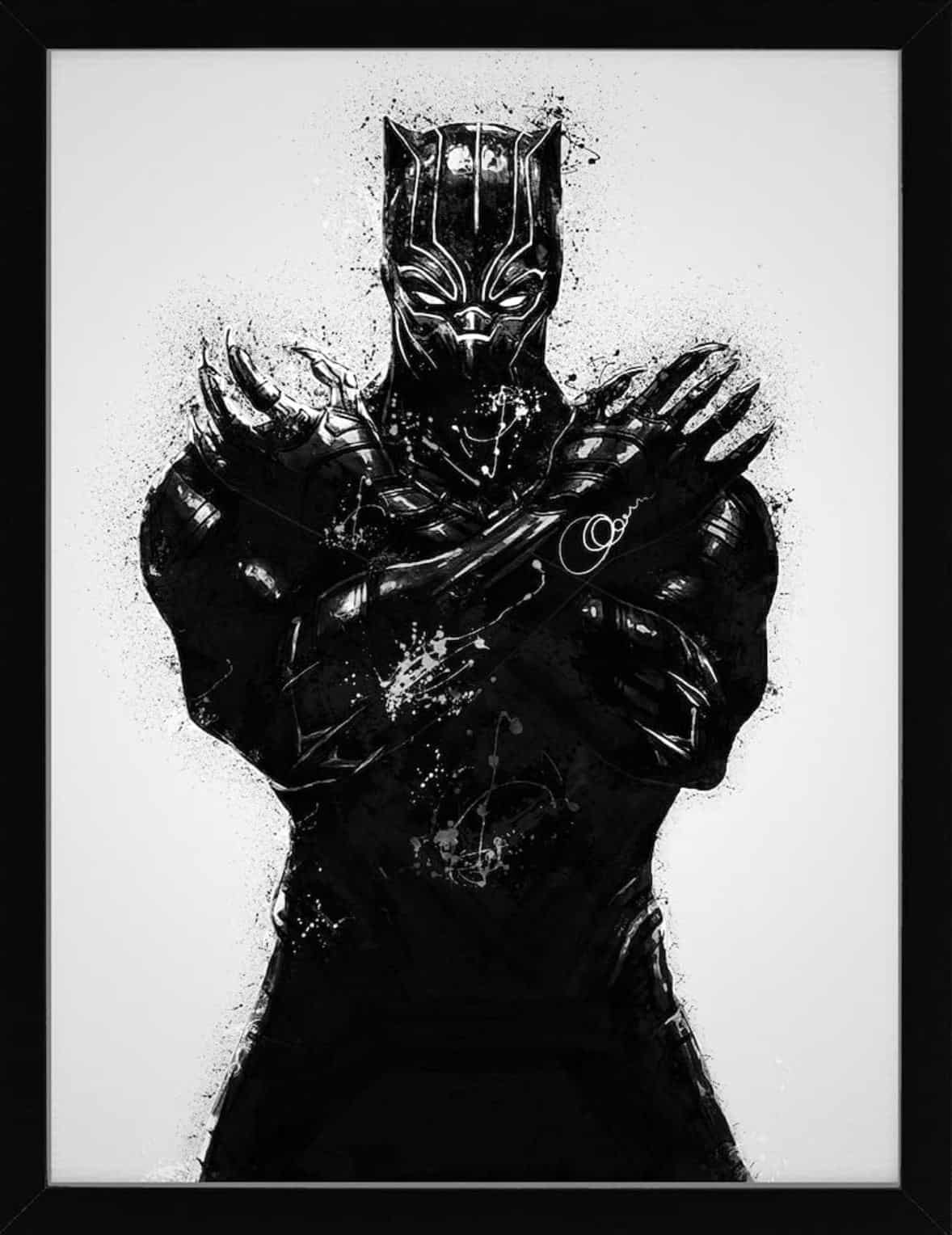 I've already said that Marvel's promotional poster featuring Chadwick Boseman (the first entry on the list) is likely the best Black Panther poster on the market. It is a great homage to the late actor, but also to the comic book and movie.
This particular work is a variation of that product. It showcases T'Challa in a full Black Panther outfit, with his face covered. The poster shows almost the whole superhero's body, all the way to his knees. His hands are crossed on his chest, and although he doesn't necessarily look to attack, you know that the superhero is ready for action.
If I were a young kid, looking for something gritty for my room, I would definitely consider a poster such as this.
Pros
This particular work is great if you're looking for something monochrome. It only utilizes black and white colors, so you need to consider how it would look on your walls prior to making a purchase.
The superhero looks very predatorily. Although he hasn't made any aggressive moves, you can feel the evil intent in him.
Cons
Due to the fact it utilizes just two colors, certain sections look as if they're lacking details.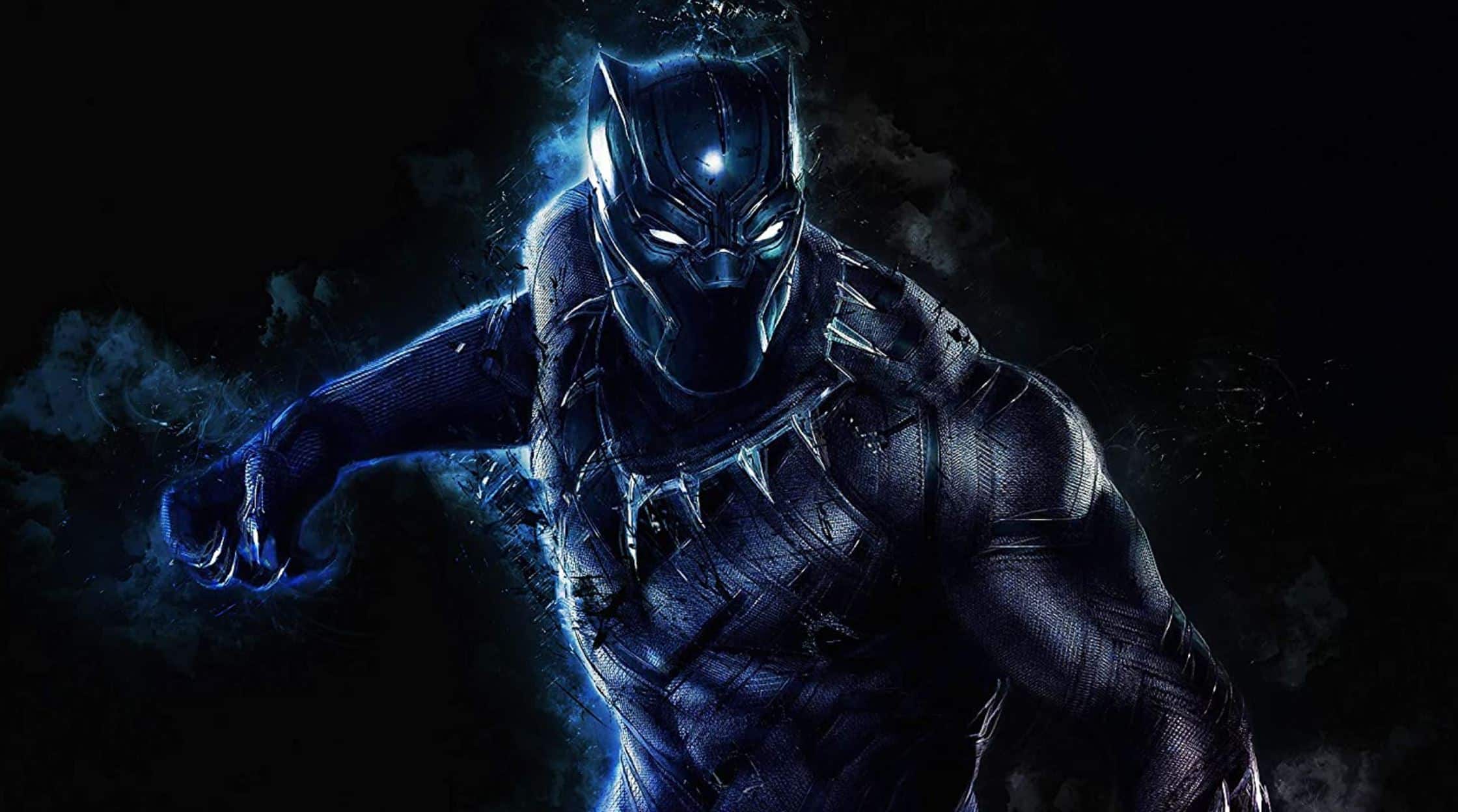 This is a slight modification of a few posters I've previously mentioned. In many ways, it reminds me of the fourth entry on this list, "Black Panther Movie Chadwick Boseman Famous." The product depicts the superhero as he is getting ready to swipe at the enemy with his right hand.
The reason why I added this product lies in its colors and all the small details on the costume. The manufacturer didn't take any unnecessary risks with the colors; they simply went with black and blue with lots of glowing parts. If you take a closer look at the outfit, you will notice every single fiber on it.
Pros
This is an extremely detailed poster. Whether we're talking about the outfit or the mask, each section is very well done, with lots of love.
The company somehow managed to rely on just black and blue to deliver this masterpiece.
You can tell that the poster is hand-made by all the small moves of the pencil.
Cons
I have nothing to criticize.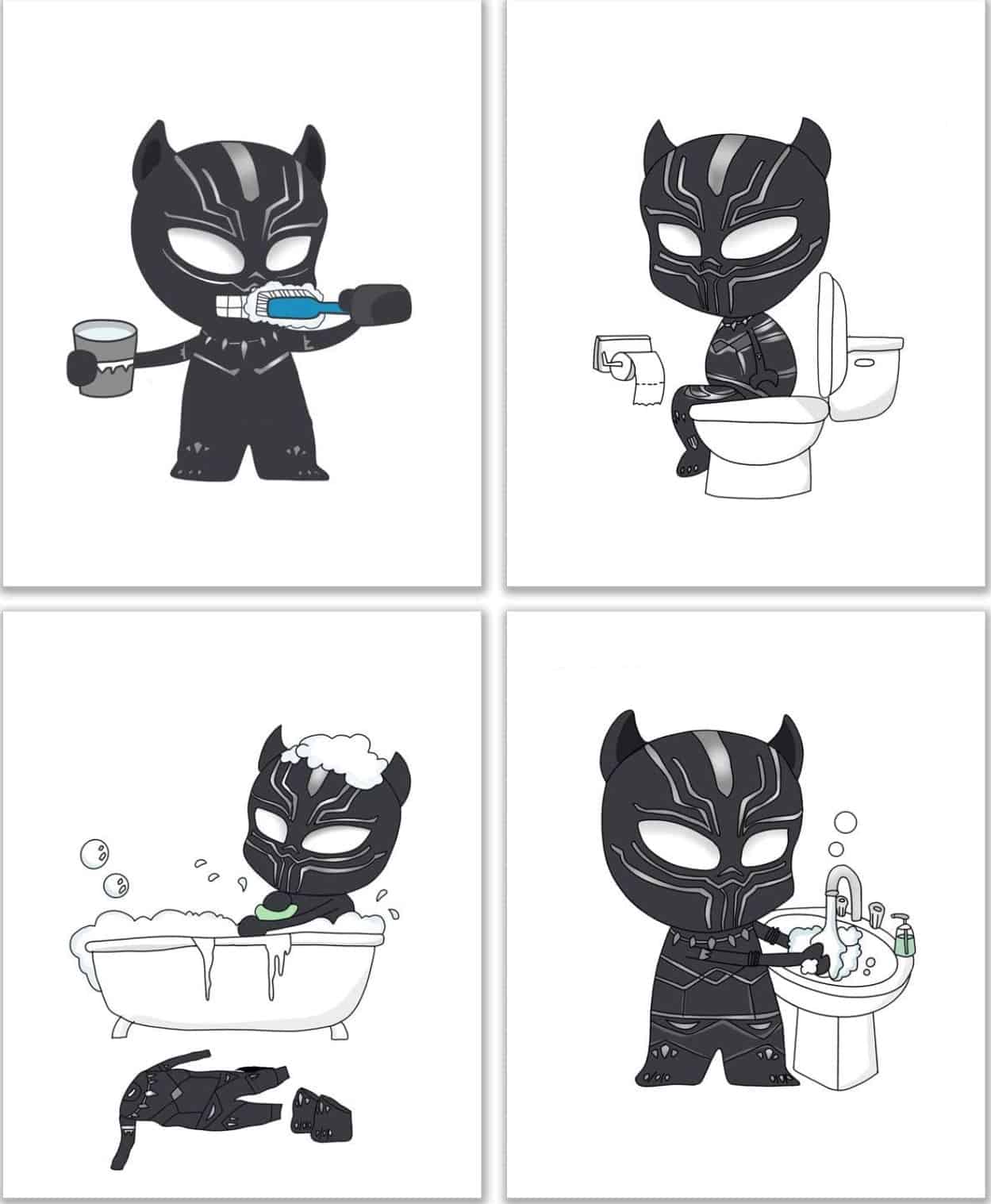 There aren't many funny Black Panther posters. I'm not sure why that is, given that almost every Marvel superhero has numerous goofy iterations. These posters are especially suitable for small kids but can also be a cool present.
On this set of bathroom photos, you can see Black Panther doing four different bathroom-related things. The first one shows the character as he's brushing his teeth. On the second one, T'Challa is comfortably sitting on a bathroom seat. The third poster depicts him in the bathtub, with the superhero outfit lying on the floor, while the fourth picture shows T'Challa as he is washing his hands.
Pros
Amazing as a present or for your kids. Unless you have a super fancy bathroom, this set of posters will always make sense.
Finally, something that showcases the superhero in a different, jovial light.
I just can't get over some of these details. For example, seeing a superhero on a bathroom seat is just ludicrous. The same can be said for T'Challa, who still has his mask while taking a bath while the rest of his outfit is on the floor. Lastly, I want to point out that his sleeves are rolled in the last photo.
Cons
Obviously, this set of photos is not suitable for every home. Some people simply won't put these posters on their bathroom doors or walls because they might ruin the interior design.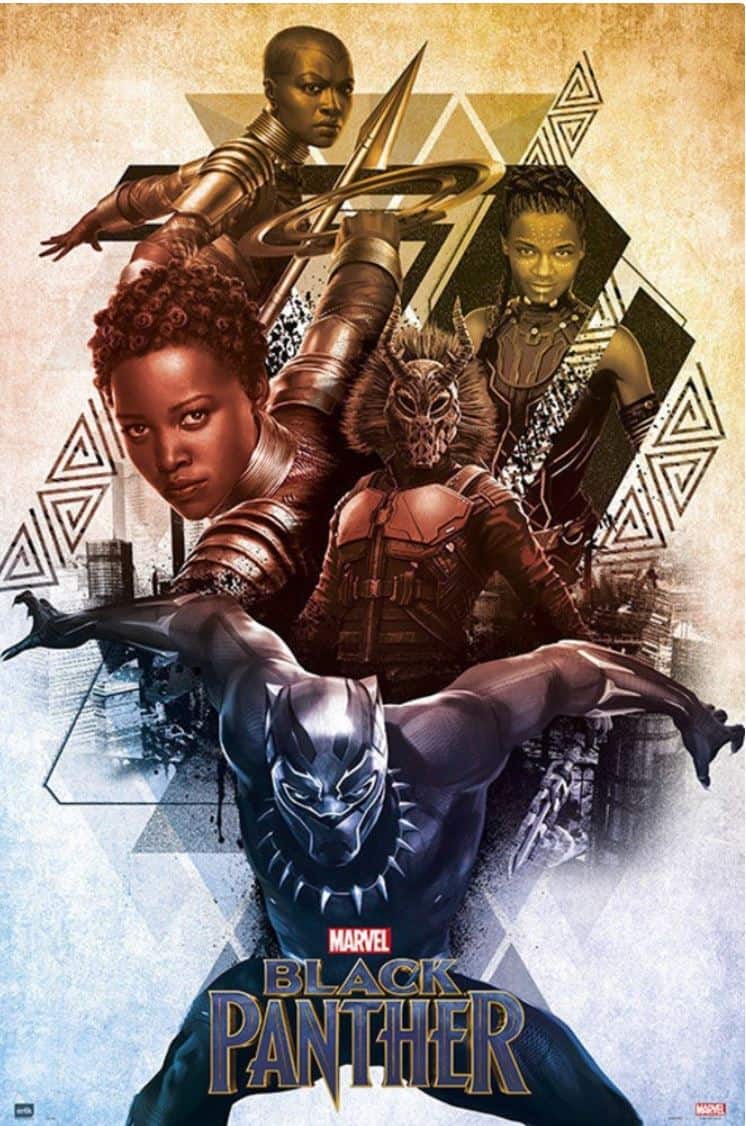 If you're looking for something action-packed that pays homage to Wakanda's warriors, look no further! This particular product shows Black Panther on the bottom, with three female warriors and Erik Killmonger just above him. Although T'Challa is in front of them all, he isn't necessarily the centerpiece of the image. Instead, I believe that this poster is mostly dedicated to female warriors.
The image combines blue and yellow nuances. The lower areas are blue, and they're showing Black Panther. It's as if the superhero is hiding under cover of the night. As the image goes upward, the colors become lighter, ending with yellow. This might be an indication of the sun or light that female warriors bring. I'm not quite certain what' the symbolism behind it is, but it definitely looks awesome.
Pros
The poster pays homage to the female warriors, but it doesn't omit Erik Killmonder or T'Challa.
There are only a few things in the background, so the full emphasis is placed on the champions in front of our eyes.
The photo is very dynamic; everyone is preparing for battle on it.
Cons
Once again, I don't like the overuse of yellow color on these posters. In a way, it looks cheap.
I don't feel good about the "Black Panther" words placed around Black Panther's crotches.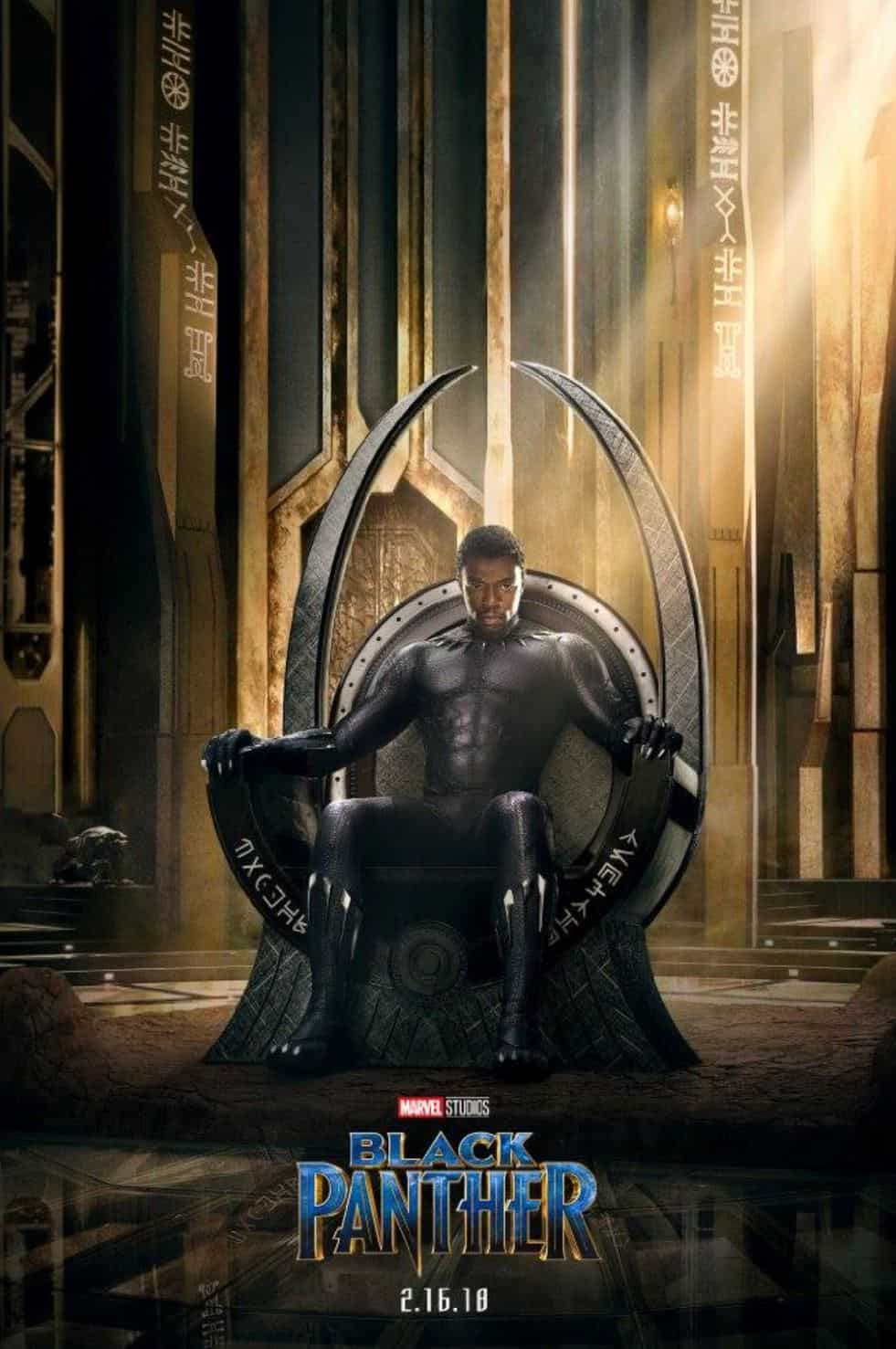 I've left the best for last. When talking about the official Black Panther posters, I cannot omit Black Panther on the Throne. It is a fitting work that shows the ruler T'Challa on his throne. Interestingly enough, he isn't wearing the usual ceremonial garb but instead Black Panther's outfit.
When this poster was released, it caused quite a stir. Apparently, the photo of T'Challa is very similar to that of Huey P Newton, a person who became a symbol of black individualism and the fight for freedom. When the movie was finally released in the theaters, it became obvious that T'Challa and Newton really have certain similarities.
Black Panther was lauded as a movie that wasn't afraid to cross the imaginary boundaries and speak about things that are pressing the black community. As for the poster itself, it shows T'Challa in all his glory, sitting on a black throne with runes as gold shimmers behind him. It is a dominant portrayal of the superhero, and in this particular photo, the focus is not on his supernatural powers but instead on his portrayal as a wealthy, powerful leader of a nation.
Pros
Incredibly powerful imagery. For the first time, T'Challa is portrayed as a ruler, not necessarily a superhero, thus giving the character a completely new dimension.
Back in the day, the poster sent a powerful message to the world.
Cons
His costume doesn't look as natural as in previous ads.
FAQs
Question: What is the most iconic Black Panther poster?
 
Answer: There are a few posters that can take this moniker. In my opinion, "Trends International Marvel Cinematic Universe Black Panther" will forever be remembered as one of the best movie ads that Chadwick Boseman did. If you're a fan of the actor, you should definitely get this one for your wall.
I'm also a big fan of "Black Panther on the Throne" because of its powerful message.
Question: What is the best Black Panther poster for the living room?
Answer: There are lots of posters on the market that look like small art pieces. Some of them are very mature and created in a specific style. If I were to put a Black Panther poster in my living room, I would go with something like "2 Kings Movie Art Print Poster Wakanda Forever, Gift for Sister, Brother, Gift for Best Friend, Office Home Decor, Black Panther Art."
Question: What is the best Black Poster for the kids' room?
Answer: There are several great posters that would fit in your kids' room. I would suggest going with "BLACK PANTHER MOVIE POSTER 2 Sided ORIGINAL INTL Advance." This is a product that almost everyone likes; it depicts T'Challa as the protector of Wakanda, and due to the fact that it's not too aggressive or gritty, it is suitable for smaller children.
Conclusion
Whether we're talking about the official movie posters or posters made by other companies besides Marvel, there are some incredible Black Panther products on the market.
I love all the posters depicting Chadwick Boseman. He did an incredible job with this role, and he will forever be remembered as the true Black Panther.
For more inspiration, check out our full guide on the best Black Panther merch here!
Recommended Reads: