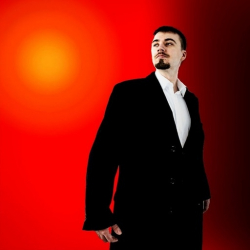 Latest posts by Stefan Stevanovic
(see all)
The best Spiderman-themed bikes for kids pay homage to one of the most popular superheroes in the history of comics. The character has been around since 1962. During that time, Marvel has published hundreds and hundreds of Spiderman issues and numerous spinoffs.
Peter Parker's powers are so unique, differentiating the character from his peers. He also has an intriguing backstory, adding flavor to the individual. Unlike many other Marvel protagonists, he's a young guy, which is why it's so easy for young boys to identify with him. The thing I personally like about him is that he's so relatable.
As for the Spiderman-themed bikes, these products are available in some of the biggest online stores. They are suitable for toddlers and elementary school kids. The items are noticeably different from the competition due to their vivid colors, in particular, the red and blue scheme.
Although the title of this post reads "The best Spiderman themed bikes for kids," I decided to feature other similar vehicles. So, whether you're looking for a bicycle, tricycle, or ride-on, you should find a suitable product after reading this post.
I will review various vehicles focusing on their pros and cons. I will also share a few tips and tricks that helped me when I bought a Spiderman bicycle a few years back.
Key Info Up Front
The best Spiderman-themed bikes are a perfect present for any child that loves this superhero. Whether it's a boy or a girl, they'll simply adore such a gift. The thing I noticed about this product line is that it features more jovial elements compared to other superhero-themed bicycles.
My favorite product is the 12″ Marvel Spider-Man Bike. This is a standard bicycle for young kids, which features training wheels. The thing I especially liked was the handlebar storage where children can put all their toys. If you're looking for a ride-on, you can't go wrong with Marvel Lights N' Sounds Spidey Adventure.
My Top Picks at a Glance
Tips For Reader
Like most products on the US market, you can find the best assortment of Spiderman bikes in stores such as Amazon, Target, and Wal-Mart. Interestingly enough, there are a lot of UK stores that specialize in these items, but they are not ideal for American customers.
Depending on what kind of vehicle you're buying, you will have to set aside between $60 and $200. Ride-ons for toddlers are the cheapest, followed by tricycles and then bikes for elementary school children.
Some of these are, in my opinion, unnecessarily expensive even though they don't offer anything special compared to the competition. For example, two similar bicycles can have a price difference of $100. Keep in mind that you can find the same models in different stores, so it's not a bad idea to browse around before making a purchase.
What Were the Selection Criteria?
When making this list, I tried to include only items that fulfill my strict criteria:
A product is sold in one of the largest online stores. Even if you can't find it at a particular retailer (the product is out of stock), it should be available in some other top-tier shop.
Your child should easily tell this is a Spiderman vehicle. Furthermore, a design should be good enough to make them happy.
It needs to be safe and made by a reputable manufacturer.
I gave extra points to bicycles with added features.
I mentioned that the design should make your child happy. I understand that this is a bit intangible and that different kids will have different tastes. I tried to add products that my kids would like and, by proxy, should be at least acceptable for others.
When talking about extra features, I referred to things such as a toy basket on a 12″ Marvel Spider-Man Bike. These are small things that add value to a product and differentiate it from the competition.
Best Spiderman Themed Bikes List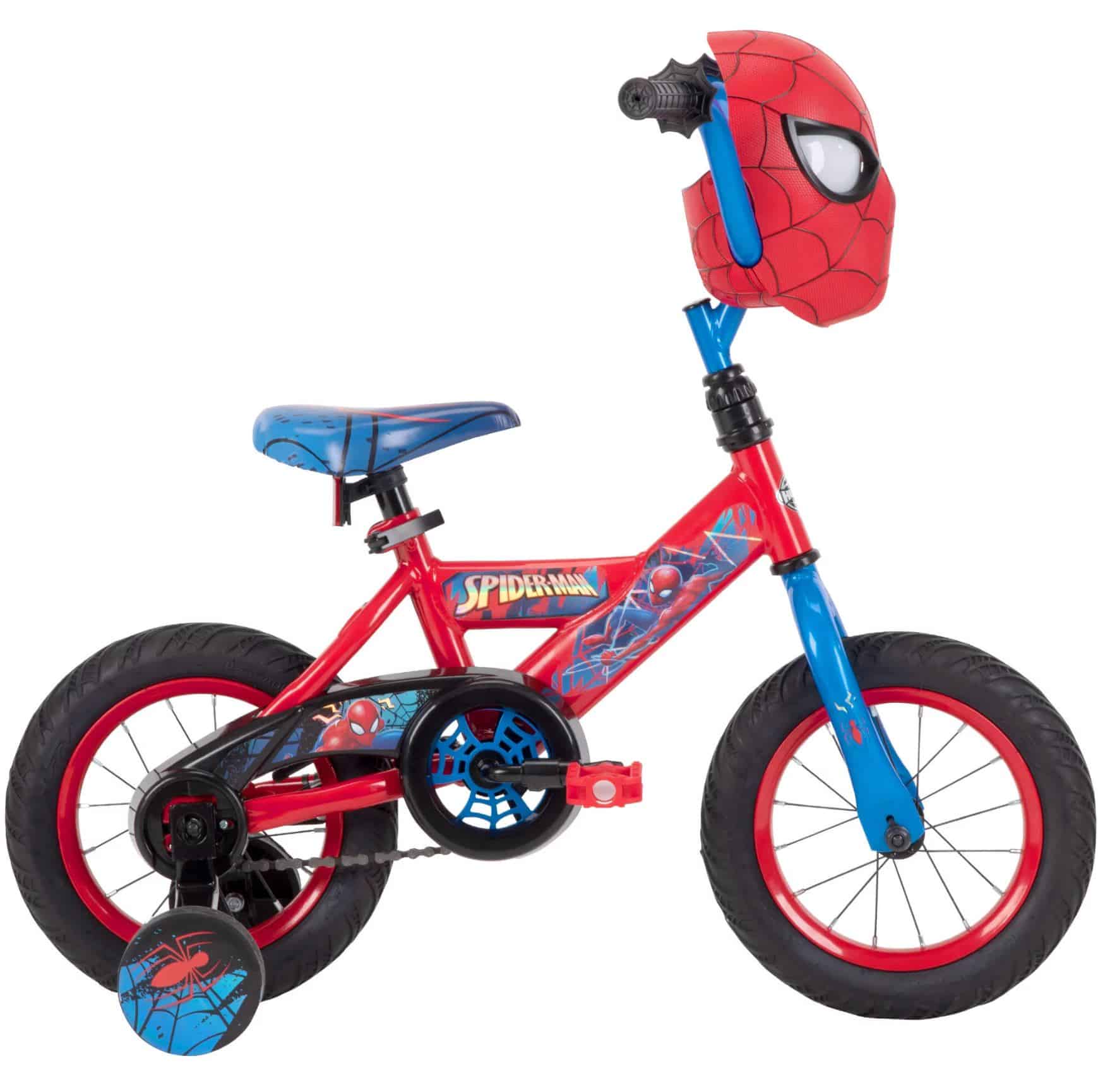 This 12" vehicle is perfect for kids from ages 3 to 5, but you can also use it a bit later, up to elementary school. It's a small bike that you need to assemble at home. The reason why I added it first on the list is that it's a universal product suitable for both sexes.
12″ Marvel Spider-Man Bike has removable training wheels, an adjustable seat, and a handlebar. It's a perfect choice if you're looking to buy the first serious bicycle for your child. According to Walmart, this is one of their best-sellers and recommended products.
The vehicle has several features that make it stand out. As previously mentioned, it has a toy basket in the shape of Spiderman's head. I can guarantee that your child will love this feature. It's one of those things that quickly grab kids' attention. On top of that, the bike's frame is decorated with beautiful Spiderman graphics.
Pros
A universal product that is suitable for boys and girls.
Although it's officially a product for kids from 3 to 5, it's also big enough for older kids.
The graphics on the frame are simply adorable.
The toy basket in the shape of Spiderman's head is something you don't see too often.
Cons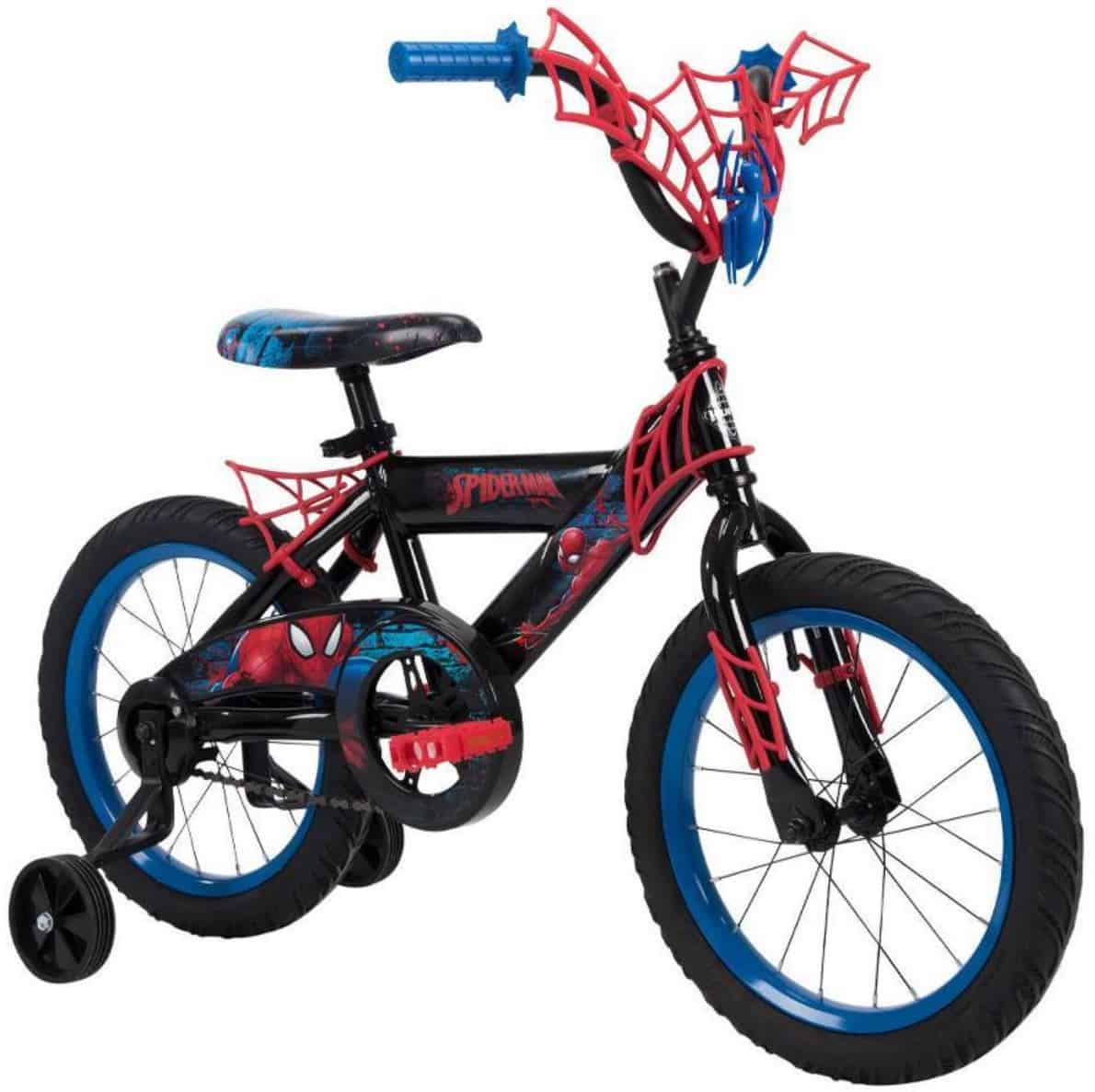 If you're choosing a bicycle based on design, you should definitely go with this particular product. It's a dark, gritty vehicle that stands out from the rest due to its color scheme. While most other bikes on the list have blue or red frames, this one has beautiful black that mashes well with the graphics.
Still, on the topic of design, I love the red net around the frame. I haven't seen many of these on other bikes, but I think they are simply beautiful. There's also a large blue spider in front of the handlebar. My only concern is that some of the pieces might get damaged if your kid falls off the bike.
Given that it's made by Huffy, the same reputable company that made the previous bicycle, you can rest assured this vehicle is stable and reliable. The bike is perfect for kids from four to six, but it's best to contact the company for additional information. Although the parts are adjustable, your child could be too small or large for it.
Pros
Beautiful design that stands out from the competition.
I love the webbing and the blue spider on the handlebar.
The black color of the frame goes well with the Spiderman graphics.
Cons
Although I love the plastic webbing, I'm worried that it'll get damaged when your child eventually falls off the bike.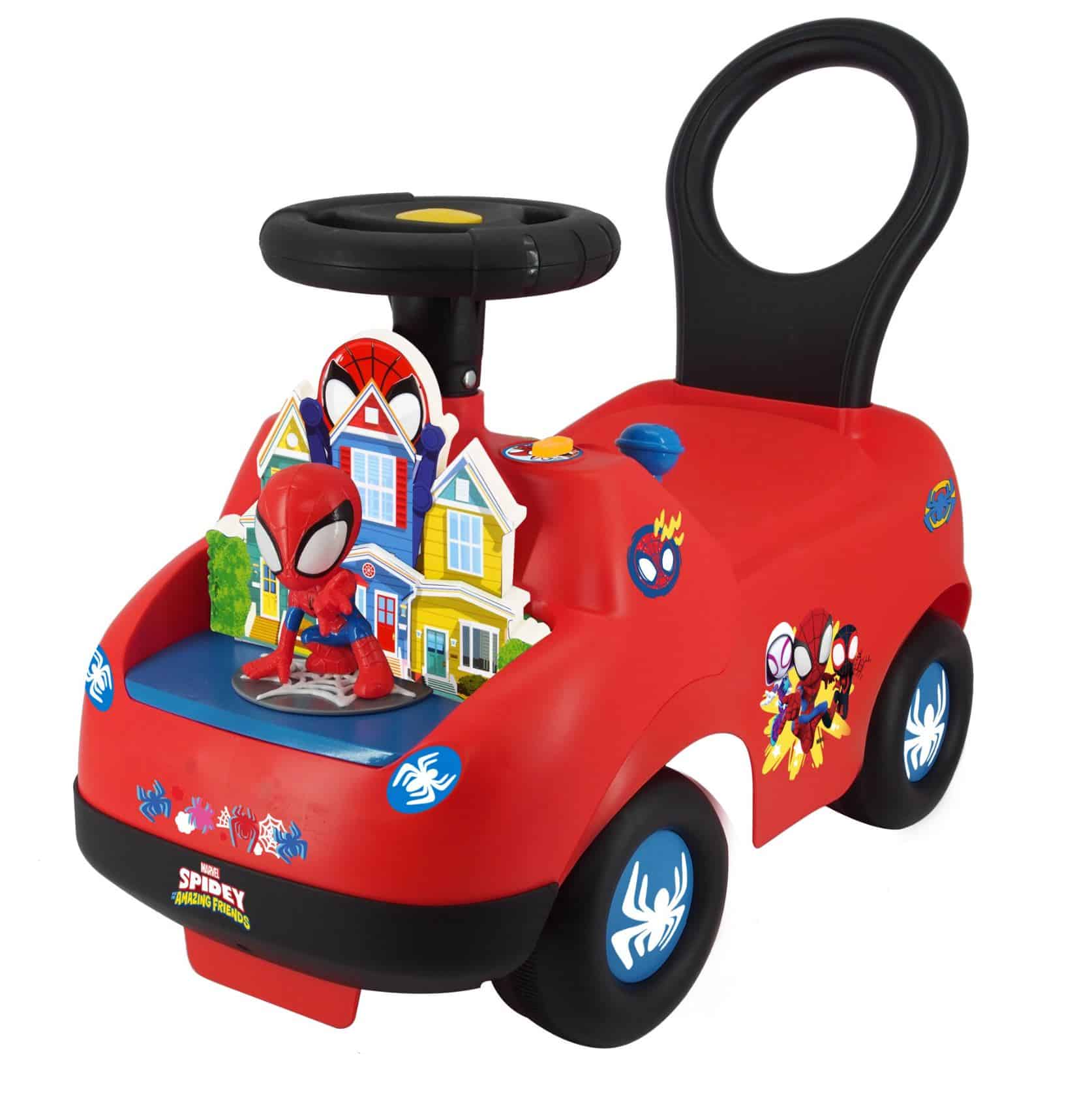 Although not a bicycle in the traditional sense of the word, it fulfills the function. If you have a small toddler, you should definitely consider purchasing this item. Marvel Lights N' Sounds Spidey Adventure combines beautiful red and black colors. It's safe, durable, and a perfect gift for kids who need to develop muscles.
Unlike regular bikes, children have to move this vehicle around with their feet. The ride-on has back support, ensuring that your kid won't fall behind when using it. The wheel is large and easy to maneuver. Your child won't need much strength to change the directions.
The thing I particularly liked is that this item is that it's low to the ground preventing your child from hurting itself. There are numerous buttons on the dashboard, helping the development of eye and hand coordination. Like all bikes, Marvel Lights N' Sounds Spidey Adventure will make your kid more active.
Pros
My favorite vehicle for toddlers.
It's an excellent toy for improving balance and hand/eye coordination.
The model has smooth edges and back support. It's also low to the ground. All of this ensures that your child is safe while riding it.
The colors are simply incredible.
Cons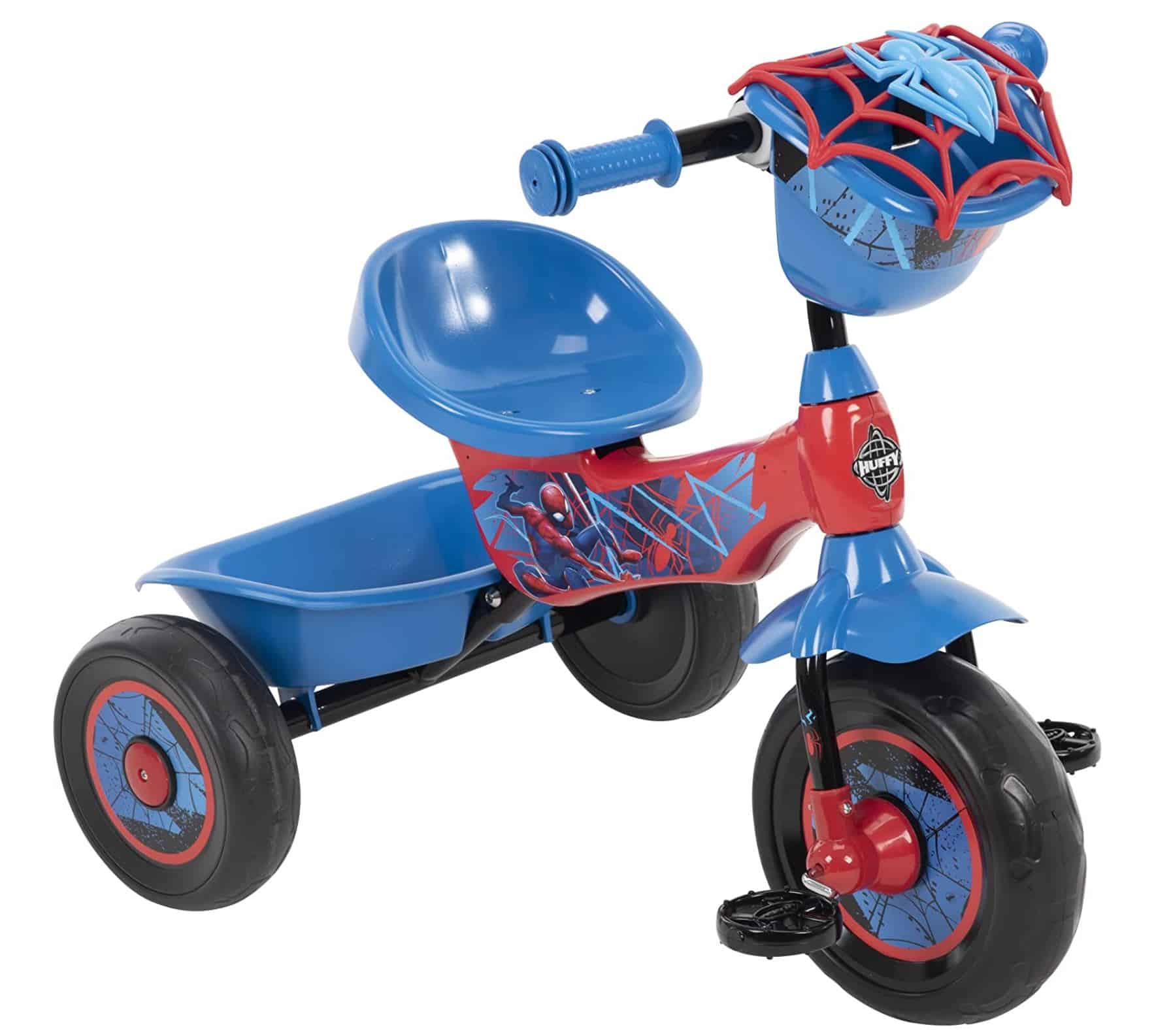 Instead of buying a bicycle, some parents prefer going with a tricycle as the first vehicle for their child. This particular model is ideal for kids from ages 1.5 to 3, and it's more advanced than the ride-on mentioned in the previous entry.
The product is an excellent introduction to bicycles. It forces children to lift their feet off the ground and start pedaling. In that sense, the tricycle might be better than an average ride-on for the development of basic functions. Nevertheless, your kid will be completely safe when riding it. The tricycle features three massive wheels for extra balance.
In my opinion, this is one of the most fun vehicles I've seen online. It has not one but two compartments where your child can store toys. The one in the back is so large that it might even house a smaller ball. The frontal basket is more suitable for toy cars and action figures.
Pros
The best tricycle to prepare toddlers for bikes.
It's incredibly stable, featuring three massive wheels.
Impeccable yet simple design.
Two baskets for toys. The frontal basket can be closed with a plastic Spiderman web, thus protecting small action figures and toy cars stored within.
Cons
The pedals are a bit too small. This will make it harder to ride the bike, especially if a child has underdeveloped muscles. So, although it's officially for kids from 1.5 to 3, it's more suitable for children from 3 to 4.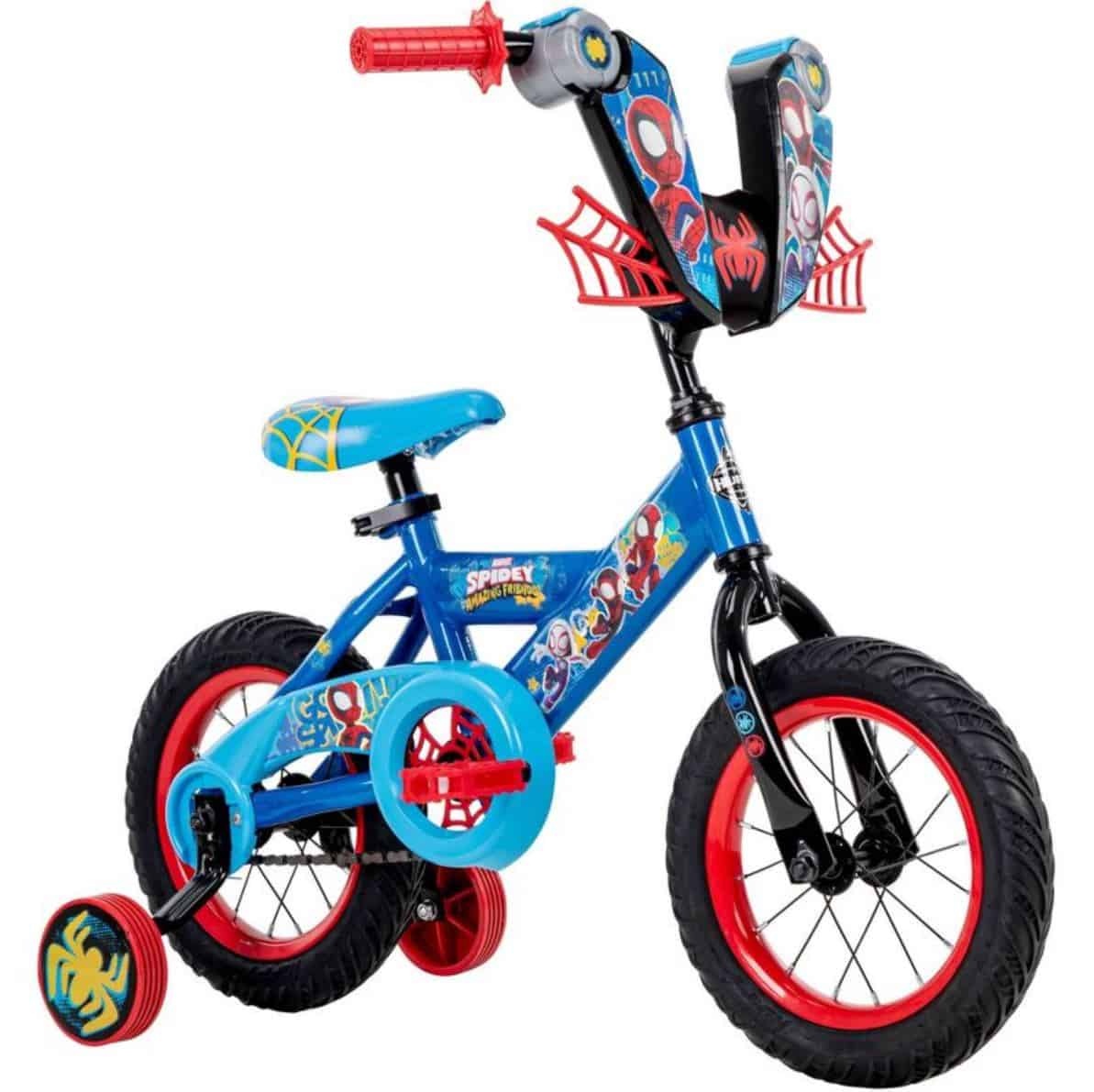 Colorful toys are excellent for kids. They are highly affected by visual stimuli, which is why it's so important to surround them with items of different colors and shapes. In that regard, 12″ Spidey and His Amazing Friends should be at the top of your purchasing list.
Regardless of the colors and graphics, this is a product that all kids would like to have. Unlike most other items within this category, the vehicle features four basic colors: red, black, blue, and light blue. If you also consider there are Spiderman, White Widow, and Miles Morales on the graphics, it makes for a flamboyant visual experience.
The thing that caught my attention was the handlebar. The company used the design typical for low-riders. Besides the added webbing, the handlebar also features graphics with the previously mentioned superheroes. As your kid continues growing, you can easily adjust the controls by lowering or raising the handles.
Pros
It reminds me of low-riders. The product has the best handlebars I've seen on these items.
An incredibly colorful frame that goes well with graphics.
I'm a big fan of the seat.
Cons
Not the best choice if your kid wants only Spiderman graphics.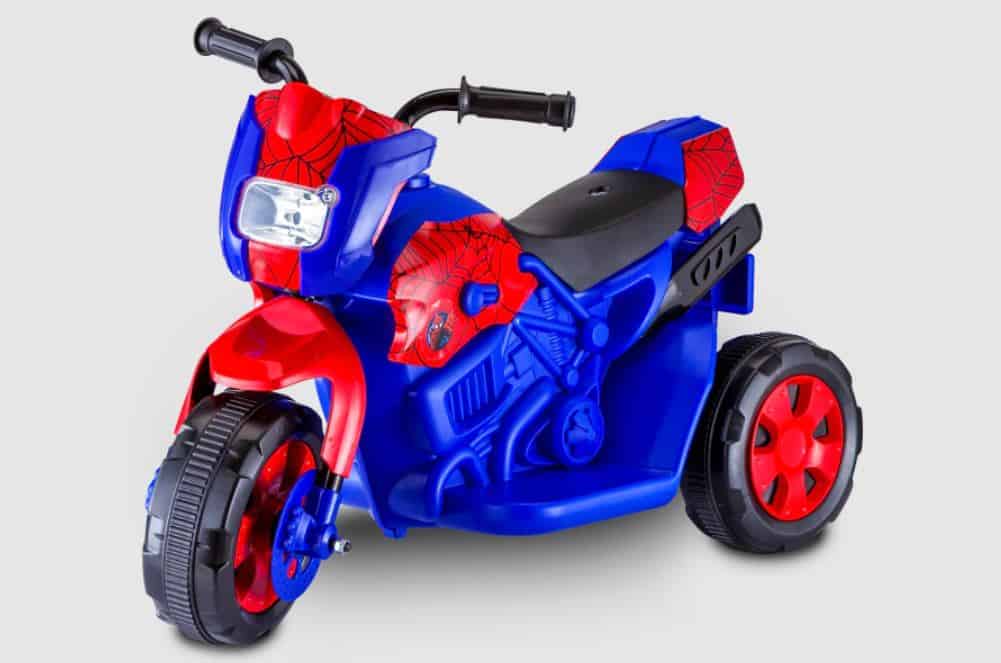 If you're looking for something a bit different, you should definitely consider this item. Noticeably unique, Spiderman Trike Ride-On combines the best features of a tricycle and a bike. It looks like a motorized, metallic beast but is tailor-made for children.
The side of the vehicle was the first thing that caught my attention. It's almost a replica of a motorbike side, with various pipes, filters, and other metallic pieces. Of course, this product is made from plastic, so this is strictly a visual design.
Another thing that adds to that feeling of a motor is the wheels. They are bulky, with massive tires. Handlebars, the headlight, and the plastic "exhaust" all add to that feeling. Lastly, I also have to mention how incredible dark blue and crimson red look together.
However, there is more to this product than just its design. I think that this trike is an excellent gift for young toddlers who are just developing their muscles. It's perfect for legs as it doesn't have pedals to propel it forward.
Pros
One of the best-designed vehicles I've seen online. It combines the appearance of a bike and the functionality of a ride-on tricycle.
An excellent choice for the development of muscles and coordination. I believe that the beautiful design helps its usefulness as kids are more likely to use it for prolonged periods.
I love how the wheels and side of the trike look like.
Cons
Aside from a few webs, it doesn't indicate that this is a Spiderman vehicle.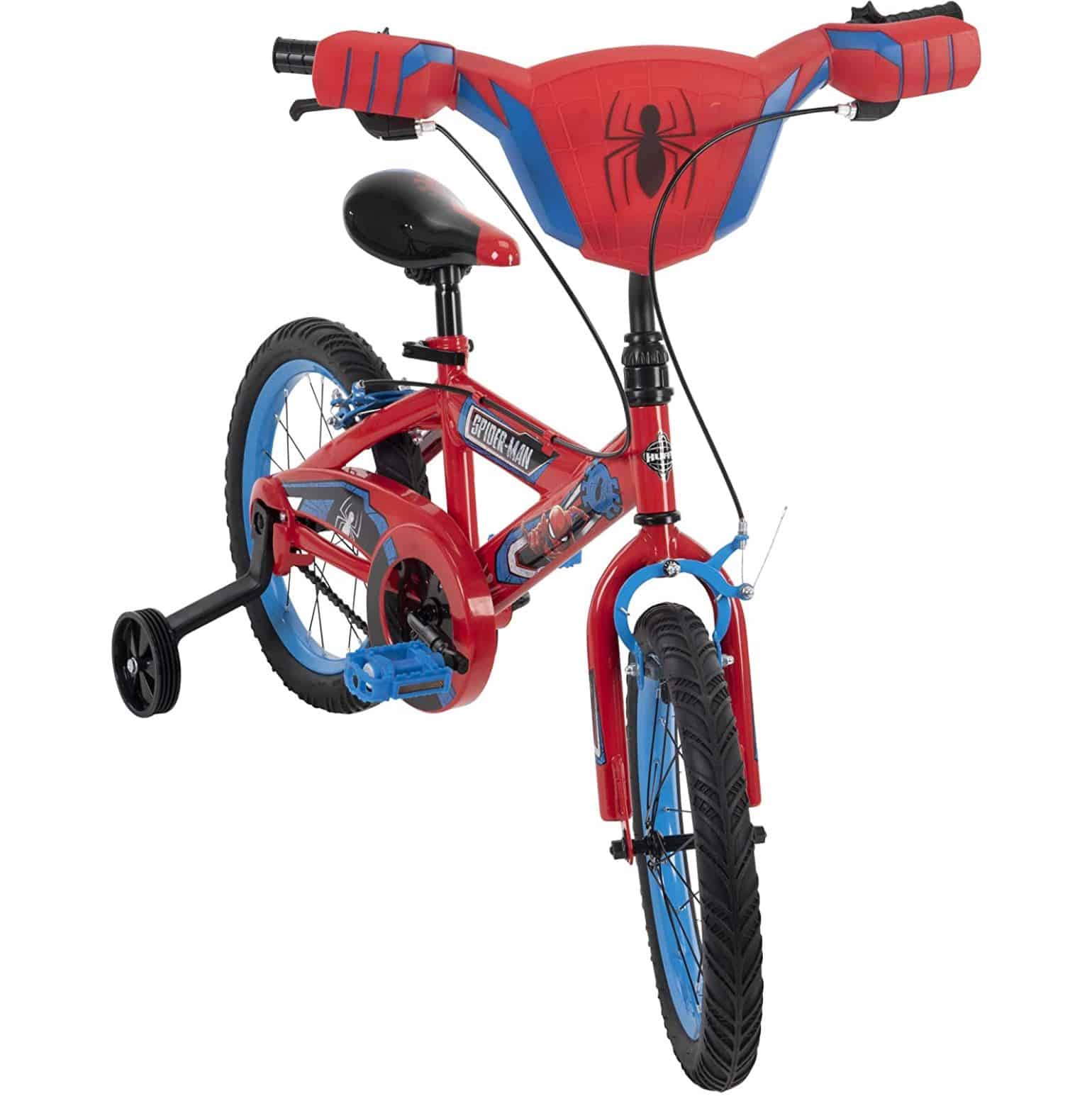 This is one of the numerous Huffy bikes that I'll feature in this article. Like most other items made by the company, it has a sturdy frame adorned with Spiderman graphics. It uses red as the main color but also features a perfect shade of black. As for the wheels, they have incredible treads that make all the difference.
The thing that separates Spiderman 12" Kid's Bike from other similar vehicles is the ornamental pieces on the handlebars. This massive plastic protector has Spiderman's logo. In fact, it looks exactly like the chest area on the superhero's costume. It makes quite an impression from the front.
Another part I liked was the seat. It uses a pretty combination of red and black, with a spider somewhere in between. My own issue with this product is that its shiny colors and designs don't mesh well with the bug shield. In a way, the colors of the frame feel much more mature compared to the plastic in front.
Pros
Nicely designed bug shield. If you look from the front, it looks as if Spiderman is holding the handlebars.
One of the most beautiful seats I've seen on Spiderman bicycles.
The tires and tire treads look fantastic. What's even better, they go well with the rest of the vehicle.
Cons
The frame and seat paint don't match the paint of the bug shield.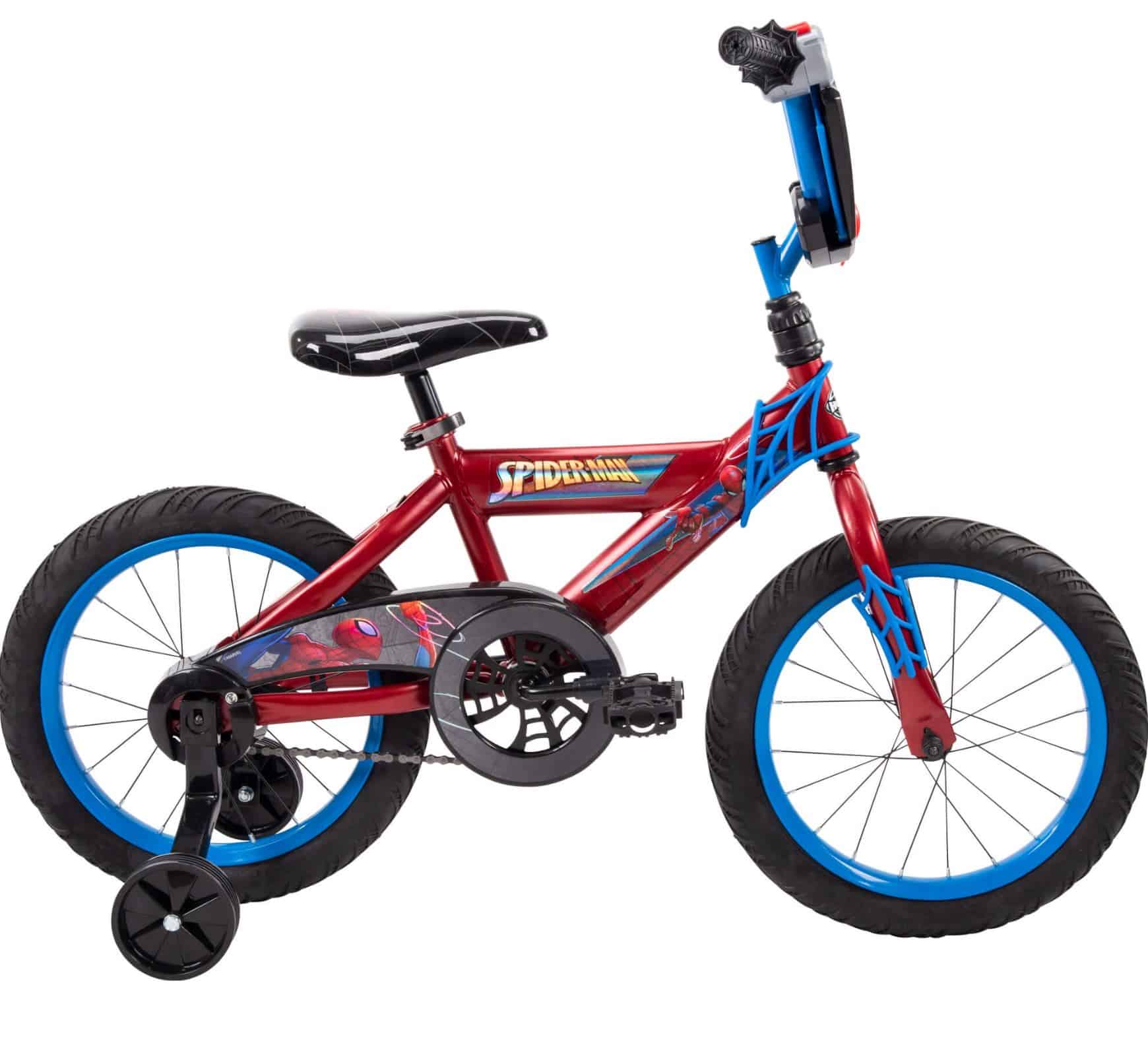 Marvel Spiderman 16-inch Kids Bike combines features of several other vehicles on the list. It has the same plastic webbing encircling the frame. The handlebar is slightly elevated, but you have the option of lowering it down. It also features Spiderman graphics as he's preparing to fight the bad guys.
My favorite thing on this bicycle is the "Spiderman" graphic written on the upper part of the frame. It's easily noticeable from afar and looks fantastic. If you wish, you can also install Spiderman Web Wing on the frame. It would allow your kid to attach favorite action figures to the bike.
If you take a closer look at the handlebar, you'll notice small webs just beneath it. You can pull out these webs so that the frontal part looks wider. It's a minor feature that adds to the overall appeal of the product.
Pros
This bicycle combines the best, unique features of Huffy bikes, including webbing around the frame and low-rider handlebars.
The paint color used for the frame is slightly different from the one used for the other entries. Although this is not the authentic Spiderman color, it makes the bike look much more serious.
The graphics on the frame look excellent.
Cons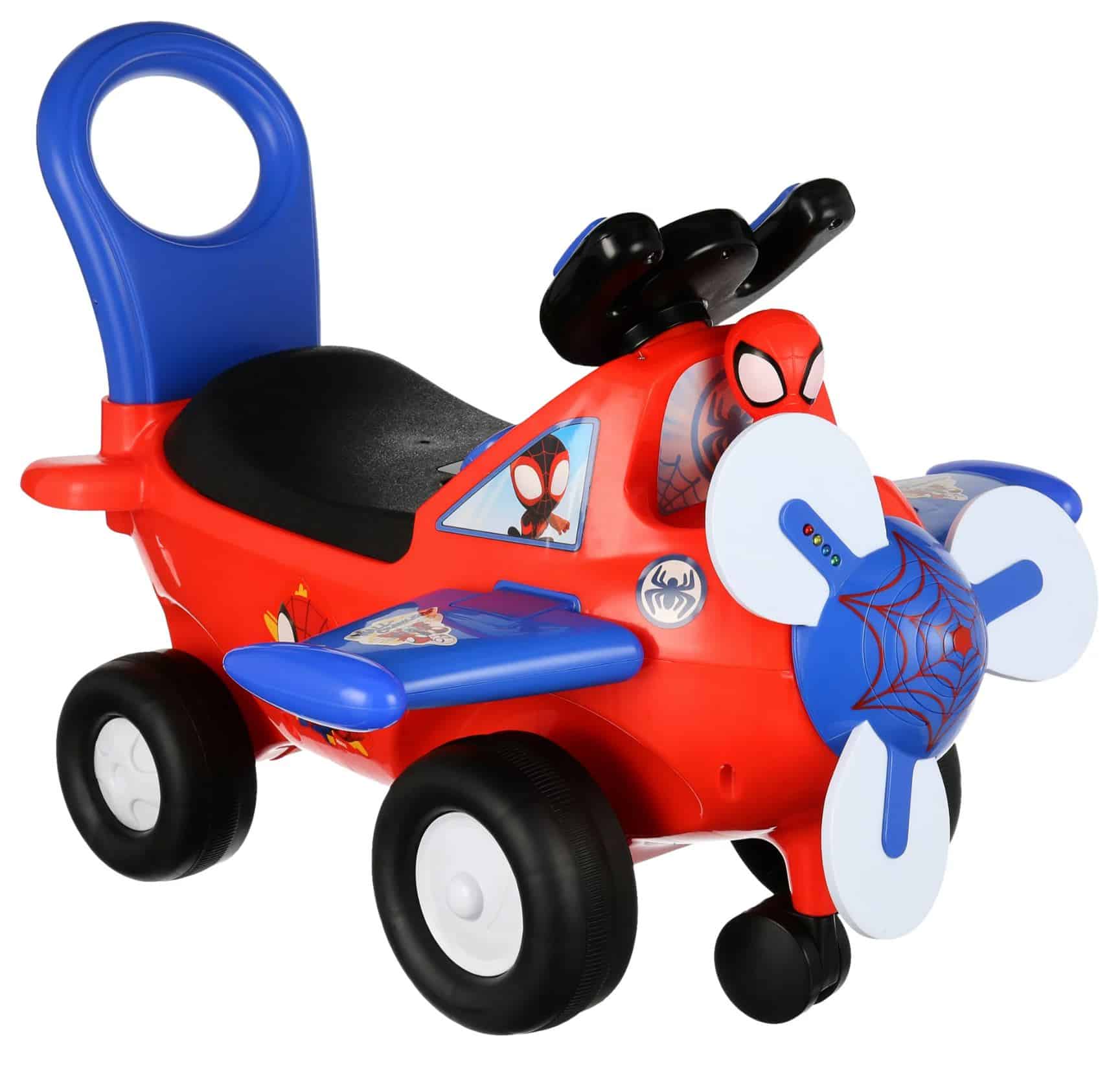 If you're not a big fan of street cars and bikes, you should definitely consider buying an airplane for your child. Marvel Lights 'N' Sounds Spidey Activity Plane is a goofy ride-on that most toddlers are crazy about.
The ride-on has five wheels, and there's no chance that your kid will fall off of it. This makes it an ideal choice for toddlers as it can help them improve their basic movements but also other mechanics.
However, there's much more to this product than it meets the eye. It has sounds and lights that are excellent for engaging children with low attention spans. Just imagine how happy your toddler will be when it hears the revving airplane engine. The propeller can rotate, and it also features various-colored lights.
As for the product's design, it's rather basic but cute. The best way to describe it is a large hunk of red plastic with attached wheels, seat, and propeller.
Pros
Lots of incredible interactive features. It's one of those toys that toddlers remember even when they grow up.
The product is extra safe. It has five wheels and back support, protecting your kid from falling down.
You also have the option of raising the wings in case your toddler starts bumping into them.
Cons
Although you can easily tell that this is a Spiderman product, it still feels unrelated.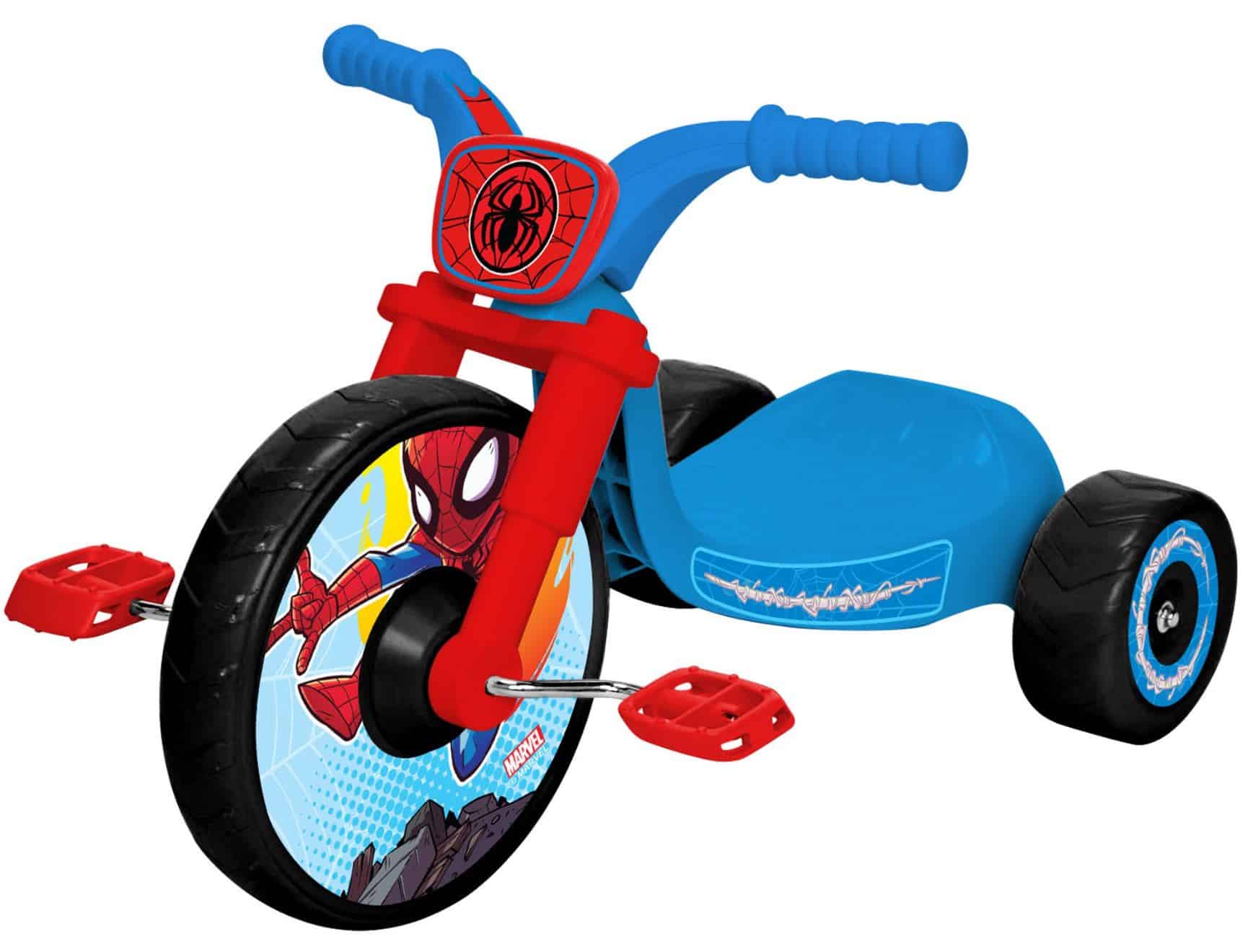 This is another excellent Spiderman trike ideal for toddlers between ages one and three. The vehicle looks a bit simplistic, but there are several features that persuaded me to add it to the list.
First off, this item has a frontal basket which is a fantastic accessory for all these bikes. Kids simply love to use these compartments, stuffing them with a bunch of toys. As such, this small piece can exponentially increase the child's interest in the toy.
I also like the colors. They are light and bright, meshing well with the superhero's costume. The handles are soft and made from rubber, making it easy to control the trike. My only issue with this product is that it looks a bit stiff. For example, the seat appears to be very small, and it's made of plastic, on top of that.
Pros
The color patterns are adorable. I like the sky blue color, perfectly fitting Spiderman's traditional red.
The basket is a welcome addition to each one of these products.
Cons
It doesn't look that comfortable. I'm especially worried about the seat, as it's rather small and made from plastic. Not sure if it would be comfortable for bigger kids to ride this vehicle.
FAQs
Question: What is the best-designed Spiderman bicycle?
Answer: When talking about the design, the most beautiful product has to be the Huffy Marvel 16″ Spiderman Boys' Bike. This is a black and red bike tailor-made for boys. The colors mesh nicely with each other, and I'm especially impressed by the plastic webbing surrounding the frame.
Question: What is the best Spiderman ride-on?
Answer: Marvel Lights N' Sounds Spidey Adventure is probably the best Spiderman ride-on you can buy online. This is a perfect gift for toddlers who are just starting to develop balance and coordination. Aside from this vehicle, you might also consider purchasing 1.        Marvel Lights 'N' Sounds Spidey Activity Plane.
Question: What is the best unisex Spiderman bicycle?
Answer: Most of these products are made for both sexes. The only differentiation is based on size; some of them are better for smaller kids, and others are tailor-made for bigger ones. If you have a boy and a girl, I suggest purchasing 12″ Spidey and His Amazing Friends. This is a fun, colorful product that is suitable for both sexes.
Conclusion
The best Spiderman bicycles, tricycles, and ride-ons can be fantastic gifts for toddlers and elementary school kids. They are excellent for developing basic physical and mental functions but are also a good way of introducing children to adult bicycles.
Although each one of the vehicles on the list deserves mention, my personal favorite has to be the 12″ Marvel Spider-Man Bike. This is a beautiful item with numerous features that can be used by boys and girls. I especially like the addition of the basket, where kids can put all their toys as they're riding down the street.
Recommended Reads: