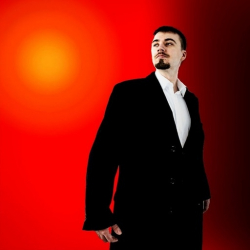 Latest posts by Stefan Stevanovic
(see all)
Captain America is one of the most popular superheroes in the world. As a leader of Avengers, he is one of Marvel's most featured characters. Although Steve Rodgers might not be as exciting as some other superheroes, he is universally beloved by the fans.
Given the enormous popularity of the character, but also Marvel as a whole, it made sense for companies to start introducing related products. Captain America is also featured in Fortnite. To be exact, you can purchase his skin and wear it during the games.
As someone who's a big fan of Marvel, I appreciate all the references to their comics and characters. I was always enthralled by Captain America because he feels somewhat relatable to ordinary human beings. Although extremely strong and durable, he isn't as overpowered as some other superheroes.
In this Captain America Fortnite Outfit Guide, I will review the popular Fortnite skin. I will also talk about its price, special features, and everything else you need to know before making the purchase.
Key Info Up Front
In this Captain America Fortnite Outfit Guide, I will talk about one of the most popular cosmetics in Fortnite. Steve Rodgers' outfit changes how your character feels on the map, although it doesn't alter its basic functionality.
The virtual product costs 2,000 V-bucks, which doesn't feel like a lot. It's a part of the Avengers set and Marvel series, featuring the likes of Doctor Strange, Black Panther, and Black Widow. The item is readily available in the Item Shop and is an excellent purchase for all the fans of the Marvel comics.
Overview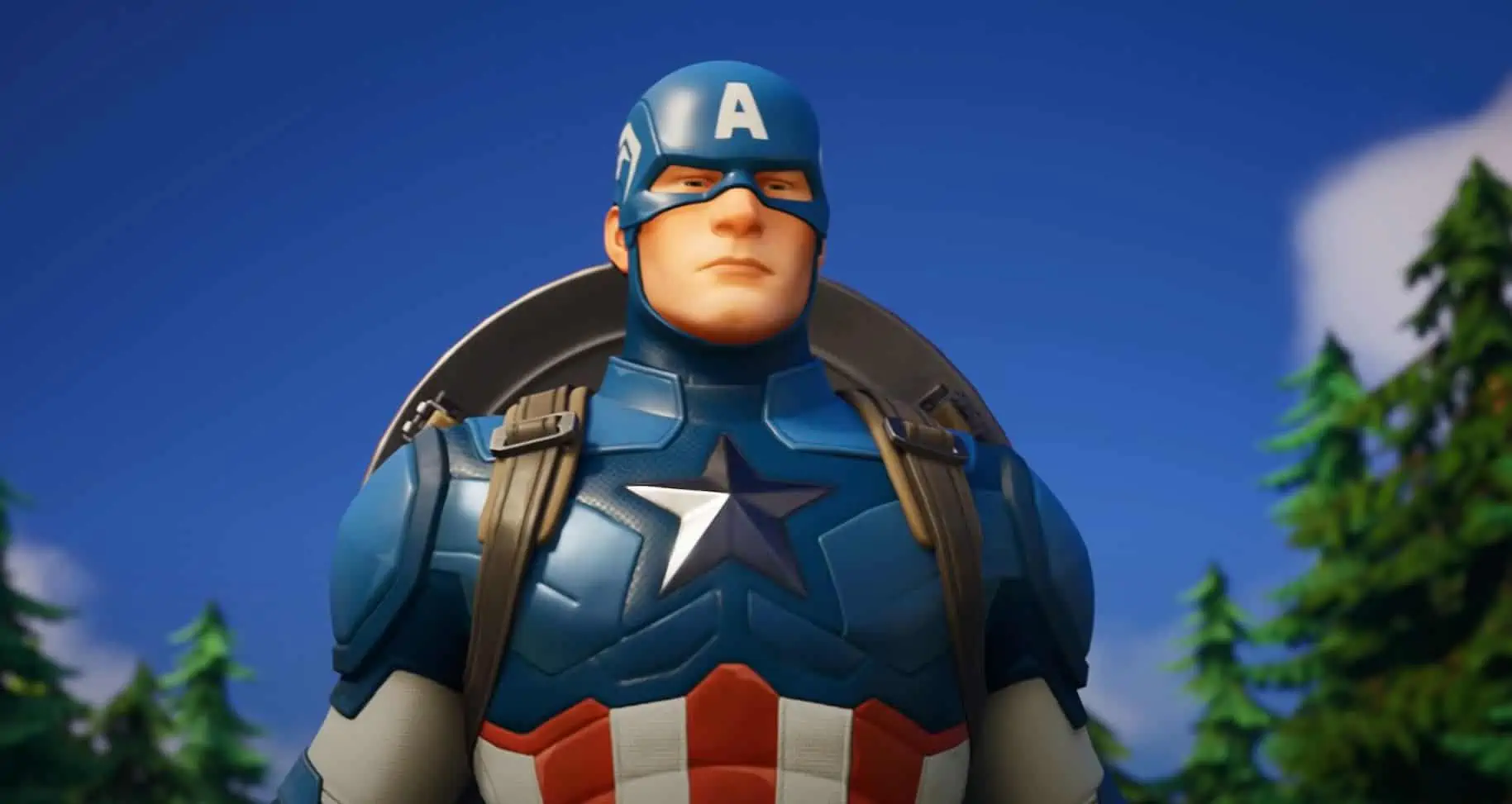 This cosmetic item was released on July the 2nd, 2020 (according to the UTC time zone). It was introduced during the third season, chapter two. The skin is classified as an outfit, and it's based on one of the most popular Marvel superheroes – Captain America.
Aside from the beautiful outfit, you get a few extra goodies in the bundle. To be precise, the players get the Proto-Adamantium Shield Back Bling. You are also equipped with a new harvesting tool, Proto-Adamantium Shield. Together, all these items change the feel of your character.
During season four, chapter two, this skin was selected as just one of the two cosmetics that are able to wield the Mjolnir harvesting tool. As you can presume, the other character was Thor. This was done as a way of paying homage to Avengers: Endgame.
Key Features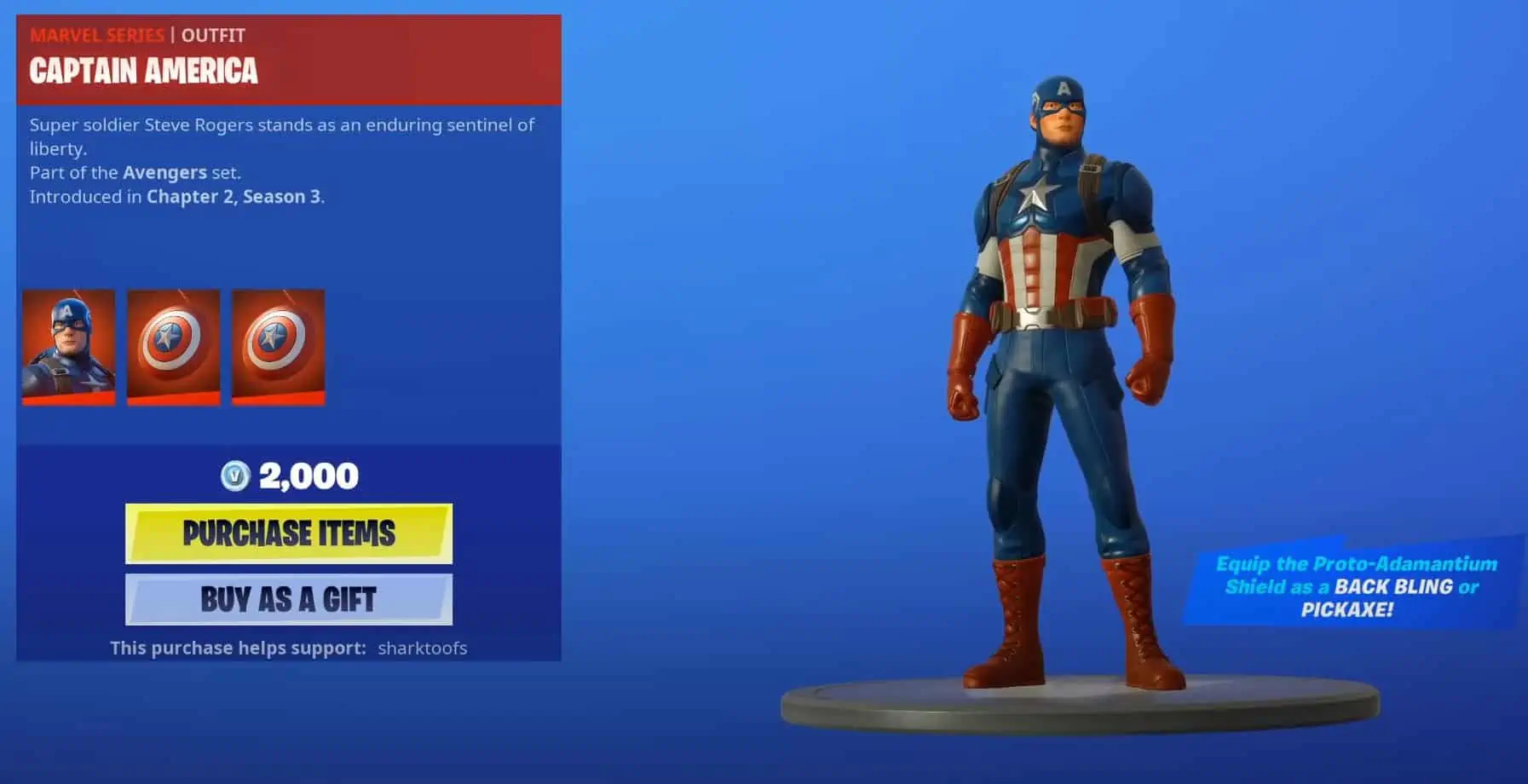 Basically, this skin has the exact visual appearance of Captain America.
Your character will adorn a dark blue suit that goes with red gloves and red boots. The superhero has a white and red midsection, resembling the stripes of the American flag. There's also a large star on the character's chest, completing his visual appearance.
However, the thing that makes it so fantastic is all the small details. For example, I really like the Captain's utility belt that goes with small satchels. If you take a closer look at the shoulders, you will notice that they're reinforced. The same can be said for the knees.
The superhero has large leather straps around his shoulders, stretching below his armpits. They are meant to keep the shield in place. Of course, like any other superhero, Captain America wears a large mask concealing his identity. There's also a massive letter A on his forehead, similar to the comic book character.
How to Obtain Captain America Skin?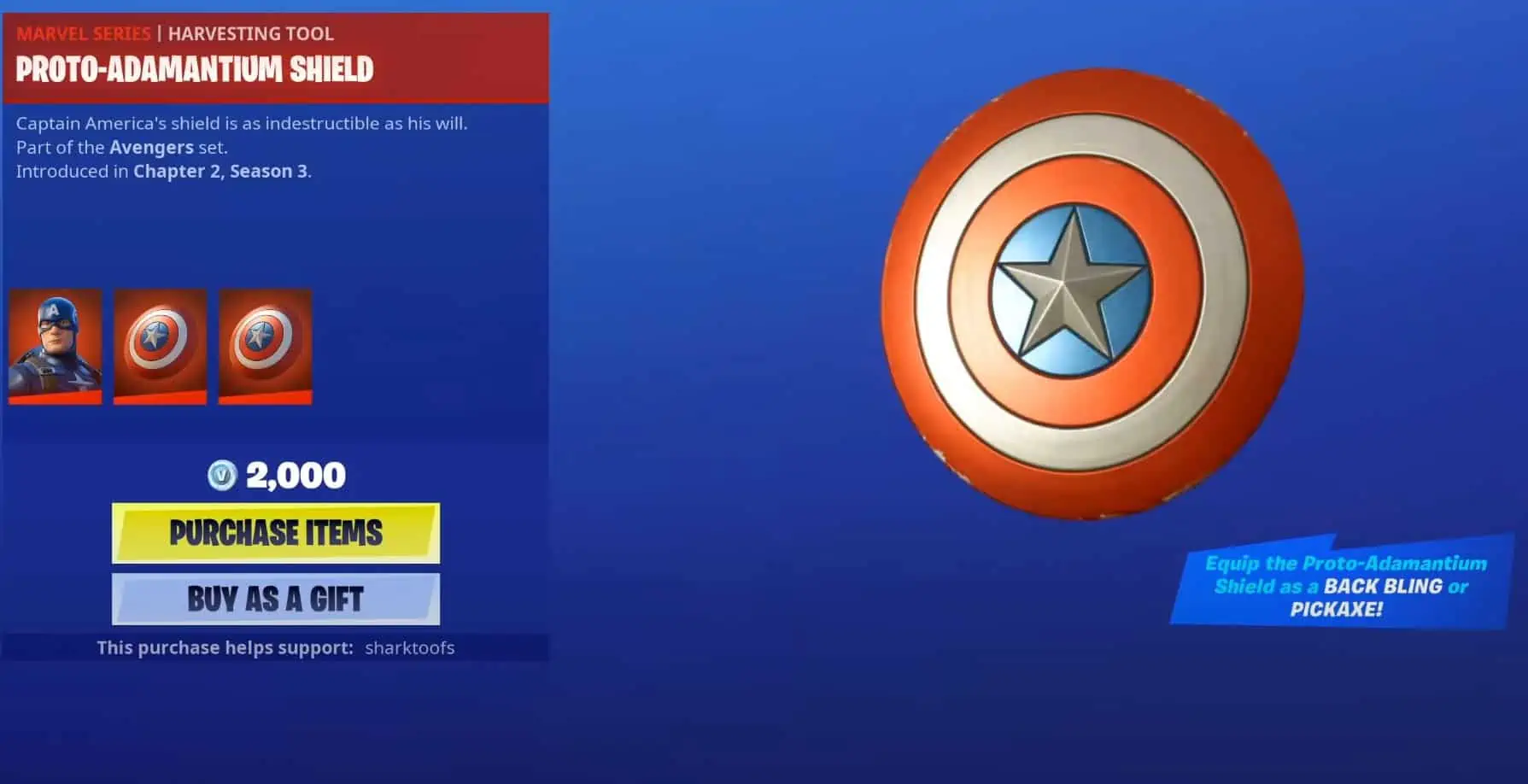 As it usually goes with free-to-play games, Captain America's cosmetic is premium content that doesn't come with the base game. Instead, the only way to acquire it is by going to the Fortnite Item shop and purchasing it.
At this moment, this skin costs 2,000 V-bucks, which is approximately 14 dollars. With this purchase, you're getting the cosmetic that will change the appearance of your body, but also the shield. You can leave the shield in place, and it can serve as the Back Bling. Alternatively, you can equip it as a pickaxe.
If you're interested in obtaining this skin, and you don't have the money, I suggest that you check the ongoing competitions. Captain America cosmetic is a very popular item and is often featured during streamers' giveaways. With a little bit of luck, this incredible skin can be yours!
Does the Skin Provide Special Abilities?
Like all cosmetics, Captain America skin doesn't give you an edge in the game. It's very similar to cosmetics in other titles, whereas it primarily serves to alter the visual appearance of your character. As mentioned, aside from the new character appearance, you also get new back bling and harvesting too, but that's about that.
Although the appearance of your harvesting tool changes, it doesn't actually make your character better, nor does it hasten the processes. Even if you might get the illusion that you're moving faster around the map, this isn't actually true. So, it isn't one of those "pay-to-win" purchases.
Avengers Set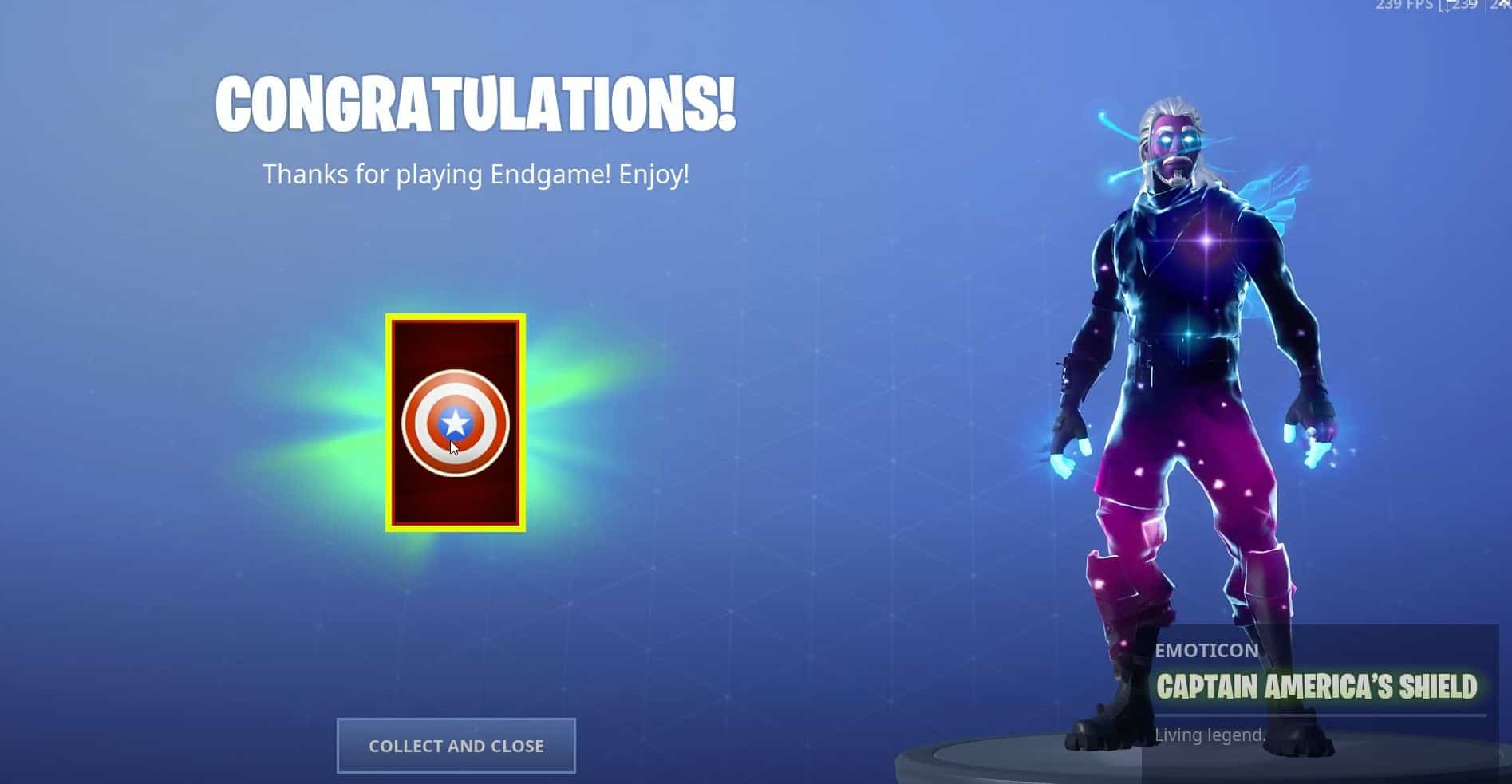 Captain America cosmetic is a part of a larger Avenger set. This collection of items primarily focuses on Black Widow and Captain America goodies, but there are also a few other things you'll get within the set. All in all, it's a perfect purchase for all Marvel enthusiasts.
The Avenger set consists of:
Black Widow outfit cosmetic (1,500 V-bucks in the shop)
Captain America (2,000 V-bucks in the shop)
Proto-Adamantium Shield Pickaxe (2,000 V-bucks in the shop)
Widow's pirouette emote (200 V-bucks in the shop)
Grand salute emote (Acquired via endgame challenges)
Widow's Bite Pickaxe (800 V-bucks in the shop)
Avengers Quinjet Glider (Acquired via endgame challenges)
Widow's Pack back bling (1,500 V-bucks in the shop)
Proto-Adamantium Shield back bling (2,000 V-bucks in the shop)
Avengers logo (Acquired via endgame challenges)
Assemble loading screen (Acquired via endgame challenges)
Captain America's Shield emoji (Acquired via endgame challenges)
Infinity Gauntlet spray (Acquired via endgame challenges)
Thor's Stormbreaker emoji (Acquired via endgame challenges)
There are currently 14 items within the set. The company might introduce additional pieces in the near future.
Other Notable Marvel Skins
If you're a fan of Marvel comics, there's a good chance you would like to have more than just one cosmetic from the series. There are so many incredible items from this collection, and it's sometimes hard to pick just one. So, if you already purchased Captain America skin, here are some other items that might also interest you:
Tony Stark (Acquired by reaching tier 53 in season four, chapter two battle pass)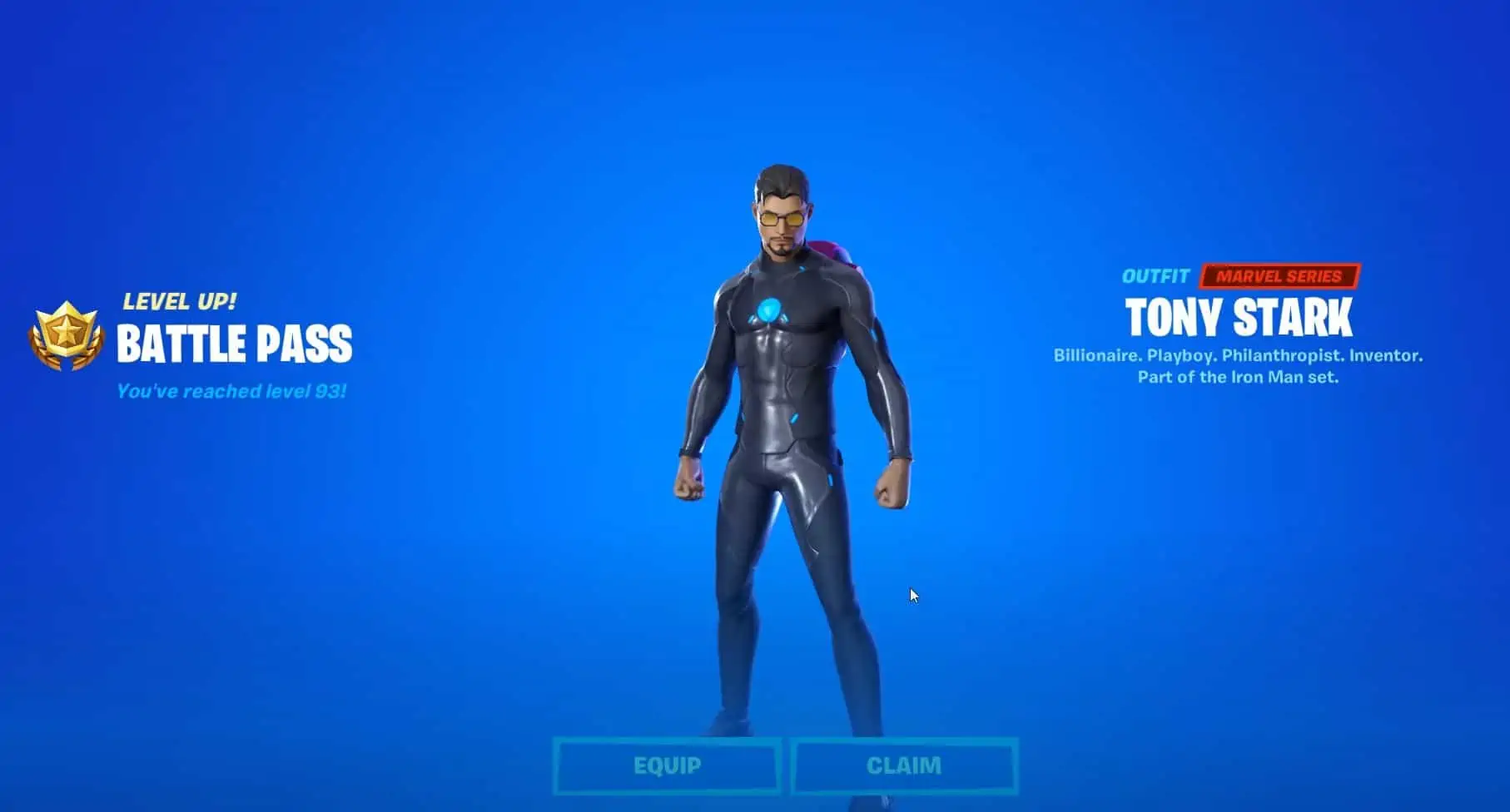 Most people who watch Marvel movies became fans of Tony Stark during the first Iron Man movie. Robert Downey Junior's swag is unmatched, and he was an excellent choice for portraying this superhero.
Iron Man's skin feels fantastic in Fortnite's fast environment. He has fluid movements, and it works perfectly on the screen. His colors are also incredible, mashing well with the vibrant environment. I will go as far as to say that this is my favorite pick out of all Marvel skins, and I bought it before Captain America's skin.
Spider-Man (Acquiring all skins on the 9th page of season one, chapter three battle pass and spending 9 Battle Stars)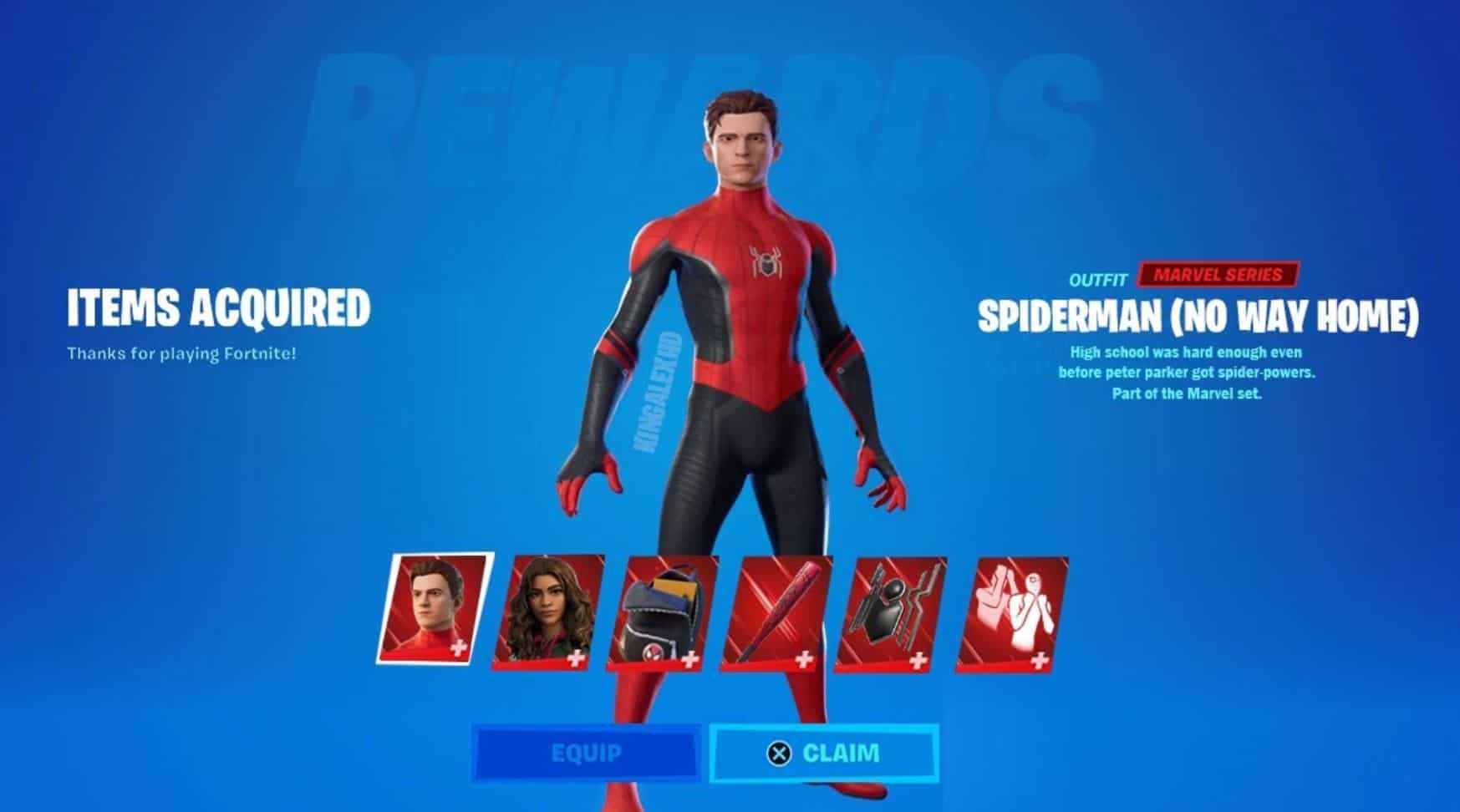 Spider-Man is, in my opinion, the most popular superhero ever to be made. He is an inspiration for all the young kids, who easily relate to young Peter Parker.
This is another fantastic purchase for Captain America and Marvel fans. Although stylistically, these are two completely different cosmetics, they somewhat resemble each other in terms of colors. Both of them rely on similar shades of blue and red, with Captain America using a somewhat lighter palette.
However, if you're a fan of the comics, you probably won't care about the technicalities. Most of us just want to roleplay as Spiderman, regardless of how his costume works within the world.
Wolverine (Finish Wolverine challenges during season four, chapter two)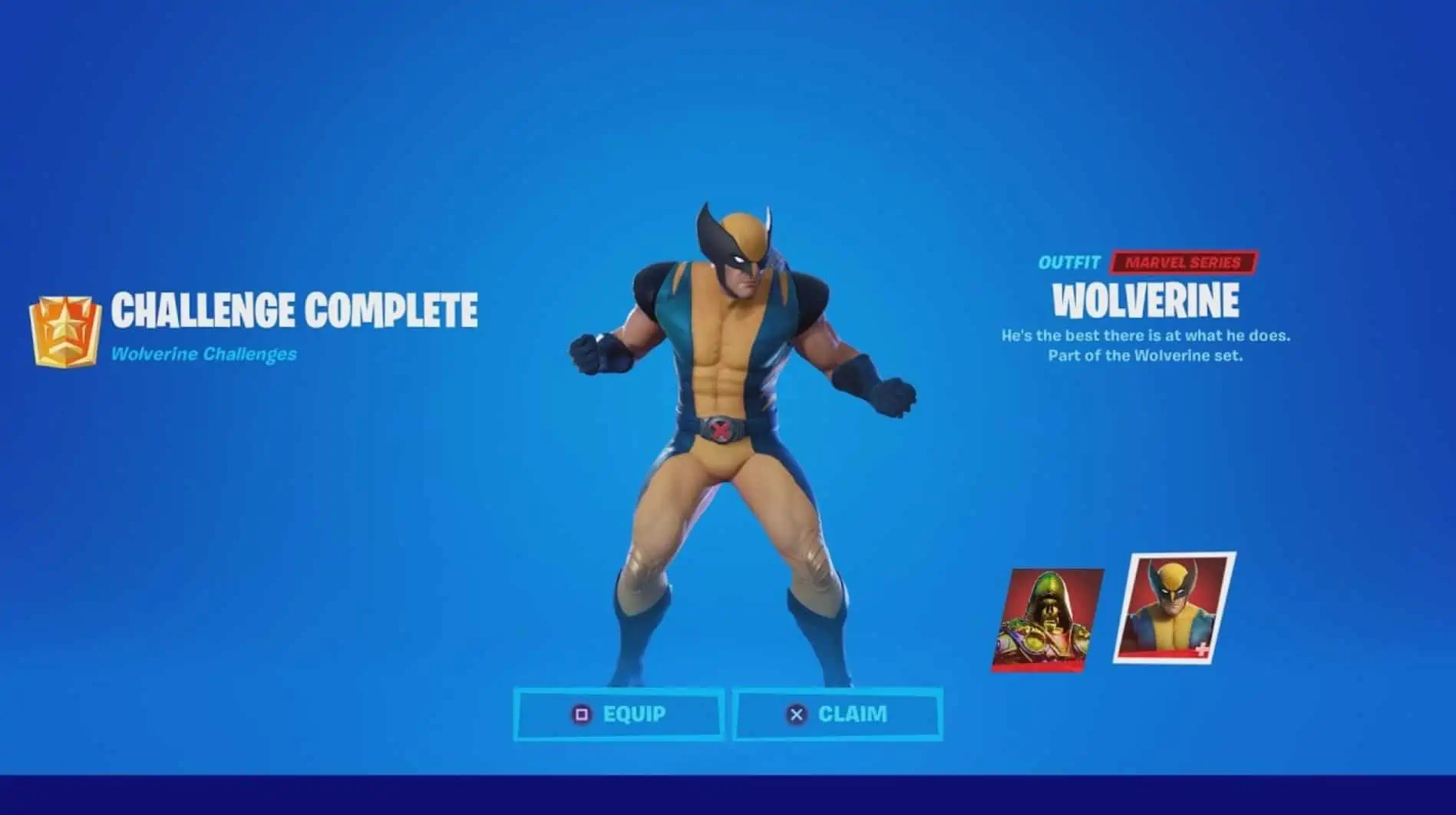 Although Wolverine is often shown mingling with Avengers in the comics, he wasn't shown in any of the Avengers movies. Regardless, I think that he's a fantastic skin to play with in the beautiful Fortnite environment.
Acquiring this cosmetic was a real pain. You had to finish appropriate Wolverine challenges, which took me a lot of time. However, once you do, you have the opportunity to roam around the vast Fortnite map as the yellow Canadian.
The skin feels awesome, and I especially liked the addition of claws. My only issue with it is that it works as an anti-camouflage. In other words, it's much easier no notice a person on the field when they're wearing this cosmetic.
Black Widow Outfit (1,500 V-bucks in the shop)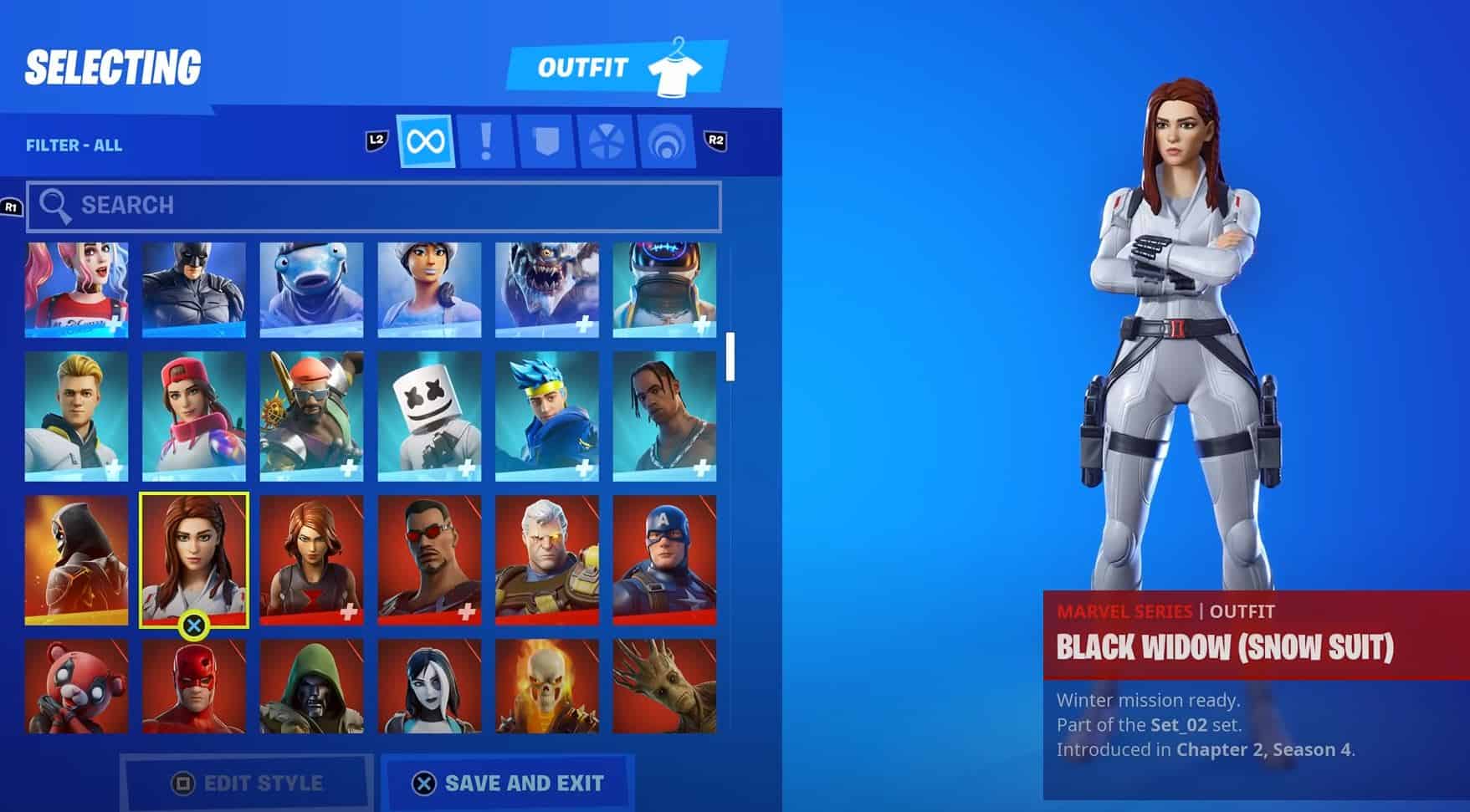 As previously mentioned, Black Widow is the second skin available in the Avengers collection. A lot of players I know have collected this set and are now constantly switching between the two characters.
Of course, this skin is much more popular among girls, but there are a lot of guys who use it on a constant basis. Black Widow mashes well with the environment, and I especially like her pickaxe. It's worth noting that the developers relied on Black Widow's appearance from the comics and not from the movies.
FAQs – Captain America Fortnite Outfit
Question: How do you get the Captain America skin in Fortnite?
Answer: Captain America cosmetic item became available on July the 2nd, 2020, and it's one of numerous Marvel skins in the game. You can get it rather easily by spending 2,000 V-bucks in the shop. Keep in mind that the cosmetic isn't always available, so make sure to buy it as soon as you have the money.
Question: Where can I buy old Captain America skins?
Answer: Due to the fact that Captain America cosmetic isn't always available, some players prefer buying it on trading markets. So, even if you don't find it in the store, you can head out to sites such as Eneba.com or G2A.com. Just make sure that the site is reputable and has a good track history of dealing with Fortnite skins.
Question: Is Captain America Fortnite skin popular among players?
Answer: Fortnite skins appear periodically, and the company makes rotations constantly altering available cosmetics in the shop. Because of that, players need to make fast decisions and buy their favorite item as soon as it appears.
According to data, Captain America is the most popular Fortnite skin to date. The company has featured it a whopping 81 times during its two-year existence. This is more than any other skin in the shop. In other words, there is probably a massive demand for the cosmetic, given how often Epic Games features it.
Conclusion
Captain America Fortnite skin might be the best virtual item that Epic Games has ever published. Although the company doesn't reveal sales data, it's safe to presume that this is one of the store's best sellers. We can also notice this based on the 81 appearances during its two-year life.
We should never underestimate the power of the Marvel brand. Kids and adults simply love these superheroes and are prepared to spend top bucks for their virtual items and collectibles. So, it's logical there are so many people running around Fortnite maps in this outfit.
As for the cosmetic itself, it feels and moves incredibly in the game. The skin goes well with Fortnite's vibrant colors. I also like the new back bling and pickaxe that goes with the item. You can get it for 2,000 V-bucks when available.
Recommended Reads: