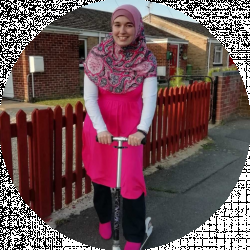 Latest posts by Melika Jeddi
(see all)
I love Captain America. Aside from Squirrel Girl, he's my favorite Marvel superhero, and I expect he's number one for many comic fans globally. Cap stands for justice. He's the face of freedom and liberty, and he refuses to accept anything less than what's true and fair. Some may consider him self-righteous, but he's the kind of superhero who lives his morals. There's nothing hypocritical about him, and he doesn't believe he's better than others. Instead, he believes that everyone should strive for greatness, and he doesn't allow bullies to have the upper hand. Captain America is the true definition of a hero.
Captain America was first created in 1940 by Joe Simon and Jack Kirby. Since then, he's had hundreds of adventures over the many issues of his comics, as well as appearing as a character in many other Marvel properties. He's long since been a big name in the comic community, but in 2011, the MCU released Captain America: The First Avenger, and he was truly catapulted into the mainstream limelight. The MCU movies gained massive popularity, and Captain America: The Winter Soldier is widely regarded as one of the best movies in the entire franchise.
It's no surprise that Cap has garnered a tremendous community of fans, and if there's one thing fans love, it's merch. As such, I've scoured the internet for the very best pieces of merch that it has to offer. There's a vast range of items here, all of which would be perfect as gifts or as a treat to yourself. Take a look!
Bottom Line Up Front:
Official Merch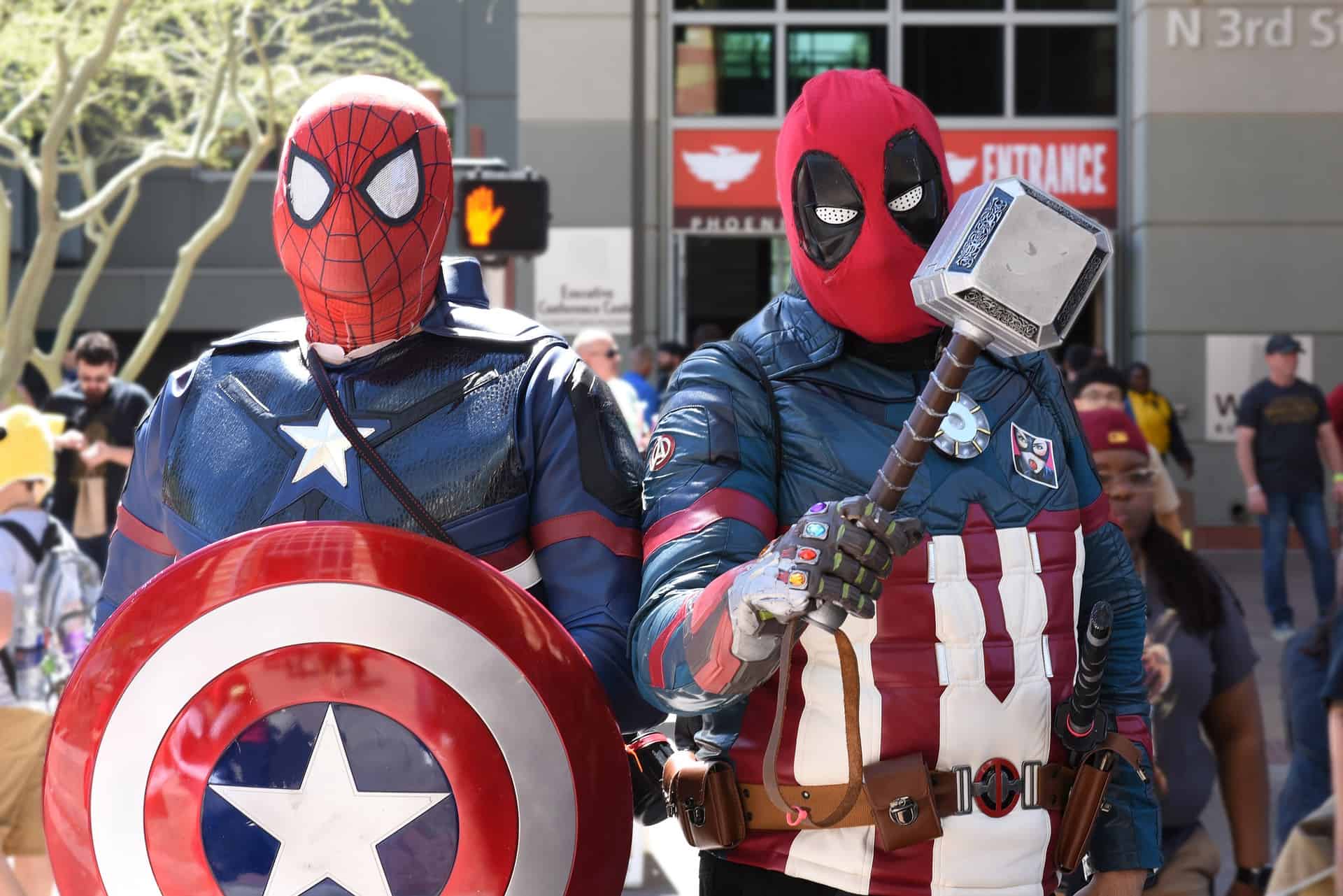 I have a firm belief that when you love a franchise, you should do your best to purchase official merch so as to support the creator. And yes, that even applies to huge conglomerations such as Marvel. Fortunately, that's not exactly limiting in this case, as there are tons of fantastic pieces of Captain America merch. As such, for this guide article, I've only included merch from officially licensed sources, as although some IPs only have a small number of official items, there's unlikely to be much in the way of Captain America merch that would only be available unofficially.
I'm not exaggerating when I say there are literally thousands of items that have been produced over the years, although a lot of them are no longer available to purchase today. However, hundreds of incredible products are still waiting to be discovered, and I have done just that. To make your search easier, I've separated all the items into categories to find the particular types of merch you're looking for. Unfortunately, many great items have been discontinued; after all, Cap has been around for over 80 years. However, there are still plenty of wonderful items still on sale, and you're bound to find something you love. Just a heads up, I do not include the comics or DVDs themselves as merch, so everything on this list is to supplement whichever medium made you love Captain America in the first place.
Apparel
The gold standard of merch apparel is the perfect way to show your love for a fandom. You can fit it neatly into your closet and wear it whenever the mood strikes you. Not only are clothes always something you're going to need, but you can also smile whenever you see yourself in the mirror and are reminded of the awesomeness that is Captain America. Plus, there's the added bonus that a fellow fan could see your top and give you a compliment. I don't know about you, but having strangers compliment me really brightens up my day!
T-Shirts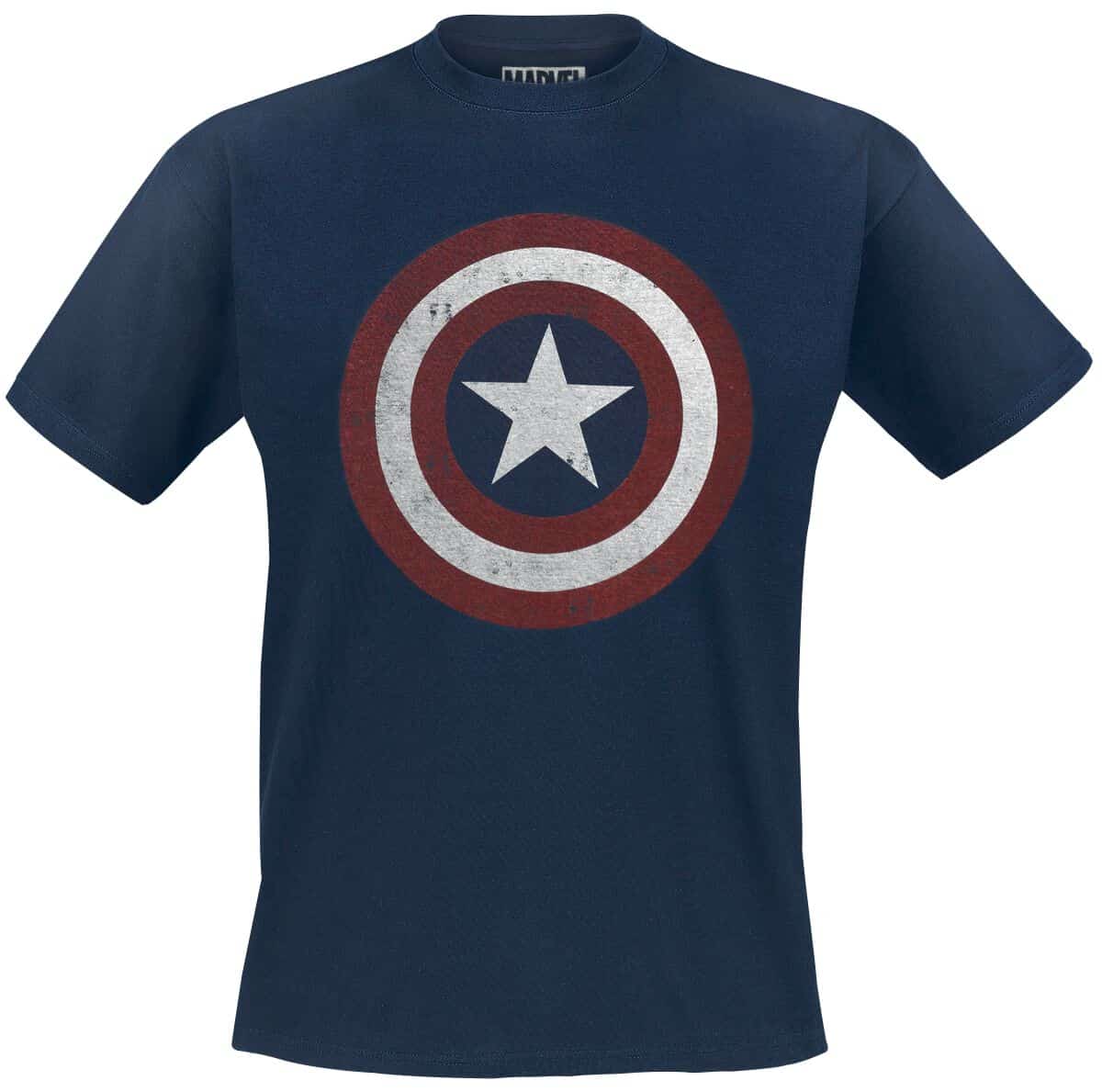 I've lost track of how many t-shirts I now own, as I'm always buying cool fandom designs when I see them at a reasonable price. I actually own a really cool Captain America t-shirt with a shattered shield on the front, but unfortunately, I got it a few years ago, and it's since been discontinued. However, whilst I can't recommend that specific one to you, there are some fantastic ones still available. My personal favorite is the Civil War 10 Year Anniversary Black T-Shirt. I really loved that movie, and the design looks sleek and elegant. The Metallic Shield Artistic Style T-Shirt is also excellent. If you're looking to buy something for a child, then the Sugar Skull Girls T-Shirt would be perfect.
Hoodies and Sweatshirts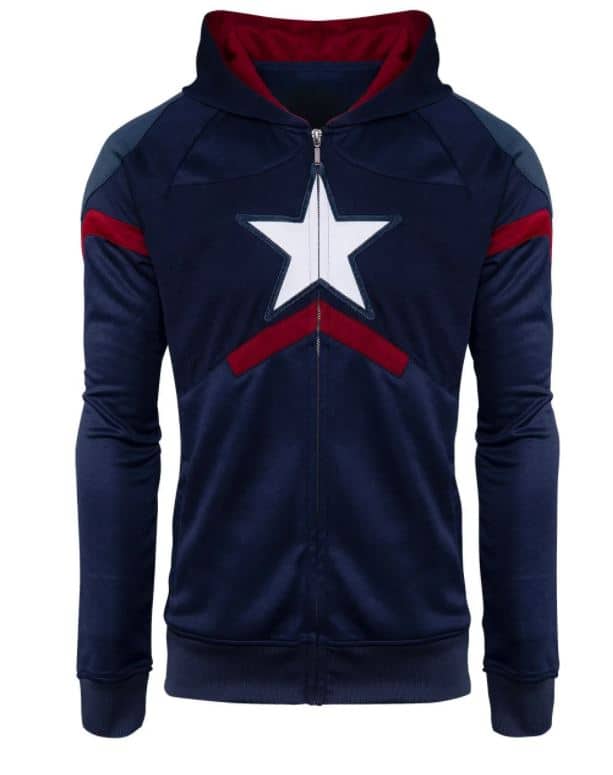 What's even better than a t-shirt? A hoodie! Of course, the only downside with this category is that they tend to be considerably thicker than t-shirts and therefore take up more space in the closet, so you need to be picky about which ones you buy. With that in mind, I was particularly critical when looking for merch to include on this list and only chose ones that I genuinely believe to be top-tier. As you might expect, there are absolutely loads of Captain America hoodies and sweatshirts, but these listed below could well be the very best of all. I'm especially impressed with the Est. 1941 Shield Symbol Red and Black Baseball Hoodie as it looks to be exceptionally well-made, and the design is brilliant. I also love the Periodic Table Captain America Hoodie, and it would be great for any of you who are also science geeks.
Bags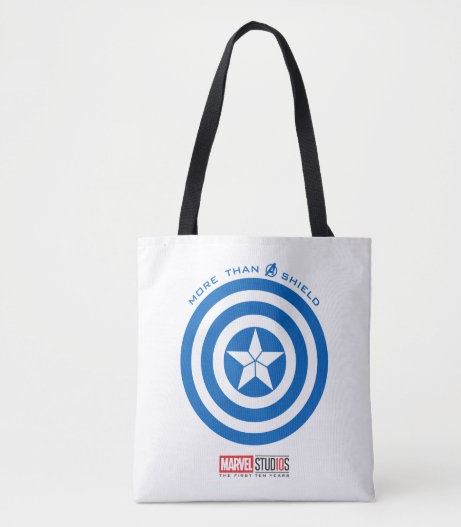 Bags are the perfect way to accessorize an outfit and a really nifty piece of Captain America merch to own. You'll notice quite a few entries from Loungefly here, and that's no mistake. They might be pricey, but they're worth the expense because they're exceptionally well-crafted and have such unique designs. In fact, there are many people out there who specifically collect Loungefly bags, regardless of the fandom. I've seen many of their beautiful designs, but I must admit, their Captain America ones might be my favorite of all. As soon as I saw the Loungefly 80th Anniversary Strap Bag, I knew I had to have it, and I've added it to my birthday wishlist (although I might purchase it myself before then!). I'm also a big fan of the Marvel IBiscuit Shoulder Bag and Cookie Mini Purse. I love the monochromatic black color scheme, and think it looks both fun and elegant.
Hats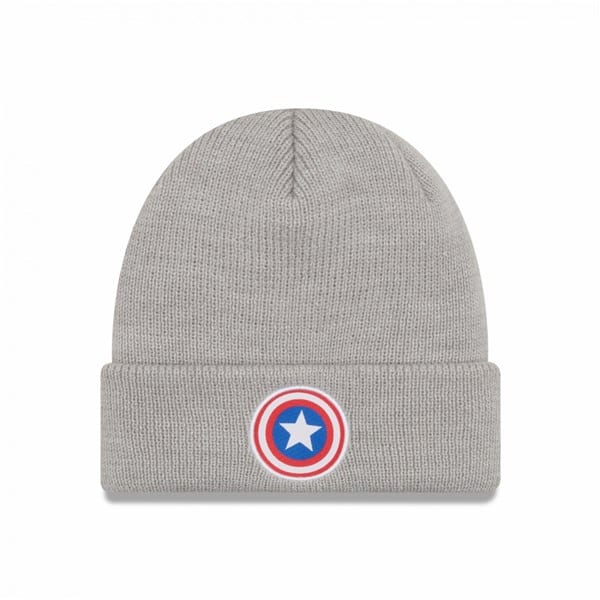 Hats aren't for everyone, and that's valid. But if hats are your thing, then you've come to the right place! I've whittled down the many purchase options to choose only the best of the best. At first, I struggled to find many official sources for Captain America hats, and Google kept directing me to unofficial sites like Redbubble. However, I kept digging, and managed to find some really fantastic offerings. I'm a big fan of the Captain America Grunge Shield Trucker Hat from the Disney website, as it allows you to customize the color to whatever your personal preference is. I also love the classic look of the New Era 9Fifty Adjustable Blue Hat, as it's refreshing to see merch using imagery other than just the shield. If you're an army guy (or girl!), then you may like the Camo Pre-Curved Bill Snapback Hat, which has a cool camo fabric overlaid with an embroidered shield symbol.
Socks, Slippers, and Shoes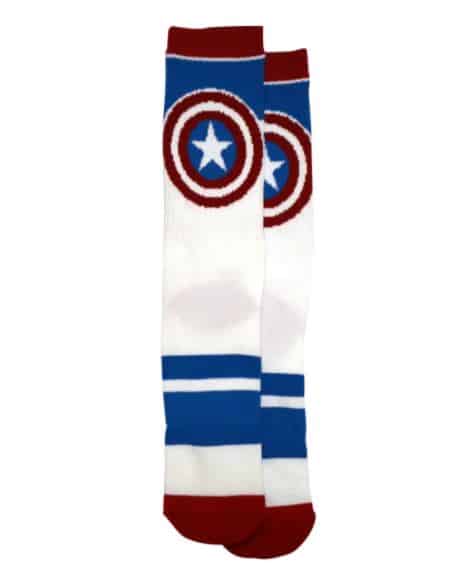 I've grouped all footwear into one category, as there weren't really enough of each to categorize them separately. Unfortunately, shoe designs seem to be very short-lived, and whilst there were some really awesome ones in the past, many of them are no longer in stock. However, don't despair, as I found an auction site that constantly updates with the Adidas N3XT L3V3L Shoes, so you can purchase them even though they're now discontinued. I also found some great socks, with my favorite pair being the Suit Up Crew Socks. If you're into having cosy feet around the house, then you could buy the Marvel Comics Black Flip-Flop Style Slippers. They look really fluffy, and I'm sure they'd keep your feet toasty and warm without smothering them like a traditional slipper design would do. If you're the kind of person who likes your toes to feel free, then they're the pair for you!
Figures, Collectibles, and Plushies
If you prefer to collect your merch rather than wear it, then you're going to love this category! There are some really delightful items in here to suit a range of budgets, and honestly, this is my favorite category in this entire guide. Don't get me wrong, I love themed apparel too, but being able to display a piece of merch in my room is one of the true joys of collecting. Captain America has been around for so many decades that he's a true cultural icon. As such, there are plenty of different pieces of merch for you to collect.
Funko Pops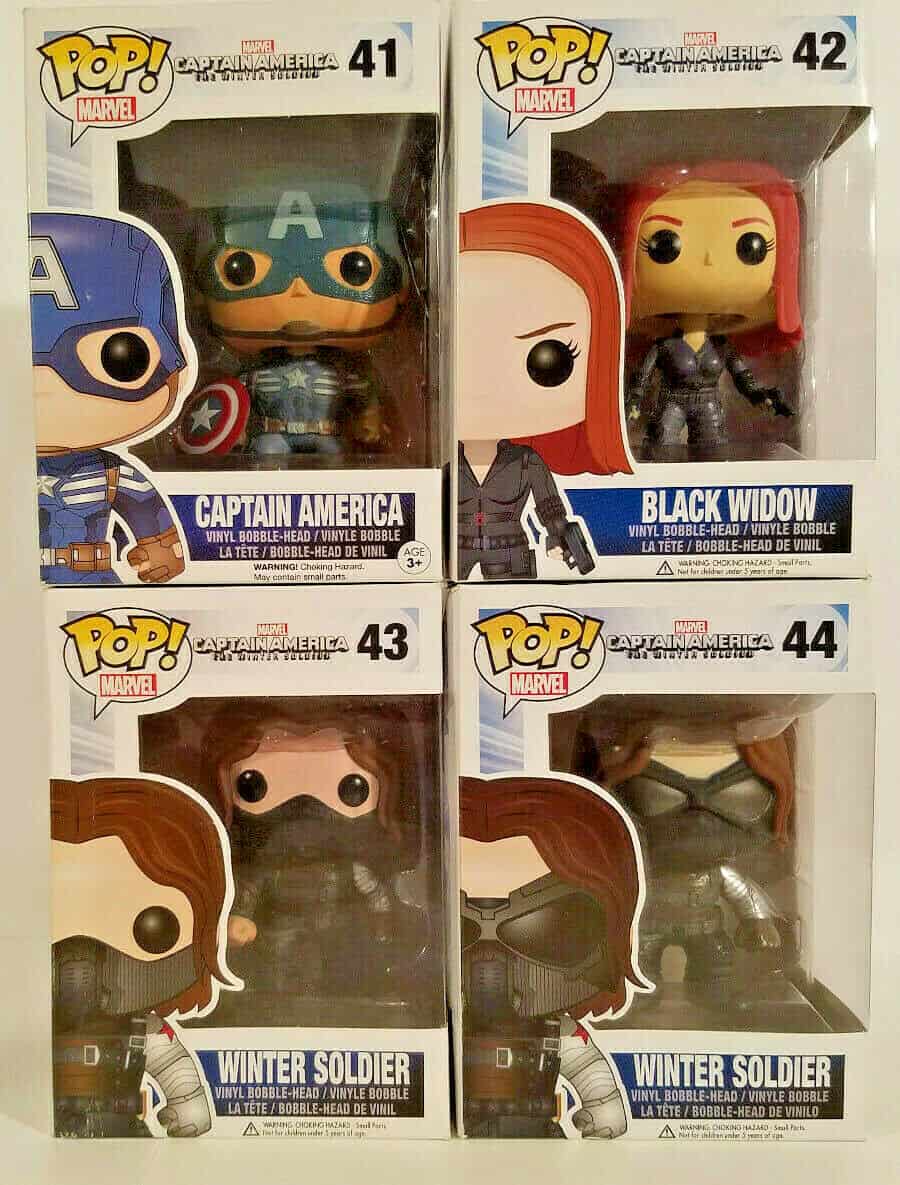 Funko Pops are easily the most popular when it comes to collectible figures. They have a huge fanbase and can be found in almost every comic and collectible shop globally. They're made for a range of franchises, and Captain America is no exception. There have been several Funko Pops designed for this iconic character, and so it's been tough to narrow this down to only the best. However, these figures listed below are the ones I consider to be the best. My personal favorite is 941 Zombie Captain America, and I fully intend to add that to my own collection very soon. 481 Captain America with Mjolnir and Shield is really cool and a great way to remember such an epic scene from Avengers: Endgame. I also think the 532 Cap Snowman is such a fun concept.
Action Figures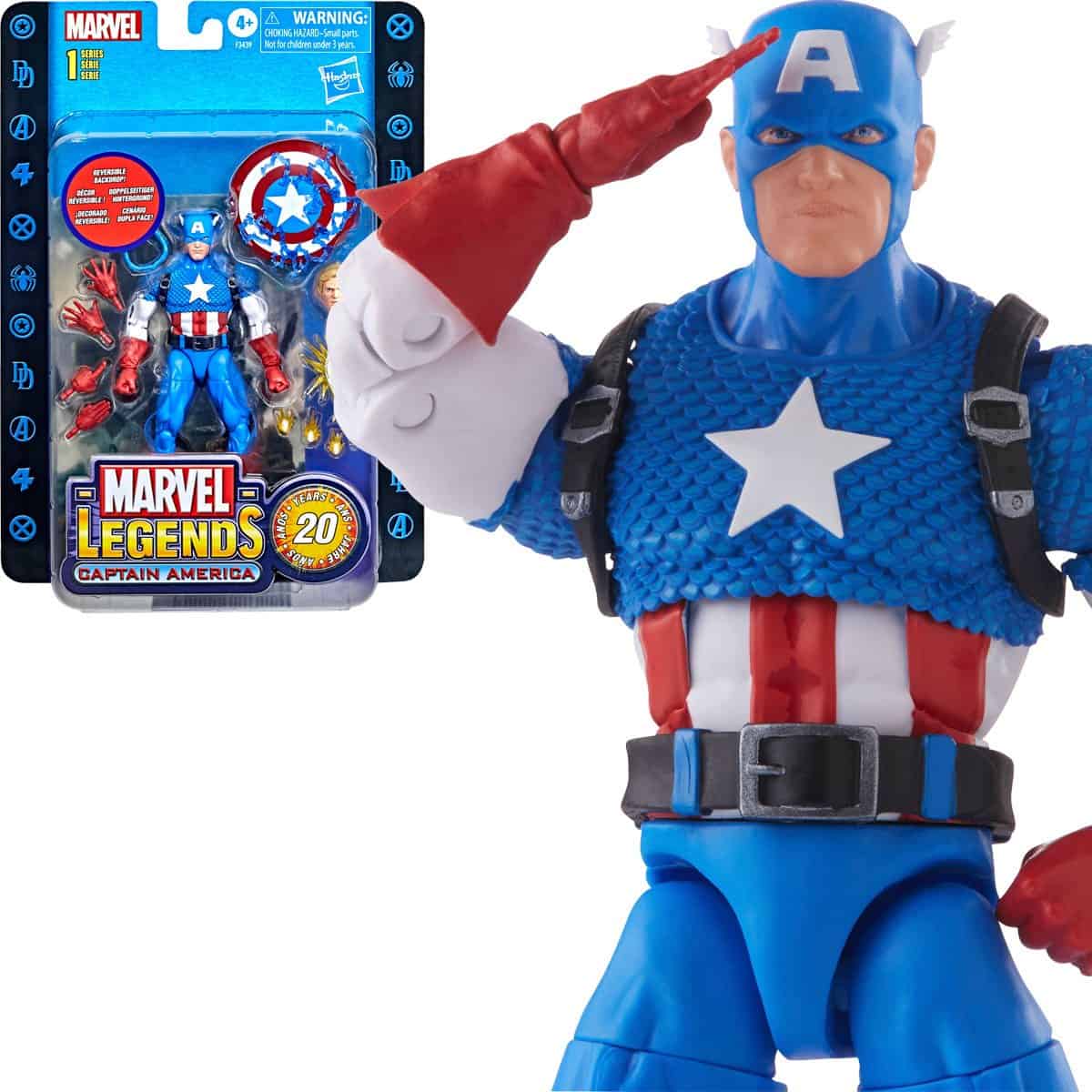 It's no surprise that a comic book character would have a huge range of action figures available. Honestly, you'd be hard-pressed to walk into a toy shop and not find an entire stack of Marvel action figures. Some of these figures are geared purely towards collecting, but the majority here are designed to be played with. I deliberately chose those types of action figures, as I believe that toys should be enjoyed, and that's why I have a separate section for replicas and statues. The Marvel Legends Series Captain America Action Figure comes with detachable pieces so you can customize it for your playstyle, which I think is a really convenient feature. I'm also a big fan of the Hot Toys Avengers Endgame Action Figure as it's very realistic and looks just like Chris Evans' portrayal of Cap. I've included the Sam Wilson Captain America Action Figure because although Steve Rogers will always be my Captain America, Sam Wilson was his, and I trust Steve's judgment. I believe that Sam will make a great Cap, and I'm excited to see his journey.
Replicas and Statues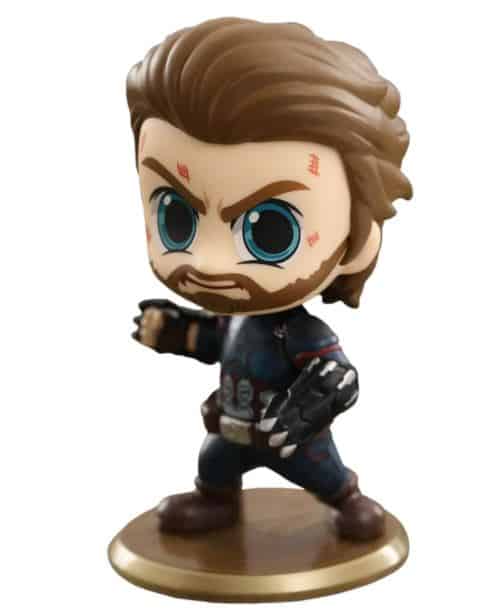 If you've got money burning a hole in your pocket, then this is the section where you can really let loose. Don't worry; I've included some relatively affordable options as well, but I wanted to make sure I shared the very best replicas available as well. These make for incredible display pieces and are bound to be a conversation starter whenever someone visits your house. I think the Marvel Legend Shield Replica (Classic Colors) is the epitome of quality, and it looks just like the shield from the movie. The blue one is beautiful as well, but personally, I prefer the classic look. I'm also a huge fan of the Hot Toys 1:6 Avengers Endgame Statue. It's miles out of my price range, but I think it's definitely worth it if you can afford it. The level of detail is phenomenal, and it's so realistic to the character.
Plushies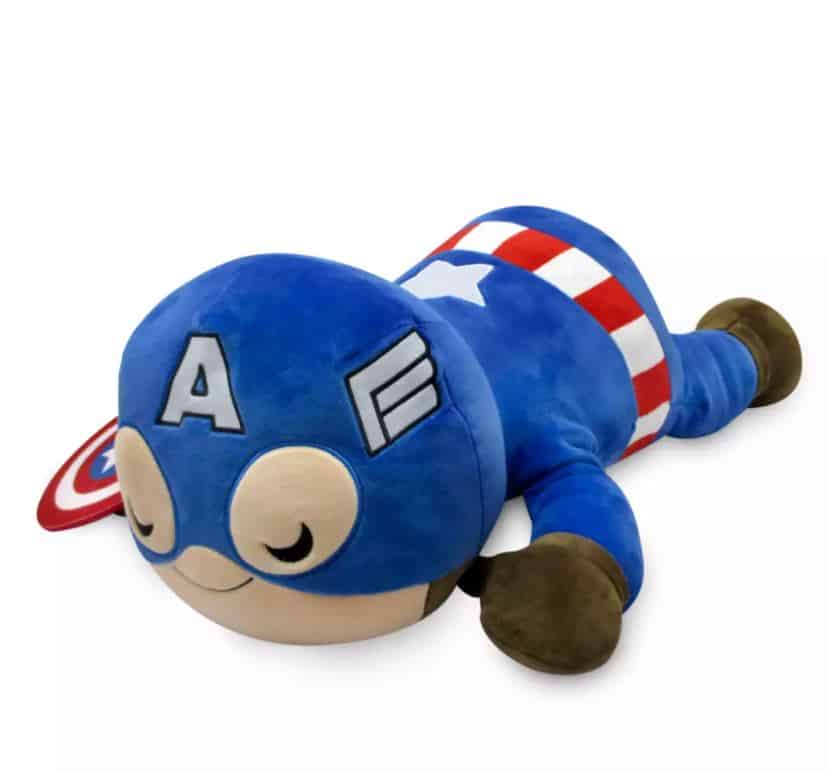 I love having a plushie around to give a good cuddle whenever I'm feeling stressed. Something about their soft squishiness is so comforting, and so I decided they needed a category all of their own. Sure, Captain America may not seem like the most cuddly guy, given all the fighting he does, but he has a sweet side, too! If comfort is your number one priority here, then I definitely recommend the Large Cuddleez Plush. It was probably made with children in mind, but that doesn't mean adults can't use it as well. If you tend to use plushies more for decoration, then the 8″ Kuricha Sitting Plush Doll would be perfect for you. It has a cute face, it's conveniently small, and it looks like it would be great just sitting on a bed or a shelf.
Pins and Wall Art
For those of you who like being able to decorate your room or your belongings, this category is outstanding. They're both small and usually priced pretty cheaply, so they're perfect as one-off items of Captain America merch. Honestly, there's not too much for me to say here, so I'll get right into the individual categories!
Pins and Badges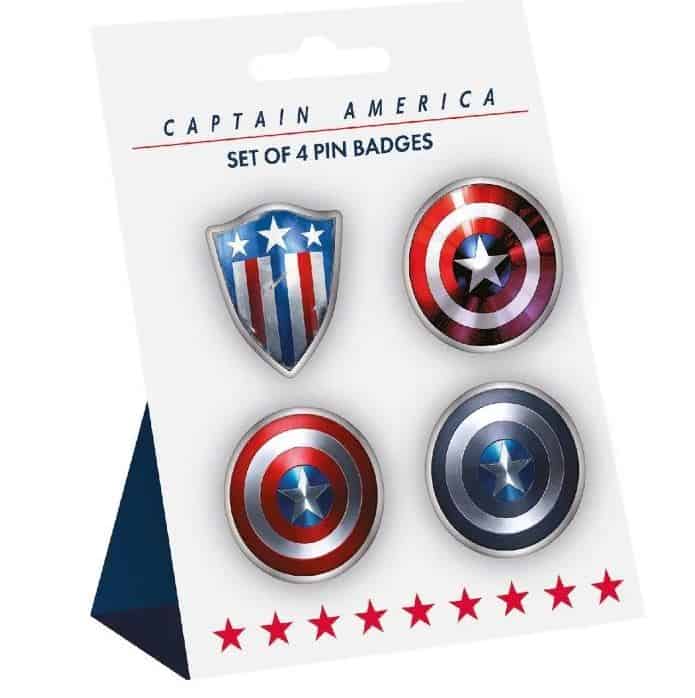 Aside from Funko Pops, enamel pins are my favorite things to collect. I think they're absolutely brilliant. They're so small, so they're really convenient to display, and the sheen on them is lovely. Because they're set in metal, it makes them feel high quality, and the vibrant color that the enamel brings out makes me really smile. I choose to display mine on various patterned lanyards, but I know some people have a corkboard to display them on, whilst others leave them in their original packaging and will put them in a dedicated place in their rooms. My favorite official Captain America pins are the Captain America's Shield 4-Pack. It's really cool to see the evolution of his shields, and the design variants that were available. I'm also partial to the Captain America Funko Pop pin, which would go great as a companion piece if you own any of the Captain America Funko Pops that I mentioned earlier in this guide.
Wall Art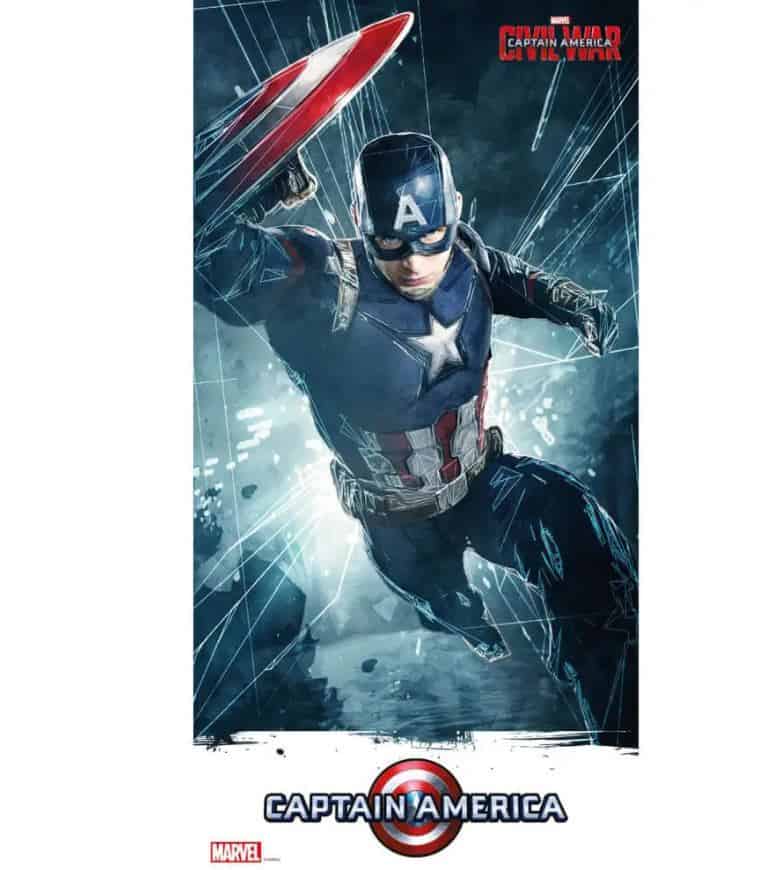 What better way to truly personalize your room than to fill it with wall art for the franchises you love most? If you're a Captain America fan like me, then you'd love nothing more than to have his reassuring presence in your home. Posters and prints are great as they're flat and easy to store, which comes in handy if you ever have to move location. However, thicker pieces of wall art definitely have their place and will look really cool as a decorative item. I was really impressed by the Civil War Glass Poster, as I've never seen glass used as a material for a poster before. Although I would be a little concerned about it shattering, I'm sure they've accounted for that, and it's probably sturdier than it looks. I also love the Walk It Off Lithograph by Brent Woodside Art Print as it's got a unique style that is visually very appealing.
Other Merch
Finally, we have the items that didn't really fit into any of the other main headings. However, that doesn't make them any less special. Just because they're 'other', it doesn't mean that they're less. There's some great Captain America merch still to come, so if you're on the fence about what to purchase, then maybe one of these choices will help you make your decision!
Mugs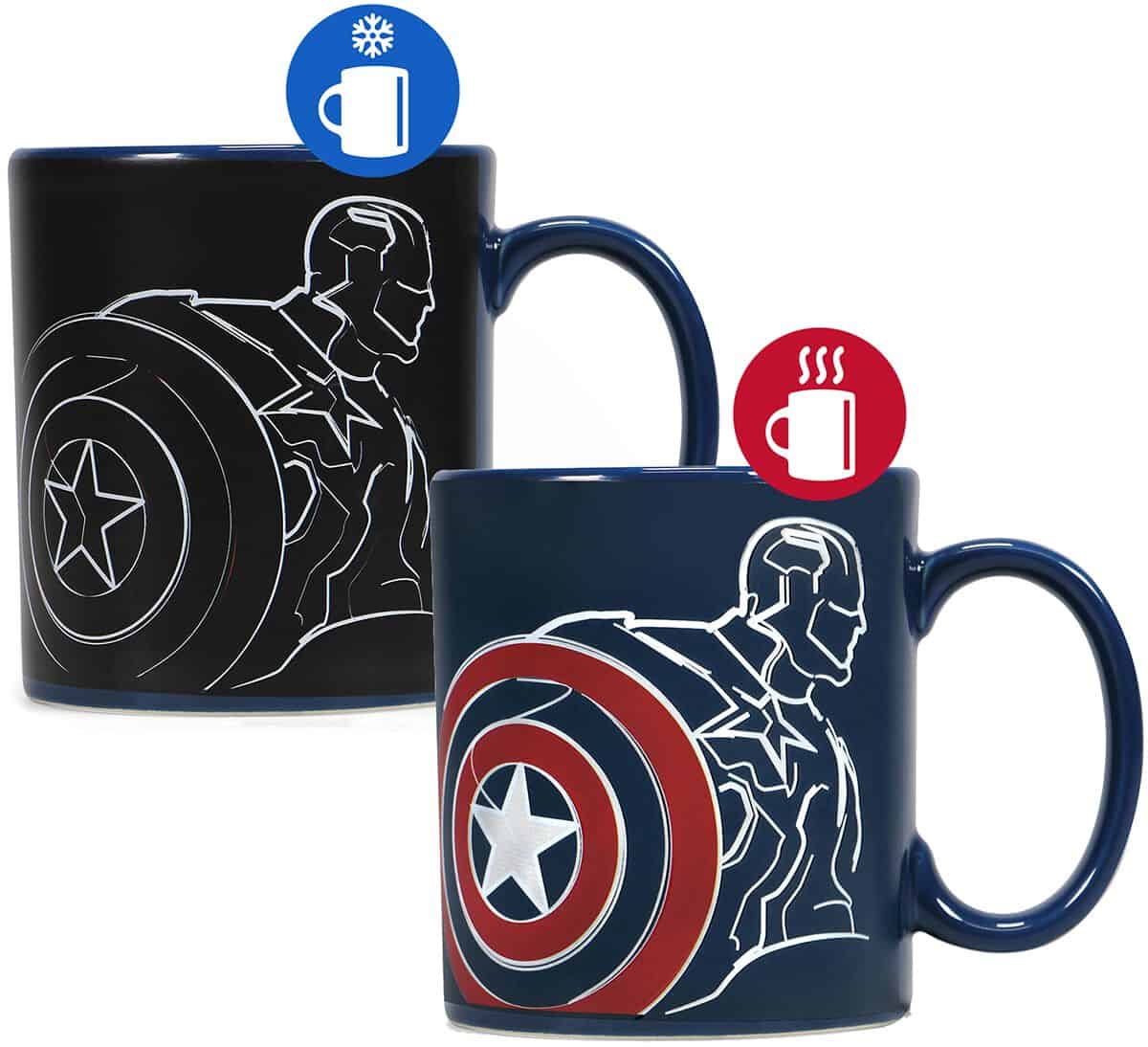 It's not uncommon for kitchens to have an entire cupboard dedicated to mugs because, let's face it, they're so fun to collect! It's nice to have a range of mugs to choose from so that you can drink your hot beverage from something with a style to suit your current mood. Some days, you just want plain, white porcelain. However, other days you may want something exciting to help get you through the day, and what could be more exciting than a superhero? I love these Captain America mugs, and I think any one of them would be a worthy addition to a kitchen. My personal favorite is the Marvel Mini Heroes Mug as I think the design is utterly adorable. However, the Meta Merch Muscled Arm Mug is a genius concept and is a fantastic piece of Captain America merch.
Other
These few remaining items didn't really fit neatly into one category, as they're essentially a miscellaneous bunch of one-off items. That's why I've included so many things on this list, as I wanted to make sure this guide went out with a bang! I was amazed by the sheer range of products available, and it goes to show what a popular character Captain America is that Marvel have made the effort to create such diverse merch items. I really like the Marvel Comics Silk Touch Throw, as the design is beautiful, and it sounds like it would be wonderfully soft to the touch. I'm also a big fan of the Captain America Panels 500-Piece Puzzle because it's not the kind of merch that you see every day. I'm all about staying properly hydrated, so the Shield Drip Effect Water Bottle caught my eye as well. You'd be hard-pressed to find an excuse not to drink water when Cap himself was recommending it!
FAQs
Question: How many MCU movies did Steve Rogers appear in?
Answer: Chris Evans officially appeared as Steve Rogers in nine total MCU movies. These were: Captain America: The First Avenger, The Avengers (also known as Avengers Assemble in the UK and Ireland), Captain America: The Winter Soldier, Avengers: Age of Ultron, Captain America: Civil War, Spider-Man: Homecoming, Avengers: Infinity War, Captain Marvel, and Avengers: Endgame. He also made a cameo appearance in the first Ant-Man movie, but he was uncredited for this. Although Avengers: Endgame was the last movie appearance for Steve Rogers, it's not the end of Captain America. Sam Wilson, aka Falcon, will be taking on the role, and Marvel have confirmed that there will indeed be a 4th Captain America movie, with Sam playing the protagonist. If you're planning to watch that, it's worth first watching the Disney+ show The Falcon and the Winter Soldier as it contains crucial information about Sam's journey to becoming Captain America.
Question: Why was the character of Captain America created?
Answer: Steve Rogers, aka Captain America, was conceived in 1940 by the brilliant minds of Joe Simon and Jack Kirby. This was shortly after the start of World War II, and Captain America was very much intended to be war propaganda. He was an American super-soldier fighting the evil Nazis and the Axis powers, a true patriot. Kirby and Simon were morally repulsed by the actions of the Nazis, and so they created a man who stood against everything that the enemy represented. His character was intended to symbolize the America that they believed in – one of freedom and goodness. Captain America was a beacon of liberty. His popularity died down after the war, with his comics ceasing in 1950. However, he was revived in 1964 to become part of The Avengers, which was a massive hit with comic fans. Cap has been in publication ever since.
Question: Which Captain America merch makes the best gift?
Answer: I've said it before for other fandoms, and the same holds true for Captain America merch – Apparel is always the king. Seriously, you can't go wrong with it. People are always going to need clothes. By getting them an item of apparel, you're ensuring it's something that they can use. The caveat to this is to make sure that it's something that they wear. For example, if you've never seen them donning a hat, then a baseball cap probably isn't ideal. Similarly, if they're not really into thick clothing, don't get them a hoodie. A t-shirt is always your best bet if you're unsure. If you know them well, then you can get them something a bit more specific, perhaps a Funko Pop if you know that they like collecting those, or a mug if they enjoy their hot drinks.
Conclusion
So, there we have it! I really hope this guide to the best Captain America merch was helpful and that you've found an item that really resonates with your personality. If you're searching for a gift for a loved one, then I'm sure any one of these items would be really appreciated; I know I'd certainly be happy about it. Captain America has touched so many lives, both through his comics and movies, and owning some official merch is the ultimate way to pay tribute to him. Whatever you decide to buy, I hope it brings you all the joy in the world. As Steve Rogers said, "Now and forevermore, I am a man of the people." And as the people, we are lucky enough to be able to own Captain America merch always to have him in our lives.
Recommended Reads: