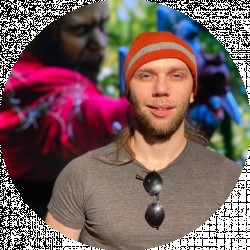 Latest posts by Bryan Hughes
(see all)
Iron Man merchandise went from being one of the more underwhelming Marvel sales figures to one of its top all in the span of a movie release. So, we've got a lot of merchandise to cipher through as we track down the best of them in this article.
I've been a comic fan since I was five, and I'm not saying that was a long time ago, but I remember when Michelangelo was the first character to break the fourth wall on the Ninja Turtles TV series. You can attempt to date me now. Look, my point is, I liked Iron Man before it was cool.
The suit, his VS battle collectible cards against War Machine, and the complicated character arcs he would find himself in. He wasn't always a good guy, even when he was the hero, and that was a new thing for me. So, I've been collecting posters and apparel of his since I started getting money from lawn mowing. 
Fast forward to now, and one of the few merch guides I've decided to pick up is this one for that very reason. I want to bring my knowledge of internet shopping and comic book merchandise, combined with my Iron Man love, to you. 
Let's dive in, suit first, to the best Iron Man merchandise on the web.
Bottom Line Up Front
This article is going to cover a wide array of Iron Man merchandise. From clothing to room decor and water bottles to card games. Some of the best figurines and statues on the internet, including my personal favorite statue, the classic suit Iron Man model.
We'll touch on common fan items like key rings and phone cases and add some more unique things I've found. For example, my favorite item on the whole list is a metallic 3D puzzle of Iron Man! I'll provide links to my top picks and the best of each section to make finding Iron Man merch that much easier for you. 
Selection Criteria
This Iron Man Merchandise Guide will weed out thousands of choices to select the top quality picks from several common areas(and a few one-of-a-kinds). I ensured the websites being used were safe, and the quality of the selected items was good before adding them to the list. 
Practical use, style/visual appeal, and material quality were the most significant factors around the board. Details and pictures of what we think are the best of the bunch will follow, and we won't mince words. The goal is to make sure you find what you're looking for. At the very least, get you turned on to the sites where more options from the links we've gathered will assist you. 
Purchasing Disclaimers

Don't purchase from any site that won't give a refund! 
Throughout my article days, I've given many disclaimers, but that one sentence is the key to online shopping. If they are going to send you something blind and won't offer money back on a just-in-case scenario, that is a red flag. 
Please don't feel like going in person to a Gamestop for a Funko Pop figure or a Target for some posters is a bad idea. In-person shopping gets you walking, gets you some air, and supports local stores, so jobs don't disappear. We don't all need to be sitting in front of a computer for 12 hours. 
If purchasing options online are you're best or only choice, put the extra time in to compare. Whenever you look at an item, copy its name into your browser and check around. Compare reviews and prices, and be wary if the item doesn't exist elsewhere. Unless it's specially made from a specific site, that can also be a red flag. 
Before I scare you off, here's a big plus. I did all the research and checked on these items for you to save time. Happy shopping.
Apparel
The clothes we wear are often the first sign to passers-by of what we like or the simplest example of how we're feeling today. Of all the characters, Iron Man really lends himself to apparel designs the best. Why? Because literally, the character is powered by his apparel. Personally, I enjoy putting on an Iron Man-themed outfit as it feels a lot like "suiting up."
Shirts
These top five shirts span different art and character design styles, from the simple arc reactor on the chest to the comic book-inspired classic T-shirt. My favorite of the Iron Man shirts is the compress shirt for exercise. Iron Man exercise shirts are more than just cool. They almost give me a boost in grit when I wear them. As if I'm dawning armor that will provide me with extra power needed for those last reps or minutes after I've reached the feeling of quitting. So, the Iron Man compression shirt tops my list. 
Hoodies/Jackets
A multi-season item that can also be worn during jogging to help one sweat, a hoodie is one of my favorite clothing pieces. While not the biggest fan of the ones with zippers, as I find the pullovers have a longer life, a few awesome ones fought their way onto the list for design. 
My personal favorite of the Iron Man hoodies goes back to gray. I like classic gray hoodies. They look clean longer than the white ones, have more shine than the black ones, and go with almost anything. That being said, the simple art on this Target item also has Iron Man wielding the Infinity Gems. It was a great moment for me, where it felt like MCU movies had found a way to be tangible works of a screenwriter and not just fan-pleasing spectacles. 
Hats
My collection of hats expands as the number of hairs on my head becomes fewer and easier to count. That said, there is no shortage of awesome Iron Man-inspired caps. I've scanned and located the top five amongst a sea of candidates to find you the best of them.
Look and comfort are both considered, and sometimes one will win over the other. My personal favorite hits the number one spot, but all five of these are great pick-ups. I like the simple design, and the metallic gloss used on the Iron Man symbol against the all-black cap pops in a very cool way. 
Halloween Anyone?
Iron Man apparel searching was littered with links to a little something known as costumes. After being bombarded as I searched with these links, I finally fell down a rabbit hole of Iron Man costume items. Many of us fans love dressing up (not even necessarily on Halloween) as our favorite heroes. Whether it be for a comic convention or movie premiere.
While Iron Man may not be making many more films with what went down in Infinity War, you can still show your love. Here are the top five costume pieces, with my favorite at the top. The flip mask with the Iron Man light-up screen you always see Tony Stark using inside the mask from the films. 
For more Iron Man costume ideas, check out The Best Iron Man Costume Ideas
Room Decoration
Since I was a teenager, decorating my room my way has been crucial to feeling at home. This includes wall art to pillowcases. Iron Man designs are remarkably well versed in this respect. Yes, he usually dawns a red and gold design, but he's had more than a few costume changes. This means there were plenty of options when scouring art depicted on posters or comforters. 
Wall Art
It was hard to narrow this down to five but not hard to narrow my favorite. The choices range from customizable wall art and contemporary approaches to the character to emotional comic book moments for the Iron Man fan to have on their wall.
My favorite is well-designed and meaningful as a sizeable comic book fan. It's Iron Man standing in front of a shadowed Captain America in the sky. It symbolizes his sadness after Cap was killed in one of the most infamous moments in Marvel Comics history.
Bedding
To rest where you are welcome is a rest that truly heals. This is something I firmly believe. With that in my mind, one can take measures to help create a welcoming environment wherever you are living now. When it comes to rest, the measure most useful is sprucing up your bed. A comforter, a pillowcase, and complete bedding set all match an image you find joy or peace in. Iron Man has no shortage of great bedding choices for his fans, and I've gone through them with a very picky mindset. 
My favorite is a complete bedding set of an artistically popular image of the Iron Man Model 9 Helmet. It's somehow both bright and strong. The contrast is a fantastic addition to any room. The other four are equally suitable for their own reasons, but that model 9 helm will fill out my collection, so it tops this list. 
Computer Upgrades
This writer will always bring you computer aesthetic options for merchandise. Especially superhero themed. Iron Man being a computerized superhero in many ways means a lot of his design meshes really well with electronic equipment. That being said, the best choices were made for practical and artistic reasons. 
My favorite? The custom keyboard keys and Iron Man placemat. It turns the whole desk into an Iron Man theme with one purchase. Not a cheap purchase, though. Also, ensure you follow the installation carefully, don't rush to install your keys. Nothing is more frustrating than bad keys on a keyboard. 
Figurines and Plushies
The intricate detail and time spent on Iron Man statues and figurines skyrocketed after Robert Downey Jr. first starred in Iron Man. That means finding one that you can show off and decorate with is an easy task. Finding the best, well, that's what we're here for. My own house is riddled with plushies and figurines. I made sure I didn't add anything I wouldn't like or admire to this best of section.
Action Figures
I've already drawn out an article on Iron Man Action Figures. From it, I was able to detail the best of the best, but I will only pick those upon it that will make the most outstanding display figures for an office or home. To top that off, I have to put a really expensive figurine because it stands out in both size and imagery above the rest. That would be the Hulkbuster, a heavy Iron Man figurine. 
The following list is not for children. Unless you don't mind spending a hundred-plus dollars on a finely detailed figure that may get blown out of the sky by an invisible laser and lose its costly arm.
Funko Pop
These figurines line many gamers' shelves, as seen on twitch streams worldwide. Funko Pop is a craze that did not go away, and with a long-lasting trend, choices have arisen. When browsing the Iron Man choices, I had a thought. What if my readers(you) wanted to get all of them? 
I decided the choices had to be varied. They had to be cool or funny and needed to make any shelf they ended up on look good. My favorite is the classic Iron Man in the hero pose. Why? It's a very iconic image in my mind. I like the serious eyes and look on the otherwise cute figurine. 
Statues
The difference between statues and figurines is customization, for the most part. Because a statue isn't intended to have its arms or parts switched out to the owner's liking, it often means it can be hardened better. Improving its shelf life and allowing for more work to be put in with minor details like the actions or poses it's permanently placed in. 
Whether small or large, an incredible Iron Man statue is an acceptable replacement for a figurine on a shelf or display case if you like. My favorite is the classic Iron Man PVC figure. Not just because it's more affordable, but it's also only 11 inches and not too wide, making it fit in more locations. I also really like the classic armor. Hey, why not even get both?
Plushies
I love plush toys. They can be a nice decoration or a great gift. They usually aren't very expensive and always bring warm feelings with them. I had a bit of fun browsing the Iron Man plush options and came away with some unexpected finds. My favorite of which is an adorable angry-looking little Funko Pop-style plush. He just looks like he will groan when you hug him but also secretly wants to be hugged. 
For more Iron Man toys, check out The Best Iron Man Toys.
More Fun Items
You can get anything from key rings to eye patches in the merchandise world. I've gathered up a few more common items(sorry, no eye patch) and listed them in this section. I took to grabbing up only things I would get myself or recommend to a friend looking for something with some Iron Man flare. 
Key Rings
Losing your keys is much harder when they make a heavy CLANG upon being dropped. What's the easiest way to make them their own 'dropped' alarm? Put them on some cool key rings, of course. While I prefer the solid and not-so-clunky ones because I keep my keys in my back pocket, I provide other options for people who don't. 
An Iron Man key ring is a terrific addition to my key ring. My favorite of the following is the solid circle with the engraved helmet key ring. It isn't clunky. The design is clean and is unlikely to break anytime soon. That being said, the Lego Iron Man key ring is pretty cool, and I may get it just to hang it on my mirror in my car. 
Puzzles
I encountered an interesting dilemma while browsing for puzzles to make the best list. I found some JMC puzzles on Amazon that looked amazing. I wanted to add two of them to this list or at least one, but they had no reviews. I could also not find any information from someone who bought one at the time, and thus I left them off. 
Yet! While searching for sources to confirm the reliability of the JMC puzzles, I stumbled across an enjoyable site. My favorite puzzle hails from there. Eureka Puzzles. What do they make? Metal 3D puzzles! It is not for kids or, at the very least, not unsupervised, as it does require wire cutting. Slim metallic pieces are being worked with, so take care. Still, you can now turn an Iron Man puzzle into your very own statue! I freaking love it! 
Phone Case
Almost every person with a phone has a case on it, almost. I have one, thankfully, because I drop my phone a ton, and I suggest everyone get one. A phone case doesn't just protect your phone, though. It also gives you another opportunity to show off your superhero love. 
With plenty to choose from, my favorite was an iPhone case that mimicked the classic armor. Yet, I know you are not all iPhone users out there. I made sure to add cases for other models of phones as well. I also took the best from a varied selection instead of picking the same art for each model's case. Why? Because choices matter.
Mugs/Water Bottles
A known connoisseur of coffee and regular of the nearest exercise facility, mugs and water bottles are part of my daily routine. That said, I've decided to condense them into a category of just four of the best. While I have reduced this section, as opposed to my usual drinking object, love, make no mistake! The top selection is the best exercise water bottle I've found of any superhero-style thus far.
The second to top pick is my favorite Iron Man-inspired coffee mug design. There are so many options for coffee mugs you can browse on Amazon or the site I found my favorite. Yet, if you've been reading the article thus far, you can guess what my preferred Iron Man Mug might say.
Remarkable Standouts

It does seem like they make a card game about everything! Doesn't it!? I love card games in general, so I've got no beef with this. This fun pick-up comes from the people at Funko Pop, so you even get a lovely little miniature. The game can be played with many friends, and the rules are pretty simple, making it a quick party pick-up game for any Iron Man fan to bring around.

This is Lego at its finest. Over 2500 pieces of Legos were used to make a book with Iron Man's Helm imprinted on it. It reveals a mini-lego museum of 50 different Iron Man Lego models! It's just the most remarkable thing, and as a fan, I could not in good conscience leave this off the Iron Man Merch Guide. 
I don't know exactly how I feel about this wild backpack other than I had to share it with fellow merch shoppers. It's a giant Iron Man head. The batteries aren't included in the sale here. Initially, I stumbled across it when considering adding backpacks to this list and opted not to. Then, I learned it got nearly bought up when it first hit the market. The site I linked I did verify for you, so it is legitimate, but the real question is…do you want a giant Iron Man helmet with glowing eyes on your back? If yes, then this is for you.
Honorable Mentions
FAQs
Question: Is Iron Man merchandise expensive?
Answer: It really varies. There are many cheap and affordable options even throughout this list. There is an expensive route if you prefer. The 22-inch light-up Iron Man Statue is currently going for about 800 dollars!
Question: Is Iron Man the most popular hero?
Answer: He got a lot more popular after Robert Downey Jr. played him in the Marvel Iron man film, but before that, he was doing okay. His comics have been around for a very long time, and we've even done a deep dive on some of his history here on the site. You can check out all his different armors and learn a lot about him from that article! But, no, the most popular superhero in the world still seems to be Spider-Man, according to the latest studies. 
Question: Is there a real Iron Man suit?
Answer: Let me dive deep into the internet before I just up and say no. Wait here…holy crap. The answer is yes. No, it's not as great or even close to as powerful as the comic book or movie version. It's barely a good idea, and bullets would likely kill you. Yet, there have been engineers and others that are so interested in Iron Man that they have made successfully working Iron Man armors and suits. Here are a few links. Link one. Link two. 
That's Our Merch Guide
I had a lot of fun going down the many roads needed to complete this guide and ensure it had a great selection. If you are an advent shopper of all things comics or even just Marvel, browse the site! Many other great writers are doing some good work, but I was lucky enough to grab Iron Man.
If I had to pick just one thing to buy from this list? I think I would go with the Iron Man blender bottle. I would use it every day (except Sundays, Sunday is pizza and 'be lazy' day). If not for that, I would probably pick the card game because I can share that with a plethora of people. 
Take care, true believers. 
Recommended Reads: