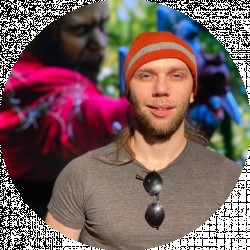 Latest posts by Bryan Hughes
(see all)
This best Deadpool merch guide is full of items from all over the internet. Shirts, mugs, and even inappropriate card games. We turned over every stone to make a list for our fellow merch hunters and Deadpool fans to find something they'd enjoy. 
As an avid Deadpool fan, this article was difficult for me to write for two reasons. Number one, I wanted to buy everything, and my wallet was not having it. Number two, I fell down the rabbit hole more than once, looking at so many fantastic options for merchandise that I often lost track of time. 
I've got big love for posters and bedspreads that mimic my favorite comic book characters. Deadpool is among them, and I feel happy to bring this list to you, our readers, to share the great things I've discovered. 
So, while I try to make space next to my Deadpool comics for the unicorn riding plush of Deadpool I picked up, please enjoy this Deadpool merch guide.
Bottom Line Up Front
We aren't kidding when we say we searched far and wide to make this list. That being said, my favorites of each category top out all links. Deadpool makes me laugh while also being a pretty badass-looking character. As such, my usual top picks are either the most humorous or the coolest-looking options. If the funny or the stylish selections aren't made with the highest quality, I will knock them down a peg. 
Not everything is affordable without saving up, so please be conscious of your shopping.
Purchasing Options
I've gone over the dangers of online shopping in many articles, including action figures, posters, and other merch guides. If this is your first read of one of mine, I'll give you the shorthand version. 
Check reviews of either the product or the website you are purchasing from. Do not be lazy about checking. While I did that for you on all the links below, you may find other items on the sites used. Even Amazon can sometimes have the wrong product listings or lousy service from whoever is shipping the said item out. 
A key thing to check from any online order is their policy on items that never appear. Because online shopping is often cheaper, I suggest it even with the possibility of the rare and random occurrences that can take place between purchase and arrival.
Lastly, a local store might hold the items you're looking for. Especially your local comic store! Don't be afraid to support them by heading in person to pick it up. 
Apparel
The first way a lot of us comic fans love to show off our favorites is by sporting clothing with their faces. Wearing my favorite has always been an easy way to say, "I like Deadpool." It also lets any passers-by who also like him know we share alike. We can easily chat about how fun the first film captured the character from the comics, about his relationship with Cable, or his love for Lady Death. It's a topic starter and a friendship maker. Don't be afraid to show off your passions. You'll be pleasantly surprised at the results.
1. Shirts
I scoured the net, as usual, for the top five shirt designs. Deadpool shirts were hard to rummage through and select a top five, as he brings so many fun quotes and images. Yet, using my usual criteria of quality and comedy when it comes to the Merc with the Mouth. I found my personal favorite, which I'll list as number 1, to not be my usual workout shirt. It's Deadpool on a Unicorn because I secretly love Unicorns(not secret now, I guess). A few others are at the top of their style to get you on the path to finding the best Deadpool shirt for you. For more inspiration, check out our full guide on the best Deadpool shirt here!
2. Hoodies
One thing my wardrobe always has is a good hoodie. Hoodies are great for jogging, not too warm, yet little underlayers can still be worn in winter with them instead of a coat. For me, anyway, yes, I was born in the northeast of the US. Maybe I'm more cold-friendly. In the spirit of Deadpool, shhh… I'm on a role here. 
My favorite hoodies are almost always grey with a logo. It's just how I like them, but funny enough, there are some incredible quality Deadpool hoodies. So awesome that the grey variant bottoms out my top five. In fact, the favorite I picked from Legendary Hoodies is a white one. I hate white because of how carefully you have to keep it clean, even when cleaning it! In this case, however, I couldn't turn this one down. The beautiful artwork pasted on it is so cool. I'd wear this hoodie anytime just to sport it. 
3. Hats/Caps
Not to let out a secret, but Deadpool and I share a hairstyle. So, when it comes to hats or caps, I am well versed. I've got maybe 9 in this house and seven in a suitcase somewhere. They are like shirts in my case, the right hat with the right outfit and so on. 
I am not the biggest fan of snapback hats, but two made it on this list! One had an incredible amount of comic strip-inspired art around it, and the other was a very stylish faux leather cap. 
We've picked five of the best hats from around the inter-webs. These choices represent a style of hat, art, and fun that only Deadpool Merch can bring. My favorite? The I Heart Tacos Deadpool hat. It comes in two colors, and I do like tacos and Deadpool. Also, it is the most comfortable of the selections, in my opinion, except for the 'Fitted Deadpool Logo' cap.
4. Unique Accessories
With this Deadpool article, I wanted to find a few extra apparel items to add because Deadpool is, well, a little "extra." After wandering through the images, the easiest to pick was my favorite. I have a couple of these, and I think I just like the feel of them. It's almost as if they give a sense of power to my forearm, the braided leather bracelets. My number one pick has the Deadpool logo on full displace, in addition to being a comfy arm upgrade.
I felt it was time I added socks to one of these lists because we all wear them, and they can be pretty dull. An excellent online sock shop is where I found these Deadpool ones, and while there is a chance they could be sold out, they do restock. Not to mention you can check the site for many, many other choices. I stumbled across some good logo earrings and a cool, dog-tag-inspired chain pendant. 
Room Upgrades
My second favorite section and really the section I usually purchase from first. Sprucing up your own personal quarters with your favorite comic character helps home feel like home. Now, this comes in the form of many, many things. Posters, commemorative wall art, bed covers, and more. I would be remiss not to give you a list of the many ways you can spruce up a room to have some nice Deadpool flare. After much searching, we bring you the best room upgrades for the Deadpool fan.
1. Bedding
It's rewarding to come home and see a bed draped in things you love. Laying down after a long day, or in my case, because you refuse to start the day, is an essential part of life. Customizing that location you lay to feel personal, with your own choice in style, helps the mind when you do so. I couldn't in good conscience give you a merch list without some excellent bedspread choices featuring the Merc with a Mouth. 
Here are four of the best pieces from around the web. My personal favorite? The full bedspread with pillowcases included from Nearkii, a site I only found recently, the Deadpool Darkness spread. The color scheme fits my darker room tone, and Deadpool, looking boss in front of a moon, is a win.
2. Wall Art
I love this section. Posters are one of the most affordable and easy-to-transport items a fan can pick up. Aside from apparel, I suppose you could just wear that…but anyways. Wall Art is not only posters; because of that, I could expand my search to some of the most amazing decorative Deadpool pieces the internet offers. I made sure to choose only the best. Meaning something I would mount or something I would definitely compliment if I saw at someone's house. These top five picks I find to be amazing and unique enough that all of them could live in the same house. 
My favorite was hard to choose from these. Still, I go with Legendary Wall Arts Deadpool Canvas because you can purchase it as a single piece or in multi-sections for personal preference. The Rabbithomme art canvas was not far behind, freaking adorable, and only 16 bucks. It's going by my desk after I wrap up this article.
3. Computer Upgrades
As I've stated in other articles, the fact I write these for a living means I spend a lot of time on my computer. This means pimping out my computer or switching out its style weekly helps with my morale. When you are raging at a game, maybe there isn't much I can offer you visually. BUT! When doing homework, writing articles, or doing mundane office tasks. A pimped-out computer to your taste really helps the mood. That being said, for the Deadpool fan, here are some great ways to do that. 
This group counts my favorite as the most expensive, that being the Deadpool computer chair. Not only is it a quality chair, but it is also decked out in Deadpool flair. It's freaking fantastic. I'm gonna save up for it. 
Figurines and Plushies
As an action figure lover and a comic collector, figurines are my favorite. I can place them in front of the comics they are about. This does not mean I don't recognize the appeal of the cuddly ones. All the following make great pieces to put around your room or house as a Deadpool fan.
I've got more stuffed animals than I ever expected. Someone even gave me a Pink Panther not long ago because it reminded them of me. I don't know how to take that, but I will help you find Deadpool plushies for yourself or as gifts! 
1. Action Figures
Because I've already written an excellent Deadpool Article on his best action figures, I'll just put the top three for room decoration here. I don't want to revisit that article too much because I think I was knocked out by the fourth-wall-breaking character we all love, but feel free to check it out. Tons of great figurines throughout, and I had a general blast researching it. 
A good figurine isn't just a toy. IA figurine can spice up a shelf or desk and, unlike other pieces, can constantly be repositioned, giving you a lot of creative control over how to decorate with them. My favorite for this purpose is the same as my favorite in the article. It has tons of poses and pieces with which to pose. The Bandai Spirits beauty.
2. Funko Pops
I couldn't tackle a merchandise article without Funko Pops. These things took the world by storm several years ago and have remained the favorites of fans of all characters for a long time. Deadpool-styled Pops are as fun as they could be. In earnest, he really is one of the most fitting characters for this medium. 
It was a little hard to pick a favorite, so I varied between the top two, but all of these choices would be fun to show off. Most of them made me laugh to make a list, but the first made me laugh and feels very Deadpool. The extra painting that comes with it tickles my funny bone.
2. Statues
Wading through the statues(pun intended), I found many incredible detailed versions. If you browse the Lady Deadpool site, you'll see I left off the 1400-dollar choice, even though it was awesome, because it was 1400 dollars. With that said, Lady Deadpool makes it to this list because she is a trendy version of Deadpool, and this statue is one of the better depictions of her. 
My personal favorite, though? Not the most expensive of the three, which is amazing and has a unicorn plush switch out for a gun, but the sitting Deadpool. It's himself cutting a ninja's head off. If you look at the angles of the statues, you can see they are even etched in his drawing, poorly, in Wade Wilson fashion. It's simple, it's a high-quality material, and I love it.
3. Plushies
I'm sad to say the variety of high-quality Deadpool plush buddies was not great, but I scoured. Upon scouring, I found Kidrobot to be one of the more reliable sites to get good Deadpool plushies. Even though they had a limited selection, they were all good. 
My favorite harkens back to my love of Deadpool and unicorns, and I adore the cuteness here. I'd want it right on my comic shelf(you may know this as a bookshelf). I did find at least two others worthy of the list, one because its cute angry grey face slays me. The other, well, quality, is just okay. It's fine for its price. It is a hilarious Deadpool plushie wearing heart boxers. Ha, I love it.
Standalone Items
These standalone items range from everyday accessories like key-rings to things I find people can both show their character love and gain joy from. They all benefit from some Deadpool touches for style, but the puzzles especially capture some great art. I'll limit their lists to 3 a piece, but for lovers of these things, the list will help you fall into more extensive selections of similar items. 
1. Key Rings
I am not a fan of bulky key rings. That being said, some of the full-model ones are very fun. If you hang your keys on your pants or carry them in your front pockets, you aren't as annoyed by the bulky ones as I am. So, I kept that in mind as I searched for the best. 
My favorite, of course, is the simpler of the three, the clean Deadpool logo on a nice flat disc that can sit next to my Spider-Man key ring. Yet, that zombie Funko Pop key ring is fun, and the pewter Deadpool head key ring nearly edged out the logo. 
2. Backpacks
The Merc with the Mouth is lowkey full of gadgets. He's got weapons up the yin-yang. In honor of that, I decided to add my favorite travel bag of all time. The backpack. 
There are so many superhero-inspired backpacks, and Deadpool versions were of no shortage to go through. After careful examination, here are my top three. I gave you the best based on quality and style. My favorite of them also does what I need a backpack to do. Carry a lot of stuff so I can avoid the overweight price of the baggage I check under the plane. Also, it's freaking cool to look at.
3. Puzzles

Yes, finally, the puzzles. I scavenged for the best of these, and it was hard to narrow it down to the three I wanted to keep them at in this section. So, you're getting four of the best on the inter-webs. This merch concept is unique because it can be enjoyed with others or alone. Any puzzle completed can also be glued to a harder surface and framed. You end up with a great-looking Deadpool decoration you can say you had a hand in completing. 
My favorite of the many found is by an artist named Tamir Bakan, who drew the Deadpool art for this jigsaw puzzle. I chose the 1000-piece to link you, but if you want, I suppose you could get the 500-piece version instead. It's just Deadpool doing his cute face pose, but the detail and texture of the background are superb. 
For the Drinks
An avid coffee drinker and gym goer, with mugs and water bottles liter my room and kitchen. I should probably be cleaner, but I'm also a writer, and cleanliness is not my strong suit. Luckily! Finding the best Deadpool merchandise relating to the things I constantly buy is one of my strong suits! Here are the best of the best for all of you drink liquids out there. Which, I hope, is all of you.
1. Mugs/Cups

You can rarely go wrong with a mug. Nary, a shopkeep, would dare sell a coffee drinker a bad mug. So it generally comes down to taste in artwork. I picked a varied selection for these top few, and while doing so, I stumbled across a fun travel mug that won me over but came with parental warnings. The top choice is not my preferred coffee mug because of its funny and fair catchphrase or art. It's because it holds the most coffee.
2. Water Bottles

For the runners, the exercisers, or those that know holding the most amount of water on standby allows you to game longer. Here are the top three Deadpool-themed water bottles from around the net. My favorite is more pragmatic than the other two, as I like to rock climb and such on occasion. For me, a good water bottle also needs to be durable. That doesn't mean the other two aren't good quality, just that they got on the list for other reasons. 
Deadpool Superfan Merch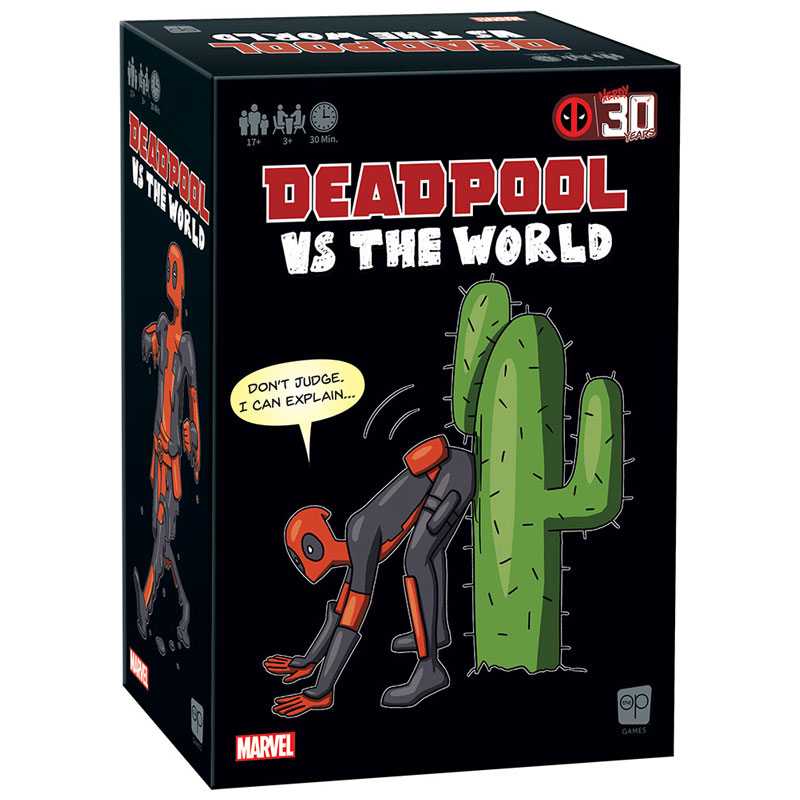 This awesome collectors game is great for any Deadpool fan who is also an adult. It's much like Cards Against Humanity. You figure out why Deadpool is in whatever predicament he's stumbled upon using some NSFW answers, and the dealer picks the best one to award a point. 
Because, really, why not. I love board games. I love Deadpool. Monopoly is an old favorite, but it can get pretty cutthroat, so adding the Merc with a Mouth helps bring humor to it. It's a fun take with barely any changes on an otherwise great classic.

I got excited when I found this. It's so cool. Designed like a Katana in a sheath you carry over your shoulder, it's a pop-out umbrella decked out with the Deadpool logo. Umbrellas are easy to break, in my case, anyways, so do take care to keep this one in shape if you pick it up. It's my favorite item on the list.
That's Our List
I hope you've found plenty of quality items to appease the Deadpool fan in you. I know I did while writing this. The Merc with a Mouth is a beloved character because of his humor, even in the face of tragedy. One thing that is never tragic is treating yourself well. 
So, pick yourself up something nice and maybe something for a friend. Shop safe, shop smart, don't overspend but always be proud to show off the stuff you're passionate about.
Happy shopping, from one big comic book fan and Deadpool merch purchaser to another.
FAQs
Question: Is Deadpool Merchandise Expensive?
Answer: It certainly can be, but also no. You can find many ways to flaunt your Deadpool love that are affordable and unique. Many stickers for a computer or backpack decoration cost under five dollars. In addition, you can find some very affordable items linked in this article!
Question: Who owns the rights to Deadpool merchandise?
Answer: Marvel, ultimately. Yet public domain does allow for personal artwork of the figure. Any tax-deductible sales can still result in money being paid to Marvel. Just as Fox once owned Deadpool (now Disney) for movie rights, they still give Marvel a share of the merchandising money. A lesser share if it's from their film franchise, but a share nonetheless. 
Question: Are Deadpool accessories hard to find?
Answer: This was a funny question. I thought the word accessory wasn't used as often as it turns out to be, and no. They are actually the easiest to find. So many things like notebooks and stickers got the Deadpool logo treatment. I couldn't put them on this 'best' list because they weren't. Yet, they are still good merchandise. You can find them easily by checking some of the sites used throughout this article. 
Recommended Reads: