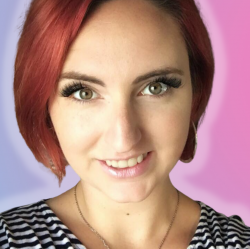 Latest posts by Jessica Vine
(see all)
If you're looking for the best Deadpool shirts, then you're a diehard fan of the Merc with a mouth like me—and my husband. He actually got me started on the Deadpool fan path, and I am going to show you some of the favorite shirts we came up with.
Criteria
The reason we picked the shirts below is either because they're shirts we think would be Deadpool approved—and he'd wear them, or because we think they are cool. Besides these extremely important criteria—lol—we also look at:
Size options
Graphic quality
Material quality
Overall design attractiveness
Alright, Deadpool lovers, let's get into the best shirts you can wear to show your love of Deadpool.
Who Is Deadpool?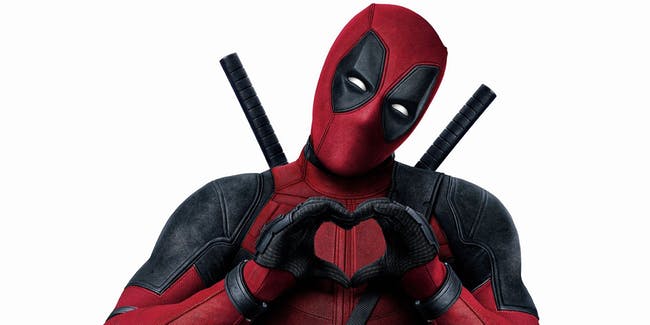 Deadpool is an anti-hero with a loose moral code—or does he even have one? Is he a good guy? Or a bad guy? Hmm, You'll have to decide.
Deadpool wasn't born with any superpowers. He is just a regular dude without any special powers. The only thing he has is—cancer—and lots of it.
To fight his soon-to-be deadly cancer, he undergoes some dodgy treatment, and it doesn't turn out like he thought it would. Instead of healing him from cancer, it gave him superhuman healing ability that doesn't cure the disease. He's basically immortal, but since his cancer cells can never die, he's terribly scarred.
Even though he's super scarred and has plenty of demons to fight, he does it all with style and sass. He is a merc with a mouth, mad fighting skills, and cool weapons. Oh yeah, and don't forget—plenty of time to eat tacos.
Best Deadpool Shirts – What to Look For
When buying the best Deadpool shirts, the main thing to look out for is a reliable store. There are some dodgy places to buy clothing online, and I prefer sticking with Amazon because I have Prime, which makes it really easy (and quick) for me to get whatever I buy. Other than that, you don't want a shirt that the graphics will wash off in the first go in the washer.
Top Shirts With Deadpool – Merc With a Mouth
Prepare to enjoy some laughs while you go through this shortlist.
What a helpful guy. If you're in a jam, he's your man. The only problem is that if you don't have a lot of money, he will leave you high and drive. So, don't call him unless you have plenty of cash. There's sure to be plenty of nonsense, but that's what you can expect from Deadpool.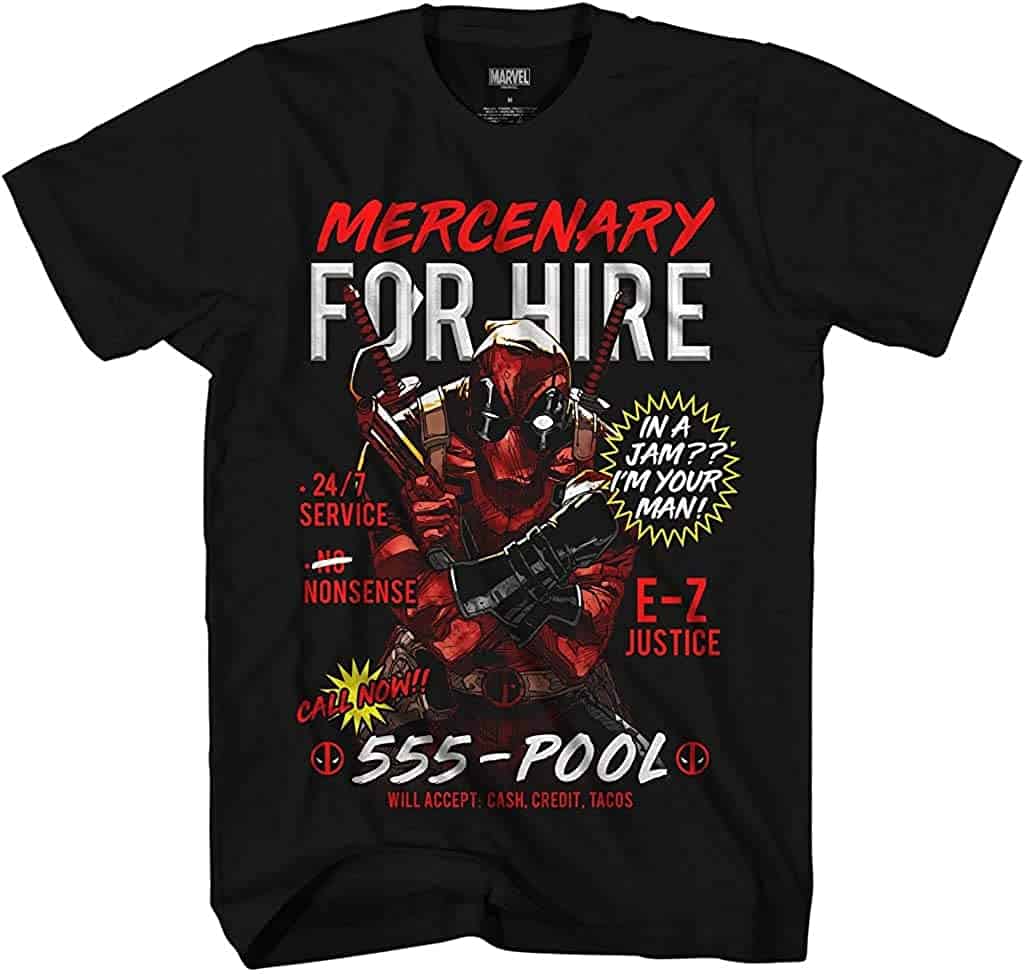 Pros:
Traditional Deadpool Colors

Great graphics

Lots to look at

High-quality
Cons:
Deadpool is super busy, and you can help him out by wearing this shirt and reminding him what to do. Yes, he does need to take out a lot of bad guys, and that might seem easy to remember, but don't let the suits get the best of him. Get the shirt and help Deadpool with his checklist.
Pros:
Catchy to-do list

Snarky comments from Deadpool

High-quality even though some people recommend going a size up in case of shrinkage
Cons:
Only in men's sizing

Some people reported the color came off faster than they'd like
Deadpool is in heaven. What's better than rainbows and kittens? Well, a rainbow behind a unicorn kitten, of course. The bright colors and ice cream cones make this a really fun shirt, and the kitten really sets the whole thing off.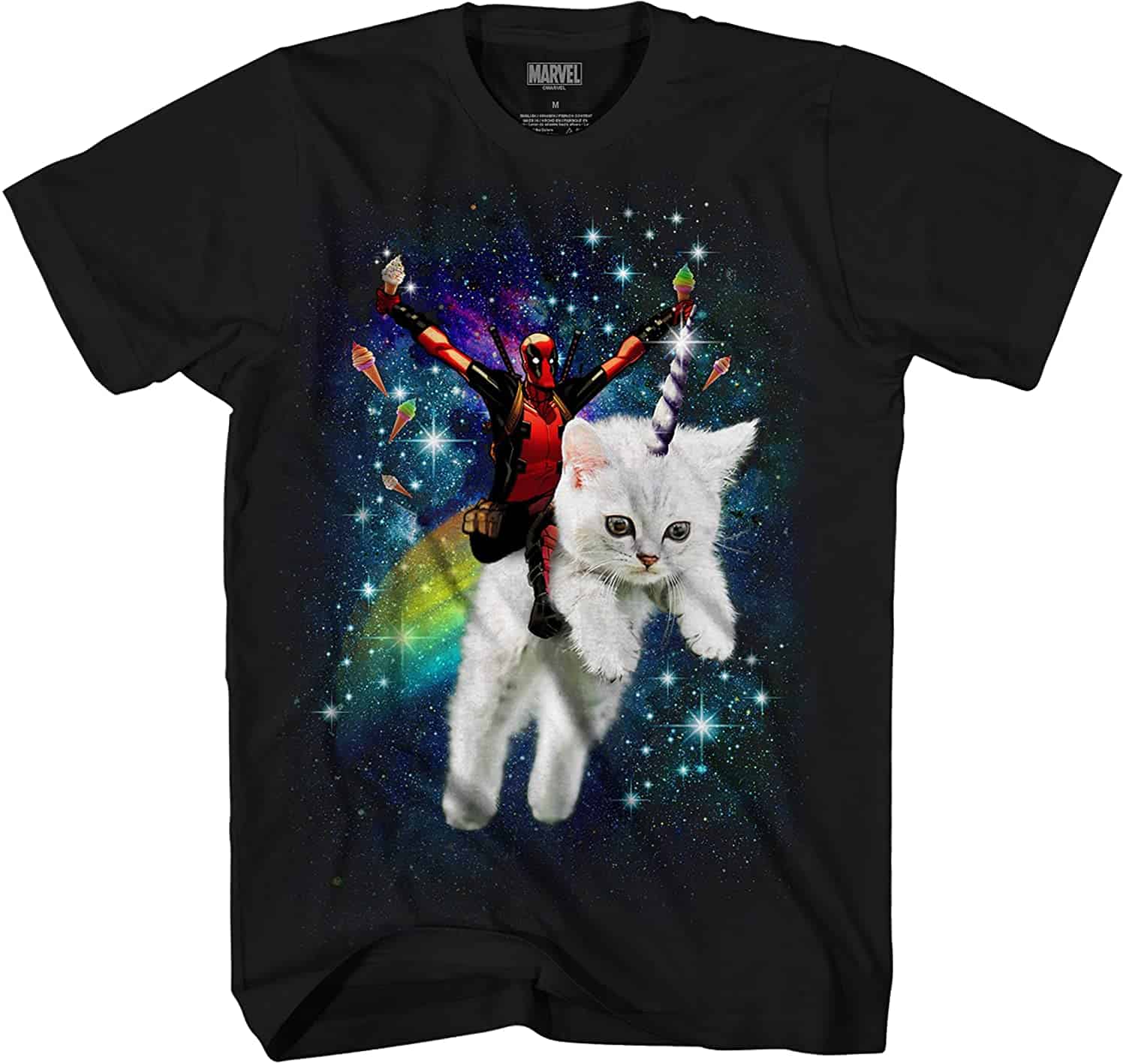 Pros
Colorful

Kittens

Unicorn horns

Flying Deadpool in space
Cons
Must be careful when washing it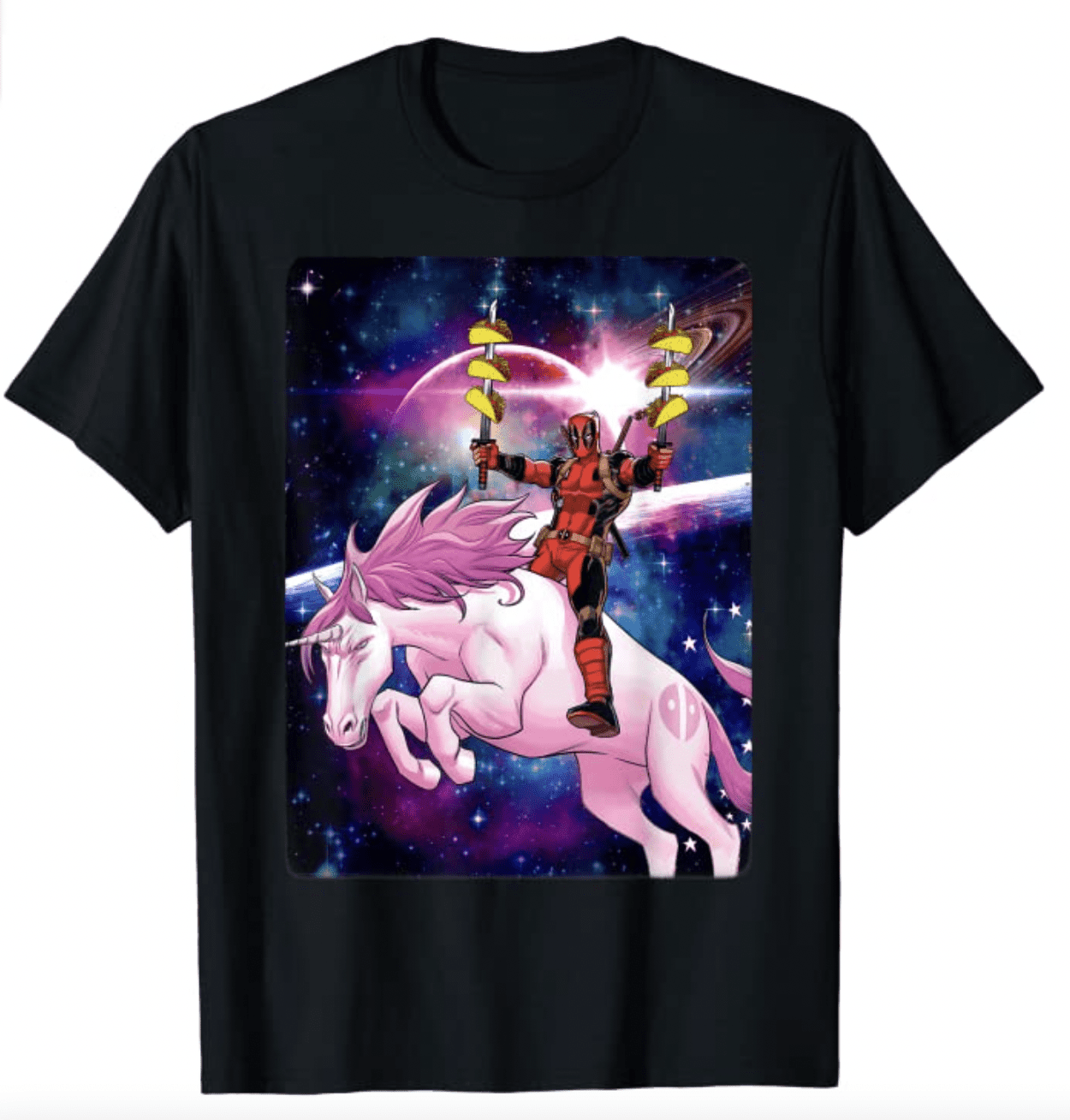 If the kitchen shirt above is too cute, then this Deadpool riding an angry unicorn might be more your speed. Pink can be manly, or if you're a girl Deadpool lover like me, then pink is a must. Yes, I know there are some girls that don't like pink—but I'm not talking to them right now. Who wouldn't enjoy weapons with tacos on them?
Pros
Tacos

Angry Unicorn

Triumphant Deadpool

Both men and women sizes
Cons
Some people said it doesn't last long
This simple Deadpool and unicorn design is really cute. The unicorn looks very regal and isn't too over the top. After all, Deadpool should be the star of the show, shouldn't he? There are no tacos, but he's going after a bad guy, so he'll have to stop and grab some on the way.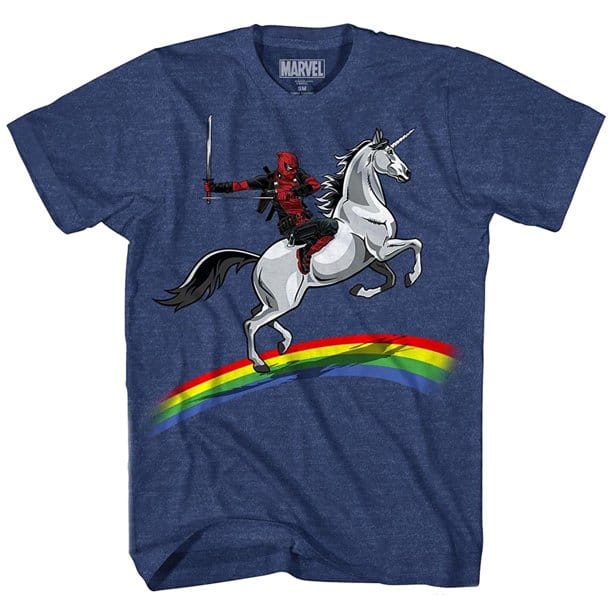 Pros
Unicorn

Rainbow

Deadpool in action

High-quality

Comfortable fabric
Cons
Deadpool never claimed to care about anyone's feelings. In fact, that's part of the reason he has so much charm. He's able to pull off being a jerk and still have people love him. This shirt is a perfect way to let Deadpool say what you're thinking but won't say out loud.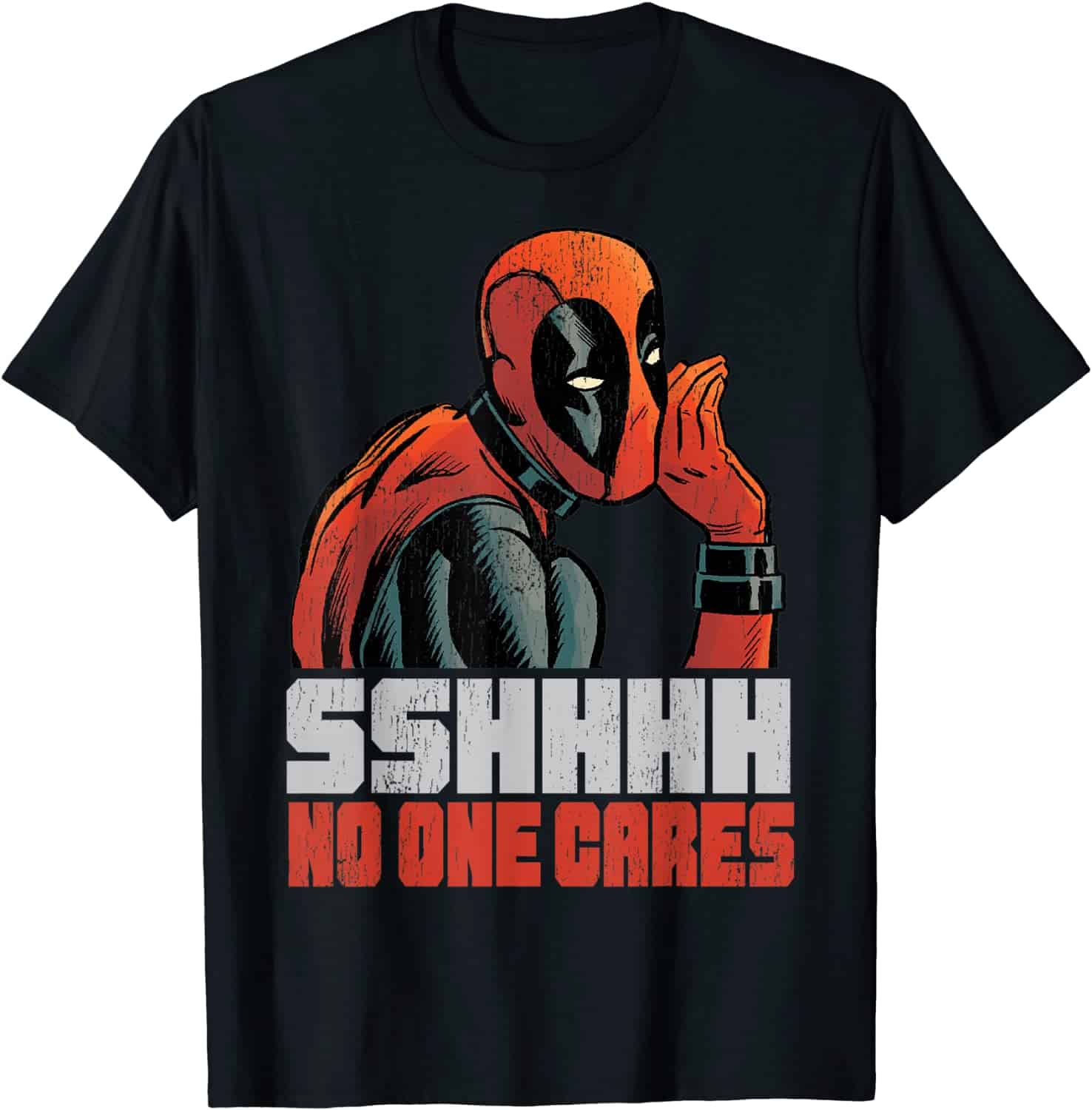 Pros
Simple yet attractive design

Available in men and women sizing

Lightweight

Classic fit
Cons
The graphic may come off after a lot of use
I'm pretty sure every adult has felt like they didn't feel like being an adult one day. This Deadpool chibi shirt is the perfect way to let everyone know how you feel. The design is really cute, and the character is perfectly done on the shirt.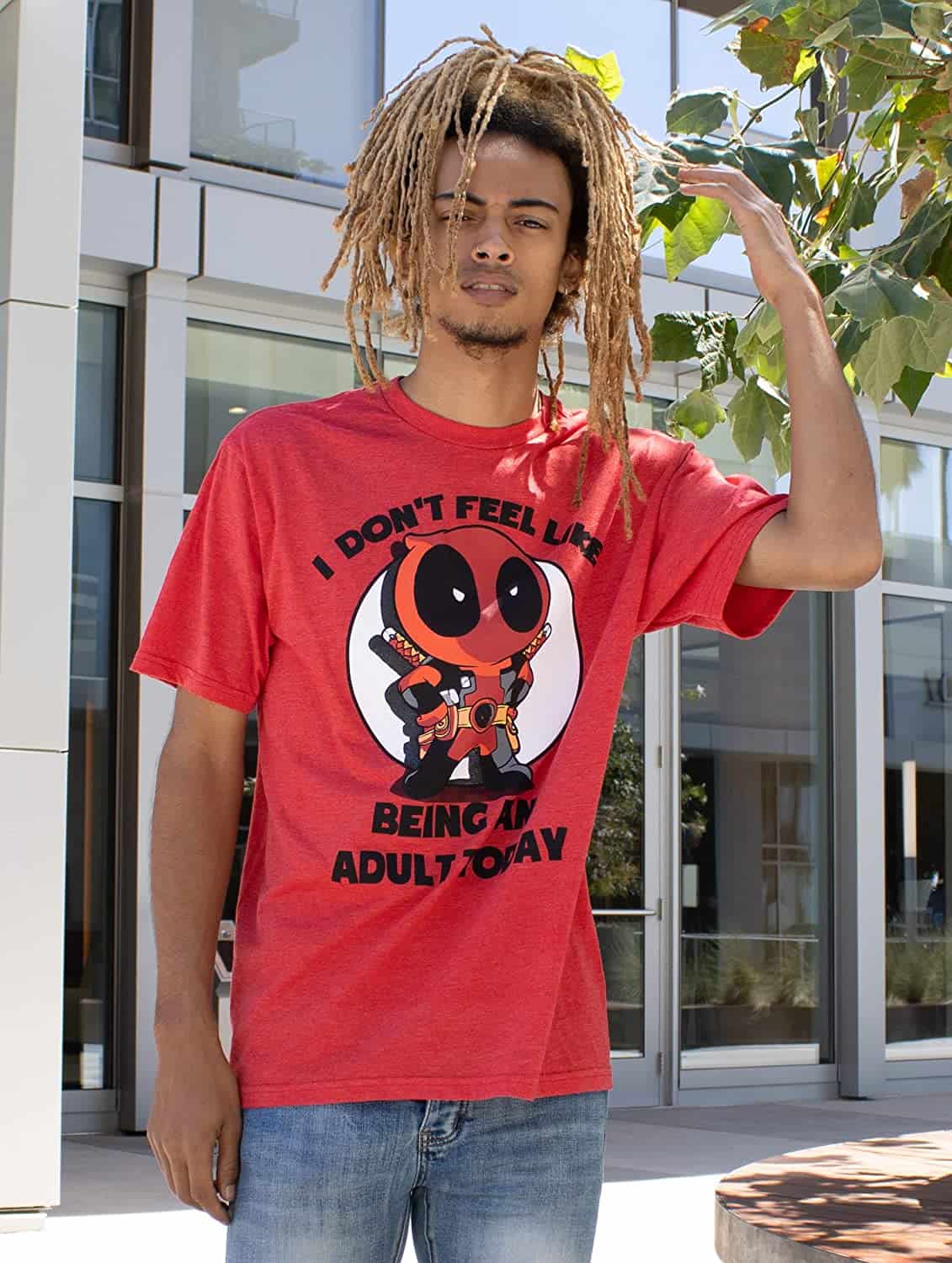 Pros
Sassy stance

Get lots of compliments from people that feel the same

Deadpool chibi
Cons
Color may be a bit lighter

Only in men's sizing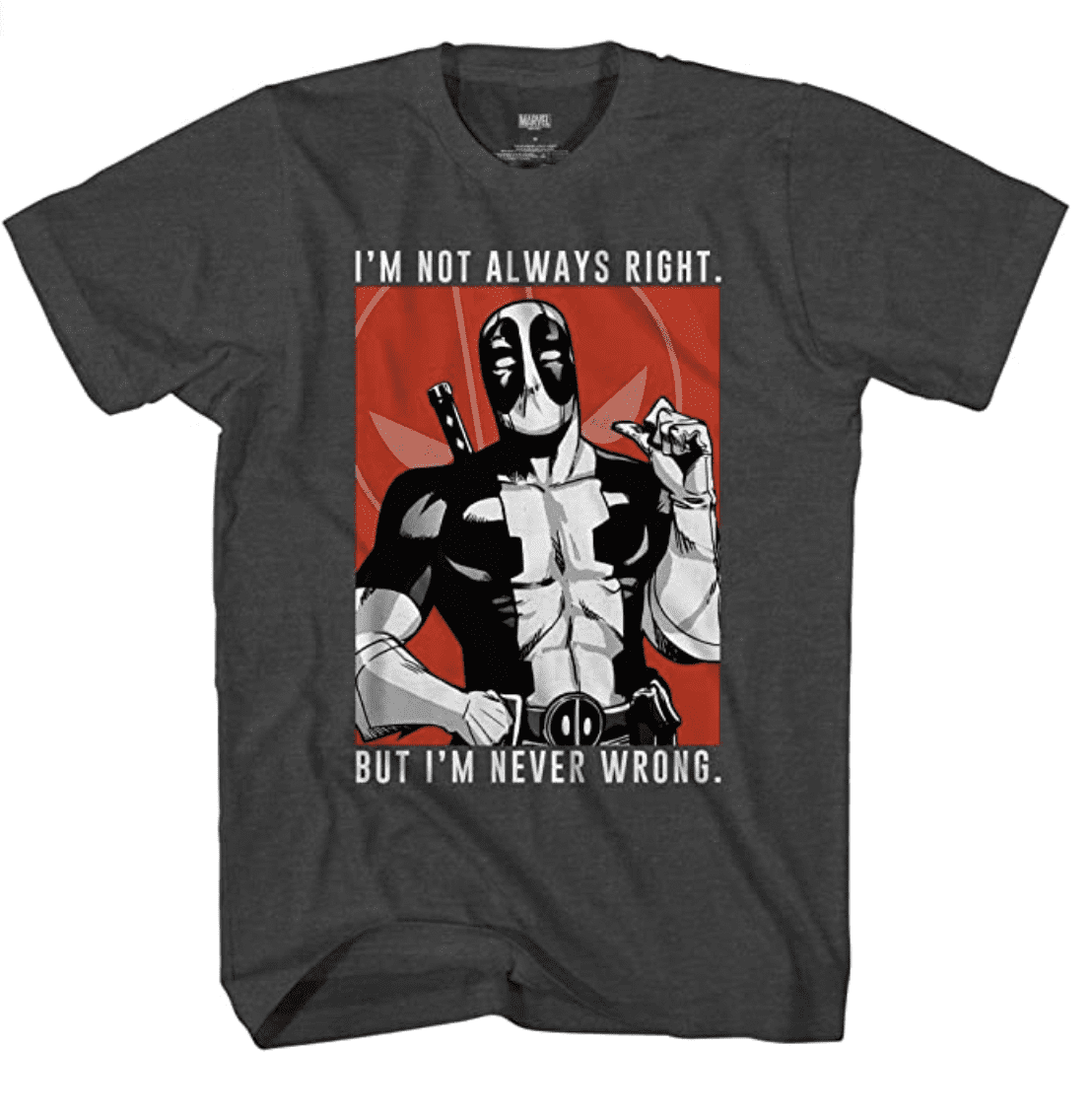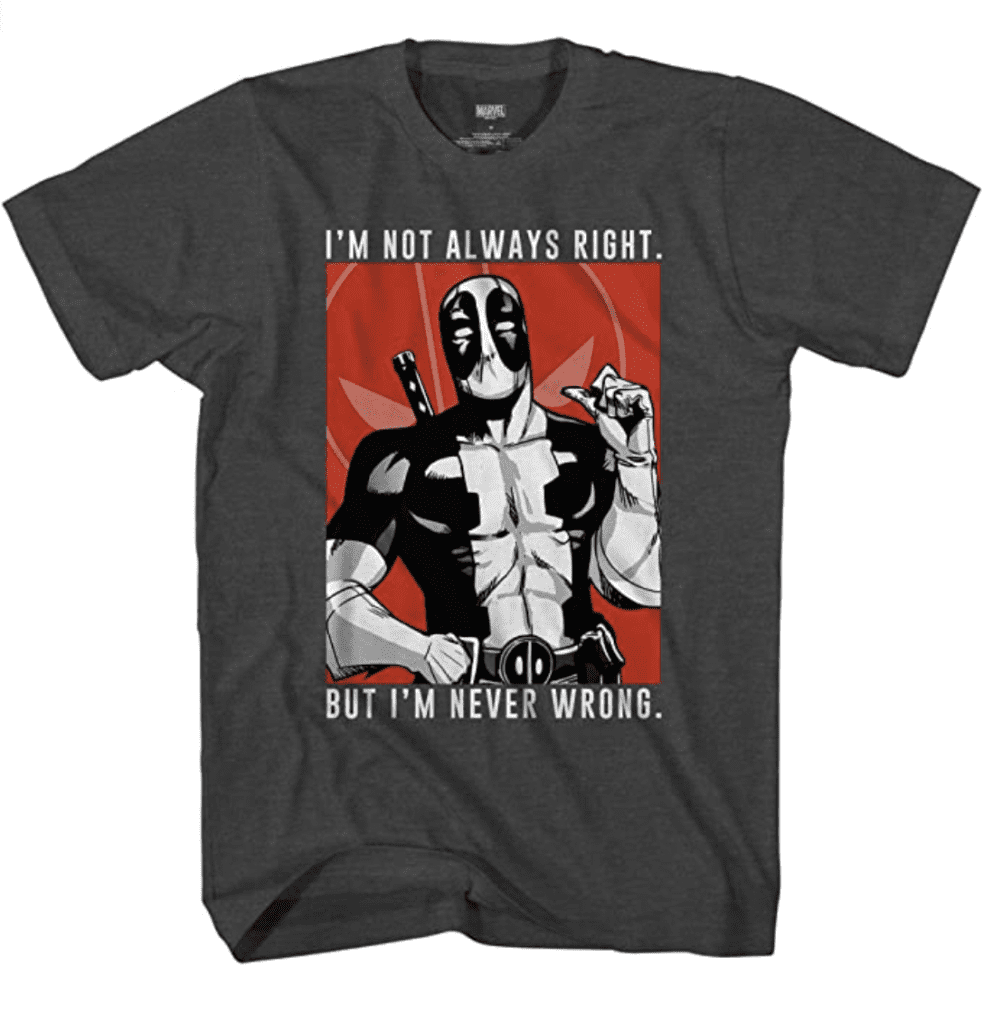 If you know how you're always right and people just don't understand, this is the perfect shirt for you. Let people know how awesome and right you are, even if they don't want to admit they are wrong. Deadpool will help you, and the black and white on the red background looks really nice.
Pros
Black and white Deadpool

Cool red background

Sassy saying
Cons
No rainbows or tacos

Only men's sizing

Only one color
What's better than the Nutcracker? Well, Deadpool nutcracker, of course. And let's be honest, you can wear this any time you want to. You don't have to wait until it's around Christmas time or winter.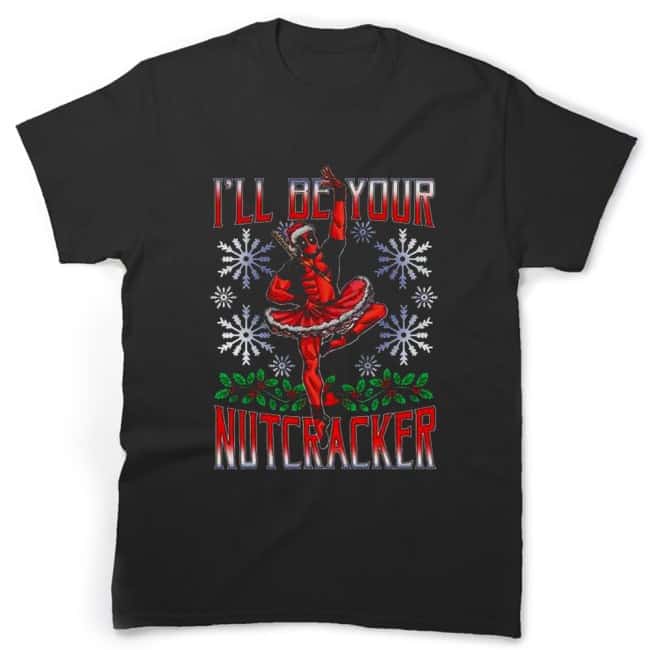 Pros
Deadpool dancing

Deadpool in a dress

Christmas

Both women and men sizing
Cons
Other Cool Marvel Shirts to Consider
There are some other pretty cool Marvel character shirts that you should check out as well. They go along with the Deadpool vibe really well and make some great Deadpool shirt alternatives.
You can't go wrong with a shirt with these three on it. Spiderman, Venom, and carnage are some of Marvel's best characters. The way they put them together here looks really awesome and is definitely eye-catching.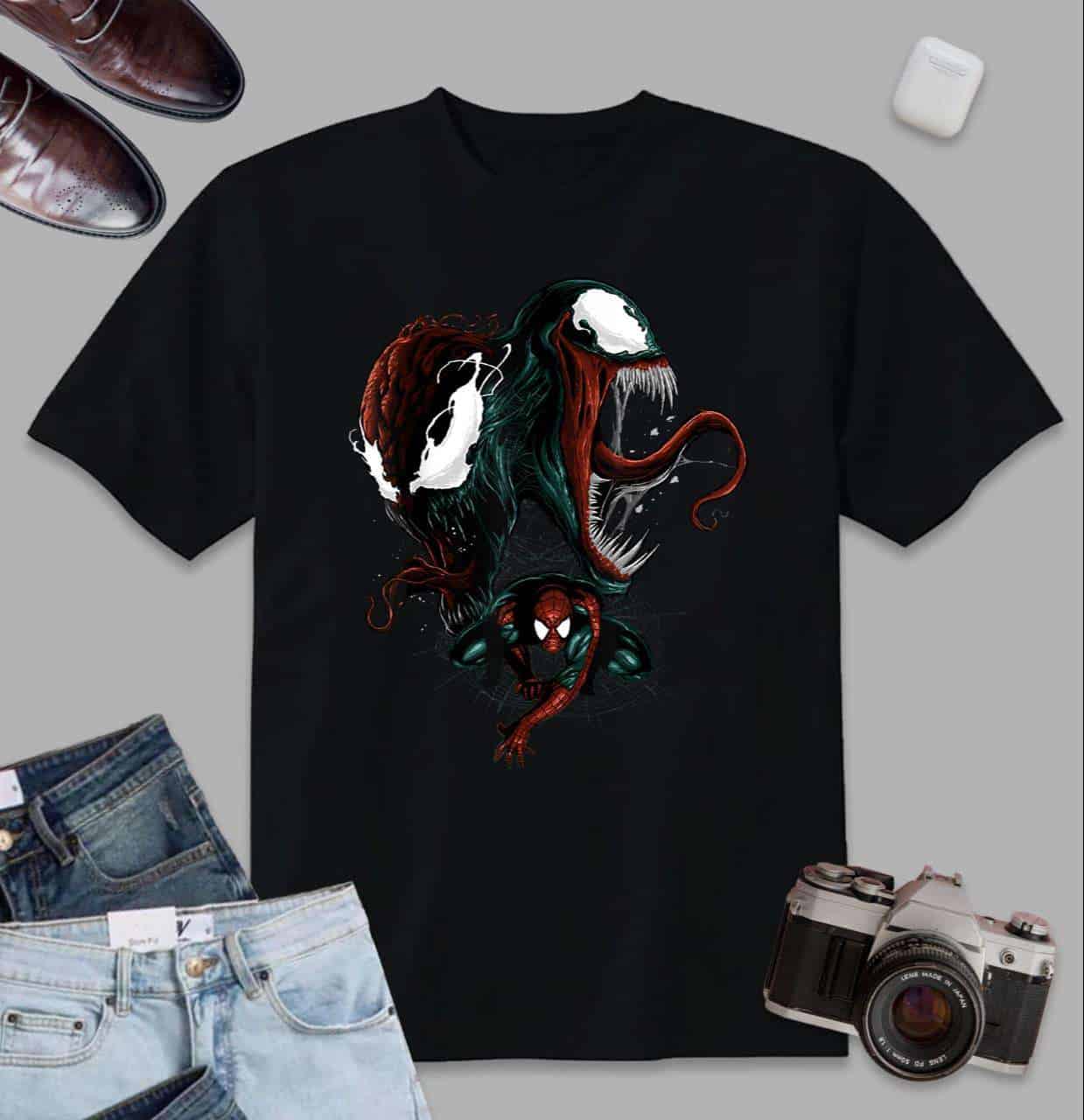 Pros
Spiderman

Venom

Carnage

Awesome design
Cons
Design is printed on a little thick
Not only was End Game super long—it was also super awesome. The big names just kept coming, and it was so cool to see everyone working together. With this shirt, you're sure to get more than a few of your favorites. Check out the complete guide on the Avengers Universe here.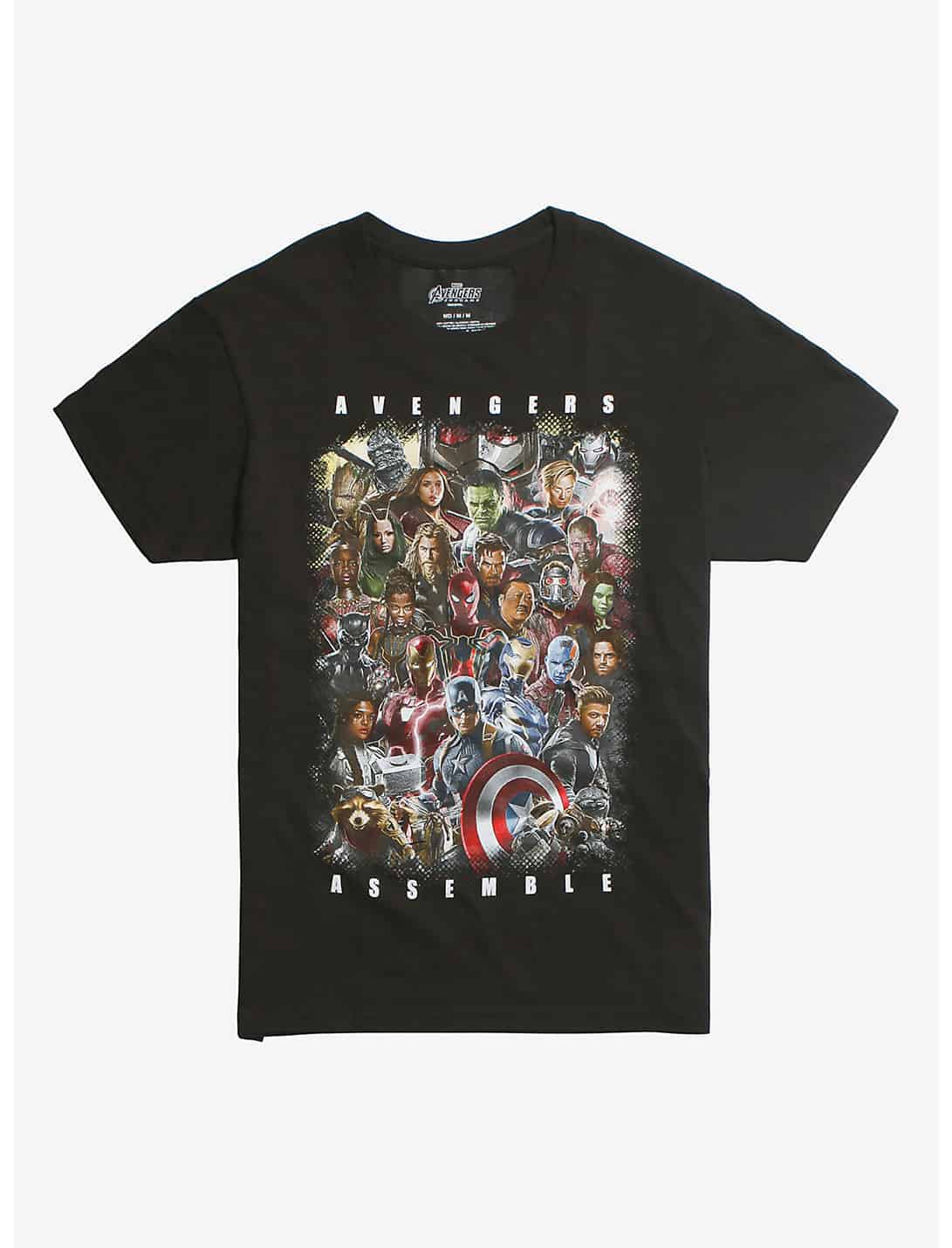 Pros
Great colors

Great characters
Cons
Only available in black

A little blurry
This is a fan-favourite team-up. Who doesn't love Avengers and Guardians of the Galaxy? Now you can get both of these together in this awesome shirt.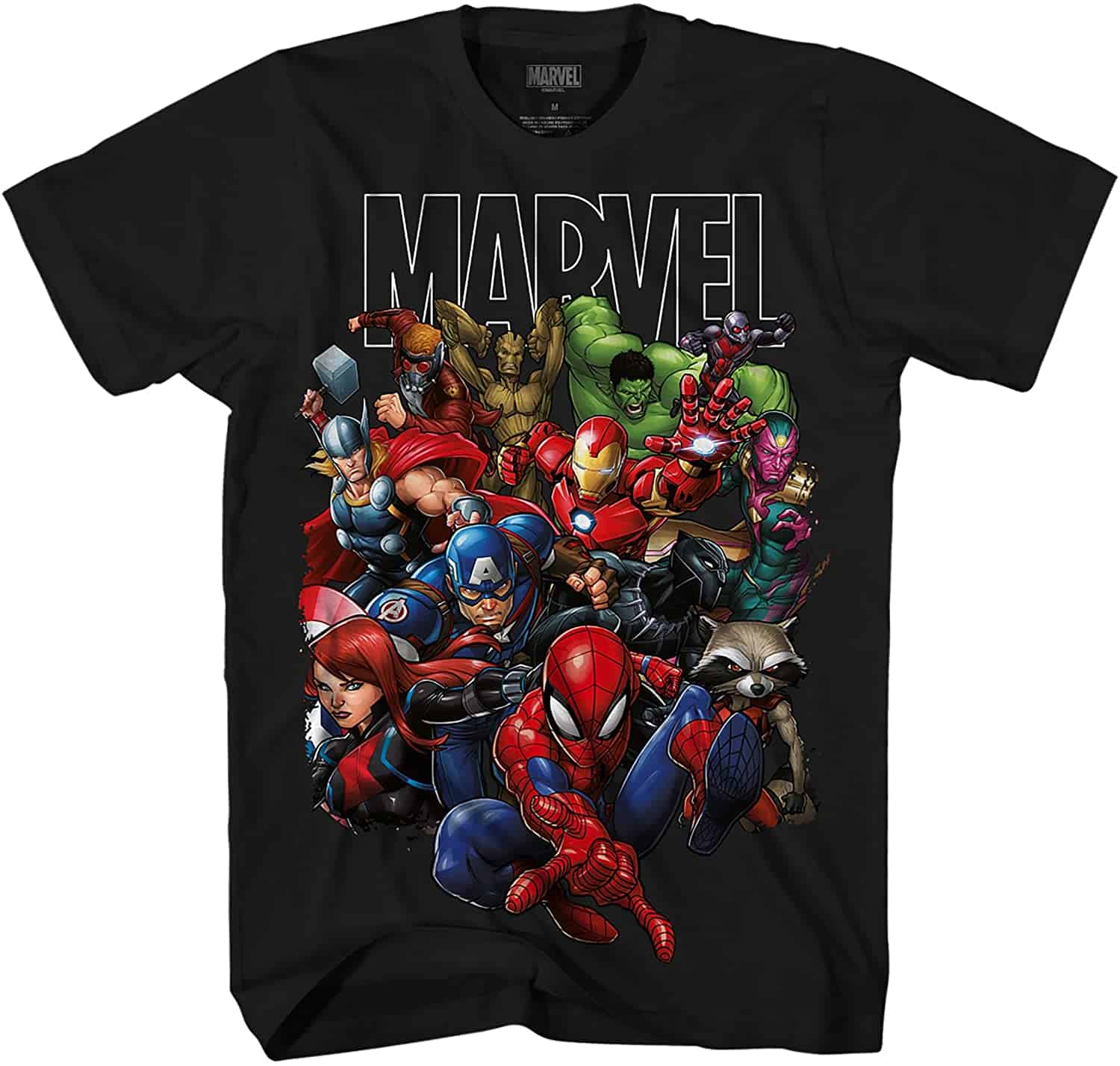 Pros:
Fan-favourites all together

In action pose
Cons:
Only available in men's size
Whether you're talking about the Amazing Spiderman in the comics or MCU's Amazing Spiderman, he is pretty awesome. This is a vintage-looking graphic on this t-shirt, and I'm here for it. I love how Spiderman is flying through the air, and the font looks really cool.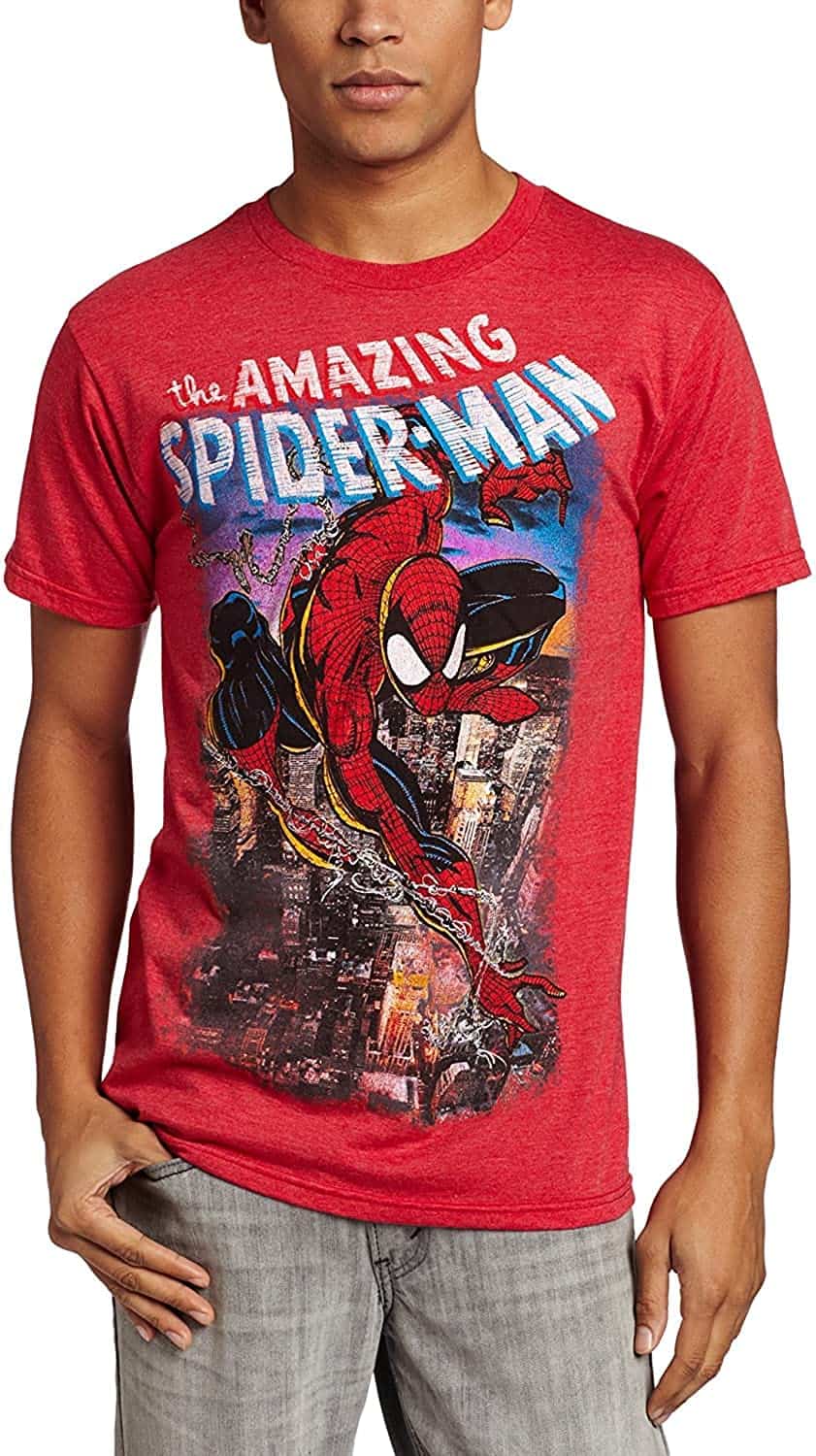 Pros
Cool font

Great action shot of Spiderman
Cons
A little on the thin side as far as fabric
This Venom shirt looks really cool because it's a comic book and the way the ink comes in on the sides. Some customers didn't quite understand that's how the design is and thought ink leaked through, but that's how it's made, and I like it.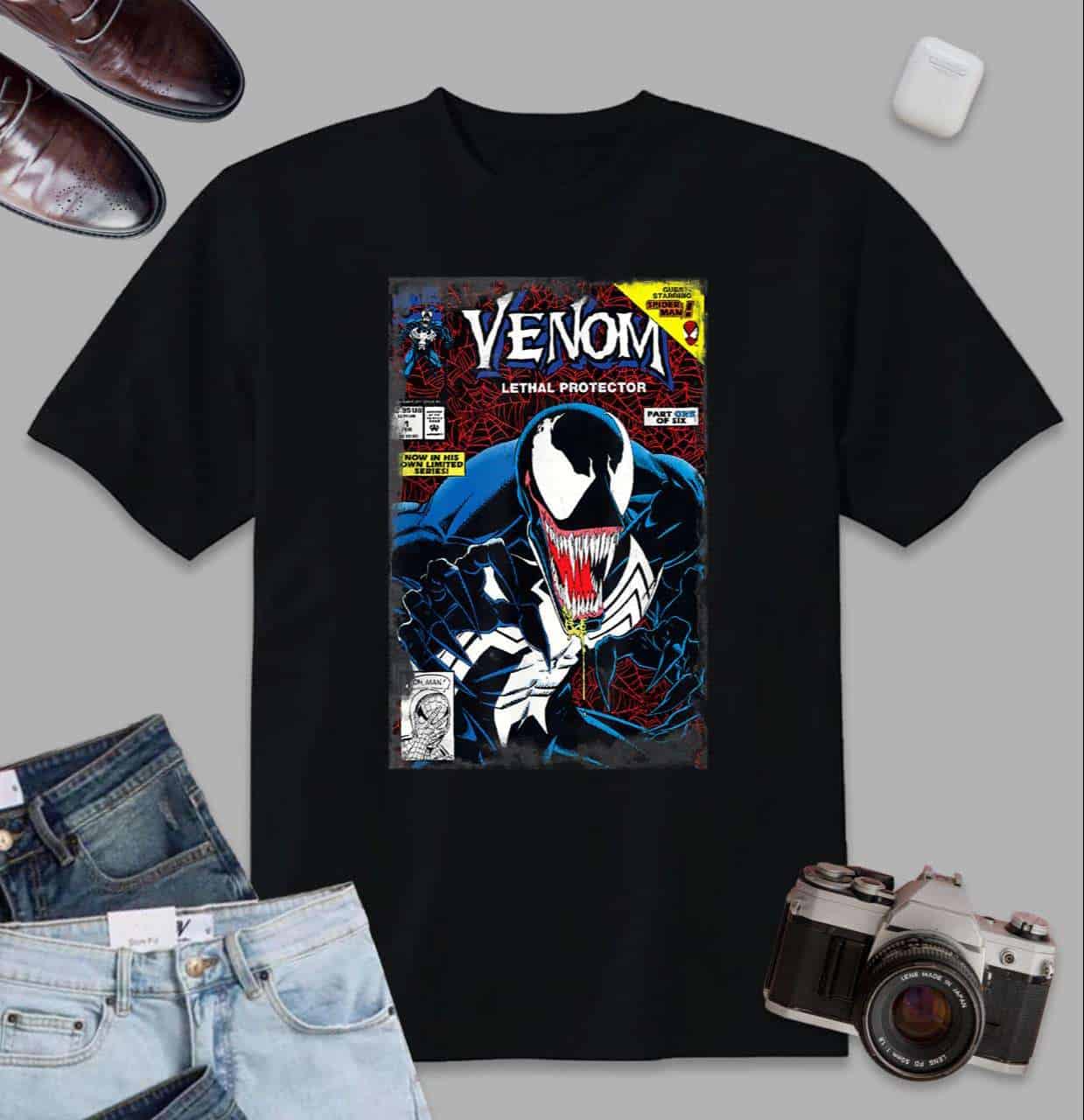 Pros
It's a comic book cover

Cool design

Available for both women and men's sizing
Cons
It isn't very tight so prepare for it to be baggy
FAQS:
Question: Why is Deadpool so popular?
Answer: His hilarious commentary and disregard for everything sacred make fans laugh themselves off their seats.
Question: Is Deadpool married?
Answer: Depending on which version of Deadpool you're talking about—possibly. There is a version that is married to Vanessa and another where he is married to a demon, Shiklah. He's also been in love with Death.
Question: Does Deadpool have any children?
Answer: There is a version of Deadpool that has a daughter. Eleanor Camacho is her name.
Conclusion
Now you can choose your favorite Deadpool shirts from this awesome list of fun shirts. Whether you like Deadpool for its charming personality or sass, there is a perfect shirt for you, so enjoy.
Which shirt is your favorite? Did I miss one that you think needs to be on the list? Leave a comment below.
Recommended Reads: