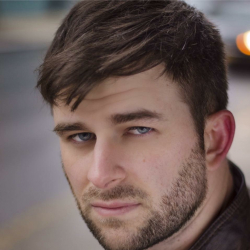 Latest posts by Adam Braunstein
(see all)
Captain America is one of the oldest superheroes around. While some might think he was just thought up as a result of a very patriotic era back in the day, he was really a creation of the times as war was upon the world and the U.S. had just jumped into World War 2 a few months prior, so it was a perfect mix of the time and the zeitgeist that brought Captain America into our lives. With him came a host of unique characters in both the allies and enemies variety, and they're some of the most unique and important characters in all of the Marvel Universe.
Captain America is a great superhero, but what has always been the most endearing to me are the surrounding cast of characters that he interacts with. He's quite the worldly hero, so there is a good chance you'll recognize many of the names on this list as they've likely appeared in other comics. As one of the leaders of the Avengers, Captain America has friends all over the place and with that popularity comes plenty of attention from the enemies of the world as well.
This list is going to explore a variety of characters in Captain America, and that includes enemies, allies, and even the grey characters that he ends up encountering as well. Being a superhero that's been around for 80+ years, there are a lot of characters to get through here, so let's jump into the world of Mr. red, white, and blue.
What Kinds of Characters Are in Captain America?
Captain America is a unique superhero as he's pretty much the only superhero out there that I can think of that is actually enlisted in the military. Because of that, a lot of characters he interacts with are either part of the military or part of some form of government. This goes for both sides of the conflict, too, as Captain America interacts with scientists on both sides of the war as well.
I've always found this to be pretty unique as no other superhero really has this type of position. Iron Man is probably the closest when it comes to this type of position, and it just turns out that Iron Man is one of the characters that Captain America is almost synonymous with. Because of that, Captain America is not all that relatable to me because of one sole factor. He has no secret identity. He is Steve Rogers and is registered as such with the military, and his costume does very little to hide it as well. He has no other life; his life is 100 percent, Captain America. That is his job, so if you're looking for normal people he interacts with, they are few and far between.
Who Are Captain America's Allies?
Being a symbol of justice and American freedom, Captain America tends to gather allies from all over the place over the course of the last 80 years he's been present. These allies include other superheroes, military workers, and even some close friends from way back when he was just a normal man and not a super-strong military symbol.
Bucky Barnes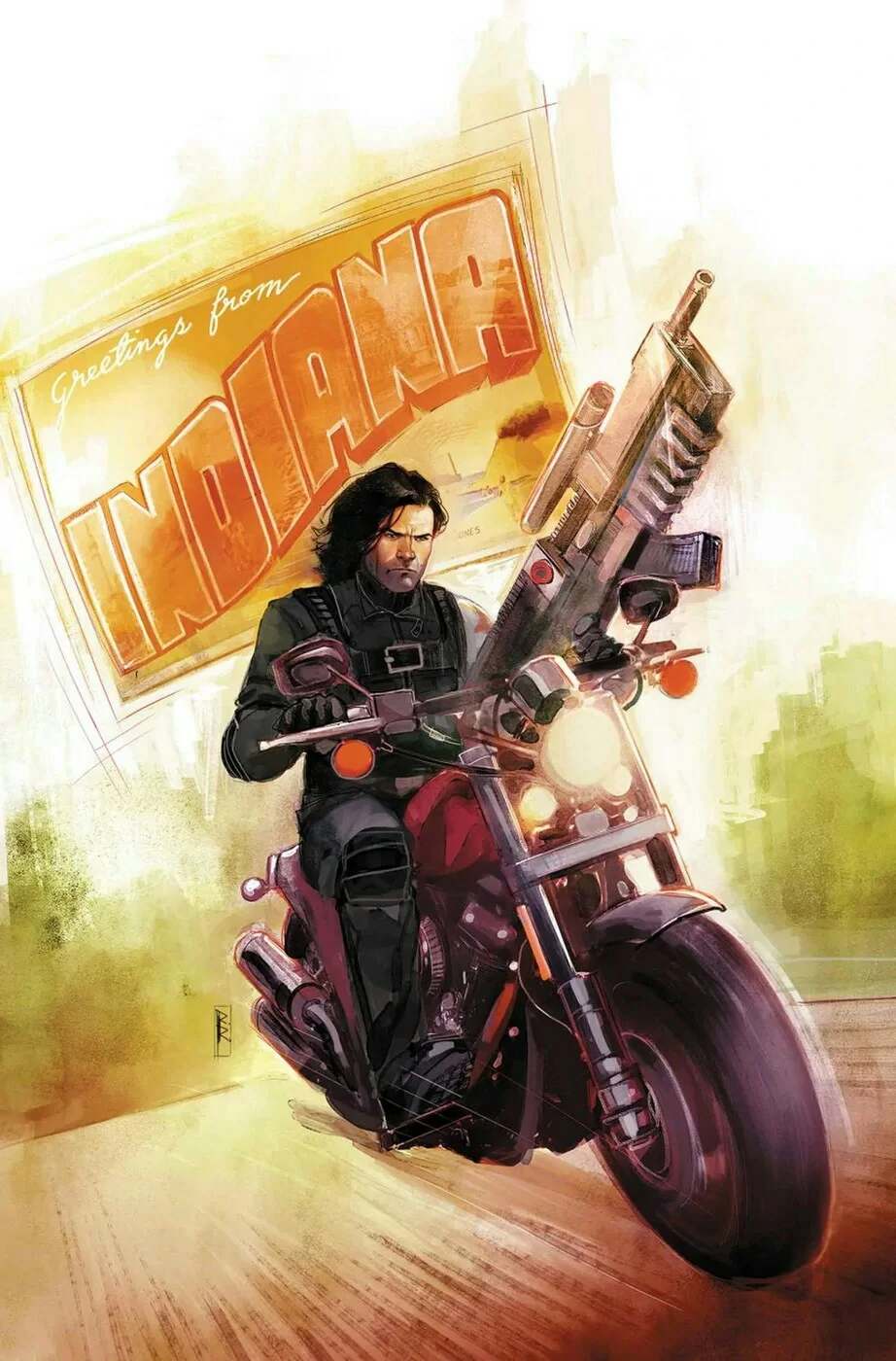 When you're a certified super-soldier, you're definitely going to find it tough to find people who are going to be your genuine friends. When it comes to Bucky Barnes, he is an actual true friend to Captain America, and his origins with him stretch way back to Cap's very beginnings. Steve and Bucky were just a couple of friends in Brooklyn before their lives took very interesting paths. Bucky would end up being killed off and was known as one of the only characters in Marvel that wouldn't be brought back to life for storyline purposes. That all changed when Bucky Barnes became the Winter Soldier, a brainwashed villain with a vibranium arm who was used as a Russian assassin. Bucky would eventually gain his memory back, become a member of the Avengers and even take up the mantle of Captain America for a period of time. He also assumed the role of White Wolf, a fierce ally of Wakanda and Black Panther.
Certain characters just plain look cool, and when it comes to Bucky Barnes in his Winter Soldier garb, there are few that look cooler, whether in the comics or in the movies. I love Bucky's redemption story. His return to Captain America's side was a great decision, and his story has evolved to become quite the interesting one in its own right.
Peggy Carter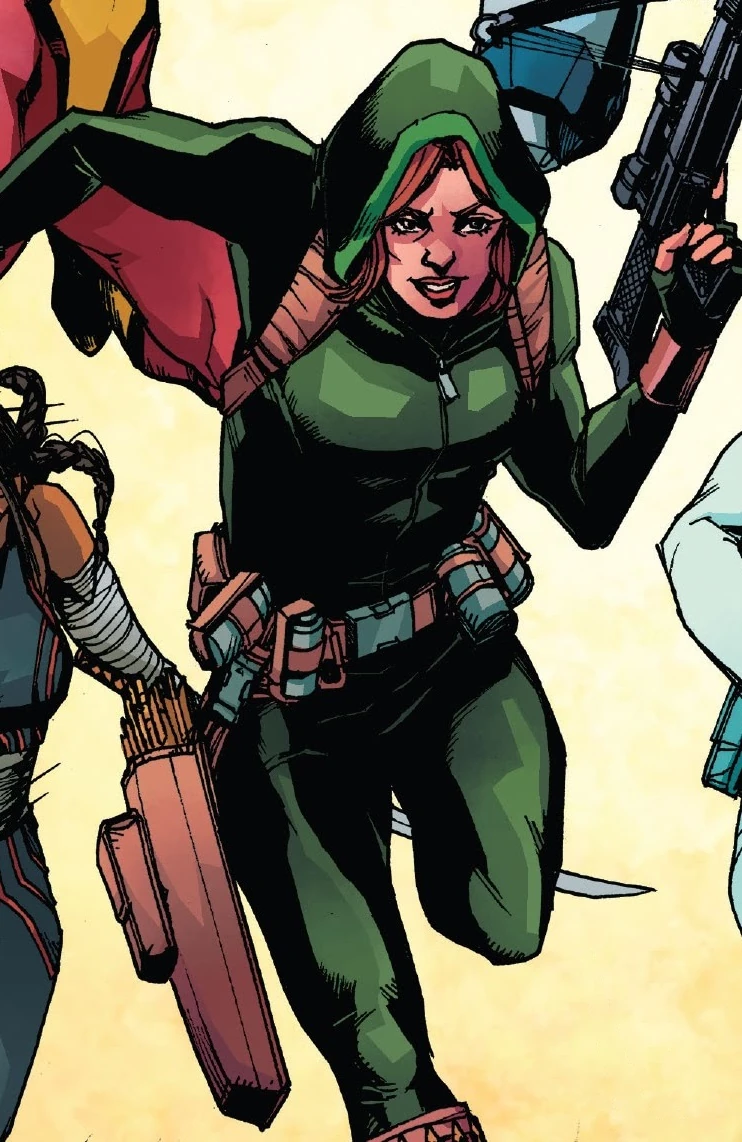 Peggy Carter is a hugely important character in Captain America and specifically Steve Rodger's life. She is his love interest and an important ally o him in the early days of the Captain America comics. Peggy is one of the key members of S.H.I.E.L.D. When Captain America first showed up. She was one of his most trusted allies, and that is where their relationship first began between the two of them. Due to Captain America's inability to age, he would outlive Peggy Carter, and in her later years, she'd be seen in a nursing home while occasionally seeing her niece, although dementia would take over, leading to her tragic end. She would be revived later, though, and formed the Daughters of Liberty alongside her niece. Her name during this period was Dryad, and her identity was kept a secret from Captain America and his allies.
Falcon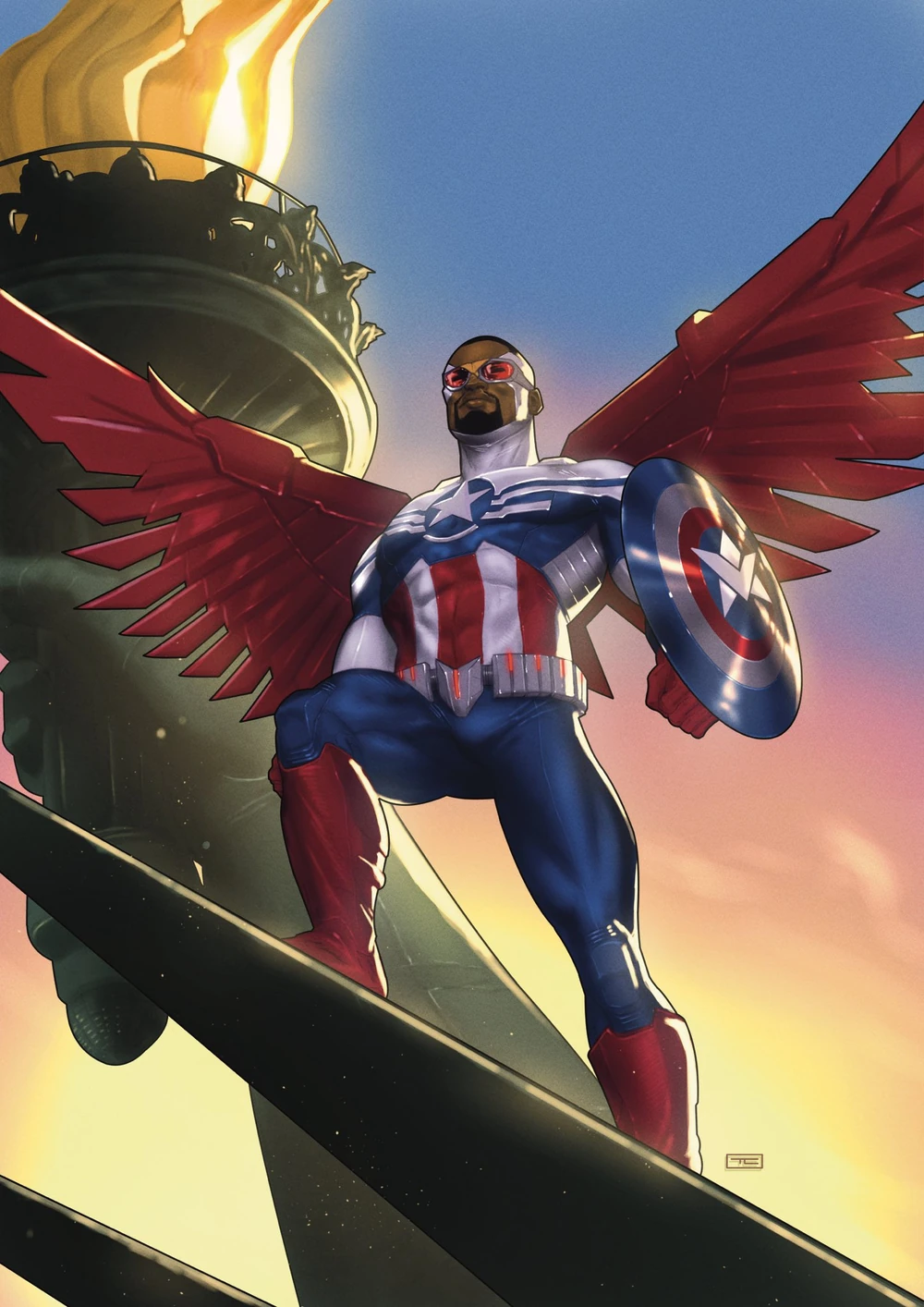 Falcon is among Captain America's closest allies, and while you might think he is a recent ally, he's been around as far back as 1969. Falcon may have gained popularity when appearing in Captain America's comics, but he was a groundbreaking character in his own right. Falcon, or Sam Wilson, is the first African American superhero to ever appear in a comic book. Falcon is a unique superhero that can use a metal suit to fly and also can control birds telepathically. Sam is an ally to Captain America on many occasions, and since their first meeting on Exile Island, while doing social work, Sam is asked by Cap to inspire a rebellion and become a savior in his own right. It was here when he adopted the moniker of Falcon. Sam dons the Captain America identity as well and is currently the one taking up the mantle in the comics.
Falcon is a great character who is fun to follow throughout the comics, not only for his iconic nature as the first black superhero but also because he comes from a much different background than Steve Rogers and has his own morals and objectives as well. Falcon also comes equipped with some awesome gear that was custom made from Wakanda just for him, which gives him some considerable advantages compared to Captain America, namely some amazing flying technology as well as other gadgets to help him in battle like a cybernetic controller grappling line that he can ensnare opponents with.
Sharon Carter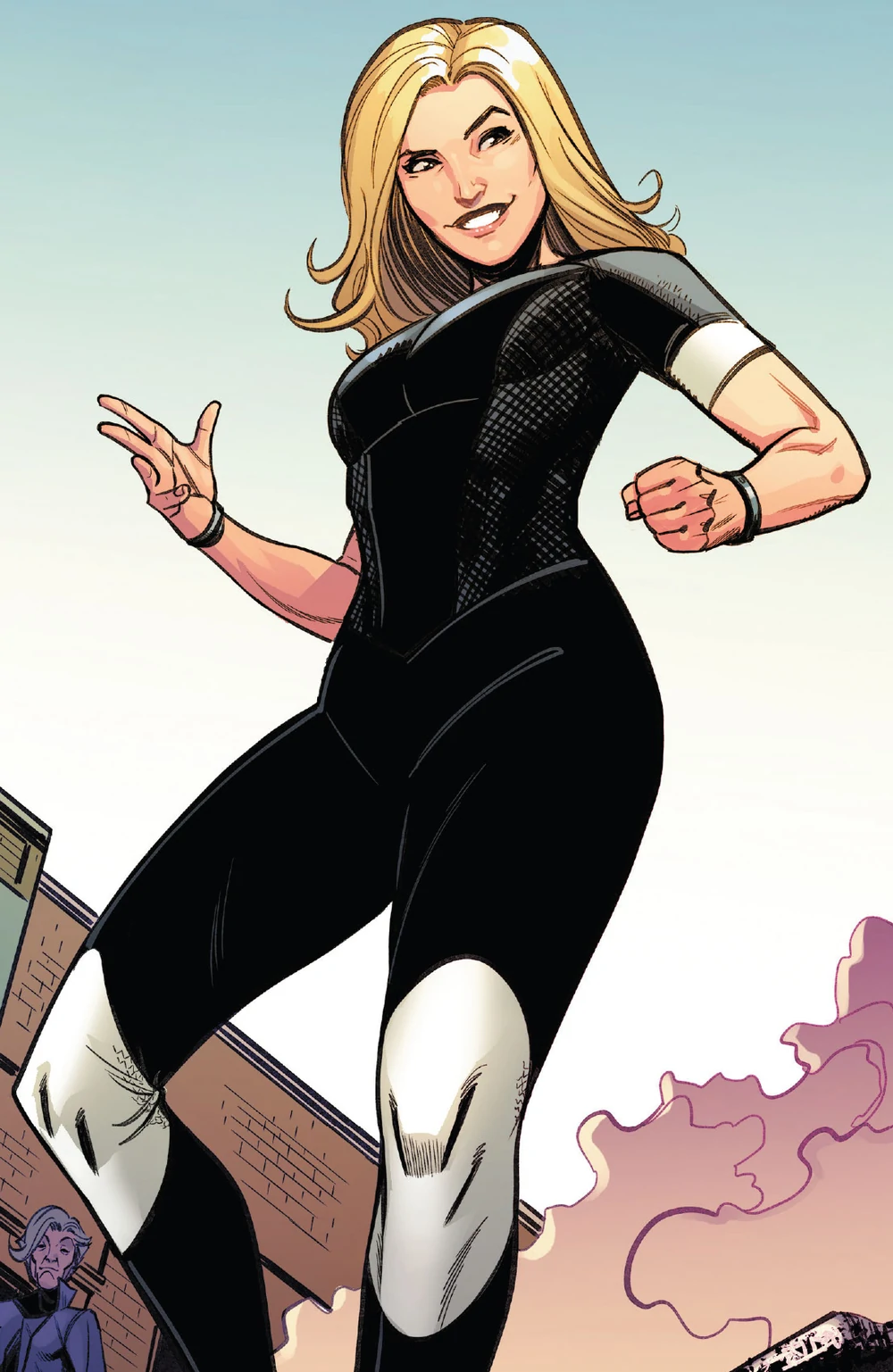 Due to Captain America seemingly never aging, he has had the opportunity to meet Peggy Carter's niece, Sharon Carter as well. Due to her aunt's amazing stories throughout her life, she was inspired to join the military and joined SHIELD. Although it's a bit odd due to Steve and Peggy dating years and years ago, Sharon does strike up a romantic relationship, although he is unaware that she is the niece of the woman he loved during World War 2. Sharon has played into many huge plots in Captain America comics and even is involved in Captain America's death. She gets brainwashed to deliver the killing blow to Steve Rodgers under the mind control of Dr. Faustsus.
Sharon is an interesting character who had held some very powerful positions over her time in the comics as she's been the director of SHIELD when Nick Fury was unavailable and generally is one of the higher-ups on the SHIELD chain regardless of the story that she appears in. Her love story with Captain America is a little weird, but it can be forgiven that she would fall in love with an icon on the level of Captain America, even if her aunt had him first.
Nick Fury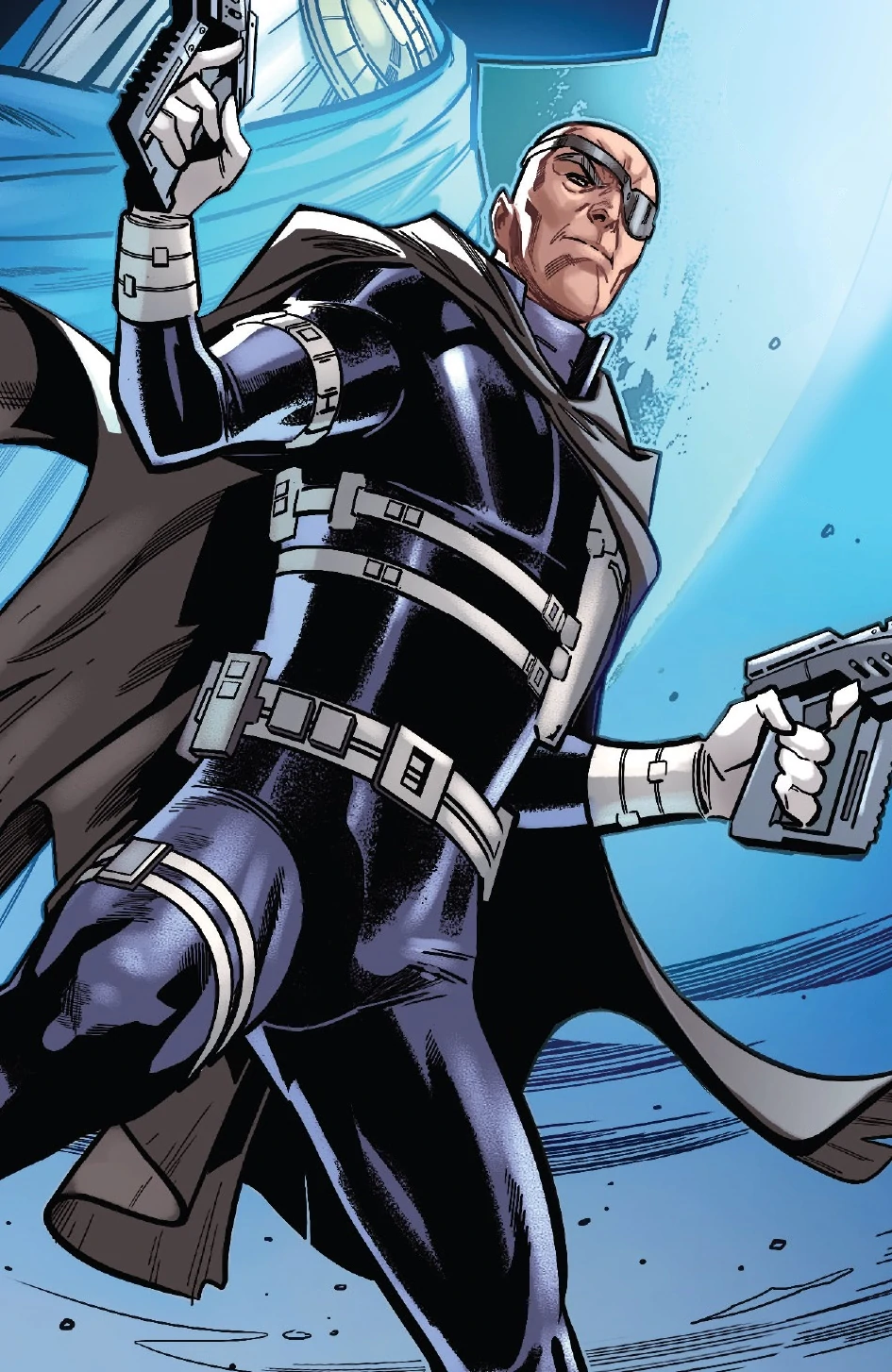 Nick Fury is another character created as a character to represent America's war effort, although instead of WW2, in 1963, he was brought into the present, having his past told through flashbacks when he fought alongside the same force that Captain America was a part of. Nick doesn't fully interact with Cap until his later years when he is the head of SHIELD. In many ways. Nick Fury is the reason The Avengers exists, as he manages to bring together the various superheroes from various locations to fight for one purpose. Nick isn't a character with powers, and he doesn't have superior strength either. He is simply a smart soldier that has no fear and worked himself up to the highest level of SHIELD, and shows no nerves when directing superhuman, godlike people to do as he commands. Nick undergoes a few different character changes throughout his character arc, including having to go into hiding for a period of time. This story eventually ends up with him becoming superpowered and becoming the guardian of Earth, taking the place of The Watcher.
I remember Nick Fury getting introduced to me by my dad through comics in the early 90s, and I didn't really get the appeal of him at first. Later, I found out he was essentially the mentor of the Avengers, and him being able to live through so many devastating battles while being thoroughly less powerful than The Avengers was something I grew to admire. 
Iron Man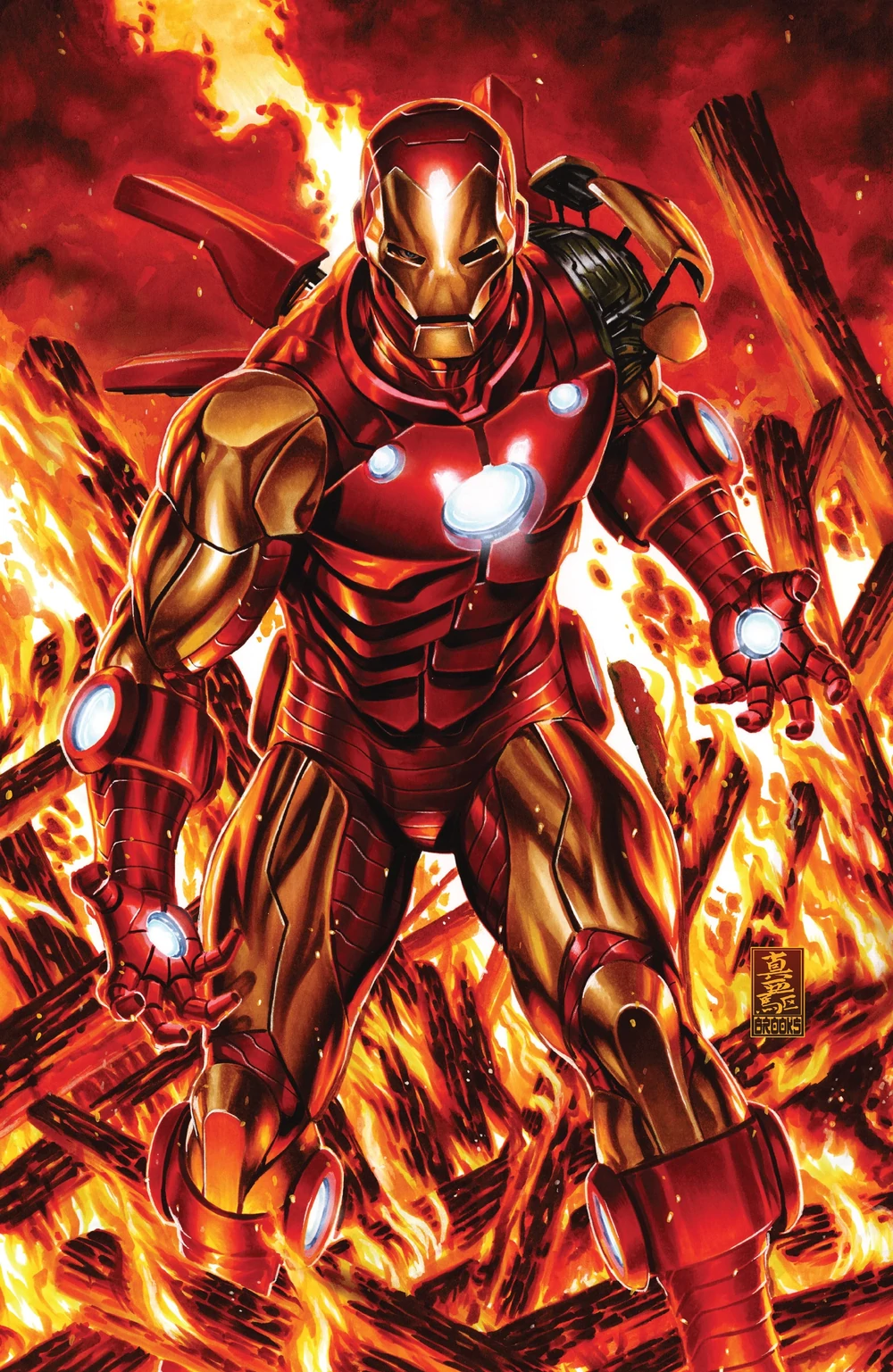 The Avengers are headed by Nick Fury, Captain America, and Iron Man. The three have an easy enough alliance most of the time, but on a few occasions, Iron Man and Captain America have clashed in a big way. Captain America is very much old school, while Iron Man is significantly more big picture thinking, and that conflict in ideologies has caused the two of them to clash. This might be because, originally, Iron Man was the man in charge before Cap was given the controls of the unit as well. Iron Man and Captain America had a brutal fight that didn't end up seeing its conclusion due to the end of their collective universe. Uneasy allies at best, lighthearted enemies at most, there is no denying that Iron Man is one of the most intriguing of all of the characters Captain America interacts with in these comics.
Iron Man is one of my favorite superheroes of all time, but even I can realize that he's a bit overbearing and hard to deal with at times and when you have a hero as steadfast and sturdy in their morals and beliefs like Captain America is, it's understandable that these two don't always see eye to eye. Iron Man's presence in the Captain America comics, to me, has always been a way to link a character from the past into more modern times, even though their creations weren't too far apart from each other.
Natasha Romanov, aka Black Widow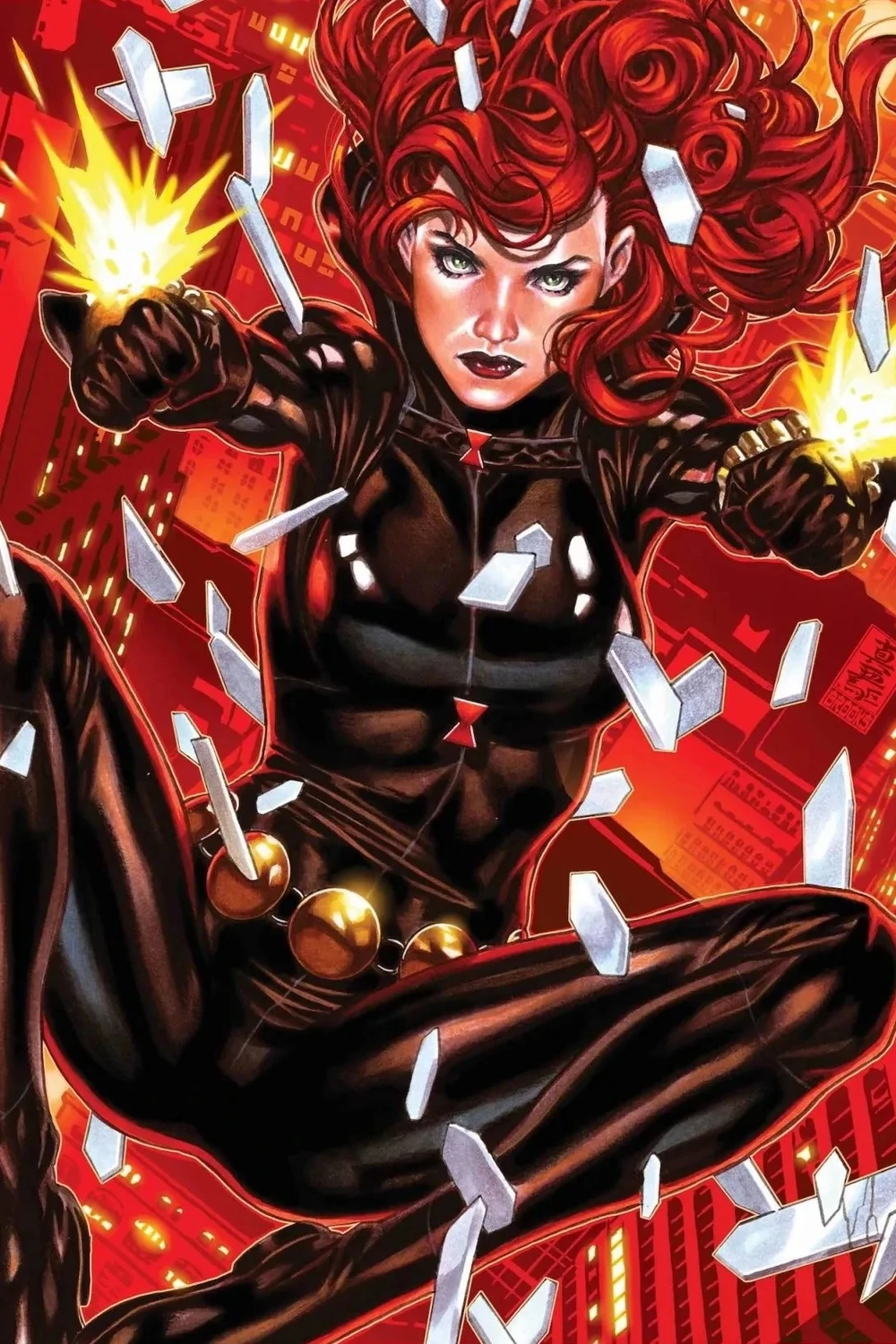 Just as it is in the MCU, Black Widow is one of the closest allies that Captain America has in The Avengers. She is one of his longest allies and has been an asset to Cap during his time in SHIELD as well. She has been somewhat of a gray character at times as well, at one point betraying America in one storyline where she's framed for the death of Hawkeye's family. Aside from her dark days, though, she was one of the key members of The Avengers in evacuating Earth during the Last Days plot. She is responsible for rescuing tons and tons of people from Earth during its destruction and is assigned the job by Captain America himself. Natasha is often chosen by Captain America for the most dangerous missions The Avengers are sent on. One of those involved being sent on a black ops mission to steal a dangerous artifact. She's become one of the most trusted Avengers over the years and even led the team at one point.
Rick Jones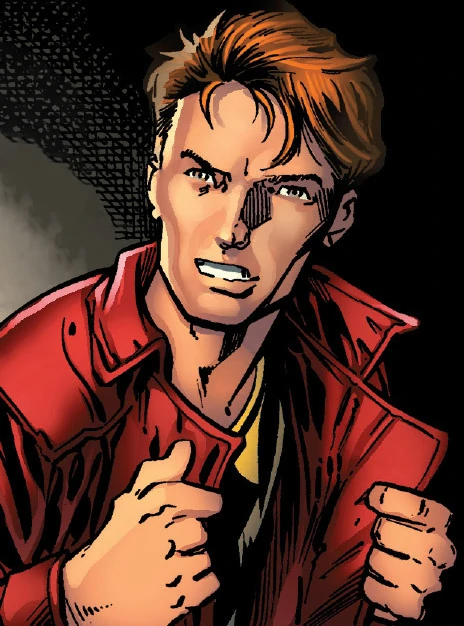 While he certainly isn't the flashiest of heroes in the Marvel Universe, Rick Jones has been one of Captain America's closest allies over the years. He's also been part of some massive storylines across the comics, such as the famous Kree-Skrull War. When it comes to his alliance with Cap, he actually is one of many who took on the title of Bucky after Bucky Barnes' assumed death. During that time, he was Captain America's right-hand man, and it was here where he learned to fight, which has served him well to this day. Rick has actually been a full member of The Avengers at times, although he left eventually due to being neglected by Captain America. As the years progressed, Rick gained powers of his own during his time with the Kree Supreme Intelligence. It turned him into a being capable of psionic energy, although his control over it is pretty much random. He even gained the ability to transform into a superhuman on par with the hulk, though this was caused by experiments when he was held hostage by M.O.D.O.K. Eventually, Rick gained control over his transformation, and his alter ego, A-Bomb, was born. This would only last a short time until The Hulk managed to create a cure and turn him back to a human.
The Avengers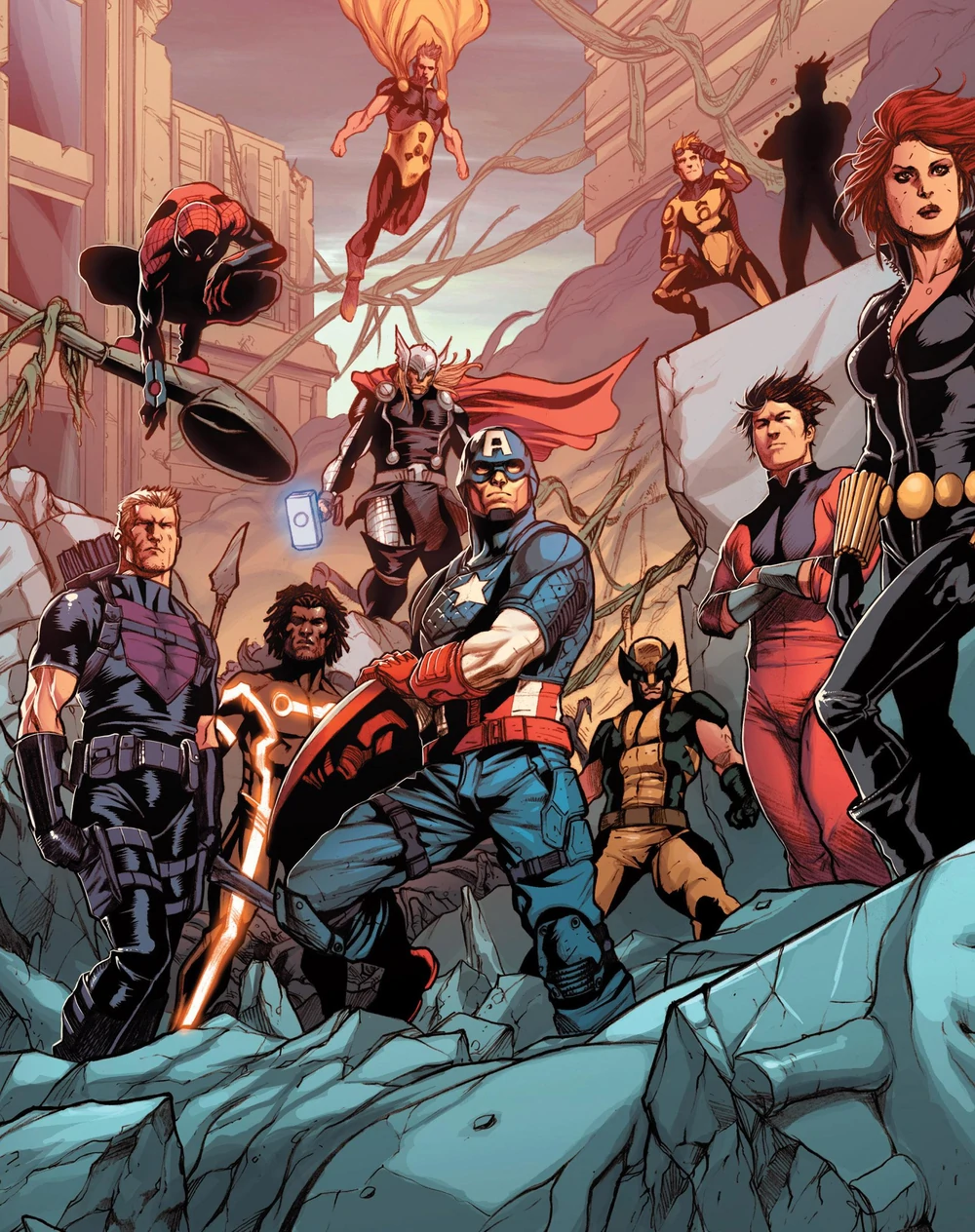 Captain America is the leader of the Avengers alongside Iron Man, and the team of superheroes has been his greatest supporting cast throughout his time in the comics. Among those that are closest to him, Thor, Captain Marvel, Black Widow, and Hulk have had his trust most over the years. What makes this alliance so special is that Captain America really isn't close to as powerful as most of the other Avengers, but his bravery and selflessness stand up above all to gain him the respect of his peers, and they trust their lives to him on more than one occasion. Captain America actually was invited into The Avengers by Iron Man, although, as detailed above, the two have never quite seen eye to eye. As a natural leader, Captain America took control as a co-leader, and his close relationship with SHIELD allowed the unit to become more of an organized group. With his incredible team at his back, Cap has had the courage to go against the strongest beings in the universe, including Thanos, and he could never do it without the support of this ever-growing group of superheroes.
Spider-Man
Spider-Man and Captain America are two of the most important superheroes to ever exist, and their relationship has been an extensive one. Spider-Man was actually inspired by Captain America and used to daydream about being a hero like him. Their first official meeting took place after Spider-Man had to save the Avengers from a robot clone of himself. That was when Spider-Man met one of his idols, Captain America. Upon showing his heroics to the most impressive superhero team ever assembled, Cap offered Spider-Man a helping hand in the future if he ever needed it. Any time that Spider-Man has been offered a chance to join The Avengers, Captain America is usually behind it, even though it's fallen through much of the time. They've teamed up time and time again against some mega-powerful villains, too, including Cap's longtime foe, Red Skull.
Who are Neutral Characters in Captain America?
Namor, the Sub Mariner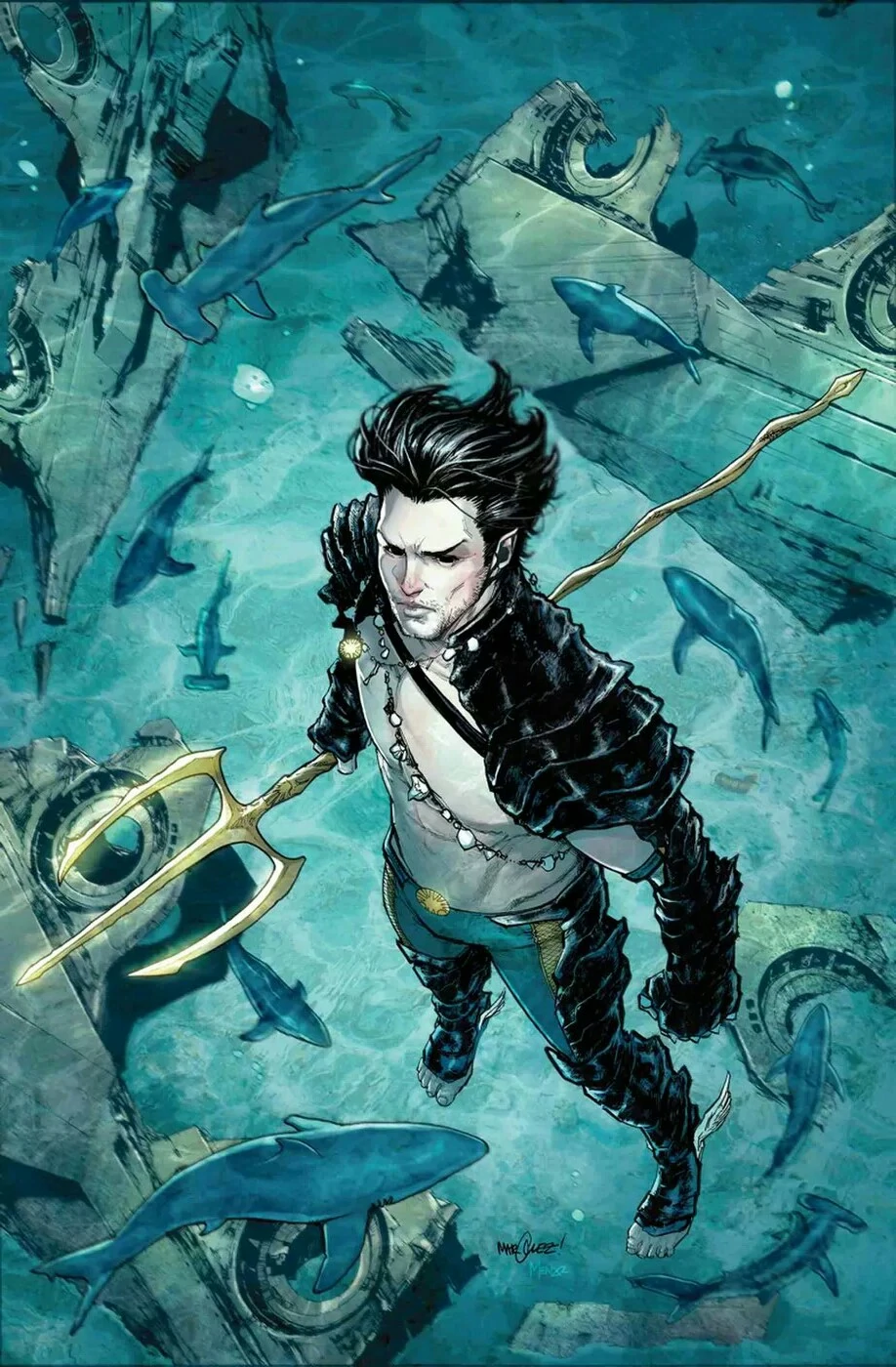 Namor is one of the most badass and, honestly, underused characters in all of Marvel comics. Part of that reason is that he's not exactly a fan of the human race and is one of the most arrogant heroes to ever exist. Despite that, Captain America has actually been one of the few allies that Namor has had in the superhero world when they were both members of the superhero group called The Invaders. The group was a unique one made up of Cap, Nucky, Human Torch, and Namor. They were a fighting force against the Nazis, but as time went on and humanity began to destroy more and more of the ocean, Namor grew hateful towards humanity, as they were causing the death of his people.
He's also been constantly conflicted throughout his life, looked down upon as a half-breed at first, and then made responsible for an entire race of people who once shunned him. He hasn't had the easiest time in the world, and the world has not been kind to him, which causes his less-than-kind persona. One of Namor's most notable achievements is getting the respect of Doctor Doom, who is equally as arrogant, but respects those that show immense power. He also has gone head to head with Sentry, arguably the most powerful superhero in the universe. He's immensely strong, and although he's not your typical hero, he usually ends up helping out, even if his disposition isn't the most pleasant.
U.S. Agent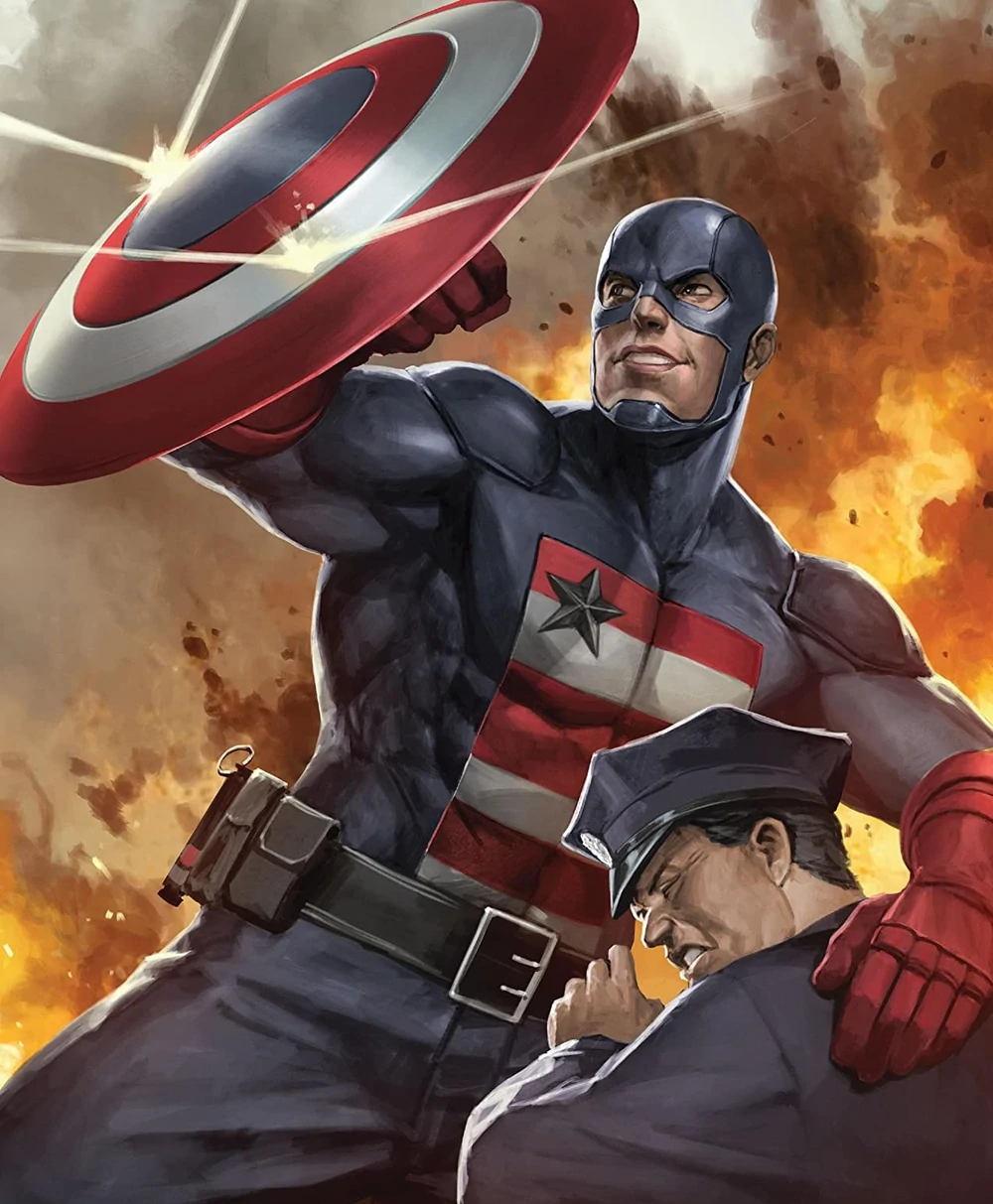 US Agent is a fascinating character in many ways. He is the imperfect version of Captain America and has a view of what could happen if Steve Rogers wasn't the perfect American that he's always been portrayed as. U.S. Agent's name is John Walker, and initially, he's depicted as a villain of sorts. John Walker is a much more brutal version of Captain America who has even donned the Captain America mantle for a while before his initial meeting with Captain America. The two have been allies on occasion but have also clashed due to John not believing him to be a good enough symbol for America. 
He might not be the most popular character out there, but I love me some U.S. Agent. He is as flawed as a hero can be, but the fact that he realizes that sometimes bad people can't be forgiven is an interesting way to build up a superhero. His initial lack of super strength is also interesting because he's expected to be Captain America without any of the powers he has, and that task that's appointed to him is one of the most overwhelming and hard-to-imagine tasks given in the Marvel Universe. His portrayal on the show Falcon and the Winter Soldier was also brilliant as well, so check that out if you want to see how this character translates to live-action.
Crossbones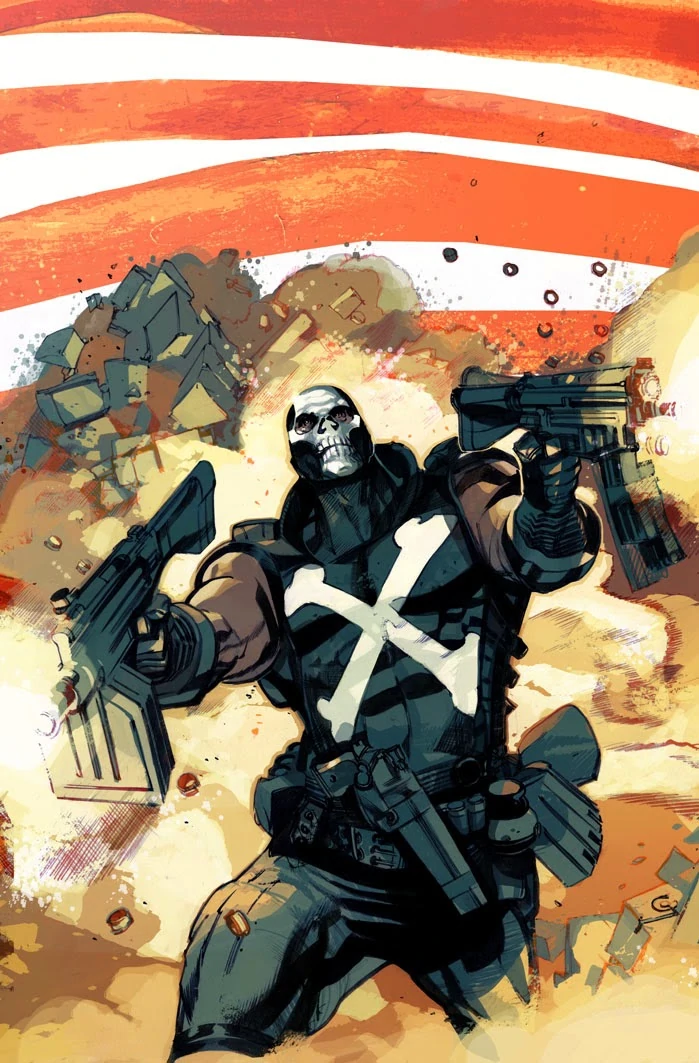 Crossbones, or Brock Rumlow, is a ruthless mercenary who has never seen a job that he didn't like. Pretty much morally bankrupt and only in it for the money; he's consistently been a thorn in the side of Captain America and The Avengers for quite some time now. That being said, he's not exactly an evil character, but rather someone who is ready for whatever it takes to complete a job and make some good money. If I had to put him on one side of the good and evil spectrum, he most certainly isn't a good guy. He has a particular fascination with Red Skull and looks up to him greatly, and that should tell you plenty about him already. In fact, his obsession with Red Skull led to him falling into a trap set by a man pretending to be Red Skull named Albert Malik and attempted to kill the real Red Skull. He failed, of course, but Red Skull saw something in him and gave him the name that he's donned ever since Crossbones.
Baron Zemo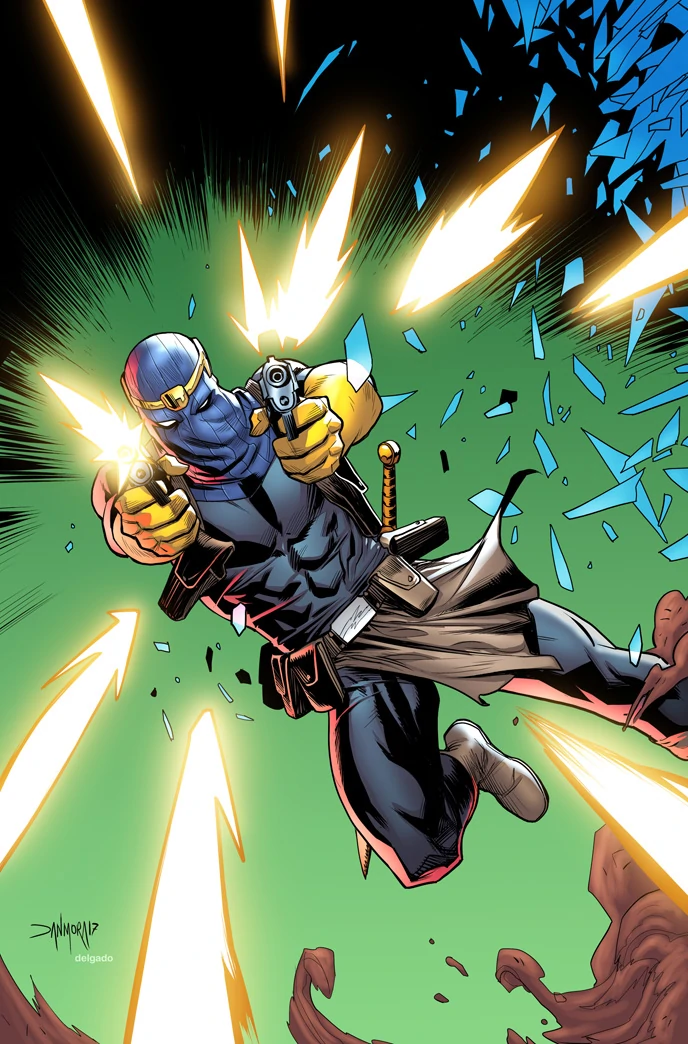 Another villain who is definitely not of the superpowered variety, Baron Zemo, is one of the most dangerous characters that Captain America ever had to face. What he lacks in physical strength, he makes up for with his smarts and his allies. He was initially envisioned as a one-off villain but gained so much popularity due to the Masters of Evil arc, where he pretended to lead a group of villains to pretend they were a superhero team known as the Thunderbolts. He was this close to achieving his goal of ruling the world through the power this group had given him until it failed when the rest of the group actually enjoyed being heroes and wanted to seek a path of redemption instead of continuing to be evil. Baron Zemo is definitely a gray area character. He's not 100 percent evil at all and has actually been a hero from time to time. He actually rejoined the Thunderbolts at one time seeking redemption himself but often finds himself falling back to ways of evil and often is in direct conflict with Captain America when he does.
Baron Zemo is a very interesting villain to me because of his status as somewhat of an anti-hero. Now, Baron Zemo has been multiple people, and not everyone is like that, as some of the Baron Zemo's are just plain evil. Helmut Zemo is the one that often tries to straddle the line between hero a villain. In his eyes, everything he's doing is usually in the name of revenge or to restore honor to his family.
FAQ
Question: Did Captain America turn evil?
Answer: Technically, he did, in an alternate universe at least. In one of the most shocking events in recent memory in the superhero world, Captain America turned bad and became HYDRA's leader and used his power to take over the world for a time. It ended when the real Captain America crossed over and took him down.
Question: Have there been other Captain Americas besides Steve Rogers?
Answer: There have actually been several other Captain Americas besides Steve Rogers. Sam Wilson and Bucky Barnes have both donned the red, white, and blue, and John Walker has also taken the mantle and shield up as well.
Question: Has Captain America ever been killed?
Answer: Yes, Red Skull finally managed to kill Steve Rogers via a careful and insidious plan that involved Cap's close confidant Sharon Carter delivering the killing blow to him while under the control of Dr. Faustus.
Recommended Reads: