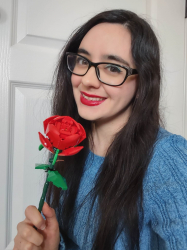 Latest posts by Samantha Valencia
(see all)
I don't know about everyone else, but as a long-time Spider-Man fan, I'm happiest when I have multiple ways of bringing my favorite wall-crawler into my home. As a kid, I spent lots of time drawing up what my dream house would look like.
As a college student, I spent even more time diving around Pinterest, looking for ways to bring my favorite fandoms and aesthetic themes into my concept of a dream home. I'm sharing my penchant for nerdy homewares to bring you the best lamps currently on the market that fit a Spider-Man theme.
When it comes to Marvel, Spider-Man and his friends and foes are my favorite section of the comic universe. I've bought more merchandise for the friendly neighborhood hero than any other Marvel – or DC – hero. I also know far more regular villains and allies in the Spider-Verse than in any other subdivision of the universe.
Even my favorite Marvel villains come from the webbed wall-crawler's neighborhood: Venom, Carnage, and the Life Foundation Symbiotes! There aren't a lot of symbiote-centered lamps, but that doesn't mean there aren't some fantastic Spider-Man options.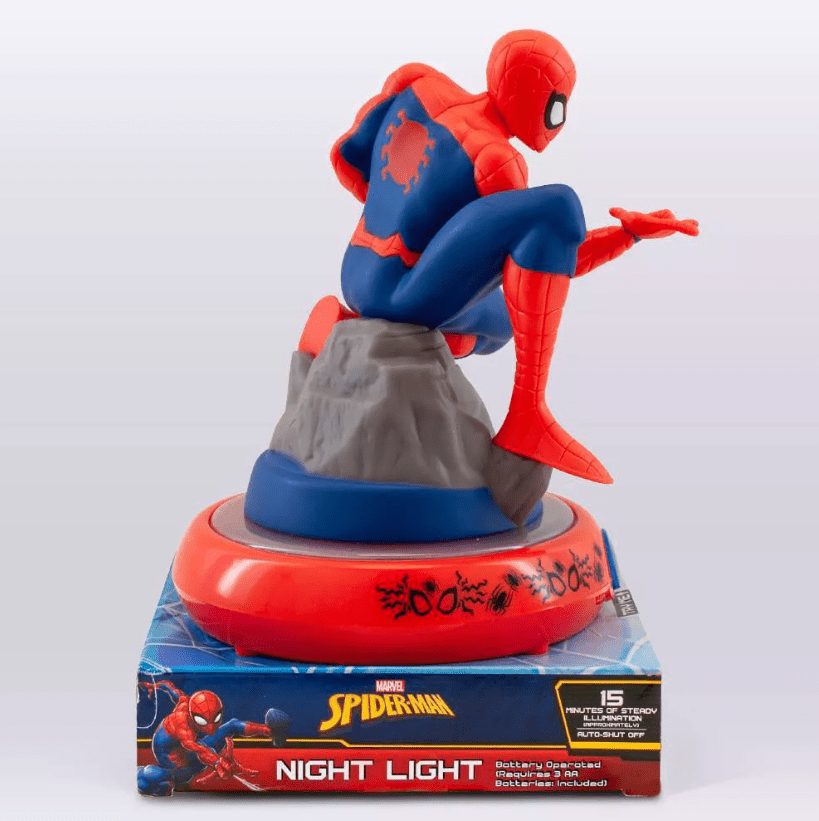 Bottom Line Up Front
Many Spider-Man lamps on the market are purely novelty items that aren't meant to last long; they look good. While these products can serve particular purposes, there are other options available. They also shouldn't be the go-to choices in most cases. The best Spider-Man lamps follow traditional lamp shapes, give off good light, are very user-friendly, and look good. Prices can vary from $15 to $60, based on the type of lamp desired.
I'm underwhelmed by the current offerings on the market, particularly as a Spider-Verse connoisseur. I would love to see more lamps that include characters kids today love, like Ghost Spider and Miles Morales. There is a limited amount of variety right now, but hopefully, in the future, that will change. The picks for this best-of-guide predominantly center on the classic Peter Parker Spider-Man.
Round-Up: My Top 5 Picks
Spider-Man Kids Night Light from Walmart, $15.99 – multiple designs and manufacturers, good night light or novelty light
Idea Nuova Spiderman Stick Table Kids Lamp from Amazon, $25.00 – very affordable, classic shape
Marvel Spider-Man Table Lamp from Target, $39.99 – comic design, classic shape, bright light
Marvel Spider-Gwen Glitter Motion Lamp from Amazon, $40.99 – Spider-Verse options, novelty light
Spider-Man Table Lamps from shopDisney, $52.95 – various designs, customizable, great lighting
Selection Criteria
Price –

Lamps should be affordable and match the quality

Style – Chosen products should appeal to the user (be it kid or adult)
Availability – The products are readily available at major retailers for ease of purchase
Theming – Each product needs to be primarily focused on Spider-Man and the Spider-Verse
6 Night Lights & Novelties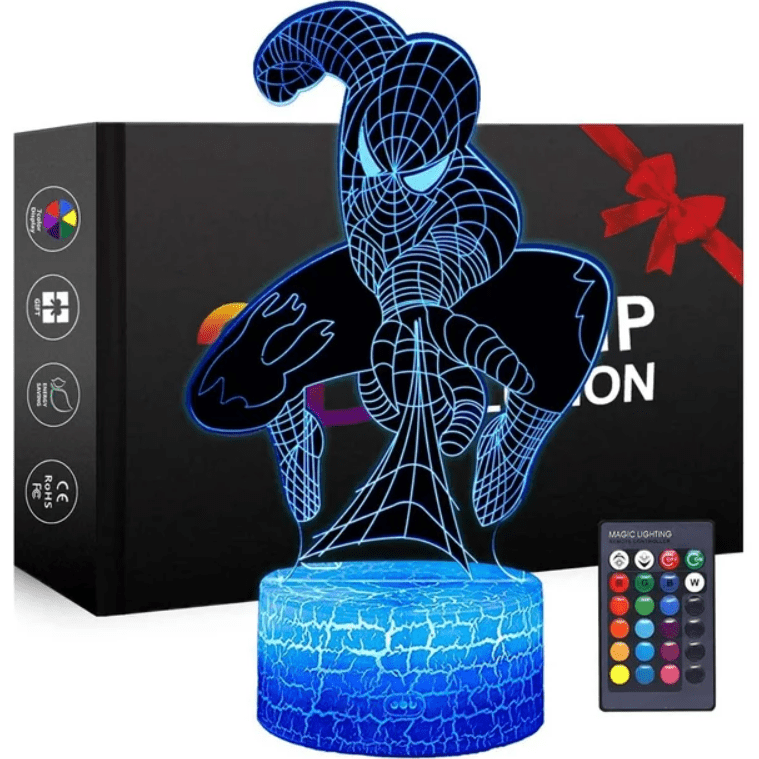 Manufacturer: SAYTAY
Lightbulbs: LED
Power: Battery-operated
This light is an LED in the shape of Spider-Man. It is battery-operated, but it is also mainly a novelty. It won't break the bank, and it has many colors. This could work well as a night light since it doesn't light up an entire room. It would also serve as a great decoration in a gaming set-up for older Spider-Man fans who want more ways to see their favorite webhead.
Other manufacturers in similar price ranges sell different designs if this pose differs from what you have in mind. When it comes to nightlights, there are a few options on the market, but this one is a stand-out. It doesn't have a highly limited auto-shut-off feature like other night lights. It also emits less light than later entries on this list.
This light may not be best for lighting a room, but it is perfect for a decorative light in a gaming space. It would also work well on a comic bookshelf with other Spider-Man items like action figures and assorted collectibles. It could be the perfect accent in a collection, and kids will love the ability to see Spider-Man glowing in their favorite colors.
Pros
Very affordable price
Wide range of color options
Fun novelty option
Cons
Small
Very low light radius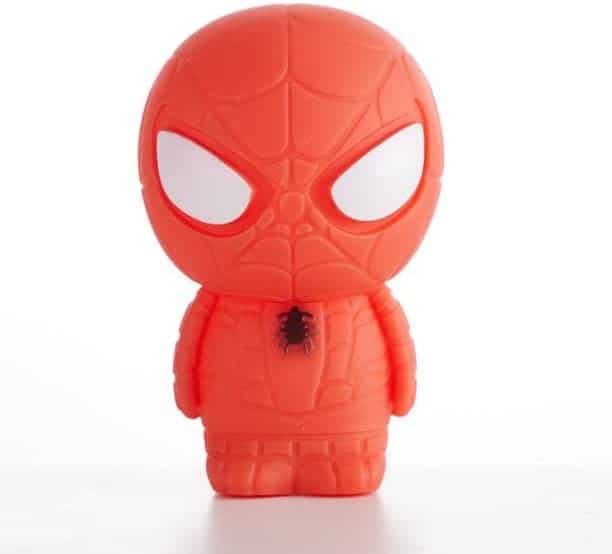 Manufacturer: Idea Nuova
Lightbulbs: Mood Light
Power: Battery-operated
This light is small, plastic, and it changes color! It is shaped like Spider-Man but in a chibi size and style. A shut-off timer activates after thirty minutes, providing a handy night light feature that is longer than other models. It comes with a remote, making it easy to operate. It is 6″ high, so approximately the height of an action figure, making it a great nightstand size. It isn't too large or heavy, so it can easily be moved around in the house. It would also fit nicely as a small novelty light for a desk space.
Pros
Auto-shutoff feature (longer than most)
Adorable 3D Spider-Man shape
Small and easy to move around as needed
Very affordable
Cons
The small size means a small light radius.
Only the torso section glows, not the head or limbs.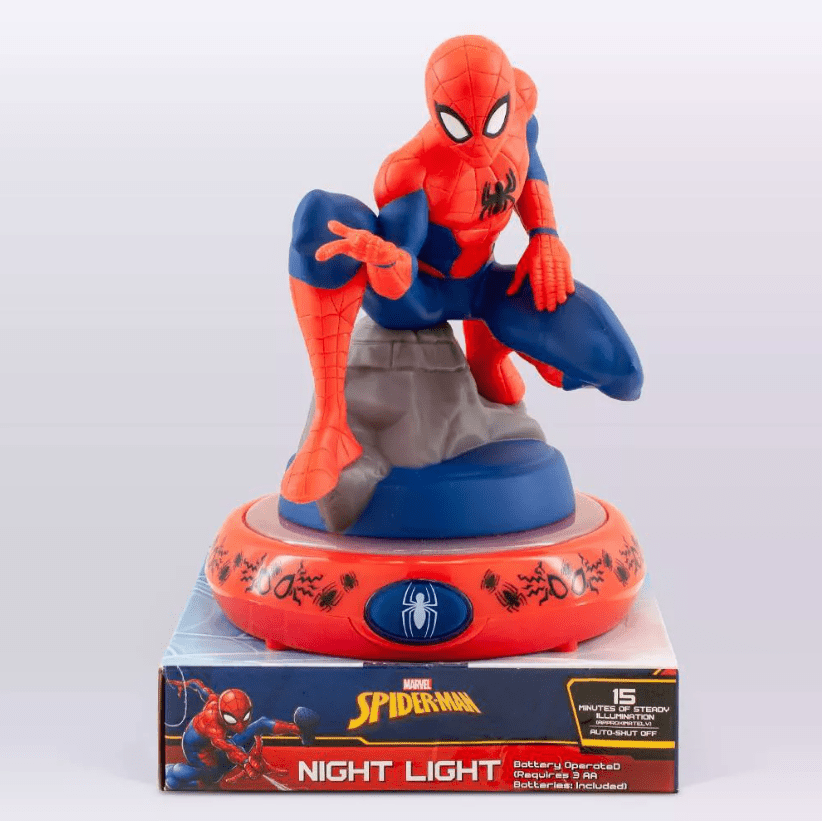 Manufacturer: Not listed, Marvel product
Lightbulbs: LED
Power: Battery-operated
This night light is a very affordable option that features everyone's favorite webhead perched on it, ready to use his webshooters. It is activated with the push of a button, making it easy for little heroes to turn on. It also has an automatic shut-off feature that turns off the light after fifteen minutes, which could be positive or negative depending on each family's needs and preferences.
Since this is a novelty-shaped nightlight, the lightbulbs are not replaceable. This is also small enough to be carried easily on a vacation or trip to visit family while still casting just enough light.
Pros
Auto-shutoff feature
Fun shape with Spider-Man at the forefront of the design
Small and easy to carry for travel if necessary
Very affordable
Cons
Auto-shutoff feature
Non-replaceable lightbulb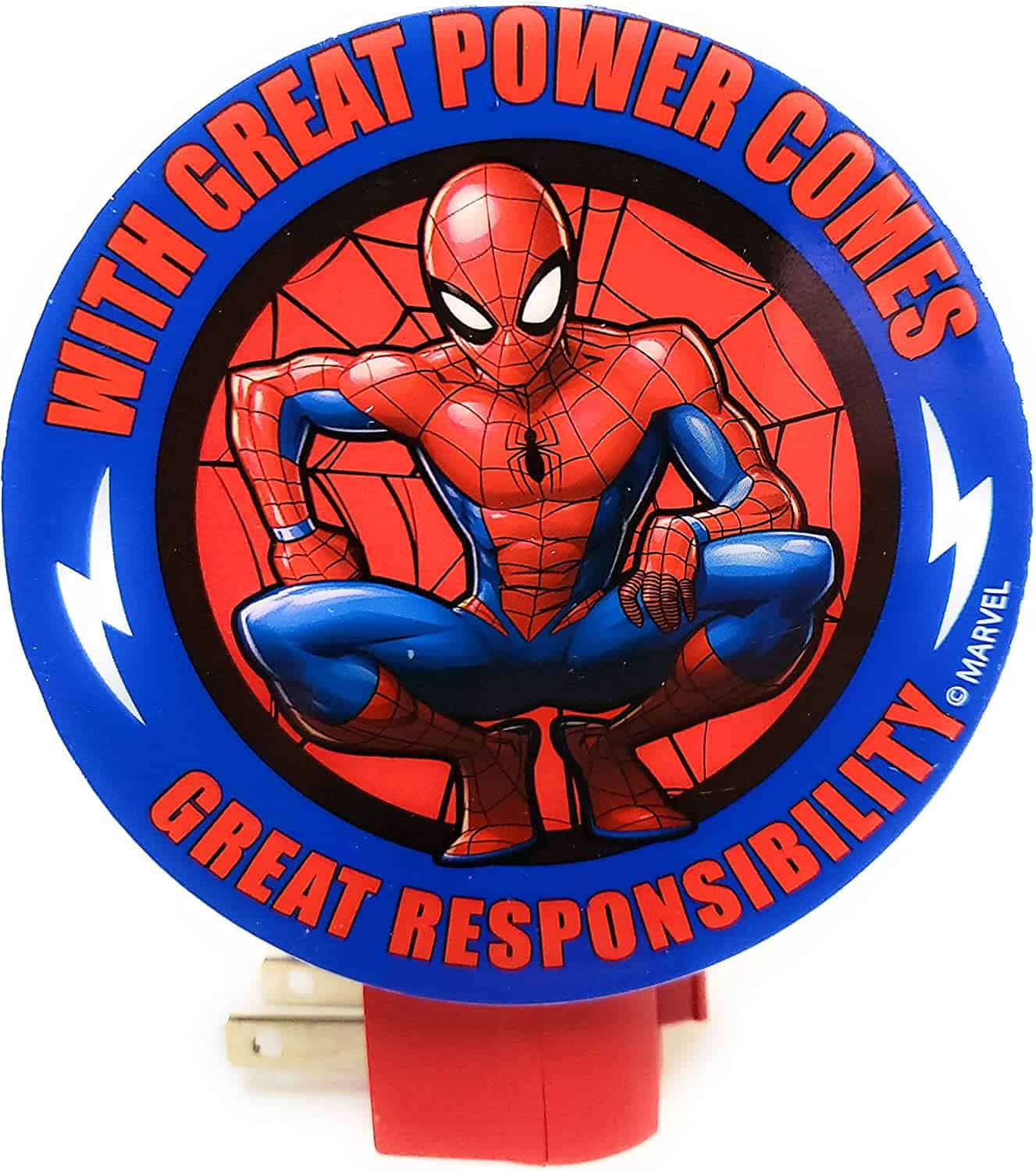 Manufacturer: Greenbrier International
Lightbulbs: LED
Power: Plug-In
This is a very traditional night light style but with an updated lightbulb style. It plugs into the wall and is turned on by a switch. However, it is an LED light instead of a traditional lightbulb like older models had. This kind of light is perfect if only a small light is needed, particularly in hallways or bedrooms.
It is small enough to stay out of the way but big enough to provide a guiding light. It is also highly affordable. While the central design is Spider-Man, Uncle Ben's famous quote will remind young users of the hero's life motto.
Pros
Simple, but detailed design
Traditional and easy-to-use style
Very affordable
Cons
Requires manual shut-off.
Limited light radius.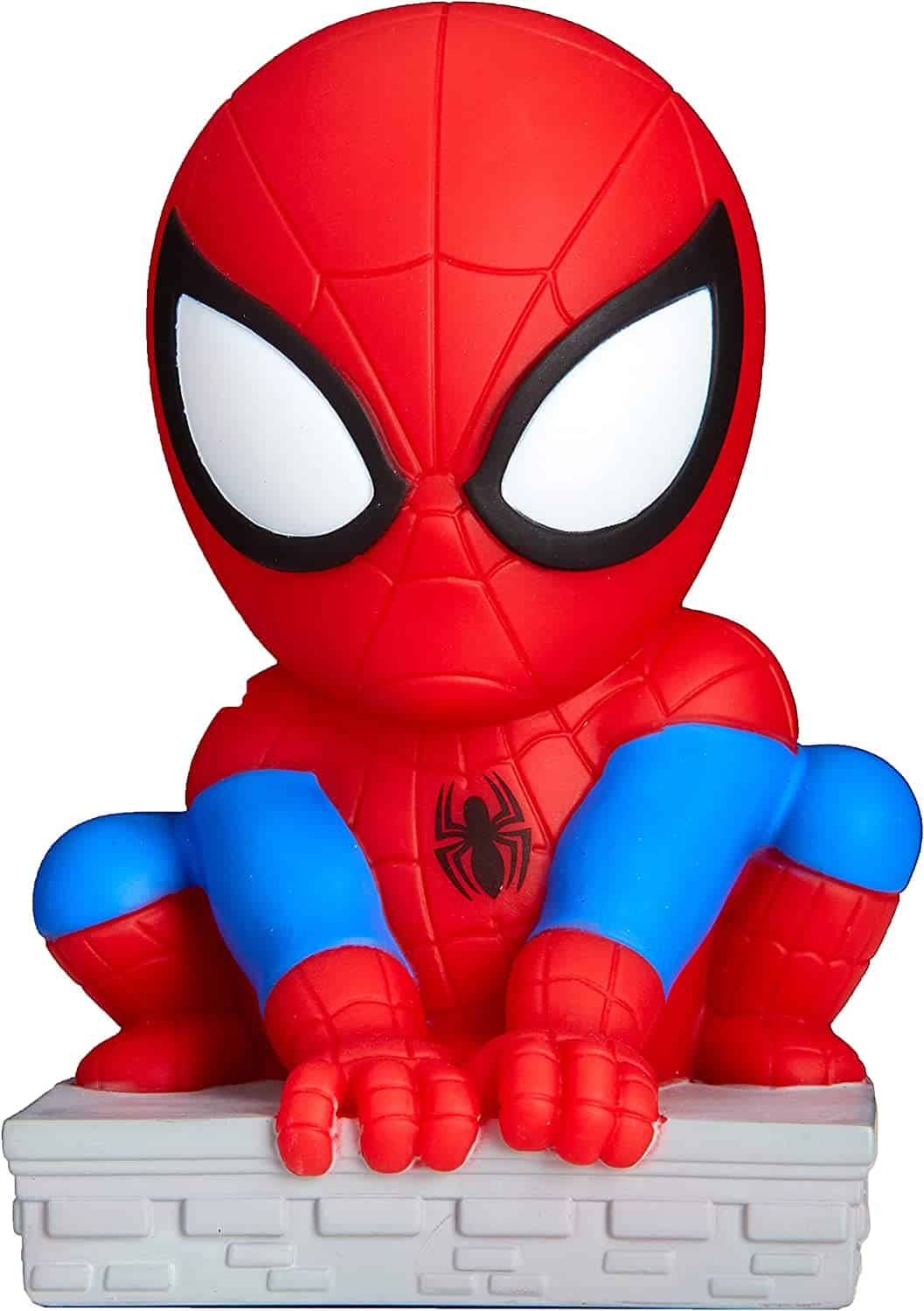 Manufacturer: GoGlow
Lightbulbs: Non-replaceable
Power: Battery-operated
This light has dual functions, serving as a tableside night light or a handheld reading and night light. It costs a bit more than other options on this list, but its design and duality are a big plus. Like other night lights in this guide, it features an automatic shut-off option that activates after ten minutes.
Its size allows it to be easily carried and used as a sort of flashlight for little ones needing to head to the bathroom at night. When on a nightstand it appears to glow from inside Spider-Man, but when elevated, it emits a light from under the base. Its variable functionality makes it an interesting option to fit multiple needs for young sleepers.
Pros
Spider-Man shaped design.
Dual functionality
Portable for necessary nighttime walks
Cons
Pricier than other typical night lights.
Automatic shut-off time is shorter than other night lights on the market.

Manufacturer: Ukonic
Lightbulbs: LED
Power: USB/AA batteries
This lamp may function better than a traditional night light but it has several cons. The downsides include noise production and a relatively low light emission compared to other lamps. It also consists of a 15-minute auto-shut-off feature. The shut-off could be a plus for anyone wanting a self-managing light, but repeatedly turning it back on could quickly get annoying.
User preference will determine if this is a pro or con. Nonetheless, there are a few stand-out positives about it. The visual element added to a space is nice. Additionally, there are three options. While there is a standard Spider-Man option, there are also Spider-Gwen/Ghost Spider and Venom variations.
In terms of cost, this one certainly could be more affordable. Still, as a novelty light, it fills a gap in the market for character options. Despite this being a low light-emitting option, the glitter motion is reminiscent of lava lamp-type lamps. This light might even benefit sleepers who sleep best when provided with background or white noise. I often find noise perfect for shutting out loud thoughts that creep in while trying to relax.
Pros
Numerous character options
A fun novelty for a Spider-Man/Spider-Verse collection
Automatic shut-off feature
Cons
Pricey for the light style
Noise production when on
Automatic shut-off feature
6 Spider-Man Table Lamps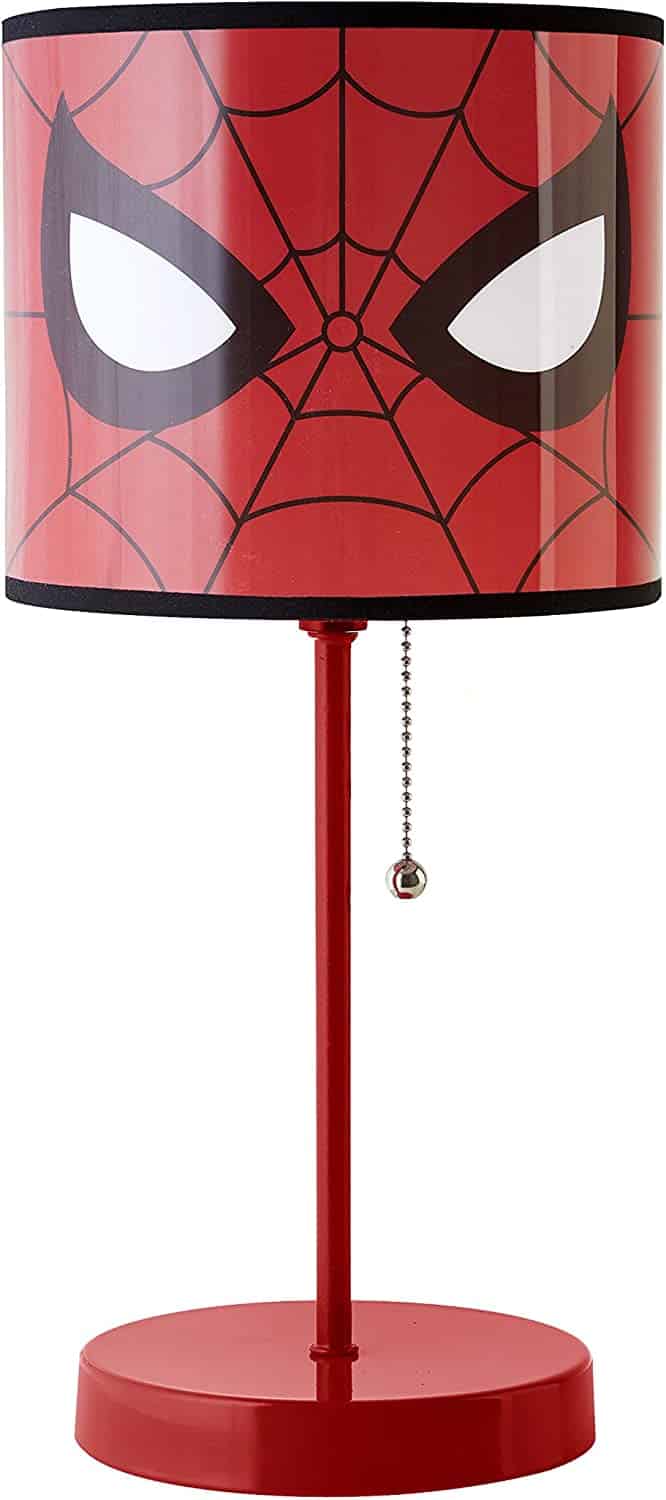 Manufacturer: Idea Nuova
Lightbulbs: 40 Watt
Power: Corded AC
While simple, this light gets the job done. It is a very affordable option with a straightforward design. It may be different from what a collector is looking for. Still, kids will definitely enjoy their favorite hero being close by. This lamp features a pull chain to turn it on.
It is the better Spider-Man option from Idea Nuova as the LED desk light is too expensive for what it delivers and doesn't have a replaceable lightbulb. This table lamp is very traditional, but it's also very effective. The lightbulb CAN be changed, making it a better option, though the lampshade is of plastic construction. It's still great for winding down at bedtime with a good comic!
Pros
Very affordable
Bright and easy to operate
Lightbulb is replaceable
Cons
Simplistic design
Plastic lampshade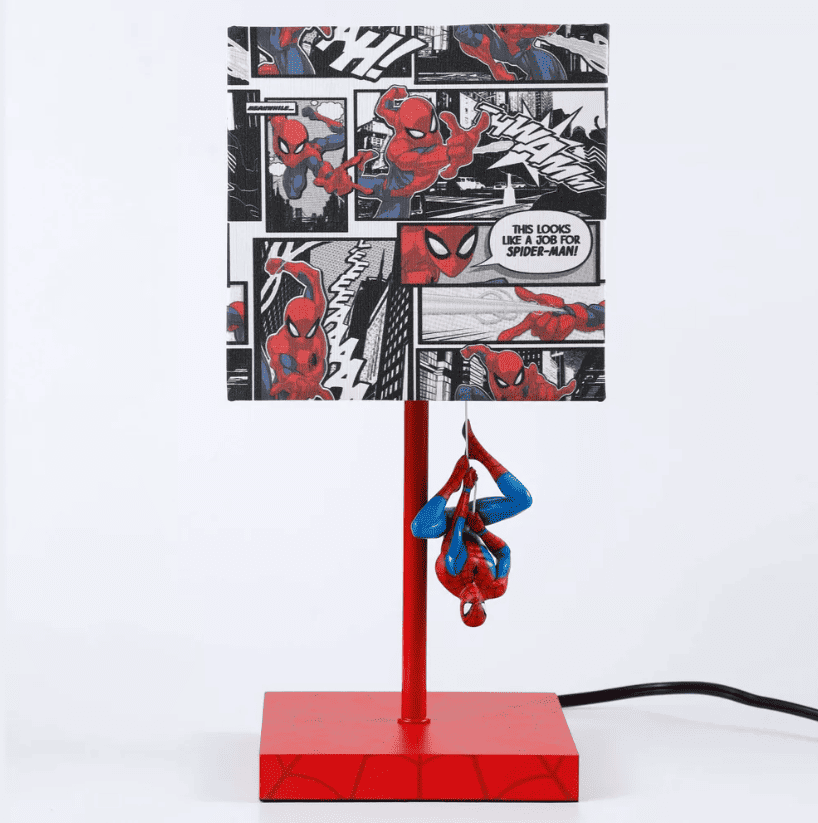 Manufacturer: Not listed; Marvel product
Lightbulbs: 40 Watt Incandescent or 9W LED
Power: Corded AC
This table lamp is one of my top favorites. It has one of the best comic-style designs while being youthful and playful. It is also very traditional and is an upper-range product at $39.99. It has a polyester lampshade, upgrading from the previous entry's plastic version. It is a more complex design and features Spider-Man on the pull cord.
This lamp would be better for an older fan or a collector wanting to add Spidey to their workspace since little hands might be rougher on the cord. I love the overall design of this homeware and the little things it incorporates that push it over the top on many of its competitors.
Pros
Great lampshade design
Replaceable lightbulb
Additional details and inclusion of Spider-Man
Cons
Higher price
Not as suitable for younger fans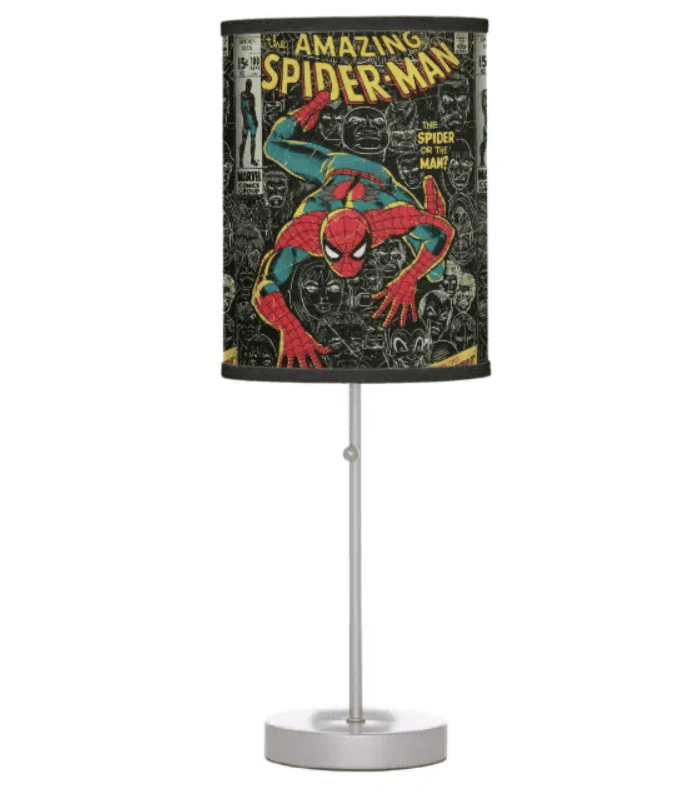 Manufacturer: Disney/Marvel product
Lightbulbs: 60 Watt Incandescent
Power: Corded AC
While more expensive than the previous entries, this is still a relatively affordable option and is one of my top picks. There is a lot of variability in fans' preferences, but the Spider-Man Comic #100 Table Lamp is my favorite. It brings in a comic design and a significant cover. Spider-Man #100 is not simply a milestone issue.
It is also an issue that reflects the hero's journey and life up to that point. Released in 1971, it mentions critical moments in his life and confirms his identity as Spider-Man. This makes it great for comic fans who have been long-time fans of the hero.
This lamp has a linen lampshade, improving the quality of materials in the construction. The lightbulbs can also be replaced, making them a better long-term option than some previous entries in this guide. The lamp can also be customized with alternate color trim and the possibility of a silver or white base. This allows fans to make the product more aligned with their personal style without losing an incredible graphic. However, the customizations are minor compared to some other lamps of a similar style.
Pros
Higher quality construction
Replaceable lightbulb
Customizability
Extra significance for comic fans
Cons
Higher price point
Limited customization
No options for additional Spider-Verse characters
Manufacturer: Disney/Marvel product
Lightbulbs: 60 Watt Incandescent
Power: Corded AC
This lamp is nearly identical to the previous entry; however, it has a very distinct design that will be perfect for Spider-Man fans who are also gamers – like myself. It features Spider-Man's suit from the 2018 video game on PS4. The white spider emblem, white accents on the hands/wrists, and the color design on the lower body of the suit are all giveaway markers of this iteration.
This is a perfect option for teens who want a Spider-Man lamp that doesn't just look like a kids' lamp. It would also go great in a gaming space, not just a bedroom! The lampshade is linen, and the lightbulb is replaceable. The lampshade linen background can also be customized, in addition to the base finish and trim, making it a very personalizable option!
Pros
Replaceable lightbulbs
Plenty of customization to fit decorative tones in home
Extra significance for gamers
Cons
Higher price than other entries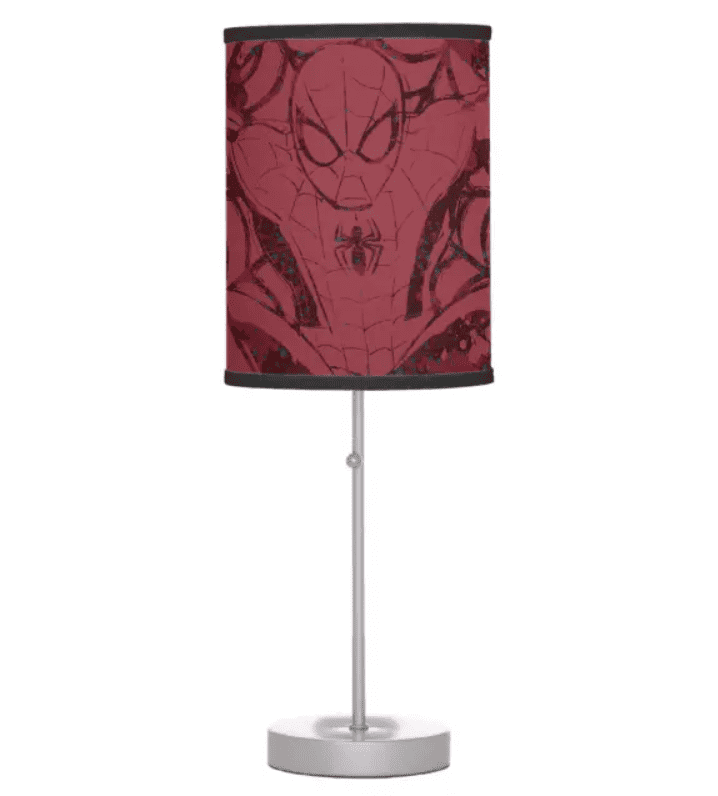 Manufacturer: Disney/Marvel product
Lightbulbs: 60 Watt Incandescent
Power: Corded AC
I think it's pretty clear that I'm a little partial to these particular lamp styles. This lamp features Spider-Man on the linen lampshade while still having customizability. However, unlike the previous graphics, some of the background customization colors don't work. The default background is a beautiful red, though white also makes the design pop.
Browns, however, stifle the overall design. The base finish and trim are similarly customizable. The graphic is much simpler, allowing it to appeal to Spider-Man fans of all types and ages. It has less detail to it and doesn't provide any lettering for reading. It will have a simple silhouette and be a classic lighting piece in a room.
Pros
Customization options available
Design fits Spider-Man fans of all ages
Traditional lamp style
Cons
Price point is higher than alternate options
Background color options for customization aren't as effective as other design options.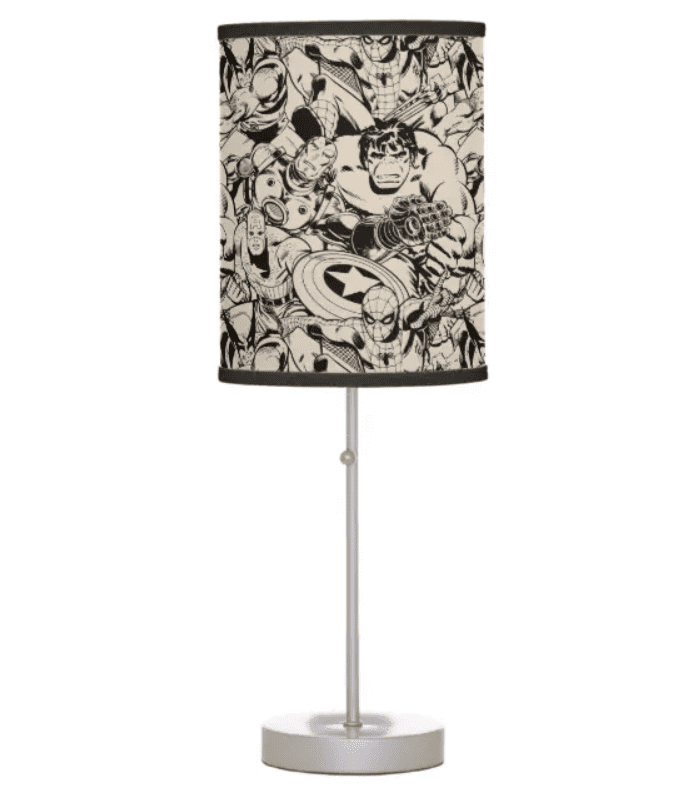 Manufacturer: Disney/Marvel product
Lightbulbs: 60 Watt Incandescent
Power: Corded AC
This table lamp is a great option for fans of Marvel overall – who don't want Spider-Man to be left out! Despite being an Avenger, Spider-Man often gets left out since he wasn't a founding member. He's also often overshadowed when it comes to team dynamics. Nonetheless, the retro comic-style lampshade print features him alongside his fellow Marvel heroes. The featured heroes are the Fantastic Four, Captain America, the Hulk, Iron Man, and Wolverine.
Surprisingly, Thor is not present in this design. Nonetheless, this is a great lamp that would be suitable in a child or teen's bedroom, an office space, or an adult's bedroom. It is very flexible in its placement ability thanks to its classic design. It is also customizable in terms of base finish, trim, and background colors – though the base design works perfectly as is!
Pros
Design applies to any room type and age
Classic comic graphic
Many Marvel heroes are featured with Spider-Man included
Customization available
Cons
Design doesn't feature some current primary Avengers kids may favor (ex: Thor, Black Panther)
The price is slightly higher
Conclusion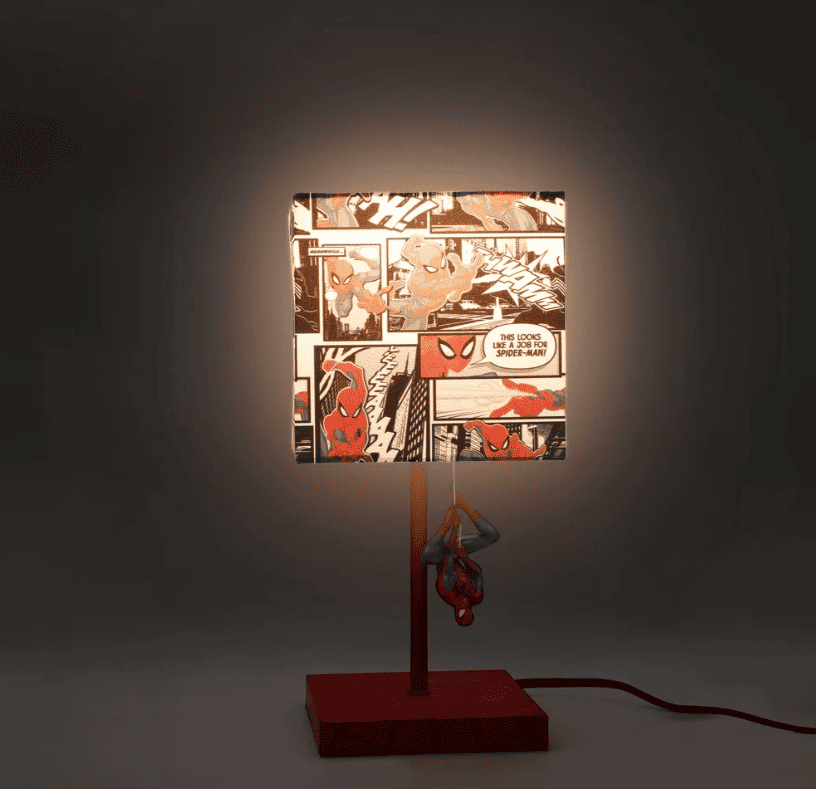 When it comes to Spider-Man lights, there appear to be numerous options, but many have glaring problems that make them ineffective for various purposes. Selecting a perfect lamp requires knowing what age the target is, the purpose of the lamp (nighttime reading or nightlight comfort), and the desired price point for a product.
As a comic fan – and Spider-Verse aficionado whose first comic crush was Peter Parker/Spider-Man – I highly recommend splurging on the table lamps from ShopDisney due to their attention to detail and fandom. However, don't hesitate away from novelty lights if children need soft evening lights or if that's what a collection requires for an extra pop!
Frequently Asked Questions
Question: Are you familiar with the products on this list? 
Answer: I've used my fair share of lights and lamps over the years and know what I've liked and disliked about each. While I do not own any of these items myself yet, I have seen several in use in friends' spaces. At present, a couple of these are on my to-purchase list for a few different spaces I have in mind. 
Question: What makes you an expert in Spider-Man lights? 
Answer: I've been a Spider-Man fan for nearly thirty years. I've used numerous licensed Marvel and Disney products in that time frame. Being a very youthful person at heart, I never shy away from using products marketed towards kids and often prefer to have fun AND function over simplistic or minimal "adult" designs that add very little to my spaces and enjoyment. 
Question: What should I look for in a lamp? 
Answer: Consider the space a lamp will be placed in and how much light you need in it. Do you need a small light for a desk or a brighter light illuminating a room on a nightstand? Do you need it to read comics or just to serve as a fun accent for a recreational space? Also, consider your preferred powering method, be it batteries or corded facets. Really focus on what works best for your needs, preferences, and space. 
Recommended Reads