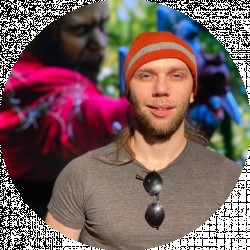 Latest posts by Bryan Hughes
(see all)
This article will be looking at a question debated since the late 1970s. Who would win in a fight, Spiderman or Wolverine? 
Now, your friendly neighborhood spider is a bit of a boy scout, through and through. He balances his sarcastic wit with fighting super villains and almost never crosses the line. It's not that he doesn't think some of them are as bad as can be, but he's no executioner. 
The best there is at what he does, though, the Canadian secret service, five-foot-three runt that can go toe-to-toe with the Hulk, he'll just gut you. His moral code is far looser and more along the lines of, I protect people from bad guys by any means necessary. 
These two very popular superheroes team up quite a lot and have even come to blows on more than one occasion. 
Let's look into their past conflicts before giving you our own take on these frenemies.
Tale of the Tape

Spiderman, AKA Peter Parker
Abilities: Superhuman Strength, Durability, Enhanced Agility, Adhesive Touch, Strong Sticky Webbing, Spidey Sense, Damage Recovery, Incredible Leaping. 

Most Impressive Victory:

 Firelord, a cosmic servant of Galactus, actually lost to Spiderman. The web-slinger was forced to forgo tactics, using brute force while relying on his incredible Spidey Sense to win, and win he did.

Most Brutal Defeats:

 Terraxia beats him to death(he's later resurrected) in the original Infinity Gauntlet comics, in the background even, while other heroes battle Thanos. 

Characteristics:

 Friendly, witty, burdened with the need to help, and plagued with guilt.

Main Advantage:

 A more extensive array of powers and a usually level-headed approach to combat, but mostly his strength and spidey sense will be his biggest boon.
Wolverine, AKA Logan
Abilities: Enhanced Strength, Durability, Heightened Scent, Hearing, Incredible Regeneration, Retractable Claws, Berserker Rage, and an Indestructible Adamantium Skeleton.

Most Impressive Victory:

 He has more than once taken out entire armies of actual demons or aliens single-handed in a berserker rage. 

Most Brutal Defeat:

 He had his adamantium ripped out of his bones by Magneto, leaving him in a long-term state of barely healing. This led to his regression into an animal-like state.

Characteristics: Hard-headed, cocky, a hopeless romantic, and plagued with guilt.

Main Advantage:

 In a berserker state, his healing factor is nearly immediate, and knocking him unconscious seems nigh-impossible. Otherwise, he does have better fighting skills and claws.
Spiderman Meets Wolverine

These two first met way back in Marvel Team-Up Annual #1, 1976. They almost started fighting instantly. Luckily, Spiderman's Spidey Sense and Logan's heightened sense of smell meant they figured out one another wasn't the enemy. So, the question may have first appeared here.
What you see right away from their first encounter is Wolverine isn't a fan of the witty dialogue Peter uses during a fight. Spiderman isn't a fan of how Logan is clearly a bit more violent than your average hero, either.
The Tragedy That Binds Them
Wolverine and Spiderman come to blows the next time they meet in Europe. These events lead to a really intense bit of information, where Spiderman kills Wolverine's ex-girlfriend. Settle in for a sad tale. 
Parker(Spiderman) was with a fellow named Ned Reeds, who was possibly the Hobgoblin, on assignment for the Daily Bugle in Europe to get some information on whether or not Charlemagne(a killer/hitman) was real. Well, they were, and Ned died. 
Here, Peter Parker learns that Logan(Wolverine) is also on the case. Logan recognizes Parker as Spiderman right away due to his scent. He doesn't reveal this to anyone but tells him plainly, "You're in over your head, kid. Get out of here, get back to New York."
Parker doesn't listen; with great power comes great responsibility, after all. So, he finds a makeshift costume and goes after the killer regardless of Wolverine's warnings. There's a funny bit where Spiderman leaps over the Berlin Wall that used to separate Germany. No one does anything to stop him. He's confused about why because he doesn't realize how surprised they are someone would go to the East side of the wall. People used to try and sneak over into the West.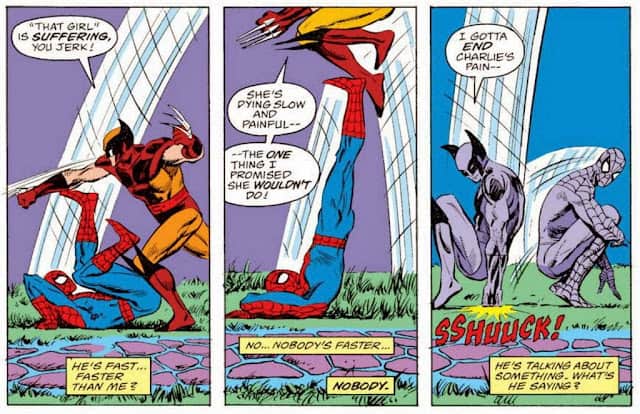 One more comedy bit about his name being The Spider "die Spinne" in German, and that's all the comedy you get. The serious meter only turns up from here.
Charlie is the actual name of the killer, and Wolverine isn't hunting her down to stop her. He's hunting her down to save her from her fate. She knows too much. The people who used to hire her plan to capture and torture her. They want as much information as they can get. She knows there's nowhere on Earth she can hide and feels she had a good enough life. She and Logan reminisce about their old times together. 
She wants Wolverine to kill her; he won't do it. Spiderman interrupts the conversation, and again he is reprimanded by Wolverine for being in over his head. The pile of bodies of spies that came to kill Charlie has Spiderman feeling Logan is right. 
He takes some time and decides to bring Charlie to justice and figure this out. Coming finally across Wolverine about to kill her. She begs him to do it before they catch her, but he can't. He still wants to believe he can keep her safe. Spiderman doesn't hear any of this as he arrives. 
They get into a fight immediately, and in this altercation, Wolverine schools Spiderman with his fighting skills. Spiderman is scared of Logan, he's never fought someone as calm and confident as him, and it affects his Spidey Sense. He realizes he'd have to use his full strength to do any damage and go to a place he's never been before to defeat Wolverine. 
Wolverine doesn't use his claws to win. He goes back into the shadows after giving Parker another warning. It is then that Spiderman is tricked by Charlie. She attacks him from behind, and Spiderman throws a full-forced punch meant for Logan…a punch that would and does kill an average human. 
Parker can't take in what he's done, even if Wolverine doesn't really blame him. He knows Charlie got what she wanted; he just hates it.
Wolverine points out how he was right, and Peter should have listened. The world Parker is used to isn't the same as the one he'd stepped into. There was no right or wrong here, and Parker doesn't belong as part of that world. He helps get the emotionally destroyed Peter Parker home. Spiderman finds some comfort in Mary Jane's arms.
Later Wolverine returns to New York after calming down(many comics later) and helps bring Peter closure. Telling him that Charlie was trying to get herself killed and doing his best to alleviate some of the friendly neighborhood spider's conscience. It works, and they've sort of been close ever since in a way few characters can claim.
Mistaken Identity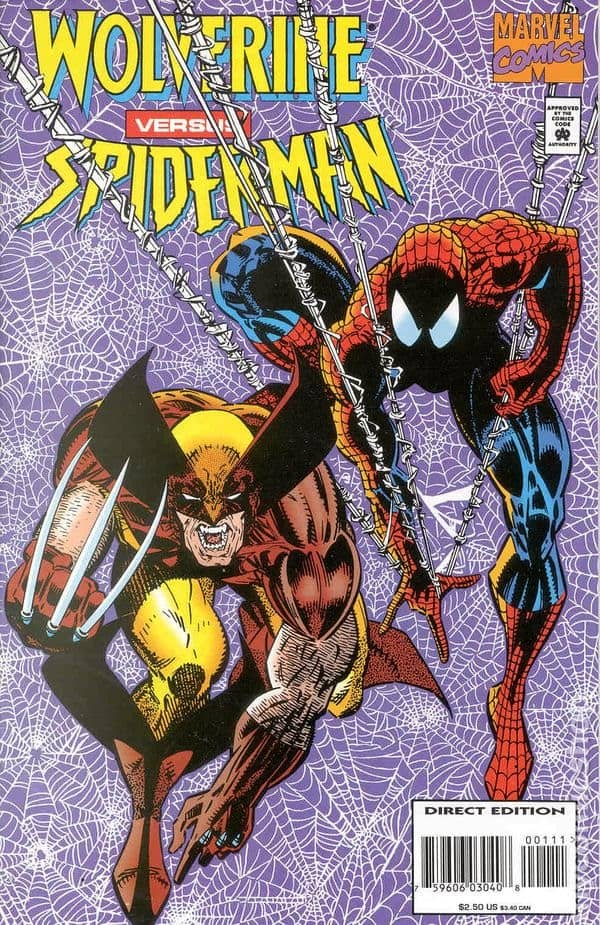 An on-again, off-again partnership brings a level of respect from Parker to Logan for the kind of battles Peter doesn't have the heart to fight. It also brings respect from Logan to Spiderman for carrying all the weight of heroism alone for so many years and still keeping his soul intact. 
A short fight ensues after the X-Men are believed dead because of this, simply because Parker sees Wolverine in New York and assumes someone is impersonating his friend. 
Angry at this slight, he attacks immediately. Still, the short fight ends with Parker realizing it is not an impostor and actually Logan. 
The Years Go By
Almost every interaction between them after that for nearly twenty years of comics is helping each other out or teaming up. That is until the New Avengers storyline, in which they both become Avengers. 
In these iterations, Wolverine is often intoxicated(how is that possible) and accidentally claws Spiderman during a training session. A frustrated Spiderman beats the living hell out of Logan, but Wolverine doesn't retaliate, stating he probably had it coming. 
That's All the Written Conflicts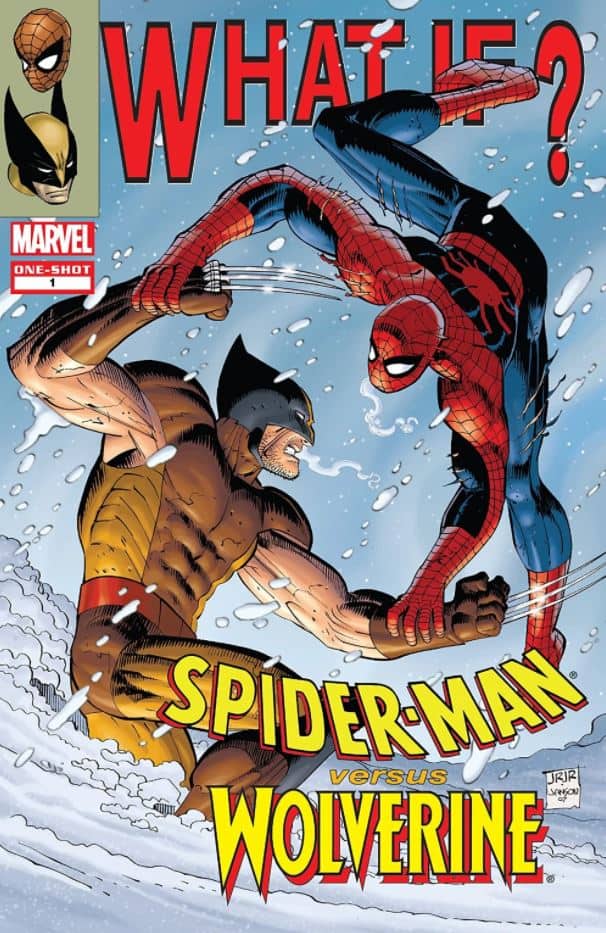 There hasn't been a clearly defined winner in the comics, except for one time Spiderman just tossed him really far away; that might count. The two share some unique traits that leave these very different characters always on the same side, even after a fight. 
It seems the winner is actually flipped against their own strengths. Wolverine always wins when he is calm, and Spiderman gets the advantage when he lets completely loose. 
I think before I make a verdict myself, I want to dive into how they have defeated some similar foes. Let's explore how they handle the same threat.
What About the Films?
Wolverine and Spiderman have appeared in many films, but never a live-action film together. While each iteration of Spiderman was slightly different, Wolverine is almost synonymous with actor Hugh Jackman. 
Wolverine AKA Hugh Jackman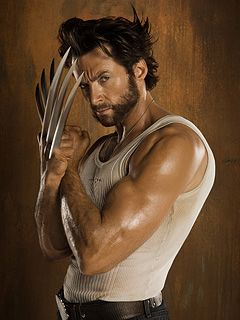 Initially, there was some slight fan backlash. The most dangerous short hero in the comic world was no longer short and arguably not as dangerous. Over time, however, he really threw himself into the role. His portrayal of the character grew on fans.
In the first X-Men movies, he goes from being a decent combat expert with his adamantium, and healing factor to healing from wounds nigh instantly in X-3. 
In his stand-alone films, he starts out as a soldier of almost every war since the mid-late1800s in the US. He adapts the backstory of James Howlett as introduced in Wolverine Origins #1 in 2001, but the movie suffers from some CGI issues and gives us a mute Deadpool; what?
We see him survive Hiroshima in the second one, sure why not, and finally end his run with the movie: Logan. In this film, the acting by himself, Dafne Keen(X-23), and Patrick Stewart are incredible. It is a sad story, though, and shows him at his strongest and his weakest. 
The Many Faces of Spiderman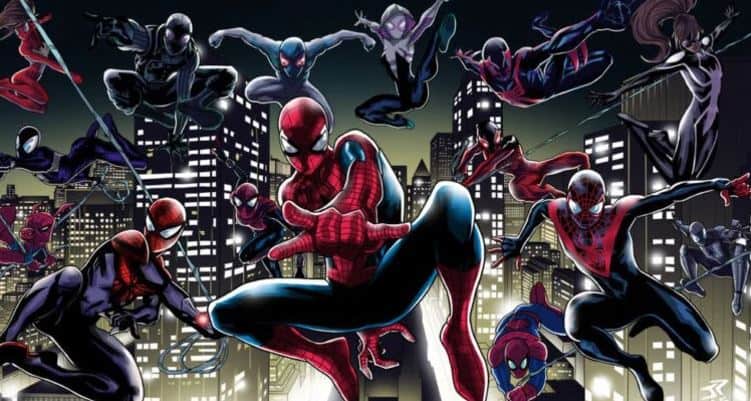 I'll break the main points down of the most recent versions and kindly skip over any Spiderman before 2002. 
Tobey Maguires'

 is the only Spiderman who shoots webs from his hands, not a mechanism. He still has a good amount of strength and Spidey Sense but not at the level of his comic book counterpart. He has some great fights against an incredible Green Goblin, an extraordinary Doctor Octopus and a well-cast Sandman in a trilogy for the web-slinger. 

Andrew Garfield

took up the wall-crawler next. He may arguably be the strongest of the current three iterations. His Spiderman's agility is peak, and his durability matches the comic book Peter Parker. His two movies come to one of the most tragic ends of any Spiderman film. 

Tom Holland

 now has the standing record for being Spiderman in the most number of films. His powers seem to be increasing in each outing, much like Spiderman's did in the comics. By 

his own account

, though, his Spiderman would lose a fight to Hugh Jackman's Wolverine: Origins character but kick Old Logan's ass. I agree, as one thing his Spiderman still hasn't mastered is his Peter Tingle…um…Spidey Sense. He's not done yet, though, and I'd wager he's going to be the strongest Spiderman on film yet. 
Watch Spiderman: No Way Home to see a cool meeting of the three versions.
Let's Compare Some Mutual Fights
VS The Hulk

Yep, they both have defeated the Hulk and have been defeated by the Hulk. With a focus on their victories, let's see who had the more decisive battle against one of the most powerful beings in the Marvel Universe. 
Spiderman: First defeated Hulk by making him laugh, yep, brains over brawns. Usually, these two fight to a draw, meaning, at the very least, Spiderman proves to be able to take one hell of a beating. If the fight isn't stopped, Spiderman often internalizes how he stands no chance and has to find a way to defeat him other than in a fistfight.
Cosmic Spiderman does punch Grey Hulk over the moon once.
Wolverine: Infamously losing the first-ever encounter, Wolverine has been put down by and put down the Hulk many times. The fights are always brutal and about whose healing factor wins…until Old Man Logan. In that comic, Wolverine is eaten by the Hulk and then digs himself out of Hulk's stomach, killing the green monster for good. 
Sometimes Scissors beats Rock. 
VS The Fantastic Four
Let's end this with them very much outmatched and outnumbered against one of the best-rounded superhero teams in the comic world. Yes, both of them have gone toe to toe against the Fantastic Four at least once, and you'd be surprised how they approached the fight. 
Wolverine: Turned against the whole world by Hydra, this is one of the fights where fans were reminded Logan can be very Batman-like when he wants to be. It's often overlooked or forgotten that he has been fighting everyone and thing literally for so long he's got a trick up his sleeve when needed. Wolverine sneaks in, disables all their senses, and tricks them into a fight where Logan only seems detained by Reed Richards. They were never his target, and he won this encounter with skill over strength. 
He did also cut The Thing's face off once.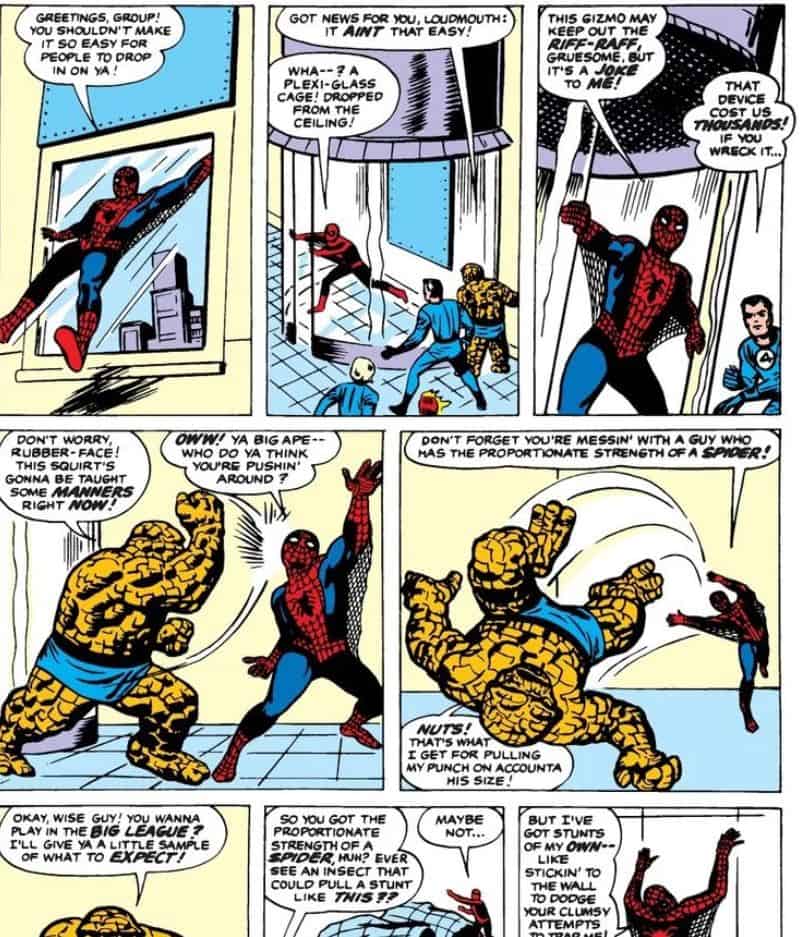 Spiderman: Early in his career, he ends up in the Fantastic Four's base. He is just a teenager. The Fantastic Four and Spiderman
 have an all-out brawl due to the misunderstanding. Spiderman relies purely on his spidey sense and quick thinking to hold his own against all four team members before reason is found. 
The Thing makes a bold statement along the lines of, "If he's this strong as a kid, imagine how strong he's going to become."
See also: Spiderman Characters Guide
The Pattern
Spiderman adapts quickly to each encounter due to his considerable intellect and spider sense. Wolverine is a bit of a victim to his emotions and is either very methodical or an unstoppable rage machine. 
This creates a pretty big polarity favoring Spiderman in a short battle and Wolverine in a prolonged encounter. So, the pattern shows that Spiderman wins if he takes Wolverine out fast enough. 
Unless Wolverine came calmly and with a direct intention to put the web-slinger down, it seems in an impromptu fight Spiderman indeed has the upper hand every time.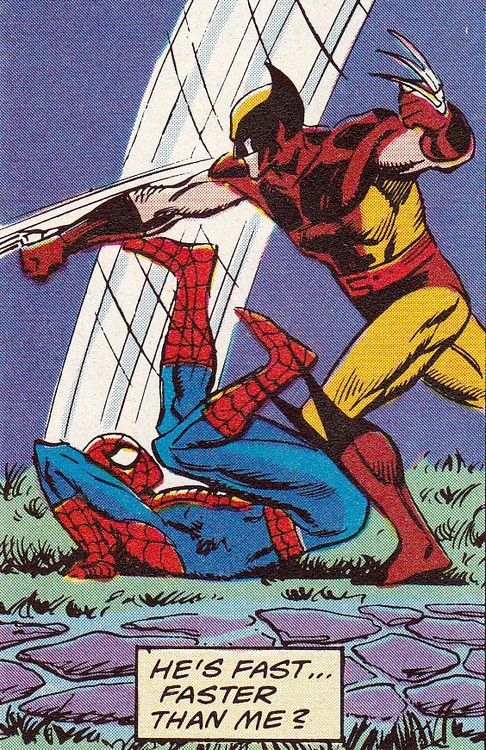 The Final Verdict
Fan votes favor Spiderman, which is easy to see after scouring the internet. I didn't want to give you all an opinion based on just popularity or even what may seem like an obvious answer. So, I really dived into the lore of these two and then decided to put them in a fair fight. Considering both characters' best versions with their original powers, the following is my conclusion.
They Meet to Fight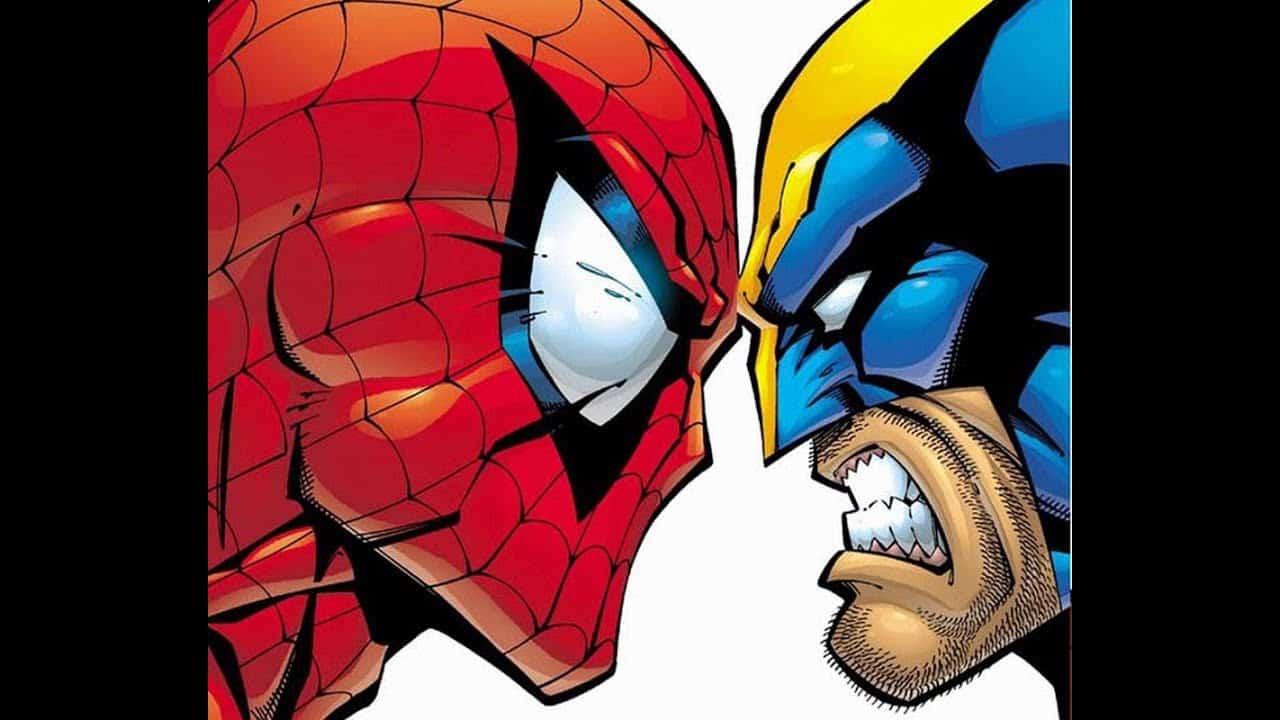 It is clear Spiderman has all the tools to win, but at the end of the conflict, character traits play a major role in a fight. Meeting up with the pure intention to combat, Spiderman clearly believes he would have to go in ready to unleash his full strength to win. 
The veteran Wolverine would use Parker's own, all too apparent intentions against him. 
If Spiderman can get to a dark enough place fast enough, he could potentially knock Logan out and call it a win. Or suppose his webbing was able to incapacitate Wolverine; he could use that to his advantage. Perhaps he can rely on his spider-sense to keep him out of harm's way? According to his own mentality, as shown from each encounter, he has to go all-out on this assault to beat Wolverine. This is where he makes a mistake.
The problem, we see from all of Wolverine's most serious fights, is that he is already prepared for his enemy's tactics. I mean, he's 200+ years old, and all of them were spent in war or on dangerous missions. It's not like he didn't earn the right to be this good. Peter Park is brilliant, but there aren't many brains in the Marvel Universe like Logan at his best when it comes to a one-on-one duel.
As we see from Spiderman's history, his most significant asset in a fight is when he is reacting, he wouldn't have that here. He'd have to rely on pre-game strategy, which he just doesn't have the best track record with. Spidey would start out with the intelligent and predictable tactic of hindering Wolverine with his webs. Logan would close in on Parker with the intention not to hurt him but take out his web-shooters. He's the best he is at what he does for a reason. After research, we see this isn't just hyperbole. If he was serious about winning, this would be his first step every time.
Parker's spidey sense wouldn't have activated against a blow purposely meant not to hurt him, and he'd lose his web-shooters pretty early on. Any panic on his part would cost him the fight right after, but let's assume he can dodge the next attack thanks to his spider-sense, agility, and speed.
You'd end up with a beautiful battle after this, and if stamina comes into play, it could last for a whole day or two. Logan wins out if it becomes a longevity battle, but I don't think it would.
Eventually, Wolverine would purposely push Spidey to make mistakes and act hastily to deal with his spidey sense. We learn from their past Wolverine can get into Parker's head and cause him to err. That's all it takes. One errant swipe and Spidey would be on the road down; he doesn't heal fast enough. Realizing this, he would have to amp up the damage to Wolverine, and I do reckon it's still plausible that he'd batter Logan into a bloody mess. 
It is at that moment I see one more problem every time. Spiderman looking at the mangled face of his opponent wouldn't be something a tired, wounded Parker would deal with well, and Wolverine knows that. At this point, both of them realize Wolverine will win in the long run. It's not that an adult Spiderman can't win, it's that he won't.
Spiderman would be losing strength from the blood loss while Wolverine would be getting stronger, and Peter knows that, too. I imagine Spidey would just resign, and Wolverine would let him walk away. They've grown too close over the years and have too much respect for one another to let the fight end with one of them dying.  
See also: The Flash Universe Ultimate Guide: The Fastest Man Alive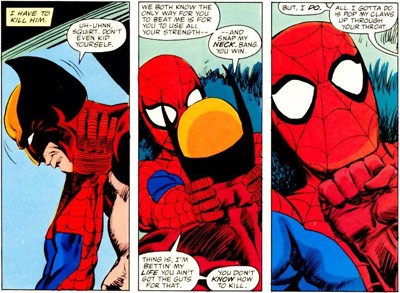 Spidey only wins this fight if Wolverine decides to lose, which, given their history, he might just throw the fight. If Wolverine goes in deciding, he's going to win; that's what's going to happen.
I give this hypothetical VS battle to Wolverine. Make no mistake though, Spiderman has won plenty of times in the past. 
If it is a random New York street, I'll put my money on the friendly neighborhood Spiderman every time. Spidey could web up an unprepared Logan and toss him into the bay even with Berserker Rage going full.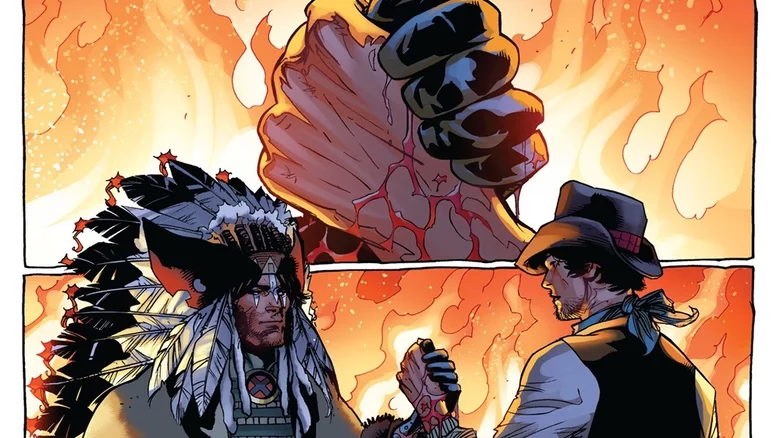 Trivia
Spiderman and Wolverine were members of the Fantastic Four together.

Wolverine was once upset that Spiderman didn't respond to his E-Mails. That's a real thing that happened.

Wolverine and Spiderman are "Blood Brothers," not actual brothers, but brothers through a blood pact they made after a pretty intense team-up.

Spiderman actually looked up to Wolverine for quite a while, even trying to intimidate criminals the way Wolverine did; it didn't go well. They mostly laughed at him, but he did try.

Spiderman trusts Wolverine more than most people in the Marvel Universe, perhaps because the short-tempered, growth stunted, living weapon known as Wolverine has kept Peter's secret identity for as long as they've known each other

The two of them team up more than any other duo of cross-comic characters among Marvel heroes.

There was a period where writers changed the dynamic between Parker and Logan(around their run as the New Avengers in 2005), from being this respectful pairing to Logan talking down and insulting Parker a lot. Luckily, this approach to their characters was dropped. They've returned to their traditional roles, as friends who barely talk but trust one another more than other friends.
FAQ
Question: Are Wolverine and Spiderman Friends?
Answer: Yes. Not so much, "Let's hang out," friends, but "I'll always have your back," kind of friends.
Question: Is there a Wolverine and Spiderman comic?
Question: Is Spiderman stronger than Wolverine?
Answer: Yes. Spiderman has been shown to lift an entire train car above his head.
Question: Did Wolverine try to steal Mary Jane?
Answer: Not exactly. Wolverine made a really dick comment about being single after Spiderman was dead. Later on, he reveals to someone else that he did it because he thought it would be better for her to focus on her anger than her grief. 
He'd been through that type of loss and believed grief would destroy her. She gives him a hug in thanks sometimes later, realizing what he was doing and admitting it did actually help. 
Question: Did Spiderman beat the X-Men?
Answer: Yes, in a sense, Spiderman did "defeat" the X-Men in one comic, or at least keep them at bay until Xavier came in. The fully adult Spiderman dodged every attack from Storm and Cyclops with peak Spidey Sense. He tossed Wolverine far, far out of the fray like he wasn't a problem and used his webbing to keep Colossus and Rogue down. Professor X just came and handled him before the fight got too serious, so no actual defeat came, but he had them on the ropes. This, for me, is more proof you don't go toe to toe with Spiderman unless you are ready for it. 
Conclusion
When thinking about a good versus battle, it's best to look at all the published data to remain as fair as possible. It was easier for me to play the middle ground in this article because I love both of these characters. Like most, I saw a more easy win for Spiderman with all he brings to the table before going over the history and different encounters of the two heroes. 
I decided before I started that any VS article I write would be each character ultimately standing across from one another prepared and uninterrupted for combat. I was surprised myself when I had to rationalize an overall Wolverine victory in this setting, but that's what everything led me to. 
I hope you got some good information and have reached your own educated conclusion on who would win. Or just write your own fanfiction to let your favorite take the victory. I think there are a few rules for these two titans we can agree on.
Don't start a street fight with Spiderman. On the fly, no one is better than Peter Parker. 
Don't go to war with Wolverine. To the death, no one is better than Logan. 
Recommended Reads: