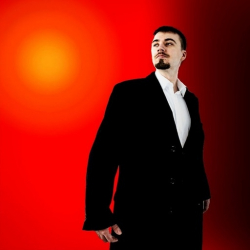 Latest posts by Stefan Stevanovic
(see all)
I always liked how Black Panther was portrayed. Unlike the other superheroes, T'Challa is a King, which makes the character noticeably different from his peers. Not only does he have a responsibility toward humankind, but he also has to protect his fellow Wakandans.
Although he wasn't the most popular Marvel character back in the day, Black Panther has gained much traction in recent movies. As a result, his merchandise has been flying off the shelves. Aside from the standard mugs and t-shirts, you can also find cool Black Panther action figures, posters, bags, socks, etc.
In this article, I want to talk more about each product category, emphasizing the best items you can buy online.
Key Info Up Front
Official Merch
Like with any other Marvel superhero, you can find lots of cool products by visiting the Disney Store. Amazon and Wal-Mart also have numerous cool items. Although Black Panther merchandise is not as popular as that of Captain America or Spiderman, most of the products you can find online are of high quality.
Aside from apparel, which is the most common superhero merchandise, you can choose between action figures, backpacks, charms, costumes, and many other items. Most items are geared towards children, but there is also an enormous offer of adult products.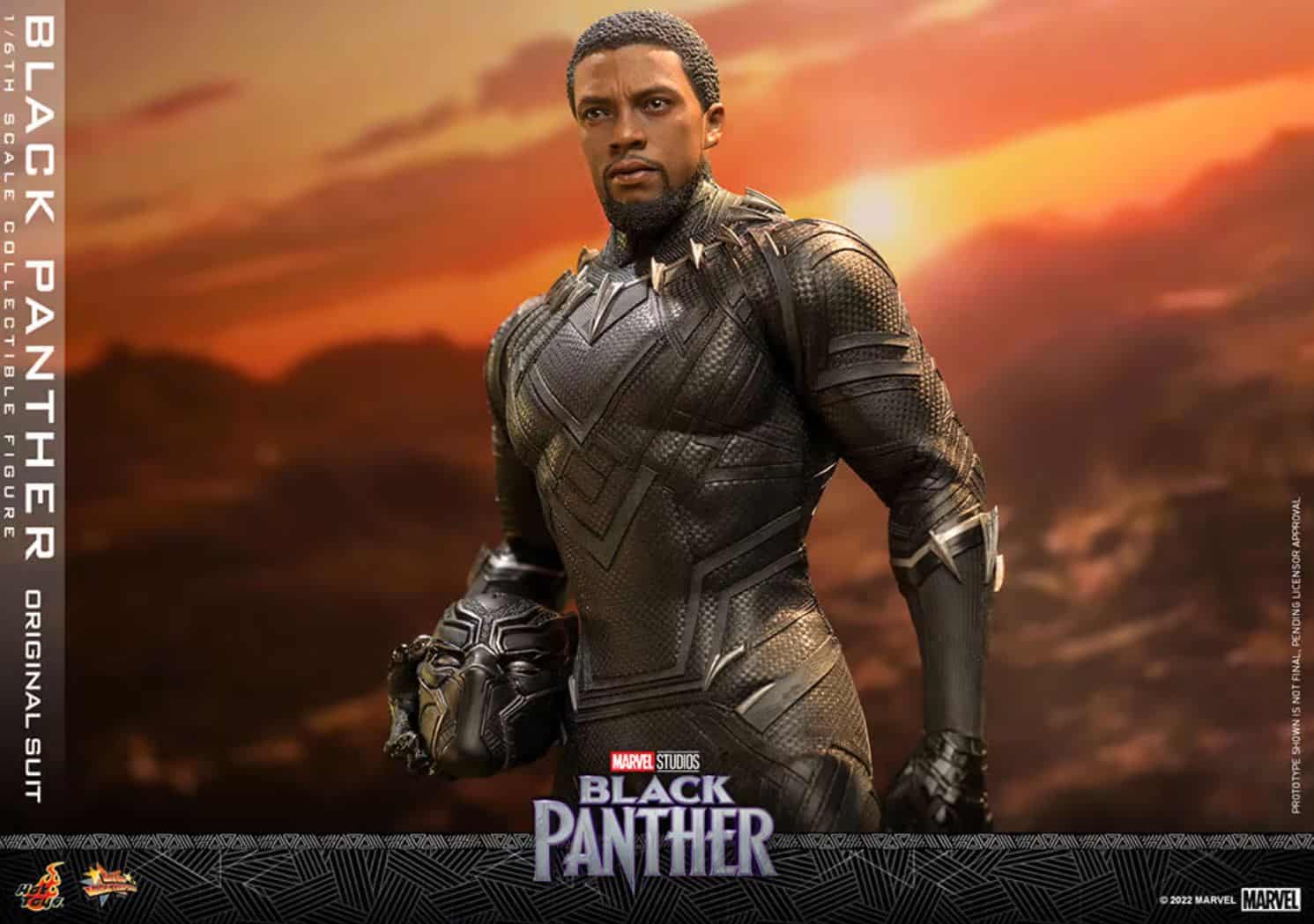 I'm especially in love with the costumes. The thing that separates Black Panther suits from other superhero outfits is the claws. They give the character a menacing appearance. Most of the costumes have teeth and other tribal details. If that wasn't enough, a few of them light in the dark.
Apparel
If you're into a superhero, what better way to show it than by wearing official apparel? In a way, that's like buying a favorite player's jersey. I really like that Black Panther apparel is, unlike his Marvel comrades, his t-shirts and hats look much more menacing. He is the company's Dark Knight, having all the sophistication and money of Bruce Wayne but with much better manners.
No matter the case, going outside in these clothes feels awesome. My only criticism of Black Panther apparel is that the best products have a black background, which makes you sweat a lot during hot summer days.
T-Shirts
When buying superhero apparel, you simply can't go wrong with t-shirts. They are suitable for just about any occasion and season. Even during the winter, you can remove your hoodie while revealing the King of Wakanda spread across your chest in closed quarters.
If I had to pick one t-shirt, I would go with Panther Head Typography Graphic T-Shirt. The product features large, white Black Panther letters against the t-shirt's black background, forming the shape of a superhero's mask. Even better, the t-shirt is customizable, allowing you to change the background color.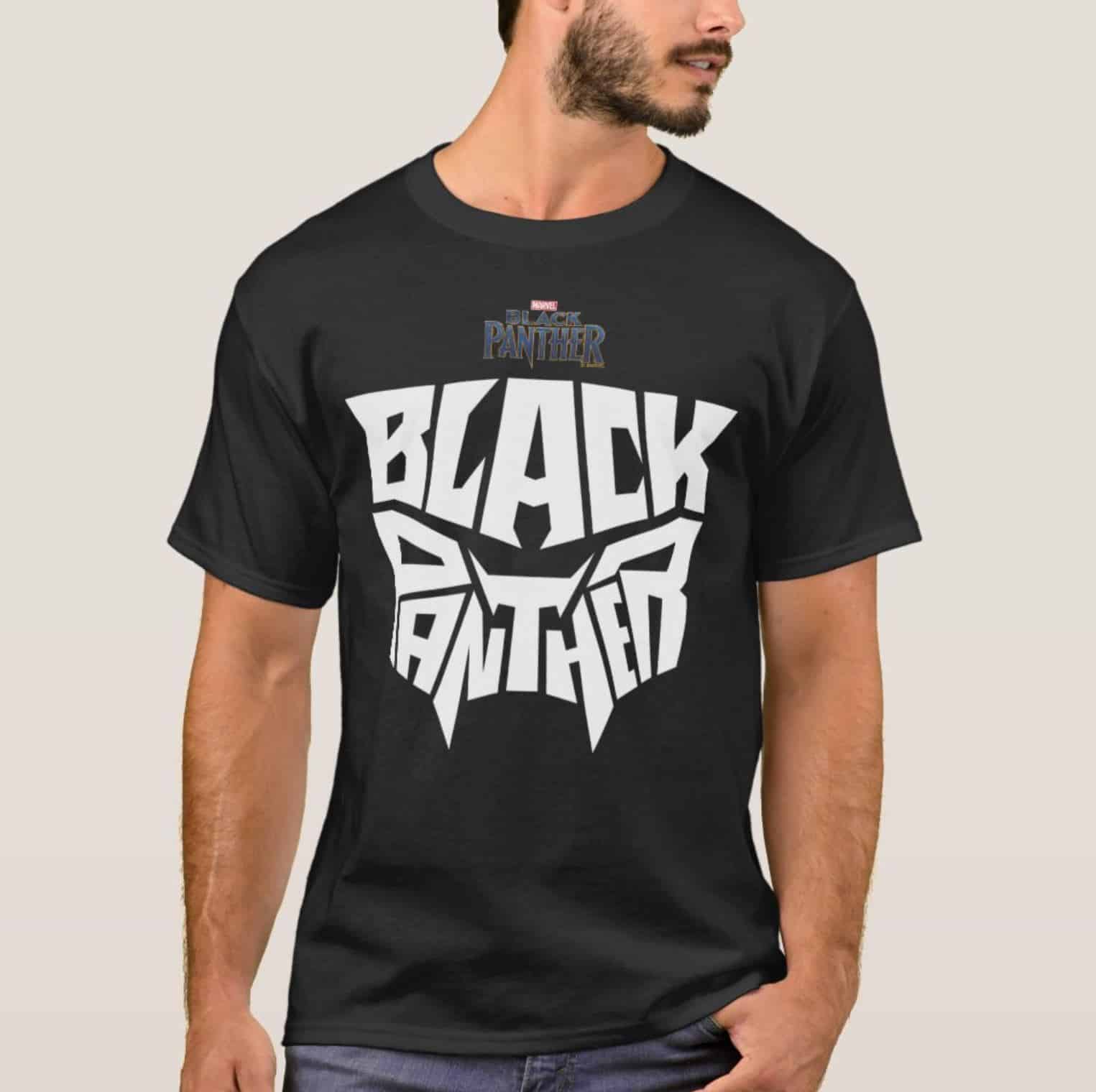 As for female apparel, I would have to recommend Panther Head Tribal Pattern T-Shirt. The product has really nice tribal motifs that fit perfectly with the superhero theme.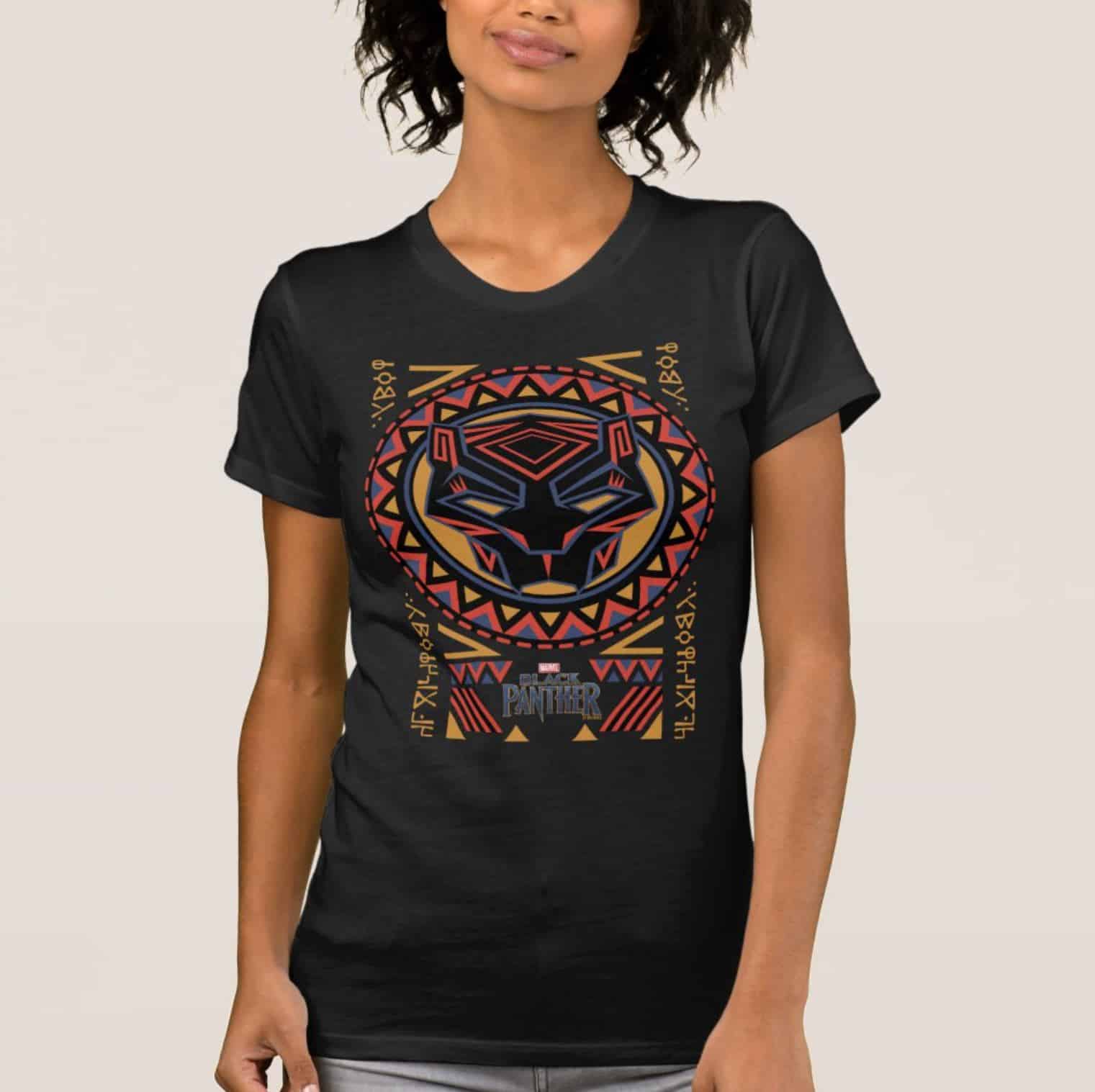 Hoodies and Sweatshirts
Unlike t-shirts, people take their time selecting hoodies and sweatshirts. These items take up a lot of space in our closets, so we usually don't stock up on them. However, for whatever reason, I was always more attached to my hoodies than to my t-shirts.
My favorite item from this category is Wakanda Forever/ Black Panther Tribute. The manufacturer did a fantastic job with the colors, and I especially appreciate the fact that this is a jovial piece of clothing. That, in itself, sets it apart from other Black Panther clothing items.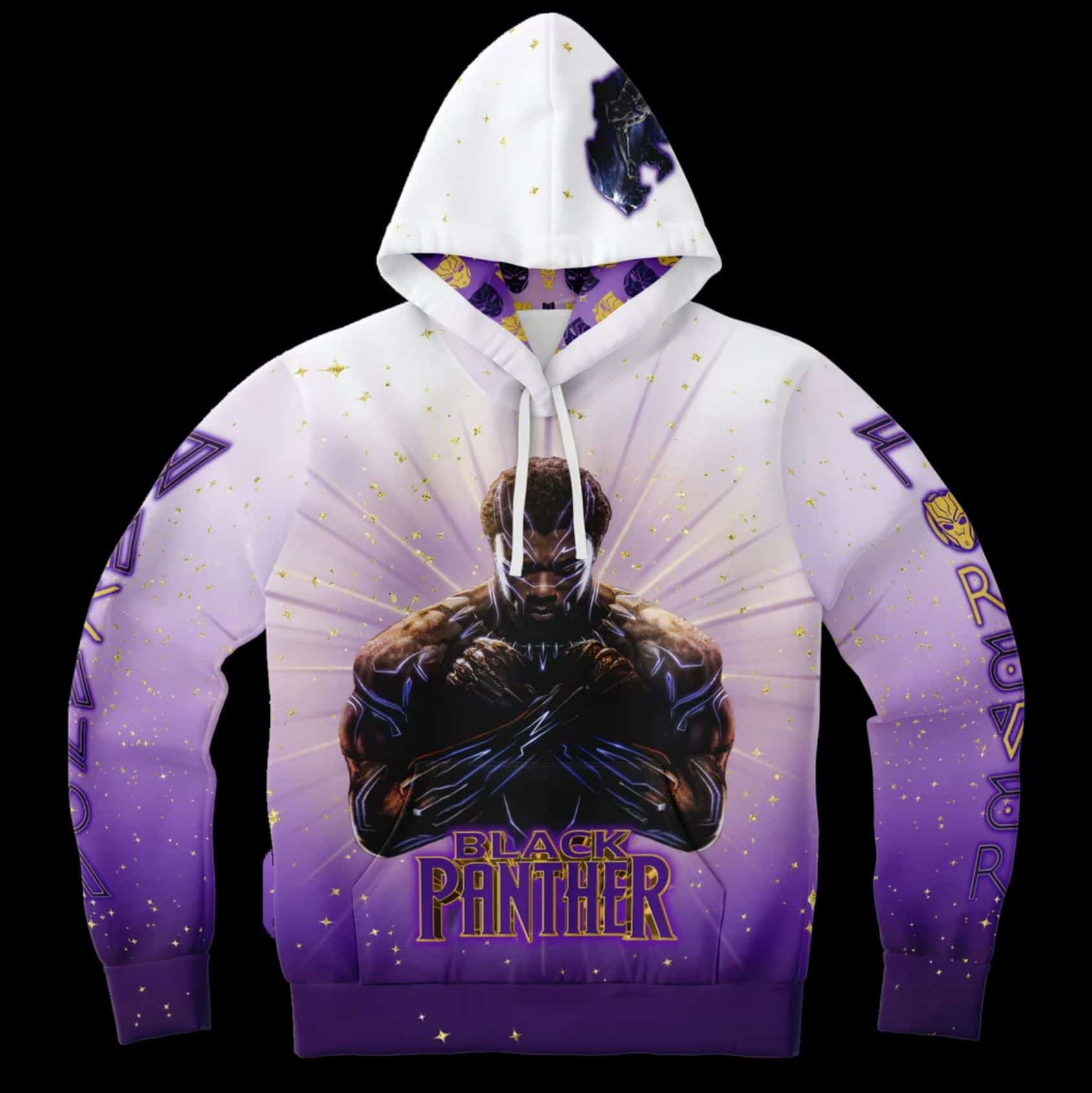 If you're looking for something darker and more macho, you can't go wrong with Black Panther Cosplay Hoodie. Deadpool Black Panther Hoodie is another great item if you're looking for something lighthearted or a present for your friend.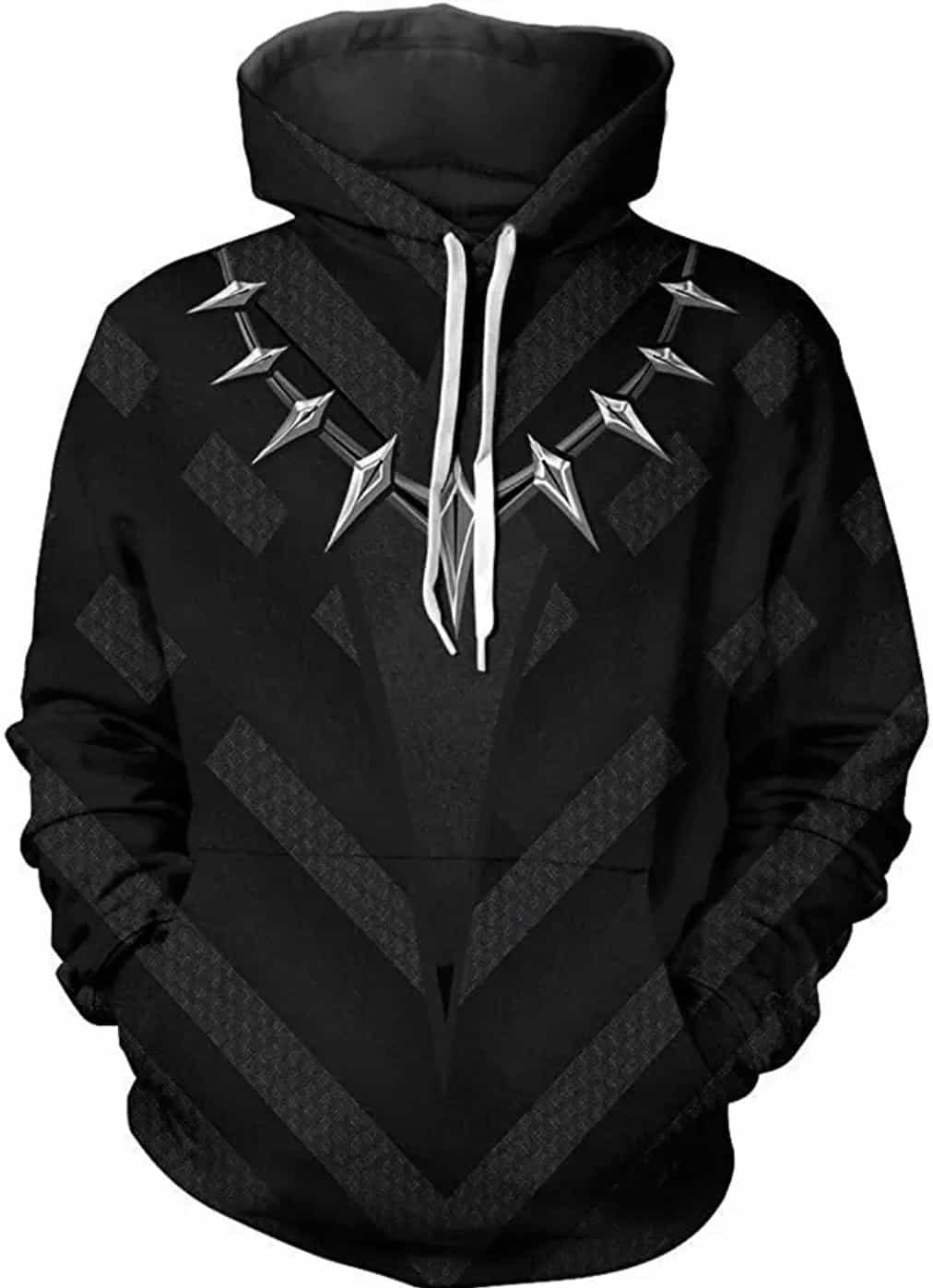 Bags and Backpacks
Although I'm not big on superhero backpacks, I cannot deny that Black Panther products look awesome. I will go as far as to say that some of these products are more intimidating than t-shirts and hoodies. For whatever reason, Black Panther backpacks are really hardcore.
Speaking of dark and gritty, I adore Disney Marvel Black Panther Exclusive 17-Inch Backpack. It is a plain black backpack that has white teeth and white eyes. The company played a bit with the concept, stretching the white fangs across the product's surface.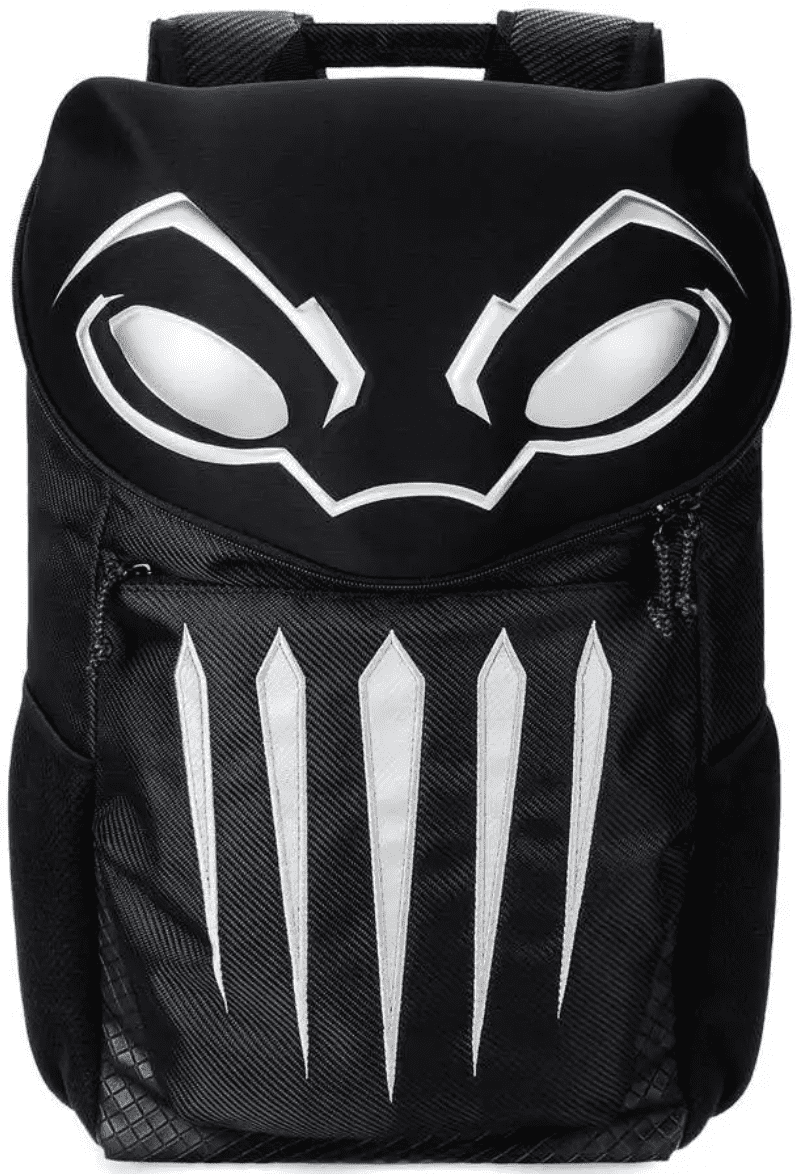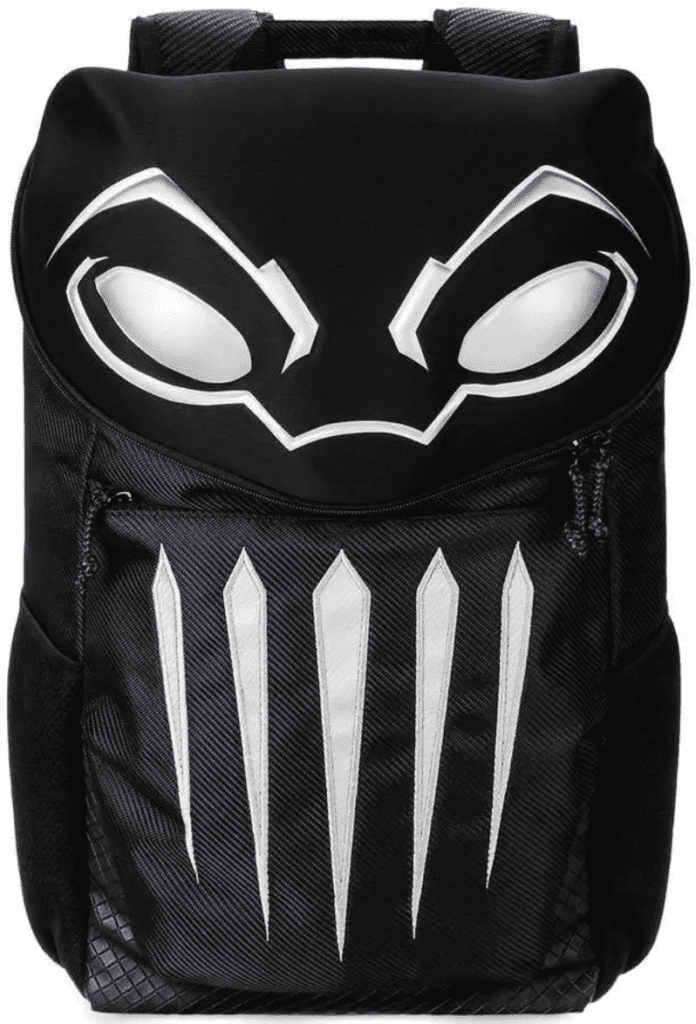 Another cool product is Marvel Comics Black Panther 5-Piece Backpack Set. It shows the superhero's mask, one of which is black as the night, while the other is neon. If I were to recommend a bag for ladies, I would suggest something like Black Panther Marvel Bag.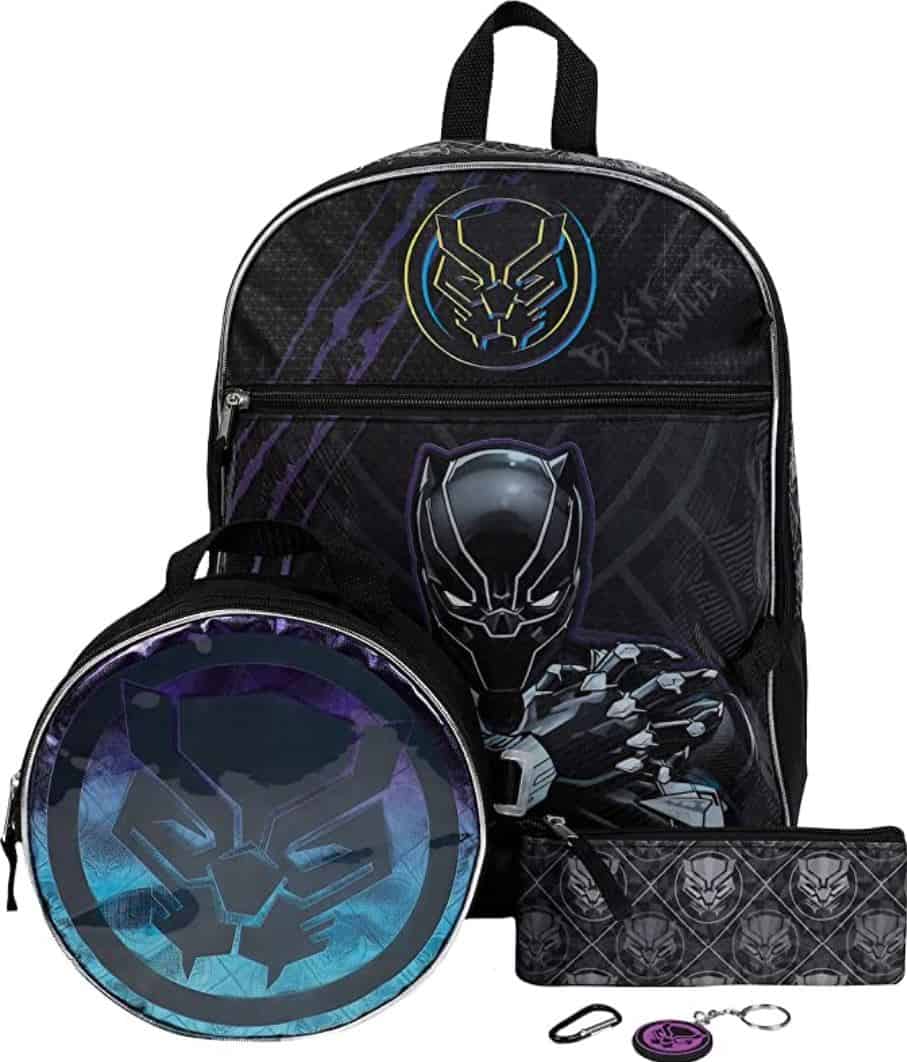 Hats and Beanies
There are some excellent Black Panther products online, whether we're talking about woven or regular hats. Truth be told, most people won't think about hats when looking for superhero apparel. However, they might be better than t-shirts or socks because they allow you to showcase your favorite superhero character at all times.
If you're looking for a woven hat, I suggest that you check out Concept One Marvel Black Panther Beanie. The product incorporates the superhero in such a fascinating way. It also has a pair of panther ears on the top. I also like the fact that it's not monochrome and, instead, uses a combination of colors.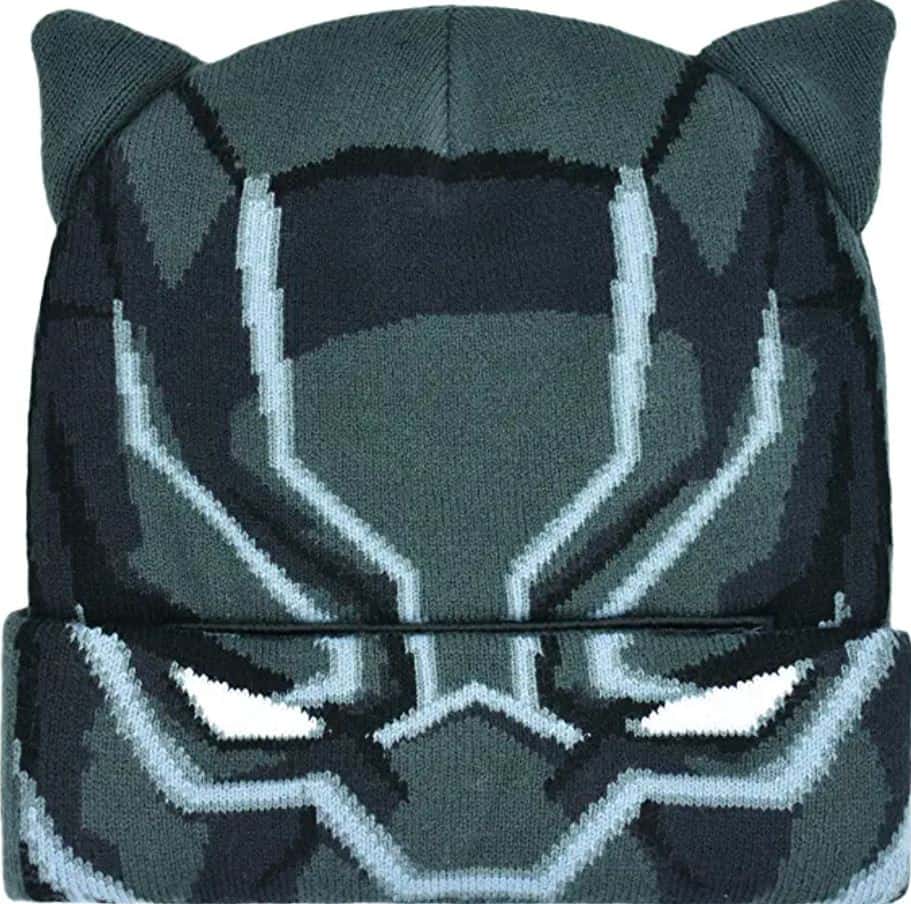 If you're looking for something to protect yourself from the sun, check out Black Panther Snapback Hat Cap. I especially like the teeth on this one. New Era Black Panther Face Symbol is another fantastic purchase, although I have to say that the logo reminds me of Transformers.
Socks and Footwear
Black Panther socks and footwear are some of the rarest, most obscure superhero products. When we talk about T'Challa apparel, these are the items we usually forget about. Nevertheless, I am a big fan of these products. I often buy superhero socks during holidays and, in particular, Christmas.
Socks and footwear are especially great for fans with lots of apparel and collectibles. Buying another Black Panther Funko Pop! might not surprise them as much as pair of warm T'Challa socks.Speaking of gifts, it doesn't get better than Marvel Super Premium Holiday Gift Socks. Black Panther's image is woven in their center, with "Loyal Dad" letters written all over.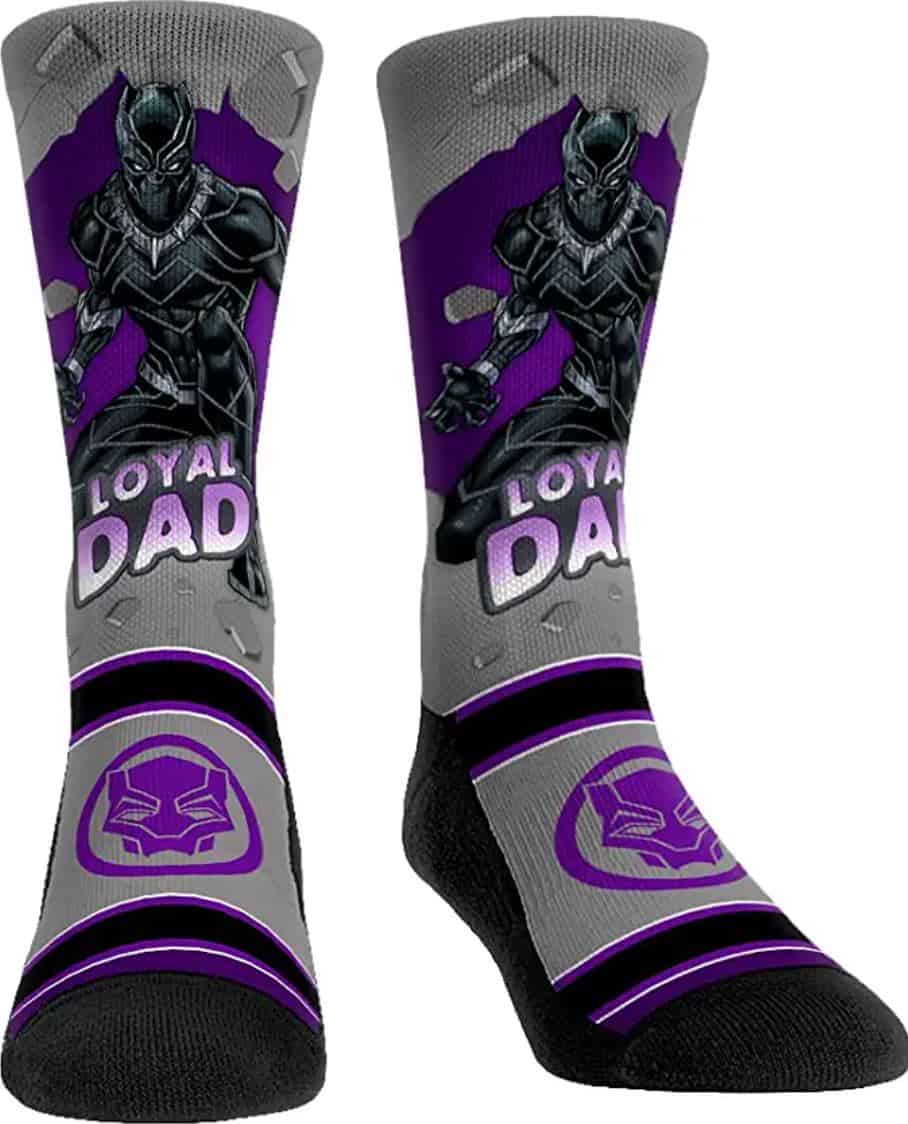 Another cool pair of socks is Black Panther Super Premium Marvel Socks. If you're looking for footwear, I'd suggest going with Custom Black Panther Shoes.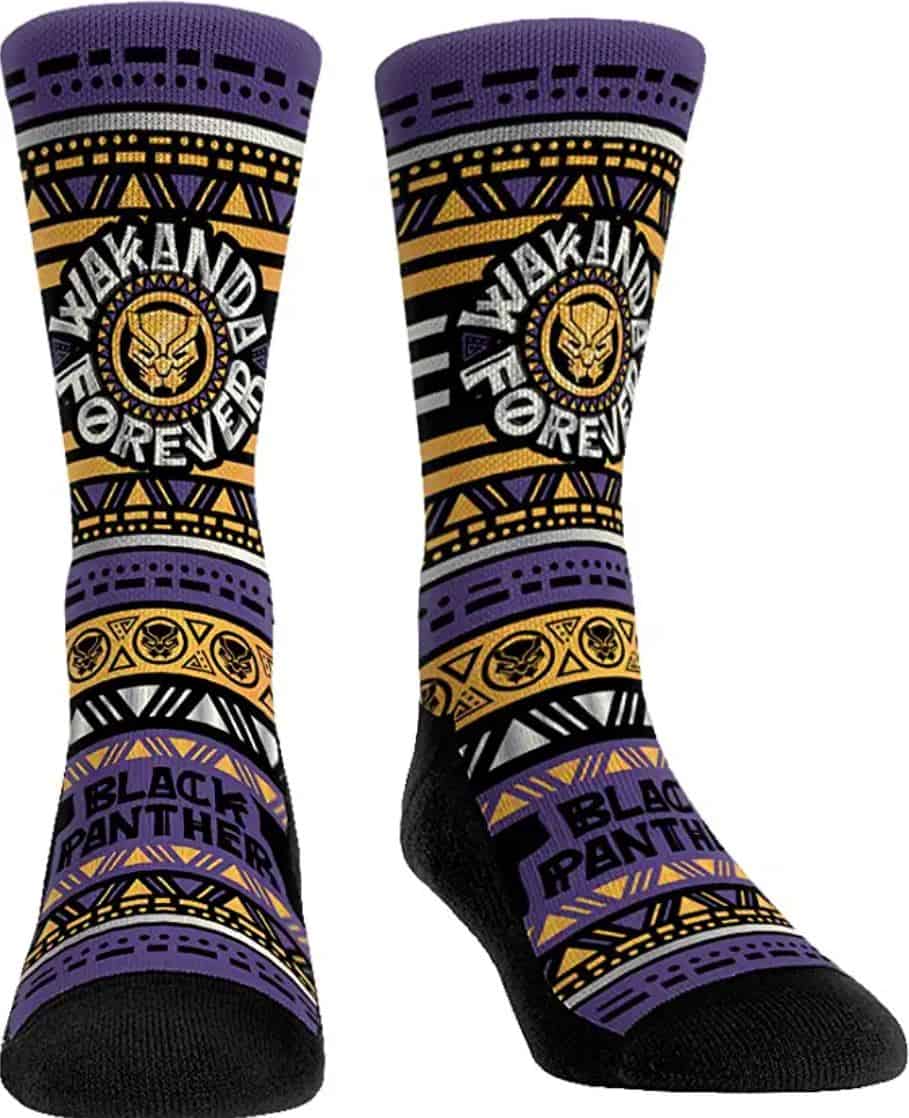 Toys, Collectibles, and Plushies
I know many people who never bought their favorite superhero apparel but have all the collectibles. Whether we're talking about Funko Pop! figures, Hasbro products, or Hot Toys, all these items have a collectors' value. While they might be relatively cheap right now, they will definitely become expensive in the next 20 to 30 years.
Although many people focus on the potential value of these items, they are, first and foremost, products for kids. I often buy Marvel action figures for my kids, and I'm looking forward to recommending a few of these to other parents.
Funko Pops! might be the most popular toy figure in the world. The company has an enormous assortment of products, and you can choose between Marvel and DC superheroes, Star Wars figures, Harry Potter wizards, and many more.
Whenever I have to buy a cheap present, and I'm not sure what to get, I go with Funko Pops! They are small, easy to transport, and almost everyone I know likes them. Even if you're not a collector, you can put them on your work table to bring some brightness to your day. My favorite item from this category is Black Panther – Captain America: Civil War.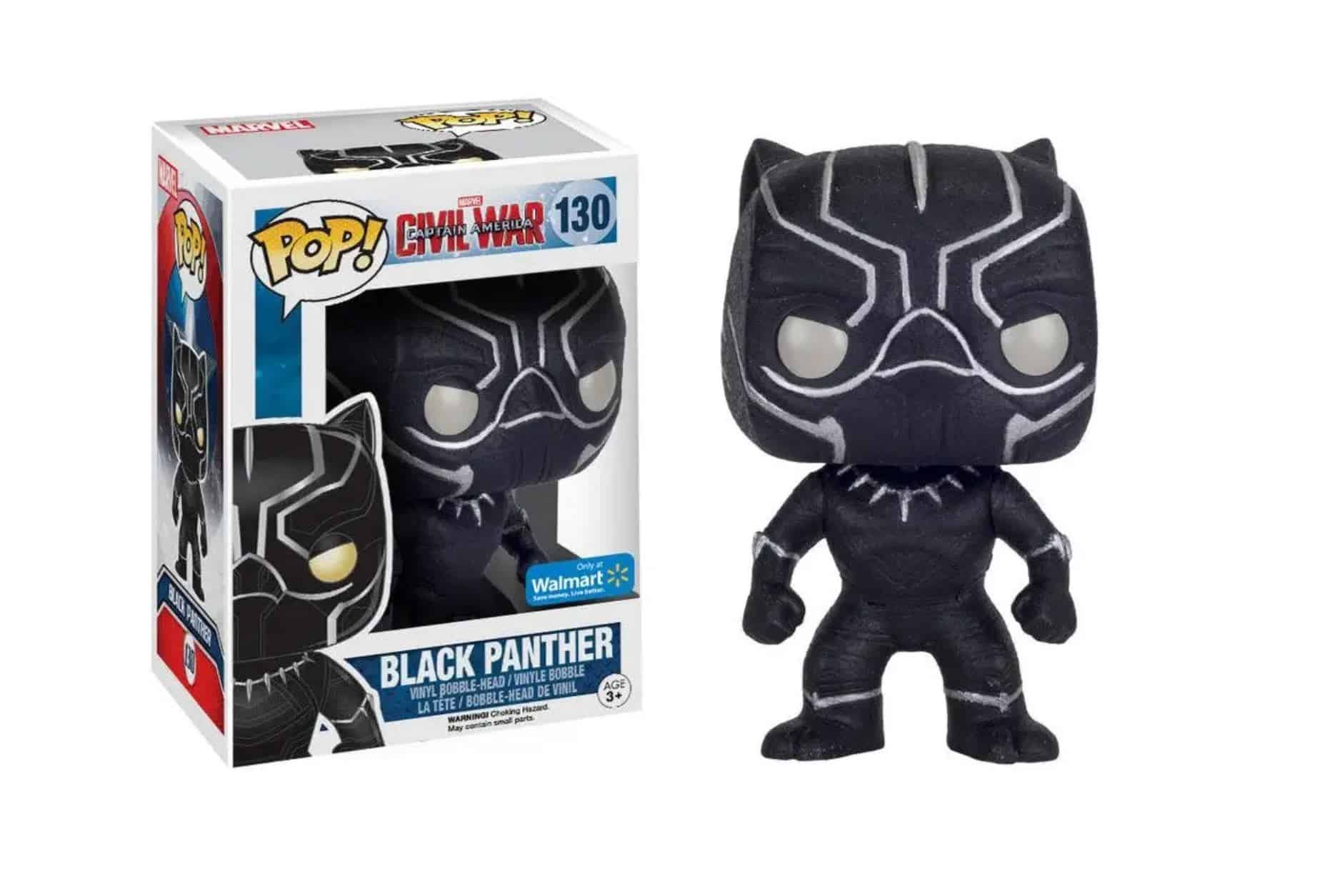 Although this product is not as flashy as some others on the list, it is the most common representation of the character. On the other hand, if you're looking for something futuristic, you should go with Black Panther – Marvel Mech Strike Monster Hunters.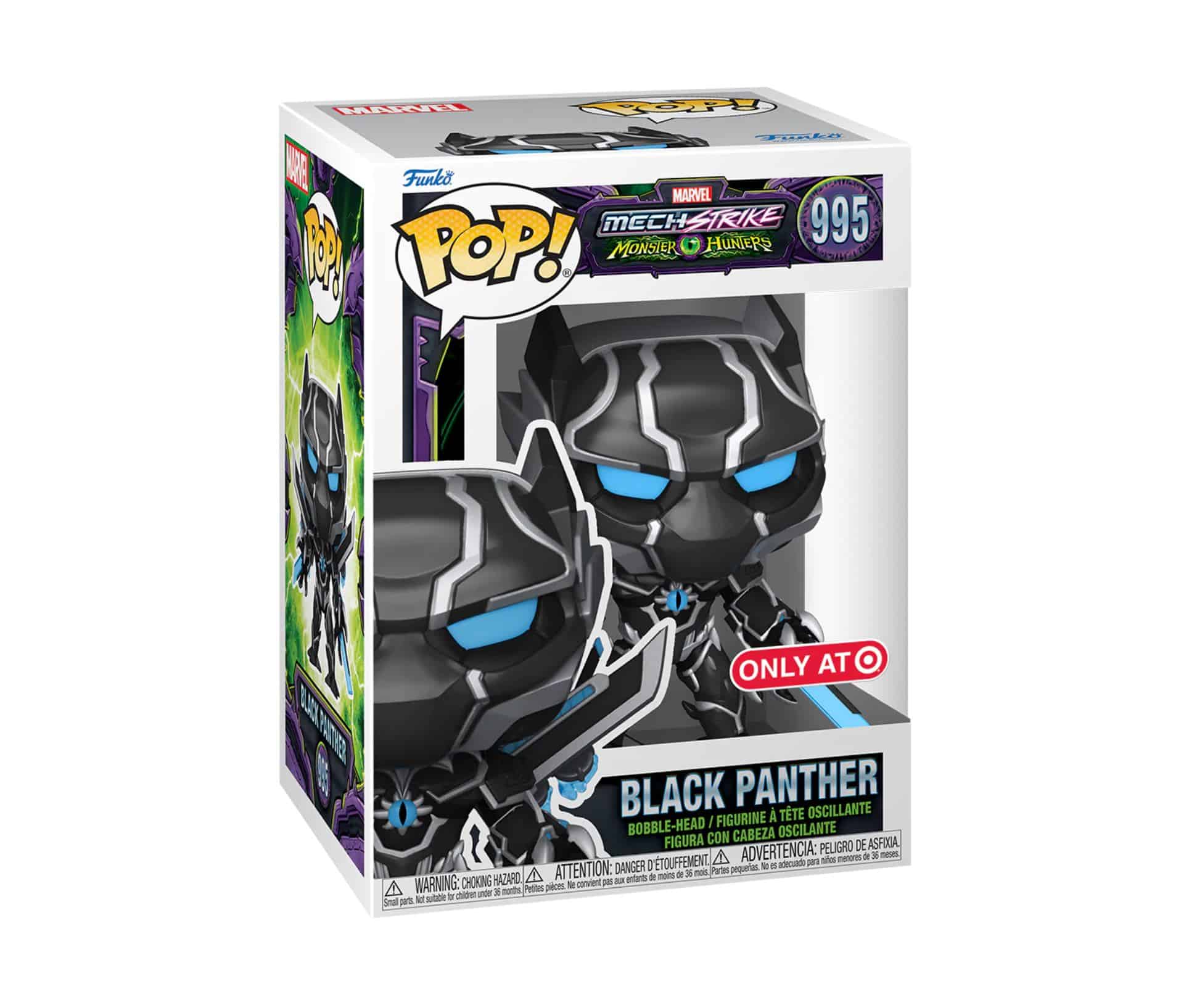 Hot Toys
Hot Toys is a company that produces luxurious action figures. Some of them are rather large, having ¼ of the original's size. As you can presume, these items are extremely pricey and are not the best choice for kids' toys. On the other hand, if you're a real fan of the superhero, you should definitely have one of these.
The biggest issue with Hot Toys action figures is that you need to plan space for them. For example, one of my favorites, the Black Panther Original Suit, is 12 inches high. It takes lots of room for a collectible figure meant to decorate your desk or cupboard.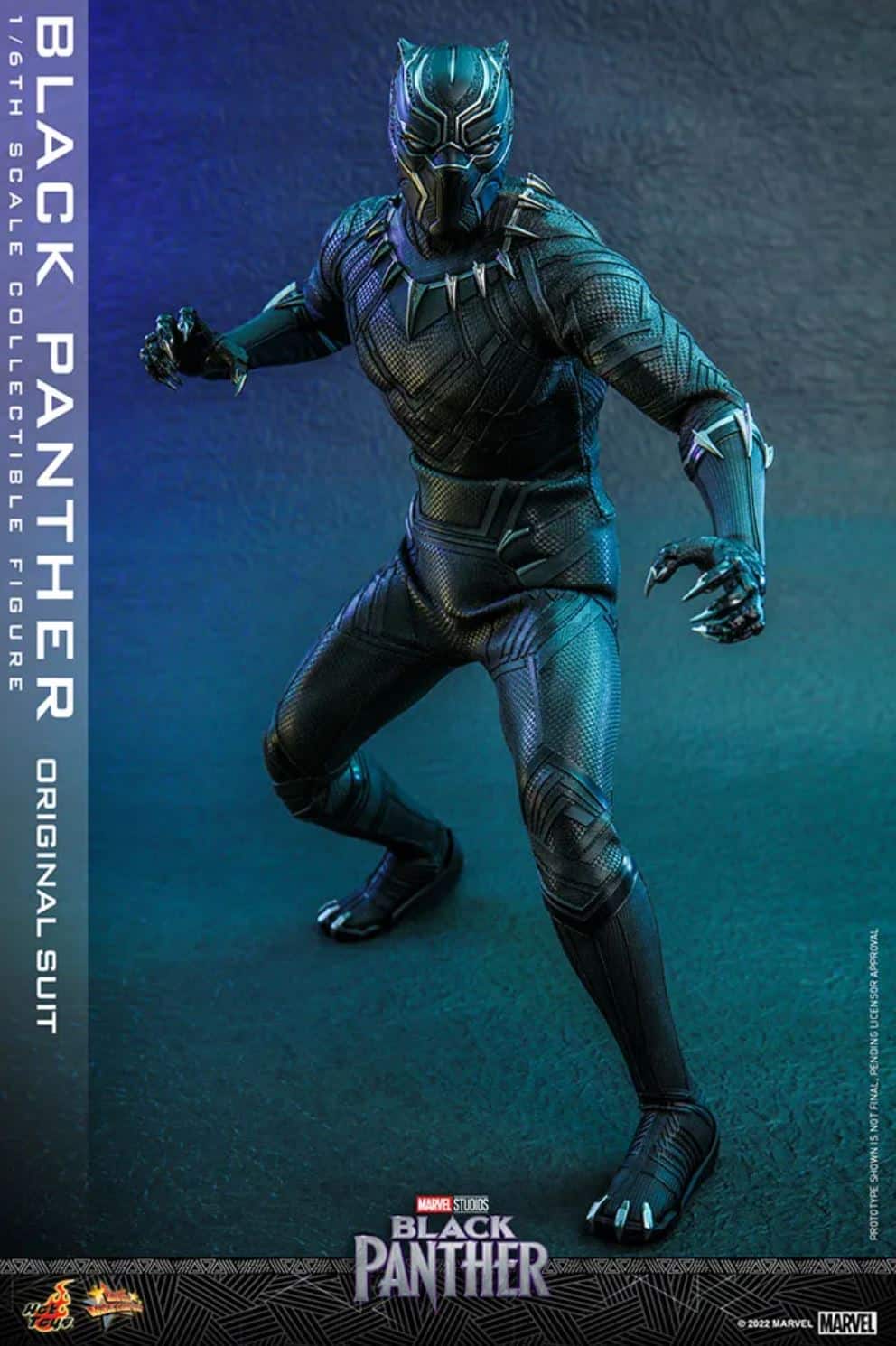 Unfortunately, there are only a handful of Hot Toys Black Panther products right now. I just hope there will be more of these items in the near future, as they are small masterpieces.
Action Figures
Black Panther action figures are a great purchase whether you have a boy or a girl. Kids simply love these toys, and you can't go wrong with manufacturers such as Hasbro, Bend, and Flex. The best thing yet is that you can pair T'Challa's action figure with other Marvel protagonists. My favorite action figure is Marvel Avengers Titan Hero Series Black Panther. It is a rather large toy, 12 inches long, made by Hasbro. The product has incredible flexibility and is relatively cheap for such great quality and functionality.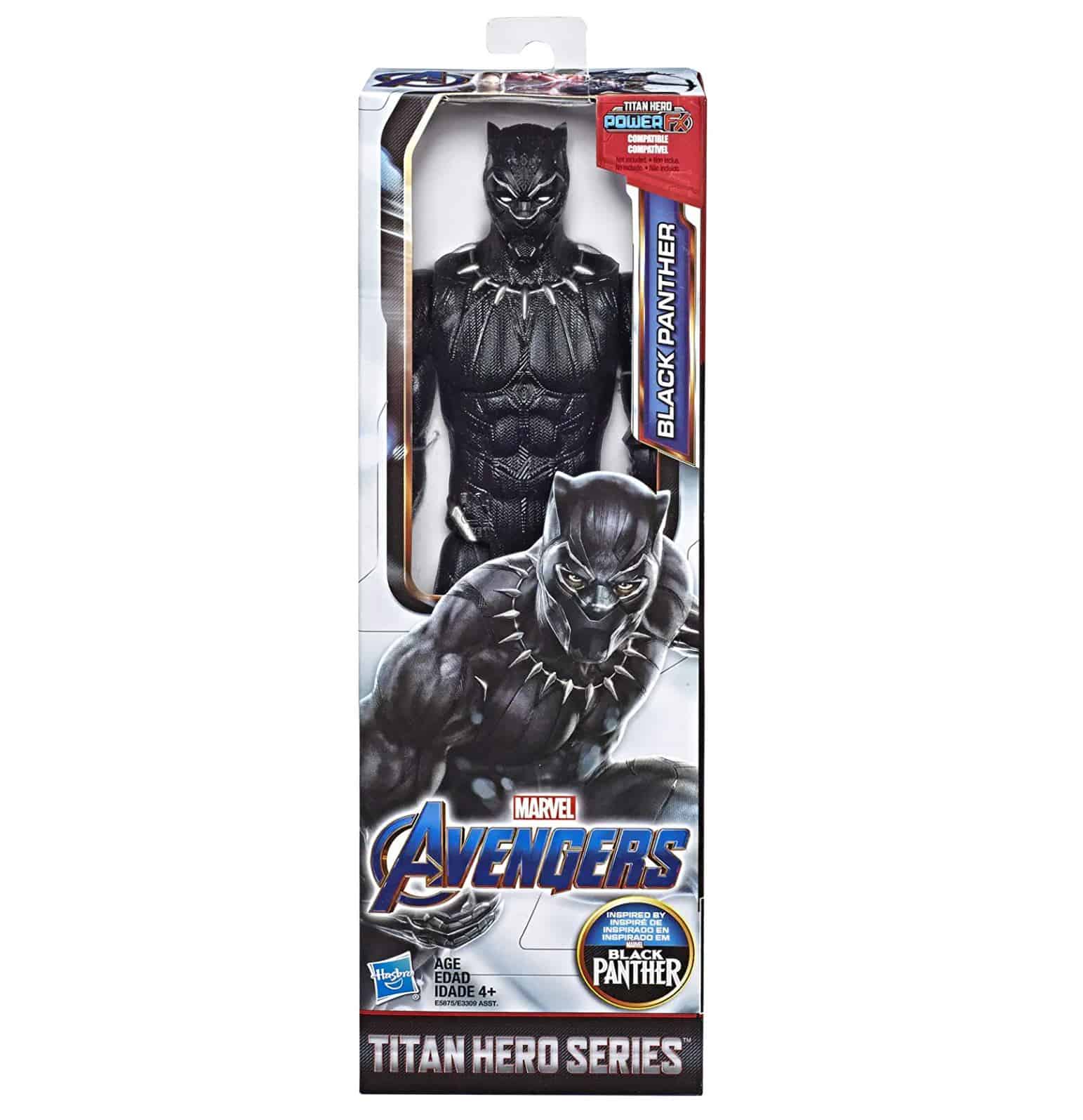 Black Panther Bend and Flex could be unusual for some parents, but this unique look is what sets it apart. If you're a fan of old-school T'Challa, the way I am, you will be chomping at the bits when you see Marvel Legends Black Panther Figure.
Replicas and Statues
Replicas and statues can be great decorative pieces. Depending on the manufacturer, some of these items also have nice collectors' value.
What differentiates this product category is the number of details all of these items have. In that sense, they are much more similar to Hot Toy products than Hasbro action figures. The only issue with them is that they can be expensive. So, when making a purchase, ensure that the person will appreciate the gift.
I recently bought Black Panther ArtFX Statue for my personal collection. I've placed it in my action figure section, where I keep all other Marvel legends. T'Challa looks like a real black panther, looking to lunge forward at an unsuspecting target.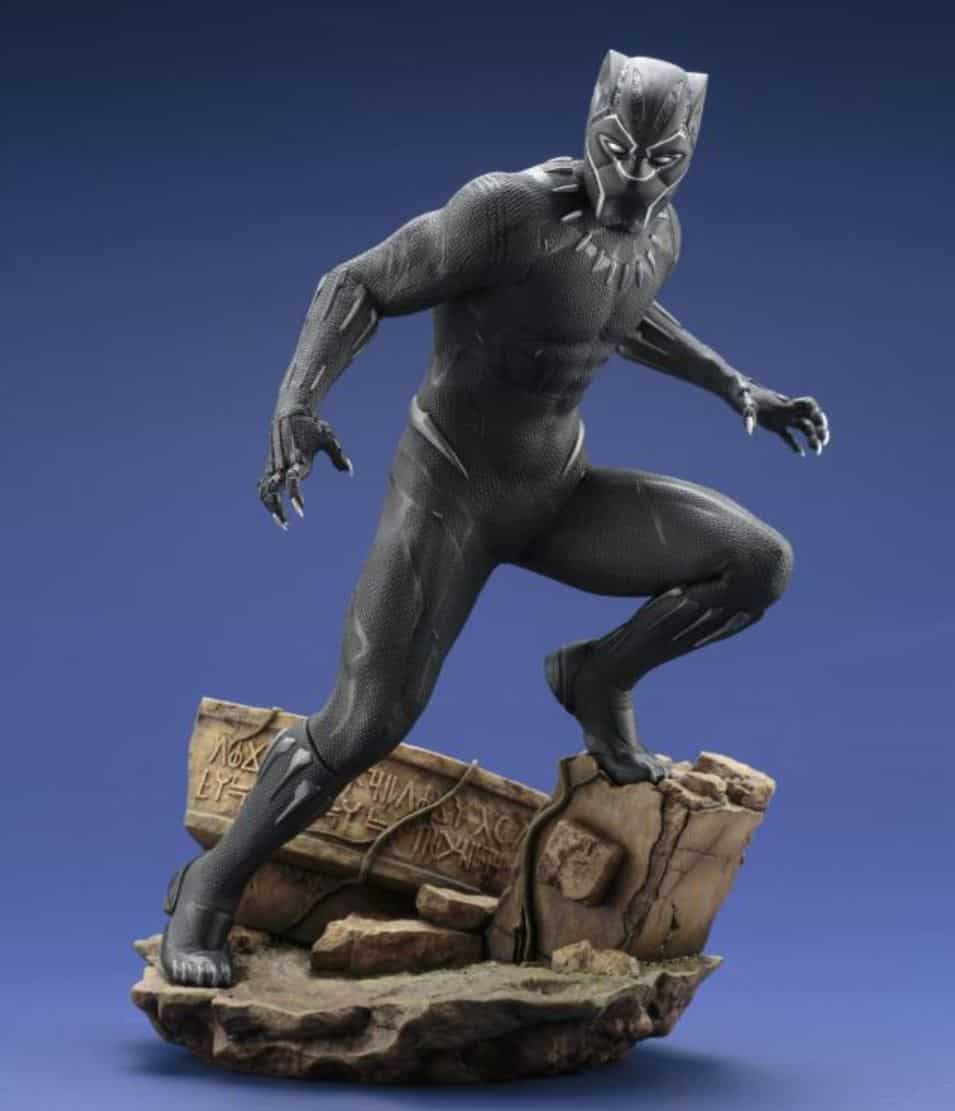 If you're looking for something with even more details, you might consider purchasing Kotobukiya Black Panther Statue. This particular piece is simply marvelous!
Plushies
Honestly, I don't remember the last time I bought a plushie. My kids are relatively old for this kind of product. Even when I had the opportunity to buy them a plushie, I would go with action figures instead. Regardless, these products are amazing for toddlers.
If you have several small kids at home, I suggest going with Hero Plushies: Black Panther Box of 6. As the name implies, you get six plushies in the package. My friend, who has twins, has bought this collection, and his kids never cry about their toys.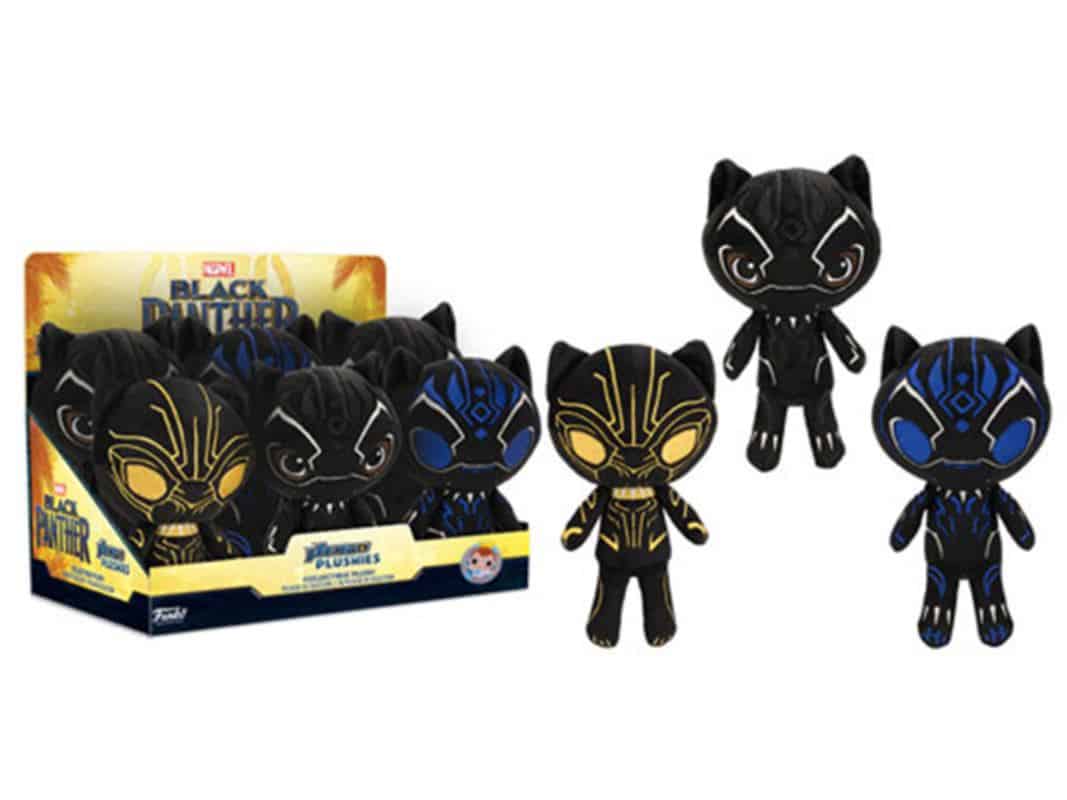 Another nice item is Funko Black Panther (T'Challa) Hero Plush. This one looks a bit intimidating, but I think this would make it ideal for rumbustious boys. Although Bleacher Creatures Marvel Black Panther 8″ looks a bit different and doesn't have those mellow plushie eyes, its uniqueness is more than enough to warrant a purchase.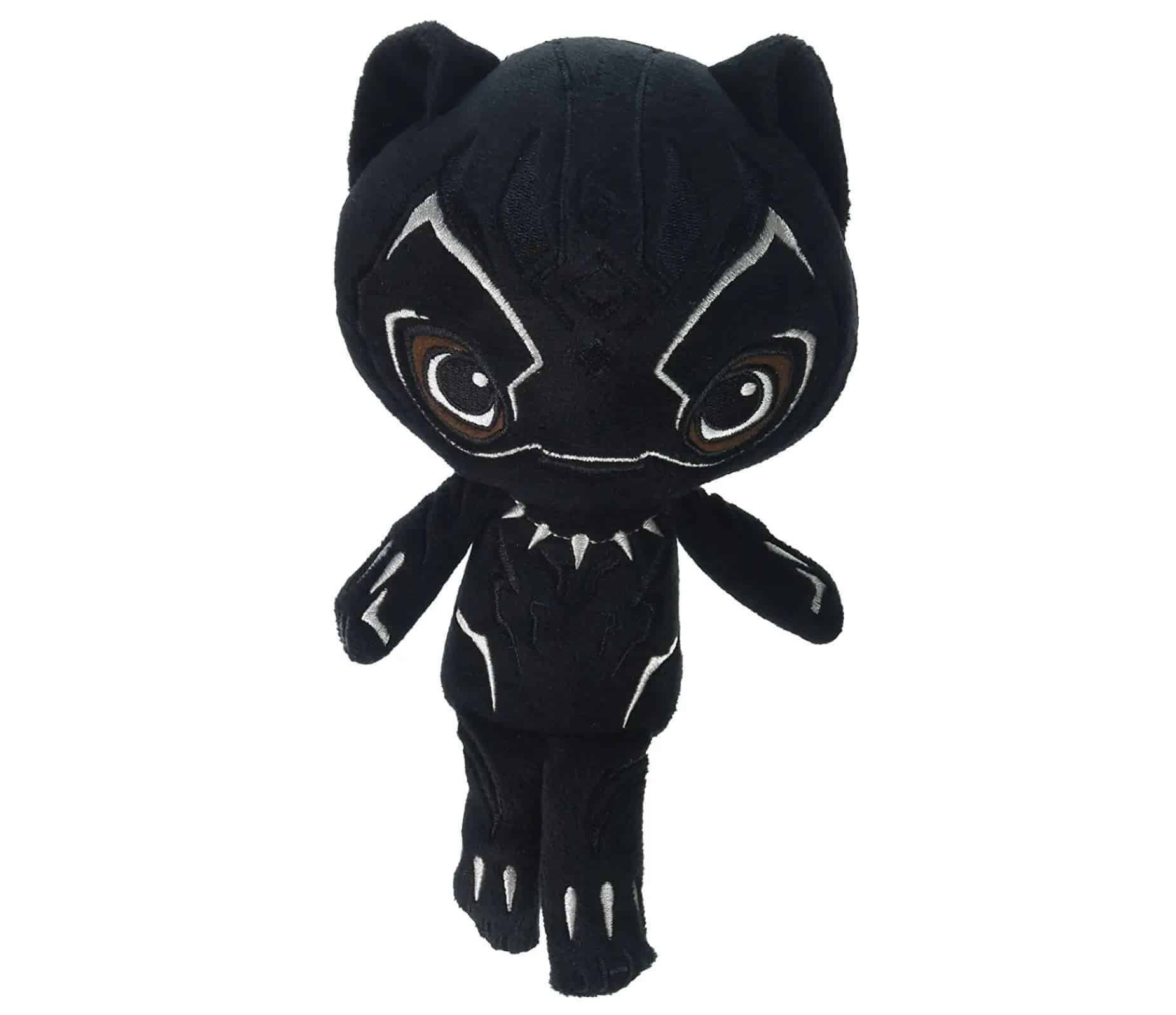 Other Toys
Almost all Black Panther merchandise you can find online is geared towards kids and teens. A good part of that is toys. Aside from action figures and other cool collectibles, there are many other items worth your attention.
The first thing I think of when we mention Black Panther toys is Nerf products. NERF Power Moves Marvel Avengers Black Panther is probably the best Nerf item I've ever seen. Hasbro Black Panther Nerf Assembler Gear is a good alternative if you don't like the first option.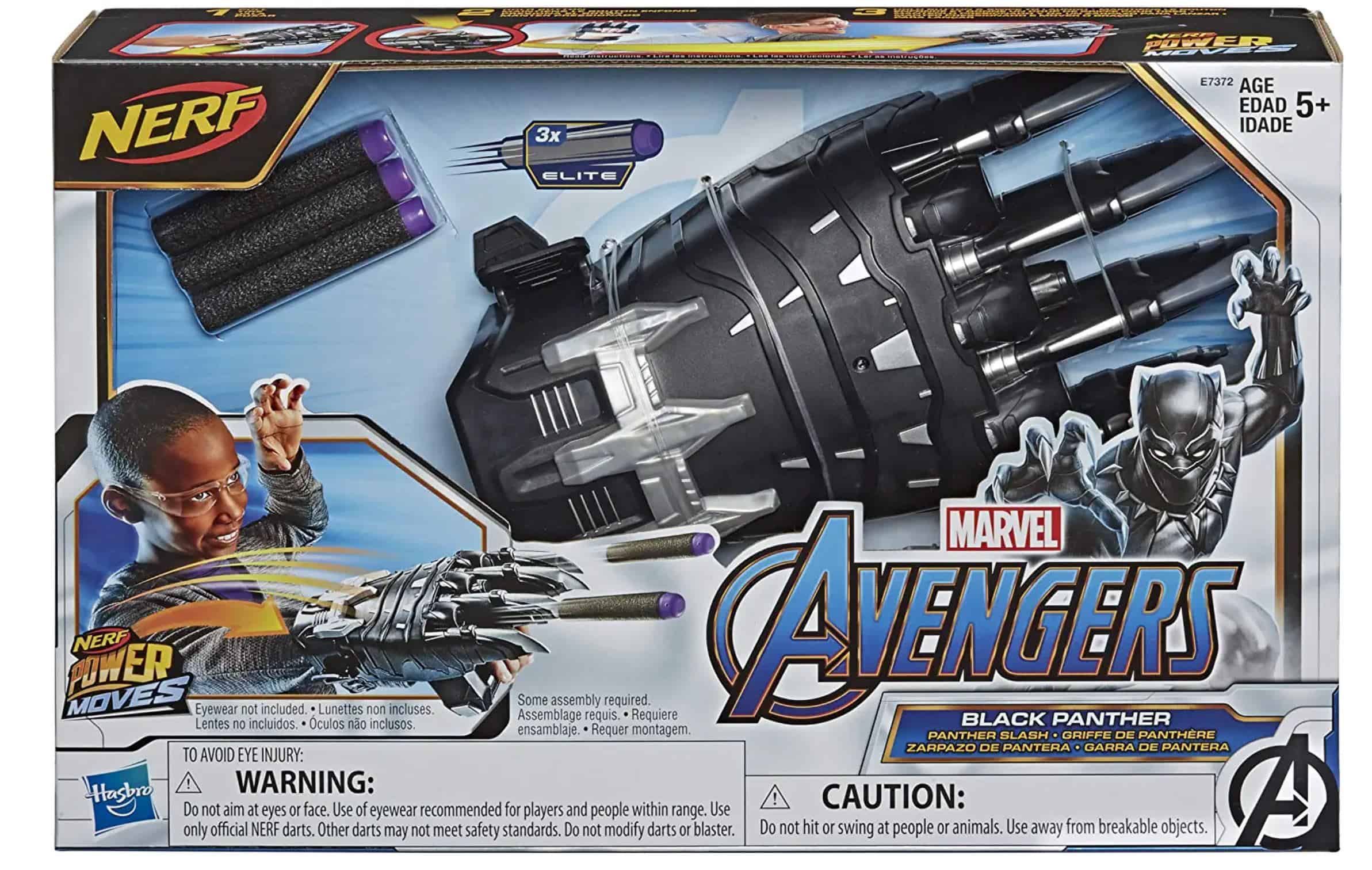 We also shouldn't forget the popular LEGO products. Black Panther Dragon Flyer is the best item from this class.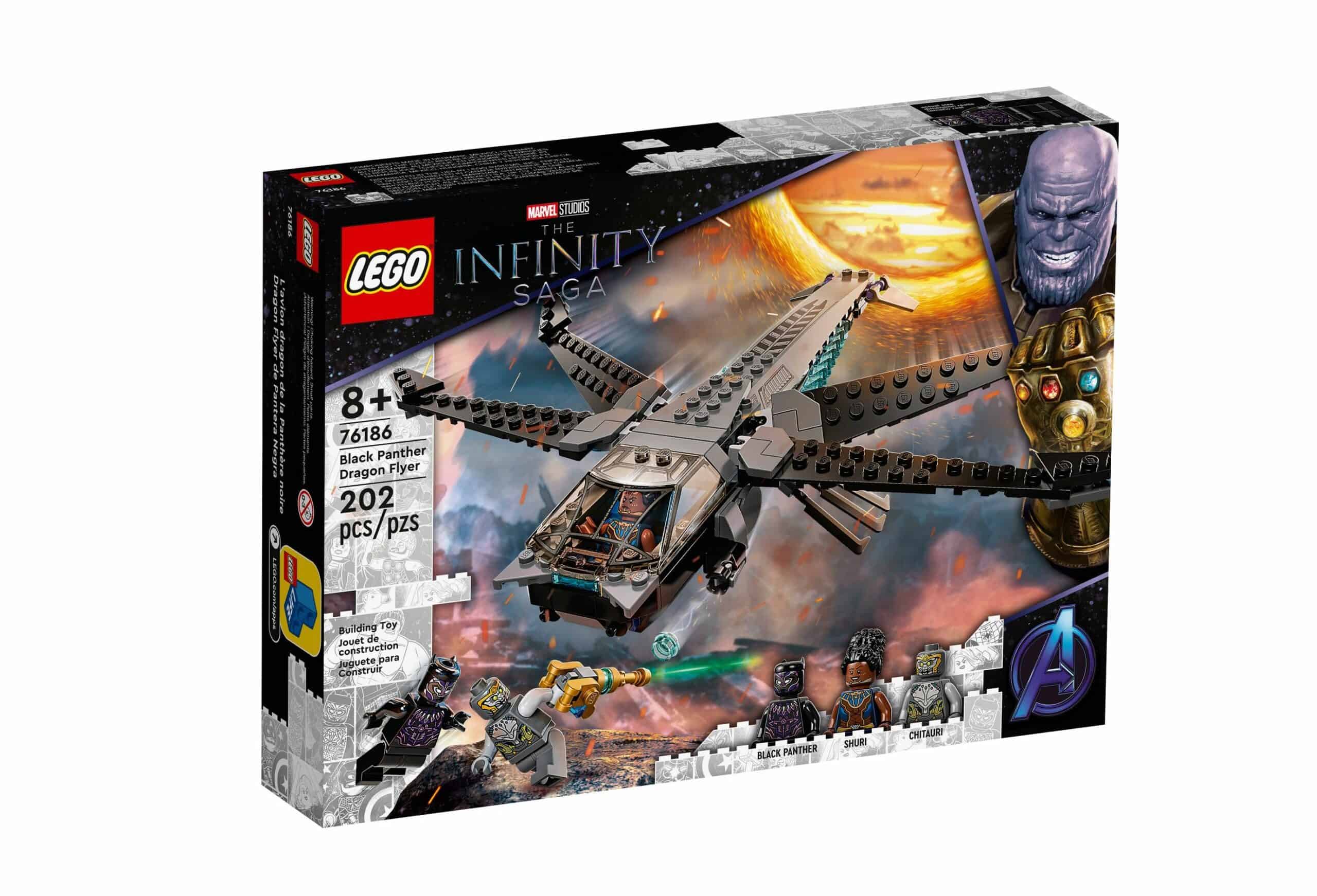 Wall Art and Room Decorations
Back in the day, I had several soccer player posters in my room. As I grew older and video games became a thing, I started putting various game-related wall art.
Marvel superheroes are today's youth idols. Kids like having their favorite character's poster nearby, whether we're talking about Captain America, Spiderman, or Batman. When you pair this wall art with Black Panther sheets, a custom bed, and carpet, the whole rooms become a small shrine.
I really like that Black Panther room decoration is that T'Challa is the perfect protector. Given that he is a dark creature, the superhero can vanquish the demons haunting your kids at night. I believe this makes him more suitable for room decoration than some other Marvel heroes.
Wall Art
When talking about wall art, most people think of posters. However, this category can also include paintings, signed pictures, and other neat items for your apartment. If I were to buy something for myself, I would go with Chadwick Boseman's Signed Mounted Photo. Like many other Marvel fans, I was incredibly sad when he passed away. Chadwick was an amazing role model for my kids and a fantastic actor.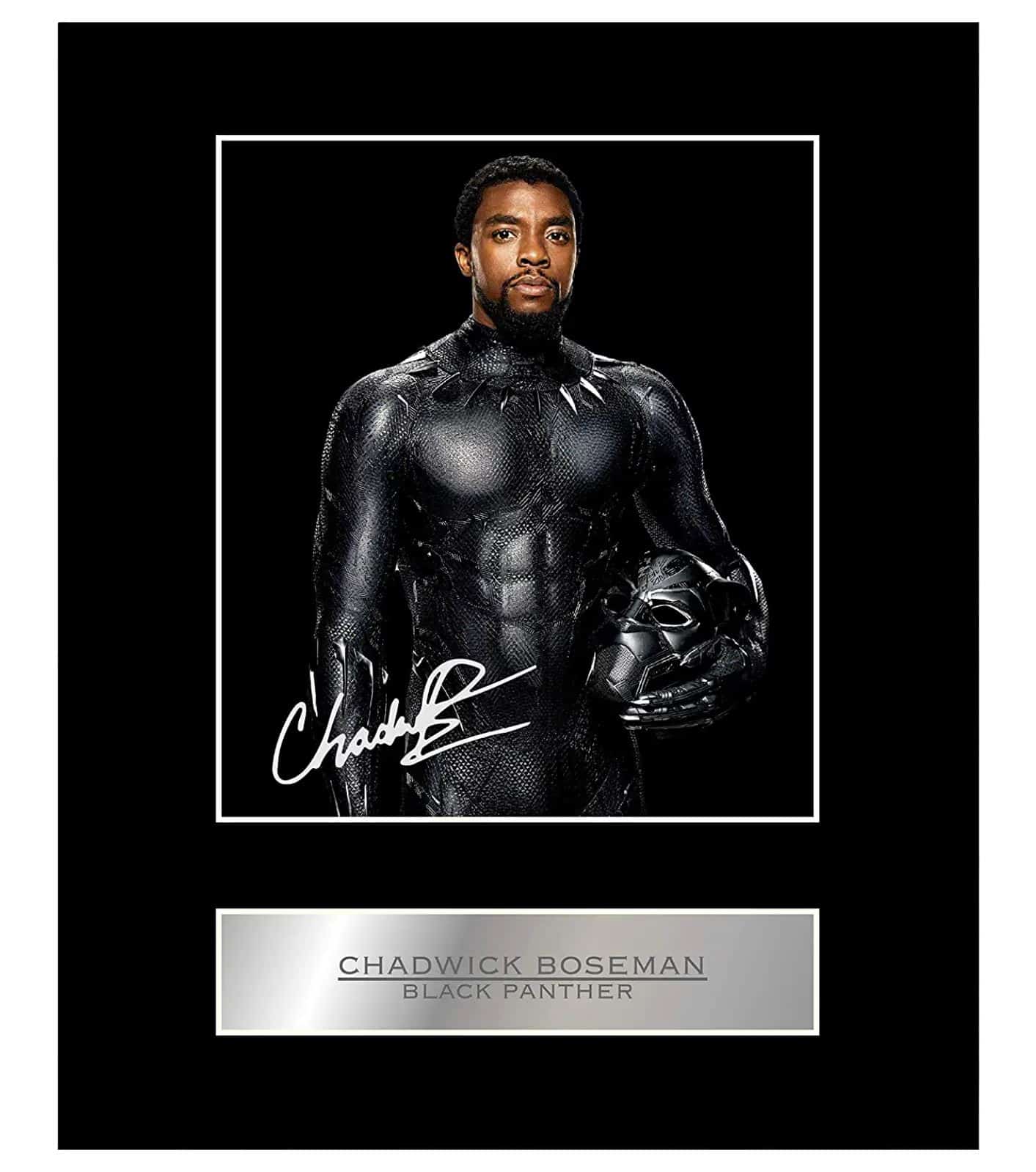 If you're looking for something less serious, such as posters for your kids' room, you can go with PremiumPrints – Marvel Black Panther Movie Poster. This is a wonderful piece of wall art that kids will love because of all the vivid colors. Alternatively, you might consider something like Black Panther Wakanda Forever Poster.
Those interested in art pieces should check Black Panther Hand-Made Poster. Although this isn't a real painting, it is much cheaper and still looks great.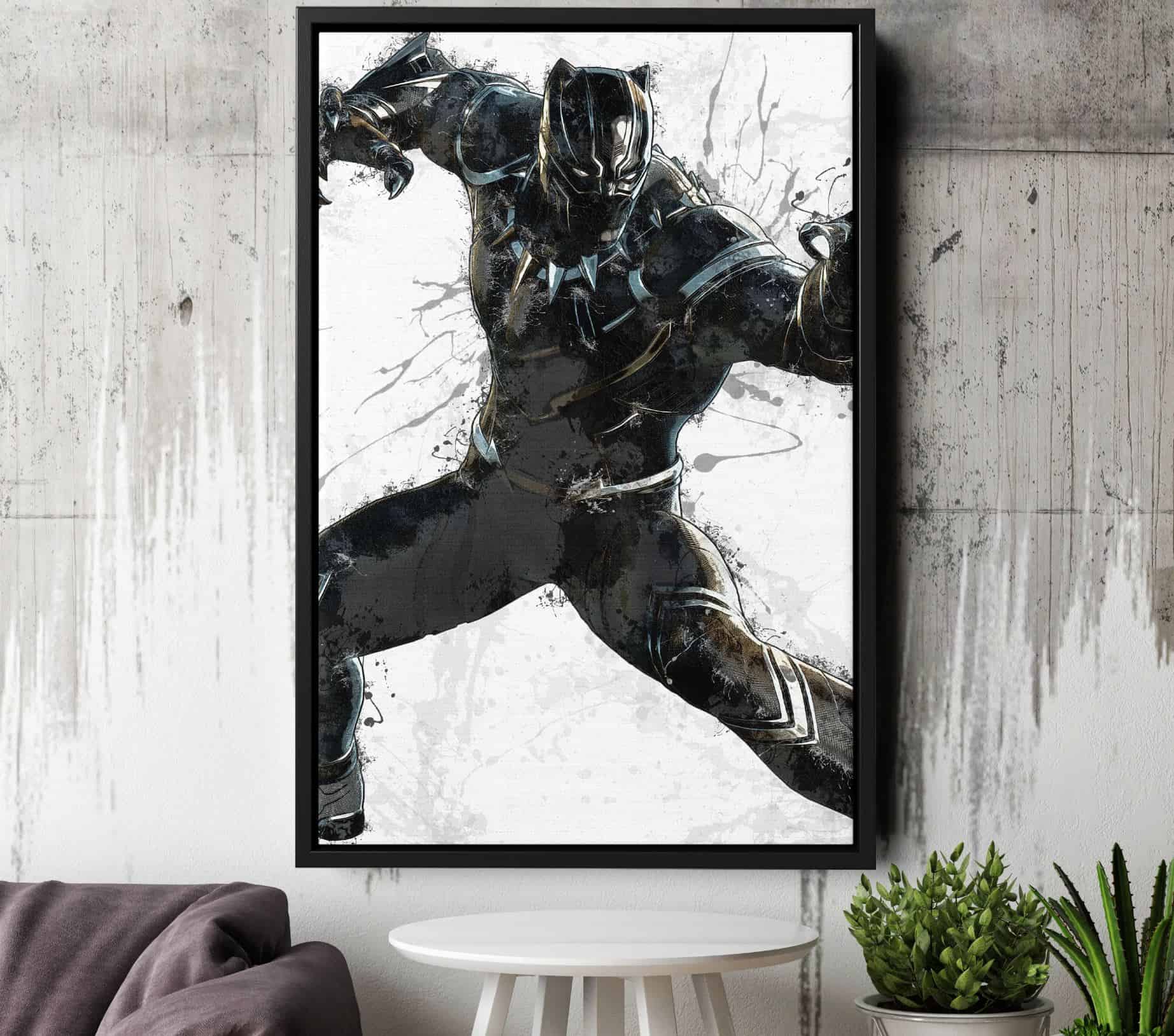 Sheets and Beddings
Black Panther is a great choice if you're looking to decorate kids' rooms with sheets and pillowcases. After searching dozens of results online, I've noticed that most manufacturers use vivid colors for superhero-themed beddings. Unlike some other superhero-related products, Black Panther items rely on cool and dark colors.
The reason why I like the black and purple scheme is that it prepares your kid for bedtime. After purchasing something similar for my child, I've noticed that it's much easier for him to fall asleep. Then again, this might be an individual case.
My favorite bed set is Jay Franco Marvel Black Panther Blue Tribe. Like all Jay Franco products, this one is of the highest quality. The imagery is simply amazing, and the colors mesh well with each other.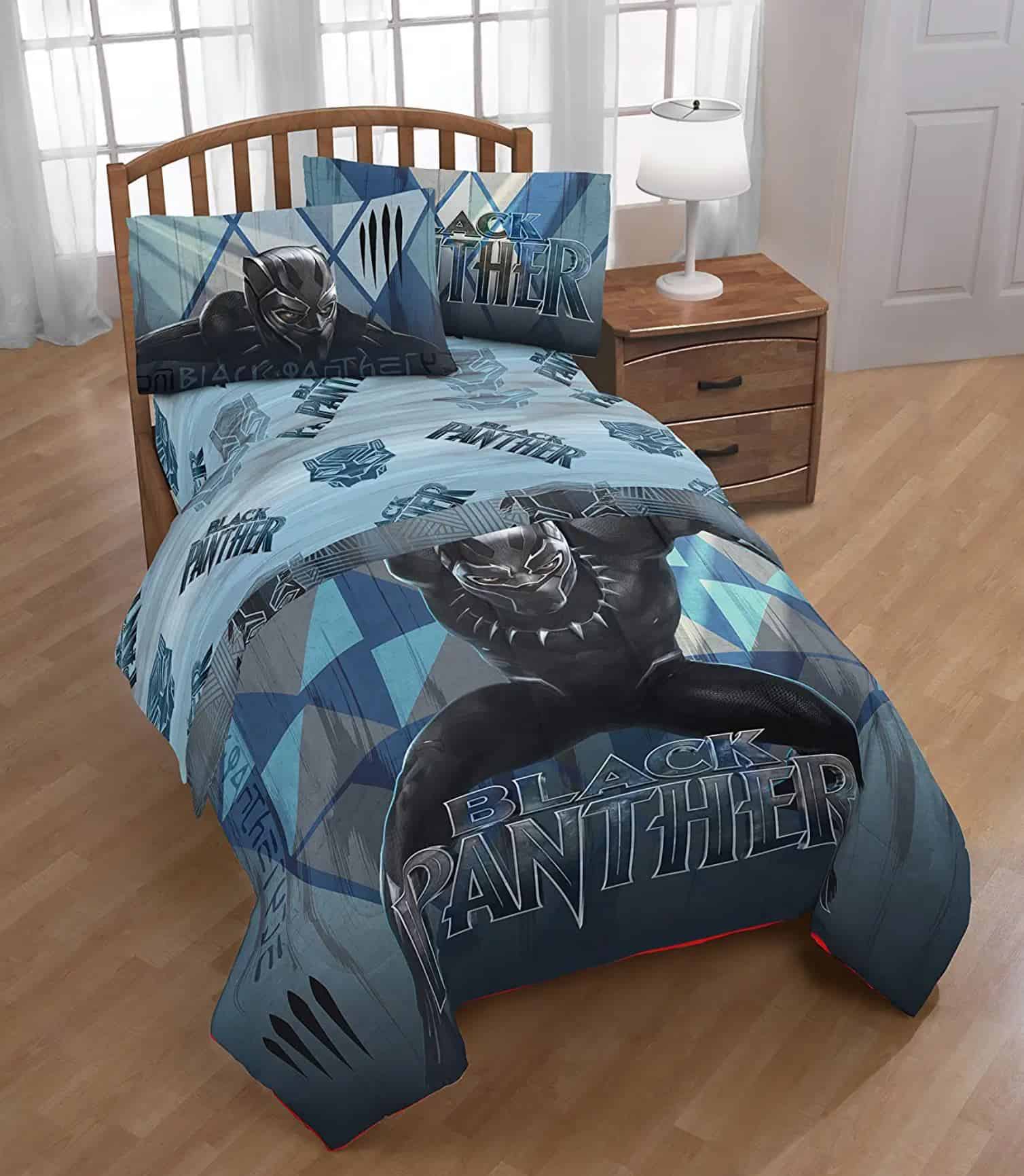 On the other hand, Black Panther Blue, Black, and Grey Warrior King is an excellent choice if you're looking for something more jovial.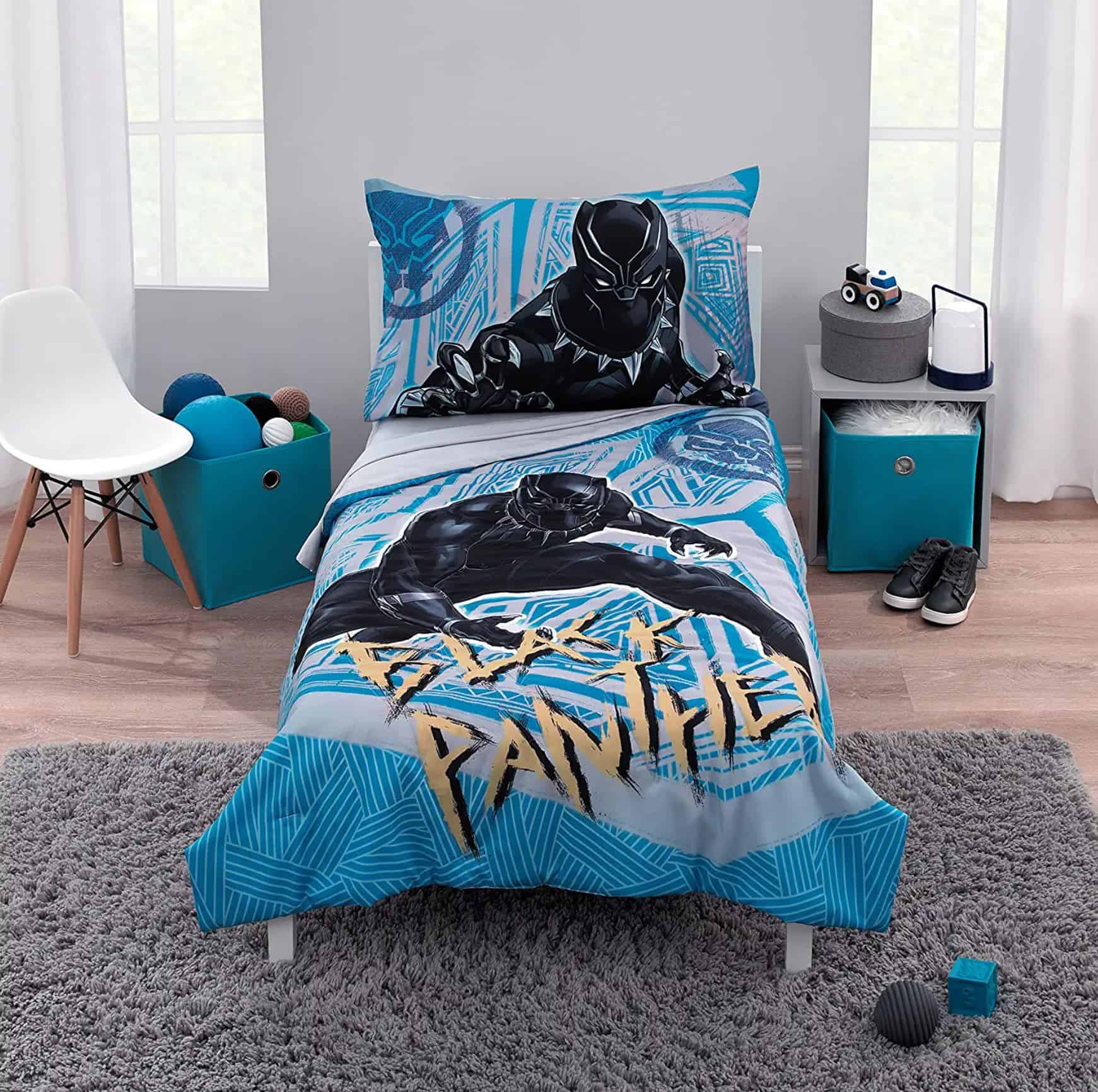 Carpets
Although the superhero carpets are not that usual, they have a place in your pantheon of Black Panther merch. These products are fantastic if you're looking to decorate kids' rooms and want to avoid plain white decoration. My only issue with the carpets is that it's really hard to match them with bedding sets.
The best example of this is Black Panther Supreme brand Rug. Although the product is incredibly cool, it might be hard finding suitable furniture to go with it.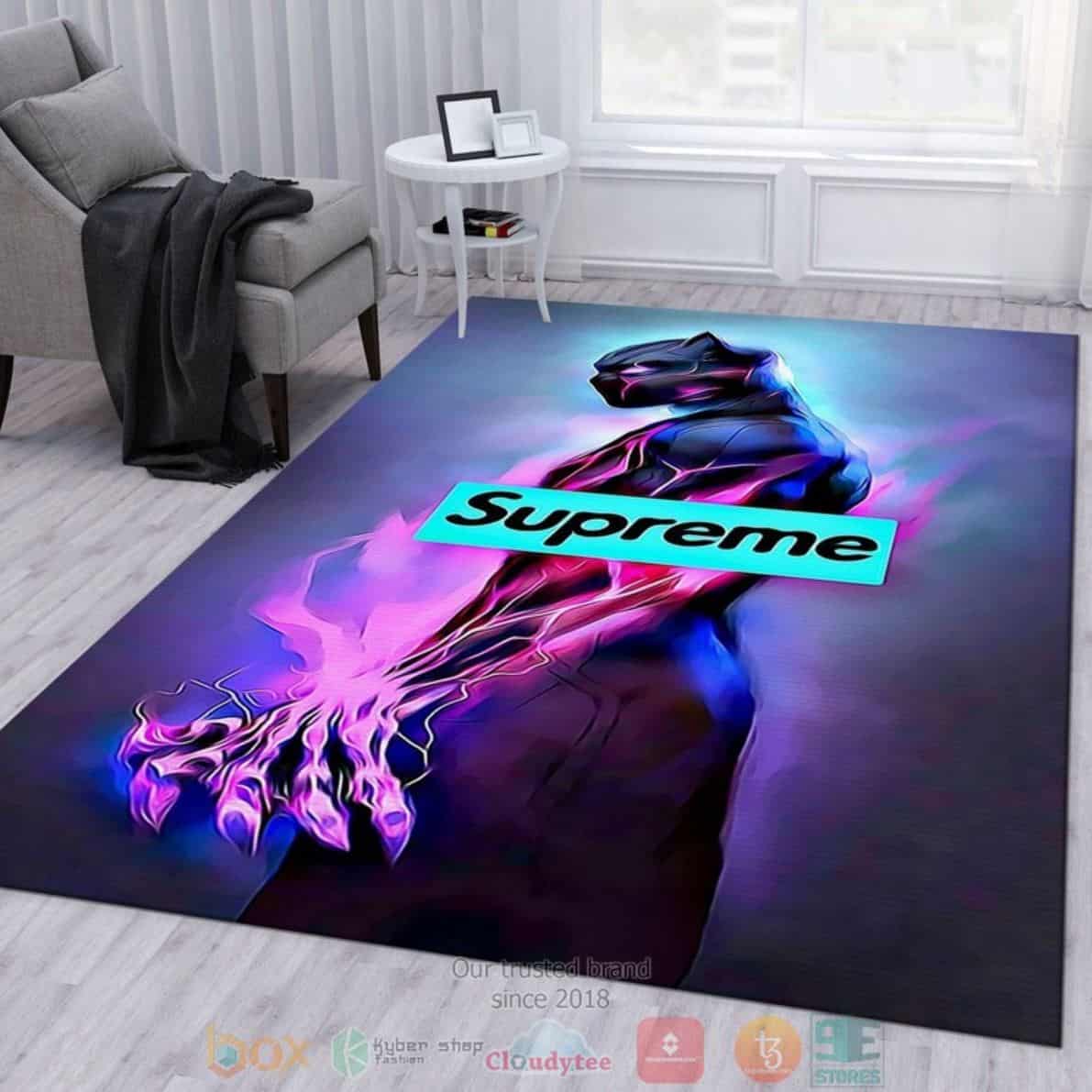 Black Panther carpets can also be nice for your living room. For example, I've seen some products focusing on tribal design, such as Black Panther Wakanda Marvel Area Rug Carpet. You can put this item just about anywhere.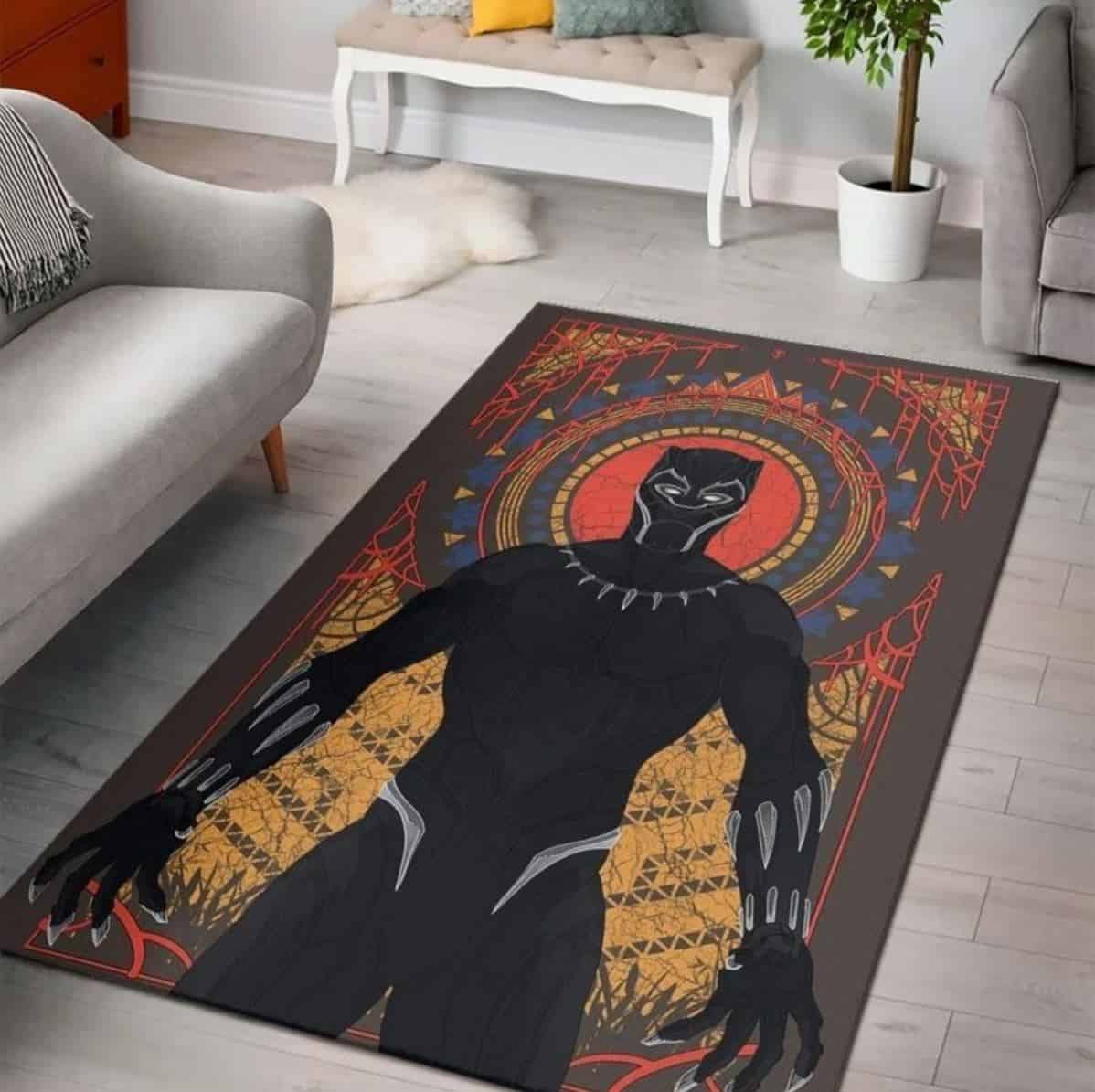 Other Merch
Of course, there is much more to Black Panther merchandise than just apparel, decoration, and toys. Nowadays, companies make all sorts of items with T'Challa's face on them. Furthermore, some of these pieces are really mature and are geared toward adult users.
To be honest, I added the merch section because I didn't know how to categorize mugs. Aside from these products, there are other items I wanted to mention. Some of the coolest items from this category are playing cards and umbrellas.
Mugs
Mugs are the safest choice if you're looking to buy Black Panther merchandise for a friend or colleague. Unlike apparel, which a person might not wear, there will definitely use a mug with a superhero printed on it. I think you can start a great office prank by purchasing superhero mugs for everyone around.
If I were to purchase T'Challa's mug for myself, I would go with Marvel Black Panther Sculpted Ceramic Mug. Just imagine sipping your morning coffee or tea while the superhero's face is looking at you with disdain.
After browsing numerous stores, I think that Vandor Marvel Black Panther 12-Ounce Ceramic Mug is the best product for kids. It is a jovial, dynamic product, and I love how the superhero is shown in print. Black Panther Head Emblem Travel Mug is a great purchase for a friend who always complains about not having a travel mug.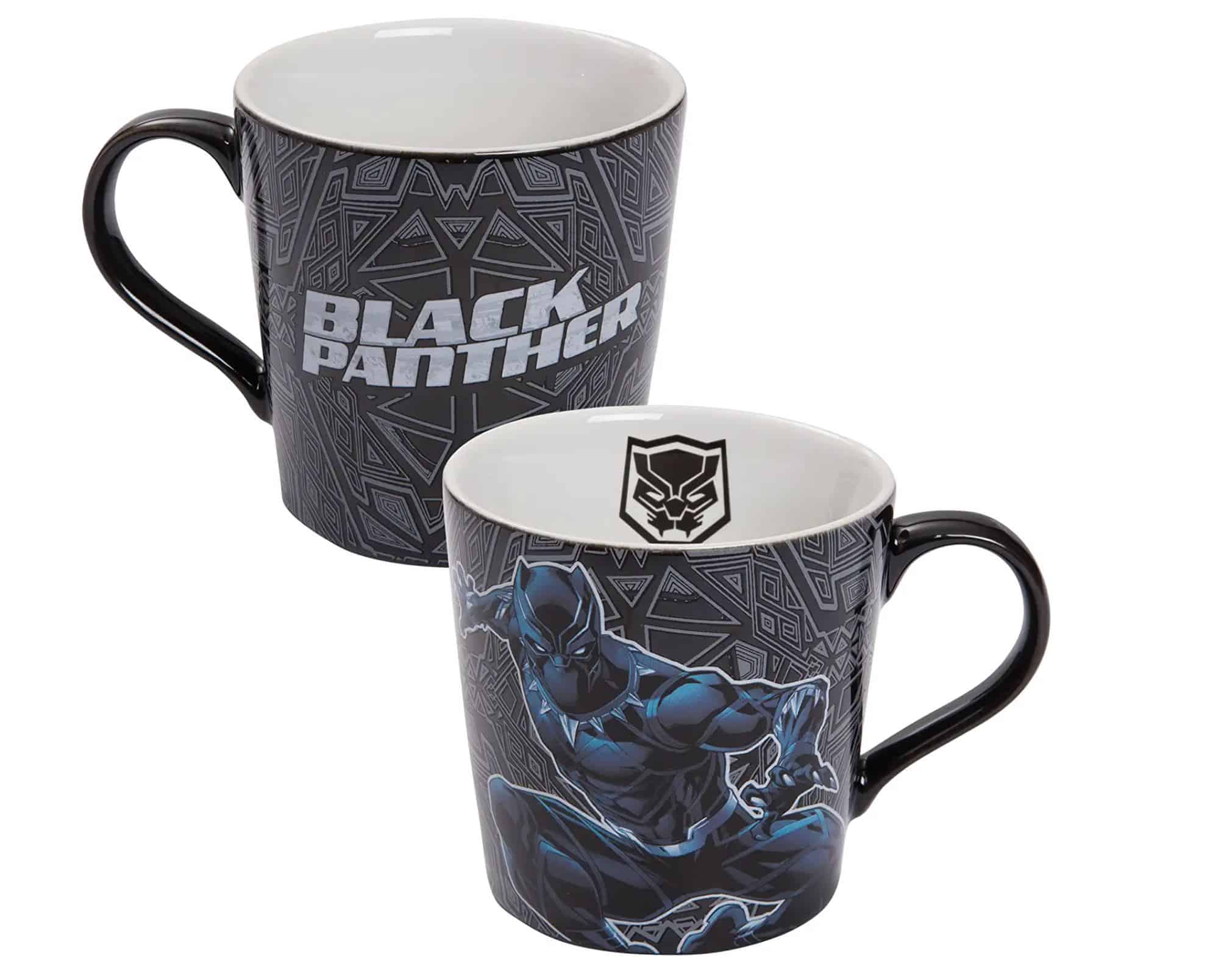 Other Merch
While there are lots of Black Panther products online, other items don't have enough items to warrant a new entry. So, I decided to put all the remaining stuff in one basket.
In my opinion, the best product from this category is Black Panther Logo Led Umbrella. Although you won't notice the superhero's mask until you open the umbrella, that doesn't reduce how awesome the item looks. I'm not a big fan of umbrellas, but this is one that I would gladly pay for.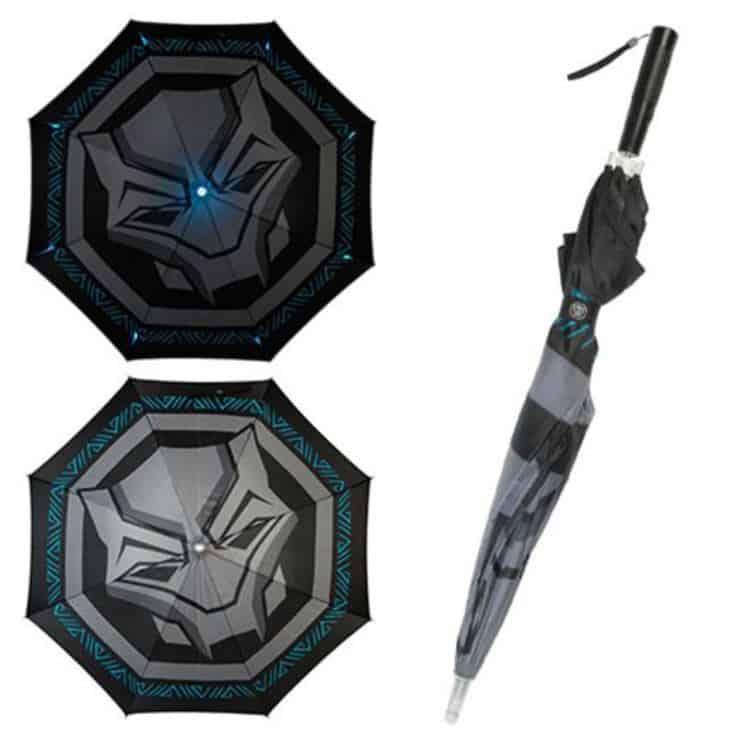 AQUARIUS Marvel Comics Black Panther Playing Cards is one of those items everyone can use. They are great for kids, adults, men, and women. Another product that would make a great gift is Black Panther Keychain. I can almost guarantee that your friends don't have anything as dope as this item.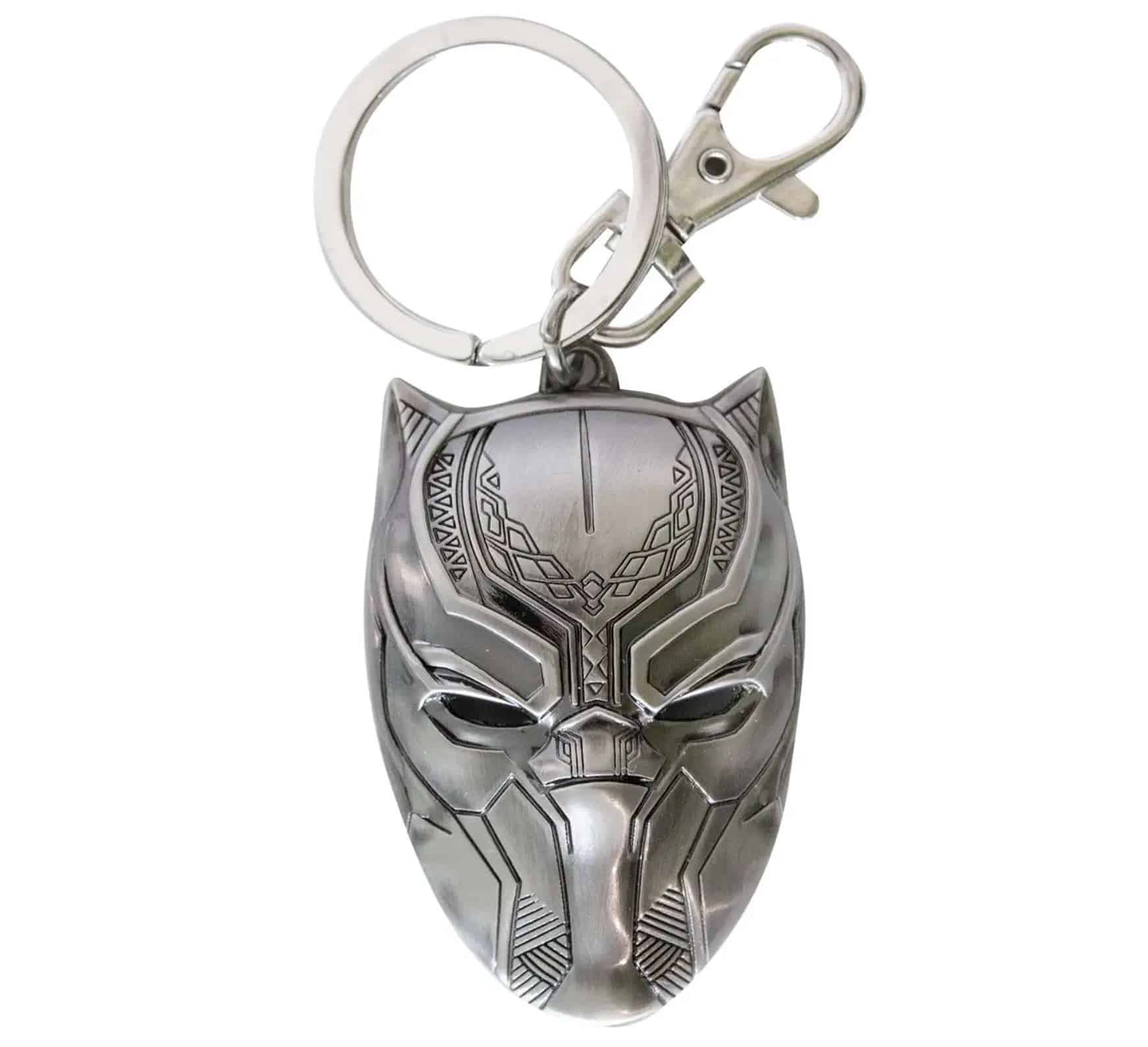 FAQs – Black Panther Merch
Question: What are the most popular Black Panther toys?
Answer: Although it is hard to determine the best Black Panther toy, most people would agree that action figures are at the very top. People also buy Black Panther LEGOs for their kids. Nerf items are also at the very top in terms of popularity.
Question: What is the best Black Panther gift for kids?
Answer: If you're looking to buy a Black Panther product for your son or daughter, you can't go wrong with apparel. T-shirts and hoodies are always great, and socks are a nice purchase during the winter holidays.
With toys, you have to be a bit more careful. Most parents go with superhero action figures, but LEGOs can also be nice for both sexes. Boys will love Nerf guns.
Question: What is the best place to buy Black Panther apparel?
Answer: Disney's store is the official shop for Black Panther and other Marvel merchandise. However, they don't have the biggest assortment. If you live in the US, Amazon is the best place to buy Black Panther apparel. Alternatively, you might also consider checking out the Hot Topic website.
Question: What are the best Black Panther items for decorating a child's room?
Answer: If you wish to decorate a child's room, you should purchase Black Panther bedding, wall art, and carpet. Jay Franco products are always a popular choice for bedding. As for the wall art, you can easily find great posters on Amazon and in some other web stores. Bright & Roomy is one of the better carpet manufacturers in the world, and they have an incredible offer of Black Panther products.
Conclusion
In the past, Black Panther wasn't a household name like Captain America or Spiderman. However, all of this is changing with the recent success of superhero movies.
With the rise of the character's popularity, you can find many different Black Panther merchandises online. Almost every major online store features the superhero, selling Black Panther themed-products ranging from mugs, t-shirts, action figures, etc.
If you're looking to buy a casual Black Panther item, I would recommend Panther Head Typography Graphic T-Shirt or Marvel Black Panther Sculpted Ceramic Mug. These items could be great gifts for friends and family. If you're looking for something more luxurious, you can go with Black Panther Original Suit.
Recommended Reads: