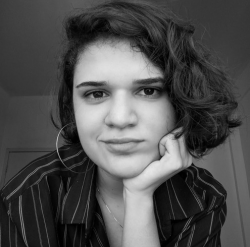 Latest posts by Marjorie Soares
(see all)
Fashion is not a way to simply follow trends but to express yourself better. If you've read any of my work, you already know I am a comic buff. But there's something I haven't shown you yet: I'm obsessed with fashion.
However, I must pinpoint that I am not someone that attends fashion week or scours the shops of Paris and Milan looking for designer labels. I'm more interested in finding ways to stand out and creatively express my identity through clothing and accessories, and one such way I do this is through wearing merch and jewelry from my favorite superhero franchises.
This brings me on to my Best Black Panther Themed Necklaces guide. I love Black Panther, and I'm always looking for a new necklace. So naturally, this was a match made in heaven.
Since I watched Black Panther in 2018, I became obsessed with its worldbuilding. The architecture, clothing, and culture fascinated and inspired me. Of course, Black Panther comic books had always been rich in those respects, but I felt the movie had taken things to new heights.
These unprecedented heights are no accident but the result of carefully crafted production design. Everything was beautiful and well thought out. As I wondered about that, I realized I wanted that in my life. I wanted to make a well-crafted- representation of me, and it would all begin with necklaces.
So if you are interested in standing out or adding a nice little discreet touch to your style, this Best Black Panther Themed Necklaces guide is for you.
A Nation of Possibilities
There's a perfect Black Panther necklace for you, no matter your taste in jewelry. The movie offers excellent examples, while content on online shops broadens the possibilities. Moreover, if you are the arts and crafts kind of person, you can easily find quality content on how to make your own customized Black Panther necklaces.
Black Panther's Shuri-ously Splendid Design
Before discussing necklaces per se, I need to elaborate on Black Panther's costume design.
Why? One, because it is fantastic. Two, because this understanding will support my choices on the list and make you a well-informed Black Panther fan.
To clarify things, I will explain three components: Afrofuturism, production design, and finally, costume design.
Black to the Future
Afrofuturism is a cultural movement that blends science fiction and black history. Thus, this movement will often mix past and future, creating narratives where African traditions are intertwined with the most jaw-dropping technological advancements.
Does this sound familiar?
If Wakanda popped up on your mind, it means you get the idea. The Black Panther's fictional nation is the quintessential example of Afrofuturism in the 21st century.
Thus, Afrofuturism is a vital element I consider in every product choice.
The Production Design Bible
The production design is responsible for the visual elements of a movie. This field was vital in the Black Panther film because it helped create a unique atmosphere and believable reality. But don't let the naturalistic look fool you. The jaw-dropping result on screen was the result of meticulous research.
To craft the world of Wakanda, production designer Hannah Beachler created an impressive visual album called the Wakanda Bible.
This book served as a reference to every decision in the movie and ensured everything was aesthetically cohesive.
Finally, Beautiful Clothes
The costume design created by Ruth E. Carter revels in its bold mix of tradition and novelty.
Each element onscreen is rooted in an African tribe: more specifically, the jewels were created to express the rich culture of Wakanda. Not just stunning, they reveal facts about the queen, the Dora Milaje, and the Black Panther himself.
I love Black Panther's meticulous jewelry design; it inspired me to select the best possible options in this list.
Wakanda Things I Took into Consideration
I focused on the movie's design elements because they encompass Afrofuturism's mix of tradition and technology. It wasn't mandatory, but many entries are straight out of the film. Of course, most of the time, I couldn't find replicas. But I selected products that closely matched the originals or resembled a critical aspect.
In addition, I included necklaces from several price ranges. I'm a Capricorn and a compulsive saver, so I know cheap options are vital. But I also believe indulging yourself with that top-of-the-line item can be really satisfying.
Lastly, I made a mix of various necklace styles. Flashy, minimalist, or in between: there's something for everyone on this list!
My Favorite and Real-Life Necklace: Shuri's African Cowrie Shell Choker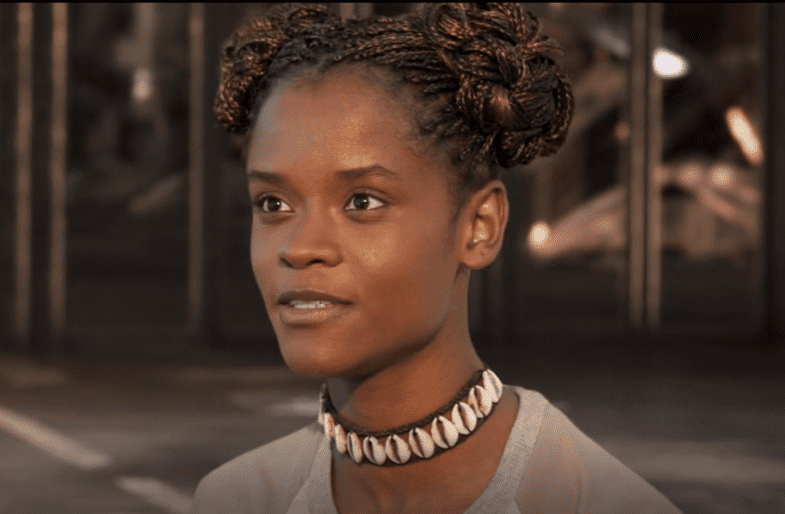 Cowrie shells are a common but vital type of shell in Africa. Some people may deem them exotic, but for me, they're commonplace. Still, that doesn't diminish my love for them; it enhances it.
Why?
I'm from a city in Brazil called Salvador. This city is known as the "blackest city outside of Africa." This is a place immersed in African traditions and culture, which means I see cowrie shell chokers everywhere. Seriously. If I get out of my apartment, I'll find at least half a dozen people selling them on nearby streets.
Still, I love them! I have my choker to prove it.
Cowrie shells chokers have a unique type of beauty, enhanced in a city pervaded by the sea. This is a versatile accessory with a rustic flair to it.
But above all else, they make me feel at home. So, of course, I was excited when Shuri popped up onscreen wearing one such item. 
For all these reasons, this is my favorite necklace on the list!
Pros
It is almost identical to the movie necklace.

Cheap — in fact, the most affordable entry on this list.

It's made of rope, so it doesn't break.
Cons
It goes well with casual or beach-like styles, but not so much with other types of clothing.
Fun fact: Cowrie shells were used as money in several cultures.
Side note: Here's my cowrie shell choker. As you can see, it is a little bit different: the shells are placed horizontally. But the idea is the same.
T'Challa's Black Panther Necklace Replica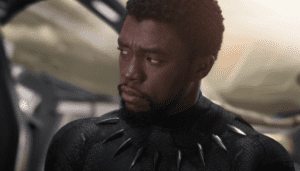 When I think about a Black Panther Necklace, this is the first one that comes to mind. So it's no surprise this is the easiest to find online.
If you want a necklace people will instantly recognize as a Black Panther item, this is the one, for sure. This piece is often sought after for cosplaying purposes, but I guarantee you it looks fantastic with regular clothing. I would certainly wear it to make an impression at an event or a party. Some people may be wary of such a large item, but if you are the bold type, this will definitely work with your style.
This replica is the closest you can get to an actual Black Panther necklace. It's expensive, but judging by the detail level and reviews, it is worth it. However, if you want a cheaper version, don't worry; there's one down the list.
Pros
Great detail level.

This is an official replica from Marvel.

It comes with Kimoyo beads.

It comes in a beautiful box — it has the refinement of a collector's item.
Cons
Killmonger's Black Panther Necklace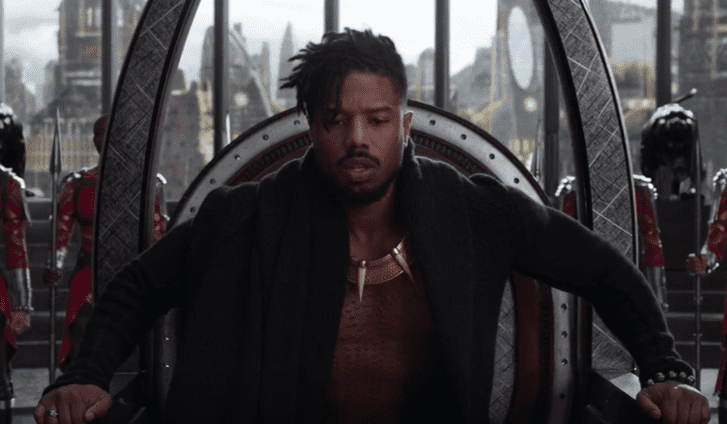 Killmonger is unapologetically flashy, which is one of my favorite things about him.
I dare say his version of the Black Panther necklace is even bolder than his plan to conquer Wakanda.
The necklace's golden color marks a beautiful contrast with the suit; thus, if you choose to wear this necklace in dark colors, it will indeed look stunning.
Besides, the added animal teeth make for a compelling mix of rustic and refined. This necklace is so gorgeous and full of personality I would argue it is not an accessory to an outfit but the protagonist of the look.
Fittingly, the same can be said about Killmonger in the movie. The caveat to this item is that it doesn't work as well with regular clothing. But, depending on the occasion, you can get away with wearing it.
Pros
Great detail level.

Handmade.

It has resistant materials: urethane, resin, and urethane rubber.

The golden part is beautiful and shining.

It's unique.
Cons
High cost — in fact, this is the priciest of the entries. The cost is almost three times the price of Marvel's official replica.

It's not an official replica. There are a few differences.

The teeth look fake.

The yellow layer on the teeth isn't well applied.
Black Panther's Necklace Lite
If you want Black Panther's most recognizable necklace for a low price, this is the product for you.
This simple yet well-executed necklace looks good in cosplay or in regular clothes. All for one-fifth of the replica's price! Plus, it is available in both silver and golden colors. This way, you can go for the more accurate T'Challa version with the silver or opt for the gold, which resembles a mix of T'Challa and Killmonger's styles.
Pros
Cheap.

Great value and likeness for the price.

It works well with regular clothes and cosplay.
Cons
It isn't made of stainless steel.
Black Panther Mask Pendant Necklace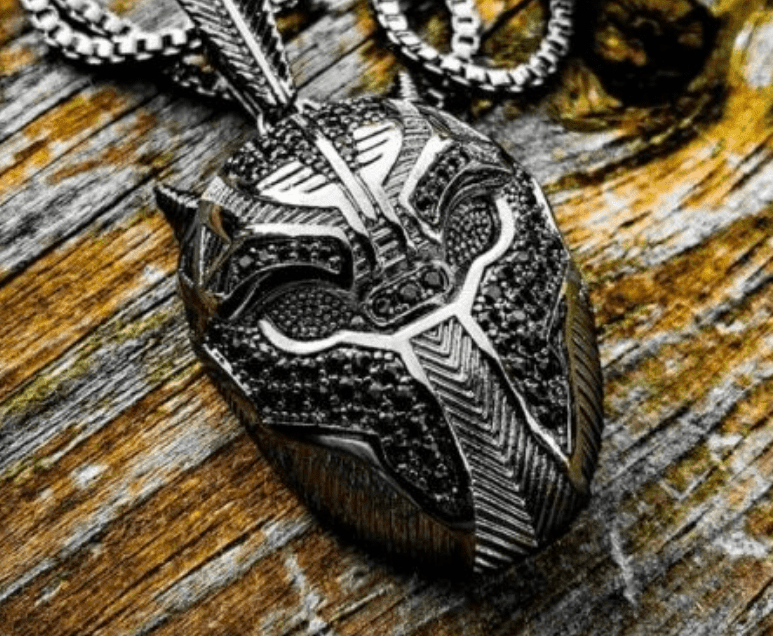 If choices so far on this list are too flashy for you, here's a minimalist alternative. This little,well-carved Black Panther mask pendant adds a touch to your style and communicates you are a fan.
Though several similar options for a Black Panther Mask Pendant are available, this is the best one I could find. Some versions were too large, lacked refinement and detail, had a fragile chain, or had sloppy finishing. On the other hand, this option has excellent detail, and the chain looks durable. All that for a reasonable price.
Pros
Great detail level. The carving is highly complex.

The chain seems durable.

Reasonable price.

Easy to combine with clothes.
Cons
It is only available in one color.
Jungle Action #23 Pendant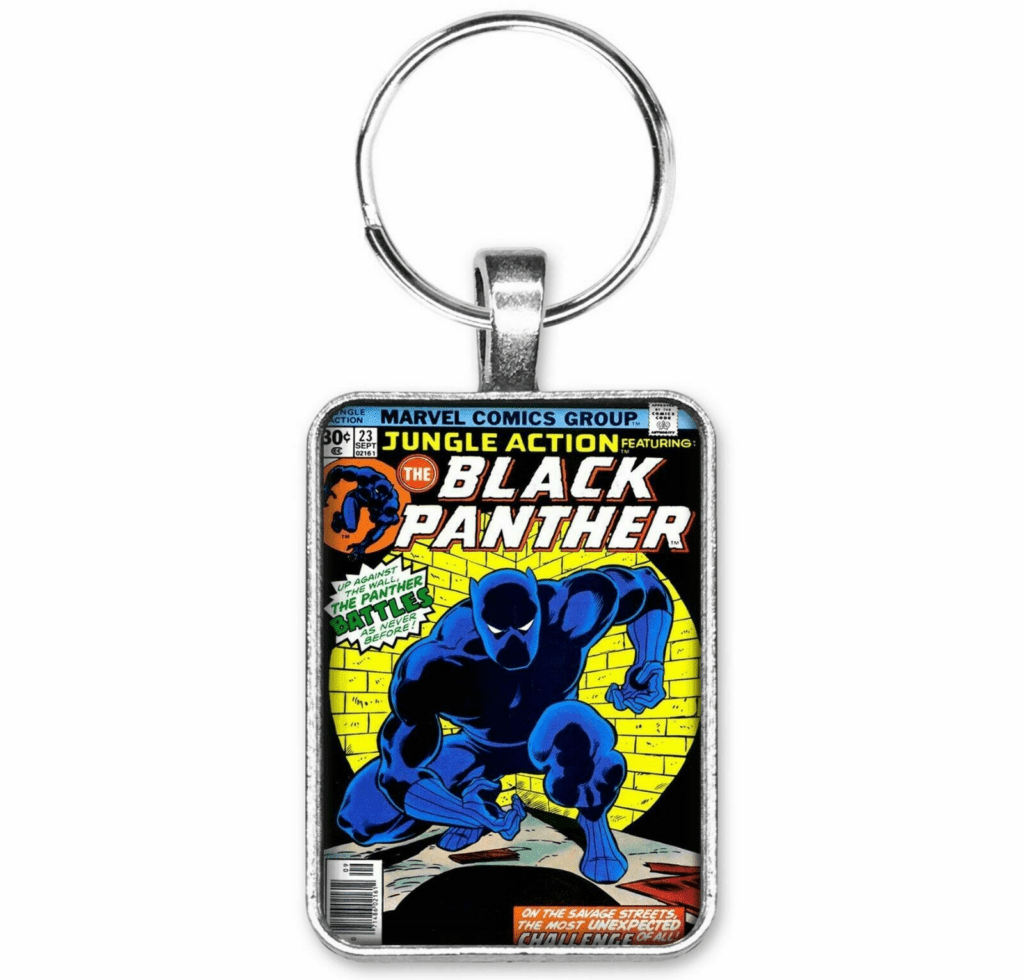 Most Black Panther merchandise is related to the movie. This makes sense as the film has a well-researched production design, making its visuals highly compelling for products.
However, you can occasionally find something comic-related, such as this Jungle Action Pendant. Black Panther starred in Jungle Action Volume 2, issue 5, and became its protagonist for the rest of the run. This pendant features the cover of Jungle Action #23, one of my favorites from the series.
Why? Well, comics at the time had a lot happening on the covers. Issue 23 is a stark contrast, showcasing Black Panther in a mighty pose illuminated by a light that forms a circle behind it. This cover is simple, beautiful, and holds the charming vintage flair from 1970s comics.
Pros
The print is well-done.

Easy to combine with clothes.

Focuses on comic books.

Cheap.
Cons
The chain doesn't look that strong.
Okoye's Dora Milaje Necklace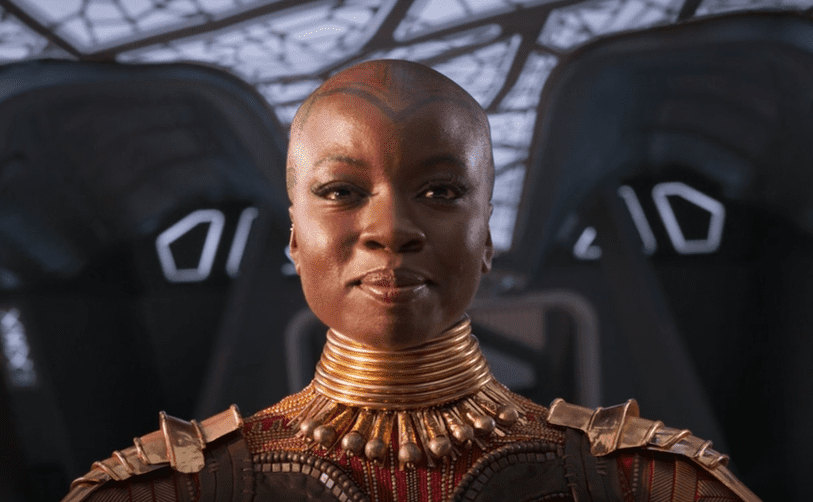 Dora Milaje's Neck rings come from South Africa's Ndebele tribe. They look stunning, but they draw a lot of attention. Thus, you must feel pretty bold and confident if you want to wear them. Even if it looks nice, the version on this entry is not a replica of the movie's necklace.
Okoye's ring necklace is straight from top to bottom, while this one is enlarged on the base. Still, this is the best option, considering beauty, durability, and price. If you're not too picky, this will work great on cosplay. Otherwise, it is a jaw-dropping accessory for special occasions.
Pros
It is shining.

It has great detail level on the inside.

Cheap.

Available in different colors, including golden, silver, black, and red.

Available in a version that comes with bracelets.

Easy to put on.

Adjustable size.
Cons
Too flashy.

Hard to combine with clothes.

The inside fabric is not the best; it may cause discomfort.

It's not a replica from the movie.
Okoye's Necklace Gala Version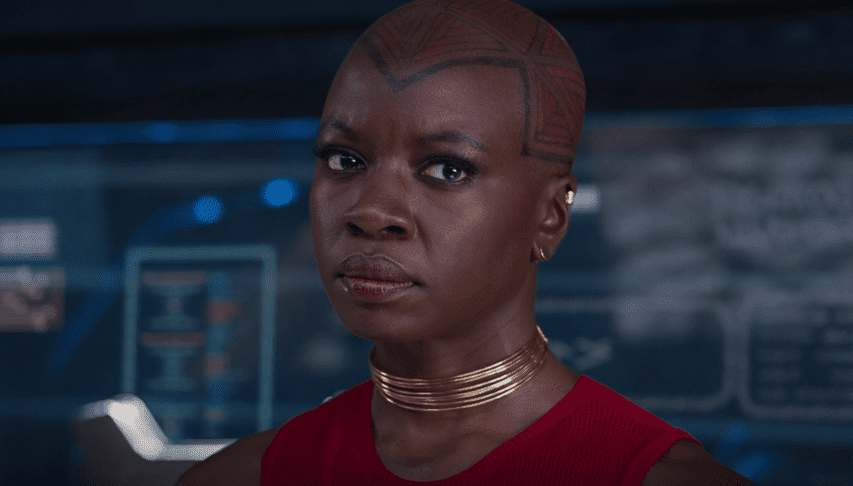 Maybe you liked Okoye's Dora Milaje rings but thought they were too much for you. Thankfully there's a tamer version. Okoye wears this necklace when she, Nakia, and T'Challa are undercover at a gala. This version is still stunning but provides a more classical and quiet style; thus, it's an excellent option for those who want to take the spotlight without looking too flashy.
Pros
Easy to combine with clothes.

It is shining.

Cheap.
Cons
It's not a replica from the movie.
Nakia's Bead Necklace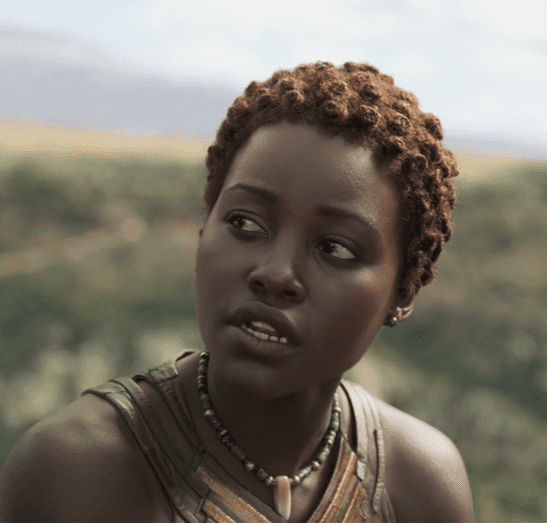 Nakia displays a festival of gorgeous clothes and stunning accessories during Black Panther, but my favorite piece is her signature beaded necklace — I love how elegant it is. The necklace is made of similar shaped- beads varying their colors on an analog scheme — blue, green, and purple – and sprinkled with a few pearl-colored beads.
The final touch is the beautiful rectangular stone in the middle providing contrast in both shape and color. But the best part is yet to come: this necklace's price is perfect!
This is the cheapest movie replica you'll find on this list.
Side note: After Shuri's cowrie shell choker, this is my second favorite necklace on the list.
Pros
It's a replica from the movie.

It's unique.

Cheap.
Cons
I couldn't think of any. I think this necklace is perfect!
Maasai Glass Seed Bead Choker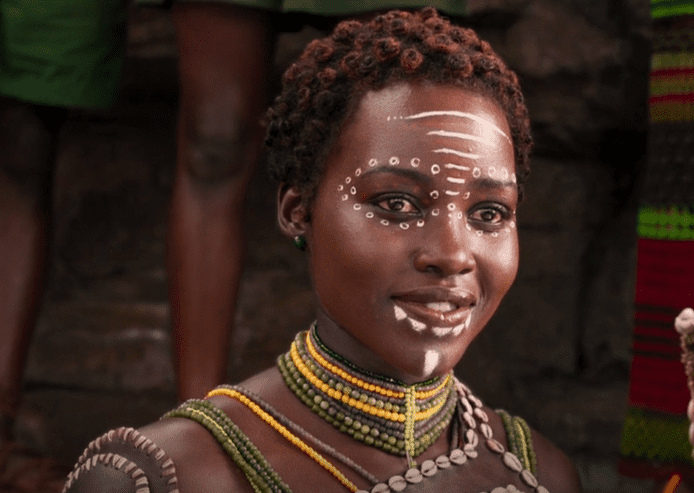 Nakia wears another beautiful beaded necklace during M'baku's fight with T'Challa, but I couldn't find a replica in this case. So, I chose something similar enough. If you look online, various African beaded necklaces are available, but this one made the list for a few reasons.
Despite being quite different in terms of color and pattern, a few things look alike. First, the shape of the beads is similar, and second same colored beads are placed in the horizontal direction.
I know it's not a close match, but I couldn't leave out such an exciting type of necklace.
Pros
The beads are shining and eye-catching.

Well-crafted.
Cons
Very different from the movie.

It's not as cheap as other options on this list.
Maasai Beaded Pattern Choker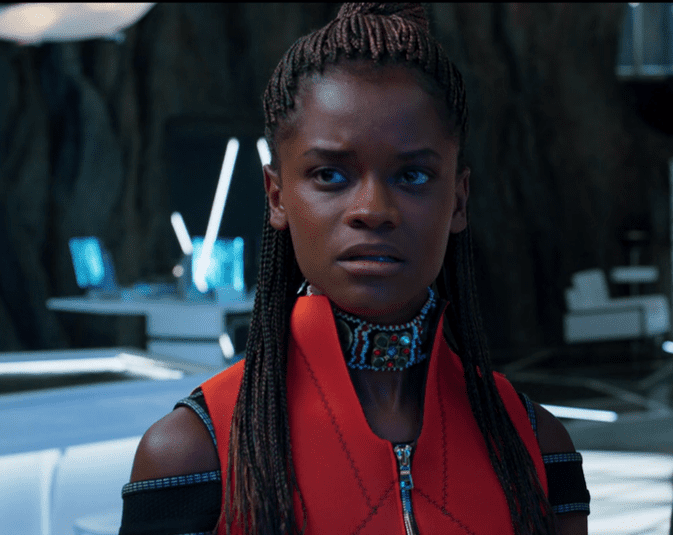 Similar to the above entry, this item resembles one of Shuri's necklaces, but not to a great extent. The Wakandian princess wears a beaded Maasai Choker with a unique circular pattern while working in her lab.
Unfortunately, I couldn't find anything with such circles. Still, the linked product caught my attention because it had similar shapes and bead types. I know it's not perfect — the pattern and colors are different, and there are chains with circles at the bottom. But once again, I wanted something on the list that reminded me, even if slightly, of a choker I enjoyed.
Pros
Good price.

Comfortable.

Vibrant colors.

Well-crafted.

High detail level.
Cons
Very different from the movie.
Killmonger's Wooden Beads Necklace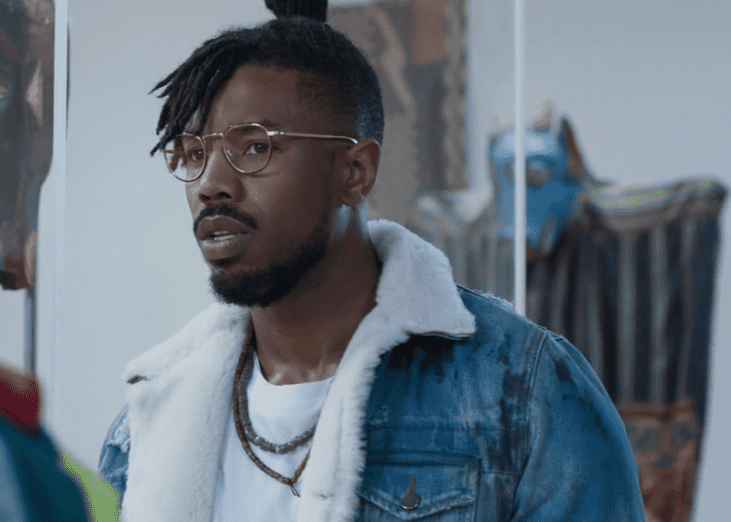 Forget the fight sequences; Killmonger's scene at the museum is his best moment.
We get to see the guy explain the implications of colonialism just to execute a perfect heist afterward. For obvious reasons, I knew Black Panther would be a political movie, but I didn't think it would be so overt. But that's why I liked the film even more.
So, getting a necklace from this scene was a no-brainer for me. This wooden beaded necklace is one of two necklaces Killmonger wears in this scene; it is elegant and stylish. These beads sit on the sweet spot between minimalist and flashy; thus, it is one of the most versatile entries on this list.
Pros
Simple yet stylish.

Cheap.

Well-crafted.

The beads are well polished.

Comfortable.
Cons
Not a replica of the movie.
Wakandian Royal Ring Pendant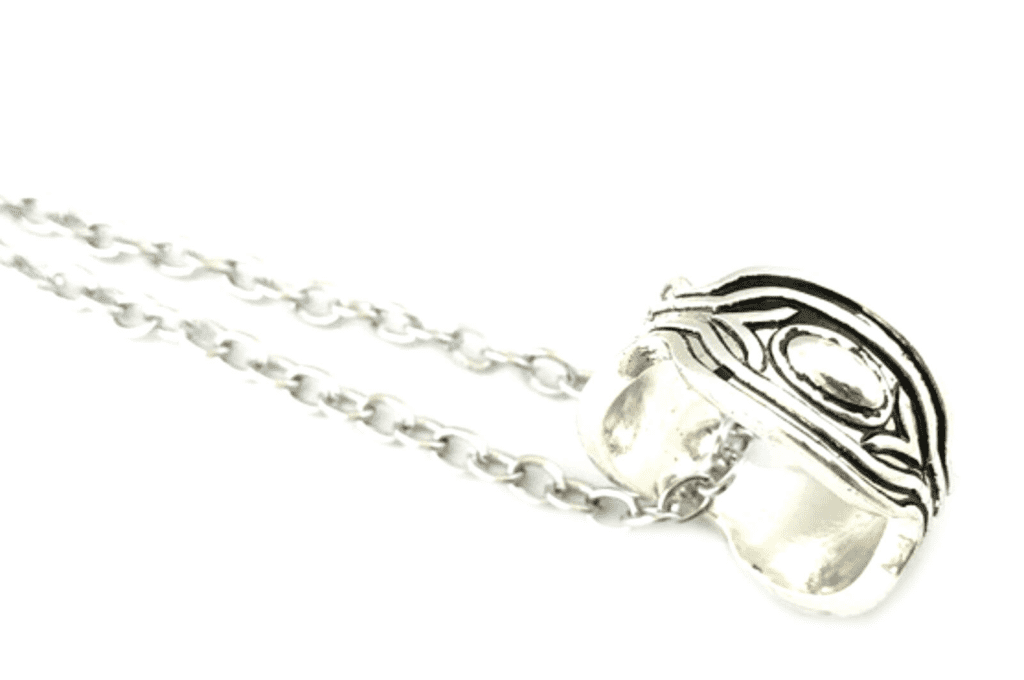 Maybe Killmonger's necklace wasn't meaningful enough to you, and you want something even more impactful. Look no further than the Wakandian Royal Ring — as a necklace.
The members of the Royal family traditionally wear these rings, so they are riddled with history and grief. T'Challa's ring belonged to his father until he passed away during Civil War. Similarly, Killmonger's ring also belonged to his dad until his assassination, making this ring a symbol of an emotional and clever parallel. 
Pros
The accessory has a significant meaning behind it.

Well detailed.

Cheap.
Cons
It is not a replica of the movie.

The chain doesn't look that strong.
Black Panther Minimalist Steel Dog Tag Pendant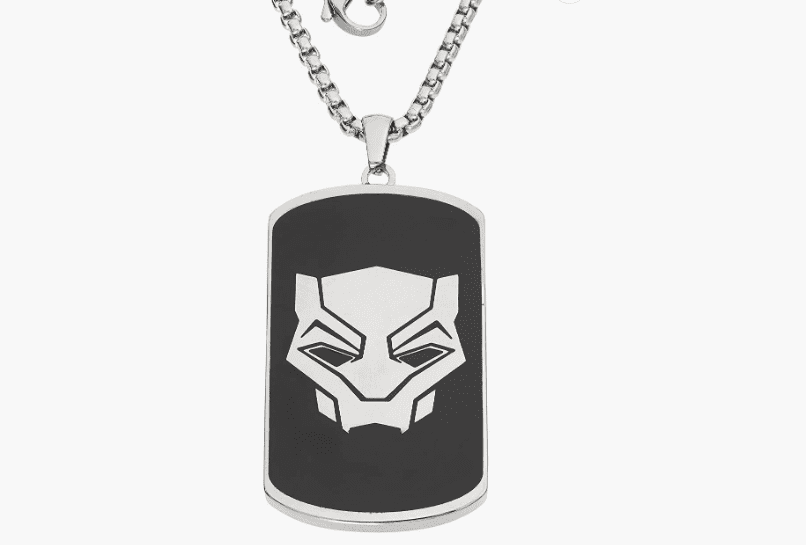 Another entry for the minimalists, the dog tag pendant, is a classic. It looks good with anything, casual or formal. This particular product takes the minimalist nature of the pendant to the last consequence — even the mask on the pendant is drawn with few details in a single color.
On the backside, the colors are inverted; the background is black with the Black Panther name in black, showcased in a stunning font. This pendant is the supreme example of minimalism done right.
Pros
It has beautiful images engraved.

It has a beautiful version of the Black Panther title written on it.

The detail with Marvel's copyright adds legitimacy.

Easy to combine with clothing.

The chain seems to be strong.

It comes in a beautiful box.
Cons
The size of the drawing relative to the background could be a little bit smaller.
Black Panther Figurine Charm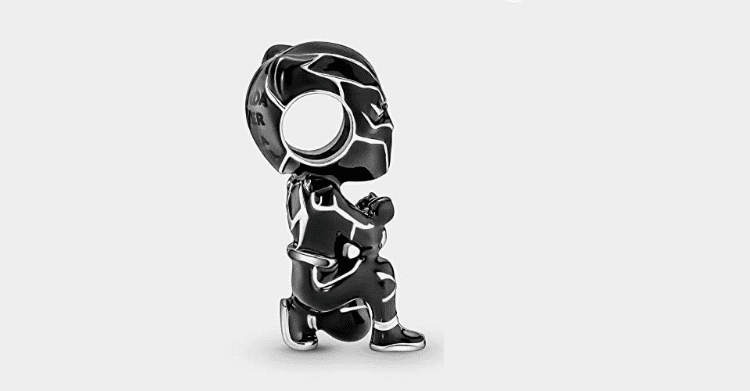 Technically this is a bracelet charm, but it's possible to wear it as a necklace with a chain of your choosing. I  added this option because I couldn't find a Black Panther necklace with a similar style, and I love this sort of cute childlike figurine. It reminds me of the toys I used to collect as a child. I always like to keep something of the sort to remind me that art styles can be fun. 
The Black Panther charm is not the only one available. If you want to mix things up and add other heroes to your collection, you can grab all the different types. My favorite ones are Iron Man and Hulk. The first because it is so detailed and the second because it is adorable.
I never thought I would call the Hulk adorable! But that's the power of these figurines.
Pros
It is shiny.

It is cute.

It's unique — there aren't other jewels with such figurines.
Cons
The paint job is not that great — the paint can come off.

It is a bracelet charm.

Not so cheap when you consider this is just the charm and not the full jewel.
Bonus: Shuri's Neckpiece DIY challenge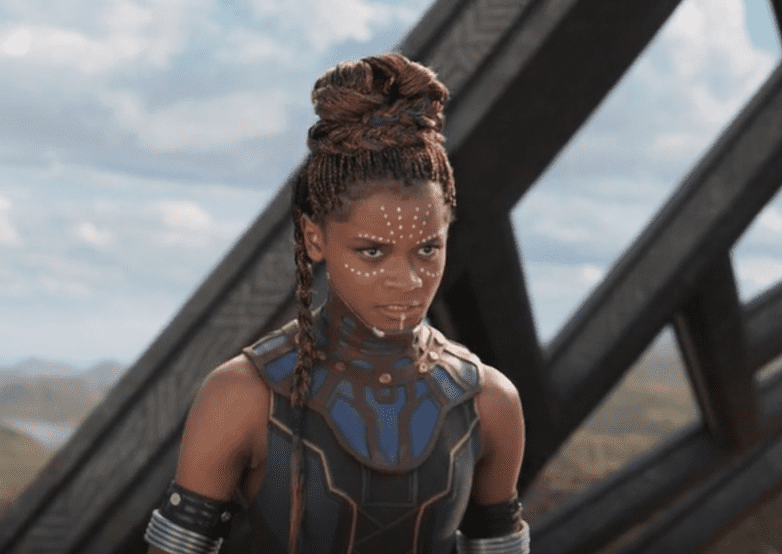 A list of accessories wouldn't be complete without a challenge for those who like to engage in do-it-yourself activities. Searching through the internet, this was the best Black Panther-related accessory tutorial I could find. 
Why?
First, this tutorial complemented this list of necklaces with something different instead of adding something that had already been mentioned. I could have chosen a tutorial on T'Challa's necklace, but since I already put two versions of this item on the list, that would be redundant.
Secondly, this neckpiece has excellent detail and quality. A neckpiece like that is unique; thus, it enhances Shuri's looks. Plus, the pattern and texture of the cloth are beautiful and unlike anything I've seen in other superhero movies. This neckpiece is stunning, and Joanne — the video's creator — does justice to the original. 
Lastly, the video provides an in-depth explanation of the neckpiece's crafting process. Even though I have no crafting abilities, watching this video made me believe I could make this beautiful item just by following the instructions.
So, I believe you'll enjoy making this piece whether you're just a beginner or experienced in arts and crafts.
FAQs
Question: What is Black Panther's necklace made of?
Answer: As is the case with most things made in Wakanda, Black Panther's necklace is made of Vibranium.
Question: What does Black Panther's necklace mean?
Answer: It is the symbol of the Black Panther itself. The necklace's bearer represents the sacred animal and yields its supernatural powers. This item also represents Royal ties, as you need to be part of the royal family to become the Black Panther.
Wakanda Forever
Wearing Black Panther-themed necklaces is a sure way to become more stylish. Whether you want something minimalist or flashy, there is an ideal option for you. I have already chosen which necklaces from this list I am going to buy. How about you? 
For more Black Panther merch guides, you can check out our full guide on the best Black Panther merch here!
Recommended Reads: