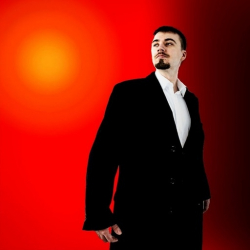 Latest posts by Stefan Stevanovic
(see all)
In my opinion, Black Panther has some of the coolest toys on the market out of all the Marvel superheroes. The superhero has a well-polished model, and you can do all sorts of things with action figures that use it as a basis. The character is dark, gritty, and, in many ways, it reminds me of Batman.
The majority of Black Panther toys are action figures. Most companies create small T'Challa dolls with movable parts and might add a few accessories to the mix. Funko Pop! products are also incredibly popular, and you might want to consider buying Black Panther masks and LEGOs, as well.
Since my kids are big fans of Black Panther, I've bought them a few action figures. I recommend going with Hasbro products, as they are durable and authentic. Most of the action figures on the market are similar in terms of price, so there is almost no point in purchasing an item from a smaller manufacturer.
If I had to recommend one particular item among the best Black Panther toys, I would go with "Marvel Avengers Titan Hero Series Black Panther Action Figure." You can find this toy in various online shops. Although it doesn't have any accessories or extra parts, it should provide hours upon hours of playtime.
Key Info Up Front
If you're looking for a Black Panther toy, you should choose from a plethora of products, including masks, costumes, action figures, LEGOs, and other items. Personally, I've bought my kids a few action figures, as they can pair them with other Avengers. If your kids are a bit older and like playing with LEGOs, you could consider buying one of these sets.
Most kids like toys such as "Marvel Avengers Titan Hero Series Black Panther Action Figure." It is a Black Panther action figure made by Hasbro that can rotate limbs and looks very authentic. Aside from being a great plaything, you can buy it and showcase it as a collectible.
What Were My Selection Criteria?
When making this list, I tried to add as many unique products as possible. Just by briefly looking at one of them, you can quickly deduce that it's completely different from anything else on the list. Furthermore, I tried to add items from different categories (for example, one mask, one costume, one LEGO, etc.)
Anyway, here are my primary selection criteria that led me when making this list:
The item has to be unique. Not only should it have specific features, but it is much better if it looks apart.
I tried to include one product for each type of toy.
Most of these toys are sold in the biggest online stores.
The toy should be of high quality. So, if you do decide to buy it, you can rest assured that it won't break or malfunction.
As you can see, I considered many different things. I also tried to look at things from my kids' perspective: Would they actually play with this toy?
As mentioned, I think this toy is the best purchase of them all. The action figure is available on Amazon, but you could probably find it in other stores as well, given that it's a Hasbro toy.
The item has all the basic functions as other action figures. It can rotate legs, arms, hands, feet, and head but unfortunately, it has no accessories. In my opinion, this piece is especially great for smaller kids who tend to break things as it is rather durable yet, authentic.
I have to emphasize that this product provides excellent value for money. You can add characters like Captain America and Thor to the mix for the rest of the budget. That way, your kid will have a few cheaper action figures to play with them instead of one expensive.
Pros
An authentic Black Panther action figure that has all the standard features. A great present if you don't know what do buy. I consider it a universal purchase suitable for most children.
Great value for money.
Very durable, making it an excellent purchase for really young kids.
Cons
Most kids like wearing superhero costumes around Halloween or other masked events. However, I firmly believe these suits are incredible in any situation. For example, if your neighbors' kids have similar superhero costumes, all the children can dress up, play tag, or do some other goofy activity.
As for this particular product, this is probably the best Black Panther costume for kids. It has amazing features; the purple lines make it look like something from sci-fi movies. Mask is also incredible, and the extra padding will give your child a buffed look.
Pros
Visually, the best Black Panther costume I've come across online.
The extra padding will make your kids feel as muscular as their favorite superhero. It might also help when they fall down and during rough play.
You can hand wash the costume, and it is officially licensed.
Cons
In my opinion, a costume is always a risky purchase as you never know how much your kid will play in it. Some kids love them, while others might use them once or twice.
Like most top-tier nerds, I always had a passion for LEGOs. I have loved playing with these creative cubes since I was a little kid. When my kids were born, this was yet another opportunity to open the old box and start goofing around (my wife cannot accuse me of playing with LEGOs if I'm playing with the kids, right?)
Anyway, the company has made a few cool sets featuring Black Panther. The one I decided to showcase includes a flying dragon vehicle. This is an awesome piece of machinery that resembles a dragonfly and can even shoot projectiles.
As it goes with LEGOs, you would probably need a few more sets for a complete experience. This particular product features one vehicle and three figures, which I consider a smaller LEGO set.
Pros
Flying dragon, or dragonfly, is a pretty cool vehicle that looks apart from most LEGO aircraft. So, even if you have lots of LEGO sets, you're getting something unique with this product.
If you've never bought your kid LEGOs, you might as well start with this one. It isn't a large set, so it won't be that expensive.
Cons
As it goes with these toys, more is always better. You will likely have to purchase a few additional sets for a complete experience. However, having several LEGO products will ensure that your kid plays with them for months and even years.
If you already decided to buy your kid a Black Panther costume, you might as well add this claw to the mix. Although the toy looks rather dangerous, it is pretty safe. The claws are retractable, and there is no way your child can harm another kid. For the most part, this is just an esthetic accessory.
You place the toy by wrapping belts around the kid's hand, and the plastic claw goes on top of the hand. By taking a closer look, you will notice that the company invested a lot of time in making this toy. There are numerous small patterns on the surface, and the claws are connected together in one whole.
Pros
This is an excellent addition to the Black Panther costume or mask. Even if you don't get a costume, I'm pretty certain that your kid wouldn't mind running around with just the claw.
Most importantly, the toy is entirely harmless. The claws retract upon contact with a hard surface, ensuring that your kid will never harm another being.
The toy has a very nice, intricate design.
Cons
Given that the claw is for just one hand, your kid might also start begging you to buy a claw for the second hand. Unfortunately, the product is not that cheap, especially if we compare it to some other entries on the list.
Those who read my superhero articles know I'm a big fan of the "Heroes of Goo Jit Zu" series. It is a great toy for both girls and boys as it develops mechanical functions. It stimulates the kids to squeeze the toy, which is important for growing muscles. So, I will always support products such as this.
As for the toy itself, it is rather simplistic. The Black Panther has a basic black suit without any excessive details. The mask is exquisite, and I also like the purple necklace. As you start squeezing the doll, the color of its body changes becoming purple. I don't know what kind of substance is inside, but it looks fantastic.
Pros
Great toy for muscle development.
A part of the "Heroes of Goo Jit Zu" set, so you can get a few of them.
I like the color change when you squeeze the doll.
Cons
Although I love this product, it feels to me like it's relatively fragile.
As I was browsing the web, I found a few incredible-looking masks. In my humble opinion, none of them can compare to "Marvel Black Panther Vibranium Power FX Mask." It is a nicely designed product with lots of small details; I especially like how the company used blue color on the forehead.
Keep in mind that this product is a bit different from the mask Black Panther wore in the movie. Based on what I've seen online, this is the best item within its category both in terms of the design and materials used.
The thing I really like is the lenses. You kid can choose between two eye lens setups: the first one is clear and allows unobstructed vision, and the second lens is dark and makes you look cooler.
Pros
Impeccable design with lots of small details. It looks futuristic, which goes well with the Black Panther theme.
The lenses are incredible. You can choose the clear option, which makes it easier to look around, or you can go with the dark one that makes you look like a real superhero.
The mask has a serious, almost grumpy appearance. It is much grittier than most superhero masks.
Cons
The blue forehead section could be smaller. Keep in mind that this is just my personal esthetic taste.
The toy companies have this habit of selling superhero car toys even if the particular superhero doesn't have a car. For example, I don't mind when manufacturers sell Batmobiles. However, it makes much less sense to sell a sports car for Black Panther as he doesn't drive a car in the comics.
Of course, the manufacturers do this because boys love car toys. It is a very profitable segment of the market, so it makes sense to sell these products. And while I, a nerdy comic book fan who has read all the Black Panther issues, might argue against this policy, young boys will definitely like it.
Despite my previous negative comments regarding authenticity, I have to admit that this car is very well-made. It has an incredible shell and subtle paint.
Pros
The car design is quite lovely. I wouldn't mind driving a real car such as this.
Regardless of my complaints, I think this is a great toy, especially for the boys.
You can charge it via USB.
Cons
There is almost no indication that this is a Black Panther vehicle except for the logo on the hood.
Out of all the products on the list, this is probably the best one for the girls. Although this is a long, full-size spear, I think it's much more suitable for the girls because the female warriors used a similar weapon in Black Panther and Avengers movies.
As for the product, it is rather simplistic and straightforward. It is a long spear with several intricate details. The weapon has a nice shoe, two sections on the shaft where you're supposed to hold it, as well as a beautiful spearhead.
Keep in mind that the product is made from three distinct pieces that you have to assemble. I'm not sure how that affects functionality and whether or not it's easy for sections to split as you're wielding it. This might be a problem if the weapon is constantly falling apart and you need to reassemble it.
Pros
I love the fact that manufacturers also thought about female fans.
The spear is quite a unique toy; I think this is the only one I saw.
Cons
The product looks a bit too large for smaller girls.
Although I tried my best to only include toys with Black Panther, there were a few other characters from the movie I wanted to feature. As I've just mentioned, there are not many Black Panther toys for girls, so I quickly embraced the opportunity to showcase items such as this.
This product features Nakia, one of the main female warriors in the comic book. She wears the traditional red garb with brown boots and pants. I like that the figurine comes with two chakrams, making it great for roleplaying. You can also move most of her joints.
Pros
This is probably the best Black Panther figuring for girls.
The item is highly mobile. It can rotate four joints on the legs and three joints on the arms, as well as the head. This can also be important for collectors as they can place the figure in any position they want when showcasing it to friends.
Cons
I don't have any issue with the toy.
What I don't like about superhero toys is that most companies try to make them gritty, authentic, and above all, too serious. I don't think that every toy has to be accurate. Keep in mind that kids don't care if Captain America has exactly the same shield as in movies, as long as they can play with the product and have fun.
This is the reason why I like this particular product, as it breaks the mold. You get a silly-looking Black Panther and an even sillier vehicle within the package. Although the Black Panther figure is not as detailed and perfect as some other products, it has all the necessary parts. The patroller has a large panther head in front, distinguishing it from many other superhero vehicles.
Pros
A rather simple and cheap product.
Finally, a Black Panther vehicle that is large enough to be driven by the superhero.
Cons
Not the most authentic item.
Nerf products are some of the most common superhero items on the market. This makes sense as these characters are waging war against the forces of evil, and all kids want to take their roles. The company did a great job ensuring that the toy weapon was safe enough regardless of the situation.
Nerf products are among the most popular toys on the market, and most boys love them. Although I usually don't buy these items for my kids, I understand why many parents do. This particular Nerf gauntlet is tailor-made for the fans of Black Panther. It basically works the same as all other products from the category and comes with three darts.
Pros
Very slick design. When you put on the gauntlet, the front of your hand looks like a panther head.
You can utilize it with other Nerf products.
It is an excellent product for developing muscles. Nerf weapons are incredible for inactive kids as a way of forcing them to run around and interact with other kids.
Cons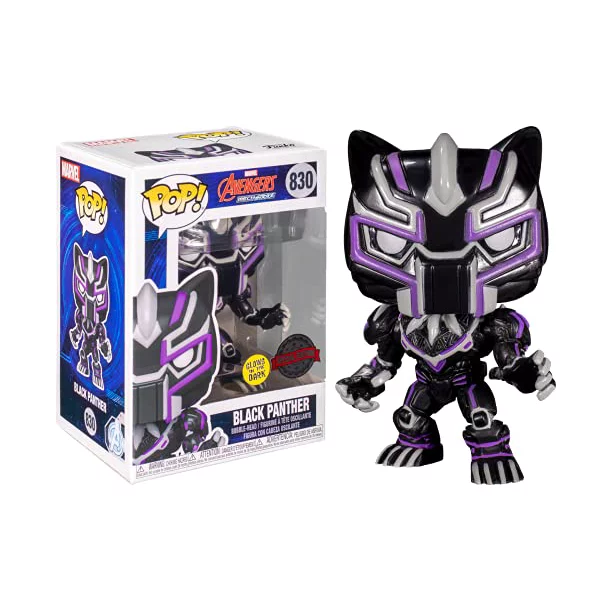 Those who have followed my work on the website know very well how much I like Funko Pops! In my opinion, these products make for perfect presents. You can buy them for kids, or adults, as toys or collectibles. Even if someone gets bored with it, you can always resell it to a collector or a friend who likes these awesome figurines.
Although there are numerous Funko Pop! items that I could've featured in this piece, I decided to go with "Funko POP! Avengers Mechstrike Black Panther #830 [Glows in the Dark] Exclusive." It is a mech variation of the superhero, which you can easily tell by its mechanical claws and rough edges.
Pros
The toy glows in the dark. It is a rare feature for Funko Pops! that makes this particular item much more precious.
Overall, I love the design of this one. The company found a way to make the figurine mechanical while retaining its original form.
Great collectible and gift, like all Funko Pop! products.
Cons
It isn't much of a toy; Funko Pops! are more collectibles and decorative items than anything else.
When talking about toys, it is hard not to mention plush dolls. All kids have one of these items in their bed, helping them relax and go to sleep. Honestly, most Black Panther plush dolls I've seen online look really bad. They are asymmetrical or might have some other product flaws that make them look awkward. However, this particular item is an exception.
I really like all the details. Even though it is a plush doll, which makes it hard to decorate and replicate the original model, the company did a great job of adding all the small elements from the movie costume. Unlike many other plush dolls, this one has a panther face (which looks very intimidating, by the way).
Pros
Ideal product for small kids.
The item is not expensive but is quite durable, ensuring that it can stay intact for numerous years.
I love all the small details on the suit.
Cons
I don't have any complaints.
If I were to make a Black Panther toy list based on product silliness, this item would be at the top. I have no idea what the company thought when they made this one. Strangely enough, I would instead buy the helicopter Black Panther than some other toys on this list.
It is basically a figure of the superhero, with an oversized head attached to helicopter rotors. It comes with remote control, and you can charge it via USB. Although this is a bit gimmicky piece, it is great seeing Black Panther soaring in the sky. Is a great purchase, especially if we consider its low price.
Pros
A unique toy that brings something different to the market.
It looks extremely goofy, which adds to the overall fun factor.
You don't need batteries for it, and you can use it indoors.
Cons
Although the concept is brilliant, I'm a bit worried that some kids might quickly break it. Furthermore, you can't roleplay with it like with other action figures, something that is very important for children.
While I do get that most kids want to play with Black Panther toys, I think there could be more Erik Killmonger products on the market. This is one of the most intriguing characters in the movie, and he deserves to get his own set of toys. Although there aren't as many items featuring the villain as there are those featuring T'Challa, those that exist are quite awesome and worth your attention.
The thing I like about this product is that it looks very ominous. Although Black Panther's mask is also very gritty compared to masks of the other superheroes, this one takes it up a notch. It is a golden head cover that, in many ways, reminds me of the Black Panther mask. The thing that differentiates the two items in the mouth. The mouth area on Killmonger's mask is completely different, and it looks like the villain has a set of sharp teeth.
Pros
If your kid likes outfits from Black Panther but doesn't want to wear T'Challa's costume, this is a great alternative.
It is great for kids who want to look a bit meaner and grittier. The mask's golden color provides a unique appearance to the wearer and can be a great present even if a child doesn't like the comic.
Cons
Let's be honest. No matter how incredible this mask is, your child might still whine if you buy this mask instead of Black Panther's.
Most parents have never heard of Pulp Heroes. These are somewhat obscure products but with a unique appearance and function. Unlike most other items, which rely on plastics and sturdy materials, Pulp Heroes focus on cardboard pieces that turn into fully-fledged figurines. They are set upon wheels, so you can roll them around (as you can presume, all the boys will like this feature).
In terms of the model, all these action figures are the same. They are made from the same material and have the same dimensions and wheels. The only difference is the print. You can buy the whole set of Marvel superheroes if you wish to make a collection.
Pros
A really interesting idea and execution.
It is one of those toys that your kid will remember forever because no one else had anything similar.
The rolling function is quite unique; most boys will like it.
Cons
Easy to damage; I don't think it will last for long, especially if a child is reckless.
Given that the Black Panther story is set in a futuristic environment, it makes sense that it would feature numerous flying vehicles, mechs, and other contraptions. Toy creators used this premise to create different products that would fit this imaginary world. As a result, we've got quite a few Black Panther mechs such as this.
All in all, the item looks quite bulky and sturdy, which makes sense given that it's a robot. Its hands and feet are oversized, but he still retains the appearance of the Black Panther. The action figure can move its joints, making it ideal for roleplaying.
Pros
The product is made from strong materials, and given that Hasbro makes it, it is unlikely to break.
Overall, the design looks quite nice.
Cons
I would love to see some accessories or increased joint mobility.
FAQs – Best Black Panther Toys
Question: What is the best Black Panther toy?
Answer: It is hard to pick just one item from the list, as I've tried to add as many unique products. In other words, each one of them is great within its specific category. The only difference is what kind of product you want to buy for your kid.
My personal favorite is "Marvel Avengers Titan Hero Series Black Panther Action Figure, 12-Inch Toy, Inspired by Marvel Universe, for Kids Ages 4 and Up." It is the first entry on the list and one of the most generic Black Panther action figures. In this particular case, I think that is an advantage as it would be great for all kids.
Question: What is the most unique Black Panther toy?
Answer: There are lots of creative Black Panther toys on the market today. Some of them are a part of larger series featuring other Marvel superheroes, while others are stand-alone items. Out of all the items I've seen online, I believe that "Marvel 3.5 Inch Black Panther Flying Figure IR Helicopter" is the most unique Black Panther toy.
Question: What is the best Black Panther toy for girls?
Answer: As it usually goes, superhero toy manufacturers usually focus on boys. They create products that would cater to them, often neglecting the girls. However, there are a few Black Panther toys that are ideal for the opposite sex. My favorite one is "Marvel Legends Series Black Panther Legacy Collection Marvel's Nakia 6-inch Action Figure Collectible Toy, 2 Accessories."
Conclusion
Companies making Black Panther toys were very creative with the superhero. You can buy standard products such as plushies, LEGOs, action figures, and some unique items like cardboard, helicopter figures, roleplay spears, claws, etc.
Most parents struggle to find the right product for their kids. Even if a kid likes Black Panther, it is easy to buy the wrong type of toy. As a result, the child might play once or twice with the item throwing it into the garbage can afterward. Hopefully, this article will help you make a better decision when choosing the ideal Black Panther toy.
For more inspiration, check out our full guide on the best Black Panther merch here!
Recommended Reads: