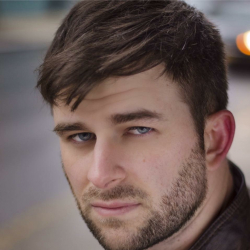 Latest posts by Adam Braunstein
(see all)
Batman is one of the most popular characters in comic book history, but did you know there was a sequel to his story? Bruce Wayne is only a human, after all. He doesn't have the ageless abilities of characters like Superman or Aqua Man. Batman Beyond takes place later in Bruce's career, where he pretty much has to hang up the bat suit and find someone else to take up the mantle.
That person is Terry McGinnis, a teenager Bruce chooses as the successor of the cowl. The comics are not nearly as popular as those of the original Batman ones. Still, it's an interesting take on what might happen later in Batman's life.
I got into Batman Beyond when I was a kid, and it had a run on Toonami on Cartoon Network. At the time, I wasn't even aware there were comics for it but instead thought it was explicitly created as a cartoon. Regardless, I was entirely into it. The adventures of Batman in a futuristic world made for some great comic action on screen
At first, Terry was a bit annoying in the comics, but the dichotomy between him and Bruce makes for a great read. Seeing Bruce try to reign him in when he gets in too deep is a ton of fun. One of the most enjoyable parts of these comics is the impressive variation of villains it has to offer.
Batman might have the best set of villains of all time when it comes to superheroes. Because of that, following that up was no small task. Batman Beyond doesn't rely on your knowledge of previous villains to establish their cast. Instead, it offers some unique spins on classic villains and others you haven't ever seen before. Let's check out the villains in the world of Batman Beyond.
Bottom Line Up Front
The best villain that Batman Beyond has to offer is without a doubt Blight. He's got a great backstory that relates to Bruce Wayne and some of the more terrifying powers of any villain in the Batman universe. He's also one of the few Batman Beyond villains that's recurring.
Abel Cuvier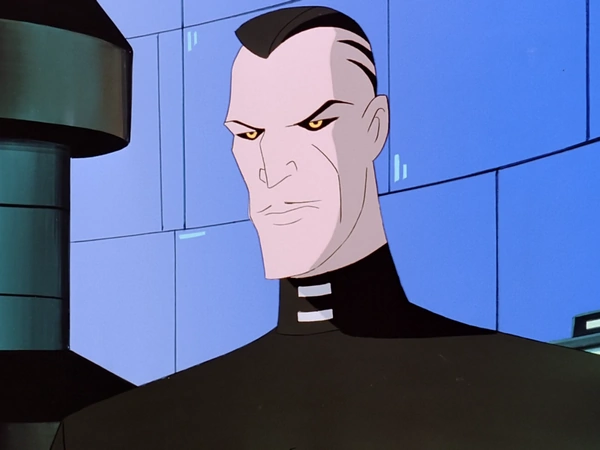 Able Cuvier is responsible for creating the Chimera Institute. This place handles bringing genetic splicing to the people of Gotham. It was used as a drug for the youth and adults to get high on and transform themselves into other creatures.
It became a fad, and suddenly, people were augmenting themselves into animal forms. 
Eventually, the practice was outlawed. This caused Abel to lose his mind. Batman's eventually caught him and injected Abel with his own serum. The injection turned him into a horrifying monstrosity.
Abel is one of the creepier characters you'll come across in Batman Beyond. I mean, genetic splicing? There are few things weirder than the citizens of Gotham mutating themselves to get a fix. Abel is responsible for all of it. His eventual monster form is also hard to look at because it is disturbing.
Blight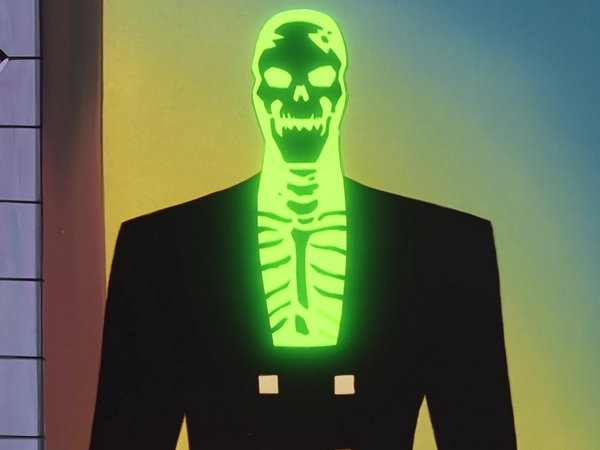 Okay, now we're talking. Blight is an excellent villain who consistently threatens Terry throughout Batman Beyond. His origins as corrupt businessman Derek Powers connect him directly to Bruce Wayne. The first part of his evil plan was to attempt a hostile takeover of Wayne Enterprises, and actually managed to do so.
Derek develops a powerful nerve gas weapon that he intends to sell. Terry's father discovers it and tries to expose him. Derek has him murdered. Destroyed by losing his father, Terry becomes the new Batman. Derek Powers then becomes Blight after he's exposed to his own weapon. This causes the skin to melt off his body and instead be replaced with strange cosmetic skin that he uses to hide his condition.
In his Blight form, Powers is a walking nuclear bomb that makes it deadly for anyone to even be close to him. He can manipulate radiation waves and also can cause radioactive explosions. He's also able to burn anything he touches as well.
Blight is one of the best characters in the Batman lexicon period. He doesn't just come out of nowhere either, as his family appears as members of The Court of Owls in the Batman comics. The corruption in his family is well detailed before Blight fully takes form in the future. He's also terrifying to look at and a great main villain for Terry to have to deal with from the get-go.
Chucko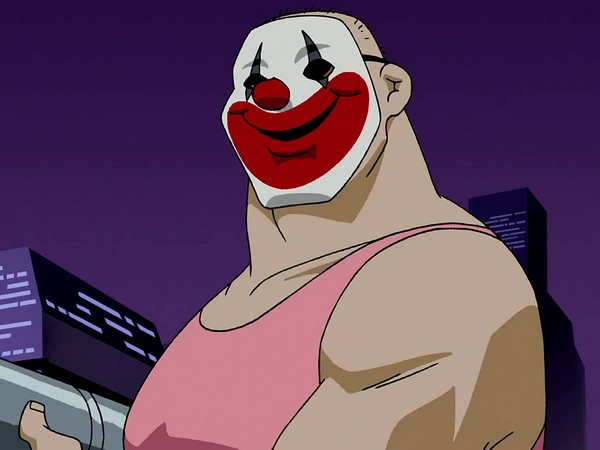 There is something very disturbing about the enemies of Terry and Bruce in Batman Beyond, and Chucko is one of them. He's a member of the subgroup called The Jokerz, and he's basically a giant brute with clown paint. That doesn't make him too formidable, but it makes him scary, and his willingness to do whatever he is told makes a man of that size very dangerous.
He's the head of The Jokerz henchman and finds himself facing off against Terry on a few occasions. He even has one bizarre storyline where in an alternate future, he's given powers by Chronos, which turns him into a cybernetic being who uses an energy sword.
Chucko is a creepy character and another example of how Batman Beyond is not afraid to go dark with some of its new villains. They very much keep the disturbing nature of Batman's past villains intact. Although he's not super powerful, his presence throughout the comics is always off-putting.
Cynthia
This one is a bit different. Cynthia is a Synthroid, or robot designed to be a girlfriend to Terry's friend Howard. This goes terribly wrong when Cynthia begins to act homicidal toward those who desire to harm Howard or even other girls who show interest in him. This ends up with Batman needing to arrive to stop Cynthia from murdering everyone at a high school party.
Cynthia proves far too strong for Batman and ends up self-destructing when Howard offers to be her friend instead, blowing up his house. I mean, original? Yes? Insane? Also yes! Cynthia isn't around long in the Batman Beyond comics, but her brief appearance certainly leaves a mark.
I love when villains overpower the heroes, and that was very much the case with Cynthia. It's interesting to think of what this character could've become if she didn't blow herself up, but sometimes that's what happens when you get put in the friend zone.
Earthmover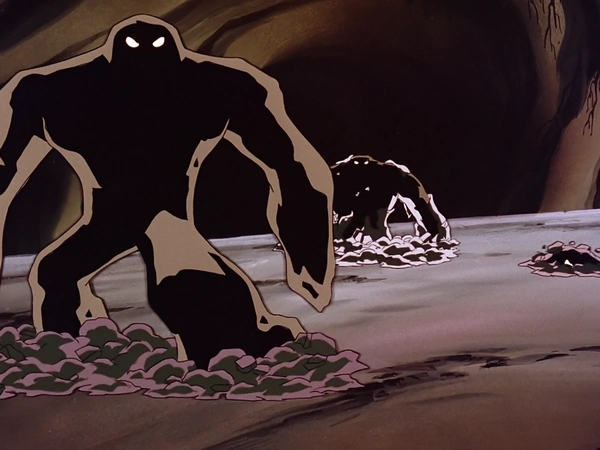 The Villains get creepier here with Earthmover. Tony Maychek worked for a company that dumped toxic waste, and during one of the dumplings, he was covered in the waste as well as dirt due to a cave-in. The properties combined, and Tony's corpse became infused with the earth, and though his body was dead, he could now control parts of the earth.
He has the ability to create earth drones to do his bidding, quakes, and mold as well. His ability to shift the world makes for one diabolical opponent to Batman. It is one of his most difficult fights in the comics.
The fight between him and Terry once again puts Terry at a severe disadvantage. Batman has to destroy the nuclear waste that keeps him alive to finally defeat him. Bruce never had to face anything on this level, as Earthmover is essentially a god. This continues a trend of 
Terry is put up against villains that are almost impossible to kill. Batman Beyond sure has it pretty tough compared to old Batman getting to fight a guy with two faces.
Freeon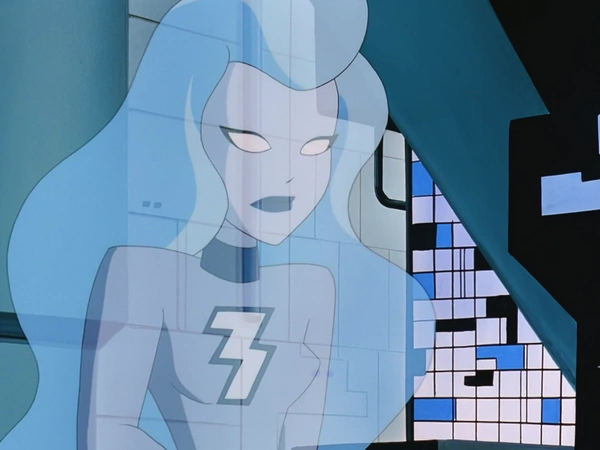 Freeon is one of the members of the Terrific Trio who end up being anything but. She is one of the most influential members of the group and has the ability not only to fly but can also to freeze people with her touch and use ice blasts.
She's basically made up of gas, making her a challenging foe to deal with. Like many of 
Terry's foes, she was exposed to radiation that transformed her. She was initially billed as a hero, but she and her team turned on Dr. Hodges due to discovering how she was created. 
They then attempted to torture him before Batman could arrive and save him.
Freeon is an interesting villain because she's far from inherently evil and rather just a result of government corruption going one step too far. Despite that, she's incredibly powerful, and the only way Terry deals with her is by using a ventilation system that temporarily disperses her, but she's assumed to have escaped.
Hush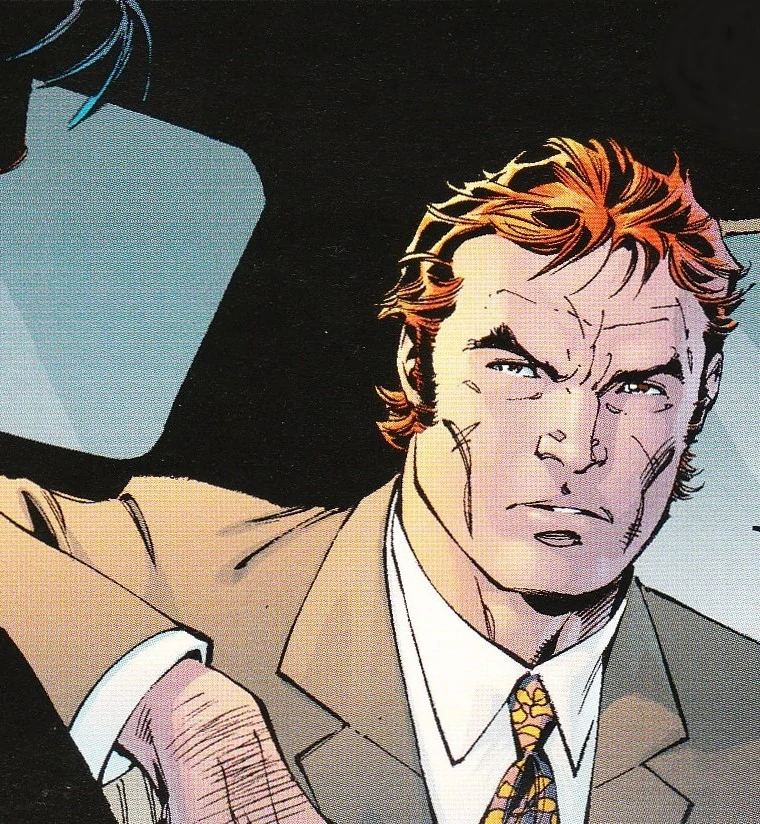 Hush is one of the best Batman characters to emerge in the past 20 years. There have been a few incarnations of Hush over the years. The one that Terry McGinnis has to deal with is among the most terrifying. The story that links the two is also interesting, as Hush is not necessarily an evil person. Instead, he's a clone created by Amanda Waller to keep Batman's legacy going.
He's a clone of one Dick Grayson, the former Robin and hero Nightwing. Unfortunately, he goes berserk after learning that Terry was chosen by Bruce and not him. This results in him going wholly nuts and murdering villains across Gotham. He is a little bit of an anti-hero with one psychotic chip on his shoulder.
Hush is a difficult villain for both Terry and Bruce to deal with because Bruce sees him as a failed version of Dick Grayson. With this comes a disturbing vision of his past and what could've happened if he failed in his tutelage of Robin. For Terry, Hush is pretty much a measuring stick for him as Batman. During their encounters, Terry loses pretty handily. Only when he teams up with the real Dick Grayson does he finally defeat Hush.
Hush puts on quite the showing in the Batman Beyond comics, gruesomely murdering some of Terry and Bruce's most powerful foes and framing it all under the guise of other villains committing the crimes. It made for some of the more graphic kills in the Batman universe, with child murder being thrown in for good measure. Yeesh.
Inque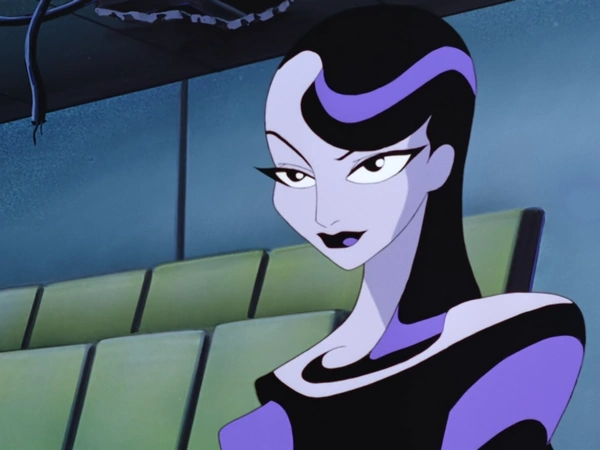 Inque is one of the coolest characters to ever come out of the Batman comics. She's a unique villain that can shift her body into black inque and take on any form she pleases. She can also use her ink power to completely control people and used it against Batman in order to manipulate him into performing crimes for her.
She's not perfect, though, as her form constantly loses its cohesion, making it harder for her to maintain a physical state. Her liquidized body can be very dangerous to deal with. Although she isn't evil by nature, her desperation in her form has caused her to commit some pretty heinous acts.
She's also got a mysterious origin story, which I find unique because most villains get their origins put plainly in front of us for us to digest. Inque is not that; we never get what happens to her to make her the way she is.
All we know is she was turned into a mutant for a lot of money, and that's it; we don't know why she was transformed or who was behind it. It turned her into a mercenary that was after the money, and that seemed to be her only goal as she wanted to provide for her daughter.
J-Man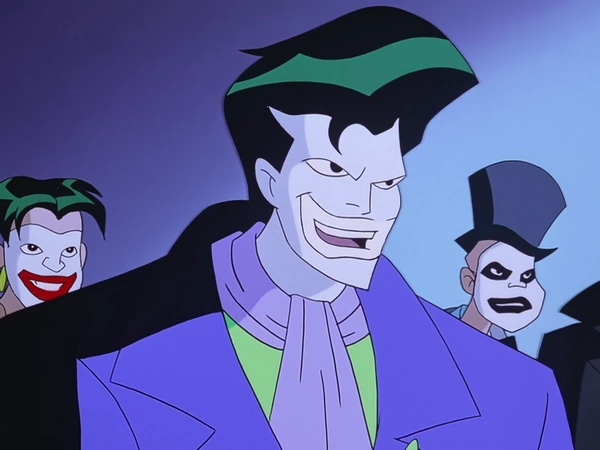 We all know about the Joker, and Batman Beyond didn't skirt around that fact and had a legion of people devoted to his ways called the Jokerz. The leader of the Jokerz is J-Man, who bears an eerie resemblance to the original Joker. Unlike the actual Joker, though, J-Man is far less diabolical, seeming to let his gang do the hard work for him and rarely acting on the murderous impulses that his hero would often use.
Batman even made fun of him for being nothing even close to the actual Joker, which wounded him deeply. J-Man mostly just plays pranks on people and gets pleasure out of it. He's actually weirder than the Joker in many ways, which is quite an accomplishment.
J-Man sucks, but I think Batman Beyond knows that and purposefully made him such a weak villain. I mean, he barely even manages to threaten Batman in battle. Still, his gang is actually pretty formidable, so they must respect him for some reason, even if I don't.
Joker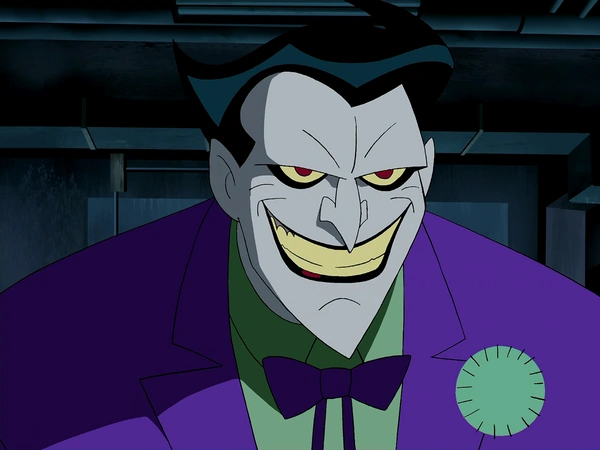 Yup, you read that right. Batman Beyond makes sure to give us what we want with the Return of The Joker storyline. Joker has supposedly been dead for years but turns up with the Jokerz committing crimes on his behalf.
The story gets thicker when we get the true reason that the Joker died. He tried to turn Tim Drake, a former Robin, into the Joker. In the process, Tim went insane and actually killed the original Joker. What we don't find out until later is that Joker implanted his DNA into a chip in 
Tim's body, allowing him to take over whenever he pleases 
This creates a whole new Joker, fully armed with combat skills that rival Batman and makes for a terrifying foe. It also poses a moral problem for Batman, who needs to fight one of his former trusted Robins. 
This is easily my favorite storyline in all of Batman Beyond. While it might be seen as a copout to go back to a villain as popular as the Joker, it's done tastefully. It's also cleverly written and actually makes sense. It might not be THE Joker technically, but it's his spirit and personality, and he feels right at home in the future.
Joker King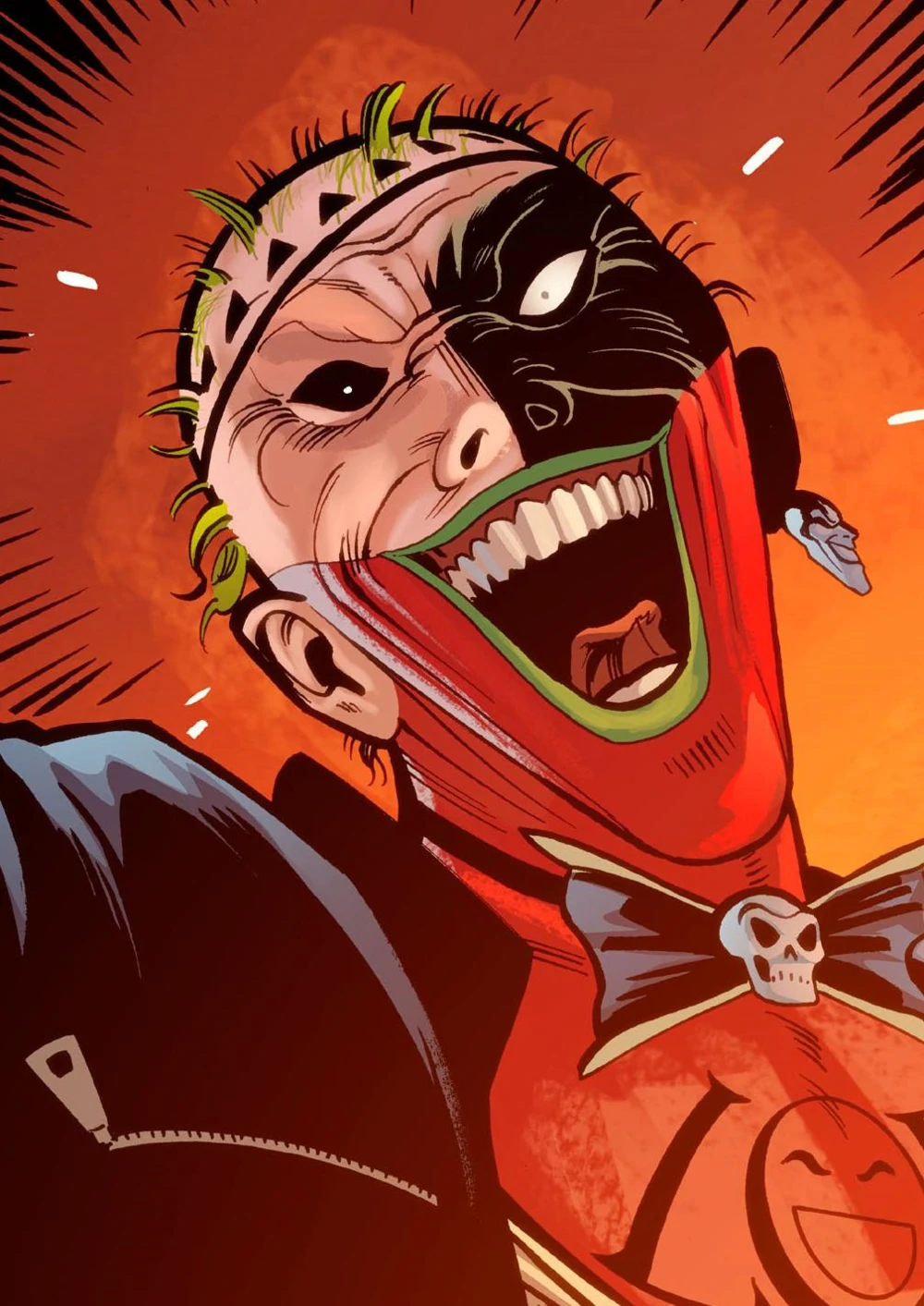 J-Man might be pretty lame, but Joker King is far from that. He's another man who is obsessed with the Joker. Still, he's just as insane and decided to turn the Jokerz into a horrifying force of murderous people. He made Batman his nemesis, painted his face in an even more disturbing fashion than the Joker, and started his criminal empire.
His obsession with Joker rivals the original Joker. In one of his most evil plots, he hypnotized his own gang to destroy Gotham completely via the use of hypnotized suicide bombers. He's also a great fighter compared to the old Joker and has taken down Terry on multiple occasions. This version of the Joker took Batman and Bruce Wayne to take him down and on another occasion, 
Dick Grayson comes to Terry's rescue too.
Yes, I know, another edition of Terry gets his ass kicked. Still, here, he's dealing with a level of insanity that a high schooler just simply isn't prepared for. Joker King is a complete nutjob who kills without a second thought and is a few rungs above the Batman Beyond villain insanity scale. So, you can't really blame Terry for failing to win these fights on his own.
Magma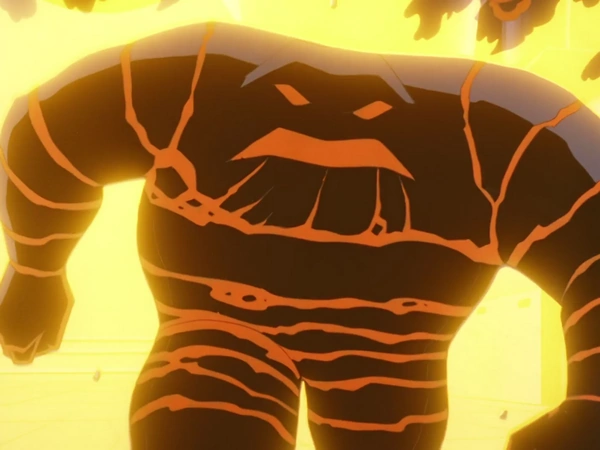 Magma reminds me of a cute bullfrog, that might sound weird, but his design is somewhat hilarious even if the character beneath is pretty terrifying. Magma is molten lava come to life. With that comes incredible strength, the ability to meet people just by touching them, and impenetrable defense. Magma is part of the Terrific Trio, Batman Beyond's twisted version of the Fantastic Four. Batman had a very tough time dealing with Magma as he's one of the strongest beings in Gotham.
Magma is incredibly tragic, as he wants to be a hero. Still, upon discovering his DNA and his teammate's DNA is decaying, he tries to destroy the lab he came from and attempts to destroy the entire city in the process just to try to survive. Batman arrives and has to fight Magma regrettably and douses him with water. Okay, so maybe Magma is not indestructible. Still, he's certainly a powerful character, and he seems to fight between being evil and good right before his eventual dying moments.
While I might've laughed at Magma's appearance, his story is no laughing matter. Magma deserved a bit more time in the Batman Beyond world, but it's assumed that he died, so I don't know if we'll be seeing any more Magma in the future.
Mr. Freeze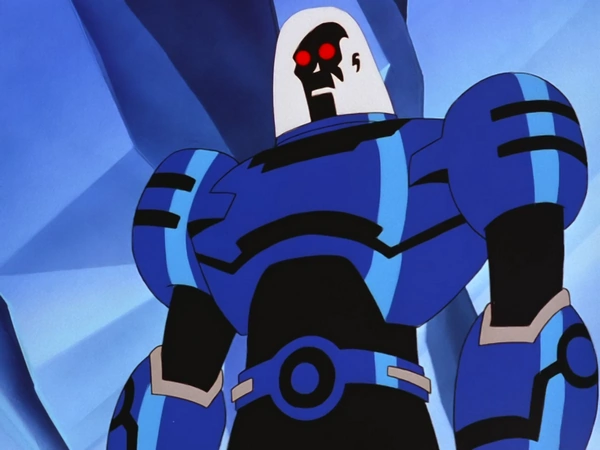 One of Batman's most famous foes ever returns for Batman Beyond, and this time, things have gotten a lot more unfortunate for good old Victor Fries. These days, he's just a head in a jar. It might sound comical, but it's just horrifying to see. He moves around on mechanical spider legs and now has lost just about all the humanity he had left. Instead, he dedicates his life to destroying and freezing Gotham with every person in it.
Eventually, Mr. Freeze gets a new cryogenic suit and becomes as dangerous as ever. He has combined forces with Blight at one point and has turned into a more destructive force than ever before.
He finds himself in a new body as well but quickly finds out that Blight had screwed him over with a quickly dying body. He dedicates himself to vengeance against Blight, and Batman steps in to fight both of them. In the end, Mr. Freeze knows that his body is dying and sadly lets himself die while saving Batman in the process.
I've always found Mr. Freeze to be one of the best villains in Batman's entire villainy lexicon. He's incredibly powerful, but at his heart, there's a broken man who wishes nothing more than to save his wife's life. He's a scientist cursed with his own knowledge. It eventually overcomes his concept of right and wrong, but despite that, Batman, whether it's Terry or Bruce, always tries to reason with him and return him to his senses.
Payback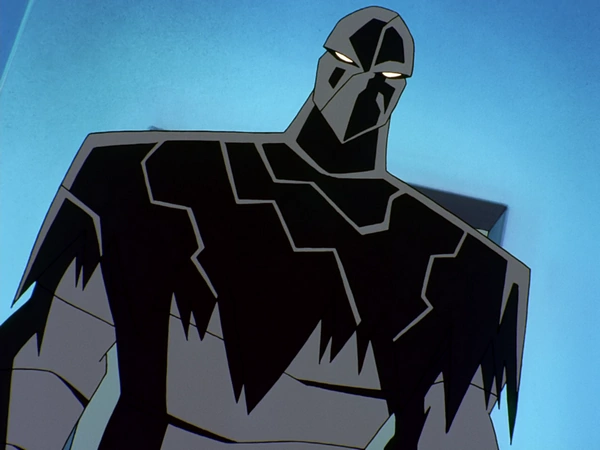 Payback has one of the cooler costumes in all of Batman Beyond. He's got a black exoskeleton that's super powerful and a laser whip as well. He's another case of bullying gone wrong and calls himself Payback in order to get rid of the wrong in the world. He considers himself like Batman, although he goes about his crimefighting far more brutally.
He's a murderer who kills the evil in Gotham, but he has little regard for human life when the kill is in his sights. He and Batman have come to odds because Terry doesn't love inspiring such madness. They have even battles until it all comes crashing down when Payback chucked a stone pillar at him and causes a building to collapse, which would've killed him if not for Terry saving him. Shortly after, Payback was arrested and gave up the game.
Payback is a great character that is reminiscent of Azrael in the original Batman comics. He doesn't last all that long, but he's got a fabulous look to him and is a pretty formidable fighter as well. Batman inspires a lot of greatness in Gotham, but also a lot of madness, which has managed to always give the Batman villains so much intrigue.
Shriek
Walter Shriev is closely knit with Derek Powers, aka Blight, and worked for him. He created a suit that could channel sound to perform demolitions. Considering the immeasurable level of scumbag that Derek Powers is, he decided to turn the suit into a weapon.
Walter was a big-time shill for Derek and, because of that, became an assassin armed with that suit. He began going by the name of Shriek and became a devastating villain. Batman encountered him, damaged the suit, and made Walter deaf.
This essentially made the suit required for him to hear, which led to him becoming even more deranged. Shriek's powers make him really dangerous in battle, allowing him to destroy things instantaneously. He's fought Batman a handful of times but also has fought the Justice League, showing that he's more than just a Batman villain and has required the effort of DC's most powerful superhero team.
Sharief is a fantastic character with a great design and an interesting set of powers. He's also a personal enemy of Batman and has to assassinate Bruce Wayne for his first assignment.
That, of course, doesn't go well, but it does introduce us to a compelling villain in a big way. He's simply just a guy trying to impress his boss at the start but quickly becomes one of the more dangerous characters in Batman Beyond. Plus, I've always found that once the Justice League takes note of you, you've got your villain promotion right there, and although their time against Shriek was brief, at least he made it to the big time.
The Society of Assassins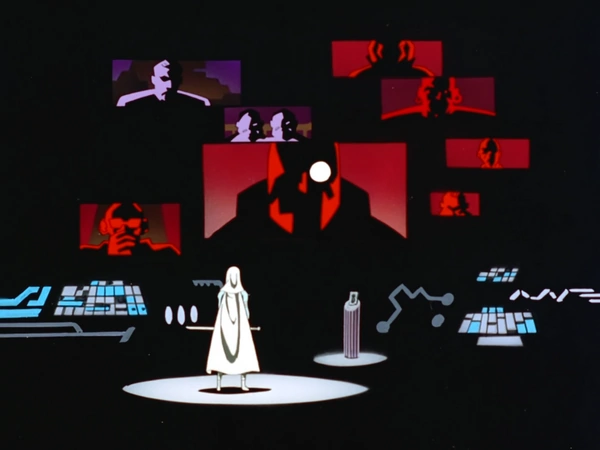 The Society of Assassins is among the more exciting groups of villains that appear in Batman Beyond. They are much more mysterious than most and aren't genuinely evil either, but rather live by a strict code and are dedicated to upholding it. Devoted so that if any member fails to take out a target, they are the ones that become hunted.
Batman wasn't aware of this and stopped the assassin Curare' from taking out her target. This led to her being hunted and then turning the tables on the rest of her comrades by taking them out one by one herself. This made her the most dangerous assassin left in the world, and she never forgot that Batman was the reason she was forced to kill off her entire organization.
The Society of Assassins never got a huge chance to shine in the comics because of how quickly Curare' takes center stage. Still, the mythos behind them is fascinating to me, and I could see an entire comic based on just their organization.
Spellbinder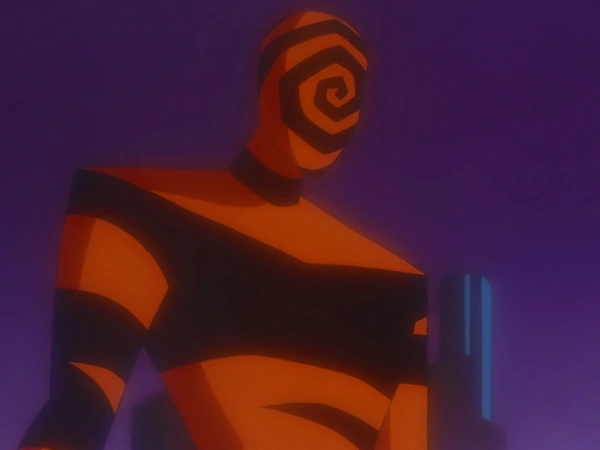 Another villain that was actually a villain to Bruce Wayne's Batman, Spellbinder, makes an appearance in Batman Beyond as well. Thankfully, in Batman Beyond, he loses his incredibly stupid-looking costume and instead wears something far more enjoyable with a red and black spiral pattern. He's a powerful villain who has access to mind-warping technology, which makes him dangerous because he can hypnotize anyone he wants to, including superheroes.
He even baffles Bruce Wayne with the tech he possesses, which says a lot considering the ample resources Bruce has had access to over the years. He's able to be beaten pretty easily in physical combat. Still, if he can get his machines working on you, he's a formidable opponent to deal with.
The original Spellbinder is one of the dumbest looking characters I've ever seen, so thankfully, he got a bit of a reboot in Batman Beyond and was able to be made into the character he should've been all along. He's got a pretty disturbing power, too, being able to project images into people's minds. This is the type of power that could lead to him possessing various superheroes capable of mass levels of destruction. Imagine hypnotizing Superman and having him do your bidding as a villain? Yikes.
Stalker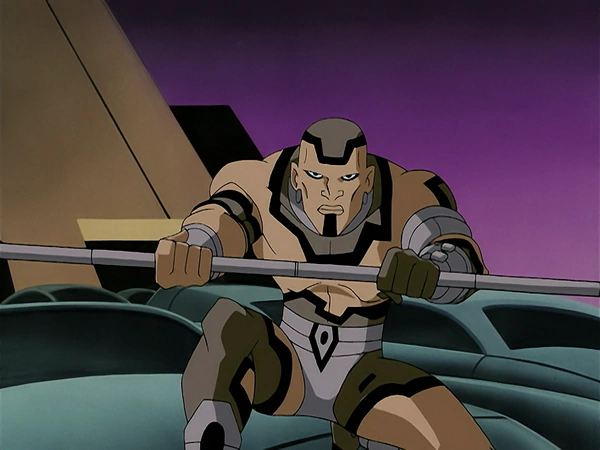 Stalker is an interesting villain in Batman Beyond because he's not exactly a villain per se. Rather, he's a hunter who has chosen Batman as his newest big game hunt. He's not exactly an original villain, as Marvel fans will immediately cry that he's a Kraven the Hunter ripoff. I agree with this notion, but listen, Deadpool completely ripped off Deathstroke, so let's call it even.
Stalker doesn't have any amazing powers, but he's well equipped with a spear, a blowpipe, and phosphorous grenades. He's also got an infrared lens for tracking his prey, so he's as dangerous as it gets for a human enemy.
He's not the most exciting enemy Batman faces, but he's one of the more unique ones. Not only that but the two did team up at one point, which goes even further to illustrate the not-all-bad nature of Stalker. I don't think he's the greatest villain Batman has in the Batman Beyond series, but for one, he's one of the only non-white villains. While not a great light to paint a minority in, it's at least inclusive, and he's one of the more well-rounded villains to boot.
Starro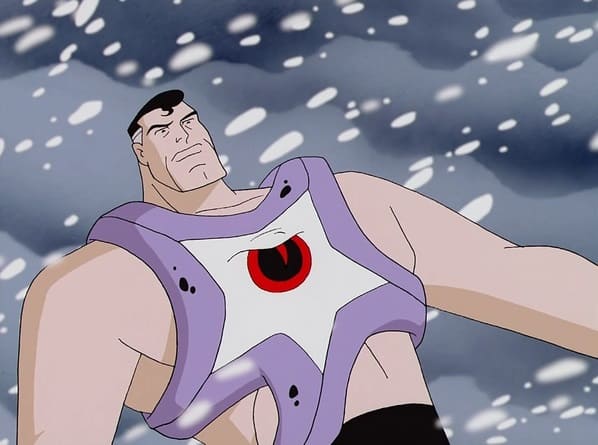 Starro is simultaneously the dumbest and most disturbing character that Terry faces off against in Batman Beyond. Starro is a gigantic starfish from another dimension that can create little starfish that take over the minds of whoever they cling to. This was on display in 2021's Suicide Squad. Batman had to deal with him as well when he appeared and used his starfish children to possess the mind of Superman.
As you can imagine, this was a big-time issue because Superman is nearly indestructible. This power makes Starro very dangerous, and when you add in his ability to regenerate and use telepathy, Batman had one hell of a battle on his hands.
Starro is right on the verge of being too stupid to exist. Still, he manages to straddle that line admirably and creates quite the horrifying scenario for Batman as Superman being mind-controlled is among the most dangerous forces in the DC universe.
Ten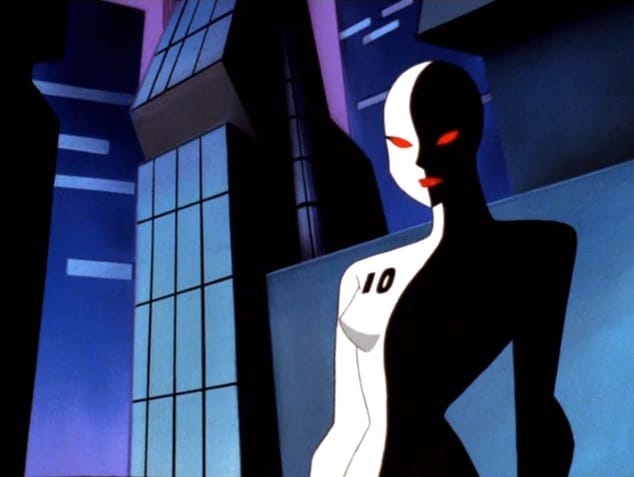 Ten has had a rough go of it. From a young age, she was thrown into a life of crime; from there, it only worsened. Melanie Walker wasn't born a villain, but her family forced her to be that way. She eventually joined the Royal Flush Gang. Melanie and Terry were into each other as they went to the same school to make things even more complex.
This gets very complex when the very same night they were going on a date. Her gang planned a robbery at the museum they were going to. The two fought on several occasions, but Ten eventually escaped the crime life once and for all.
Ten doesn't have any powers, but she's an expert thief and a beast in hand-to-hand combat. She is one of the more tragic characters, if you ask me, as her family constantly forces her into a life she never wanted. She has to choose between abandoning her family, being alone, or joining a group dedicated to crime. All she wanted was a boyfriend, and this is what she gets for that. You just have to feel for her.
Favorite Villains
Blight
Insanely powerful and insane in the head, Blight is easily one of the best villains that Terry and Bruce face off against. His connection to the original Batman is clever and fits into the world perfectly.
Shriek
Shriek is a dangerous enemy with a sad story to boot, and this combo usually makes for the best kinds of villains. He's also incredibly strong and has gotten the best of Batman on a few occasions.
Joker King
The number of villains inspired by Joker in the Batman world is vast, but few did it as scarily as Joker King. Just the image of him alone is enough to send chills through your bones, but combine that with his devious plans and fearsome combat talents, and you have an absolute beast of a villain.
FAQ
Question: Does Bruce Wayne die?
Answer: No, Bruce Wayne is alive and well in Batman Beyond, mentors Terry during his adventures, and even fights himself occasionally.
Question: How old is Terry McGinnis?
Answer: Terry is around 17 when he begins his training as Batman, and the series takes place over the course of a few years.
Conclusion
Batman Beyond might not be the best-known version of Batman. Still, it certainly has its fair share of engaging villains and intriguing storylines. I hope this helped clarify what you might be missing in this lesser know sect of the Batman world.
Recommended Reads: