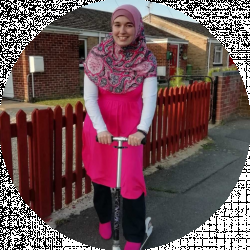 Latest posts by Melika Jeddi
(see all)
In January 2021, the world was introduced to the peculiar town of Westview, where very mysterious deeds were occurring. WandaVision followed Wanda and Vision as they interacted with their new home; each episode themed around a different decade. It was the start of a wave of new Marvel TV shows on Disney+ and proved exceedingly popular. The show hasn't yet had a season 2 confirmed (as of January 2022), and so if fans are looking for a way to experience the magic anew, then that's where merch can come in! Whether you're looking for the perfect gift for a fan, or you want to treat yourself, this guide is sure to help you find the perfect merch for your needs.
Bottom Line Up Front
Official Marvel Wandavision Merchandise
As you'd expect from an industry giant like Disney, WandaVision has plenty of official merch available across a range of different stores. There are clothes, toys, posters, and more! I always believe in buying official merch over unofficial merch where possible, as I think it's the fair thing to do when you enjoy a franchise. Therefore, I've scoured the internet to find the very best items available out there for you!
Apparel
If you want to show your love for WandaVision, then what better way than by proudly wearing your merch where everyone can see it? Apparel is always a great merch item, as it's fun AND functional. It's also a great excuse to spend money on a WandaVision item, as you can make the argument that you need it. After all, what are you gonna do, walk around naked? So, here are some of the finest apparel merch items you can get.
T-Shirts
Simple and effective, t-shirts are always my go-to for fandom apparel. There are loads of different designs available for WandaVision ones, and it was tough narrowing it down. Hot Topic had some great options, as did Box Lunch and the Disney Store. However, I think these below have to be my absolute favorites. I'm particularly fond of the Scarlet Witch Cartoon Contrast Red T-Shirt and the S.W.O.R.D Glitch Blue T-Shirt.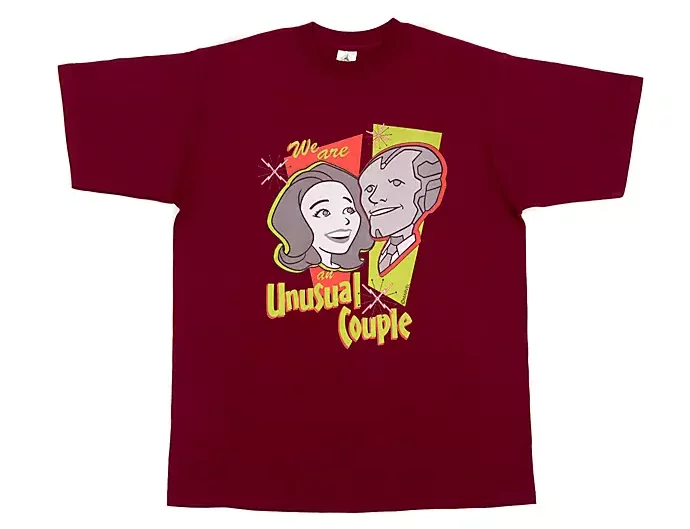 Hoodies and Sweatshirts
If you like to get super cozy, then hoodies and sweatshirts are the way to go. They'll keep you all snuggly whilst still showcasing your love for WandaVision. They're great for wearing indoors or when you're out and about, especially if the weather's cold. There were lots of designs available, but I've picked the best six for you to peruse. I love the Welcome to Westview Blue Hoodie from the Disney Store as it's so bright and cheerful. I'm also a big fan of the Unusual Couple Halloween Black Sweatshirt, and the aesthetic is on point.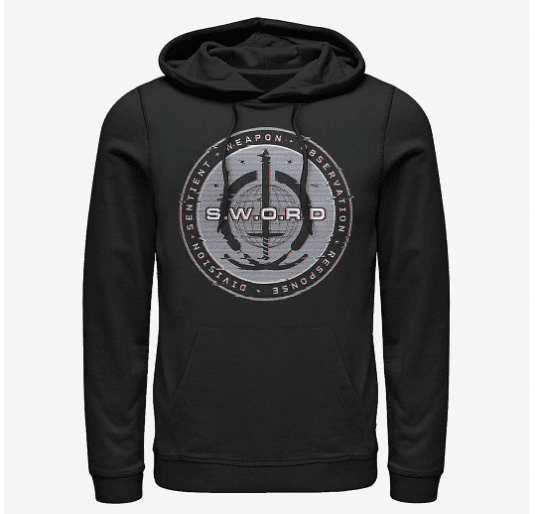 Bags
Once you've sorted out a top, you'll need a bag to accessorize. I won't lie, the options for bags were a lot more limited, and I didn't just want to include every official bag that was available. After all, this is the best WandaVision merch guide, not an 'every piece of WandaVision merch guide', and so it's my job to be picky. As such, I've only included five designs, but they're all brilliant. My favorite has to be the Loungefly WandaVision Mini Backpack, but I admit it's a little pricey, and so if you're concerned about budget then you should check out the Black and White Agatha All Along Tote Bag instead.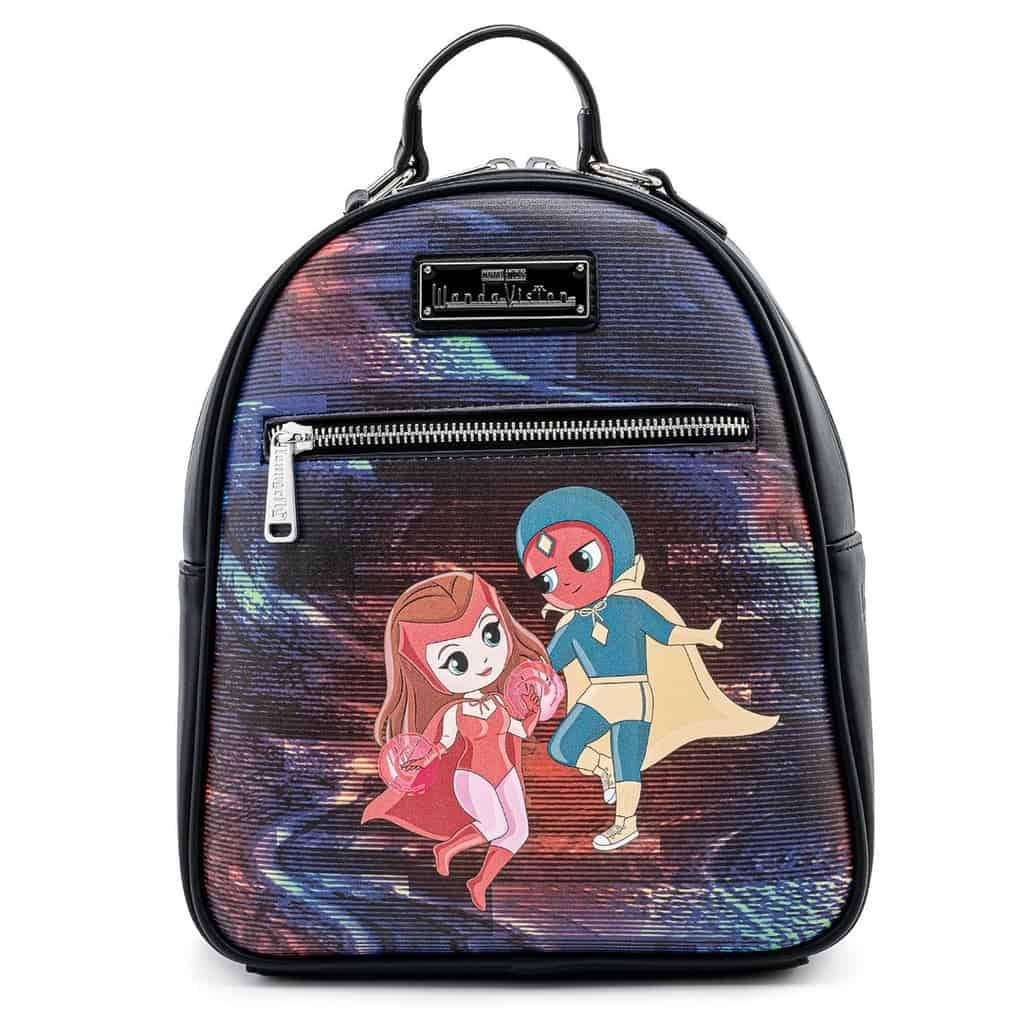 Hats
If you're a hat person, then do I have some treats for you! There are dad caps, trucker hats, and even a beanie. They all look to be of great quality, and the designs are well incorporated. I always hate when the art looks unnatural on the fabric, so I've deliberately chosen only the ones that integrate the design smoothly. I think the Cartoon Scarlet Witch Red Beanie is cleverly done, and I also love the Agatha Harkness Trucker Hat.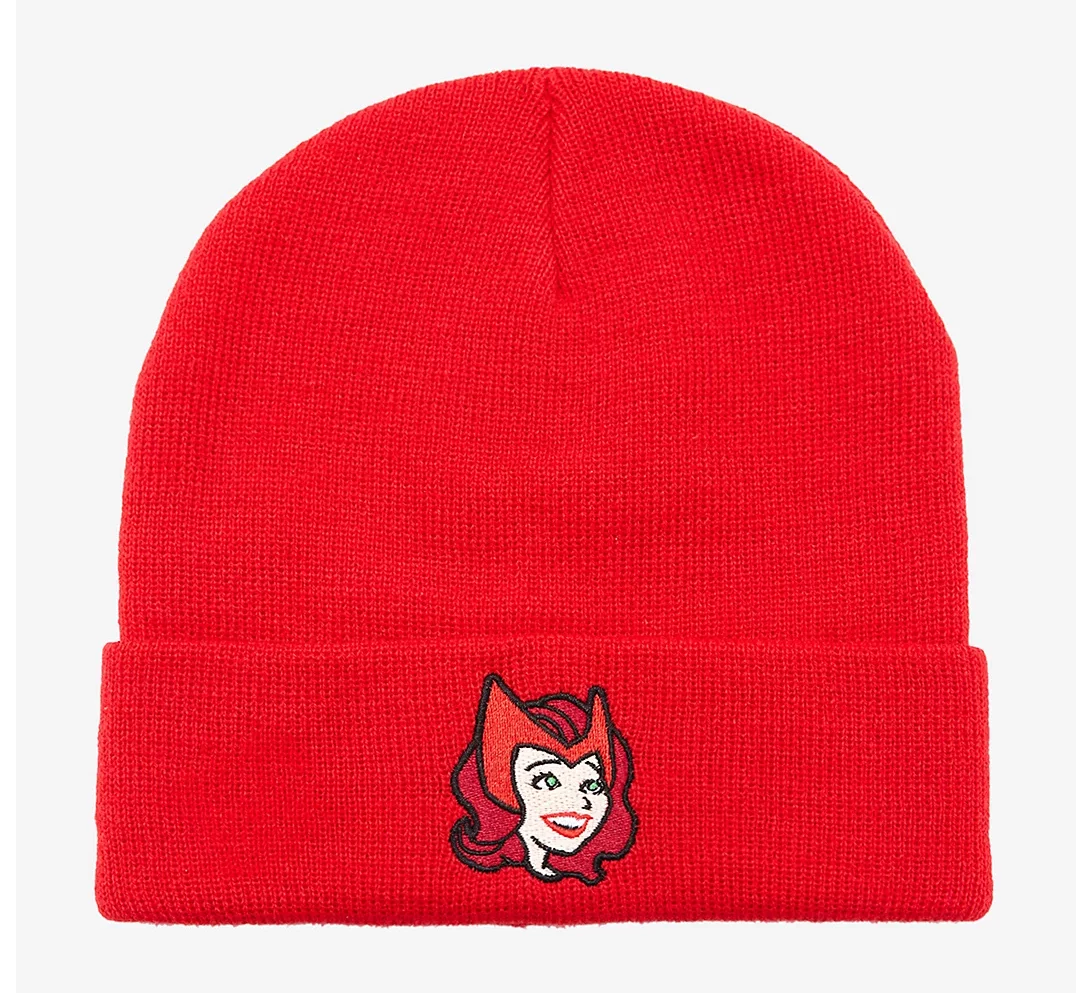 Figures, Collectibles, and Plushies
Sometimes you don't just want something to wear, instead, you want merch that you can display proudly in your home. There are some great collectibles around WandaVision, and I've included a range of mediums to suit any preferences you might have. There are action figures for those of you who might want to play with your merch. There are Funko Pops for anyone who likes owning affordable collectible figures. If you prefer realism then there are some detailed replicas, and there are even some cute plushies.
Funko Pops
I won't lie, I consider Funko Pops to be the ultimate collectibles. They're fun to collect, pleasant to look at, affordable, and look great together on a shelf. Some franchises work better than others, and WandaVision is definitely in the former category. Marvel has some of the best Funko Pops out there, and WandaVision is no exception. I honestly love all the Pops in this range, but I've selected my very favorites for this article. I personally love both the 50's Wanda and the Chase variant of 50's Vision, but my number one would have to be Halloween Wanda as it's such a unique design.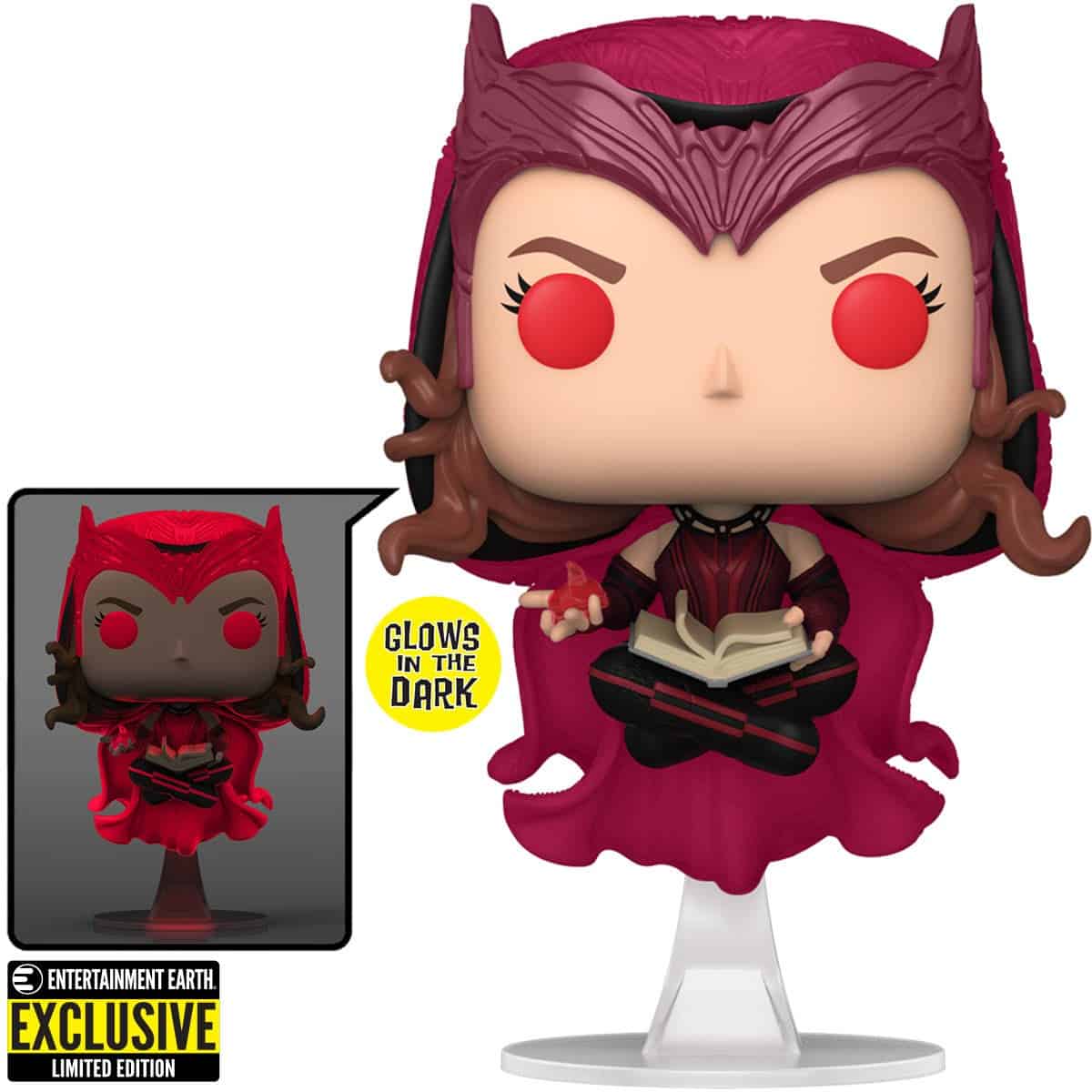 Action Figures, Replicas, and Plushies
I've tried to account for a range of budgets with this section. As with all things, better quality comes with higher prices. Some of the collectible figures here do cost a pretty hefty sum, but there are also more affordable options. I like the Iron Studios Scarlet Witch Collectible Figure as it's so full of detail, and although it's expensive I think it's worth the price. I also love that they've made a Wanda Maximoff Build-A-Bear, and it looks super adorable!
Pins and Posters
As well as collectible figures and plushies, another great option for decorative items is to go with wall art or pins. These can brighten up a room, or make a fine collection. They're also a lot more convenient in terms of size and can make for fantastic gifts. This is a great section to browse if you're a WandaVision fan, and want to have something to remind you of it, but don't necessarily have a large budget.
Enamel Pins and Badges
I adore enamel pins and avidly collect them as a way of connecting with all my favorite franchises. They're small in size, and usually below $10, so they're great just as a small memento of a fandom. There weren't as many official WandaVision enamel pins or badges as I was expecting, but I was still able to discover some great ones. I think my favorite is the Wanda and Vision Talent Show Enamel Pin 2-Pack as I love that scene in the show, and the pin captures the light-hearted emotions of it. However, I'm also partial to the S.W.O.R.D Logo Pin as I think it looks very clean and classy.
Posters
I find posters to be so delightful, and to me, they will always remind me of my university days where I'd browse the poster stalls at the Student Union to find ones that captured my personality. However, there's no reason you can't indulge in posters as an adult, too, and they can be a great way to personalize your room. WandaVision has so many memorable scenes and characters, and so there was plenty of potential for some fantastic posters. Marvel has certainly delivered, and there are some great ones to be found. I love the Stacked Televisions Poster as I think it's a unique way to portray the series. I think my favorite is the Scarlet Witch Character Art Poster, though, as I'm a huge fan of Wanda as a character.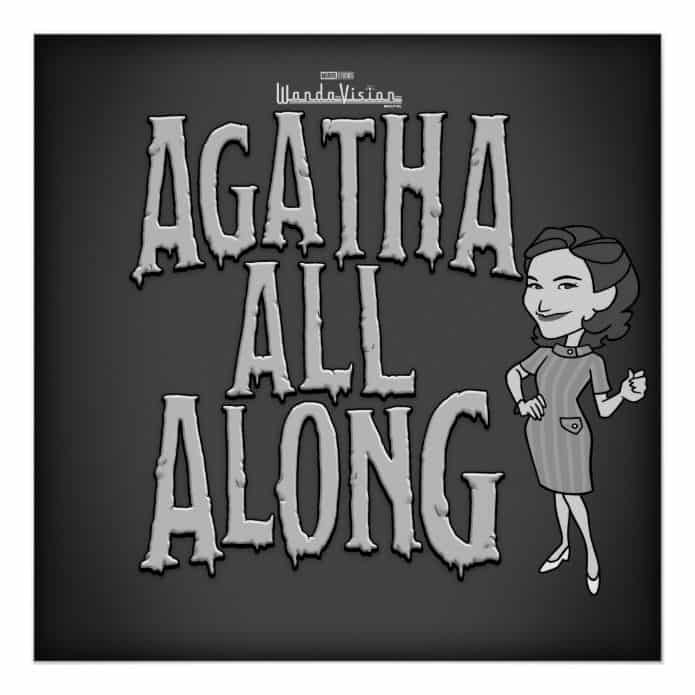 Other Merch
Couldn't find what you were looking for in the above sections? Don't worry, because we're not done yet. There are loads of other WandaVision merch items for you to discover, and your new favorite item could be in this very article. There are mugs, blankets, cushions, wallets, and more! Take a look…
Mugs and Cups
The one merch item that will never go out of fashion. The average American consumes two cups of coffee a day, and they're gonna need mugs to drink out of! So unless they want to constantly be washing up their old mug, they'll need a range of mugs to choose from. Why shouldn't at least one of those mugs be WandaVision themed? The We Are an Unusual Couple Mug has a really fun design that will make you smile whenever you pull it out of the cupboard. And if you're more of a tea drinker than a coffee person, then the A Love Like You've Never Seen Teacup and Saucer is a bright and sophisticated way to enjoy your hot beverage.
Other
These remaining items were too miscellaneous to have their category, and so I've grouped them all here. They're an odd mishmash of items, but each one is worthy of its place on this list. There are some wonderful examples of WandaVision merch here, many of which I don't usually see in official merch stores. I'm a big fan of the Agatha All Along Black and White Mouse Pad, but I also really like the Classic Costumes Card Holder.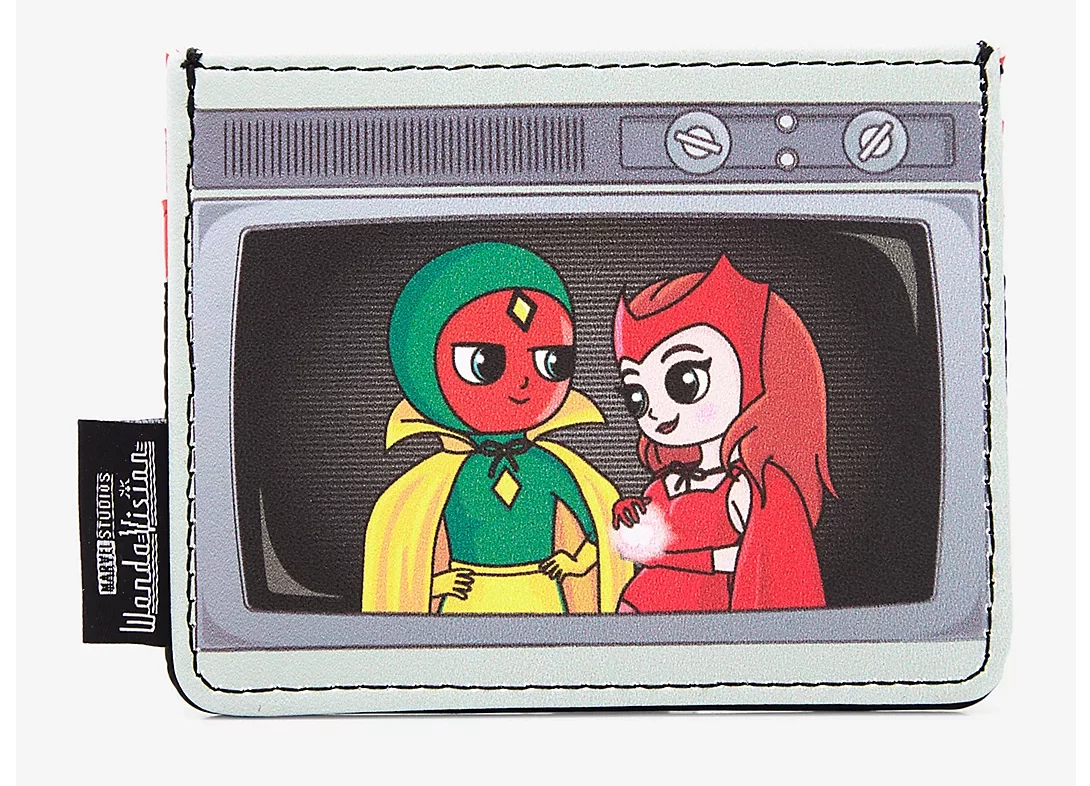 Unofficial Merch
As I said at the beginning, I always recommend trying to buy official merch where possible. However, sometimes you just can't find exactly what you're looking for, and unofficial merch often exposes you to a wider range of items. Stores like Etsy and RedBubble are full of unique designs that fans have come up with, and although these are usually unlicensed items, they are still often of decent quality. If you're looking for truly one-of-a-kind WandaVision merch, then this is the section where you're likely to find it.
Apparel
Although there is undoubtedly an impressive range of apparel in the official merch stores, I understand that the designs still may not be to everybody's taste. Therefore I've looked for the unofficial designs that do something completely different. I've grouped them into two main categories as unfortunately, a lot of the apparel items on offer from unofficial sites have either boring designs or seem to low quality original designs. I wanted to keep a high level of quality, after all, this is about the best Wandavision merch. So I've only chosen the items I consider to be the very best.
T-Shirts, Hoodies, and Sweatshirts
I always find that tops make for the best apparel items as you wear them every day, and they're easily visible to other people. If you want to advertise your love for WandaVision, then t-shirts, hoodies, and sweatshirts are the way to do it. Of course, in warmer weather, you may end up wearing extra layers on top of a t-shirt, so if you like to be subtle about your fandom merch, then you could always wear a WandaVision t-shirt underneath something else, as that way only you will know it's there. My personal favorites in this category are the Decades of Wanda Gray Hoodie, and the I Don't Need You to Tell Me Who I Am T-Shirt.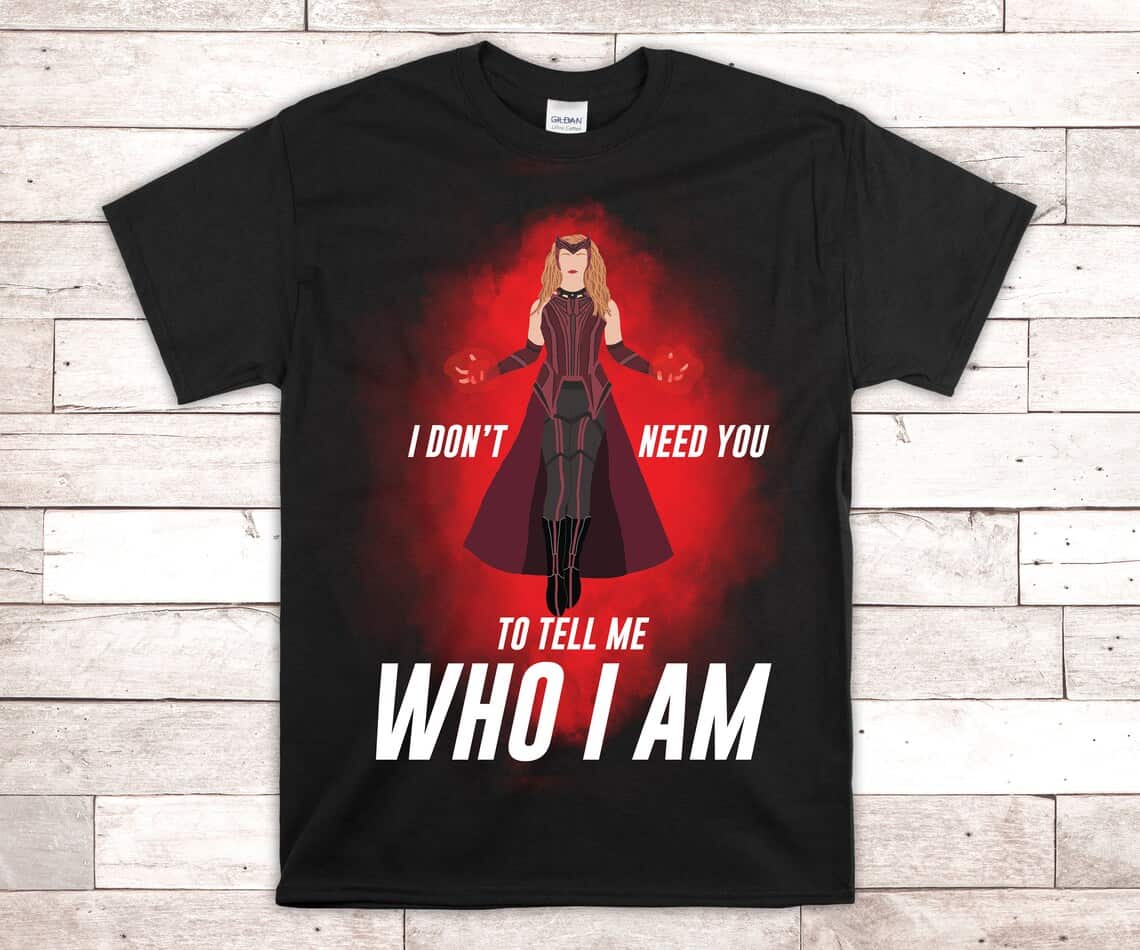 Bags, Hats, and Socks
If you've got the top sorted, then it's time to accessorize. Bags, hats, and socks can be a great way to complete an outfit, so why not put a WandaVision spin on it? There are some wonderfully unique items here, and I'm especially impressed by the Scarlet Witch Crown. You can put it on and imagine that you are Wanda Maximoff! I bet it would make someone look pretty darn powerful. The Creating My Own False Reality Bag is also a lot of fun, and I'm sure it's very relatable to a lot of us these days.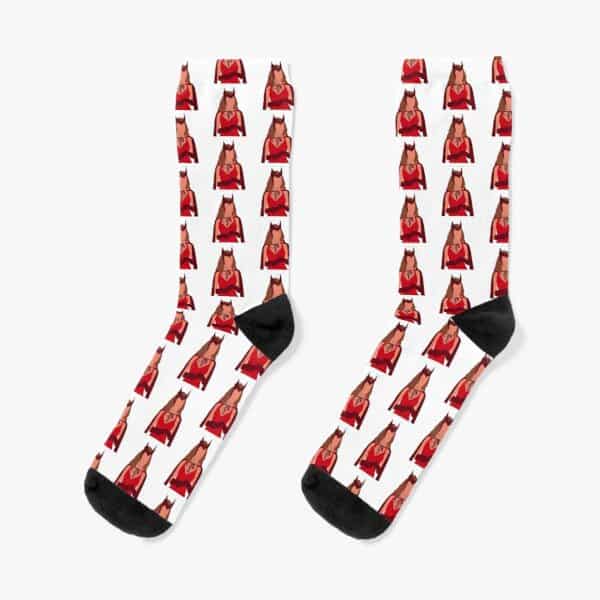 Decorative Items
If you're not interested in apparel, then perhaps some decorative items would be more your speed? These items would look great in your home or bedroom and would be a fun way of owning WandaVision merch.
Pins and Figures
There was a surprisingly limited range of enamel pins on the official stores, so I was pleased to discover some fantastic designs that fans had created. The Purple Scarlet Witch Pin looks to be very well crafted, and the artist put a lot of thought into the design. I'm also a big fan of the Property Deed Enamel Pin as I think it's a very clever idea for a piece of WandaVision merch that you wouldn't usually see. In terms of figures, the Wanda and Vision Minifigures look great, and although they're not genuine Lego, you wouldn't be able to tell the difference.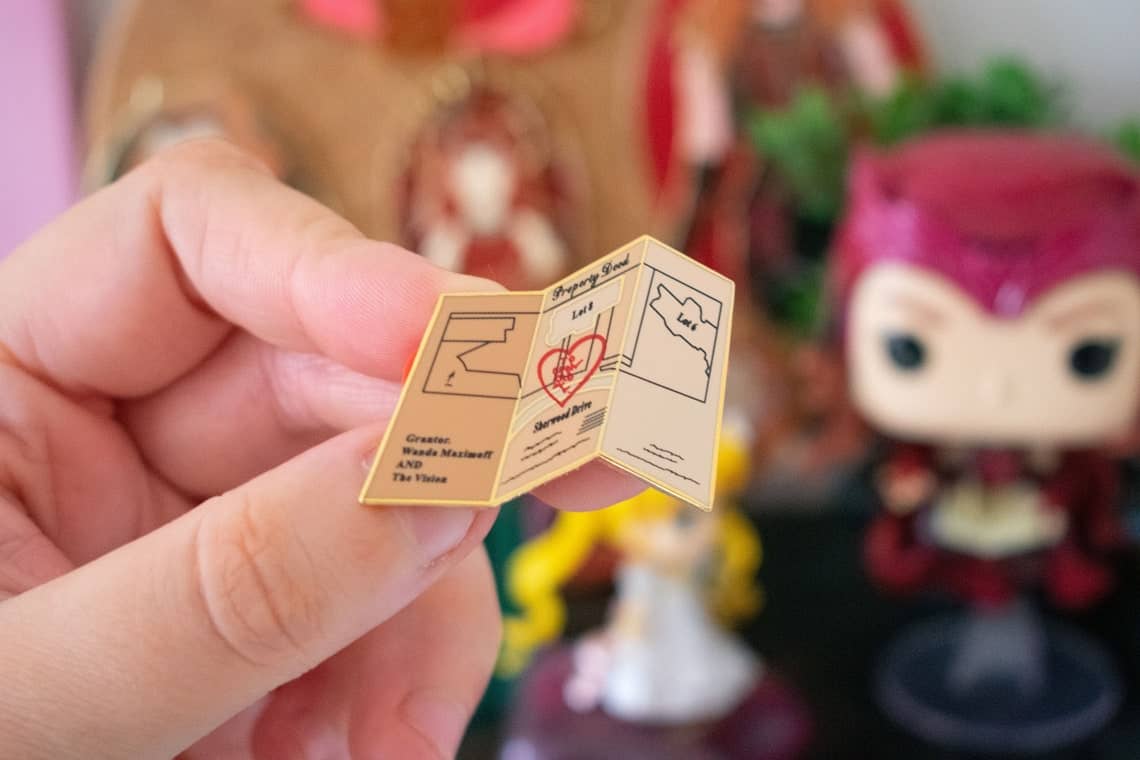 Wall Art
Wall art is perfect for decorating the bland walls in your home. Slap a bit of personality onto them with a print or poster. Prints tend to be smaller and printed on higher quality card stock, whereas posters are larger and more convenient for decorating. Whichever you prefer, I'm sure you'll find something great here. I love the cute expressions on Wanda and Vision's faces in the Halloween Print Blue Background. I'm also blown away by the talent displayed in the Watercolor Style Scarlet Witch Print or Poster, and it's great that you can customize the size to fit your own needs.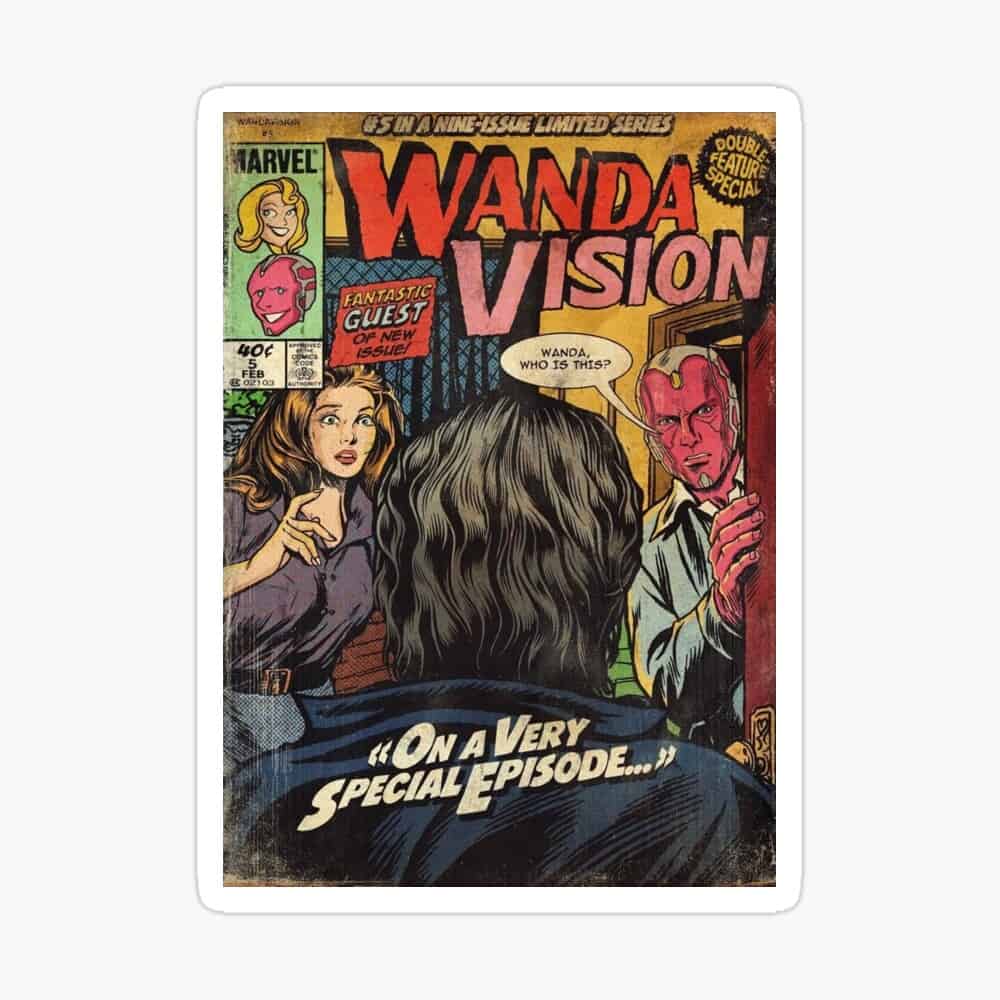 Other Merch
There are still plenty more merch options, so don't despair if you haven't yet found your perfect items. Your next purchase could be just down below!
Mugs and Cups
Whilst I love the mug and cup designs in the official merch section in the top part of this article, I still enjoy seeing what other fans have come up with. There are some truly original designs here, and you're bound to find one that speaks to your aesthetic. I think the Westview Postage Stamp Mug uses a clever concept idea that's executed beautifully, and I'd recommend it. I'm also a big fan of the Decades of Wanda Travel Mug, and I think the design fits the shape of the travel mug.
Stationery
The one area where the official merch stores were sorely lacking – stationery! As someone who regularly journals, stickers are a huge part of my life, and there are some fantastic options here that have been inspired by WandaVision. You can use them to brighten up a surface, stick them in a page of a notebook, or even just collect them to look at when you want to. I like the adorable designs in the Chibi WandaVision Sticker Pack. If you aren't much of a sticker person but would like something to write in, then the Minimalist Wanda Spiral Notebook could be just what you're looking for.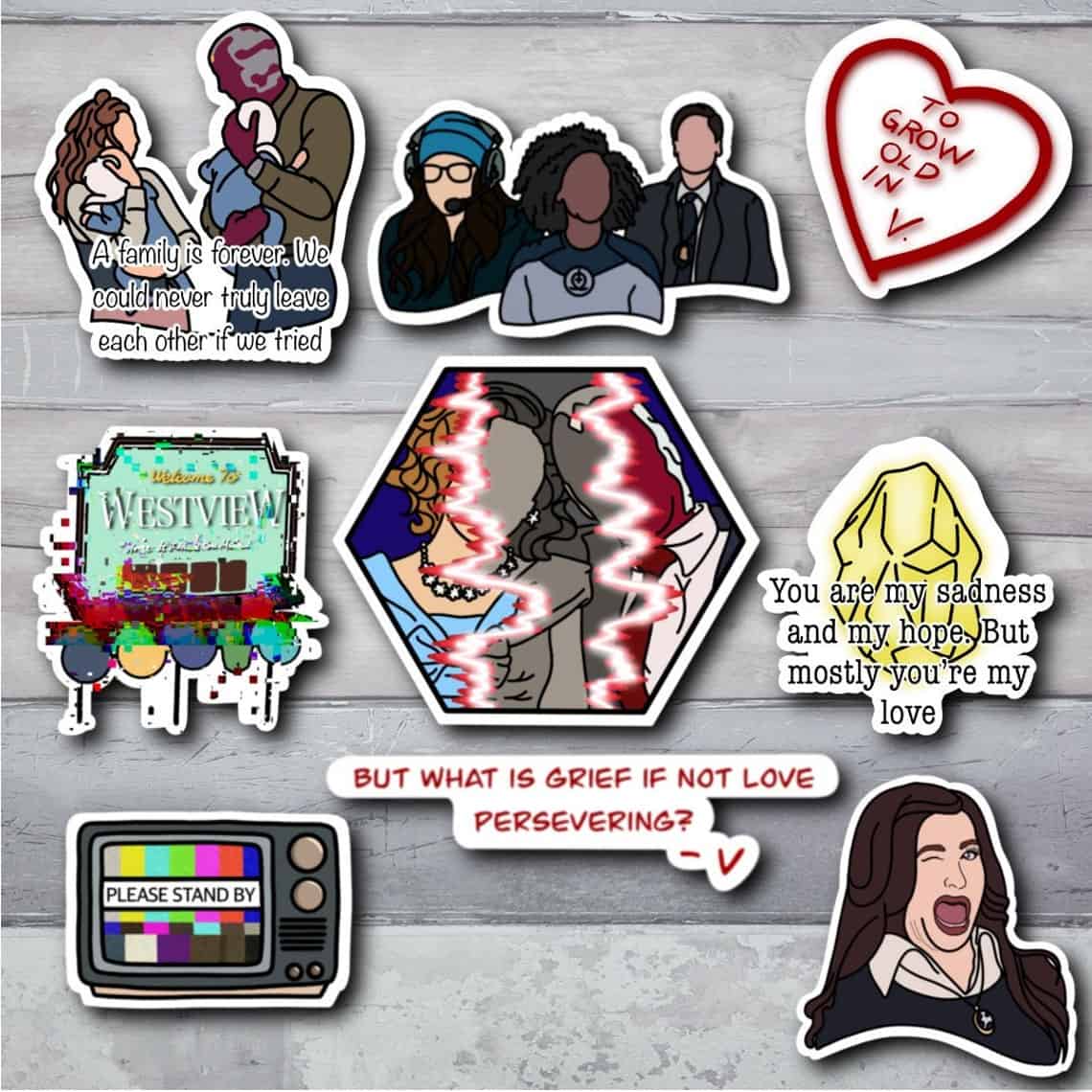 Other
Finally, we come to the miscellaneous section of the unofficial merch. Whilst these merch items don't fit into any of the above categories, it doesn't make them any less special. There are some completely original items such as the To Grow Old In Candle which takes inspiration from WandaVision and is entirely handmade. I'm also enthralled by the gorgeous design of the WandaVision Acrylic Keyrings, and they even allow you to choose the design of the metal keyring attachment. Plus, if you like spending time in the kitchen, then the Wanda Red Apron could be perfect for keeping the crumbs and grease off of your clothes.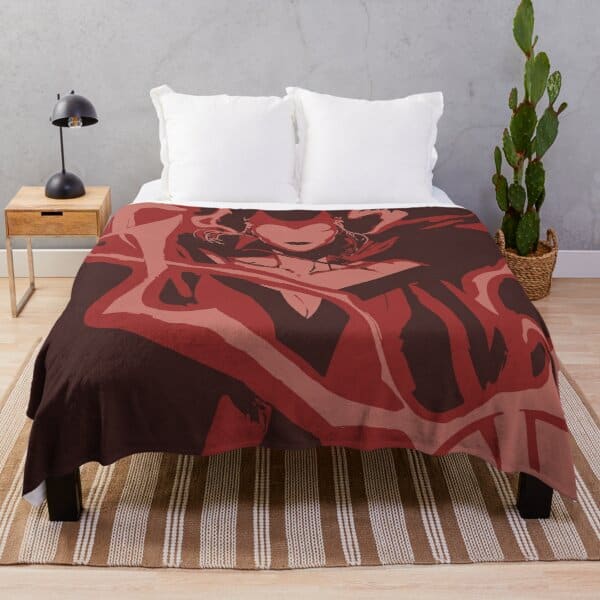 FAQs
Question: Is WandaVision getting a season 2?
Answer: The first season of WandaVision was released in January 2021, and as of yet (January 2022), there's no news on a second season. However, the first season was a resounding success, and so the likelihood is that Disney will probably do something more with WandaVision in the future. We know from the trailers that Wanda will be making an appearance in Doctor Strange in the Multiverse of Madness which is releasing in May 2022, so maybe we'll get more news as to the possibility of a second season after that. In the meantime, Disney+ has plenty of Marvel TV shows planned for the coming year.
Question: What WandaVision merch should I get as a gift.
Answer: If you're looking to get a gift for a WandaVision fan, it's worth trying to get to know their style. For example, if they never wear hats then getting one for them might not be the best idea. Similarly, if they favor bright colors and you get them something black and white then it may be a wasted effort. As with any gift, it should be tailored to what you know about that person. I'd always recommend apparel if you're unsure, as you don't want to give them an item that could be considered clutter if they don't like it, and at least apparel always serves a purpose. However, if you know they like a specific type of item (for example enamel pins), then that's a great direction to go in.
Question: How did Scarlet Witch get her powers?
Answer: There's still a lot of mystery surrounding the sheer extent of Scarlet Witch's powers. The incident in Westview which forms the plot of WandaVision was the first time that she'd ever performed a spell of that scale before, and seemed to be borne out of her grief over Vision. Who knows what she'll be capable of when she gains full mastery and understanding over her abilities? However, what we do know is how they originated. When Wanda and Pietro Maximoff were children, their family home was destroyed by a Stark Industries bomb. She and Pietro harbored a lot of anger towards Tony Stark, and by extension The Avengers, and so they agreed to become test subjects for Hydra. They were given powers using Loki's Sceptre (which contained the Mind Stone), however, we learn in WandaVision that Wanda already had innate magical abilities, and the Mind Stone merely amplified them. Her specific power is the ability to harness Chaos Magic.
Conclusion
Well, there you have it! If you're looking for WandaVision merch for yourself or to give as a gift to a fan, then this guide has you covered. Hopefully, you've found plenty of excellent designs that you love, and now your only challenge will be deciding which ones to buy! I tried to include a diverse range of products and styles to account for individual tastes. Personally, there are plenty of items which appeal to me, and I hope that's the same for you. WandaVision was a fantastic show, and one of my favorite Marvel offerings, so it's great to see that the spirit is being kept alive in the form of merch.
Recommended Reads: