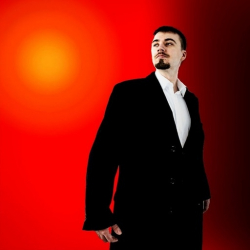 Latest posts by Stefan Stevanovic
(see all)
In this Batman Merch guide, I want to talk about my favorite superhero and all of his fantastic products.
Although most comic book characters are victims of tragedies, Bruce Wayne's adversities have the biggest impact on the story. In many ways, he is a broken character who blindly sticks to his ideals which, although noble, often force him to make wrong decisions.
The superhero, his story, and Gotham's villains are dark and gloomy. So, it shouldn't be surprising that the Caped Crusader has achieved such popularity over the years. This stimulated manufacturers to create excellent Batman merchandise ranging from apparel to mugs, toys, posters, room decorations, etc.
Nowadays, you can find Batman merch just about anywhere. Even when you go to a small local toy store, you can expect to see Bruce Wayne's action figure somewhere on shelves. In this guide, I will talk about these products, their pros and cons, and where you can find them.
Key Info Up Front
My Best Tips
When buying these products, there are numerous things you should consider beforehand. My best advice is to focus on large manufacturers and products sold via the biggest online shops.
No matter what you're buying, Amazon is always a good choice of retailer. Just make sure that the product you're buying is made by a reputable manufacturer. SuperHeroStuff.com and Boxlunch.com are excellent retailers if you're looking for apparel. You can also find lots of fantastic stuff at Walmart and Target.
When buying action figures, I recommend that you focus on Hot Toys, McFarlane, and Funko Pop! products. Although you might find some other nice items made by smaller manufacturers, these producers are the most reliable ones. When speaking about toys, you can't go wrong with Playskool and Lego.
Purchasing apparel and miscellaneous is much easier than buying toys. The official DC merch is always the safe choice. Otherwise, look for officially licensed items and those made using safe water-based inks. Products that you can wash in a machine are usually much more resilient and will last longer.
I'd suggest going with Franco store bedding sets and carpets. My kids love them, and they're really easy to wash.
Apparel
In terms of a sheer number of apparel pieces, Batman is neck-to-neck with Spiderman, Superman, and Captain America. Retail companies are doing their best to penetrate a highly saturated market, knowing very well there is an enormous demand for these items.
When talking about this product line, most people will think about the simple, traditional t-shirt with the Batman logo. However, this category offers much more than that.
The thing I adore about Batman's apparel is that it's all dark and menacing. It is entirely different from other superhero merch and is more suitable for young adults than kids. Despite being noble, Bruce Wayne often feels like an antihero, which is why many teenagers gravitate toward his clothes.
T-Shirts
I got my first Batman t-shirt back when I was 18 or 19. It featured Batman's design from the 70s, which was retro even for that time. These products are excellent for young goths and metalheads. Although they're more suitable for boys, I'm seeing more and more teenage girls wearing this apparel.
T-shirts are a fantastic Batman-beginner product. Most people buy them as their first piece of superhero merchandise. My favorite product from this category is Batman and Robin Retro Spotlight T-Shirt. For me, this is a real blast from the past, reminding me of my first Batman clothing piece.
If you're looking for something a bit more menacing, you should check Men's Batman I Am Gotham Drip T-Shirt. Those looking to surprise their girlfriends for Valentine should check out DC Comics Harley Quinn Mad Love, the best female t-shirt on the market.
Hoodies and Sweatshirts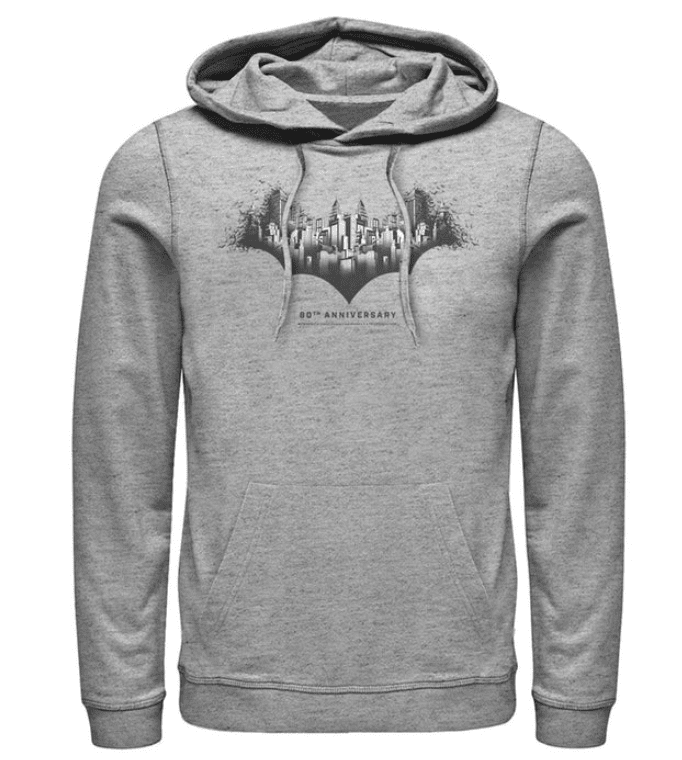 Somehow, I was never a big fan of superhero hoodies and sweatshirts. When you're outside during the autumn or winter, most people don't even notice the clothing beneath your jacket. Once you're inside, you'll most likely remove the hoodie and stay in the t-shirt.
Nevertheless, there are a few excellent items from this category that I wouldn't mind wearing. My favorite product has to be The Batman Movie Logo Pullover Hoodie. I love the combination of red and black, and it seems like apparel for every situation.
The Joker Bat Logo Smile Black Hoodie is menacing and disturbing. However, I would definitely wear it when going to rock concerts and parties. If you're looking for something lighthearted, possibly as a Christmas gift, I'd recommend Christmas Vintage Season Greetings Sweatshirt.
Bags and Backpacks
If you're a girl who wants to pay homage to Batman, what better way to do it than wearing a fashionable superhero bag? As for the backpacks, they are products we most commonly associate with elementary kids, but they're also incredible for active adults.
Although Batman merchandise is commonly geared toward males, this category has a few fantastic female pieces. DC Comics Batman & Catwoman Wedding is an excellent product for teenage girls and young adults. In fact, I'll go as far as to say that this is the best superhero item I've seen at Boxlunch.com.
As for the kids' items, it doesn't get better than Batman School Backpack Set. You get four different pieces within the set, which you can use for school, camping, and in other situations. If your child is crazy about the superhero, I recommend that you go with this product.
Hats and Beanies
When talking about Batman apparel, most people don't think about hats and bennies. However, I really like these products for several reasons. First off, they are the most noticeable of all the superhero apparel. While some other pieces might be covered with a jacket, people will always notice that you're wearing a Batman hat or beanie.
On top of that, most of these items are unisex. When it comes to hats and beanies, one size usually fits all, which is why they're excellent presents when you don't know a person's size.
One Concept the Batman is my favorite hat. It has an incredible design and an even better logo. Furthermore, it is one of those universal products that most fans will like wearing. Batman The Dark Knight is a perfect choice if you're looking for something warmer for the winter.
Socks and Footwear
Unlike some other less popular superheroes, you have numerous choices at your disposal when buying Batman socks and footwear. As a kid, I had a few of these socks, which is why I developed a habit of looking at my feet while in bed.
If you're looking to surprise your husband with a new pair of socks, why don't you go with Hyp DC Comics Batman? These socks are the best representation of the character's apparel, and I bet he'll love both pairs.
On the other hand, if you're looking to mess with your man, buy him Batman Cartoon Ankle Length Happy Socks. These ones are totally ridiculous, which is why I find them fascinating. As for footwear, you should check out DC Batman Boys Slippers. Although you might think they're dorky (and you wouldn't be wrong), remember that they're items for boys.
Toys, Collectibles, and Plushies
I know a lot of kids who have Batman action figures, plushies, and collectibles but have never bought a Dark Knight t-shirt. Out of the whole category, Batman action figures are the most popular type of product. If you're a fan of the character, there's a good chance you owned one of these figures at one point in your life.
Furthermore, I know guys who started collecting these items at an old age (30s or 40s, to be exact). Some of the items I'm about to mention are excellent collectibles and gifts. Hot Toys products are simply remarkable, and Funko Pops! are perfect small gifts that a person can put on their work desk.
Funko Pops!
Nowadays, there isn't a young person who doesn't know about Funko Pop! The company follows the latest pop culture trends making everything from DC to Marvel superheroes, Disney princesses, Star Wars characters, etc.
Although there aren't as many Batman Funko Pops! as I would like them to be, there is still a massive offer. My favorite item is Batman 1989. I'm a major fan of this movie because it formed me as a comic book fan. The figure is also nice, and its yellow details provide an excellent contrast to the black color.
If you're looking for some amazing pieces, I suggest that you visit Walmart. They have products such as DC Villains as Batman Two-Face Impopster and Batman Jokers Wild, which you can't find in every store. The thing I especially like about these items is that they're rather cheap, and you can collect all of them relatively quickly.
A lot of people in my midst don't know about Hot Toys. This is somewhat ludicrous because the company produces some of the best, most detailed action figures in the world. They're making Marvel, DC, and Star Wars-inspired collectibles which, although expensive, are the most realistic superhero products I've ever seen.
If I were to recommend one Batman Hot Toy, that would be Batman The Dark Knight Movie Masterpiece. This product features Alfred Pennyworth, Bruce Wayne, and a massive Batman armory. Bruce is in his fancy clothes, but you can take the suit from the armory turning him into the Caped Crusader. The product also includes numerous accessories.
I also adore 1989 Michael Keaton Batman for the same reasons I've mentioned in the previous entry. Batman Arkham City 1/6th Scale Movie Masterpiece is a fantastic choice if you played Batman video games, and I also want to mention Hot Toys 2022 Batman as it featured one of the best suits in the superhero's long history.
Action Figures
While Funko Pop! and Hot Toys produce the best decorative collectibles, DC, Spin Master, and McFarlane Toys focus on action figures. As you can presume, these items are primarily for kids, but I know several parents who started collecting these toys with their children.
Superhero action figures were always the most popular product in the toys category. Kids love to roleplay with them and pretend they're flying around, saving the city. I completely support these products as I'm always trying to keep my kids away from computers and iPhones.
Although numerous companies are making Batman action figures, only a handful of them are worth the mention. McFarlane Toys Batman 7-inch Action Figure is the best item I've seen online. It is almost the exact replica of the cartoon Batman. Another piece I liked is McFarlane Toys The Dark Knight Returns.
Replicas and Statues
In my opinion, Hot Toys does such an amazing job with their products eclipsing all other high-tier Batman manufacturers. For example, I would much rather collect these items than look for artists online. On the other hand, I had to admit that certain statues are so incredible that I couldn't neglect them.
Specific statues I've seen online are so detailed and creative that I wouldn't mind paying several hundred dollars to acquire them. Like with action figures, McFarlane Toys delivers on this front. My favorite item is Todd McFarlane Version 2 Deluxe Statue, which has such an ominous feeling to it.
It seems that most creators went ahead with a grumpy Batman theme. You can also see this on Batman Dark Knight III The Master Race, a fantastic piece that costs more than $1,000!      Batman Hard Black Version Sofbinal 14-Inch Vinyl Statue is another excellent piece I'd like to recommend.
I recommend that you take your time when purchasing a Batman statue. There are so many great items online, and you don't want to make a rash decision.
Plushies
Plushies are a great gift for girls but also for smaller boys. These incredible products serve as comfort items, and you can also use them as decoration. Although you might think that Batman is not the best material for plushies, given that the character is so menacing, I've found numerous jovial pieces online.
Personally, I've never bought a Batman doll. When my boys were little, I bought them random animal plushies. Nonetheless, don't let my personal tastes dissuade you from buying one of these, as I think they can be an excellent gift. You can even buy them for adult male friends if you like messing with them.
If you're looking for a cute Batman plushie that won't scare your child, I recommend you go with Battle Buddy Batman Plush. The doll looks so huggable, but we all know that he's a real badass. As a major fan of LEGO movies, I'd also like to recommend LEGO Batman Plushie.
Other Toys
Of course, Batman toys include much more than just action figures and statues. You can also find some fantastic LEGOs, Hot Wheels, Batman cars, bat caves, and whatnot. Some of these items work well with action figures. For example, I've seen several Batmobiles that would work well with previously mentioned products.
The most interesting pieces from this category are the cars. Boys simply adore Batmobiles and Batman-related vehicles. They are more likely to play with these items than the superhero action figures. The best product from this sub-category is Hot Wheels Ultimate Batcave Playset. The massive launching pad for the cars will give your kids hours of fun.
Batcave with Exclusive 4" Batman Figure and Accessories is a similar product. Unlike its predecessors, it doesn't feature cars. Instead, you get small action figures. The set is huge and is great for roleplaying. You can even pair it with some other Batman products.
Wall Art and Room Decorations
When talking about Batman products, most people tend to disregard room decoration. Truth be told, I don't know any kid fan who doesn't have the superhero poster. As for the room décor, it's also common for parents to buy Batman beddings and carpets and get some other items to refurbish their child's space.
Although these products aren't as exhilarating as toys, kids still love their Batman room decoration. My only issue with the Caped Crusader sheets, pillows, and posters is that they tend to be darker compared to the items for other superheroes. I generally prefer brighter colors for kids' rooms as I don't want them to become all gloomy.
Wall Art
Most people think of posters when we mention Batman wall art, but there is much more to this category. Nowadays, companies create different types of print that you can hang in your house. Some of these pieces are so massive that they can cover an entire bedroom or living room wall.
A thing I love about wall art is that there are so many different products to choose from. You might not believe this, but the majority of the pieces I saw online are really mature. So much so that I wouldn't hang some of these pieces in my kids' room.
The best example of mature Batman wall art is Batman Wall Art Home Decor Poster Canvas. The piece is incredible, and I would love to have it in my living room. Alas, it isn't right for the kids' room. In my opinion, something like The Dark Knight Walking At Night is much more suitable for the young ones.
Sheets and Beddings
Superhero beddings are extremely underrated. As a parent, you have to buy your sheets, pillowcases, and other stuff for your kids' room. Some parents purchase products with stars, animals, and all of these cute themes. In most cases, they don't even ask their child what kind of décor they would like.
I can tell you right away that your kid will appreciate more having Batman sheets (or whichever character they like) than some random décor. It is a small thing, but it shows that you care as a parent. Of course, your children will be much happier surrounded by their favorite comic book characters.
In my opinion, you can't go wrong with Franco Kids Bedding Comforter and Sheet Set. My main issue with some of the superhero beddings is that you can't clearly see who's on the product. This set solves this common problem, as this is obviously a Batman-themed item.
Kids Batman Bedding is great if you're looking for something simpler. Batman Arkham City Catwoman Seducing Batman is an excellent choice if you need brighter colors.
Carpets
To finish your interior design, you'll need a nice Batman carpet. Keep in mind that there aren't as many carpets as there are beddings and wall posters. So when planning a kid's room, I suggest that you start with this piece and build around it.
For me, the best carpets you can find online are Batman Superhero Rugs currently sold on eBay. The company offers several different designs, and I'm certain you'll find something appropriate for your home.
If you're looking for a sure-shot solution for any room, you should check Batman Rug. It is a small product that can fit just about any corner of your room, and you can easily combine it with other decorations. Batman Living Room Rug is the hardest piece to incorporate, but the intricate design is what sets it apart.
Other Merch
Lastly, we have other merch category. These are all the items I couldn't place in other groups. Most notably, it features mugs, which are undoubtedly one of the most popular Batman items in the world. They are great presents for adults and kids, and you can gift them on just about any occasion.
Mugs
Batman mugs are one of the few products that are more suitable for adults than for kids. Now, I'm not saying that your child won't be glad you got them a Bruce Wayne mug. It's just that they prefer toys and apparel.
Mugs are especially great when you don't know what to buy or you're looking for a small knickknack for a friend. Despite being such a straightforward product, some of the mugs I saw online are very creative.
Take, for example, DC Comics Originals Morphing Mug. It is one of those products featuring panels from the comic, and it also changes when you introduce hot liquids. Batman (Dark Knight) Morphing Mugs is another example of a great, creative solution.
Morphing Mugs Batman Arkham Knight is suitable for younger kids, and Batman Animated Series Stein is fantastic for beer-drinkers.
Other
This category features key chains, belts, board games, and even a floating rubber duck! When checking products to put in this group, I tried to find some of the craziest, most original Batman pieces. The majority of them were sold on Amazon and Hottopic.com.
My favorite item is TUBBZ DC Comics Batman Collectible Rubber Duck. This company makes outlandish products inspired by popular superheroes and game characters. The piece has excellent design and would make for a great present.
If you're looking for something a bit fancy, you should check Barry Wang Men's Ratchet Belt. It is the only clothing piece that I haven't included in the apparel category. The Batman Chess Set is a fantastic item for all chess lovers who want to freshen up their games.
FAQs
Question: What is the most common Batman merch?
Answer: As with most other superheroes, t-shirts and mugs are the most common Batman products. If you browse online stores, you can find lots of exciting items. Most of this merchandise makes for great gifts. Although they are primarily for kids, there are numerous items geared toward adults.
Question: What are the best Batman products for kids?
Answer: If you have a little boy, you simply cannot go wrong with action figures. LEGOs are nice for both sexes, while girls will lean more toward plushies. Of course, you can also surprise your children with different Batman apparel and room decoration. There are also a few Batman-inspired board games that you might consider buying.
Question: What would be the best Batman gift?
Answer: It is really hard to say what the best Batman gift is. It mostly depends on the person you're buying it for. Apparel such as Batman and Robin Retro Spotlight T-Shirt is generally a good choice, as anyone can wear it regardless of sex and age. That is if you find the right size of the item. For more ideas, check out our Ultimate Guide to Batman Gifts for Children and Adults!
Conclusion
Batman merchandise includes various items, from apparel to toys, bedding sets, mugs, key chains, and bottle openers. Like the superhero, these products rely on dark and gloomy color patterns. Batman is one of the most ominous DC characters, often teetering between a hero and an antihero. This is often reflected in his merchandise.
If I had to choose one piece from the whole list, I would go with Batman Dark Knight III The Master Race. This product is a small work of art featuring numerous intricate details. If you're looking for some nice collectibles, you should consider Hot Toys and Funko Pops! Those who need a simple present for a friend can buy DC Comics Originals Morphing Mug.
Recommended Reads: