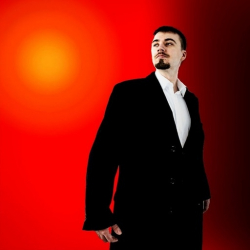 Latest posts by Stefan Stevanovic
(see all)
When we talk about Batman, most people think of the Dark Knight, in his beautiful combat suit, while driving batmobile or throwing Batarang. The thing that is often forgotten is the Batman light. Whenever Gotham is in danger, commissioner Gordon would turn on these lights signaling Batman that there is a grave danger looming.
I've always associated Batman with Batman lights. This is one of the few things that make the superhero's story so appealing. It is a small detail that people often forget, but, in my opinion, it has a major impact on building suspense while showcasing the importance of the hero to Gotham and his citizens. When talking about the best Batman lights as products, I'm referring to various night table lights, projectors, and even mirror lights that you can install in your home. As a major Batman nerd, I have one of these in my room. Although I haven't used it for a while, and it feels as if I'm grown out of it, I cannot emphasize enough how cool these items are.
My personal favorite is Super Hero Batman 3D LED Table Lamp Night. It has 7 different colors, which you can change at any time. In this article, I will go through some of the best Batman lights on the market. Keep in mind that I will review not only products with a Batman theme but also those featuring other characters from the comic book (i.e., Joker).
Key Info Up Front
If you're looking for the best Batman Lights, all you need to do is browse a few online stores such as Etsy, Amazon, or eBay. These items feature the likes of Batman, Joker, and other characters from the comic book.
I simply love Super Hero Batman 3D LED Table Lamp Night, but there are other products you should consider buying. Most of these are for your night table, but some of them can also hang from the wall or ceiling.
What Were the Selection Criteria?
There are numerous things I took into consideration when making this list. For the most part, I focused on esthetics and what these lights would look like in your room. No one's going to buy Batman products for their functional value. Instead, they will focus on whether or not they're cool or if they have collectible value.
Anyway, here are my selection criteria for Batman lights:
I focused on esthetic value; a product needs to look cool enough for you to buy it.
The product is sold in a reputable online shop such as Etsy or Amazon.
These lights are made according to the source material.
See also: Ultimate Guide to Batman Toys
Among others, I made sure to add different types of lights. Instead of listing similar products, most of these items have unique features that set them apart from the rest. So, in theory, you could buy all the products from the list as they are completely different from one another. Without any further ado, here are the best Batman lights on the market today: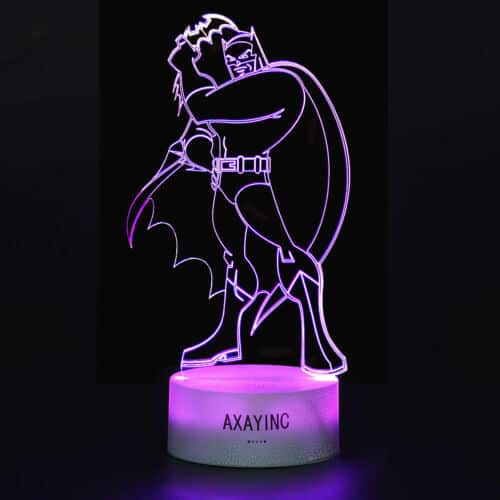 Let's start with my personal favorite. This 3D LED table lamp has lots of great features that make it cool for people of different ages. Although the item was made for nightstands, you can also put it in the living room. It depicts Batman holding a Batarang in his left hand while his right hand is placed on his hip. The model doesn't have that many details, which makes it appealing.
The thing that makes the item stand out is the fact you can change its color. It only utilizes one of these colors at a time, and you can go with pink, white, blue, green, yellow, red, and cyan. I also have to mention that the light is powered by a battery, and it also can be connected to a USB. That means you don't need a power source to deploy it, and you can use it both outdoors and indoors.
Due to the fact it is battery-powered, you can utilize it for various occasions. For example, I would love to take it on a camping trip. Given that Batman is such a gloomy, ominous character (especially for a superhero), you'd like to have it nearby as you're telling ghost stories to your kids. Furthermore, you can even use it during romantic occasions as it comes with white and red lights. However, don't be surprised if your wife kicks you out of the house right after.
Pros
I simply love the fact it comes in 7 different colors.
Given that it is battery-powered, you can take it outside.
The model is pretty neat and clean; it doesn't have too many details, which is a plus in this particular case.
Cons
It requires 3 batteries, which seems a bit too much. Then again, this is only if you want to take it outside.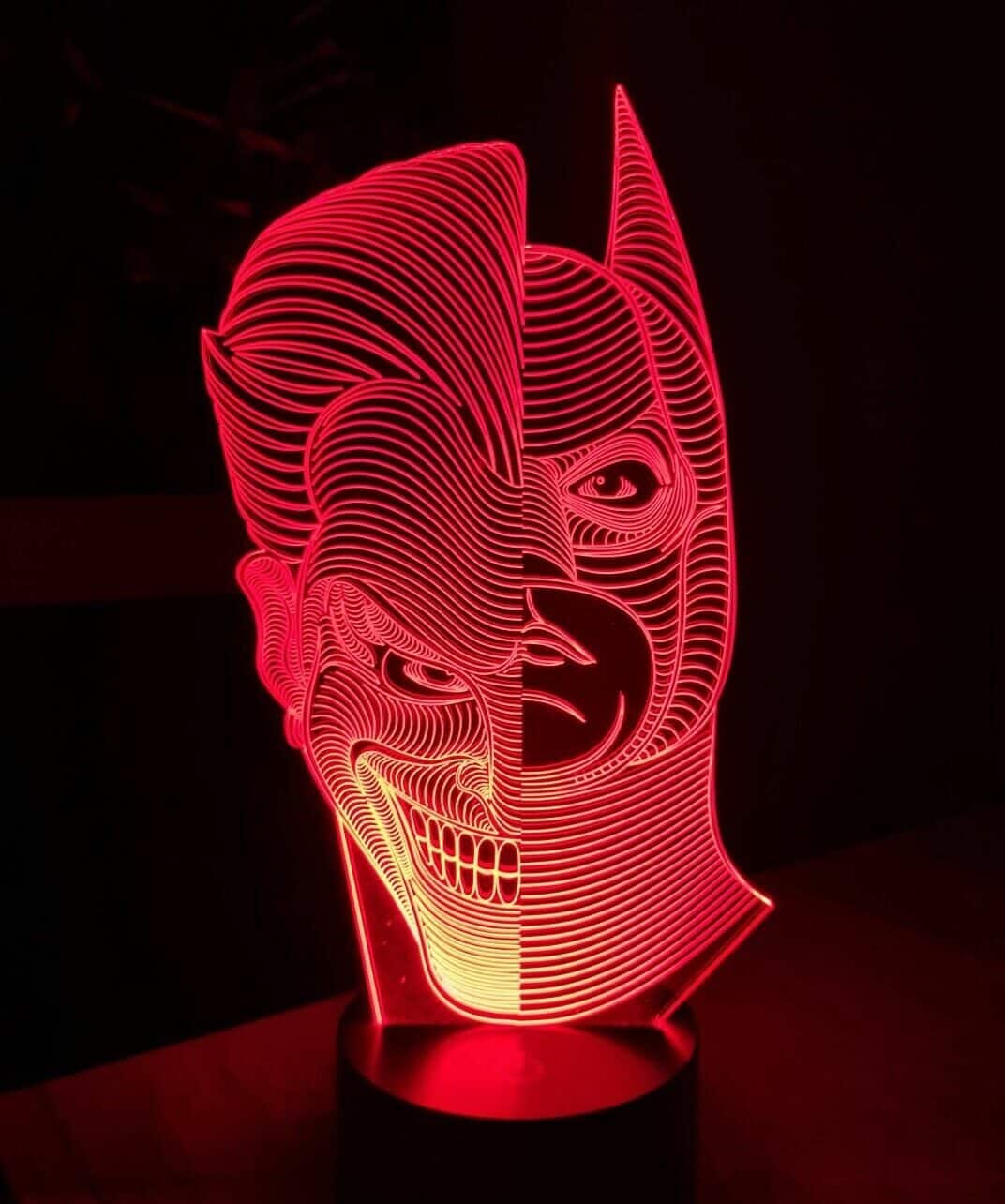 If you're looking for something cool and innovative, you should definitely go with Batman/Joker illusion lamp. This product is cleverly designed to merge Joker's right side of the face with Batman's left side of the face. As always, Joker is showcased as quite ominous and deceiving. He has a smiling face that also looks quite sneaky and mischievous. On the other hand, Batman is looking upward. The superhero is stoic, unshakable, and looks like a paragon of virtue. Both faces are made from numerous small horizontal rings, so when you turn on the lamp, you will notice numerous details.
Keep in mind that the light is a bit messed up. It's not that it's gruesome or whatever, but I wouldn't recommend it for very small children. In my opinion, it is much better for kids from 10 years and above. Unlike the previous product on the list, this is a USB-powered item. In other words, you can't take it outside. The light has 7 colors white, cyan, red, blue, green, purple, and yellow. That way, you can rest assured it never gets boring.
Pros
When talking about design, this is probably the most complex item on the list.
I like the mish-mash of Joker and Batman, as critics sometimes consider them two sides of the same coin.
The designers put a lot of thought into creating these faces, and they show a lot of personality.
Cons
Having batteries as a power source would be even cooler as you could bring the lamp outside.
To some people, the merged faces could feel a bit gruesome.
See also: Children of the Atom: X-Men Universe Guide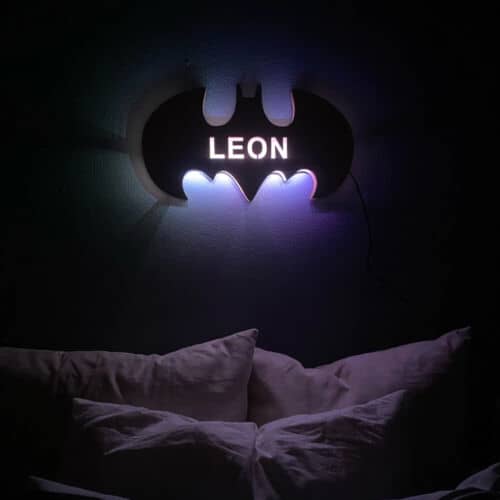 Personalized items are the perfect present for birthdays. In that regard, this particular product might be a better solution than the previous two on the list, even though the previous two lights have a much more appealing design. There isn't much I can say about this item's design. It is a massive wooden bat sign on which you can engrave a person's name, your favorite sports team, or something similar. The letters are made with laser cutting technology, so there won't be any mistakes or crooked edges.
The thing I really like is the number of available colors. There is a total of 16 colors (you've heard it right), and you can change them with a remote. You can also experiment with a few modes such as flash mode, strobe mode, smooth, and fade. Although the product design is not that appealing, all these features make it worth your while. If you check the link above, you will notice that the lights are protruding beneath the bat sign. This creates a cool effect. Although the product is a bit more expensive than its predecessors, it is worth every penny.
Pros
  A plethora of colors to choose from.
  It comes with a remote so you can use it from the bed.
  You can engrave anything you want on it.
Cons
  The design is not that inspiring.
  It is rather expensive for a wall lamp.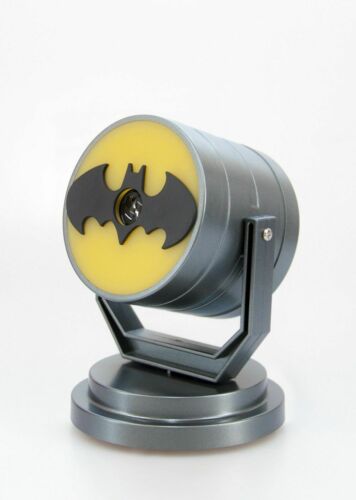 Bat-Signal light is a unique item. It is more of a novelty product specially made for Batman fans. As the name implies, it is used to project light but not much else. In that regard, you probably won't use it to illuminate your room. The product doesn't have batteries. Instead, you will need to find a suitable power source. One saving grace is that it comes with both EU and UK style plugs, and you can carry it around during your travels. Then again, it is not as if you're going to have much use for it.
Basically, you can rotate the stand and point the light in a specific direction. Once you turn it on, a large bat sign will appear on the surface. The reason why I added this product to the list is mostly because of its novelty value. It is a great purchase for some collectors, but it isn't your everyday product.
Pros
  If you ever wanted to have your personal bat sign, this lamp will help you make it.
  It comes with two different plugs.
Cons
  You probably won't use it a lot, and it will get boring rather quickly.
  Not a good gift unless a person is an avid Batman collector.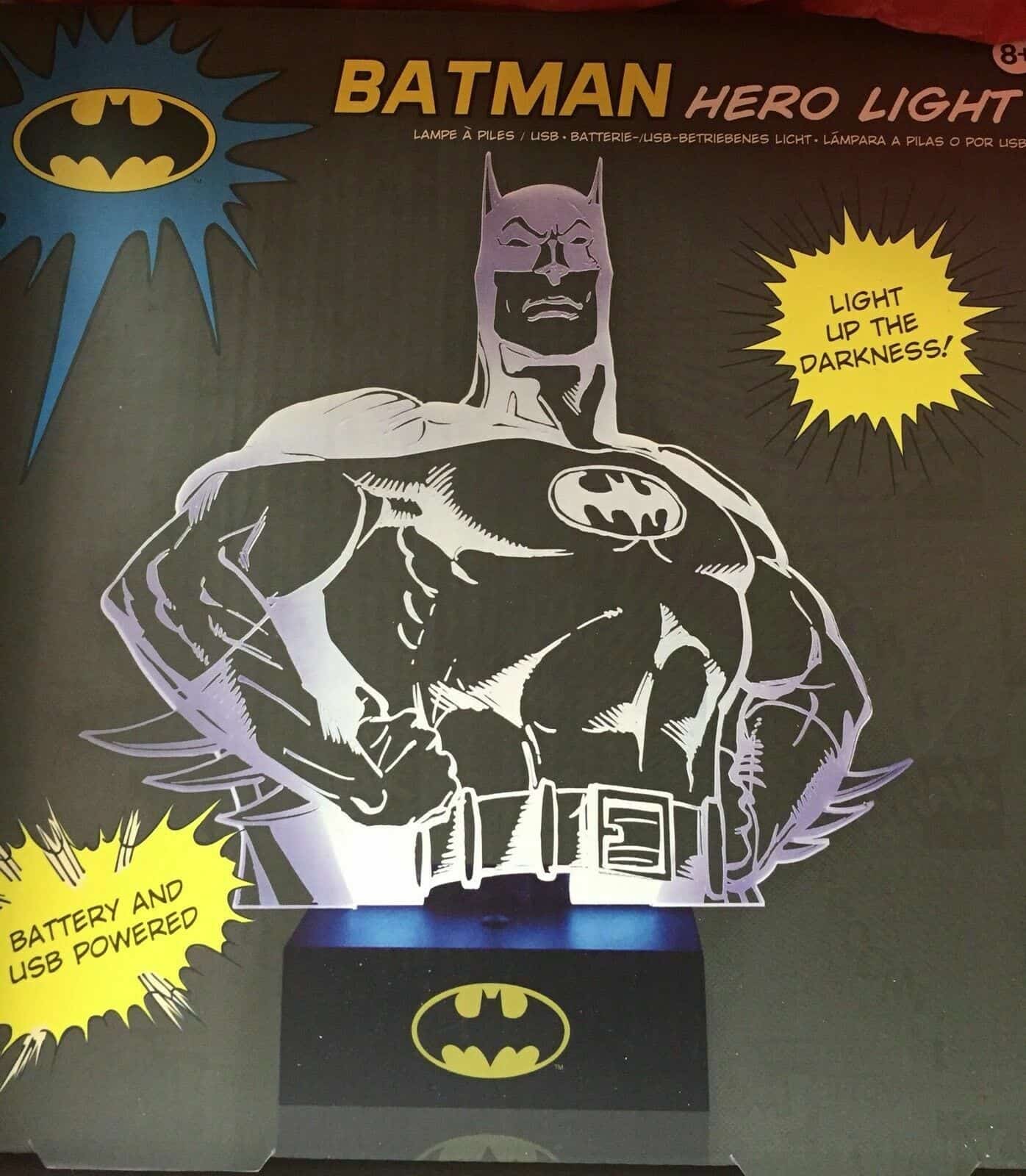 The thing I really like about this product is the Batman's posture. The light is placed on a black stall that has a large Batman sign on it. The superhero's model is cool; Batman holds fists on his hips, oozing a powerful and determined persona. There are so many details in the light, and I feel this is the most authentic product of them all, doing justice to the source material. You basically can't go wrong with this item. It is a great purchase for people who are into Batman but also for everyone else.
He is the perfect depiction of a superhero person, and I, for one, would love it if someone were to buy it for me. Although I feel that I'm a bit too old for Batman lights, that don't mean he doesn't have a place in my house. If I were to complain about something, that would be the lack of color options. You also don't get special modes or anything of that kind. It is just a white Batman light, which is tailor-made for coffee stalls and night tables. Honestly, I think this product is great for small parties when you gather around with a few of your best friends in a small room.
Pros
  This might be the most authentic portrayal of Batman on any of the Batman lights.
  The product comes with batteries, or you can use a USB charger.
  I also love the stall and the yellow Batman sign in front.
Cons
  There aren't any other color options, additional features, or remote control.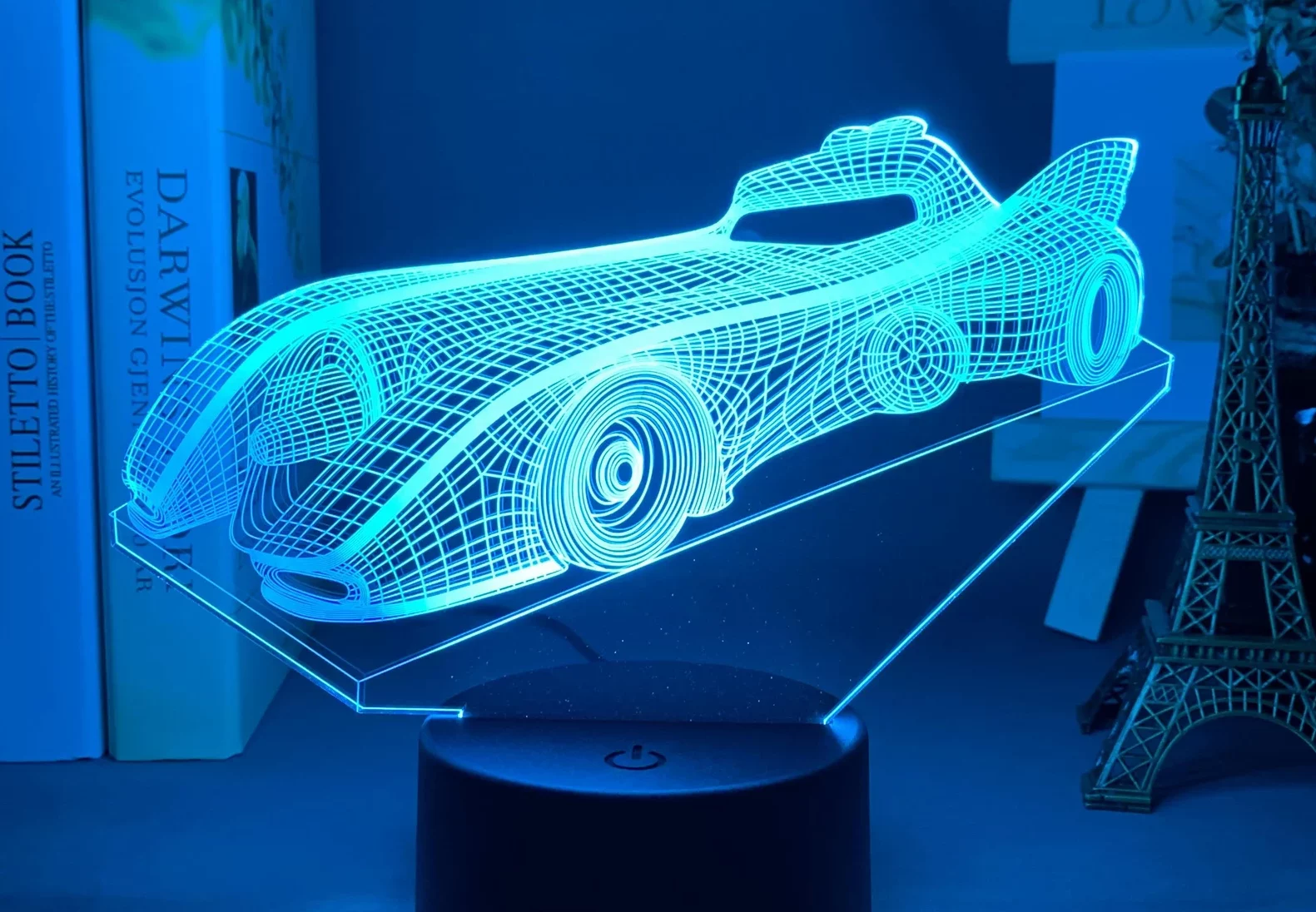 Batmobile has always served as a source of inspiration for manufacturers, but also artists. That being said, it makes sense that some lamp companies would use it to create cool products. Due to batmobile's design, this item can be a really cool gift for Batman fans but also car aficionados. The vehicle is perched upon a black circular stall that looks amazing in its own regard. As for the car, it is connected to the stall with two small straight lights. So, it looks as if the batmobile is positioned on another stall made from tinny light pipes.
To be honest, this looks like a vehicle that belongs in a museum or car show. The model has numerous details and is very well made. The creators utilized grid design to showcase various parts. In my opinion, this product is great for just about any dude who likes comic books and/or cars. You can also choose between a version with and without a remote control. The basic item has 7 colors to choose from, including white, purple, cyan, blue, yellow, green, and red. If you decide to add the remote to the package, you will gain access to 16 colors in total, as well as the ability to turn on the light from a distance.
Pros
  Incredible car design with numerous details.
  You can get a remote control or buy a product without it.
  It utilizes batteries, or you can connect it to a USB.
  I even like the stall.
Cons
  If you were to complain about something, you could say that certain parts of the car look a bit out of place.
See also: Best Captain America Toys

Batman is perhaps the only comic book where the villain's fame has superseded that of the hero. This character has become so popular that it led to the creation of his shows and movies. As a result, it makes sense for companies to start making Joker products. If you're looking for a small work of art, you should definitely check out Joker lithophane lamp. It is a large white object slightly bigger than an average male hand. The light depicts Joker as a devilish character with a wide smile going from ear to ear. He has wrinkles all over his face, while his hair is combed backward like in the comics.
All in all, this is a wonderful piece to have in the house, whether you're a comic book fan or not. The light is made from plastic, and you won't damage it that easily. Keep in mind that the face can be a bit disturbing, so I wouldn't recommend it for smaller kids. All the lights are placed within the object, which protects them from external damage. It is charged with a USB.
Pros
  The lamp is a small work of art. You can appreciate it even if you're not a big fan of the series. Furthermore, every product is made by hand, which makes it that much more desirable.
  The outer shell is made from plastic, and you can't damage it that easily.
Cons
  Despite its great design, the item is quite disturbing.
  The LED lights are placed at the bottom of the head, creating an awkward effect.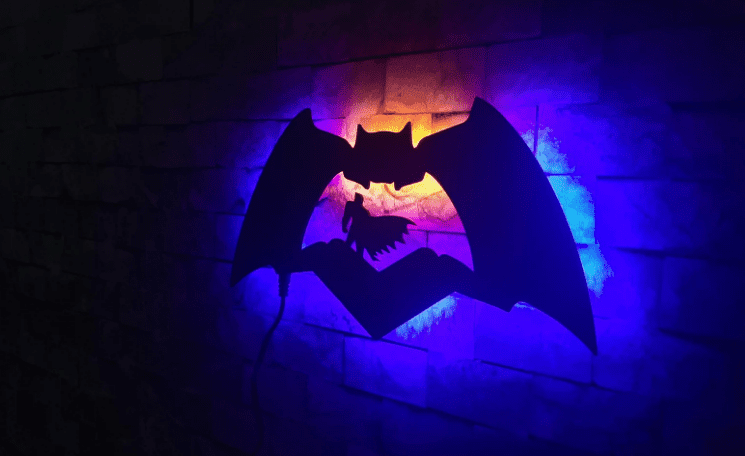 When the company made this product, they decided to break all the rules. Instead of your usual vanilla Batman wall light, we got something completely different and wild. The lamp depicts the superhero's dark contours as his cape flies in the wind. He is placed inside of a cut-out bad sign, which has another bat sign around it.
If all of this sounds confusing, I recommend that you click on the link above and check the product yourselves, as there is no easy way to describe this masterpiece. Like all products in this article, this one is ideal for younger kids. You can switch its colors from white to red, amber, green, blue, and pink. I'm especially amazed by how these colors look. They are somewhat dimmed, creating cool effects on your wall.
Pros
  Incredible light effects, perhaps the best of all the products on the list.
  The design is very creative and unique. I'm in love with the Batman model.
Cons
  Although I think that the model is great, some people might consider it a bit dull and monotonous. To each its own.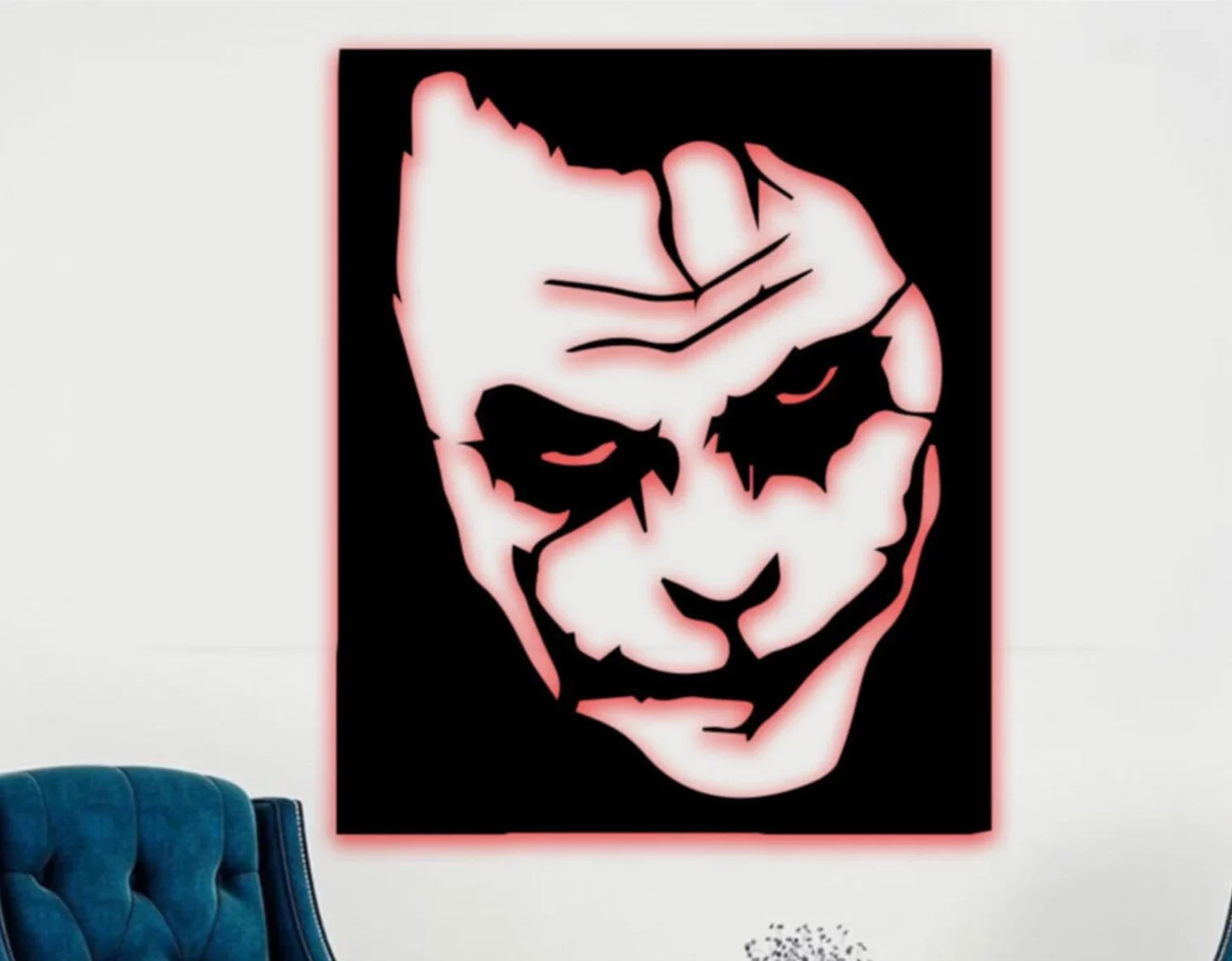 Strangely enough, Joker will forever be remembered not by the comic book character but by the actor portraying that character. Heath Ledger's performance in the Dark Knight was universally lauded by the critics, and it makes sense that companies would use this to make a profit off of his work.
As bad as that sounds, at least this great actor is immortalized through numerous products and art pieces. One of them is Joker LED Lighted Wall Art Neon Sign. This is a massive product that will cover a large portion of your wall. In terms of the surface, it is more akin to a painting than wall lights. It has a black background with white Heath Ledger's Joker face in white color. When you turn on the lamp, his face will light up, making a stark contrast against the background.
As its name implies, this is more of an art piece than a simple wall light. In my opinion, it is quite impressive and would look amazing in homes with lots of modern art. The only issue I have is the fact that it's quite expensive. So, while it can be a nice gift, most people will buy it for bigger occasions such as weddings, not necessarily birthdays. Unlike most items on the list, this product isn't for kids.
Pros
  Great for certain types of homes. It would look great close to modern art pieces or in homes with modern, minimalistic designs.
  It pays homage to Heath Ledger, which instantly makes it a cool piece.
Cons
  A rather large piece and will take large space on your wall. This might not be ideal for some homeowners.
  Having a massive Joker face on a wall, staring back at you, can be unnerving to some.
  It is quite expensive for wall light.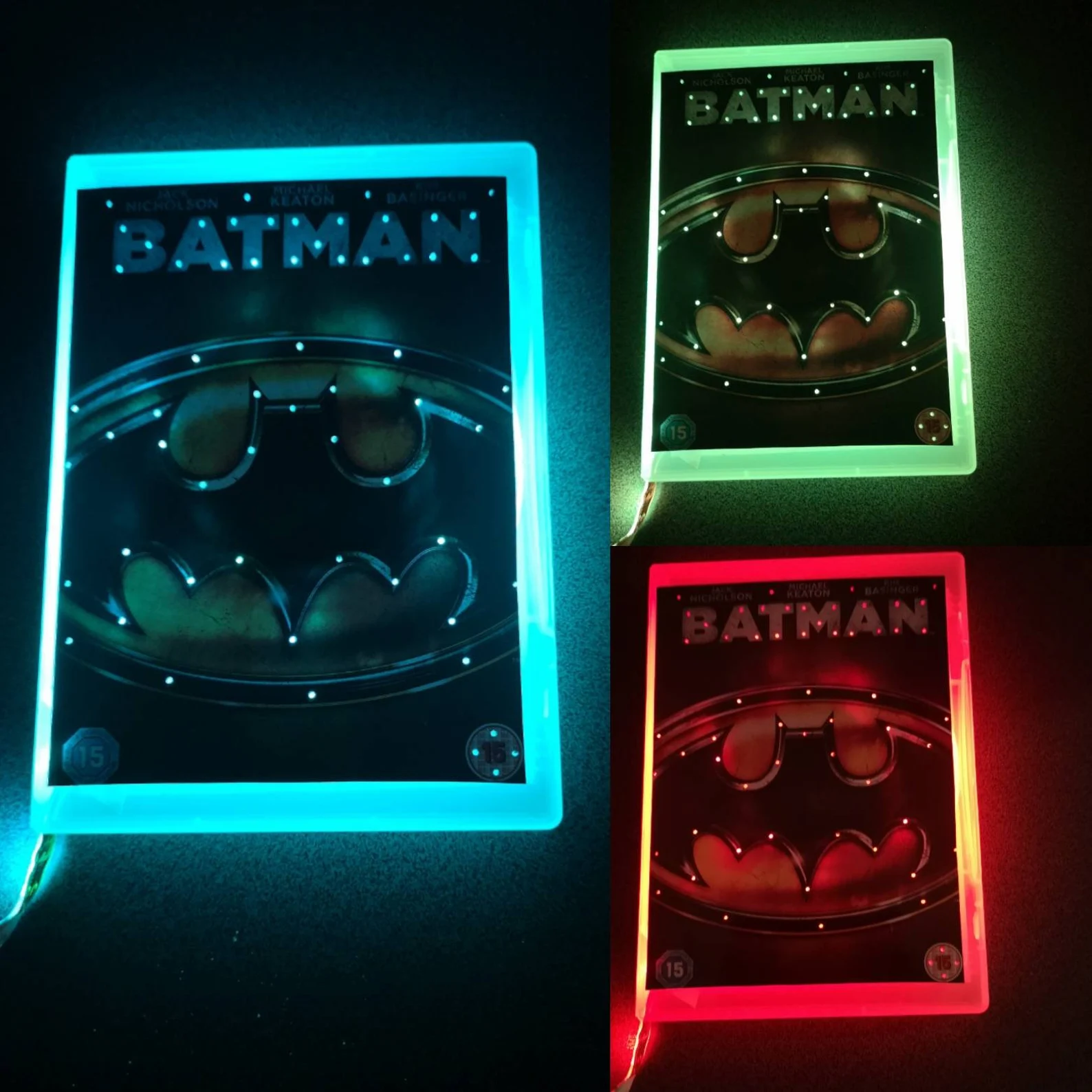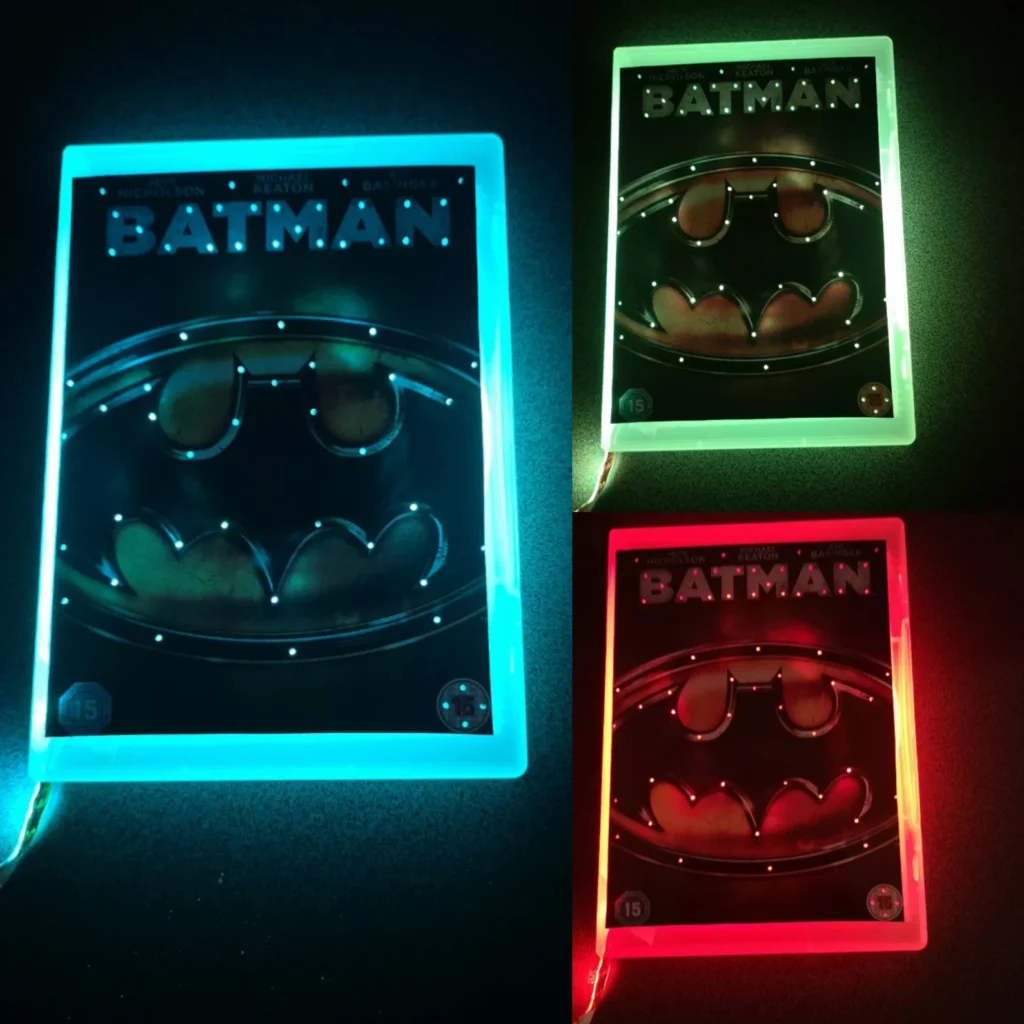 This is perhaps the most unique and peculiar item on the list. It is a desk lamp that comes in the shape of a DVD. It features the original "Batman" with Michael Keaton as the leading man. The front of the DVD shows the original product cover/wallpaper, while the plastic around the cover produces the light. So, when you want to use it, you just place the DVD on a flat surface, and its edges start shining. The way I see it, this is a less than ideal solution if you need a lamp.
It simply doesn't produce enough illumination as some other items on the list, so if you need a real lamp that will actually help you read in the dark or something like that, you should skip this product. This one is a major novelty, and I feel it could be a cool thing during the parties. Just imagine your friends' surprise when you turn off the lights all of a sudden and turn on the DVDs that were lying around on the desk. The lights can turn green, blue, or red.
Pros
  Using this product feels like doing a cool party trick.
  The design is unique.
Cons
  It doesn't provide enough light, so I have to consider it a novelty.
  Although I like the first iteration of Batman with Michael Keaton, I don't think that the product is as relevant today.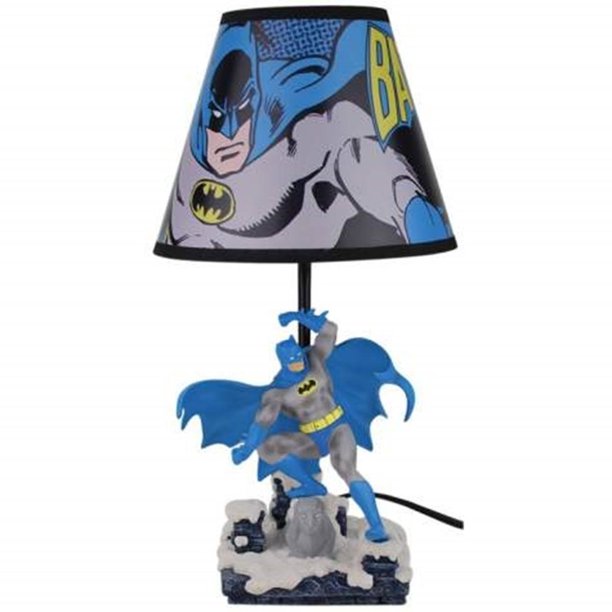 Most of these products are quite unorthodox, and this is probably the only traditional lamp on this list. The first thing you'll notice is the base. Batman is placed in a black stall. It seems as if there is snow beneath his feet, and it's as if the Dark Knight is slipping on it. In a way, the figure looks quite awkward. Batman wears the old outfit with light blue trunks, light blue gloves and boots, and a light blue cape and mask. The rest of the outfit is gray except for the yellow utility belt.
I don't like the base. It has too many convoluted details, although I appreciate the fact that the creators used the old Batman model. The upper part, or the shade, is much better. It shows Batman wearing the same retro outfit as if he's on a panel. I would prefer if they simply remove the figure from the basis, even though it is the reason why the product looks so unique. Anyway, I don't think that kids nowadays would appreciate the item just because it shows Batman in his old outfit. However, I believe that this will become a cool collector item one day.
Pros
  The lamp pays homage to the old Batman.
  The shade is pretty nice and is probably the main reason to buy it.
Cons
  I really don't like the figure on the bottom. While it makes the lamp look unique, it is far from good.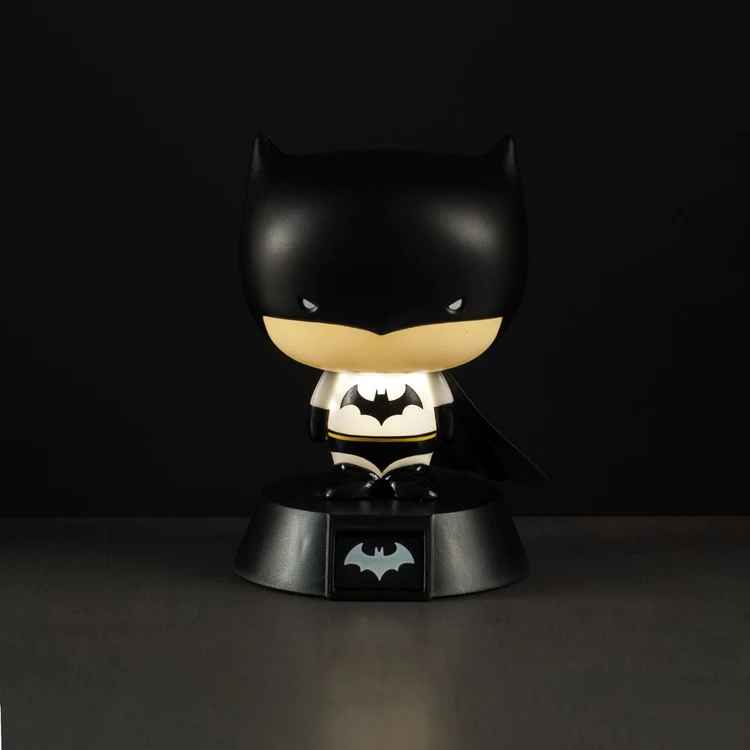 Nerdpug is a specialized Italian store that utilizes Funko Pop!-styled models and LEGOs as an inspiration for their own items. As a result, we are treated to one of the coolest Batman lights on the market. The product has a black, round base with a bat sign in the front. On top of it, you can see the Dark Knight. He has the form of a Funko Pop! figure, with a massive head and small body.
As always, Batman has a brooding appearance; small beady eyes definitely help with that. As for his body, the character is wearing a white outfit with a black Batman sign in front, black trunks, black boots, and a black cape. It is a rather small piece, and you can put it just about anywhere. The only bad thing is that it works on batteries. Although this means you can bring it outside, you have to hassle with batteries all the time. Regardless, I think that this is a perfect gift for people of all ages, whether they're a fan of the comic book or not.
Pros
  Unique design that is especially great for Funko Pop! fans.
  I simply love Batman's eyes.
Cons
  It doesn't produce that much light, especially when you compare it to some "hard-hitters" on this list.
  You need batteries to turn it on.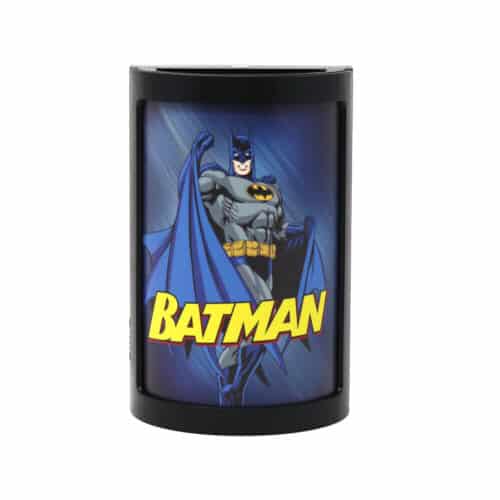 I bring to you another product that has quite a unique feature. Unlike the previous entries on the list, this particular LED lamp can be placed directly into an outlet. It doesn't have cords or anything of that sort. However, although this might sound cool in theory, it isn't the best concept in practice. My main concern is that the outlets are placed rather low on the walls and, as such, they won't give enough light to the room.
Anyway, the product is very neat. It has the shape of a semi-cylinder, which allows the placement against the wall. The lights come out of the top and bottom exits. On the front, there is an image of Batman, in his gray and blue suit, with large yellow letters "Batman" on the front. One thing I appreciate is the auto mode. If you set the mode on auto, the product will activate as soon as you turn off other lights in the room. This is a pretty cool feature, in my humble opinion.
Pros
  I think that the auto feature is the best thing about the product.
  The image on the front is also pretty cool, although it's nothing to write home about.
  You can plug it directly into a wall.
Cons
  The lights are placed really low, as you have to put them into an outlet. This is also awful because it restricts potential placements.
FAQs
Question: What is the best Batman light on the market today?
Answer: Batman is an incredibly popular comic book that inspired numerous companies and artists. Whether we're talking about Batman or Joker, these two are a constant inspiration for new movies, cartoons, and other shows. Among numerous cool Batman lights, I give advantage to Super Hero Batman 3D LED Table Lamp Night.
Question: What types of Batman lights are available?
Answer: If you browse some of the biggest online shops, you will notice there are so many different Batman products out there. The most common ones are night desk lights. They are placed on a stall and are powered with batteries or electricity. You also have wall lights, as well as lights that go directly into power outlets.
Question: Are Batman lights a good present for kids?
Answer: Most Batman products, including Batman lights, are nice gifts for kids. They come in various shapes and forms, and if your child is a fan of the comic book, they will surely love them. However, numerous Batman lights are more suitable for an older audience.
Conclusion
Batman lights are some of the coolest Batman products out there. They can light up your child's room and always remind them of their favorite superhero. However, you should be very careful when purchasing them as certain items are not suitable for minors.
My personal favorite is Super Hero Batman 3D LED Table Lamp Night. It is a cool item that will last for years and years on your or your kid's night table. There are a lot of other items worth checking out, so make sure to click on all the links in the article and study each one of them.
Recommended Reads: