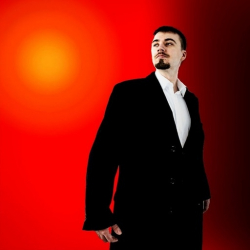 Latest posts by Stefan Stevanovic
(see all)
Captain America is one of the most popular Marvel superheroes. Portrayed as the team leader for Avengers, he has enormous charisma and incredible tactical skills. Still, that doesn't mean he's a slouch in combat. Captain America utilizes his trusty shield for both offense and defense, bouncing the weapon between numerous weapons and somehow still managing to return it back to his hands.
Having all that in mind, Captain America served as inspiration for numerous toys over the years. The most popular ones are the action figures, but we should also consider the shield toys. There are also some other stuff, such as Lego products.
Like other Marvel fans, I was always enamored with this superhero. He represents everything that is good and pure, which makes him an ideal role model for young boys. Although I didn't have many Captain America toys growing up, I did purchase a few Funko Pops over the years. They are a great addition to my work desk!
Anyway, here are the best Captain America toys and what's so specific about them.
Key Info Up Front
Captain America Toys are among the most sold superheroes items. These products are sold all over the world via online stores such as Amazon and Etsy, as well as the local toy shops.
My personal favorite is Full-Scale Captain America Figure. The product isn't necessarily a toy, but you can use it as one. No matter what, it makes for a great collectible. The item has numerous small details making it a perfect gift for boys, girls, and even adults.
What were the selection criteria?
When making the list, I focused on several things including:
The quality of a product (made by a reputable company).
Authenticity and the connection to the source content.
The uniqueness of a toy.
Whether it can be used as a collectible.
Overall, I tried to add items from different product categories such as realistic figures, small, funny figures, full-size shields, figures that can move limbs, items with cars, bikes and other accessories, puzzles, LEGOs, etc. Basically, if you ever want to buy a Captain America toy, you should find a nice piece on this list from its respective group.
Here is the list of all the best Captain America toys, including their current prices.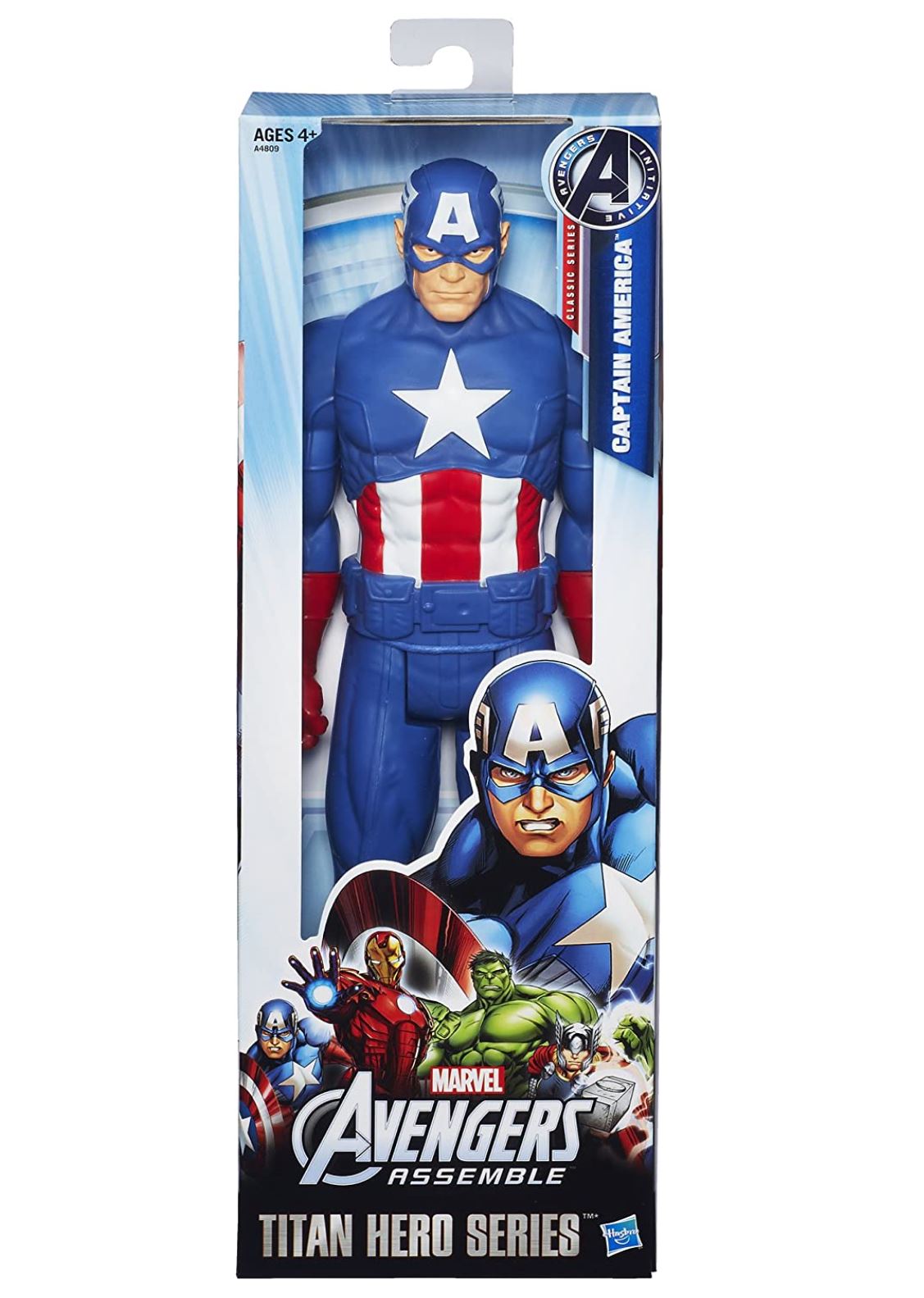 This product is perhaps the best representation of Captain America action figures. I love the fact that the Marvel superhero is shown in his traditional gear. In other words, he's wearing a dark blue outfit with red and white stripes around his stomach and a large white star on his chest. He has black boots, a black belt, and black gloves. Of course, he uses a large shield as a weapon of choice for bashing the evildoers.
It is made from durable plastic allowing the children to move Captain's limbs without damaging the figure. According to the manufacturer, the product is ideal for kids that are 4 years or older. Overall, the item is pretty clean and slick, and it looks very authentic.
In my opinion, this is a pretty solid action figure and a good starting point. Of course, it becomes much better when you buy other figures although I would recommend that you don't do it immediately. Instead, buy superheroes one by one thus ensuring that your child never gets bored.
Pros
If you want to buy an authentic Captain America figurine, based on his old model, it doesn't get much better than this.
Cons
You could argue that the product can benefit from more details, but this is nitpicking especially if we consider that its rather cheap.
See also: Captain America Characters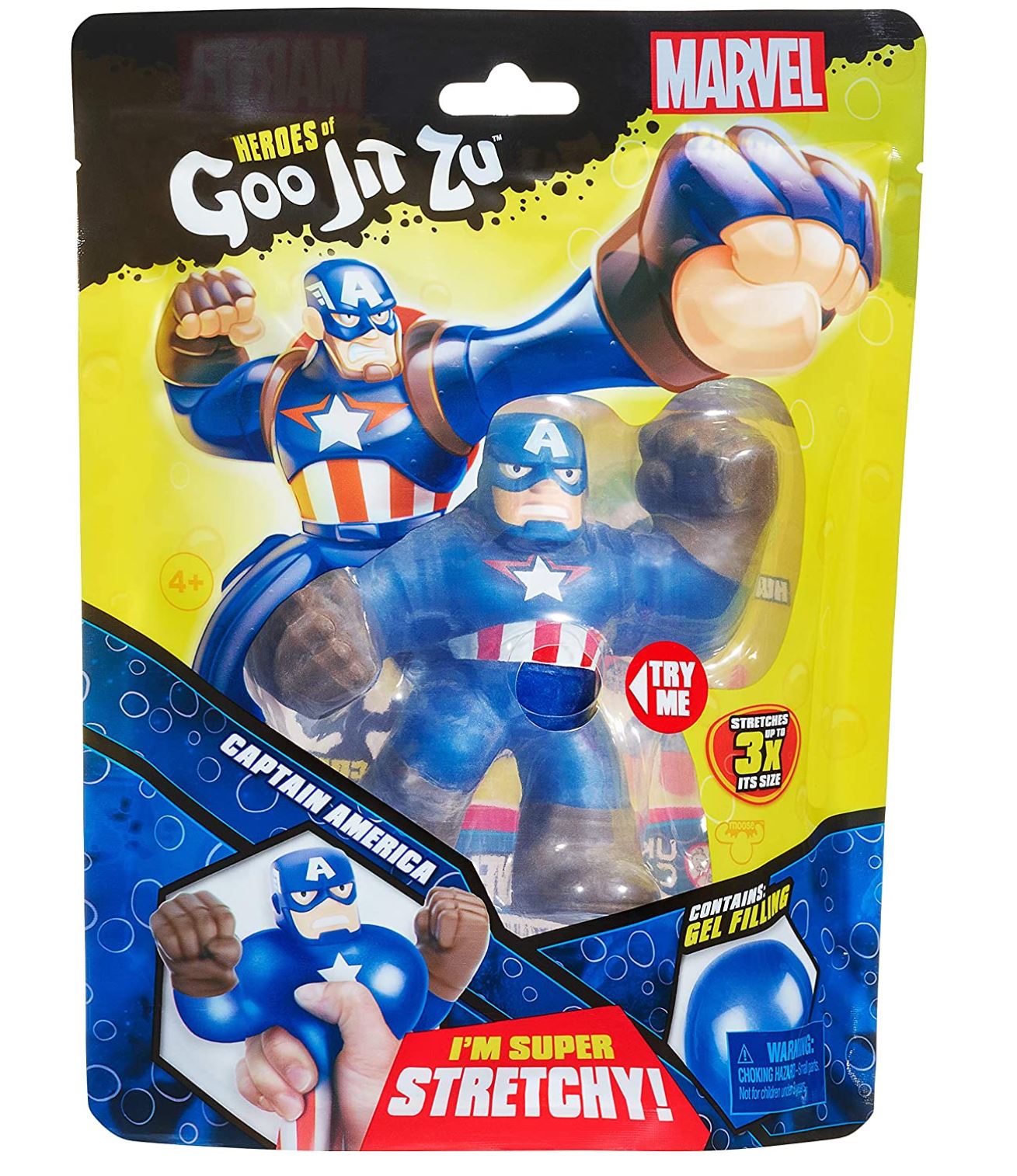 If you're looking for something completely different, you should definitely consider Heroes of Goo Jit Zu. Captain America is a part of a larger collection that also features Aquaman and Batman. Honestly, this is one of my favorites and it is especially amazing for smaller kids who are prone to damaging toys.
The thing that makes this item unique, separating it from the traditional action figures, is the fact it utilizes gel filling for its body (a combination of slime, glitter, plastic, glucose, thermoplastic rubber, and polyvinyl chloride). In other words, you can squeeze Goo Jit Zu toys to your heart's content without causing any damage.
You can stretch these toys three times their original size. Once you release it, the toy will return to its original state without suffering any damage. Interestingly enough, your kids can even share this toy with siblings and neighbors. They can stretch the item for hours and do all sorts of crazy things with it.
Pros
Great for developing muscles while you're having fun with your favorite superhero.
The toy's model is pretty funky and unique.
You can also rotate the character's limbs.
Cons
Despite being quite flexible, the toy might still burst if you strain it too much.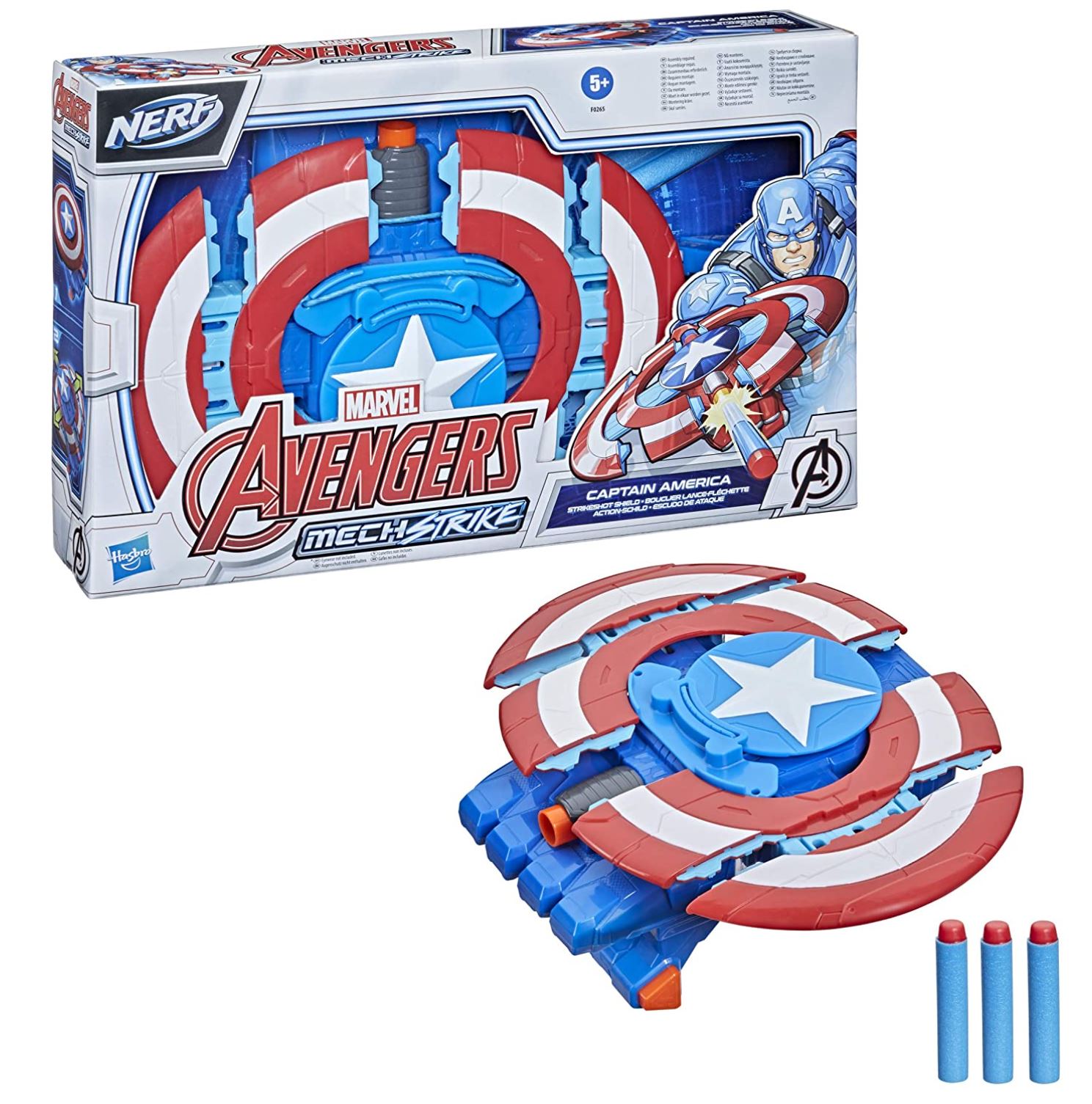 Captain America's shield served as inspiration for numerous toy companies. This nerf weapon is the best example. It comes with 3 darts, and your kid can use it for target practicing or messing around with other children. If you check the product, you will quickly realize that it's rather complex and that the company invested a lot of time and know-how to create it. In my opinion, it looks like something from Transformers.
The Strikeshot Shield is made from plastic. The product doesn't break easily, and it should last for a long time as long as your kid doesn't do something crazy with it (which will probably happen sooner than later). The weapon is reloaded after every dart shot. The product is made by Hasbro ensuring high quality of parts.
It is quite a complex toy, but I like it because it develops kids' arm muscles. It can be bought with other nerf items but then, rest assured that your kids will start shooting each other or, even worse, start shooting neighbors.
Pros
The toy has an incredible design and color combinations.
You can combine this item with other NERF Marvel products. That way, all the neighboring kids can have a blast.
I love toys such as this as they stimulate movement and muscle development for the young ones.
Cons
Toys such as this can be dangerous.
See also: Wonder Woman vs Thor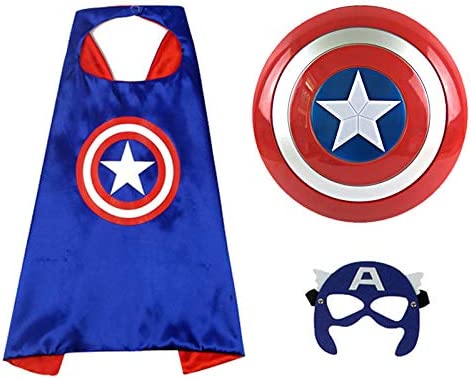 Cosplaying has always been cool among kids. Given the importance of Captain America within Marvel's pantheon, you can easily deduce that this cosplay item is extremely popular among kids all over the world. In fact, it was a tad bit bigger, I would wear it myself!
When you buy this item, you get a 12.5-inch shield, a large 27. 5 X 35.5-inch cape and a 19. 5 X 16-inch mask. However, don't let these dimensions fool you as the products are quite flexible and can be used by children of different ages. Although your kid can always use this product to play with neighbors, it is especially great for Halloween and other costume parties.
Although each piece is incredible in its own right, the shield can be considered the centerpiece. It can produce lights and sounds and has inner straps allowing your child to wear it at all times. You can use the shield to goof around (something I would definitely do with my kids), but it isn't intended for rough play as it can easily get damaged.
If you want to buy this one as a toy, I would recommend getting a similar villain or superhero set. This is especially true if you have a second child like myself. Just give your kids these two products and watch them run around the backyard for hours pretending they are battling each other. Despite what you might think, these items can be highly addictive for kids, they are great for muscles, and will get them out of the house.
Pros
You can use this set on numerous occasions.
It is great for developing kids' imagination, and they can use it to run around the backyard and do all sorts of mischief.
Cons
The cape doesn't really fit the superhero and I would like to see something else instead of it.
The mask could've been better.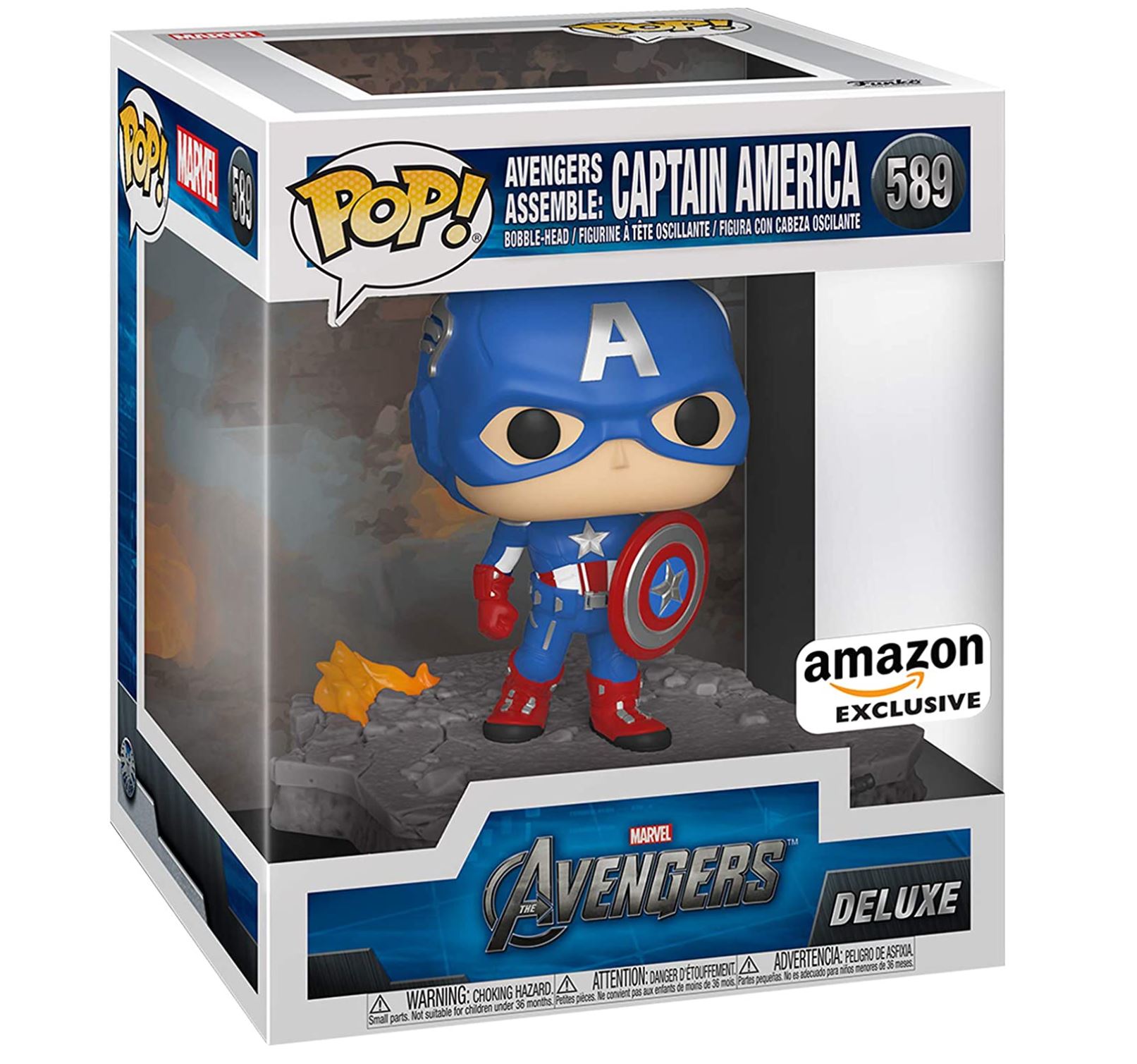 Although not necessarily toys, Funko Pop items are great collectibles. Captain America is one of the several pieces from the Avengers series, with the other ones being Thor, Iron Man, Hawkeye, Black Widow, and Hulk. The product is made from sturdy vinyl, and it feels really awesome when you get all these bad boys.
Captain America stands on a gray surface, and you can connect this piece with other land surfaces from other Avengers Funko Pop! figures. If you get all 6 products and connect them, you get one larger item.
According to the company, it is perfect for kids 3 years and older. In my opinion, this can be a nice toy for younger children as it is quite durable and doesn't have spare parts. Some parents are widely possessive of their Funko Pops! and see them as great collectibles. However, I believe they can be better toys than some other items on the list.
Pros
Incredible toy design with lots of interesting details.
You can collect Funko Pop! as separate pieces, you can combine them with other Avengers, or with other Funko Pop! items.
Cons
Not really a toy, although you can play with it.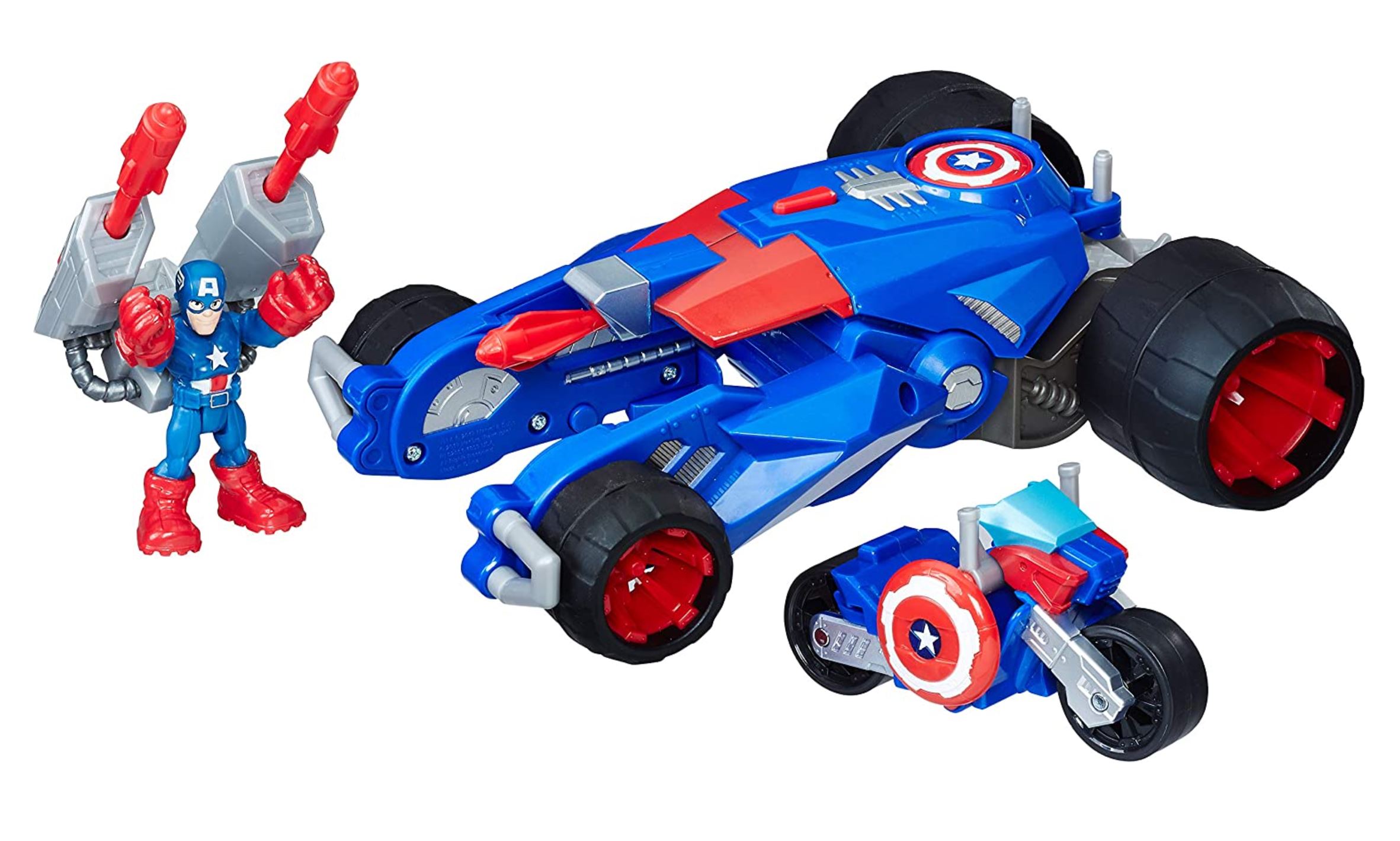 This is one of the most expensive items on our list. When you buy Playskool Captain America set, you get Captain America with a victory launcher, as well as the tank with a motorcycle inside. The great thing about the set is that two kids can play with it making it ideal for siblings or friends. The way I see it, this is one of its better-selling points. By detaching Captain America's hands, you will also detach the victory launcher.
The item is made from polypropylene, which is the second most popular type of plastic due to its resilience. So, if you have rowdy kids who tend to break their toys, this would be a great choice.
The product has 6 different pieces and it is ideal for kids from 3 to 7 years old. Playskool has made a few other similar products, so I recommend getting a few of them so it's easier for kids to play. The thing I really like about this one is that it comes with vehicles which significantly increase kids' retention. For whatever reason, boys love to vroom back and forth for hours.
Pros
The product has several different pieces making it ideal for a group of friends.
There are other Marvel Playskool products you can buy, so you can get a whole set of interchangeable items.
Cons
Captain America doesn't look like himself, and some of the pieces are out of place.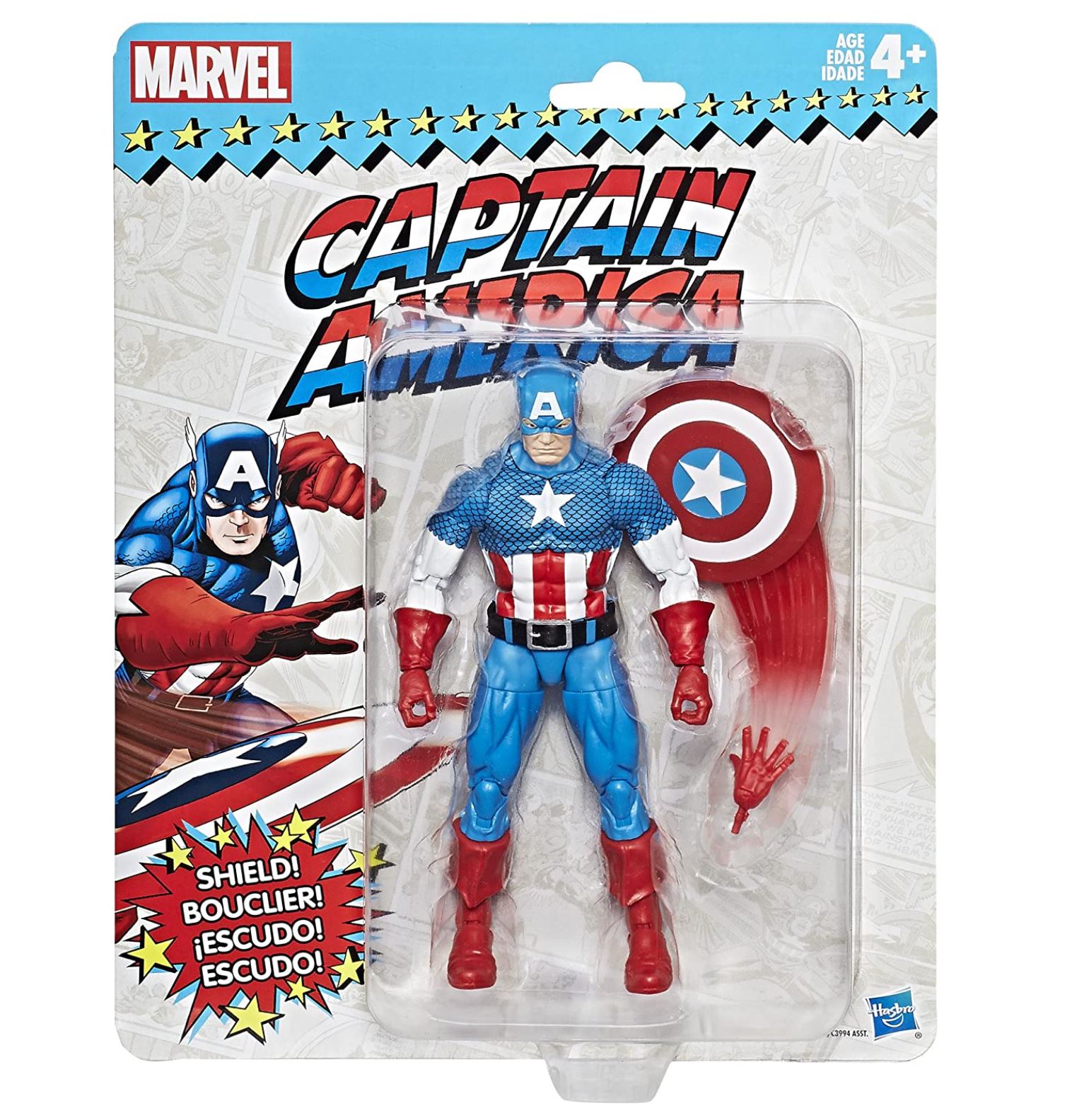 This 6-inch product is an incredible throwback to the old G.I. Joe-type figures that were made by Toy Biz back in the day (the 80s and 90s, to be precise). Now remade by Hasbro, it is a relatively small, flexible toy and a great gift for boys and girls. When you buy the item, you also get a full set of accessories, including Sentinel of Liberty.
The great thing about this item is that it has so many details. This makes it not only an amazing toy but a highly prized collectible. Captain America wears his standard shield and even has an extra, swappable arm that will make it look as if the Avenger is throwing the shield at an enemy.
Most parents don't realize this, but the ability to switch hands and use a flying shield makes all the difference for the kids. They go crazy with this one as they are given a few more options for make-belief games. However, finding the spare hand after playing can be a nuisance sometimes. I recommend checking below the couch.
Pros
You can swap Captain America's hands if you want him to hold the shield.
There is a red plastic trail between shield and hand making it look as if it's flying.
Cons
The product seems a bit inferior compared to similar figures on the market.
Captain America looks extra grumpy and I don't know how to feel about that.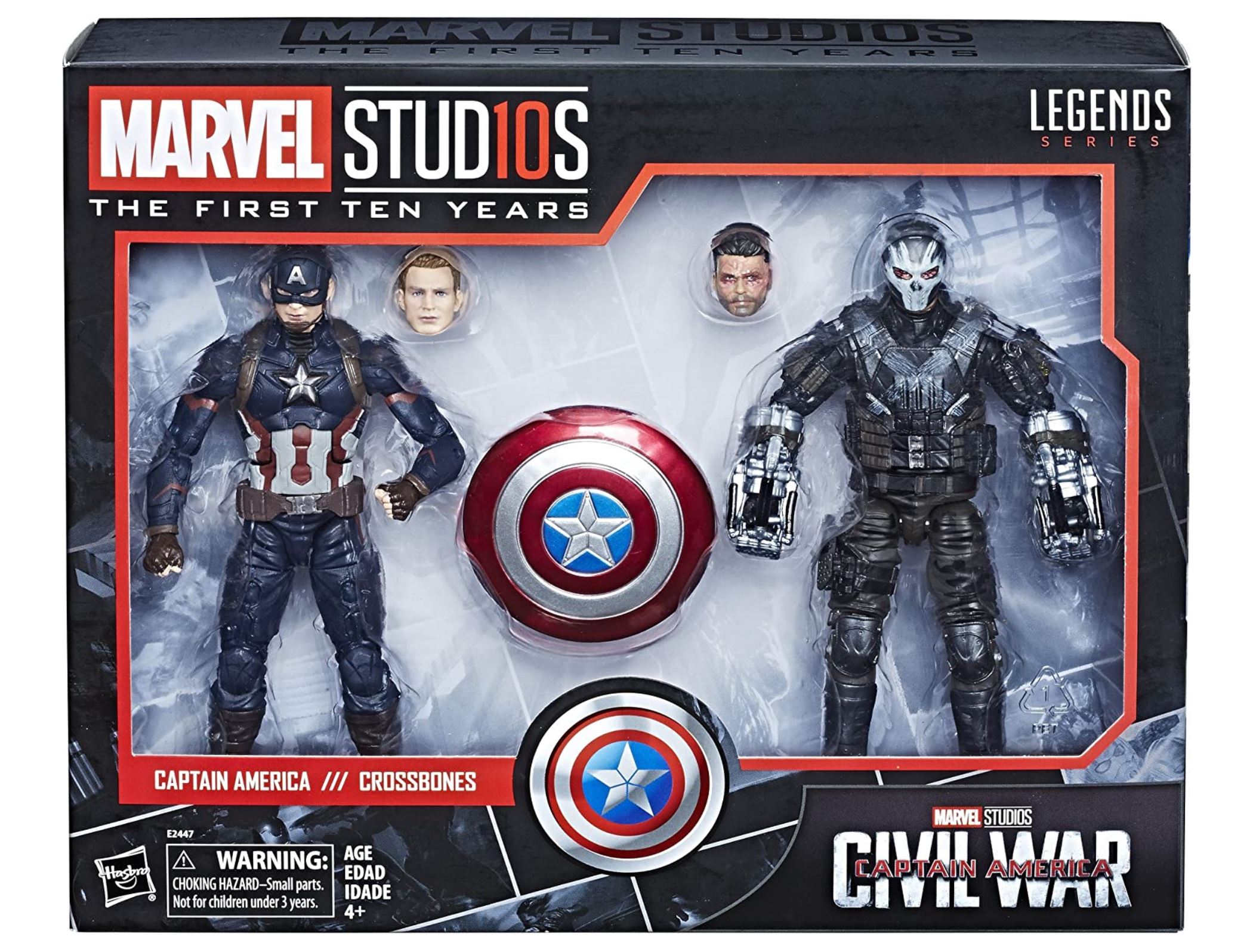 If you like Crossbones and would like to buy your kid two toys at once, this is an awesome opportunity to make it happen. The double pack features Captain America, one of Marvel's most popular characters, and his nemesis, Crossbones.
The product was released to celebrate 10 year anniversary of Marvel's Cinematic Universe. These two items showcase Captain America and Crossbones as they looked like in Captain America: Civil War. Of course, this isn't the only rendition of the two characters, given the long history of Marvel comic books and the fact that most of their superheroes and villains have gone through several iterations. I simply love this version as it looks gritty and dark.
Captain America looks like Chris Evans, while Crossbones was portrayed by Frank Grillo. Their appearance refers to the 2016 movie. Each figure can move its limbs, and you can put them in various positions. Another cool feature is unmasking. In fact, the only way to determine that these toys resemble Evans and Grillo is if you were to remove their masks.
The two-pack also has some extra accessories that will make playtime that much more enjoyable. As per usual, Captain America comes with a detachable shield, while Crossbones has two power gauntlets. The product is even better if you have other villains and superheroes, or if you have some sort of modifiable terrain.
Pros
Lots of small details on this one. I especially like Crossbones' model.
Given that you get two toys, it is great for friends to play with.
Cons
I don't like Chris Evan's face.
Some of the joints seem flimsy.
See also: Best Wonder Woman Gifts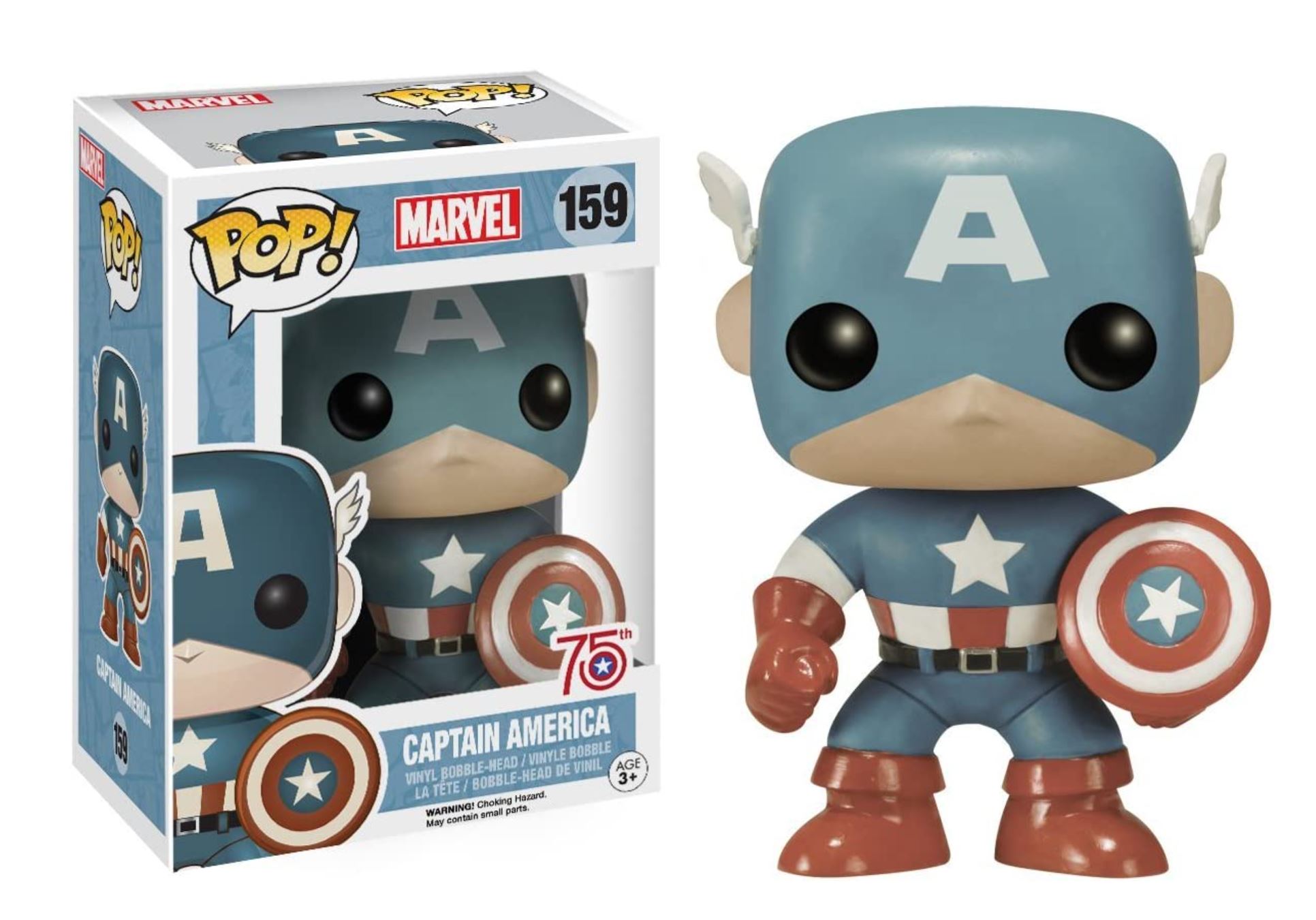 This is another highly prized collectible and a cool item for all Avengers and Captain America fans. The character was made in 1941, and it looked much different from its modern version. What's really interesting is that Captain America was made before US's involvement in World War 2. As the war raged across the globe, the show's creators decided to make the Captain a bit more patriotic, becoming an important part of the US war effort.
Captain America has his old form, with a light blue suit and helmet with white wings. The outfit also has stars and stripes; the character wears red gloves, red boots, and the traditional shield. Although most Funko Pop! figurines look really innocent (mostly because of their eyes, oversized heads, and lack of facial expression), Captain America takes it up a notch. He is very goofy, especially when we consider how old his outfit looks.
Aside from the old outfit and a new custom package meant to celebrate 75 years of the character, the item also utilizes a sepia tone, which makes for a much better portrayal of the superhero. Overall, it is pretty dope addition to your collection and a real treat for all diehard fans.
Pros
Amazing collectible for real fans.
For whatever reason, I really love the boots.
Cons
Don't have any particular complaints.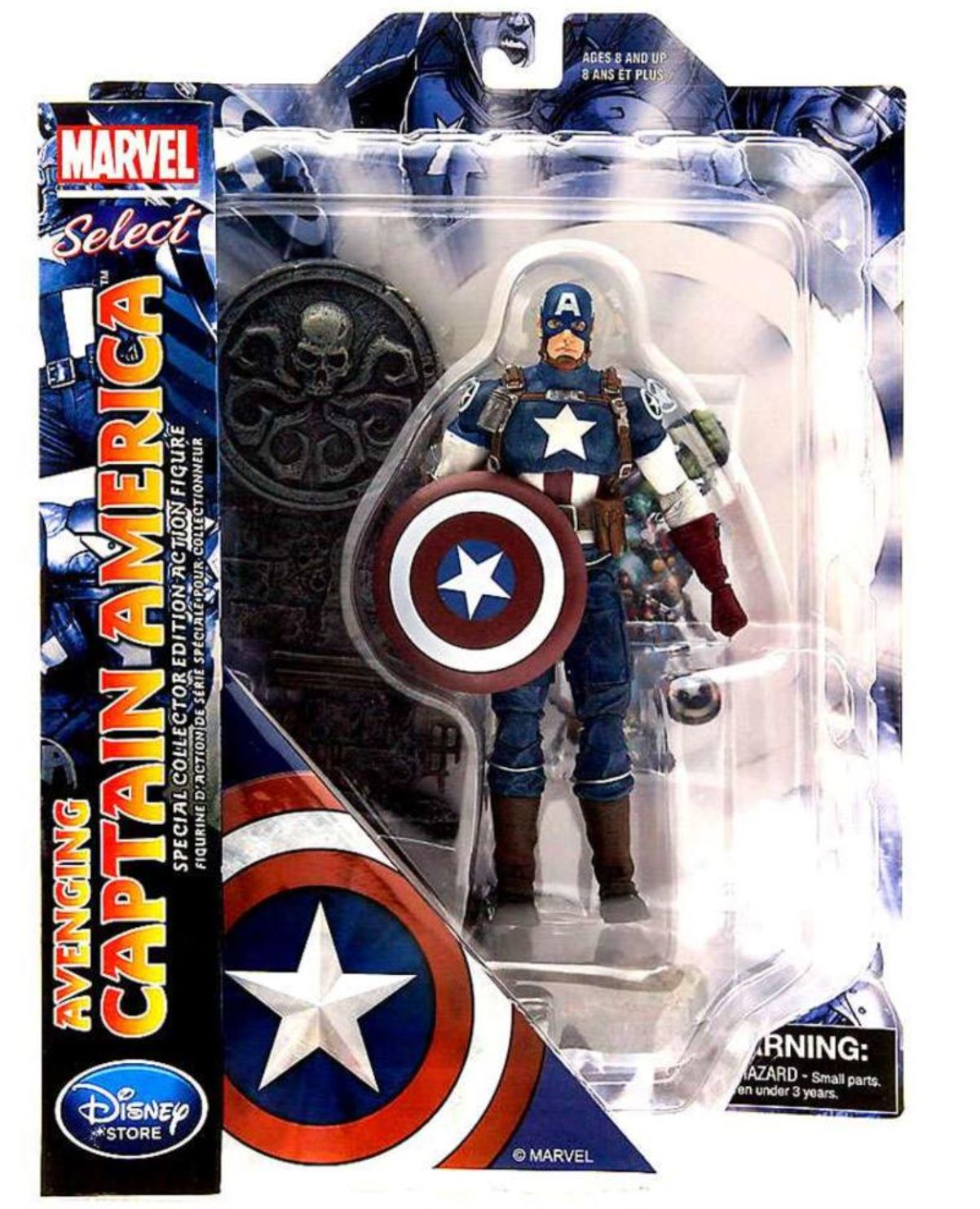 If you're looking for a detailed piece of art, it doesn't get much better than Marvel Select Captain America. Unlike most other GI Joe-like figures that have somewhat generic colors, this object has complex shading. It is placed on brown ground, with a Hydra shield in the back. To me, this looks a bit confusing as if Captain America has joined their ranks.
The product looks like Captain America from his first Marvel movie, Captain America: The First Avenger. There are a lot of small details that refer to this era. For example, the Captain has a smoke grenade and characteristic ammo pouch. His arms and legs can be moved in 16 different ways. However, this product is not a great toy, but much more a prized collectible.
Overall, a very sold G.I. Joe-type toy that goes well with other action figures. You basically can't go wrong with this one.
Pros
Overall, the toy has a lot of details to it.
You can move the limbs in several directions meaning that it can be a nice plaything.
Cons
The Hydra sign in the back looks a bit out of place to me.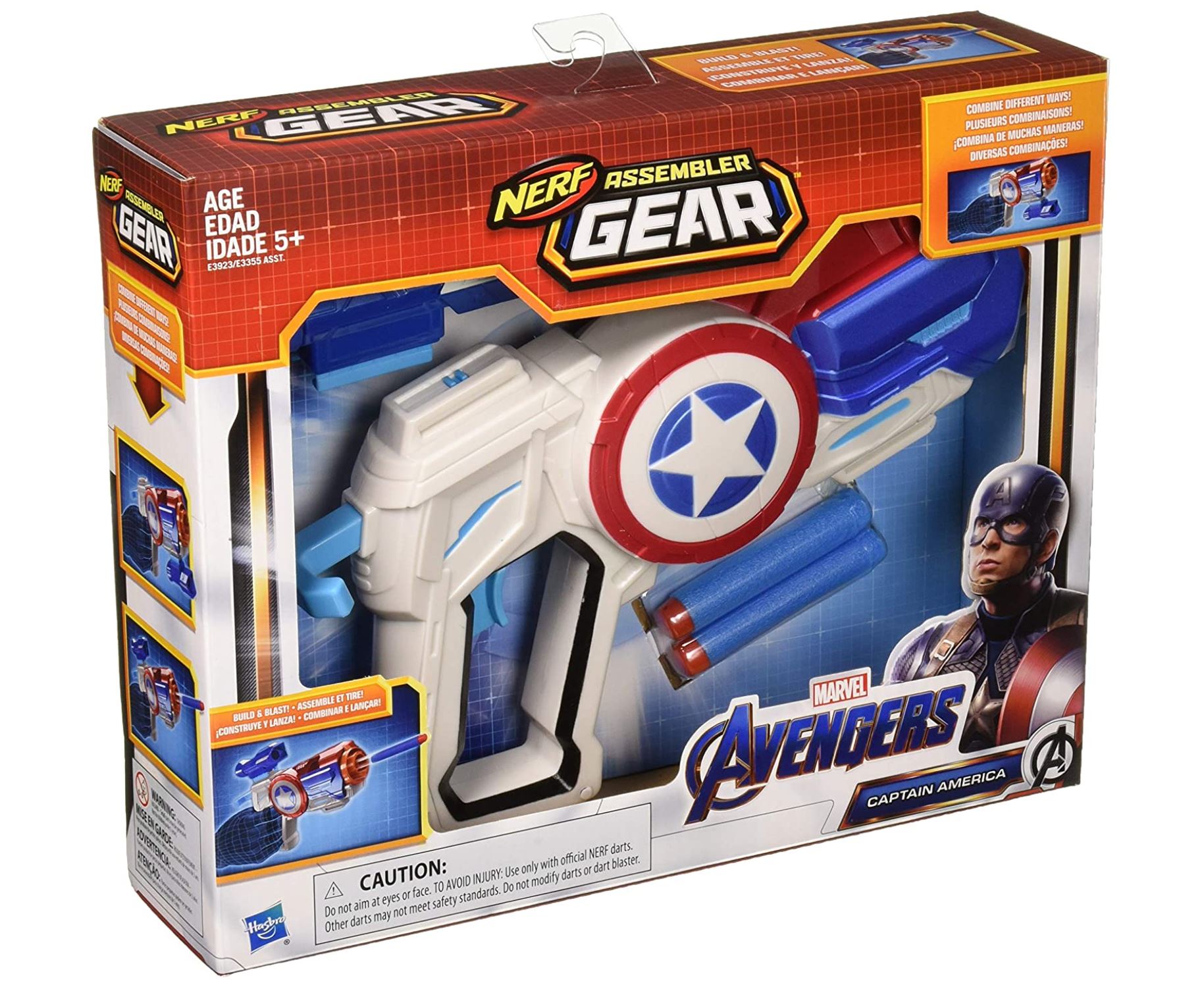 Nerf weapons are sometimes inspired by superheroes, which really makes sense given that these products are meant for the youngest users. The same can be said for Avengers: Endgame Nerf Captain America Assembler Gear. This is basically a nerf gun that comes with two darts. You have a scope in the back, as well as a small Captain America shield on the side, which is a really neat reference to the Avenger. When you purchase the item, you also get a connector. Like all NERF products, this one is ideal for kids but it can also be a bit dangerous.
The product is ideal for boys from 5 years and older. It is one of the numerous Hasbro products with the Marvel theme. If you're unacquainted with Hasbro nerf gun collection, there are more than 100 different weapons, and their parts are usually interchangeable. So, you can have a lot of fun by combining several pieces and their accessories.
Like all nerf toys, you will need to give your kids a bit of training before allowing them to play with the gun. Keep in mind that they can easily lose these darts (something that always happens to my boys), so it would be good if you had spares from other sets. Although the company states that the product is good for children 5 years and above, I recommend it for much older kids as they are more responsible and these guns can be dangerous.
Pros
Nice product that will give your kid hours upon hours of fun.
Cons
Don't buy it if you think that your kid will cause damage to others.
See also: Captain America vs Thanos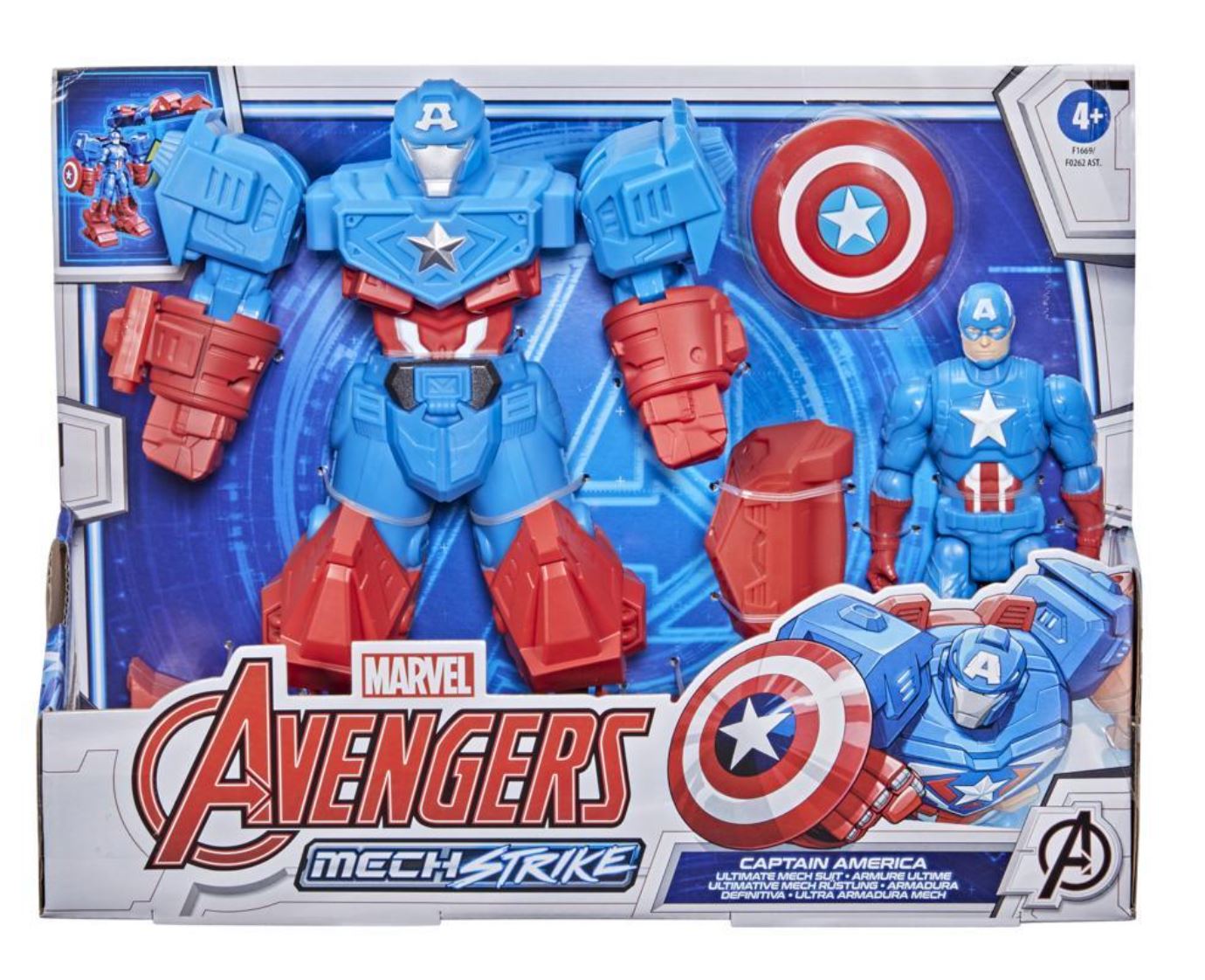 Here is another cool product by Hasbro. This particular item is completely different from other Captain America figures as you get a massive Mech. It holds a smaller Captain America inside, which you can extract at any time, allowing you to play with pieces separately. Although a bit unorthodox, I dig the combo.
In many ways, the mech looks like a Transformer or mechs from Power Rangers. It has numerous bulky square parts, including his fists, shoulders, and legs. Similar to Captain America, his feet and hands are red, and he also has a red vibranium shield on his right wrist. The mech has stripes around his mid-section, once again similar to Captain America, and a large white star spread across his chest.
As for the Captain America model, it is very similar to all of them. He wears a blue outfit, with red boots and gloves and stars and spangles on the mid-section. In that regard, the mech and the superhero are also carbon replicas of each other.
Hasbro recommends the toy to anyone older than 4. The Mech Strike product is a part of a larger collection that features other Avengers, as well. Although the two pieces might feel awkward if you buy just this product, it all makes sense if you buy several items from the series. Then, you get several mechs and several superheroes making things much more interesting when your kid's playing with his friends or siblings.
Pros
I'm enamored with the mech.
Cons
Captain America looks a bit like a random cyborg and not a Marvel superhero.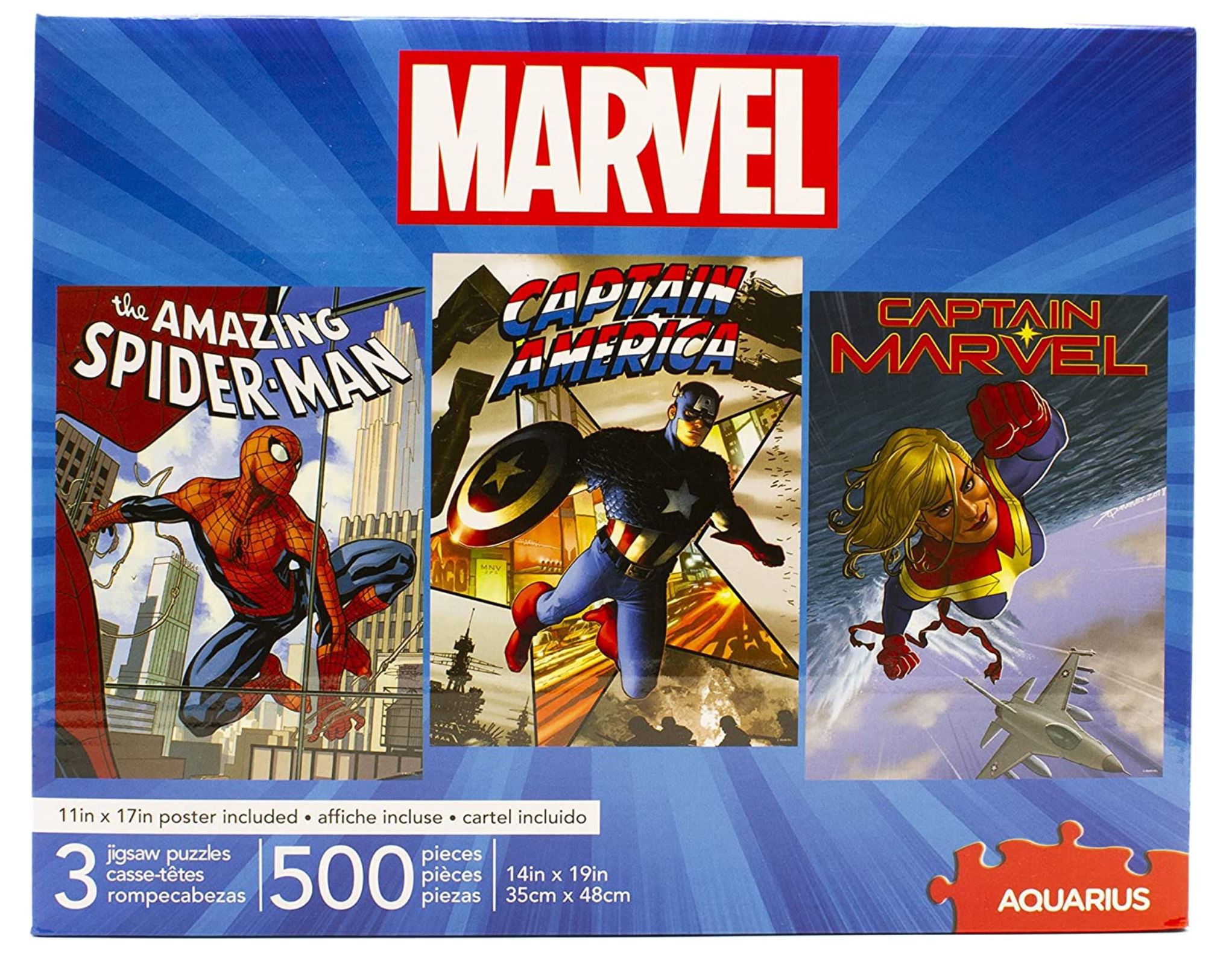 If you're looking for something else, a product that would engage your brain, it doesn't get much better than the Marvel 500-piece puzzle. The item features Amazing Spider-Man, Captain America, and Captain Marvel. You get 3 different puzzles with a total of 500 pieces, ensuring a lot of fun hours.
It is worth noting that the product is officially licensed, and it features actual images from comic books. These puzzles are ideal for kids of 14 and older, but they can also be nice for younger children as long as they're supervised by parents. The puzzles can be a choking hazard, though. If you ask me, I would much rather play with them than give them to my kid. Then again, they are great for developing different parts of the brain.
Amazing Spider-Man is shown jumping from a rooftop to a rooftop, Captain America jumps through the air, while Captain Marvel flies high in the sky, above a fighter jet. The thing I really like about these puzzles is that they can be fun for both you and your kid. They are great for the development of depth perception and other ocular features, and can also have a positive impact on the brain. I highly recommend having at least one puzzle set in your house!
Pros
Puzzles can be great for kids' development.
You get 3 different sets in one making the purchase that much sweeter.
Cons
Don't have any real complaints.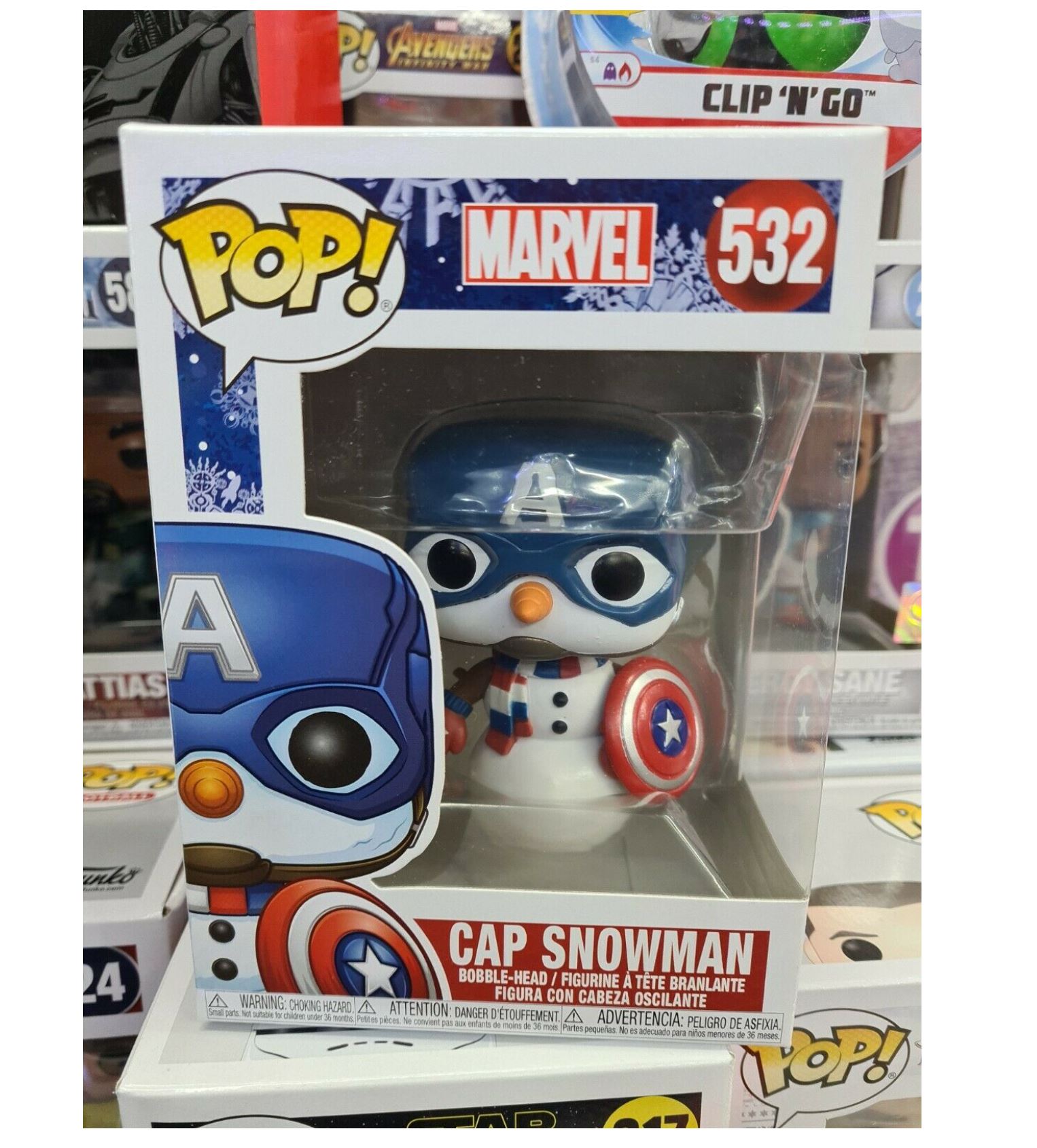 As mentioned, there are numerous Funko Pop! Avengers on the market today. Each superhero has several Funko Pop! iterations, which is really cool if you're an avid collector or if you simply like Funko Pop! style. Personally, I love these pieces, and I collect them vehemently. So, if you're looking for a new hobby, I warmly suggest that you go start collecting these items.
In my personal opinion, this particular product is really crazy. Instead of the usual Captain America design, you have a snowman with a carrot for a nose. The figurine has Captain America's helmet, red winter gloves with white stars on them, Captain America's shield in the left hand, and a blue/white/red scarf. The snowman has wooden, dark brown arms.
The item is great for anyone 13 years and older. Although some people will not appreciate the winter theme, it is a really cool design that stands out from most other Funko Pop! figures. Keep in mind that this is more of a collectible, but if you have a few of them, your kids can actually play with Funkos. In fact, I've discovered that Funko Pops! as toys are much more suited for girls as they are not as violent as the boys.
Pros
The snowman is simply ludicrous. How not to like him?
The design is pretty clean, and it is an ideal winter gift.
Cons
Like other Funko Pops, this is more of a collectible than a toy.
FAQs
Question: What are the best Captain America toys?
Answer: There are so many cool Captain America toys on the market nowadays. Some of them include nerf guns, figurines, puzzles, full-sized shields, and so on. The figurine market is especially vast, with numerous cool items you can purchase. Some of the best ones are Funko POP Marvel: Infinity Warps- Soldier Supreme Vinyl Figure, Marvel Avengers Titan Hero Series Collectible 12-Inch Captain America Action Figure, and Playskool Heroes Marvel Super Hero Adventures Captain America's Victory Launcher.
Question: What is the most common type of Captain America toy?
Answer: If you check any large US store, you will quickly notice that action figurines are among the most popular Captain America items. If we were to give an advantage to one particular brand, that would be Funko Pop! They have some amazing Marvel products that are definitely worth your attention.
Question: What are the most dangerous Captain America items?
Answer: Most Captain America items are safe or safe with parents' supervision. However, some of them can cause issues, especially for smaller kids. The best examples are nerf toys which most kids use to shoot at each other. There are also a few shields that are especially sturdy and could cause injuries during rough play. The same can be said for items with few detachable pieces.
Conclusion
Captain America toys are among the most wanted toys on the US market. With the rise of Marvel's movie universe, people have started buying these items all over the world. Aside from being great toys, they can also be interesting as collectibles, which is especially true for Funko Pop! items.
As previously mentioned, my personal favorite is Full-Scale Captain America Figure. The item is incredible in so many ways, and you can place it in a cupboard, on a work desk, or anywhere else in your house. It makes for a great collectible and a piece of decor.
Recommended Reads: