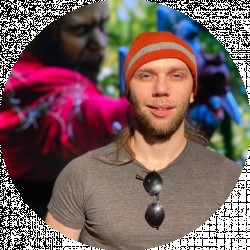 Latest posts by Bryan Hughes
(see all)
Finding the best Batman car accessories can be an exciting hunt for any DC Comic fan or just Batman fan in general. 
I know the many different Batmobile variations are some of my favorite parts of the films and television series. I would be remiss not to admit I love making my ride a bit of its own Batmobile. 
I don't just enjoy touching up the car for aesthetics, though. Like you probably, I want some accessories that don't just show my Batman love but also have some functionality. Such as a steering wheel grip or seat covers. I like how these things always add a little something special to the vehicle. Not separating it just by their look by making it feel more like "mine" whenever I step inside.  
Through my journeys and far too many search engines, I can happily bring you this list of the best Batman car accessories to pimp out your ride with a fun and eclectic list of car accessories. 
Bottom Line Up Front
The best car accessory might very well be, for me, one you can carry on to other vehicles. When it comes to Batman, the Batman Lights really are the most flashy and fun addition you can get. Opening the door and a Bat-Signal hitting the ground really hits me in the comic book feels. Makes my vehicle and my love for Batman stand out to anyone that catches a glimpse, so I'm giving it the top title. However, if you're sure this car is your final car, the end of the following list holds an even cooler upgrade. Read on to find out. 
Selection Criteria
Selecting from the thousand of choices out there can be overwhelming. However, I used specific criteria to help trudge my way through the weeds and bring the best of them right to you. These criteria(listed below) made each choice easier. 
Quality

: How long will this last? How durable is it?

Style

: Does this stand out? Is the look significant enough? 

Price

: Is the cost worth the reward? Is it affordable in general?

Compatibility

: How well would this work with other accessories? Can I build on this as a starting point?

Detail

: Is it conveying what I desire? How much care was put into its design?
My Top Picks
There are a lot of decals out there, especially of the classic bat signal. While going through the many options, this one ticked the most boxes. It contorts well to surfaces, has a long life, and is highly weather-resistant. The quality makes a difference, but at 9.99, cheaper decals of this type are available. I wouldn't hate spending 10 dollars on this, as I know it would live long enough to make the purchase worthwhile.
Quality: High
Style: Good
Price: Decent
Compatibility: High
Detail: Good
The Dark Knight gives the Man of Steel's symbol a little flavor. This is not precisely the most child-friendly sticker or Superman fan-friendly either. I absolutely love this decal, though. I put it in my room, admittedly not in my car. It is, however, a tremendous one-off sticker for the Batman fan with a sense of humor. No, I don't dislike The Man of Steel. I just enjoy the concept here. It is unique, standout, and will let everyone know whose side you're on when the conversation comes up. This is a top-tier Batman decal.
Quality: Good
Style: Awesome
Price: Great
Compatibility: Low
Detail: Okay
Suitable for jeeps, smaller vehicles, or just the small spaces on windows. I call it; "tiny but intimidating." Like my last partner. Ha. All jokes aside, this is so cool. I stumbled across this decal while researching for this article, so I haven't picked it up yet. It's on my "get me soon" list for sure now. They put in some really clever work with the design, making it both simple and freaking awesome simultaneously. It certainly falls right into the best of the best Batman decals. It can be used with almost any car design, paint job, or Batman accessory.
Quality: Decent
Style: Great
Price: Good
Compatibility: High
Detail: Great
See also: Children of the Atom: X-Men Universe Guide
This could probably glide down on criminals in the night. It is an excellent find if you're looking to go all out on the vibe inside the vehicle. Which vibe? Batcave vibe, of course. A secure phone mount is an everyday accessory for any modern driver, especially with how much a phone can do these days. Location finding, radio tunes, researching information on criminals, and scanning the area for good pizza. Wow, a properly used phone makes your car more like the Batmobile than I thought. In conclusion, a Batman phone mount accessory is a top-level upgrade for any driver.
Quality: High
Style: High
Price: Good
Compatibility: High
Detail: Great
See also: Hot Toys Batman Review and Guide
The upholstery of your vehicle is also very upgradable. This is one of the higher costing links I've given you, but it also comes with the most accessories in one. Now, if you don't have triple back seats or only want the front seats done, you can easily scout these link options for just the individual buys. However, if you're like me, you'll want the entire interior to go full Batman. I like the classic logo a lot, and this is good quality material sporting that logo all through the car.
Quality: Good
Style: Good
Price: High, but worth it for the quantity.
Compatibility: Good
Detail: Decent
Here are some batman themed seatbelt cushions to finish off the seat décor. Clearly a 2-pack, you can buy double to get the backseat ones done. What? You were only buying backseat ones for your kids who are Batman fans? Ha, sure, sure, whatever you say. These make it on the list easy because I find seatbelts just uncomfortable in general. Having a nice cushion on them is nearly a must for me, and one with that classic Batman logo? That's a big must-have. They are leather, easy to apply, durable and comfy to boot.
Quality: High
Style: Okay
Price: Decent
Compatibility: Great
Detail: Okay
What if you have a little bat, baby? Or, I guess, just a baby in general that loves Batman. They didn't tell you yet, but they probably do. Here's a Batman baby seat for that future fan(primarily for you, but you never know)! While there were several to choose from, I finally settled on this one. I sometimes find anything with two large a face a risk. The goal is not to scare the kid but to make them feel as safe as they are. This Batman baby car seat goes well with a classic gray, black and yellow Batman interior setup. Not to mention the excellent quality and easy cup holder for baby milk or water on its side. Easy to strap in and set up, this is one of the best parent car accessories of the Batman variety.
Quality: High
Style: Great
Price: Expensive
Compatibility: Good
Detail: Good
See also: 22 Best Spiderman Backpacks [2022]
While there are a few options on the market, I prefer this sleek steering wheel cover. The quality is high, and the look stands out in any car, even if you haven't added other Batman accessories. This alone sends a clear statement of your fan hood. Its drawback? The durable, strong-grip material and look come at the price of "not good to leave in the heat." If you've had this kind of steering wheel cover before, you know it can warm up not as much, but much like a steering wheel on a hot day. That's okay. The following accessory has you 'covered.'
Quality: High
Style: High
Price: Not Cheap
Compatibility: Great
Detail: Good
When sunny days come around, bad things can happen if heat hits that dashboard. Not having a sun protector can cause long-term damage to the front interior of too many vehicles. As I mentioned earlier, it can heat up a steering wheel. Keeping a car cool and the inside shaded is a pretty significant 'must' for summer days in most places. There are a lot of choices on the market, and I narrowed them down to this one for one reason and one reason only. It has chibi Joker and Batman fighting. My favorite design on the current market. It is also easy to fold up and put away after using. That's kind of important, too.
Quality: Good
Style: Great (read fun)
Price: Decent
Compatibility: Good
Detail: Great
Something you may not have even known was in existence. These lights attach to your door and shine Batman images onto the ground when you open them. Fantastic, more so for evenings than daytime, and something people are unlikely to see coming. If you want to pimp your ride out in a way that stands out, specifically with a Batman theme, this is precisely what you need. The downside is, make sure you install them well. They may not cost much, but anything like this poorly put in can end up short-lived. These are my favorite Batman car accessories but aren't the easiest to put on your vehicle and require you to open your door at night to show off.
Quality: High
Style: Awesome
Price: Great
Compatibility: High
Detail: Amazing
I wanted to make a subtle transition to the outside of the vehicle. What easier way than to start with custom plates? No, they aren't that expensive form of custom plates you pay for to say something clever like JKR 4EVR or something like that. They just make your regular license plate look better in a more affordable way. These custom front and back additions to your vehicle add exceptionally detailed, high-quality Batman-themed flair to the car. While cheaper options are available on Amazon, I found these to be from a reliable site and the quality to be worth the cost.
Quality: High
Style: Good
Price: Okay
Compatibility: Good
Detail: Good
This was one of the more debatable additions to the list for me. I like the classic yellow Batman symbol, but the wheels always looked better to me with a nice chrome or darker color. So, after some deliberation, I chose these as the best Batman hubcaps for your car. One problem is hubcaps are a bit easier to lose than most decals or interior items. However, these are VERY affordable! They are also of excellent quality and light enough for anyone to apply them without much trouble. Definitely, a must-grab if you're going for an all-out Batman-themed ride.
Quality: Great
Style: Great
Price: Great
Compatibility: Okay
Detail: Okay
This accessory makes the list for both its subtlety and usefulness. You may not notice the bottom part of your door too often, aside from when you're cleaning it, and then you may likely see it scuffed. A small plate protector there keeps the car in better condition, helps with foot grip for those getting in and out, and adds style. I like the surprise someone gets when they open the door for the first time and see the Bat-Signal right at their feet. The usual response is, "Whoa, that's pretty cool." Sometimes the response is, "Oh my god!" But you know, people are different. For me, this is a definite grab.
Quality: High
Style: Good
Price: Okay
Compatibility: High
Detail: Good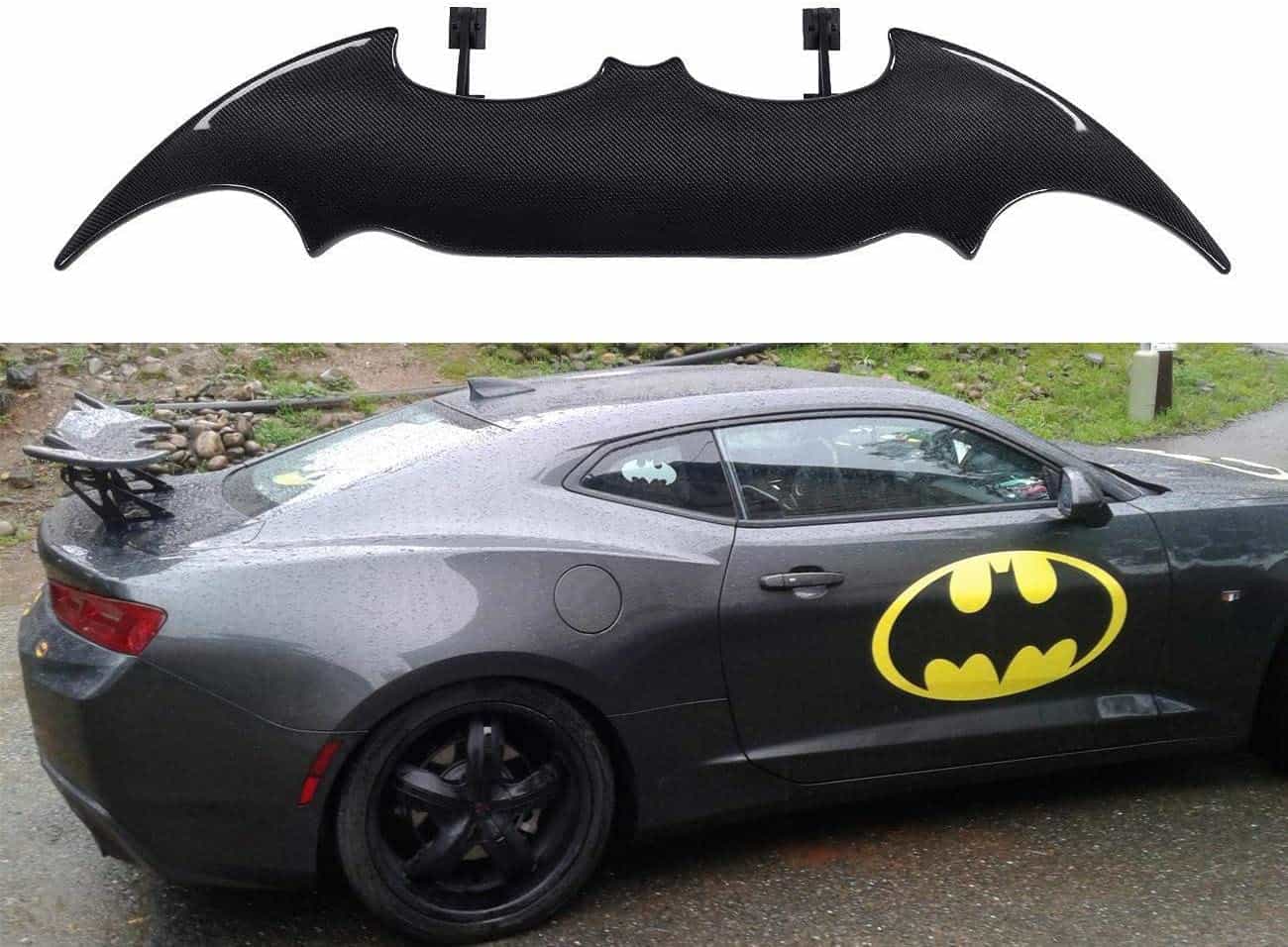 I saved this monster for the last picture of our article. If you want to go that extra mile, know that this one requires some of the most work to install. This is a customizable Batman Spoiler for the trunk of your car. Before purchasing, make sure your vehicle can actually use this upgrade. It goes without saying, a pickup truck shouldn't pick this up…what? Joker is clearly my favorite villain. I haven't got the car I want to put this on yet, which is its main drawback. It's a big decision, and while it can be removed and put on another car when you upgrade, I wouldn't suggest doing that often. This is the piece of the puzzle you add when you feel confident your Batmobile will be yours for a long while.
Quality: High
Style: Top Tier
Price: Expensive
Compatibility: Car Specific/low
Detail: High
Frequently Asked Questions
Question: Where can I find good Batman car accessories?
Answer: I prefer Amazon because I have a membership(cheaper shipping). Still, I provided multiple links and other website choices, to be fair. You can actually find some casual accessories at local Superstores like Wal-Mart or Target, usually if you prefer in-person shopping.
Question: How do I put the decal on?
Answer: It is a sticker, so it does just stick. Some will need more care. Getting one folded or having air pockets will affect how it looks, which is tough to fix. Get something nice and flat like a ruler, and follow over where you're placing it down to keep air pockets out and get the best fit you can. Make sure you haven't placed it somewhere too small before setting it. A dry area is needed in most cases for initial sticking.
Question: Are Batman car accessories expensive?
Answer: Surprisingly not. Though, the more you get, it will add up. 
Question: Are car accessories hard to install?
Answer: Some are not easy, but most just stick on or wrap around. If you are getting anything that attaches to the body or replaces a part, you should get someone to help you that has done that kind of work before. 
Question: Are there Batman car air fresheners?
Answer: This popular internet question I can answer with a very big YES.
That's Our List
I'm going to put the FAQ section below my farewell this time, so scroll down for some common questions to be answered about Batman car accessories. Right now, I just want to thank you for reading, and I hope I've given you some great ideas and helped add some Joker…I mean, Batman flair to your ride. 
If you're going to get just one to start with, the Aluminum Decal is the easiest. OR! Just go with my favorite, the Bat-Signal lights for your doors. You can't go wrong with both showing your love for your favorite Caped Crusader and also showing off a bit. They are also not very expensive and can easily be moved from car to car or put in rooms throughout the house for fun.
Perhaps one day, they'll add the "turn into a plane" accessory that Batman keeps in his damn cave. Until then, we can just be rebels and deck out our ride as The Joker would…I mean, as any Batman fan would. Of course.
Recommended Reads: