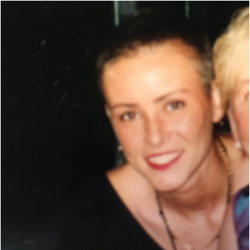 Latest posts by Richelle Tieman
(see all)
Are your spidey senses telling you to read this for backpack tips?  If they are, you're in good company!  This ultimate list of Spider-Man backpacks focuses on the best and most unique backpacks you can buy with the beloved superhero's red face on it!  My son loved all things Spider-Man growing up, along with other Avengers, but he always circled back to the web-slinging do-gooder (Venom is his latest craze). I have spent hundreds of hours researching and comparing superhero backpacks, shoes, pajamas, posters, and anything else you can think of!  Expect me to give you bottom-line information quickly and concisely about a large variety of Spider-Man backpacks. No frilly fluff, just facts.
CNN lists studies that put Spider-Man in the number one popularity slot for superheroes. One search engine noted five million searches for Spider-Man monthly! It's no surprise that there are hundreds of Spider-Man backpacks available all over the world. What better way to bring "a bit of home" to school than having your pal Spider-Man accompany you to your classes?  Providing familiarity and comfort to many children and offering a way to share their personalities, it's not shocking that many children bring Spider-Man backpacks to school daily. My years working in school systems gave me a bird's eye view of how soothing a superhero backpack can be for many children with anxiety challenges. Then again, I even like the idea of bringing Spider-Man to work with me!
Bottom Line Up Front
This is my ultimate bottom-line recommendation for a Spider-Man backpack.  Most shoppers will be moms hunting for a decent school backpack that won't get soaked in the rain yet excites your youngster with a sleek and vibrant design. This bag comes in 2 colors and three sizes to fit appropriately. The shoulder seams are reinforced and are wider than typical backpack straps. Long-lasting nylon ensures years of use, and the details of zippers and stitching are evident!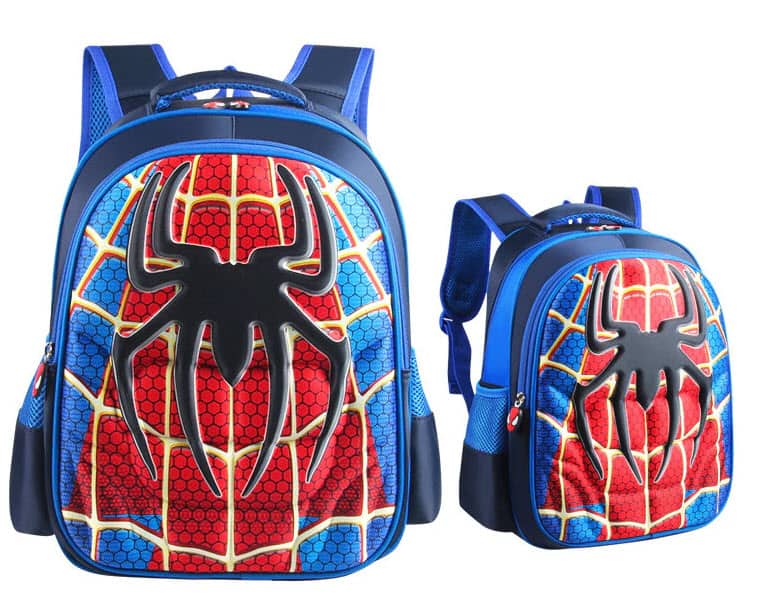 Choosing the Best Spiderman Backpacks
If I didn't realize the key aspects of a good backpack, not to mention a Spider-Man backpack, I would be overwhelmed by all the seeming "features" that retailers tout.  I'm sorry, but things like "adjustable straps" are not a feature!  Have you ever known a backpack that didn't have adjustable straps? Other things like "sturdy zipper" can't even be tested unless you've owned the backpack for a long time!  And who gets to define what a "sturdy" zipper is?  Let's cut through the muck and focus on some important things I considered when I chose my best picks for Spider-Man backpacks.
Fundamental Considerations
The first thing that draws anyone to anything is the visual aspect. How the backpack looks will be the number one item that draws me to a Spider-Man backpack.  I may decide that even though it's remarkable and stunning in design, it doesn't deserve to be on the list because of other sub-par qualities, but every backpack will be one that I found to be "beautiful!"  After that, I immediately check out the following:
Water resistance is a priority for me because children will be walking in the rain and snow, setting their backpacks down in puddles of water, and digging through soaking coats to find their water-logged backpacks at the bottom of the pile. What use is the information in the parent's folder if you can't read it?
Durable fabric that won't rip is another must-have as I think about these little students with their 15-pound backpacks lumbering around, knocking into everything, getting caught on anything, and instead of turning around and untangling – what do they do?  That's right, they yank, and yank, and y-a-n-k!
Padded shoulder straps should be a no-brainer, but I couldn't believe how many Spider-Man backpacks came without them! The overzealous homework assignments in every subject create a heavy load for small shoulders that shouldn't be red from the straps! (Don't forget to tighten the straps in the morning, so the backpack fits!)
Mesh back panels remove heat from your little one where the backpack puts most of its girth.  Not all backpacks have this, and some claim that the benefit is minimal.
Side pockets for water bottles! Again, you'd think this would be a standard backpack feature, but apparently, some people only need water at home!  Look for non-mesh side pockets to reduce the chance of ripping.
Dealbreaker Considerations
Those are the fundamental features I take into consideration when choosing my picks. I do have some dealbreakers which will override all of the above. The dealbreakers would be excessive cost (a $200 backpack), a disreputable seller (you may never get your merchandise), or limited quantities (a unique backpack, but it's on eBay, and there may only be one).
After that, anything goes!
My List of Top Picks for Spiderman Backpacks
I have broken down my top picks for Spider-Man backpacks into cost categories since that was always my second question when buying.  My first was, "Do I like this?". The choices I saw for less than $20 or $25 didn't ring any of my bells.  Not the quality bell, not the design bell, and certainly not the durability bell. I wish I could tell you I found them all to be wonderful, but I won't compromise my standards!
If I wanted to know more about a backpack, I looked at numerous websites offering the same item to get that information – you get the benefits. I was curious about many of the backpacks' features and used "Google lens" to find other images or sites where I could get my questions answered. You get all the information I found on each backpack listed in the explanations.
Many sites had varying price points for the exact same Spider-Man backpack, and I gave you the site with the lowest price.  Except in a few cases where the seller was overseas, and the listing showed one picture with a price and no information about it whatsoever!!  I couldn't believe it. I hope you find my recommendations helpful!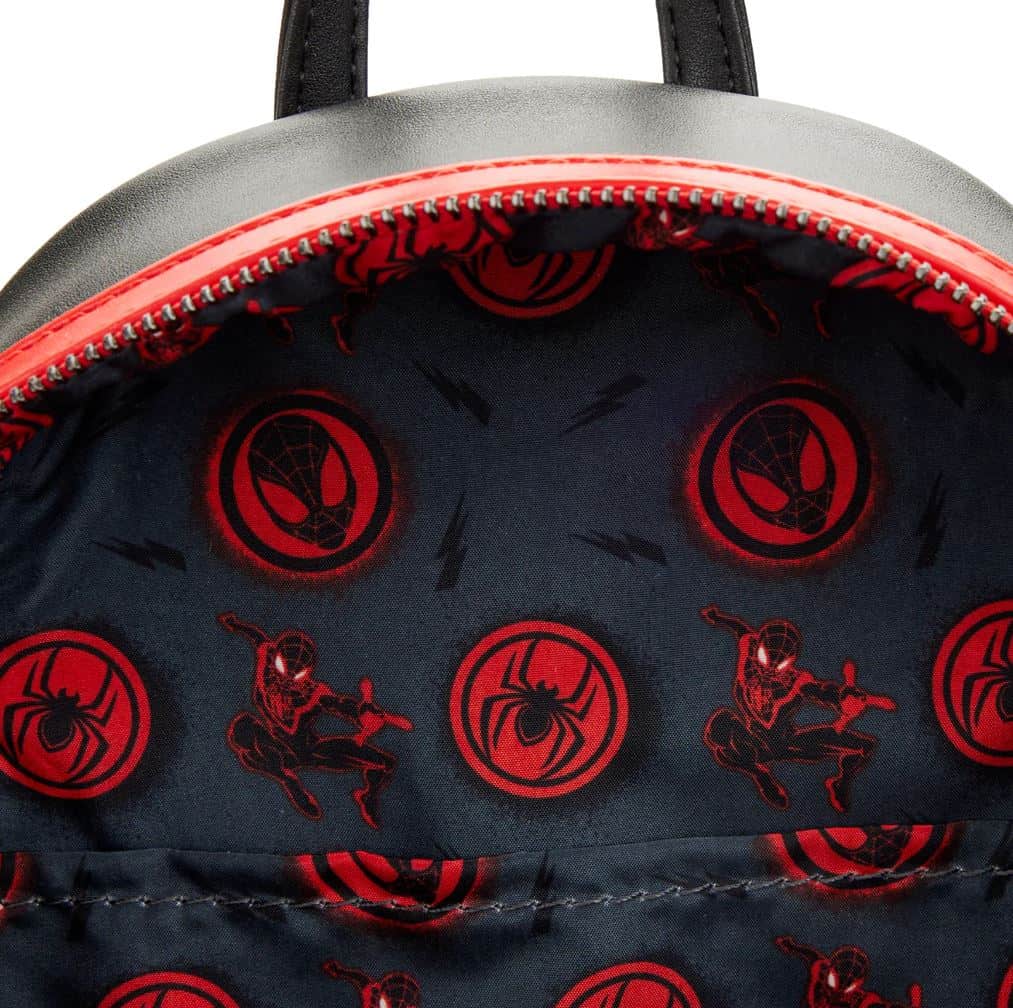 $25 to $35
$35 to $45
$45 to $60
Expensive Investments ($70 to $90)
Features of Spider-Man Backpacks
The optional features of most of the backpacks were for looks only; they weren't functional. The pros and cons list things like 3D artwork, Glow-in-the-dark emblems, or stylish pull tabs on zippers.  One popular feature of backpacks is wheels.  I couldn't believe how many first and second graders had rolling backpacks when I worked in the school system!  What a time we have when children need a suitcase to bring home all the work they are assigned!
I looked at rolling Spider-Man backpacks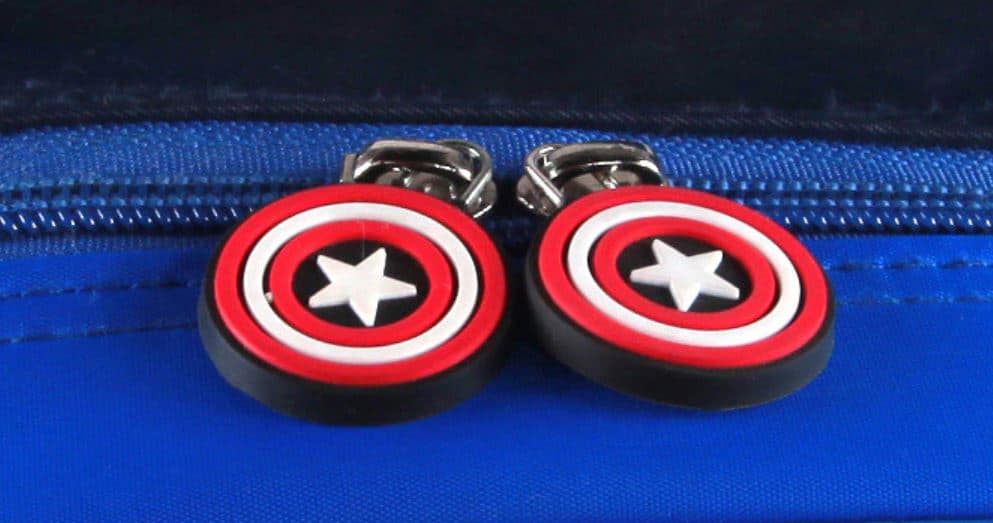 and wasn't at all impressed.  Maybe if you go on a trip, a long-handled, rolling backpack would be great for a suitcase, but I didn't feel it added any value to a typical backpack.  That and the extra money it costs to have wheels!
Where to Buy Spider-Man Backpacks
I kept seeing certain retailers popping up again and again with great items.  Aside from the staples like Amazon, Walmart, and Target, some of the sellers that stood out were the Kids Luggage Store, Kidhoo, SpiritCos, Loungefly, and Costume Place. Check out their other merchandise for Spider-Man and related categories; they have some neat stuff you don't often see!
Top Spider-Man Backpacks Explained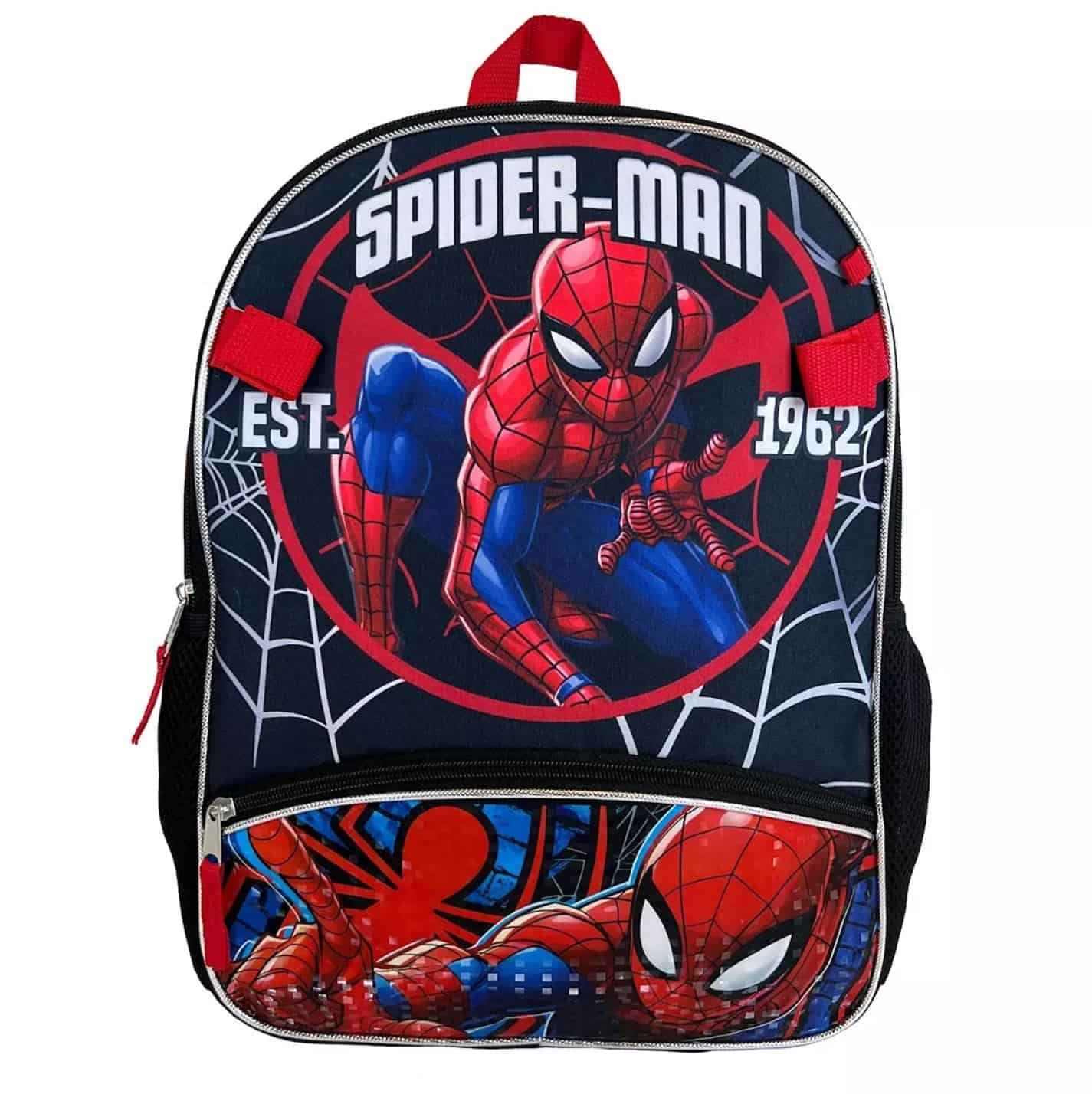 I love this backpack because it looks like Spider-Man is coming out of it to sling his web! Roomy 10″x 7″ is great for kindergarteners or overnight trips with little ones.  The vivid colors remind me of the movie characters in action! Find this at Kohl's!
Pros
Officially Licensed by Marvel
Two handy mesh pockets for drinks
Padded Straps
Detachable Lunch Bag with cold pack included
Inexpensive
Cons
The polyester material isn't as durable as nylon or canvas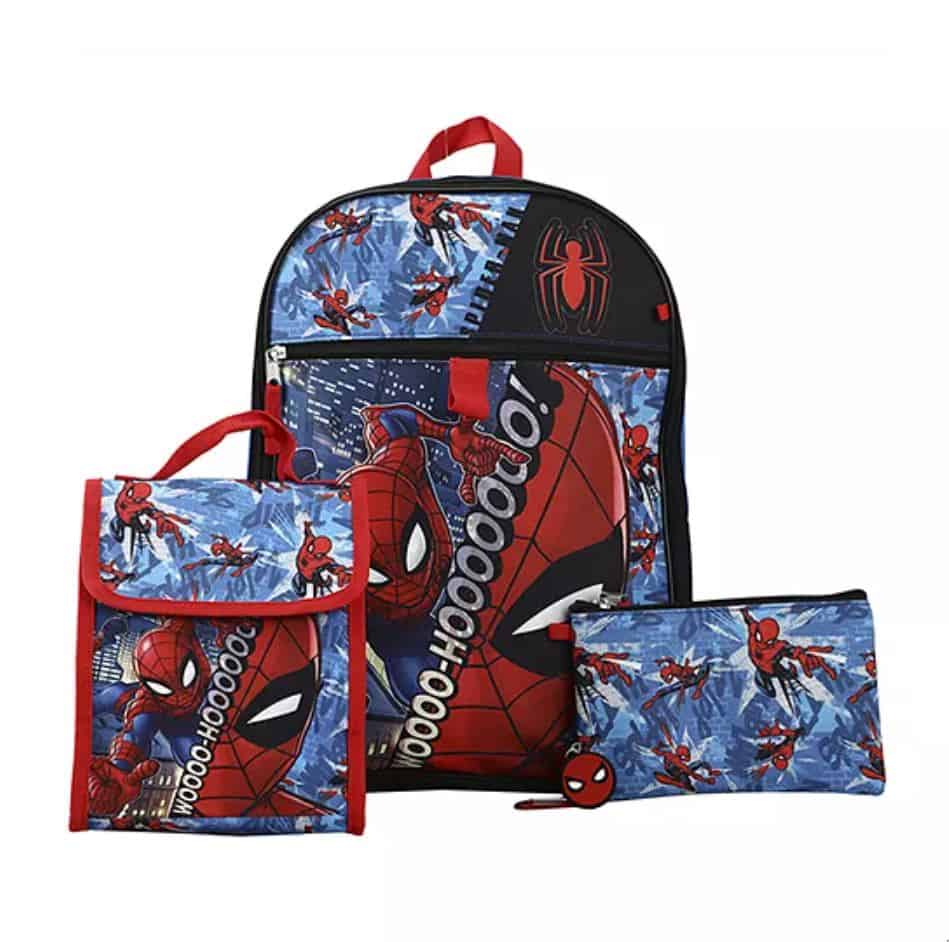 I would buy this in a heartbeat for the action-packed scenes printed on the pouch, lunch bag, and backpack!  You get four in one – a pencil pouch, a lunch bag, a spider-man key chain, and the backpack.  I adore the roomy 15″x16″x12″ deep!  This should hold all the books, folders, and notebooks they love to give out at school! Get this at JC Penney.
Pros
Super animated graphics are exciting
The lunchbox, pouch, and key chain come with the backpack!
Made of durable PVC for long-lasting quality
Disney licensed
Cons
I wish it had more inside pockets
See also: Spiderman-Themed Crocs Guide: Top Picks and What to Look For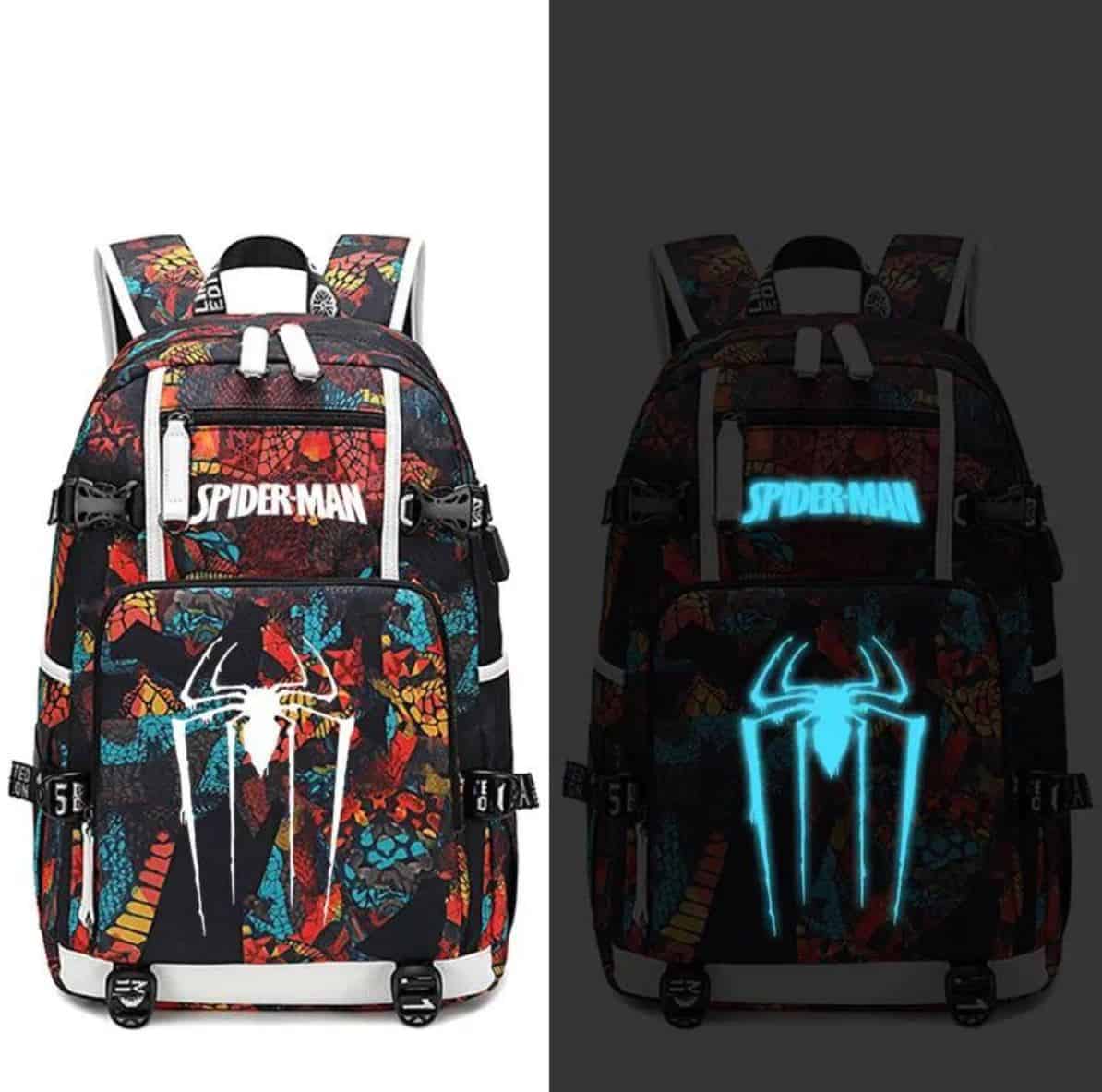 The USB charging backpacks are extremely handy for technology at your fingertips!  I love that you can hook your power source to it and keep it in your backpack while externally charging your device.  This design is unique and as striking in the daytime as at night.  Glowing blue with a spider motif, the durable canvas is entirely lined to keep your items safe. Find this at Bag Picky!
Pros
Lots of pockets and compartments
Water-resistant
High-quality canvas will last for years
Unique and sophisticated design glows in the dark
Cons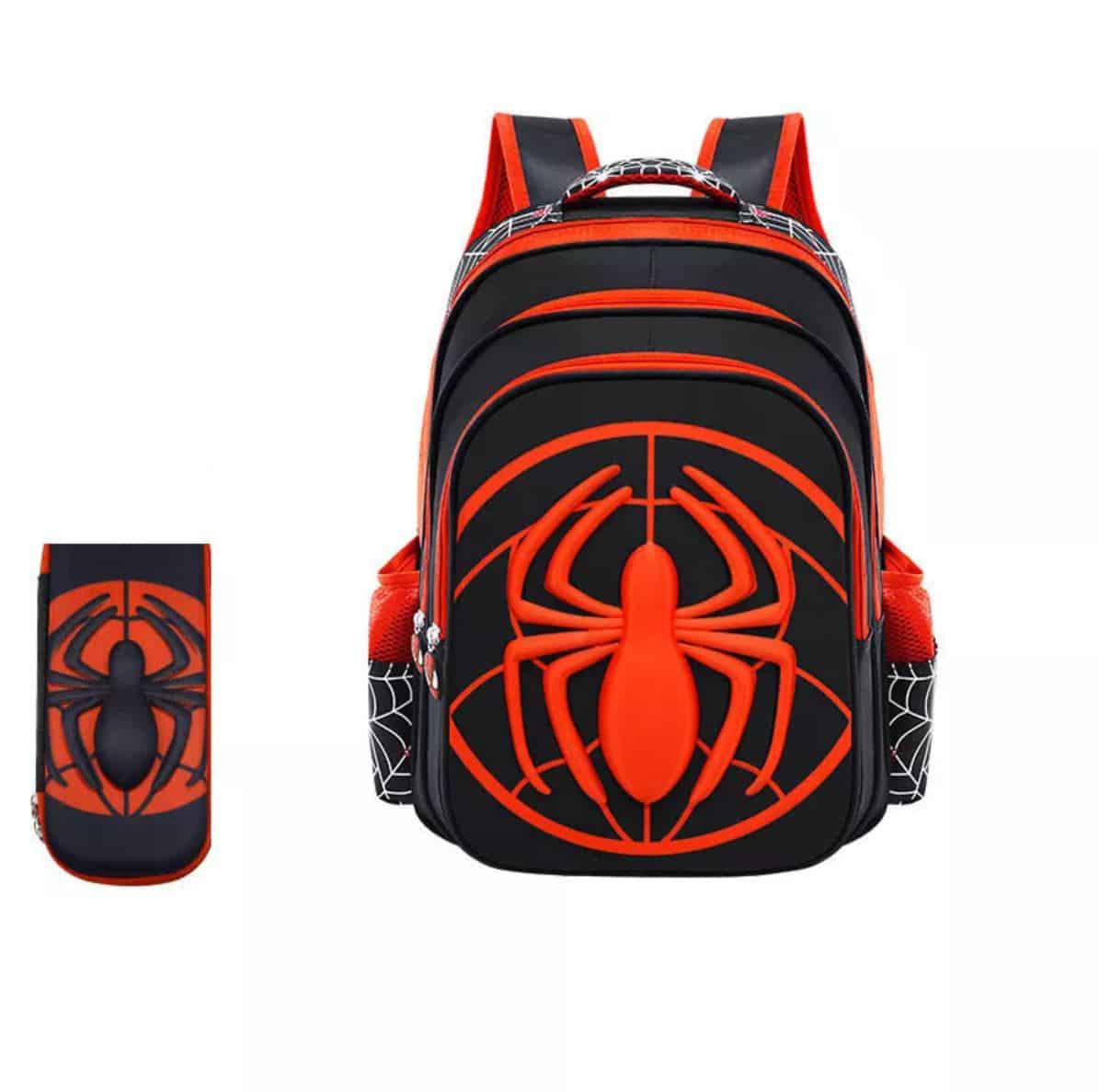 This style sends shivers down my spine with its 3D front spider sitting in its web.  Powerful black and red design with mesh side pockets for drinks and a reverse-colored pencil case!  This is striking in its simplicity. Get this at Kidshoo!
Pros
Waterproof!
Breathable back mesh design
Wider padded shoulder straps
3D front design
Cons
I wanted more information about the size and inside of the backpack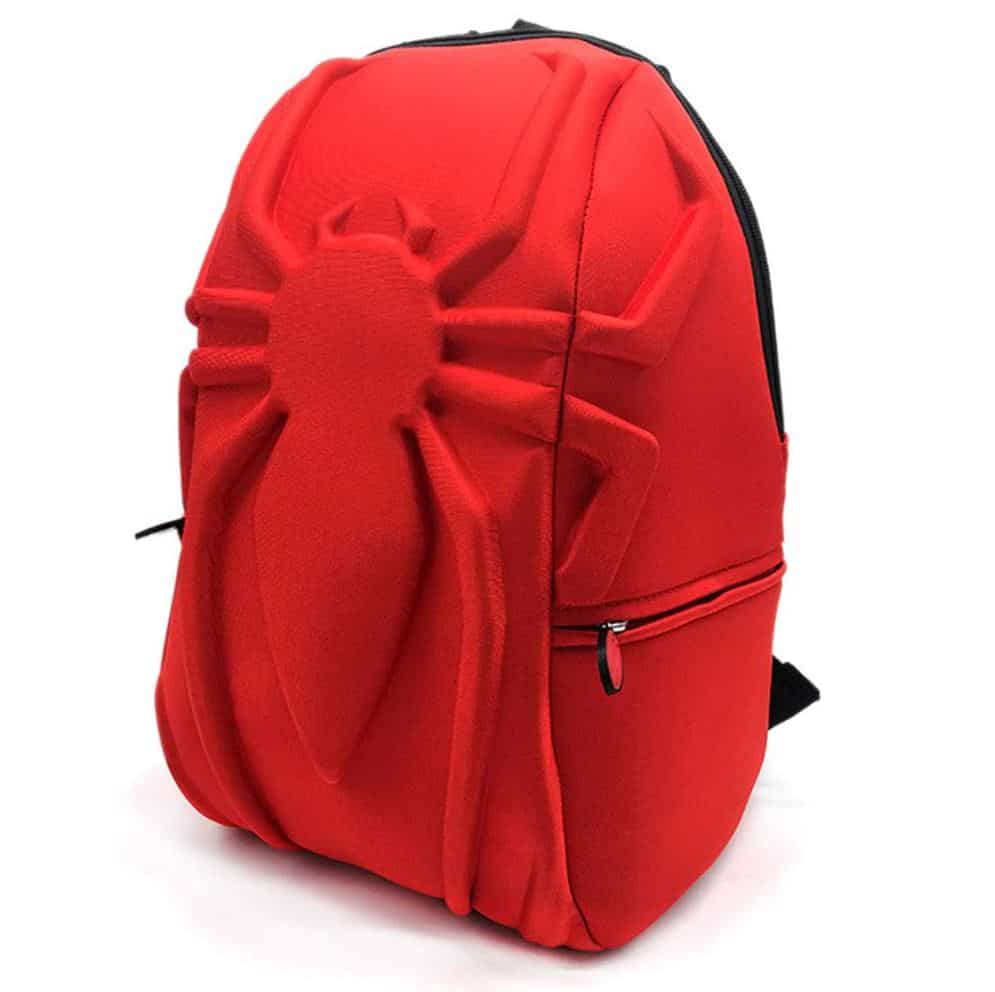 An amazing raised spider crawls up this bright red backpack using its spidey senses! Truly a work of art, this relief design is creepy in the light of day. Made of strong, water-resistant EVA, it is very flexible, soft, and resistant to cracking. Check it out at Inswear.
Pros
Fantastic raised 3D creeper crawling on it
Soft, stretchy, water-resistant material
Durable high-quality
Cons
No specification information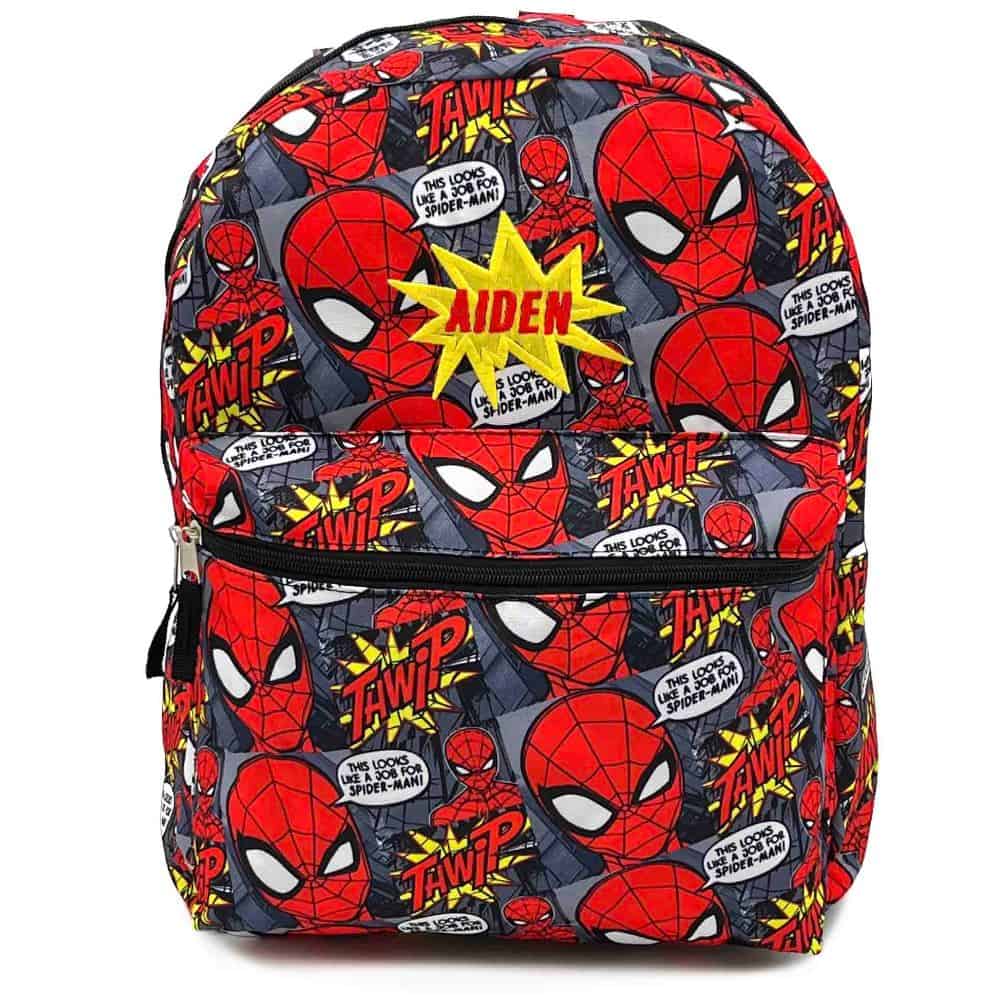 I'm a sucker for comic book graphics, and this spider-man-infused design comes alive with vibrant red against a grey background.  This can be personalized with a name on the front of it in embroidery to make it easier to find in a mountain of bookbags at school! Check this out at Dibsies!
Pros
Customized with your name
Amazing stand-out graphic comic style
Padded straps
Officially licensed Spider-Man name
Inexpensive
Cons
Made of 100% polyester, which will wear more easily than nylon or canvas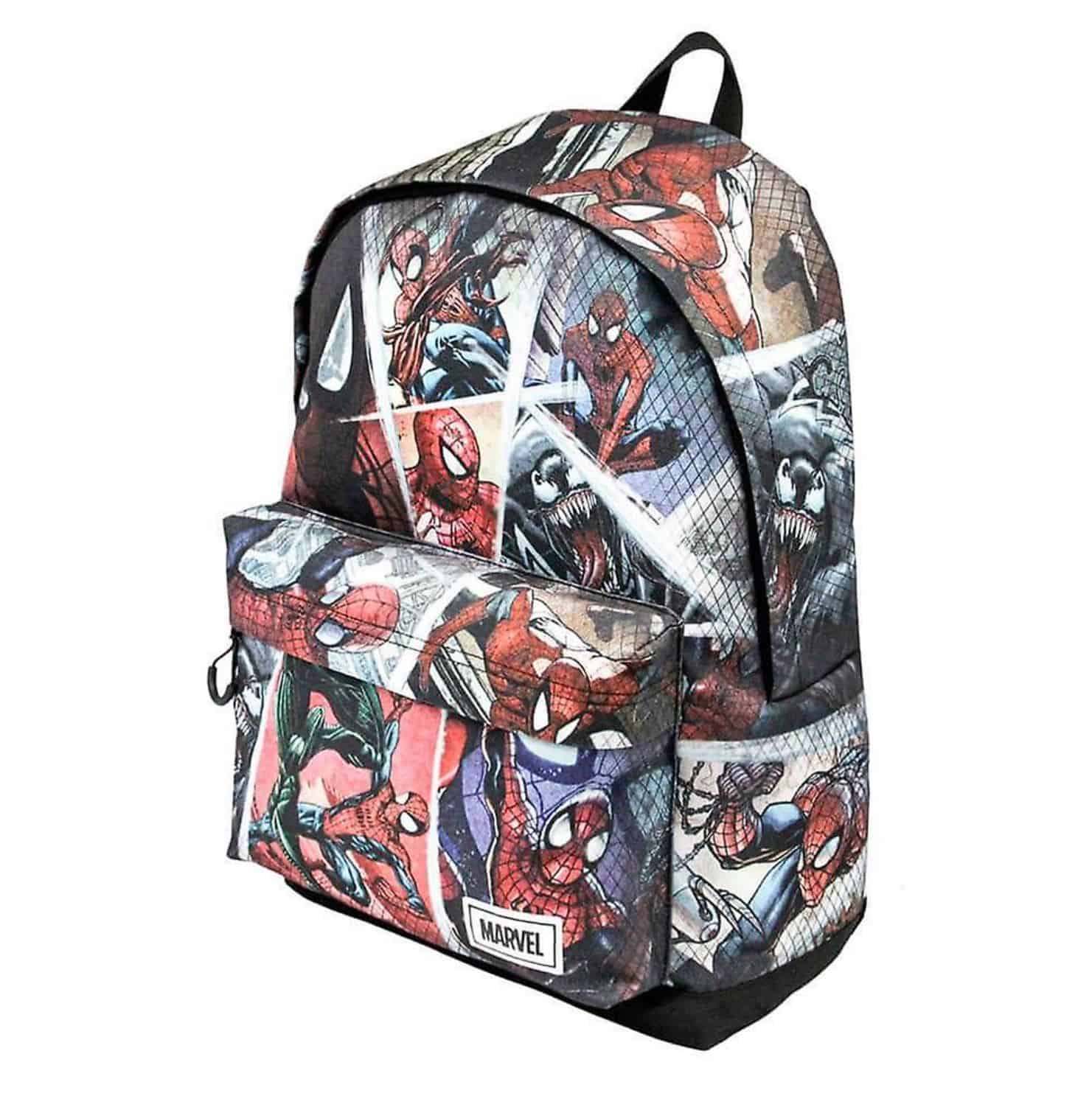 I love this Marvel backpack's retro collage comic print because it reminds me of reading Spider-Man comics years ago. Officially licensed by Marvel, these scenes are right out of the archives! This measures 10″x14″ high. Find this at Fruugo or Retro Styler.
Pros
Fantastic Retro Design pays tribute to decades of comics
100% Officially Licensed Marvel merch
Has USB port for charging
Cons
Only found online from UK stores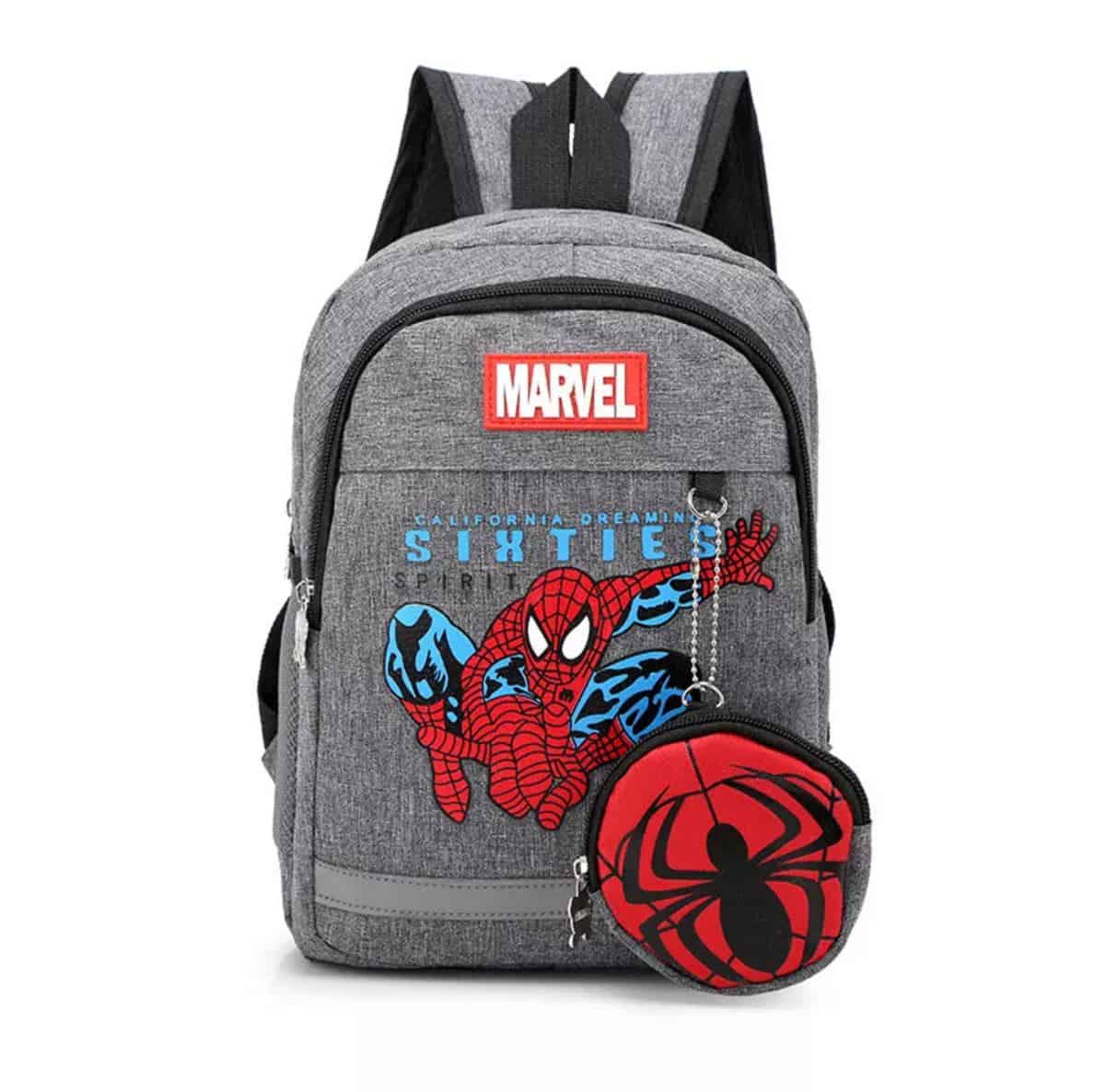 So classy and preppy looking, this 10″x7″ backpack is sure to please even the most finicky child!  I like the grey fabric and detail that went into this, and the grey color is not one you see as a primary backpack shade.  It even comes with a tiny spider change purse!  Great for pre-school and kindergarteners. Get this at Kidshoo!
Pros
Classy, distinguished design
Comes with a change pouch
Marvel licensed merch
Comes in five colors!
Cons
Made of polyester, which can be less durable than other fabrics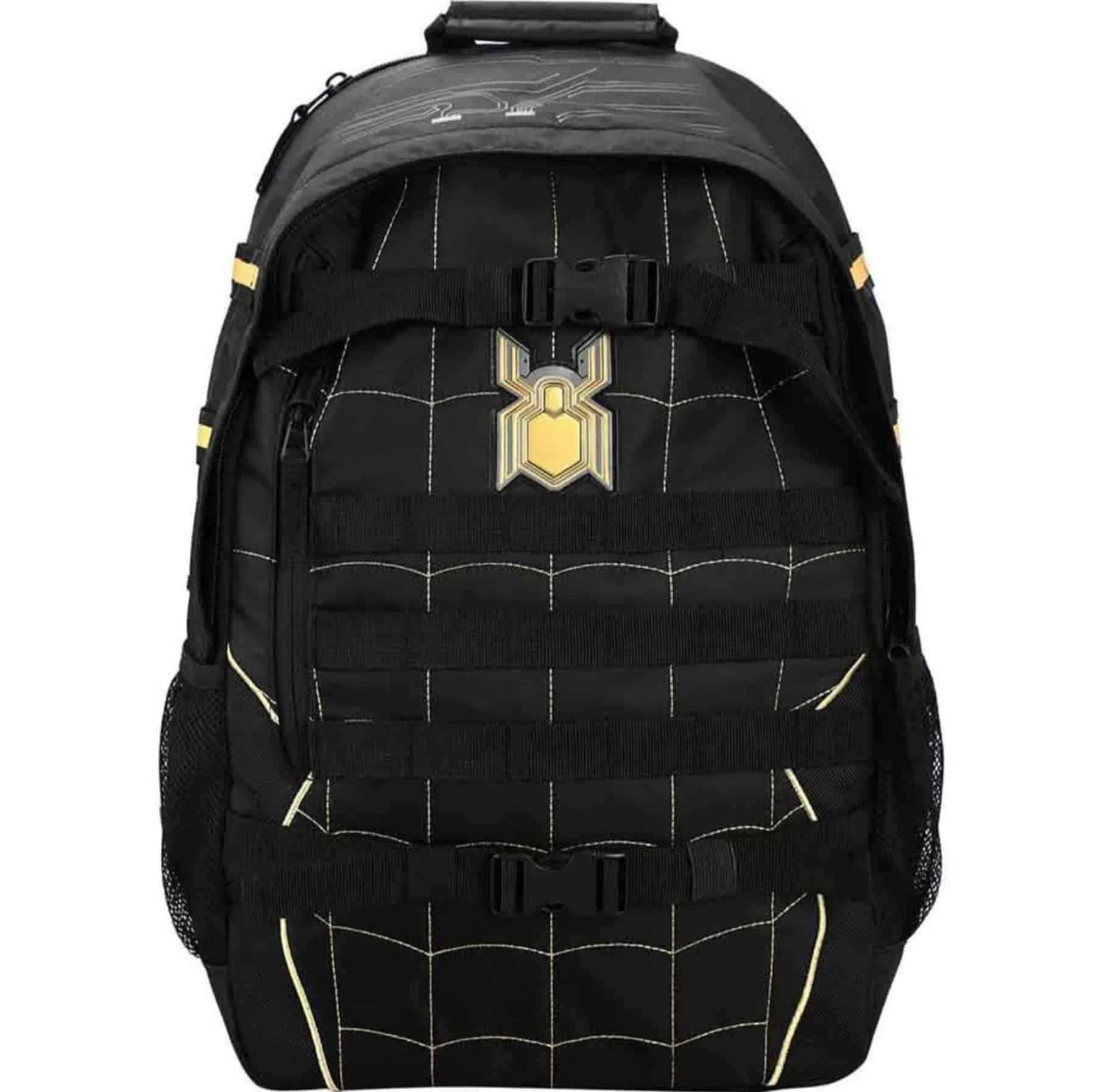 Super cool No Way Home Spider-Man backpack has loads of sophistication and functionalism! The unique design is chic for older children, and the nylon high-quality fabric ensures it is close to waterproof! At 19″ tall by 11″ wide, it's big enough for a laptop. I would proudly sport this for myself! Get this at Monumental Market LLC or Kryptonite Character Store
Pros
Reflective Taping and mesh side pockets
Sophisticated design appropriate for adults and children
Waterproof qualities
Large enough for a laptop
Cons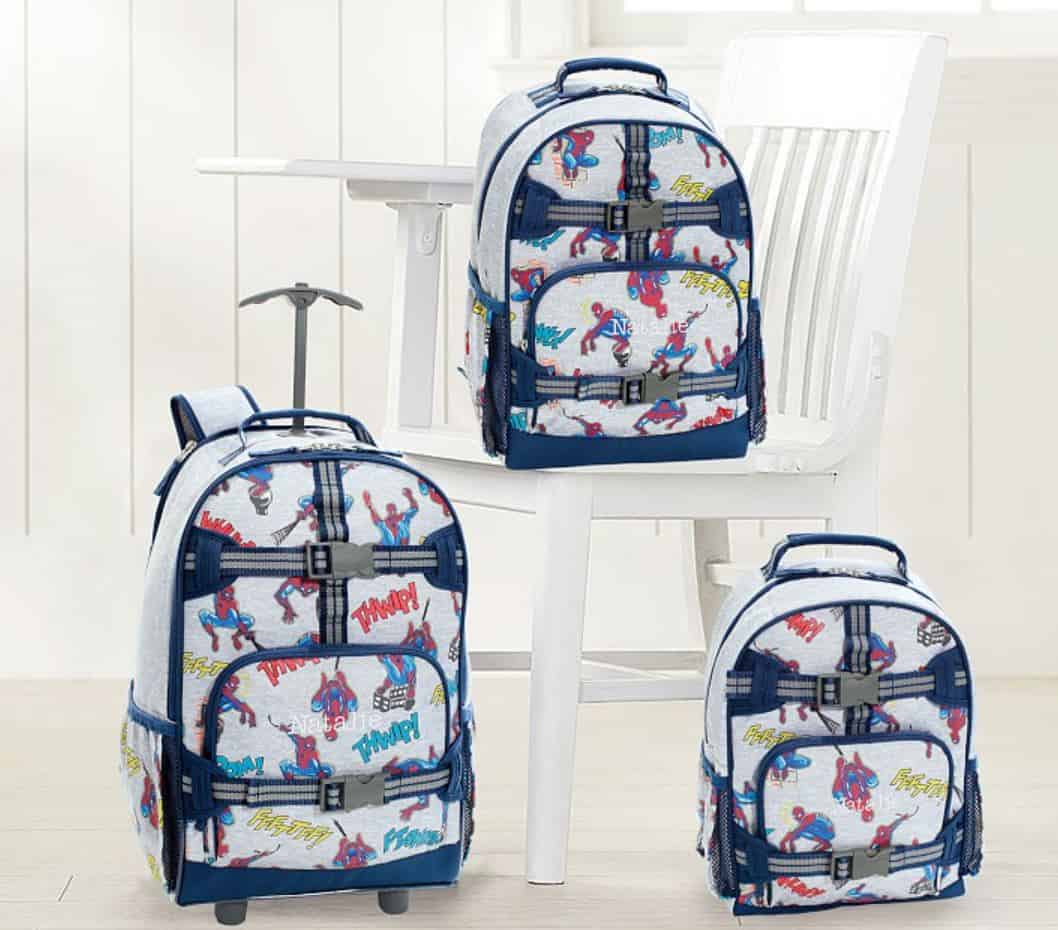 Eco-friendly design is made with recycled materials to save the planet! I love these Pottery Barn Spider-Man backpacks for their versatile styles and sizes, but most of all for the extra-durable thick, water-resistant fabric. I know this is one backpack that will last through tough times!  It glows in the dark and has reflective piping. Find this at Pottery Barn!
Pros
Ultra-durable material
Glows in the dark
Reflective piping and padded shoulders
Water-resistant
Made of recycled materials
Offered in three sizes and styles
Cons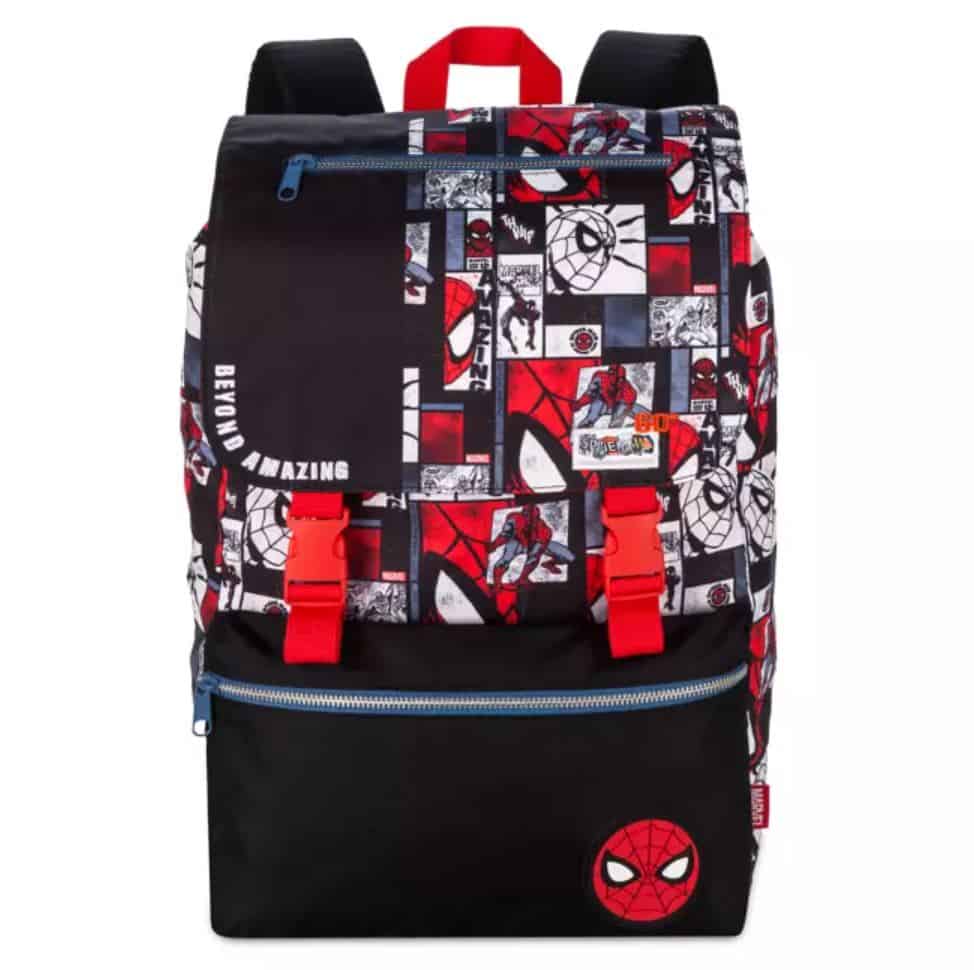 This dynamic backpack pays tribute to the legendary Spider-Man character that has captured our intrigue for over 60 years!  High-quality polyester and embroidered details make this a long-lasting conversation starter. It sports padded shoulder straps, side pockets, and additional buckles for security. Get this at the Disney Store!
Pros
Officially Licensed Disney Marvel merch
Spider-Man 60th-anniversary special edition
High-quality money-back guarantee
Bottom compartment
Cons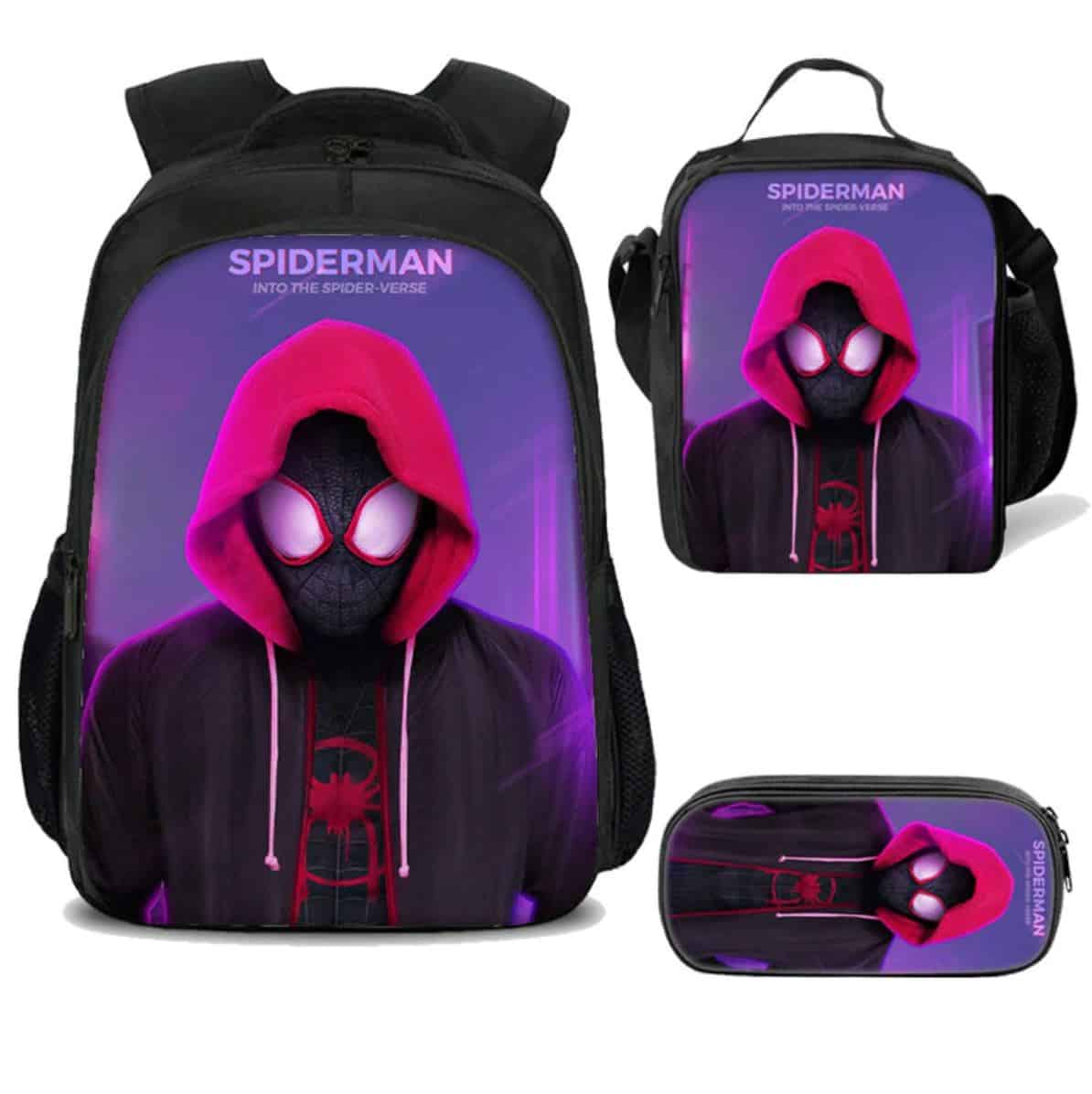 Hair-raising and spine-tingling are what come to mind when I look at this!  This is by far the most Sinister Spider-Man backpack I have come across – I would scare myself looking at this too long! I love that the lunch bag and the pencil case are included and have the same long-lasting print. See this at First Corset!
Pros
A thick neoprene lunchbox is insulated
The pencil case, lunchbox, and backpack are all included
Cushioned should pads
The backpack measures 15.5″x12″x6″
Cons
Not much information about the backpack's material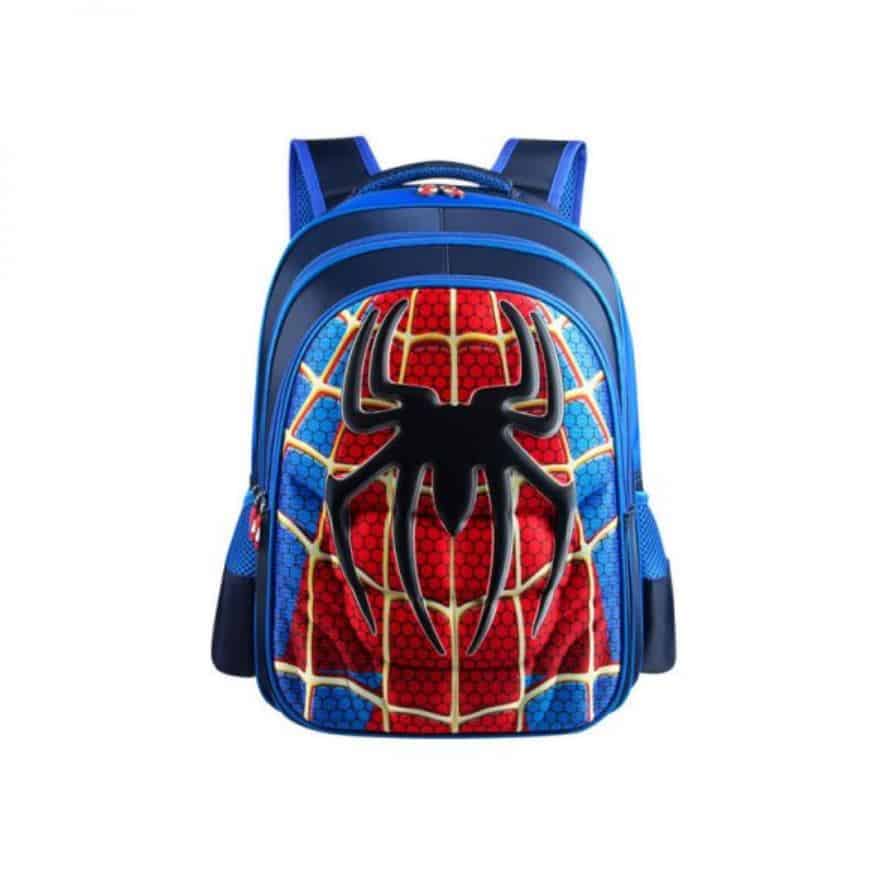 I am impressed by this backpack's attention to detail and quality design. That struck me as I looked it, even before the 3-D spider jumped out at me!  I love the huge proportion of this spider, and the clean design doesn't distract from it.  This is waterproof, a huge plus for me, and the zippers are reinforced with logo pull tabs, and the shoulders are double stitched! This comes in three sizes and two colors and should last for years! Check this out at the Kids Luggage Store!
Pros
Waterproof
Amazing 3-D jumping spider design
Quality details in zippers, stitching, and shoulder straps
Comes in 3 sizes and 2 colors
Nylon durability
Cons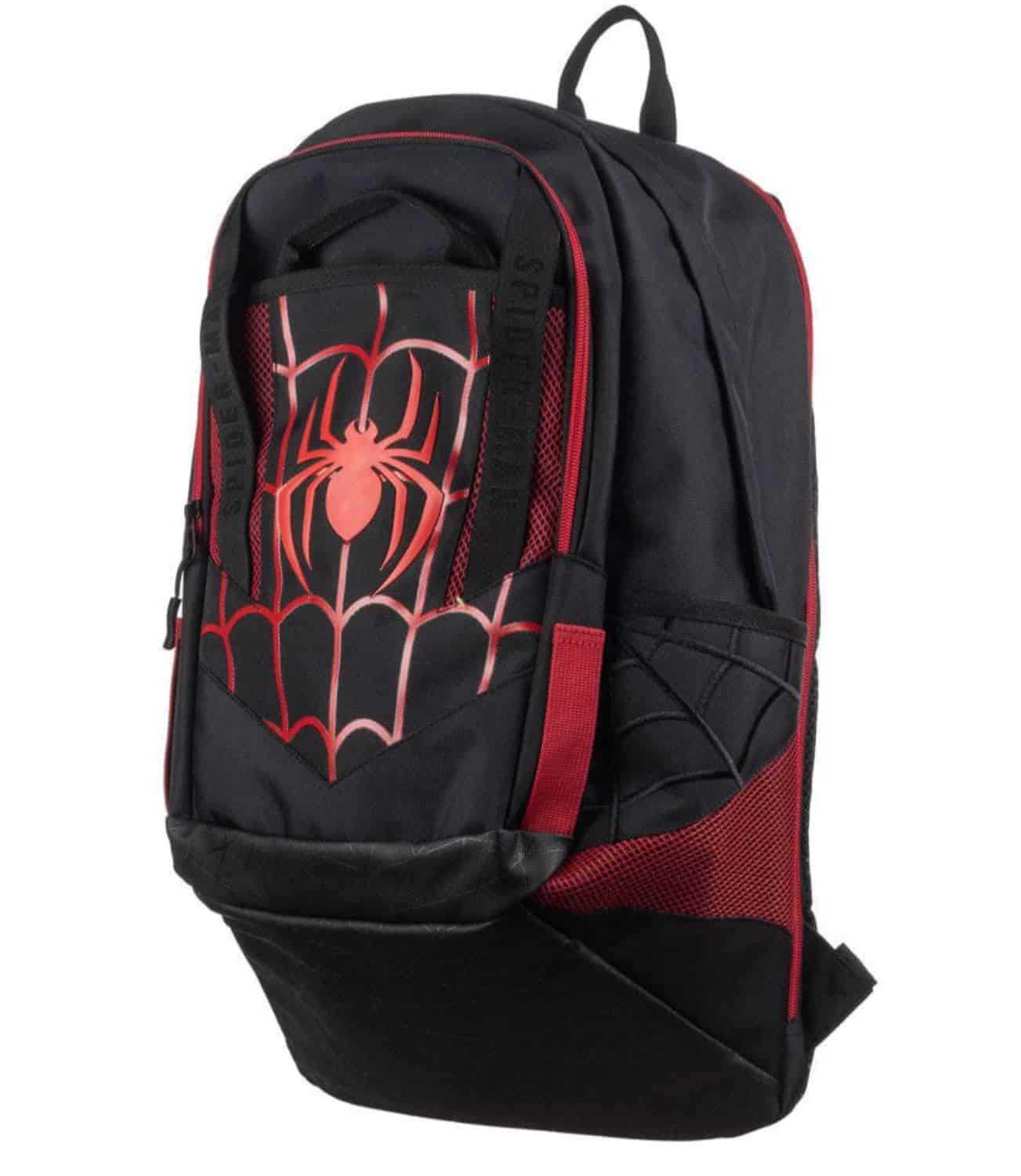 I love this large 20″ backpack suited for adults and teens.  The four interior organization pockets, plus the separate laptop compartment, make me excited to pack this up and go!  Superb quality embroidery and heat-sealed printing ensure the design won't fade or peel off. Perfect for laptops, and the side water bottle pockets are tough and won't snag as most mesh does. This would be an investment backpack! Find this at the Costume Place.
Pros
Dramatic and bold, fresh design
Large (20″x13″x8″) laptop backpack with six compartments
Durable embroidered detail and printing for no fading
Thick, high-quality polyester and nylon
Cons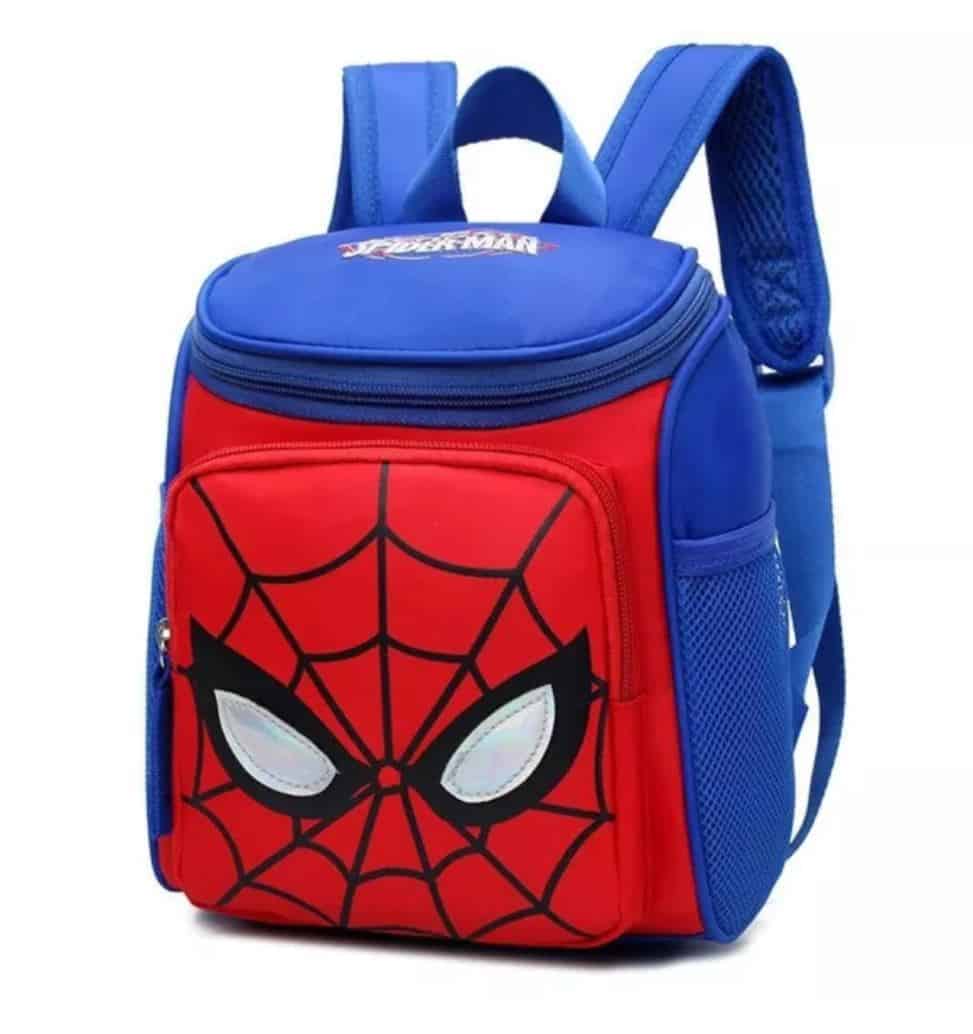 Snug like a bug in a rug! That's what comes to mind when I see this delightful children's backpack.  It comes in navy blue or medium blue and features padded shoulder straps and a cushioned back for protection and comfort.  Its 8″x7″x4″ design for smaller children can hold books, snacks, and a water bottle on the side! Find this at SpiritCos.
Pros
Adorable, friendly style
Easy-access top zipper and front compartment
Padded shoulders straps and back
Side water pockets
Sized perfectly for Kindergartners
Cons
Not much information about water-resistance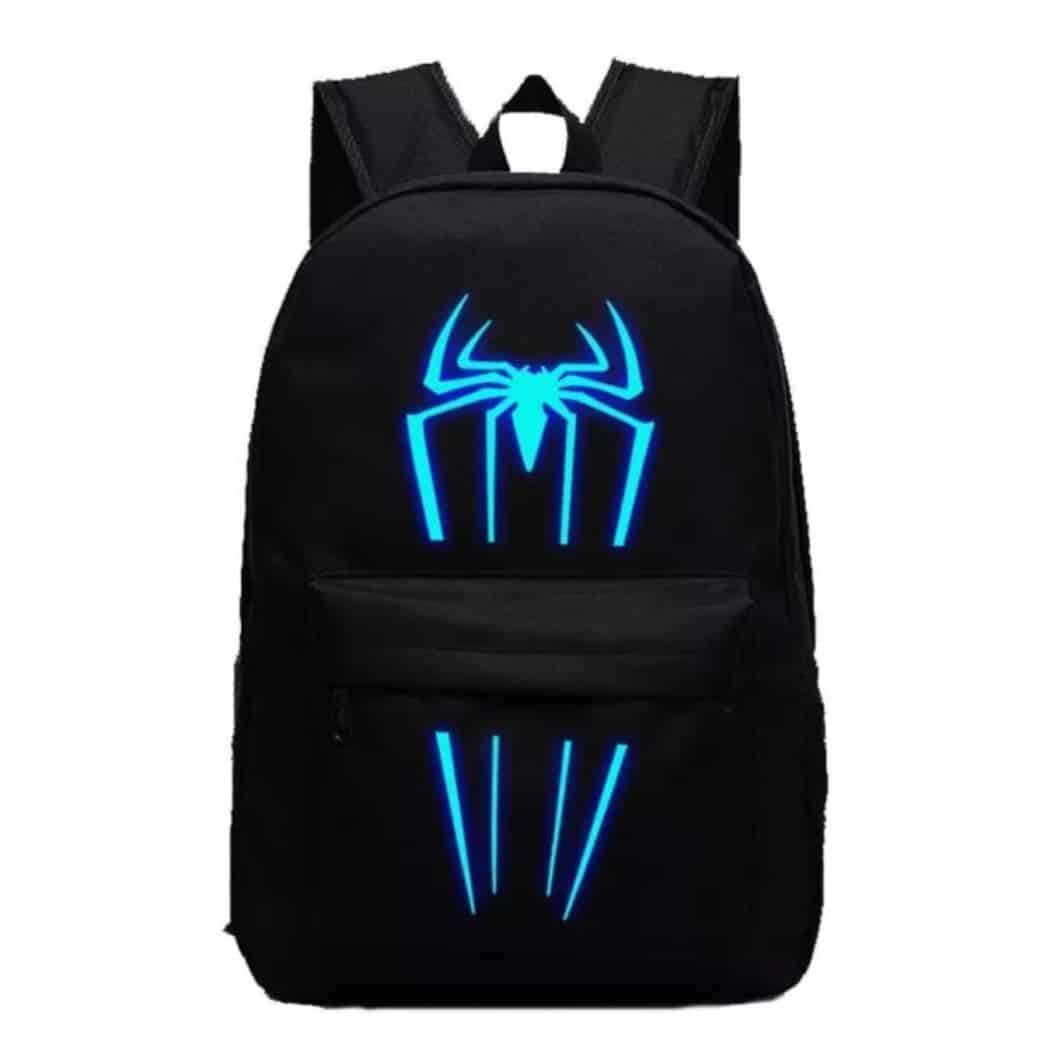 I can't get enough of these glow-in-the-dark motifs, especially when they are dramatically poised against a solid black background!  Be safe at night when cars see someone walking! (For added safety, go to your local hardware store and buy a reflective patch or tape for the bottom as well – here's a link for REI). I also love the extended 19″x12″x7″ size for older children and adults. Find this at SpiritCos.
Pros
Dramatic, bold glow-in-the-dark design is universally appealing
Roomy 19×12 inches can fit a laptop
Printed with eco-friendly ink
Side water bottle pockets
Comes in five colors
Inexpensive
Cons
Spider looks white during the daytime and glows blue at night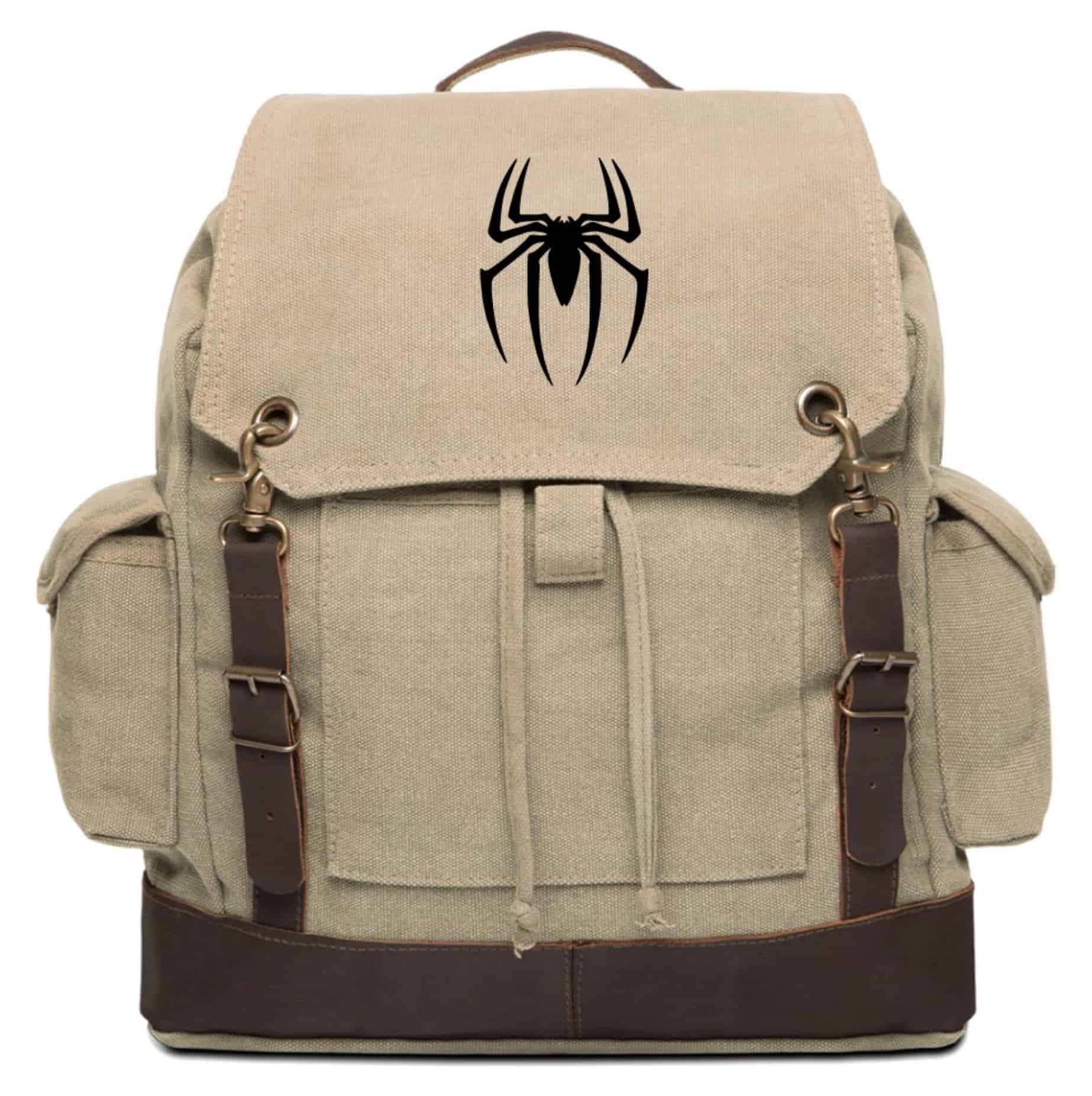 Isn't this the greatest Spider-Man backpack of all time?!! This is the most unique and safari-like rucksack I have come across for spidey styles! Features include eco-friendly rugged canvas and hand-crafted brass hardware with real leather trimming. Dimensions are 16×14 inches.  This has double padded shoulder straps and extra wide flaps to keep everything in! This also comes in three colors! Get this at Walmart!
Pros
Vintage antique-looking brass, canvas, and leather style
Multi-functional use for camping, school, overnight trips
Double padded shoulders for comfort
Extra large pocket flaps for security, Two side pockets
Cons
The top opening features a drawstring closure which may not suit all purposes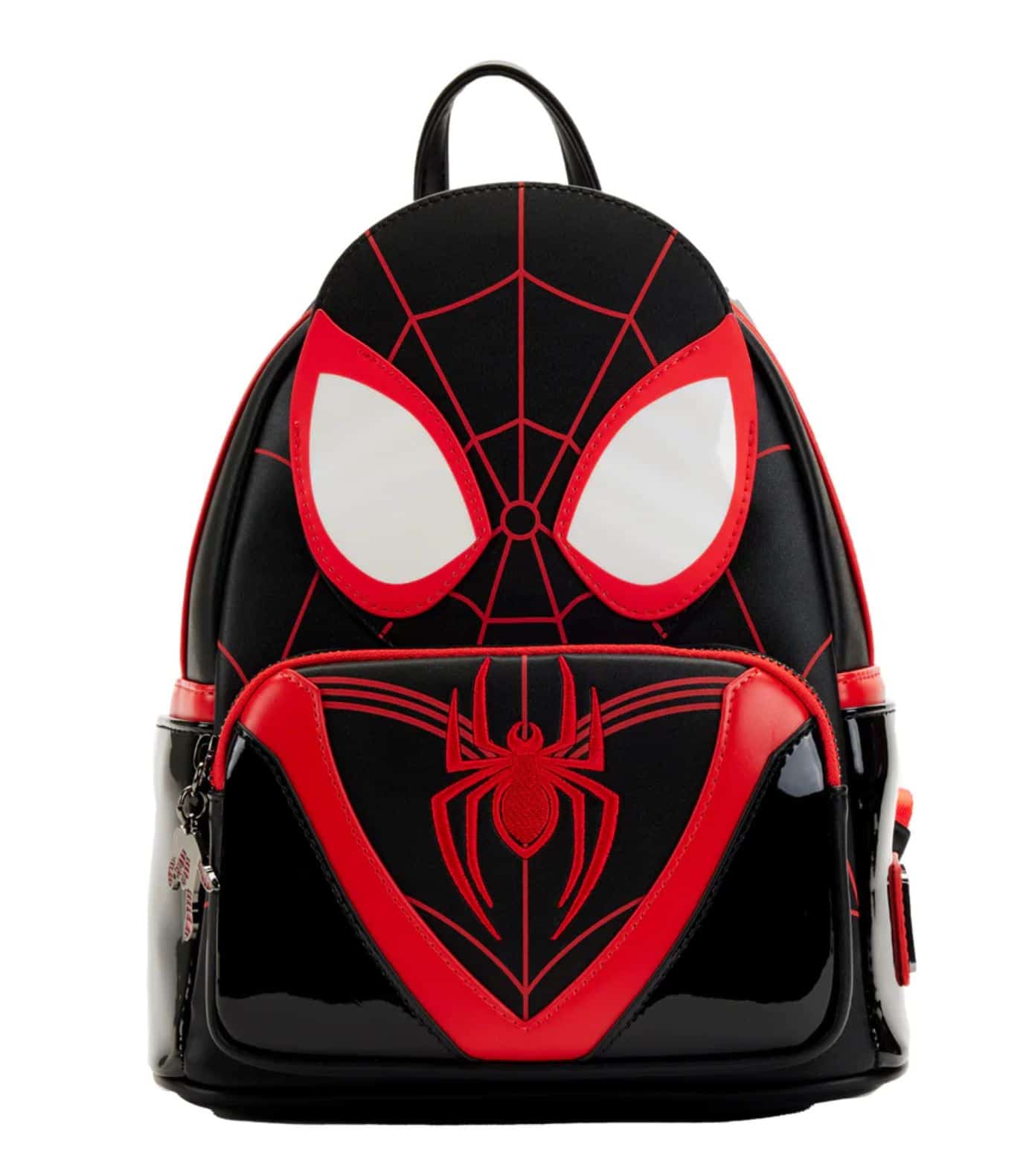 This is a fantastic example of leather-alternative material used for a high-end leather-like product! Polyurethane is extremely water-resistant and durable, making it one of the best options for people who want the look and last of leather but without the sourcing issues or the price! This glossy embroidered backpack is like the shiny black patent leather shoes I used to wear to church! Luxurious and expensive looking, it's sophisticated but fun. Enamel zipper pulls, appliques, and stitching detail gives this the look of a Chanel Superhero bag! Find this at Loungefly!
Pros
Glossy patent leather-like appeal
Sophisticated red and black style
Vegan materials used
Water-resistant and durable
Sturdy, high-quality hardware and stitching
Cons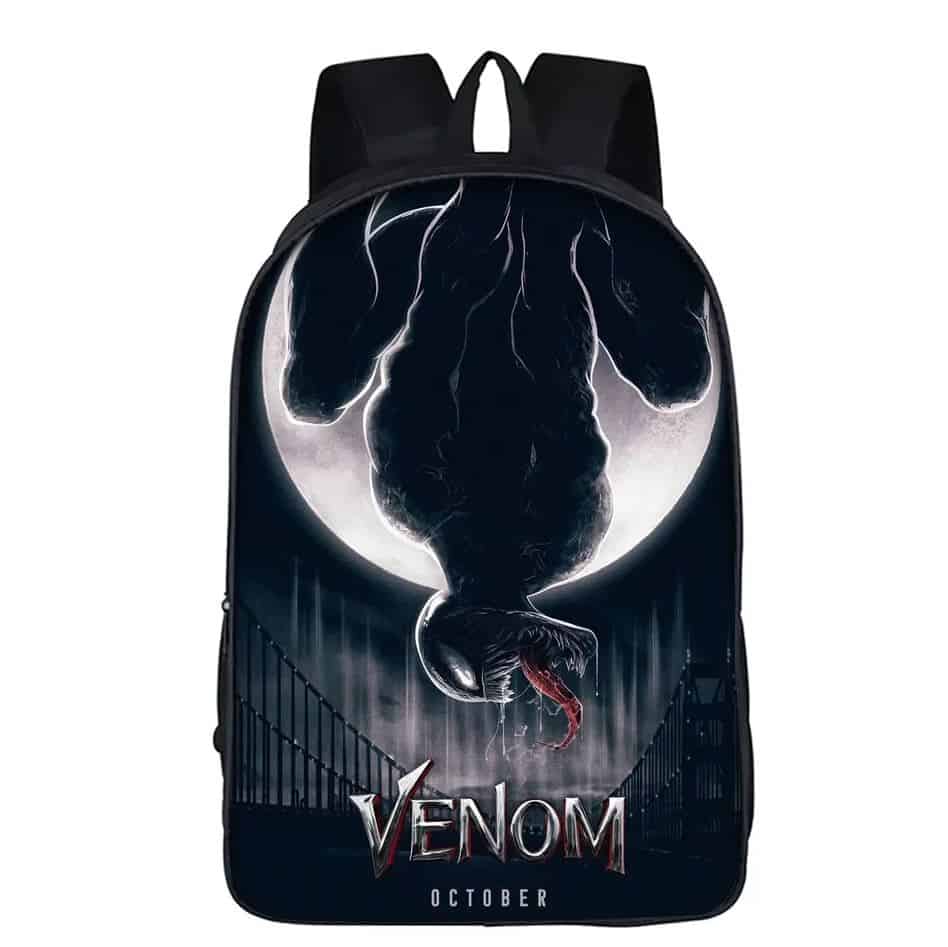 Who makes the Spidey quake in his suit?!  Venom!  Spider-Man and Venom are linked together in this world and the next, slithering and slinging their way through universes after each other! This is one nemesis I wouldn't want to meet in a dark alley (or even in a bright alley)!  I love how the letters spelling Venom have the Spider-Man red outlining them. A real creepy pack for the not-so-faint of heart to see every day. Get this at Bag Picky.
Pros
Outstanding unique design with red Spider-Man letter outlining
Spacious 16″x12″x6″ interior
Never fade print design
Two side pockets for water
Inexpensive
Cons
Made of polyester, which could wear out easily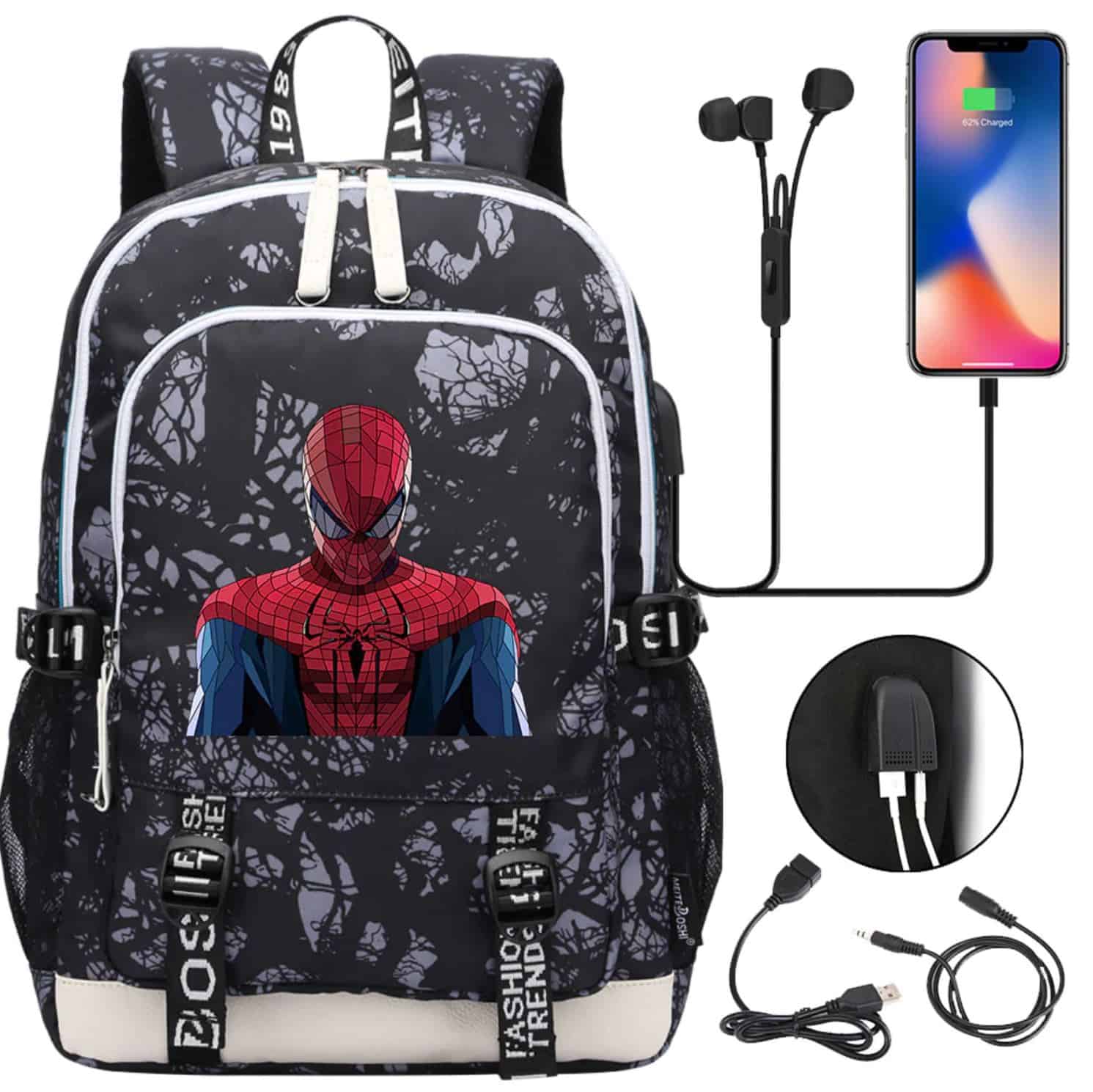 This is my kind of backpack with the mosaic-like detail of Spider-Man's suit set against the gloomy forest background!  I love this both for the artwork and vivid colors of the superhero himself (you can practically feel the points of the spider's legs poke into you), as for the purplish wooded backdrop. A USB charger-compatible backpack is practically necessary these days for school Ipads, laptops, and cell phones!  The side and bottom white striping is a nice detail. Find this at Bag Picky.
Pros
USB charger fitted
Super detailed tile-look Spider-Man
Detailed purplish spooky forest background
14″x10″ fits 2nd to 8th-grade students well
Cons
Canvas and cotton are listed as the materials but no other details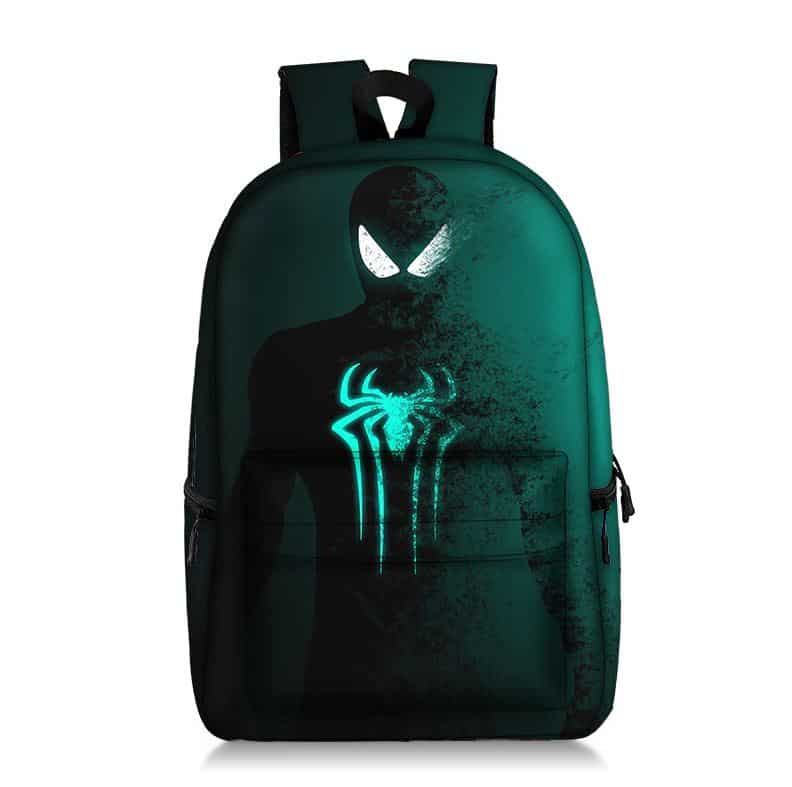 This has to be the most swanky color ever used in a Spider-Man backpack- I love this zippy teal metallic color! It would be great for a car! Appearing out of the mist, the pearlescent eyes, and spider logo distinctly signal the superhero's arrival. This is a highly durable polyester fabric that is water-resistant.  Interestingly, Walmart has this same backpack for more money! I thought it was the other way around! Grab this at Unhoodie.
Pros
Rare metallic teal color with 3D sophisticated design
Roomy 18.5″x11″ is large enough for a laptop
Water-resistant
Fade-resistant technology
Cons
Not much information about the interior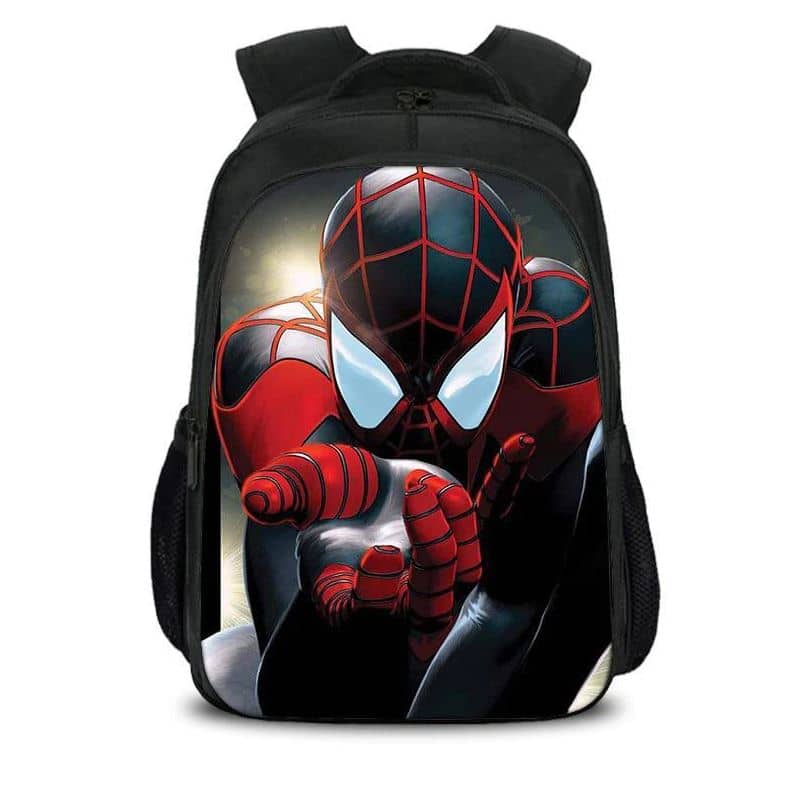 Spider-Man is either asking you to take his hand or about to sling a web at you in this startlingly handsome backpack. This 3D art is so graphically detailed that it seems to be coming right at you – whether it's comforting or frightening is up to you to decide! This is made of high-quality water-resistant nylon; it's tear-resistant and durable. Get this at Uhoodie!
Pros
Rare, unique image and design
Made of water-resistant nylon
Extremely durable
Cons
Not much info or pics about the interior
FAQs
Question: What backpack did Spider-Man use in the movie?
Answer: When Tom Holland played Peter Parker in Spider-Man: Far from Home, the backpack used was a Mi-Pac Classic Backpack.

Question: How many Spider-Man backpacks are in the game?
Answer: According to Spider-Man Fandom, there are 55 backpacks in the game. The backpacks either have mementos from Spider-Man's past or collectible items to help you upgrade and craft better resources for the game.
Question: How heavy should a backpack be?
Answer: According to Spider-Man Fandom, there are 55 backpacks in the game. The backpacks either have mementos from Spider-Man's past or collectible items to help you upgrade and craft better resources for the game.
Question: What is the best material for a backpack?
Answer: Nylon is considered the best material for making a backpack because of its strength and durability.  Nylon is also almost waterproof, and it doesn't rip. The only downside is that stains may be difficult to remove. Other strong and long-lasting materials are canvas and leather.
Question: How do you know if a backpack is of good quality?
Answer: If your backpack is of good quality, it will have reinforced stitching at key points such as the shoulder straps (top and bottom), zippers, and side pockets.  It will also have YKK or heavy-duty zippers, cushioned shoulder straps, and back mesh padding.  It will usually have pull tabs on the zippers and two-way zippers for each opening. Look for leather, canvas, or nylon for durability and longevity. A good quality backpack should last at least two years.
Last Thoughts on Spider-Man Backpacks
Superheroes are all the rage, especially with current events keeping more people at home to watch movies.  Spider-Man could be the most popular Avenger and have the most fan worldwide with the amount of spidey merchandise available! It's always time to have fun with school backpacks, and the plain blue or black backpack days are gone for most. I have found some of the most awe-inspiring Spider-Man backpacks that have impressed me with their quality and unique, dramatic designs.
Remember that the higher quality backpack you buy will likely result in a longer time frame of use. My choice for the best overall backpack is Three-Dimensional Waterproof Spider-Man Backpack from Kids Luggage Store.
Rugged material, attention to detail, waterproofing, and three sizes make for one amazing Spider-Man backpack that will see years of use!
Recommended Reads: