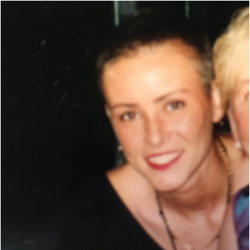 Latest posts by Richelle Tieman
(see all)
If Wonder Woman is your favorite superhero of all time, you are in good company.  She is the most popular female superhero, but more impressive is that she is the longest-running superhero of all time, aside from Batman and Superman. For seven decades Wonder Woman has filled our home lives with clothing, lunch boxes and colorful comic escapades.
Arriving in 1941 on the cover of DC Comics, just three years after Superman and two years after Batman, it would take Wonder Woman more than 75 years to have a film made about her!  When she did, she made history, being the highest-grossing film for a female director in her first weekend – bringing in 100 million dollars.
Her character started off as a femme fatale destined to be saved at the last possible moment, but in the 1950's with more careful study of the psychology behind the comic book's sensational nature, her independence and superpowers became more of a focus in the context of less violence.
Currently, Wonder Woman serves as a model for the beauty of women's strengths, both intellectually and physically. Judging by the huge merchandise sales for her, she will remain an icon we want to have in our everyday life!
The Bottom Line on Top
After researching the vast gamut of options for Wonder Woman pajamas, and finding the good and the not-so-good, I will only give you the good recommendations in this article!  And here, I give you the best of the good!!!  In other words, the "great".  My ultimate recommendation for the best Wonder Woman pajamas is Hanna Andersson's Wonder Woman branded pajama set.
The quality, longevity, durability, comfort, etc., is all 10/10.  Hanna Andersson is known for clothing that is so good you can hand it down for generations!  Her clothing is all sustainably sourced from the finest materials, and you will not have an over-priced item.  I have bought many things from Hanna Andersson and have never been even a little disappointed.
Criteria for Best Pajamas
I base my recommendations on many variables, and use my discretion when weighing the pros and cons of an item.  My recommendations wouldn't be very good if I only chose the most glitzy, trendy eye candy out there.  That being said, if it has enough other positive factors to make my cut, then I may recommend the most glitzy glam item!
Years of hands-on experience and being a parent helps navigate my recommendations for children.  Reviews from buyers give me the frosting on the top with which to validate my preferences. Below are the list of features that are considered for every item I review.
Sustainably Sourced?  Combining social, ethical and environmental analysis when determining the appropriate suppliers of materials, products and services.  Sustainable sourcing means obtaining the things needed to manufacture an item while being socially and environmentally responsible about it.
Breathable? The fabric should be effective at letting air and moisture pass through it so when the body gets warmer it doesn't produce a lot of water.
Appeal?  Is the image an apt likeness of Wonder Woman?  Are the colors vibrant and the design eye-catching?  Does it have anything unique in the details that other pajamas don't have?
Machine Washable?  There are few pajama sets, thank goodness, that are NOT machine washable.  Silks being one.  I would never recommend any pajamas or loungewear that was not machine washable and dryable.  Just not practical enough for 99.9% of the population.
Returns?  Are the pajamas at a boutique or small shop that doesn't accept refunds, or is there a generous satisfaction guarantee for a period of time?
Widely Available/Easy to Find? I look for pajamas that are carried by some of the most widely used stores, and that are also available online.
Price? The extremes here will almost always bounce themselves out of my final list, unless I firmly know that said pajamas last for years and look good.
Overall Quality? The quality of material and workmanship means strong seams and stitching, durable weight and tough enough for all the abuses of a toddler.
Longevity?  I look for pajamas that can be handed down first.  That is a major plus if, after five years, the pajamas are still in decent condition to wear proudly (I love Hanna Andersson pajamas and clothing for this reason!).
Softness/Comfort?  We all know that if our kids are not comfortable in something (either psychologically or physically) that thing is not going to get worn.  Avoid bedtime struggles by opting for sooo soft pajamas with fantastic designs that your kiddos can't wait to jump into.
The Best Wonder Woman Pajamas – Top Picks
Comic Strip Wonder Woman Pajamas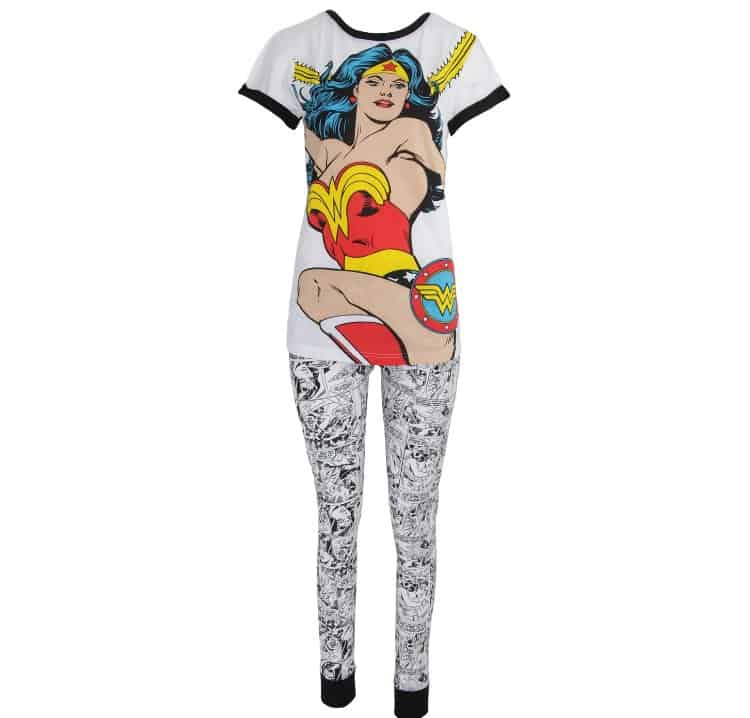 Get these unique comic strip Wonder Woman pajamas at Universal Textiles!
These Wonder Woman pajamas are a 100% cotton set with top and bottom ringed black or blue cuffs and neckline.  The top is a larger than life picture of Wonder Woman, sporting all the comic book colors and the bottoms are either covered with comic strip stories featuring Wonder Woman or a cheery blue Wonder Woman emblem design!
These are unique designs that I haven't seen before and they are very visually appealing, evoking comic book nostalgia.  I like that they are 100% cotton for softness, but you may want to order one size up to allow for any shrinkage. Machine wash and dry on low heat settings.
Bottom cuffs and waist are elasticized.
Universal Textiles Outlet is based in the United Kingdom but ships globally.
DC Branded Wonder Woman Organic Pajamas from the Gap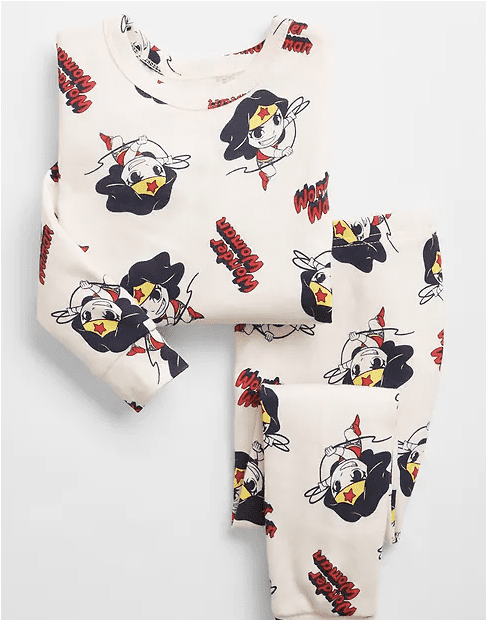 Find these children's Wonder Woman pajamas at Baby Gap!
These super cute Wonder Woman pajamas for children are 100% organic cotton and made through Gap's Personal Advancement & Career Enhancement Women's Program (sustainable).  Just like this superhero, the women who make these pajamas are able to take part in this educational component to learn skills and knowledge needed to improve quality of life.
These pajamas have the quality criteria both for being a branded DC product and being from the Gap, which has kept quality control high on their list of priorities.   The absence of synthetic pesticides and fertilizers ensure that those harmful chemicals are not near your loved one's skin.
Soft knit fabric with a crewneck, long sleeves and arm/ankle cuffs – comfort check.
This meets the appeal factor with a bright, colorful, and cheery pattern on the front and back.
Both in stores and online, these Wonder Woman pajamas are widely available at one of the most trusted stores in the world.  Access is easy, and returns are accepted.
The World is ready for your child's wonders to shine!
See also: Best Spiderman Branded Shoes Guide
Wonder Woman Silky Soft 3 Piece Pajama Set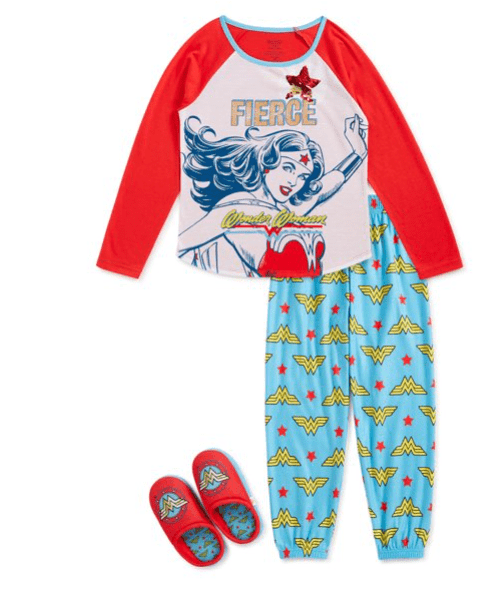 Here is a handy, convenient 3 piece set that your youngster will love.  Bright blue and yellow decorate the bottoms while the top showcases a picture of Wonder Woman with the word "Fierce" over her and a red glittery star.
There is elastic around the waist and ankle cuffs.  The spongy slippers are red with a blue emblem Wonder Woman design.  They are cushiony and pillowy soft.
This set gets high marks for its silky nightgown-like feel and the incredibly comfortable slippers.  Intense design on the shirt and bright eye-catching detail on the bottoms make this extremely appealing.
This has a five star rating, and is machine washable.
I especially like the fit of this set because if you are not planning on handing it down and your youngster wants to continue wearing it after a growth spurt, you can make the pants into capris or shorty pajamas and cut and hem the sleeves so they don't look too short! I have done this countless times, and I do feel great satisfaction knowing I have bee creative in extending the longevity of my money!
The only downside I can see with this is that it is 100% polyester and you may have some static cling or snags.  You can find this great set at Walmart!
Family Sizes Wonder Woman Pajama Set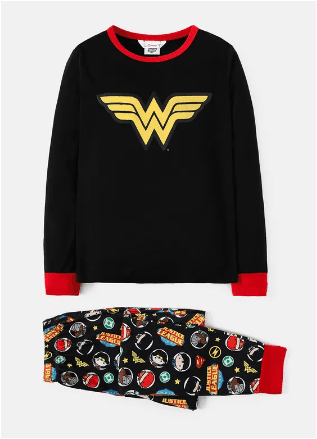 This adorable set has sizes in both adult and youth so that the whole family can join in the fun!  There is also matching black and red Superman family Pajamas – so count yourself doubly lucky if you have Wonder Woman for a mom and Superman for a dad!
This pajama set with the bold Wonder Woman logo on the front gets skyrocket appeal value for it's unique, dramatic designs.  It is also fully licensed by Warner Brothers Justice League apparel line, and that comes in handy if you are not familiar with the fabric quality offered at PatPat.  It squeaked by for quality since I haven't purchased anything from this store.
It is mostly polyester with a touch of spandex, so I know it will be more of a slinky material.  It is machine washable, however I would only use cold water on the gentle cycle since it has a large decal-like emblem on the top.  I would hang to dry as this will extend the life of the colors, embellishments and ultimately the pajama set.
The price point is inexpensive, and anytime I can find something of decent quality that has such a "wow" factor as this, for less than $15, I will grab it!  Be sure to browse this here at PatPat!
I recommend you take a peek at this site because there are so many family pajama sets with Wonder Woman that one of them will catch your eye.  And, if nothing else, the price is so low that even if it just lasts a season you will have gotten your money's worth!
See also: Superman vs Darkseid: Battle of the Gods
DC Comics Justice League Wonder Woman Pajamas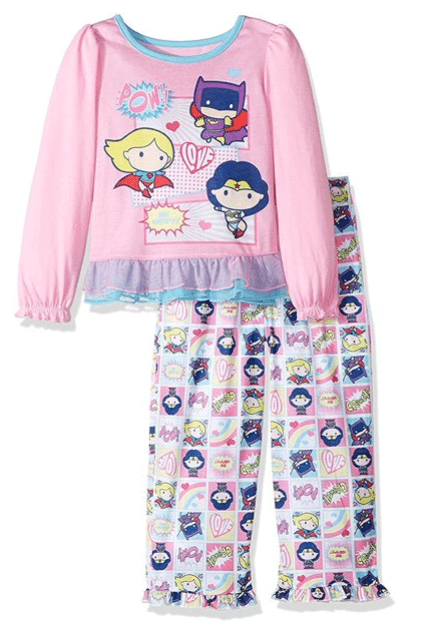 This feminine pink ruffled pajama set is at Walmart waiting for you!
The ruffles on the bottom cuffs and the top cuffs and hem are so delicate and show stopping that they made my list for unique gorgeous glam pjs!
Wonder Woman, Batgirl and Supergirl adorn this set, with the words "Pow, Love, Be Happy" next to each.  The one-of-a-kind design is frilly and super power princessy!
Another feature different from any other is the detachable hook and loop cape having a Wonder Woman emblem on it that attaches in back to the shoulders.
Quality is good with double stitched and taped hems, and a bonus is the additional tulle fabric ruffles!
It has an elastic waist and is made by Komar Kids and is machine washable!  I would definitely wash this ruffled beauty in cold water and air dry to preserve the design and the ruffles.
Wonder Woman Warner Brothers Branded Pajama Set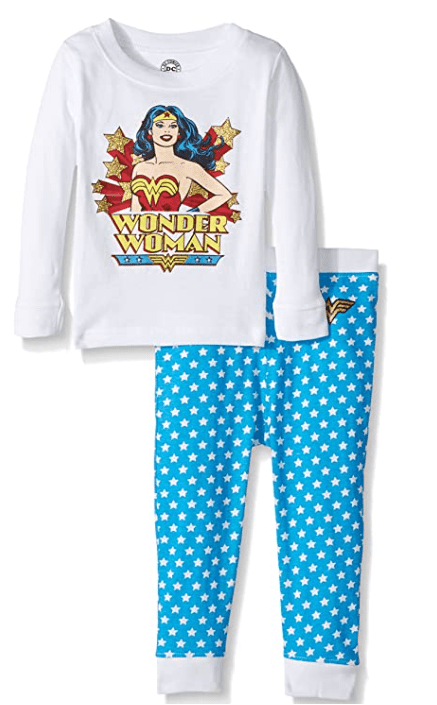 Find this cozy and super comfortable pajama set at Amazon!
These are officially licensed by Warner Brothers and get quality marks because of that branding.  The style and colors are bright and stray from the usual red and dark blue theme.  The white and light blue with white stars pattern is uplifting to look at and has enough detail to keep your eye engaged.
It has a 30 day refund or replacement policy, so that's a check!  Amazon means it's available everywhere and to everyone – so ease of access gets a check!
From 72 buyers that rating was a 4.5/5 stars.  The only drawback that was mentioned quite consistently was that the sizing ran about 2 sizes too small, with the top being smaller than the pants.  If you know that going in, you can order accordingly.
Heat sealed tags are a nice touch for those children who are highly sensory stimulated.  These Wonder Woman pajamas are also machine washable.
The brand, INTIMO, makes many different kinds of sleepwear for the whole family that is adorable and unique. The item descriptions that I read did not have the type of material used or it said 100% polyester, so I am thinking this is all polyester.
Some reviewers did say it shrunk while washing, so order several sizes up!
See also: Best Wonder Woman Gifts
DC Comics Wonder Woman Licensed Fleece Pajama Set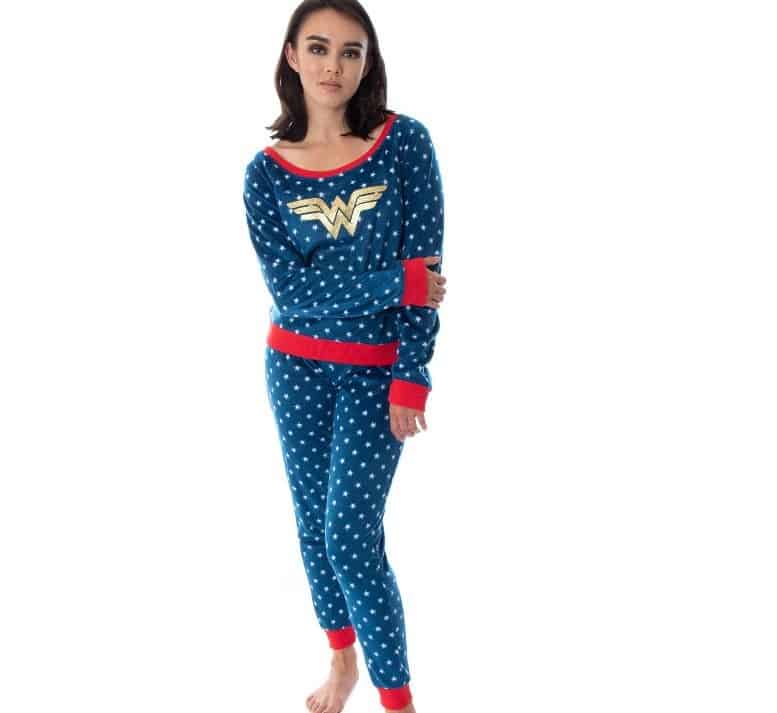 Add these to your collection at Target!
All of Target's Wonder Woman merchandise is officially licensed with permission from Warner Brothers.  This branding makes it a preferable choice, and Target has become known for their quality apparel that increasing numbers of people are using as their mainstay for all clothing needs.  (I buy constantly at Target online!)
These warm and fuzzy fleece pajamas are a Juniors Jogger Set, so if ordering for adult women, choose 2 sizes up.  The chest has a gold foil Wonder Woman sign with printed on glitter sparkles, stretch

hem and cuffs.  The drawstring jogger pants also feature stretch cuffs.  

The color is almost a French blue and it draws you in when looking at it, it so alluring.  100% polyester fleece with a 30 inch inseam.
Target has made it exceptionally easy and comforting to shop with them with the detailed descriptions and measurements that most other apparel stores do not have.  They have taken the time to inspire trust by going out of their way for the customer, and they have a generous and well known return policy.
This pajama set is substantial enough to be worn as loungewear around the house, especially working from home and watching tv!  Just drape a shawl around your shoulders and put some earrings in for a Skype, Zoom or Google video call! (My secret is out!)
Machine wash and Dry, and if you want to keep your superhero loungers extra pristine, just put them in separately on a gentle cycle and air dry in the Dryer.
The Beauty of Worldwide Sustainable Hand-Me-Downs
Never mind that you are minimizing your handprint and saving the environment a little bit at a time by recycling, but you have the choice to also support responsible corporations that source, manufacture and sell all while practicing social, ethical and environmental sustainability.   My personal experience for decades has been with Hanna Andersson, and I can't think of a better way to invest your money for youngsters apparel.
The website, "Sustainable Jungle" has a great article with a list of online thrift stores broken down by country!
Wonder Woman Licensed Pajamas from Hanna Andersson on Kidizen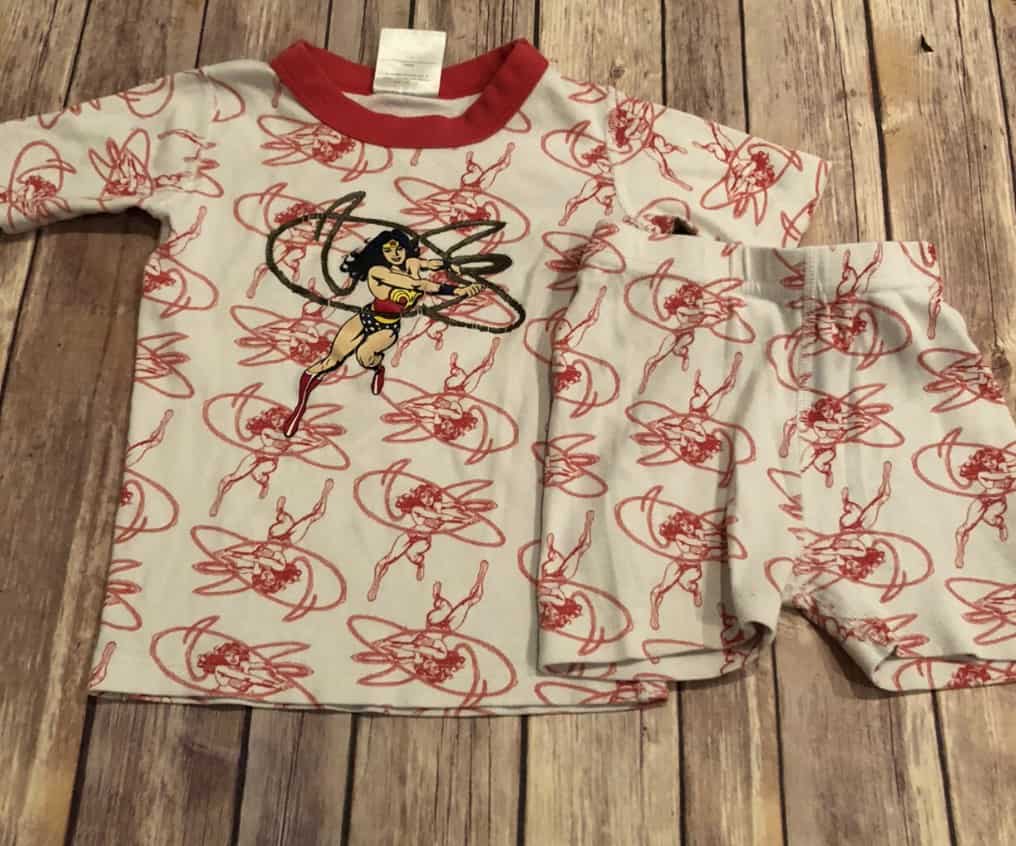 Second-hand clothing is not what it once was, it is much, much better.  Because of technology, "handing down" items has become big business, and rightly so.  As an avid second-hand shopper of everything from family apparel to furniture and outdoor décor, there isn't much that I would pay full price for anymore.  I find myself buying gifts for other at full price but much of what I own comes from careful combing (on a regular basis) of thrift stores both in person and online.
See also: Wonder Woman vs Thor
FAQs
Question: Why is Wonder Woman so popular?
Answer: She is the most beloved of all the female superheroes, and since her arrival on the scene of DC Comics in 1941, she has become and icon and a role-model to millions of young women the world over.  Girls toting Wonder Woman lunch boxes were seen as early as the 1950's and her consistent fight for justice demonstrates female independence, bravery, and courage, all while being the greatest diplomat.  The Wonder Woman movie of 2016 brought in over $800 million dollars worldwide!
Warner Brothers has tapped into this popularity by targeting young girls with the relatively new Justice League, which features Supergirl, Wondergirl, and Batgirl.
Question: Are Wonder Woman pajamas made well?
Answer: As with any item of apparel, it really depends on the maker or the brand.  One thing you can count on, however, is that if the pajamas are officially branded with the Wonder Woman name (licensed) then that is an added layer of quality coming straight from Warner Brothers.  The Wonder Woman pajamas that are polyester tend to have a silky, clinging drape, while the cotton, or cotton blend pajamas are softer and more substantial.
Target is good quality, and of course, if you buy directly from a name brand (or you do a search for a name brand pajama) you will be assured of good quality.  Some other trusted brands that have Wonder Woman pajamas are Gap and Hanna Andersson.
Question: Do Wonder Woman Pajamas really look like her costume?
Answer: Wonder Woman never sported pastels or pinks in her wardrobe because she needed to have colors that were fierce, dramatic, brave and bold.  Bright Royal Blue and yellow were her signature theme, and most of the apparel, including pajamas, is true to that.  There are variations of those power colors that are appealing to those of us who sign up for the courageous representaiton of Wonder Woman but want a more subdued look.  I like pink and ruffles sometimes, and so the pajamas that stray from the traditional blue and yellow are a nice change for me.
Below is a timeline of Wonder Woman's apparel, and you can see more of this at Baby Blues.
In Conclusion
Wonder Woman is a wonderful example of positive role-modeling with her virtues of fighting for good, bravery, courage, kindness and equality of power for everyone.  Girls need someone to whom they can look up, an model themselves after.  The only issue I would have with her is her "superhuman" appearance.  No one looks like she does.  We all need to remember and to remind children that Wonder Woman was born to the Gods Hippolyta and Zeus, raised by other superhuman caretakers and was bestowed powers of continual rejuvenation, anti-aging and perfection of form.  Health and strength are the norm for human beings, however that looks on you!
My exhaustive pajama hunt has found that not all pajamas are equal.  Although adorned with the image of Wonder Woman on them, she unfortunately has not been able to bestow her superpowers on all of the pajamas!  The best Wonder Woman pajamas, are alas, the same pajamas that we would choose if they did not have a superhero on them.  Some things remain the same, and that is quality doesn't fall far from quality.  A quality pajama set from brand X will still be a quality pajama set from brand X even if Wonder Woman is lunging out from them.
My #1 choice would be from the incredible quality haven and sustainable manufacturer, Hanna Andersson.
Recommended Reads: