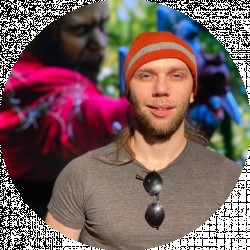 Latest posts by Bryan Hughes
(see all)
This Best Spiderman Merch Guide is full of a wide array of merchandise about the Wall-Crawler. Where to get them, their quality, the price VS value, and of course, my favorites. 
A gym rat, to some extent myself, I tend to lean towards merchandise that has both practical and aesthetic use. I love the flex shirts and the workout gloves or water bottles. Still, the comic fan in me likes to keep his room with blankets and pillow casings. Not to mention posters and action figures, and while I think on it, I'm a bit of a merchandise grabber myself. 
So, as I dive into writing this guide, the biggest struggle will be not to spend money on picking up every suggestion and opinion on the best of the best. While I'm happy to type this article up for you merchandise hunters, I hope you, too, refrain from picking up every single(adorable or cool) thing that gets linked. At least, not at one time. 
Now, let's get a look at that Friendly Neighborhood Spiderman Merch. 
Bottom Line Up Front
If I had to choose the best stuff to pick up front, I always go poster first. A simple picture on your wall goes a long way to making a room feel like yours. I would follow that up with a flex shirt or a hoodie. A good piece of Spidey merch with practical use is big for me. Finally, as an avid coffee drinker, I suggest mugs as a must-grab. When it comes to water bottles, I go practical over decorative, but mugs are generally all good quality. So, go for the one with your favorite superhero on it. 
Purchasing Options
There are so many places online for shopping, from Amazon to Superhero stuff and many others. What I will avoid, however, is linking sites like eBay and even Etsy. While I occasionally use these myself, they represent more significant risks to the buyer. 
You should use sites with good return policies, have proper license checks with their merchandise, and purchase items with reviews and ratings. If the object itself doesn't have reviews or ratings, at least the seller might. 
When buying something super new, it is a good idea to check stores like Wal-Mart or Best Buy. Picking Funko Pop figures up from your local Game Stop, for instance, is a great way to help support that store so it doesn't close down as most shops did during covid. Also, you may find things in person that are rare or not listed on the website. So I wholly support and encourage in-person shopping when applicable. However, it may save money to shop online in most cases. 
I link to many websites throughout the article, and you can also browse those websites for more items that you may find to be suited to your specific taste. Just a note, many of them had great kids' wear and even things for babies. While I don't list these in this article, they are just a click away on most of the sites I've added for the parent or family member of a child to check out. 
Let's get right into the best of the best I did sort out from the world wide web of Spidey merch.
Apparel
Here is the Spidey section of clothing and things one can wear. This was the longest to go through and compare quality, price, and style. Super Hero clothing gets picked up quite a lot. Even before the MCU took off, Spider-Man was moving merchandise. You can only imagine how the thousands of options you can choose from. That's what we're here for, narrowing those options down.
Shirts
Perhaps the most common and popular way someone shows they love a character or film is by wearing a shirt. A shirt specifically with images or logos of the brand, and there is no shortage of Spider-Man-themed shirts. While scouring through the many, I found the one I would pick up above the rest, the compression shirt. 
I prefer how they feel, I like exercising in them, and I like that they make me look good even when I've been lazy for a few weeks or went on a random pizza binge, as I tend to do. While the number two pick is the more expensive and fun one that captures the "you're me" Spider-Man meme, I can't lie about my favorite.
Hats and "Caps"
Another of the more common ways to wear your favorite superheroes is via hat. As a bald guy, hats are kind of a necessity for me. Sunburn on the head is really not fun. This means I have more expertise than the average hair grower regarding hats. First off, if you're going to wash them, do it by hand and gently. Hang to dry.
Luckily, hats are so popular you don't have to choose comfort over style or vice versa. They make stylish, comfy ones. The fully embroidered Spider Cap is my favorite via looks and material(100% cotton). Yet, I'd take the beanie if I had to go for sheer fun. It can be pulled down as a full Spidey mask and even has the eyes made so you can still see when doing so. Very fun. Here are the top four from around the net.
Jackets and Hoodies
As I stated in the bottom line, hoodies are one of my absolute favorite types of merch to pick up. They are one of the most practical apparel wears you can grab. Warm, but not overly. Suitable for exercise and a quick cover-up for windy or rainy days.
Pocket in front for easy water bottle or extra item holding. Sneaking snacks into a movie theater…not that you should, but a hoodie helps a lot here via that pocket if you do.
So I had a hard time picking out the best hoodies because I liked nearly all of them. For this one, I decided to incorporate the different body-type styles and get a wide variety of designs to edge out the top five.
My favorite? I really like grey hoodies. I don't have a great reason for it. There are some amazing ones I managed to find, including number 4, which has multiple styles available. The classic Grey with the No Way Home Logo is my preferred hoodie.
Shoes
I'm gonna toss two pairs of shoes because they make great gifts for young fans and overzealous comic nerds like myself. While the Adidas pair is maybe more popular and have Velcro straps for ease of comfort and children, I prefer the other.
One, I can wear them because they aren't just for kids. Two, I love the style and the color options the seller gives. They are well priced, have excellent ratings, and I'm probably picking myself up a pair right after I send this article in.
See also: Best Spiderman Branded Shoes Guide
Jackets and Hoodies
This is where I spend the most money on merchandise like Spider-Man-themed room decor. From sprucing up my walls, shelves, or even my editing computer. Spidey merch can be placed on the bed, the floor, and the lamps, even if you just want to go all out with it. I've made a quick list of what I consider the best grabs for most of the room choices and may have even added a few to my cart while doing so. Whoops.
Wall Art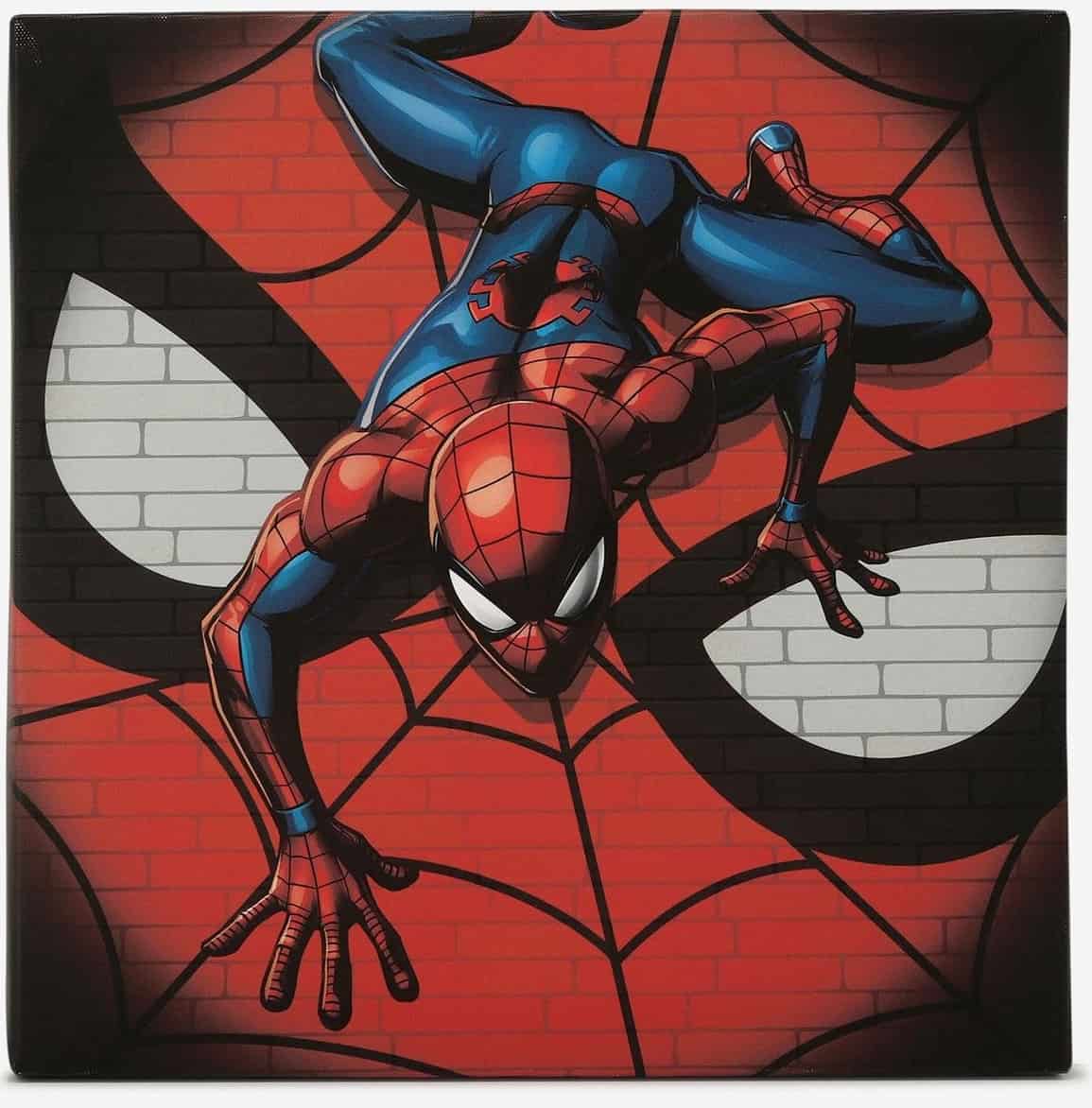 Filling your wall space with your favorite characters, movies, singers, and comic book arcs is a thing we pick up from youth and carry long into our late years. Though it sometimes grows into a taste for art, if you're anything like me, good comic design is your kind of art.
I enjoyed going through the many cases of wall art to pick my top five for you in this category. My favorite, of course, is number one. The very cool concept with the brick texture and decoration style is hard to pass up for me. Yet, I'd love all these pieces on my wall if space permitted it—one day.
Blankets and Pillow Cases
One of the best things about washing blankets is switching them out. Moving from Demon Slayer to Spider-Man coverings and sometimes just a dark blue with hints of the ocean on the pillowcases. No? Just me? Well, it could be you, too, at least the Spider-Man part.
These are some of the best Spider-Man bed sets, blankets, and pillowcases I could find for you. My favorite is the Spidey Sense Pillowcase set that makes me feel like a kid in comfort whenever I sleep. 
Computer Merch!
Most of my life as a writer in the modern world is in front of a computer. So, spicing up my laptop is almost always a comforting thing. A way to help feel like work is not only work but a place that belongs to me. A space of enjoyment. So finding some excellent Spidey-inspired computer merchandise was not a task for me.
I already had these tabs good to go. My favorite is the mousepad, hands down. However, all the selections regarding computer decoration are at the top of their class. I wouldn't leave you with anything but the best.
Figurines and Plushies
Ah, yes, the figurines are where my primary expertise comes in. An avid action figure fan and even writer of said action figure articles, I love the shelf decor they make. As I scoured for the best of the best, I am reminded that I am not alone in this love because there are choices! The Funko Pop craze has led to many Spidey versions of the cute little guys.
Not to mention beautifully detailed statues small enough for room placement. One couldn't leave out the stuffed plushies for those who love that style of craftsmanship. I have an odd collection of stuffed animals myself. I find it hard to ever throw away a gift of one, and people assume I love them because I now have an extensive collection. This led to me being very picky about which stuffed Spidey would make the cut. I can say with confidence that the ones that did are freaking adorable.
Action Figures
The most posable figurines allow you a lot of creativity when decorating your space with them. I actually wrote a whole article on the Best Spider-Man action figures. One of the main things I cover in the article is how they can often be used to spruce up a shelf or display case.
In this sense, while I may link the article, I will also put links to the three action figures best used for display cases and shelf decoration. My favorite of the more affordable ones is definitely the Miles Morales figurine. Incredible detail in the quality crafted figurine.
Statues
If you would rather have harder, more durable, and less needing your attention Spidey decor for shelves or display cases, statues are the way to go. While there are many excellent, affordable choices across the internet, especially on Amazon, I have to give my hat off to the expensive alternative.
The Spider-Man statue of him battling Doc Oc's tentacles is in stunning detail. Its material is strong and lasting. It may be one of the most expensive things on this page, but it is gorgeous. I did narrow the best down to three quality choices. The other two are more affordable than my number one. So, plenty of options.
Funko Pops
Funko Pop figurines have taken the world by storm. Becoming so popular, you can find them at nearly every store that sells games, comics, or movies. You can get them from Wal-Mart to Gamestop and everywhere online. This made it very easy to browse a plethora of the figures before I finally felt I had a nice variety.
These five all have great Spidey poses that mesh well with their cuteness. They make good shelf decoration and even nice car decoration if you put some good tape on the base to the dashboard. My favorite? The "I Love Pizza" one. It strikes me not just as funny but pays homage to Peter Parker's job as a Pizza delivery guy. Makes the nerd in me all happy. 
See also: Spiderman Funko Pop Guide: 13 Best Picks
Stuffed Ones
I have an unreasonably large stuffed animal collection for a grown man; they would have told me, in the 90s. BUT HEY! It's 2022(as of this article), and I can have whatever the hell I want. So can you, by the way, that's what I wrote this for, after all.
As I browsed through the multi-verse of plushies, I picked these top three in terms of quality and look, just for you. My favorite, probably getting mailed to my little cousin for Christmas, is the Kidrobot classic suit. It's a good size and comfy. Fitting easily on a bed or in a happy kid's arms.
Toys and More
Many, many other items dawn Spider-Man as their logo and theme. These are those odds and ends that didn't fit the above categories. The things that can be enjoyed with mutual parties, the fun gadgets they made for kids to have endless enjoyment with. The accessories and puzzles and the all-important coffee mugs. Encapsulating them all would take longer than an article, but I did my best to give you the best of them narrowed down. 
Kites
I will always advocate for getting outside and enjoying the world as it is presented to you. One of my favorite pass times as a kid was running aimlessly through fields, parks, or sometimes the boardwalk trying to get a kite to take the wind. If you've never experienced that joy, don't be afraid to take it up for the first time or ensure your child gets to.
It really is a good memory. Not to mention, my first memory of having a kite is of a Spider-Man kite. So, I knew I'd be adding this merchandise spot from the moment I accepted this article. This time I've got no favorite. I just hope you pick one up and try it. Do pick the smaller size if you are a beginner or gifting to a child.
Puzzles
Puzzles are an amazing thing. They are works of art in their own way, and after completion, you can use glue, board, or plastic backing and mount them up precisely as that work of art. The catch? They are also a game you can enjoy alone, with a child, as a family, or with a significant other.
After completion, you can return them to the box for others to enjoy and test their wits against. If you do choose to mount them, you can not just admire the artwork but also let people know, "that was a 1000 pieces of fun/frustration," however you may put it.
There is no shortage of amazing Spider-Man puzzles. Luckily, as I love doing these puzzles, I had a foot in the door to start with. My favorite is the 1000 piece that collects 90 Spider-Man comic covers within its final form. The others I added are works of art in themselves. 
Key Chains
I think keys are a part of all our lives at this point. While it may one day fade for fingerprints and eye scans, they'll likely always be an aspect, if at least for retro sake. A key chain has been vital for me so as not to easily misplace mine or spot them when they drop.
Thus, one of the most common merchandise you can find customized on a person who prefers clothes with little to no logo showing is the key ring. While I love the lego one, I'm not a super fan of bulky key accessories, so my favorite is the classic Spider-Man head design. Here are the top 3 Spider-Man-themed ones floating around the world wide web. 
Water Bottles
After a lot of deduction, rating, scouring, and comparing with my preferred water bottles, I've narrowed the best down to three. A good water bottle is crucial to my daily routine as someone who enjoys exercise. Spicing that up with a Friendly Neighborhood Spider-Man is as easy as clicking one of the links below.
What's my favorite? Well, this time, it's a bit complex. I think the best-looking is the stainless steel version of the Wal-Mart brand Spidey cup. However, it isn't a great cup for jogging, biking, or the gym. This means I'd still pick the 27oz stainless steel Spidey bottle as my top choice. The style on that Wal-Mart brand is really nice, though.
Mugs and a Pint
I'm not saying my favorite drinks are coffee and the usual stuff that goes in a pint. Whatever that usual stuff may be, I'm probably hinting at it pretty hard. So, the glass I'm adding here I will be picking up. While that glass tops my best of the list in this category, it isn't a mug.
So it isn't beating out the number two choice regarding my Spidey mug for everyday coffee consumption. My favorite mug is number two because it changes colors when it gets hot! I know I'm a big kid, but I love it!
Random Amazing Items
I thought this was the coolest. I came across so much merchandise browsing for Spidey Merch. Now and then, cool things like this popped up. This for me tops the list of those random items. Spider-Man dangling from a "street" lamp as the night lamp for a desk or a table is a fun pickup. I'll likely be using this for my personal writing desk.
Yes! There is actually a Funko Pop Spider-Man card game. Complete with rules and cards and hours upon hours of fun just hanging out online. Waiting for you and me, the fans, to pick it up and play. The game isn't hard to learn and is really affordable too!
That's All
People have tastes galore when it comes to things in general. From backpacks to socks to odd drinks, Spider-Man gets around the merchandising table. There are certainly plenty more random merchandise items out in the world. 
I hope you've found everything you're looking for. I know I found some stuff off this list for myself. I've tried to capture the very broadest of things that are most common for us merch shoppers while also trying to find some rare special items for you, our readers. 
For now and forever, take care and stay happy true believers.
Recommended Reads:
FAQs
Question: Where can I find the cheapest Spider-Man Merchandise?
Answer: Amazon is really good, but you have to shop around a bit. You may find the price, in addition to shipping costs, to be cheaper at other stores. You may even find a good sale at a local store like Target or Wal-Mart. My advice is to type in what you're looking for and do a little comparing. 
Question: Who has the best quality Spider-Man Merchandise?
Answer: In terms of longevity, buying directly from a name brand like Disney may be the better choice in this area. Wal-Mart or one of the hundreds of licensed companies allowed to use Spider-Man on their items can be cheaper than some brands like Nike or Disney. They are often more affordable, however, because of the material. 
Question: Who owns Spider-Man merchandising rights?
Answer: Marvel, for the most part, but they outsource to almost anyone. The company or business simply pays them a fee for the sale of anything with the logo on it. This is not true for specific movie properties, though.
If Spider-Man appears in the MCU, this means that a version of him now can be merchandised by Disney, hence another reason why Disney and Sony had arguments. Spider-Man merchandise brings in a lot of money. Sony originally had the sole rights to get cash from Spider-Man film-themed merchandise. In any case, it eventually returns to Marvel if it is comic-related.