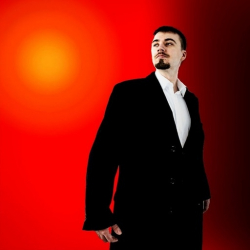 Latest posts by Stefan Stevanovic
(see all)
Superman is the most iconic superhero ever to be made. He stands for righteousness and justice, which he enforces with overwhelming physical power. So, it isn't surprising that kids and adults like to dress up as this imaginary comic book character.
Whether young or old, it is always a good idea to dress up as Superman for Halloween and other occasions. Although some people might find a superhero costume a bit tacky, true comic book fans will appreciate it.
When talking about this outfit, most people think of the traditional costume. However, you shouldn't be too conservative; instead, allow yourself to experiment a bit. In this article, I will share a few usual and unusual Superman costume ideas.
My personal favorite is "Crowbar-bending Superman." It is one of those simple but goofy outfits that give you a lot of space for experimenting.
Key Info Up Front
Although the superhero is a very old comic book character, kids and adults still like to dress up as the Man of Steel. The character inspires many, with millions of people growing up reading about his exploits.
If you wish to wear a Superhero costume for the next company party or Trick or Treat, you should experiment a bit. The traditional Superhero outfit is a bit stale and boring, so you need to find an approach that will make it modern and up-to-date. My personal favorite is "Crowbar-bending Superman," as it plays a bit with the theme adding a unique spin to it.
What are the selection criteria?
To make it onto this list, an outfit has to fulfill a few criteria:
People should easily be able to tell that this is a Superhero costume.
It needs to look good to the point where you would wear it again.
The outfit should have similar colors as the ones from the comic(whichever edition we're talking about).
There are also a few other things worth considering. For example, I tried to give an advantage to handmade costumes or interchangeable pieces, and I think you should tinker a bit to find your voice of the Krypton. However, I also added a few products you can buy online and wear straight up.
Best Superman Costume Ideas
Finally, here are a few fabulous Superman outfits I would like to share with you:
This t-shirt is the ideal first item when you start making a Superman costume. Most of us don't look like Henry Cavill, so we will have to do with what we got. Instead of trying to puff up your muscles whenever you meet a new person, why don't you simply buy a clothing piece with muscles on it?
The product's main focus is the abs, although the overall design of the item is really nice. As for the top, you can stay with the short t-shirt or add blue sleeves. Wearing a t-shirt will make you look casual, as if you just finished your job of saving the city and you decided to crash a local party.
Most people think that Superman's red briefs are risky, but that comes with the territory. When you buy this t-shirt, you can experiment with the bottom as much as you want. The muscles and design set this product apart from the rest. Otherwise, you would look really flat while posing as the world's greatest superhero.
The only issue with this t-shirt is that you'll need several other pieces to finish the costume. So, it is a great purchase when you start making your suit but remember that the whole outfit needs to revolve around this one item.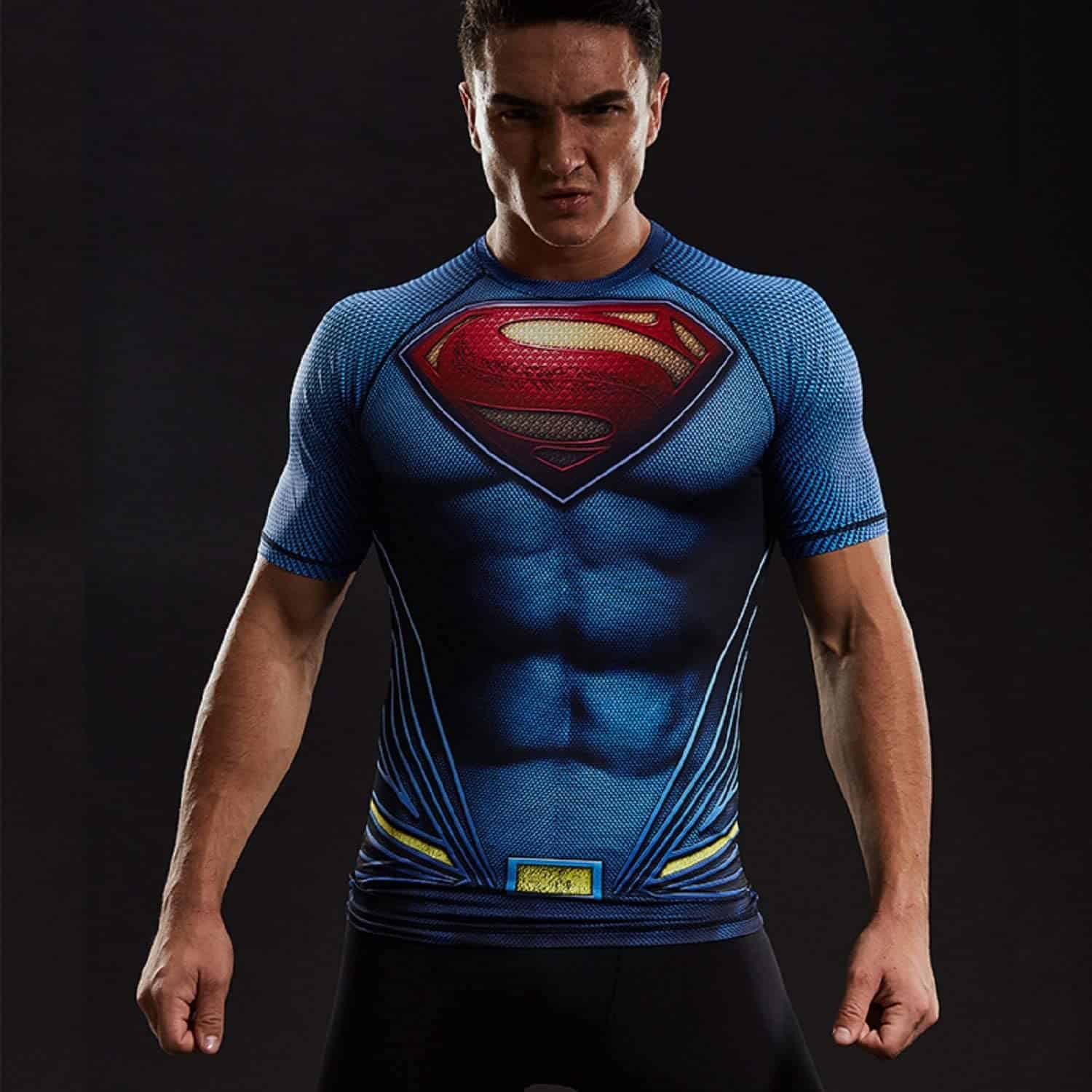 Pros
The t-shirt looks very authentic.
You can combine different excellent pieces of clothing into one whole.
It actually makes you look like a superhero.
Cons
You need to be very careful when combining different pieces. The outfit can look all over the place if you buy the wrong items.
This product does a similar thing as the first entry on the list. The mid-section makes you look as if you're jacked, although this is just a visual illusion. Overall, the outfit uses really nice color combinations transitioning from one shade to the next.
The thing I really like is the scaly appearance. It looks like body armor and beats the traditional, one-color outfit. The logo looks dirty and grimy, which makes sense, given that DC has been doing its best to make its superheroes as dark as possible.
I think that the cape is the worst part of the outfit. Unlike the suit, which has numerous fantastic details and colors, the cape is very basic. It is as if you're putting plain curtains or a tablecloth on your back. Keep in mind that this set comes without boots.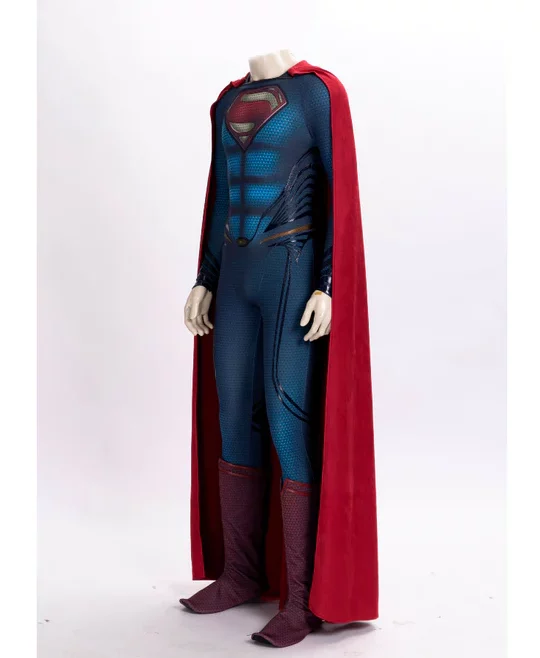 Pros
The colors and shading are excellent.
I love the logo as it is very different from the usual Superman logos that are a bit too clean for my taste.
The vertical lines on the sides are another astonishing detail worth mentioning.
Cons
The cape is awful. It makes sense that it doesn't have any details, as this is what the authentic Superman cape looks like, but I can't neglect the low quality of the fabric.
See also: Best Superman Shirt Ideas: 36 Super Picks
Most Superman costumes you can find online are geared toward men, which makes sense. However, there are a lot of female Superman fans that would love to wear a female counterpart of the outfit. Although they can always wear the silly, male version of the outfit with red trunks, I can bet that most of them would prefer something girly.
This outfit solves the problem, and the solution is pretty simple. Basically, instead of the trunks and long pants, you get a short dark skirt. The rest of the clothes is also adapted for female fans. You get glasses, suspenders, and a tie, making you look like Clark Kent.
The outfit is totally nerdy, which is why I like it so much. Even better, it looks like an authentic Superman outfit, using different clothing pieces but never straying away from the theme.
Pros
This type of costume gives you a lot of room for experimenting.
Instead of going with the usual Superman suit, you can go with clothes that focus on Clark Kent.
You don't have to invest a lot of money in this one. Just combine whatever you have in your closet with a Superman t-shirt.
Cons
You need to unbutton it for people to notice this is a Superman-themed costume.
If you're looking for something different, you should definitely consider this particular product. Instead of the usual jovial Superman colors, this suit is much more menacing. The combination of black and red is very aggressive, and people will instantly notice you wherever you go.
Like a few other entries on the list, the costume looks like you have abs. The logo spread across the chest is really imposing, which goes well with the overall theme. I also like the addition of red on the arms.
For me, the hands are the most problematic part of the outfit. Fingerless clothing doesn't suit the superhero, and it feels like you need to wear gloves to pull off this costume. To complete the suit, you must purchase boots and a cape. The great thing about this is that you can play with different boot/cape colors finding the combination that will work well with the product.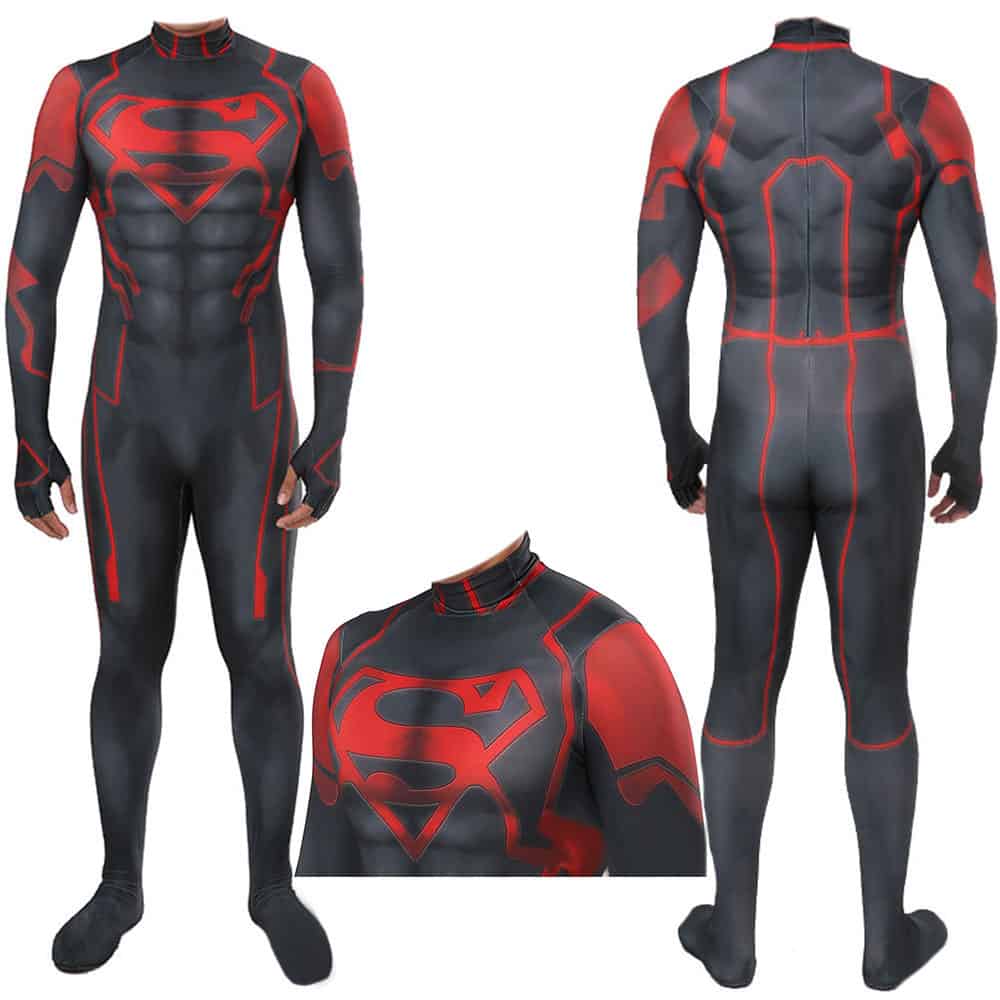 Pros
The combination of red and black is very intimidating and, in that regard, easily beats the traditional Man of Steel costume.
The logo looks really well on the chest, almost gliding over muscles.
The back section has a few cool details enhancing the overall impression. This is otherwise a part of superheroes' costumes that is usually neglected. Among others, a well-designed back allows you to skip the cape.
Cons
The hands look funky. It is almost as if the costume needs gloves to make sense.
Contrary to popular opinion, you don't have to invest much money in a superhero outfit. You can just take a few simple clothing pieces from your closet and mash them together. This entry is the best example of that.
If you wish to make this costume, you just need to buy a blue top and bottom and make a printed Superman emblem. As for the belt and cape, you can sew them yourself. In this video, the child is wearing a makeshift yellow belt that looks pretty basic. But, if you wish to invest some time, you can work on each clothing piece, enhancing them a bit. You can use a few safety pins to attach the cape straight to the t-shirt.
This suit is especially great for kids, who probably won't notice the difference. However, it can also be awesome for adults if you prefer DIY Superman outfits.
Pros
Very cheap and straightforward.
Most pieces are handmade, giving you a lot of leeway for messing around.
Cons
If you consider this a DIY project, I have no complaints.
As I've mentioned, you can do a great job by buying a Superman t-shirt and combining it with other pieces of clothing.
In this particular example, the model bought a long t-shirt with the Superman logo and belt. This, by itself, saves you a lot of money and trouble. She added a red cape to give it more of a superhero appearance. However, instead of the usual trousers and trunks, she customized the piece with black leather bottoms and black high-heels.
Although some people might say that this costume is not complete and that it's missing pieces, you can easily tell that this is a Superman outfit during a party. It is an innovative solution for people who don't want to waste too much money on an outfit and like to give their own spin on a costume.
Pros
You can easily modify the costume by adding different bottoms and shoes.
The shirt is very simple but does the job.
The costume idea is good for both men and women (as long as you get jeans or something else for the bottom).
Cons
Some people might feel like the costume lacks a few more pieces.
Sometimes, a well-placed accessory can completely change the appearance of a costume. This particular set includes a muscular Superman t-shirt with a cape and a bendable crowbar. The crowbar is especially awesome as it lets your child showcase his incredible strength during parties. If you don't want to buy this product, you can use just about any DIY accessory as a prop with a similar function.
If we exclude the crowbar, the product is pretty basic. You get a muscular t-shirt with a drawn yellow belt and a cape attached to its back. This costume gives you a lot of leeway regarding the boots and bottoms, similar to the previous entry. So, you can grab just about anything you have in the wardrobe and mash it up with the rest of the pieces.
As I'm pretty lazy to make a new costume out of scratch, this is probably something I would give my child to wear to parties. The bar-bending idea is amazing and will make you look goofy and badass simultaneously. Whatever it might be, it can significantly alter the appearance with a minimal investment.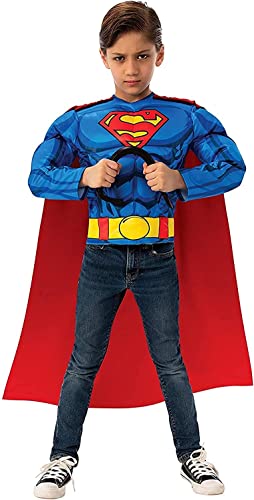 Pros
The addition of accessories can take the costume in just about any direction.
You can make the object look goofy or macho depending on the object you carry.
The shirt is very simple but does the job.
Cons
The cape in this particular example looks really bad, but you can go with something better.
Of course, there is no age limit when it comes to Superman outfits. That way, when the whole family is visiting neighbors during Halloween, you can go as a superhero group.
This particular costume idea is pretty basic but requires some work. You can easily buy a blue onesie anywhere. However, the Superman emblem would take some time to make. The cape is the simplest part of the costume, and you can just take any piece of red cloth and cut it.
In this particular example, Superman wears a mask, which isn't necessarily a bad spin. I really like the fact that you need to work a bit for this particular costume, as this makes it much more precious.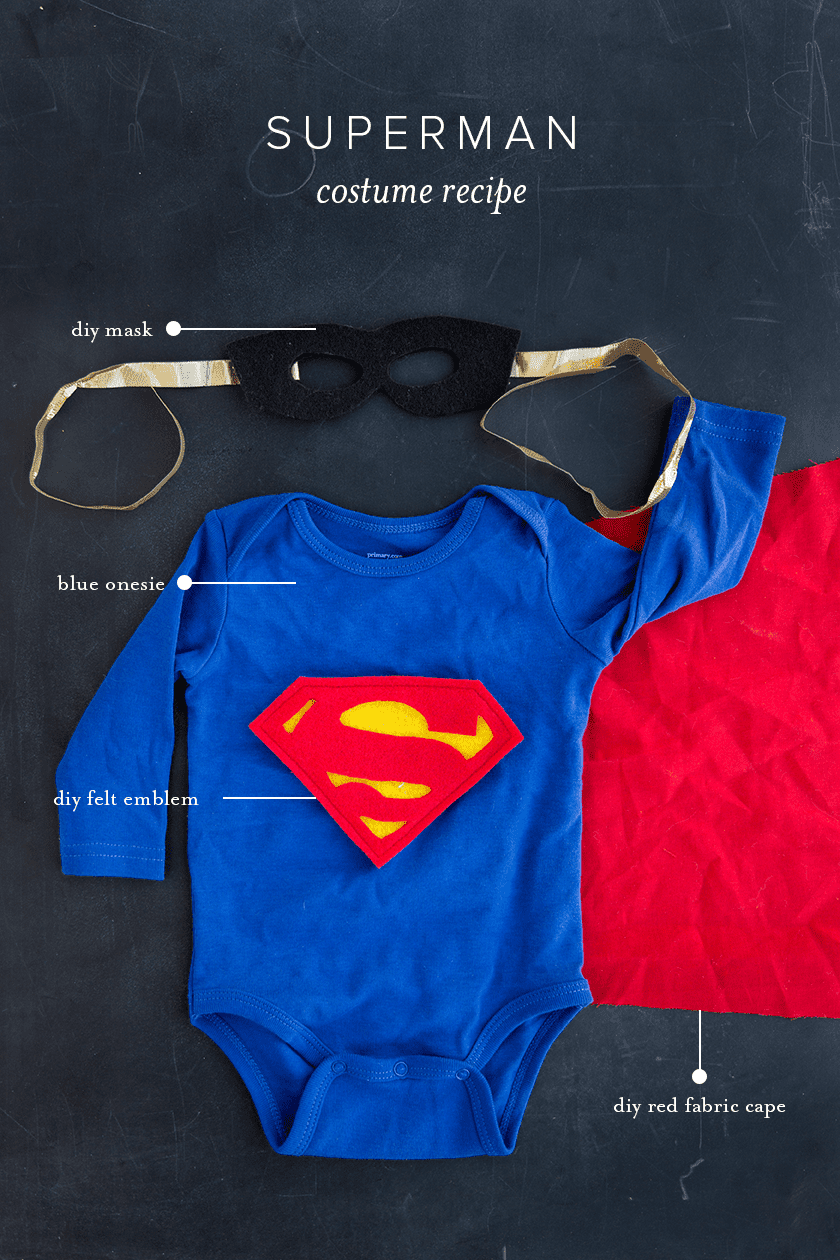 Pros
One of the best Superman costume ideas I've seen online.
DIY Superman emblem looks pretty amazing.
The addition of the mask shows how much you can experiment with this idea (even if it might look a bit out of place).
Cons
Clark Kent's outfit is great as you can easily transition from male to female without much change. Basically, all you need is an office outfit, and you wear a Superman t-shirt beneath it. When people ask about this outfit, you just unbutton the shirt and show your colors. The costume idea is excellent for both sexes; all you need is two Superman t-shirts.
This is probably one of the easiest costumes to make if you're going to a party with a partner. Besides Superman t-shirts, you might also have to buy suspenders and glasses, but that's about that. Of course, this one is even better if your girlfriend or boyfriend is a superhero buff.
Pros
You probably have most of the clothing pieces in your wardrobe as it is.
The suit is rather comfortable, and you can wear it on any occasion.
This is a perfect costume idea if you don't know what to wear and don't have enough time to sew a new outfit.
Your girlfriend can also wear a similar t-shirt. That way, both of you can pay homage to the Man of Steel.
Cons
If you're looking for something different, you should definitely go with a black Superman costume. Although most people think about the red and blue outfit when you mention the superhero, the black costume takes things up a notch. This piece is much more intimidating than a few other entries on the list that use black color.
The suit has a scaly appearance putting abs on the wearer's stomach. The logo is noticeably different from the traditional one, and I think it almost looks extraterrestrial.
To be honest, certain parts, such as the legs, seem slightly off. However, it is overall a good piece and is a great way to dress up as Superman without having to wear red trunks on top of your pants.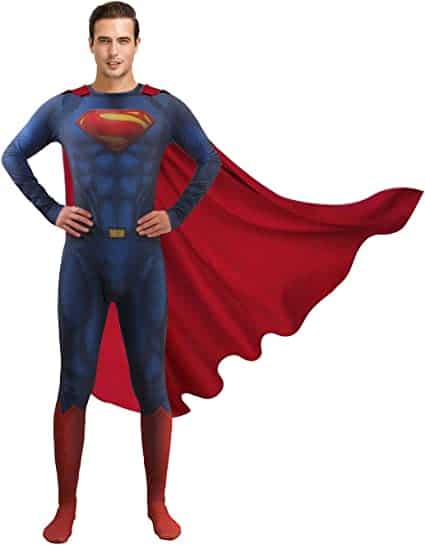 Pros
You get to be Superman during the Halloween party without looking goofy.
The colors and shading are pretty cool.
The bracelets look nice and add some extra color to the costume.
Cons
The legs and the hip area look a bit strange.
Why don't you switch things up if you're a big Superman fan and have already gone to numerous parties wearing his outfit?
An inflatable Superman costume is a completely crazy idea that will make you stand out no matter where you go. Basically, you get the standard outfit, all with red trunks and a cape, a blue suit, and a chest logo. The only difference is that this product is inflatable, and you can walk around like a funky mascot.
Truth be told, this costume is awesome if you want to look different. Unfortunately, it doesn't seem that comfortable. If you're going someplace for several hours, this might not be the best choice. The suit is a great gift and is great for making a surprise appearance. Don't forget to deflate it afterward!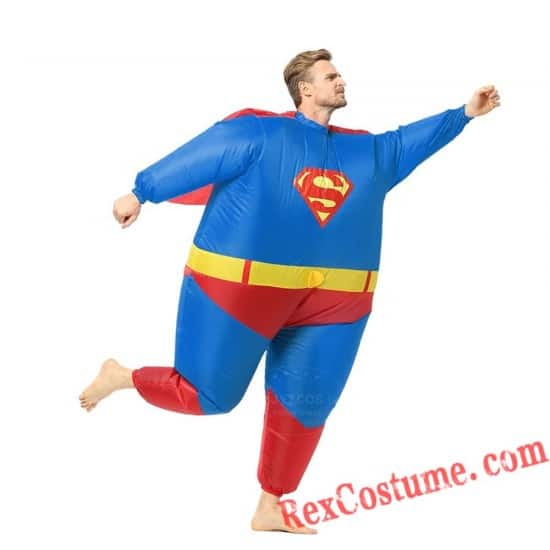 Pros
Great as a gift or for shocking your friends.
The costume looks authentic, although it doesn't seem that durable.
Cons
It doesn't look comfortable, and you probably won't enjoy yourself if you spend several hours in it.
If you're a woman and want to wear something more ladylike, you can simply go with a Black Superman dress. This outfit is, for the most part, black while having a white Superman logo.
The great thing about this costume is that you can use any old dress from your wardrobe. You can also cut it a bit if you want something raunchier. Put a white Superman logo across the chest and add a black cape. As for the bottom section, you can take black or white long socks and any black shoes (heels work better, though).
I really like this idea as it allows you to make something useful from your old pieces of clothing. As usual, you can experiment with this concept by adding different clothing pieces to it.
Pros
You can use just about anything for the bottom.
The costume idea allows you to recycle an old dress.
It is a sexy female spin on the popular superhero.
Cons
If you want to make a Superman costume from the bottom up, you should consider this outfit.
To make this one, you'll need red performance material, Pellon, crushed blue velvet, and blue pants. Everything is handmade, but you can tinker a bit with different pieces. As usual, you should buy red latex boots while sewing other parts.
The belt for this particular costume is very different from what we're used to. It is made from several layers differentiating the costume from numerous others. I especially like how the logo feels like the outfit's centerpiece.
Pros
It is one of the most authentic handmade costumes I've seen online.
I especially like the fact that the belt is noticeably different, yet, it feels like a part of the original Superman suit.
Superman's logo is also incredible.
Cons
The boots and the cap look very different, as if they're not a part of the same outfit.
Here is another buffed Superman costume. It is meant for kids and consists of one piece, making it so cool. You no longer have to scurry around looking for different outfit pieces; one product can solve all your Halloween issues.
The product consists of a t-shirt with the Superman logo and abs. It also has foam around the midsection, making it look a bit bulkier. The t-shirt has a cape behind it, so you won't have to worry about that.
I like this costume because it isn't that intricate. The item is ideal for parents who do last-minute shopping because you can combine it with jeans or any type of trousers.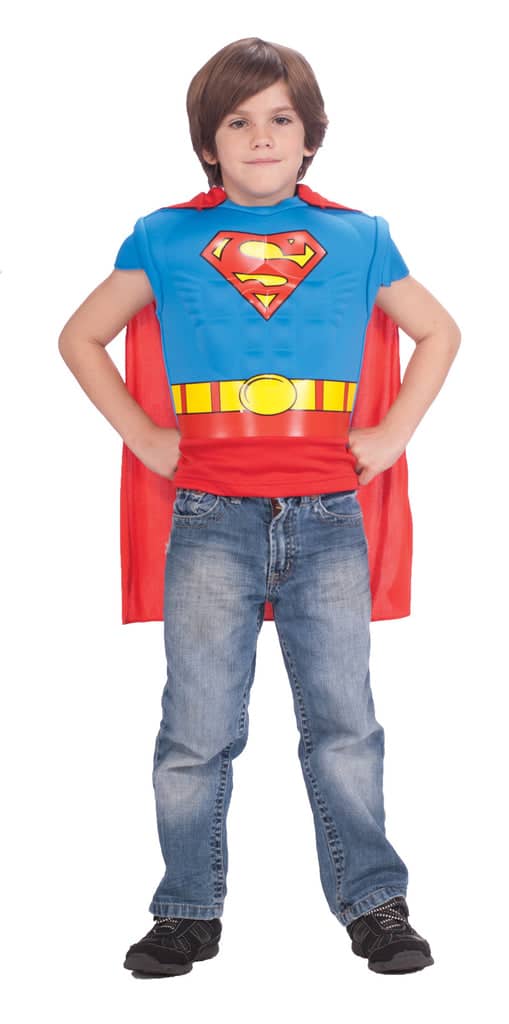 Pros
Rather simple product and a quick fix. You get everything you need within the package.
I always like the addition of abs and foam beneath the t-shirt. Not only does this make kids look bulkier, but it also makes them happier during Halloween.
You can combine it with any pants, jeans, sneakers, or shoes.
Cons
The belt section looks a bit bad.
If you're unsure what version of Superman costume you want to go with, you should get a kit. That way, you can make your own clothing and just add a mask, a belt, and a cape to it.
The item is especially great if you already have an idea for the suit but don't have a nice cape. This is a common problem with Superman products and all superhero capes in general.
I like this particular piece as it gives me a lot of leeway when choosing a suit. This specific item is a good replacement unless you want to make a cape of your own.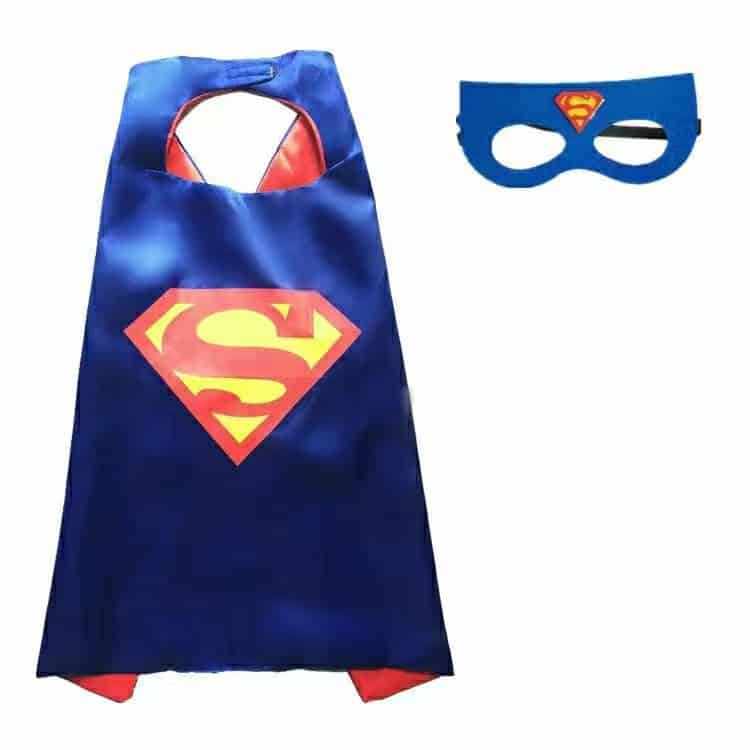 Pros
The kit is great for finishing touches.
I especially like the cape, as it is made from soft satin. The logo also looks incredible.
The belt is also nice, and it also comes with a logo.
Cons
You could argue that Superman doesn't need a mask, but then again, this is something that will make the outfit unique.
FAQs
Question: What is the best Superman costume idea?
Answer: There are so many different approaches to Superman costumes. Some people simply buy a product from a store and wear it to a party. However, I believe it is much better to make a DIY outfit. That way, you can leave a personal mark on the suit.
If you're not sure what to go with, you should simply wear a Superman t-shirt and put regular office clothes over it. This is the safest bet that always looks trendy and doesn't require a large investment.
Question: What kind of Superman outfit should my child wear?
Answer: You don't have to buy your kid the most expensive outfit you find online. Instead, you can do an awesome job with little sewing. Most kids have blue tops and bottoms, which can serve as the basic pieces for the suit. Just add the logo onto the chest, and cut a piece of large red cloth so it looks like a cape.
Also, don't forget to put red trunks over the blue bottom.
Question: What is the best Superman outfit for couples?
Answer: Ideally, you should make the simplest outfit possible or order two sets of costumes online. I prefer DIY Superman costumes, so I suggest wearing Superman t-shirts beneath office clothes. Once you reach the party, you can just unbutton the shirts and walk around pretending to be two Clark Kents.
Conclusion
If you're looking for an awesome Superman costume idea, there are lots of them in this article. You have several ways to go about things. For example, getting the Superman t-shirt and putting on a cape is enough to make a costume. If you want to make it intricate, you can create a whole suit from blue bottoms and a blue top. Don't forget to add the superhero logo in front!
My favorite costume idea is "Crowbar-bending Superman." It really shows how buff your little superhero is. Furthermore, you can also modify this costume idea by changing pants, sneakers, and accessories.
Recommended Reads: