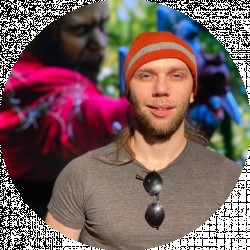 Latest posts by Bryan Hughes
(see all)
This best Deadpool action figure guide is for the collector, fan, and shelf decorator. I've taken careful time to not just include my personal favorites but to scour the inter-webs and pick up the coolest, most posable Merc with a Mouth figurines. 
Now, I'm a big action figure fan. They are prime toys for kids that encourage imaginative growth and create a safe playing environment. I had over a hundred growing up(they were much cheaper in the 90s) and would often spend hours creating my own little movies with them, among other things. 
Fast forward to my adult life. I now get to write about them for a living. How awesome is that? 
I also enjoy posing them on shelves and have grown more aware of the differences in quality between each figure. Sometimes, I still have the itch to play out a big story with them like in the old days, but I turn that itch into writing. 
Today, I get to write about the best Deadpool Action Figures for you, our reader, and I couldn't be more excited about it.
Bottom Line Up Front
I love the Merc with a Mouth. You can read any of the many articles I've written on him right here on the site and learn quickly he just strikes me in the right funny bone area. When it comes to his action figures, my favorite is the one with the most detail to texture. 
Something about the little things in Tamashi Nations, Bandai Spirits Deadpool figure just captures all the fun. It's not as bulky as the others, more ninja-like, and the poses it's capable of make for a wicked amount of fun. 
Here are some things I'll be taking into account in this article when making a selection.
Selection Criteria
Each figure is graded on this scale. The stronger the adjective, the higher the rating. Some made it because of sheer price in regards to the action figure market, while others made it because they came in a tuxedo with a monkey. This is the criteria I used, and I did not add anything that didn't average well across the board. 
Quality:

 How well it is made. How it will hold up over time. 

Detail: How added effort was put into the look. How careful the colors and textures were crafted.
Price: How expensive it is VS the average figure in a retail store.
Collectible: How much value it adds to a collection. If it is likely to be worth more when held onto. 
Enjoyment: How much fun a kid might have. How well it can be posed on a shelf. 
Humor: A unique criteria for Deadpool figures. The level of smiles or laughter it can bring without much effort.
Buying Information
Shopping online, as always, is a better way to save money when it comes to action figures. However, such as with the metal "Fight Armor" Deadpool action figure, you can find a lot of fake sellers. While researching this article, I found a cheap version of the action figure on Amazon and almost linked it because of how much less it cost. Taking my own advice, I browsed the reviews first and learned that would have been a grave mistake. 
The actual figure is close to 100 USD in cost, and the one on Amazon is just over 30 dollars. Something like this should always be a warning sign. 
When purchasing online, do not under any circumstances rush into a purchase. It is a risk. Browse multiple sites, check the validity of said sites, and read reviews on the product you will buy. If there are none, but the site has an excellent standard and a good return policy, you should be okay to take the risk. 
Thus, there is nothing wrong with shopping in person for safety, even if it costs a little extra.
#01 The Retro Deadpool
This is the good ole Hasbro Deadpool. Well made, a few nice accessories. More importantly, it's Deadpool as a villain. It's a part of his character that lives in the past now, and we seldom see it. Hence the Retro title. 
While it doesn't live high on the humor list, it's very high as a real collector's choice for me. Not to mention, that 90s Hasbro action figure quality really holds up to the test of time. They just put out some of the best ever made.
Quality: High
Detail: Great
Price: Decent
Collectible: High. It's out of circulation, and its value is possible to rise. 
Enjoyment: High
Humor: Low
Available here <-
#02 Yamaguchi's "Jacked" Deadpool
The huge muscle love some people put on every comic character isn't really my thing, but damn, this figure is clean. They put tremendous effort into the detail and smoothness of this gray-suited Deadpool. Not to mention a plethora of accessories for interchangeable hands and faces. You can make him look as dangerous or cute as you choose. Also, this gives you an alternate suit for your collection.
Quality: Good
Detail: Top Tier
Price: High
Collectible: Good. Unique color scheme and a special distributor.
Enjoyment: High, but probably not suitable for younger kids. 
Humor: Good. Fun heart-shaped eye head accessory and selfie poses, among others.
Available here <-
#03 Deadpool in a Suit With Hit Monkey

Ah, yes. Almost made my favorite this one did. Look at that suit! Not to mention the monkey. This is one of the best in the selection here for several reasons. The unique attire given to Deadpool, the unmasked head choice, and the extra action figure of a lesser-known character. Not to mention it's still a good quality made figurine. This figure is a comic book-inspired work of art. 
Both figures have a few poses, and because it's two for one, the price is slightly more reasonable than the others. In addition, the accessories are fun. A guitar and a Deadpool shield to boot. 
Quality: Good
Detail: Good
Price: Good
Collectible: Good. Not just for Deadpool in a suit, but the Hit Monkey extra will be a rare grab-up for Marvel character collectors.
Enjoyment: High. Lots of fun for all ages with this figure.
Humor: Great. Deadpool's head on a doom buggy and a monkey assassin. All the fun.
Available here <-
#04 Covered in Soot
This iconic figure is taking the "represents the movie franchise" spot on this action figure list. It was this or the joint Teenage Negasonic one, and I wasn't a fan of their casting on the extra figurine in that one. 
While it is lacking in the humor department, it gives the collector another style of highly detailed suit for the Deadpool arsenal. It's durable and comes with some easy change-out hands meaning it likely has a nice long shelf-life even if used for a child's action sequence. 
Quality: Great
Detail: Great
Price: Good

Collectible:

 Good, it is the only soot-covered figure.

Enjoyment:

 Good, makes a great toy.

Humor: Low
Available here <-
#05 Lady Deadpool
I had to. A lot of collectors seem to love female figurines. I'd rather not dwell on why, but it is true with the Lady Deadpool figure. It literally has the most ratings of any Deadpool figurine on sale at the moment. However, because of how much it's been in circulation, it's also the most affordable on this list. 
The figure itself isn't as customizable as most. It does provide a female Deadpool to a collectors table. It gives a fun zombie-Esque, propeller hat, head change out. Meaning it brings more humor to its poses than the previous figure.
Quality: Good
Detail: Okay
Price: Great, cheapest on the list.
Collectible: Okay
Enjoyment: Good, very much still a playable figurine.

Humor:

 Good, propeller hat pops me. 
Available here <-
#06 A Taco and Rocket Launcher with a Boxing Glove

I'm not saying this made our list because it comes with a toy taco and a grenade launcher with a boxing glove shooting out of it. I'm also not saying it didn't make this list for those specific reasons. Someone might say, "That grenade launcher is part of the Build-a-Figure pieces." Well, it's now part of my Deadpool posing with a smile on his face, firing a grenade with a boxing fist and a taco in one-hand shelf pieces. 
This is my preferred classic costume action figure. 
Quality: Great
Detail: Great
Price: Okay, a little pricey for what it gives.
Collectible: Good. The actual accessories being unusual could turn this into a rare grab in years to come.
Enjoyment: Great
Humor: Great, though primarily because of the accessories. Feel free to use them with other Deadpool figurines.
Available here <-
#07 Finally an X-Man
Deadpool has been trying to be an X-Man for so long that it even carried into his popular film franchise. However, the figure is on about the same level as the previous in nearly everything. With the exception, I don't find it as humorous, and the yellow head switch out will make non-comic fans probably not even recognize this figurine as Deadpool. No worries, there's a traditional Deadpool head in there, should you prefer. 
Quality: Great
Detail: Good
Price: Okay

Collectible:

 Good, it is the only X-Man costume version of the Merc with a Mouth.

Enjoyment: Good

Humor:

 Okay, it does have a lovely purple hat and a ridiculous smile that could garner some chuckles.
Available here <-
#08 Bandai Spirits
Hey! It's my favorite. This beautiful piece of art is probably better in the hands of a collector for shelves than an action figure wrestling league runner like my younger self. It has a lot of interchangeable parts, including a kit to help change how the eyes work. It is very finely detailed. I adore the work put into the texture of the costume. There is a plethora of ways you can pose this, making it, in my opinion, the best Deadpool figure of the bunch. It is, however, a bit costly.
Quality: Top Tier
Detail: Top Tier
Price: High

Collectible:

 High, this figure can capture all the different types of Deadpool's character in one purchase. The material and demand for it make it the perfect "collectible."

Enjoyment: High. You'll be messing around with it for a long while.
Humor: High. It is all in your hands, but you've got a lot of choices on how silly you'd like to pose it.
Available here <-
#09 Metalpool
This is the Fighting Armor Deadpool I had to do a little hunting for. It's made of some strong material, has a shiny coating, and depicts our hero in a metal suit version of his OG costume. It comes with multiple hands and weapons for poses. It has a figure stand to ensure you can easily place it. This is one of the collectible pieces online that could be worth some money but needs to be purchased carefully to avoid scamming. 
Quality: High, die-cast parts.
Detail: High
Price: Expensive

Collectible:

 High, part of a unique fighting armor series, made to be a collectible.

Enjoyment: Good, a lot of great maneuverability for your own customization.

Humor:

 Okay, a few funny poses are possible, and it does have a bit of charm.
#10 The Collectible Giant

This incredibly detailed beauty is 18 inches tall! 
Coming in at over 200 US dollars, this very well-crafted Deadpool is a grab only for collectors. It's specifically designed for collection and display but functions as a giant action figure. It comes with interchangeable hands and is the most expensive Deadpool figure on our list! I recommend keeping it in a display case if you pick it up for quality insurance.
Quality: Top Tier
Detail: Top Tier
Price: Expensive

Collectible:

 Yes, this falls solely in collectible, but due to its size, it may not see a considerable price increase.

Enjoyment:

 Okay, it's got some poses and weapons to be played with when displaying.

Humor:

 Little, it does give him a funny disposition on his face. 
Available here <-
What's This?
It's pretty tricky to find this item on a site other than eBay or another similar site. That makes this figurine a collectible for sure. If you want to hunt, copy and paste the following, Deadpool ToyBiz 1992. HOWEVER, it is of poor quality. It is the earliest of the Deadpool figures to be released, and it was during his initial run. He was poorly received at the time. Another "ninja" enemy, a copy of DC's Deathstroke, some complained. 
This figure is a piece of history, and how terrible Deadpool's was before…oh no. I really shouldn't talk bad about a fourth-wall-breaking character…*THUD*
Words from Wade
Hey Internet! Wade Wilson here. Bryan's a little unconscious now. Hope you liked that article he wrote about the most awesome hero to ever be an X-Man. Did you know I was an Avenger AND a member of the Fantastic Four too!? Or Bryan is bald and thinks peanut butter and tuna fish go together well! Isn't that wild? Doesn't he suck?
But Deadpool, yeah, that guy is great. So, go out and get his stuff, tell everyone he's great, and don't ever write anything bad about him.
Bye, bye now.
FAQs – Best Deadpool Action Figure
Question: Where can I find Deadpool Action Figures?
Answer: Online, Amazon is usually an easy go-to. Wal-Mart often carries them or Target as well. A few websites I linked throughout also hold them. 
Question: Are there a lot of Deadpool action figures?
Answer: Yes, dozens. There are links to a bunch of them if you scroll up, and from them you can branch out into a larger selection. 
Question: What's the most expensive Deadpool action figure?
Answer: The 18-inch figure outright, but others have been sold higher on bidding sites. The most expensive I found in my search was a Medicom Toy bearbrick Deadpool 1000% (that's the title) which sold for over 4,000 US dollars! I found it somewhere else for just over 2k. I believe it was sold at a high price because of the rare variant version compared to its mass-produced bearbrick version.
Recommended Reads: