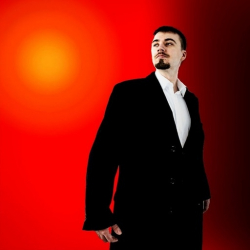 Latest posts by Stefan Stevanovic
(see all)
Invincible animated series took the world by storm. Although the show isn't that popular among children due to extreme graphic violence, teens and adults praised its story and characters. Most notably, the viewers loved all the twists and shocking reveal surrounding Omni-Man.
Although the show and comic are relatively new, the apparel and toys manufacturers already saw the promise in Invincible merch. The animated series is renewed for two more seasons, so people will have a lot more opportunities to enjoy the character's exploits.
The thing I especially like about these products is how manufacturers use fonts and colors. The animated series, in general, uses very bright colors, so the merchandise reflects this style. Unlike Marvel and DC superhero products, which sometimes look too serious, Invincible merchandise is much chiller.
I took some time to scour all the Invincible products you can buy online. Keep in mind that, besides Invincible, I also featured some other characters from the show. In this guide, I bring you the best items from each category.
Key Info Up Front
Official Merch
The first Invincible comic was published in 2003, and the series' original run concluded in 2018. It featured 144 issues in total. Although the comics were great, they achieved mild success. The superhero only became popular in 2021, with the premier of Amazon Prime Videos animated series.
The viewers were shocked by all the brutality in the first but also the following episodes. Regardless of the violence, the show's story is excellent. Character and graphic style were also highly praised by critics and the audience.
Although the creators of Invincible, Image Comics, sold the Invincible merch from the get-go, these items only became popular after the release of the animated series. Today, numerous manufacturers have bought licenses for apparel and toys. These products have spread like wildfire, and you can easily find them in the biggest web stores.
Image Comics has an online store of a similar name, but this shop doesn't feature Invincible products. If you're looking for official merch, I suggest you visit Skybound.com, the best place for buying these items.
Apparel
If you're a big fan of the show, you will likely buy Invincible t-shirts, hoodies, or other apparel at one point or another. Wearing these products is the best way of showing your appreciation.
The thing I really like about Invincible apparel is the colors and the designs manufacturers use. Most companies create outfits based on the superhero's costume colors. They mix teal, black, and yellow to create amazing results. Even if you don't care much about the show, you have to admit that these colors and patterns are fantastic.
T-Shirts
Although there is much more Invincible apparel today compared to two years ago, the number of products cannot compare to some of the Marvel and DC heavy-hitters. I think this will probably change in the next year or two with the second and third seasons of the animated show.
Nevertheless, most of the t-shirts available online are pretty incredible. Take the Invincible "Bloody Logo" T-shirt, my favorite superhero piece of clothing, as an example. The product doesn't rely on intricate patterns or colors. It's just yellow Invincible letters spread across a teal background. The splash of blood is a nice addition, though.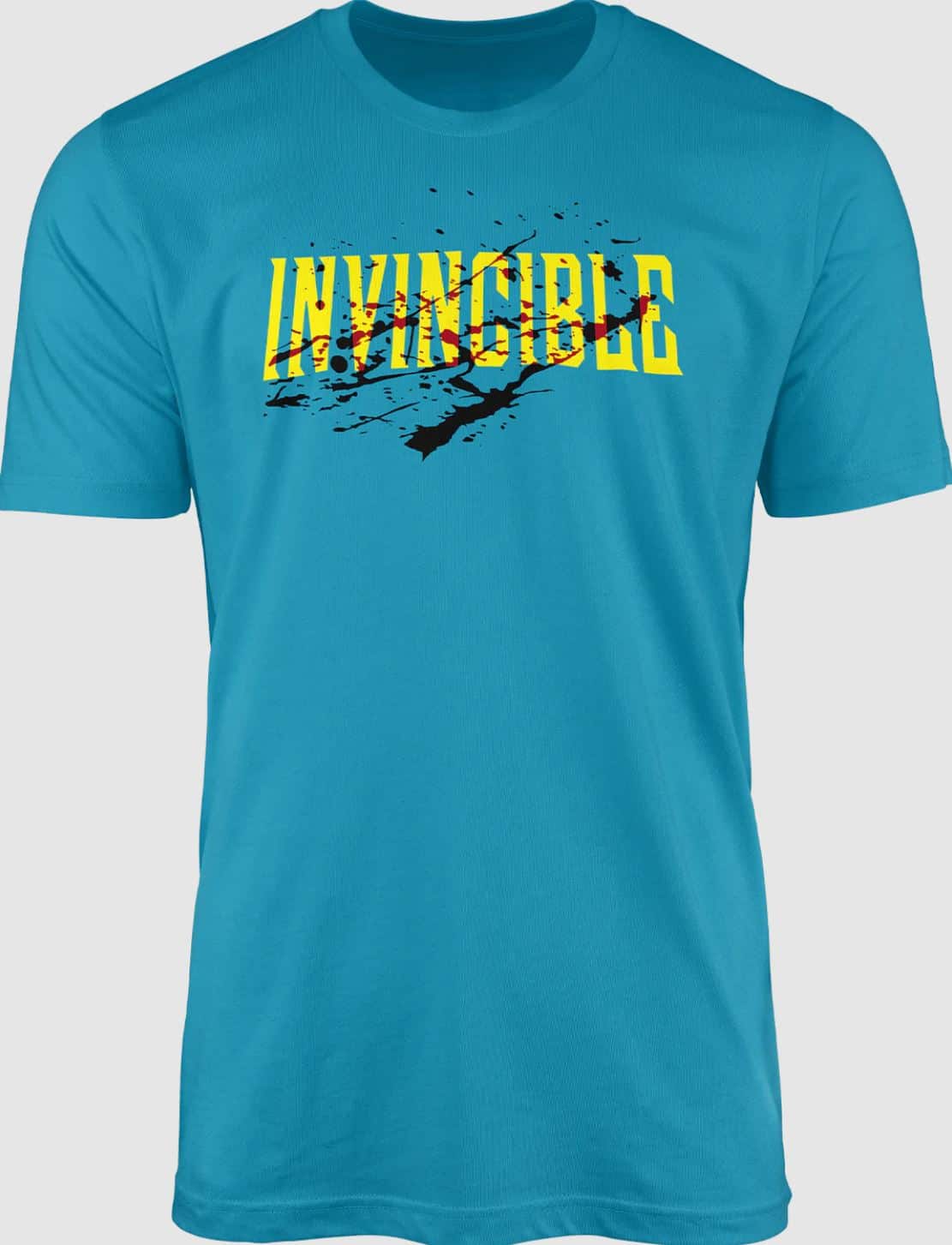 The gruesome effects are common for this line of products. Invincible Classic T-Shirt is the best example of that. In clear consciousness, this product is so cerebral and unrelenting that I couldn't recommend it to kids. On the other hand, it is one of the best superhero t-shirts I've ever seen.
However, that doesn't mean that all Invincible apparel should be banned from children's stores. My personal favorite for kids is Invincible Perfect Gift Essential T-Shirt.
Hoodies and Sweatshirts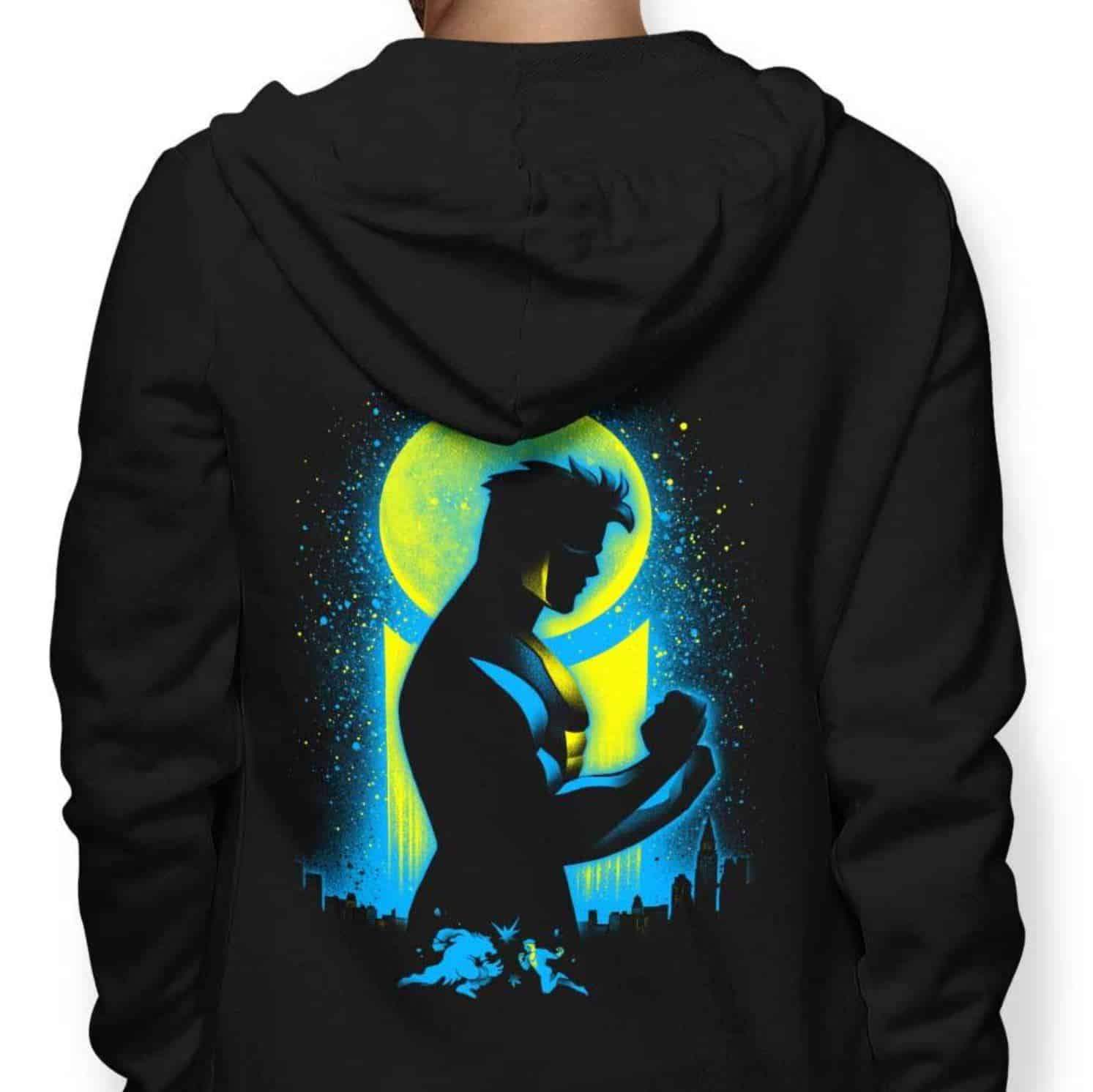 Interestingly enough, I feel there are many more Invincible hoodies and sweatshirts than they are Invincible t-shirts. Also, they look much mellower by comparison (although there are still some graphic ones). So, if you're not satisfied with the choice of tees, I suggest that you go with one of the classic superhero hoodies.
I was struggling a lot with this category just because there are so many excellent hoodies I'd like to mention. If I had to pick my favorite item, I would go with Invincible Boy. It is a product with a relatively simple design that resonated with me.
There are also several interesting hoodies and sweatshirts that feature events from the comics. For example, Father vs. Son Lightweight Sweatshirt shows the fight between Invincible and Omni-Man. The whole event is showcased through a series of comic book panels.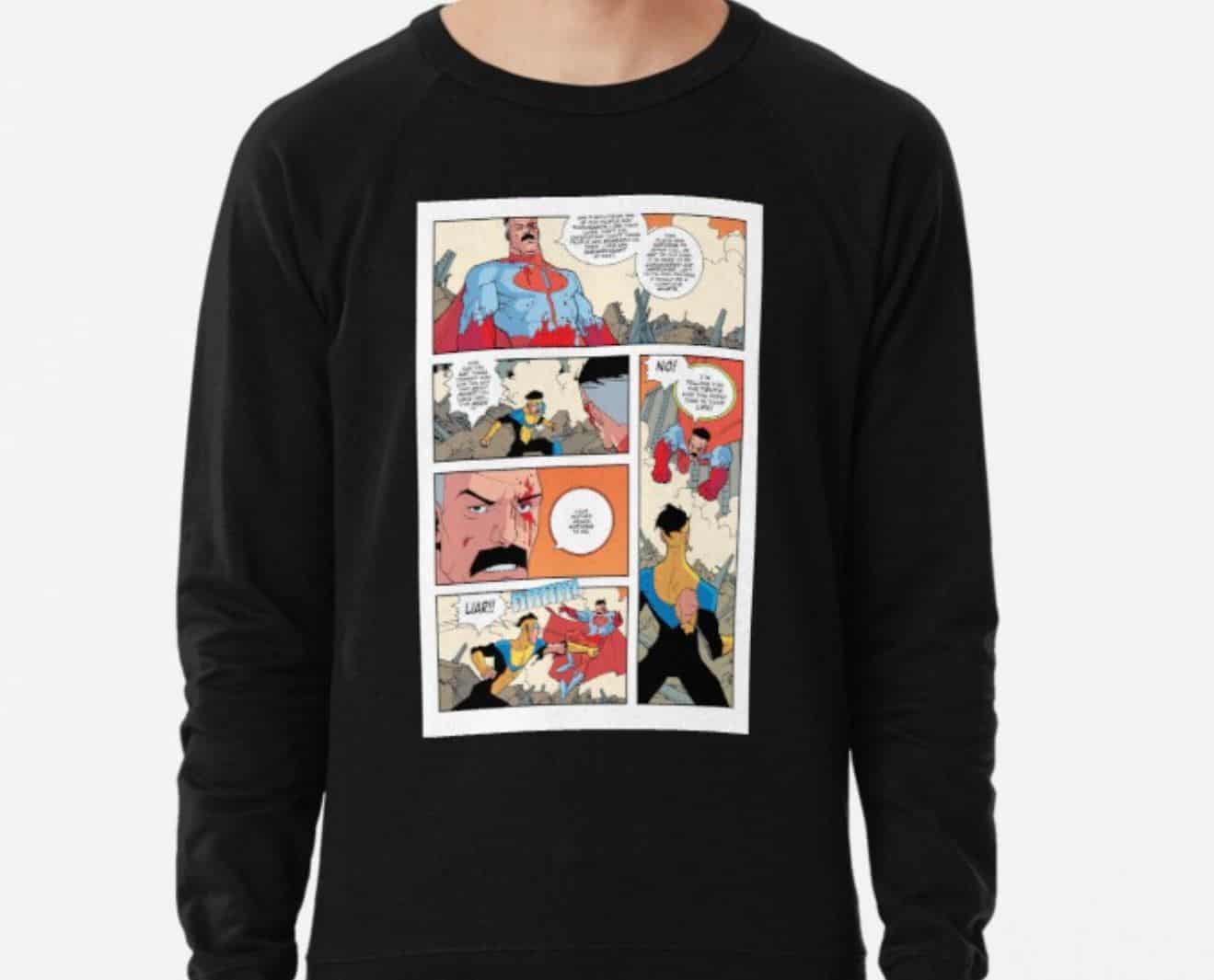 Invincible Poster Pullover Sweatshirt shows the clash between Viltrume Empire and the Coalition of Planets. It is another great homage to the comic book.
Bags and Backpacks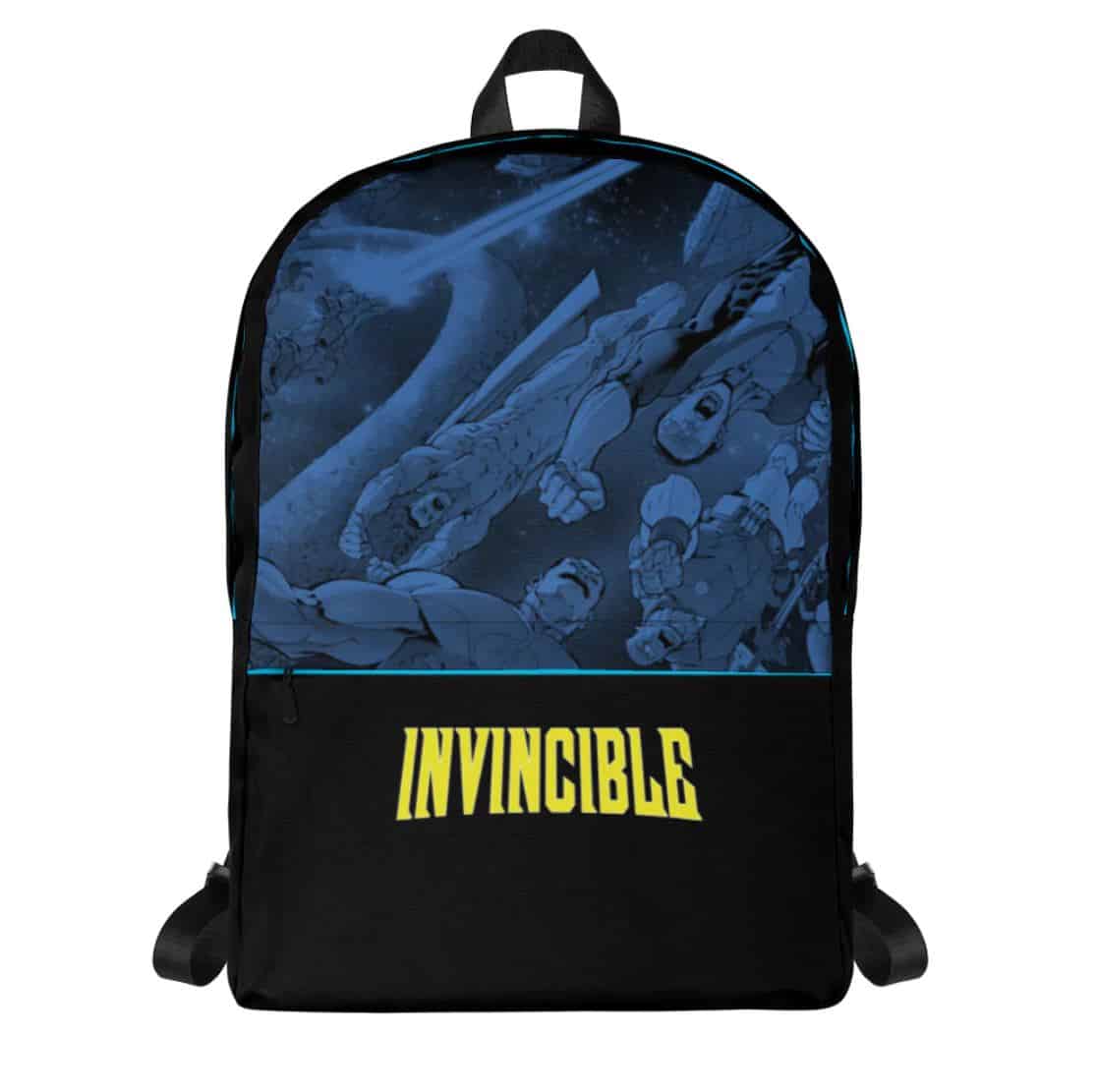 Although most people aren't that crazy about bags and backpacks, they are excellent gifts for true fans. You can bags just about anywhere when going to a supermarket or a pub. Backpacks are tailor-made for younger fans but can also be suitable for high school teenagers and university students.
I was somewhat surprised to learn there aren't many Invincible backpacks and bags on the market. Then again, this is to be expected, given that the show is geared toward a mature audience. You probably wouldn't like it if your child went around an elementary school with bloodier Mark Grayson.
My favorite backpack has to be Invincible Backpack – Summer '22. The product shows the clash between the Coalition of Planets and Thragg. Although, as a guy, I'm not that into bags, I'd have to say that Invincible Season One – Recycled Vinyl Bag looks dope.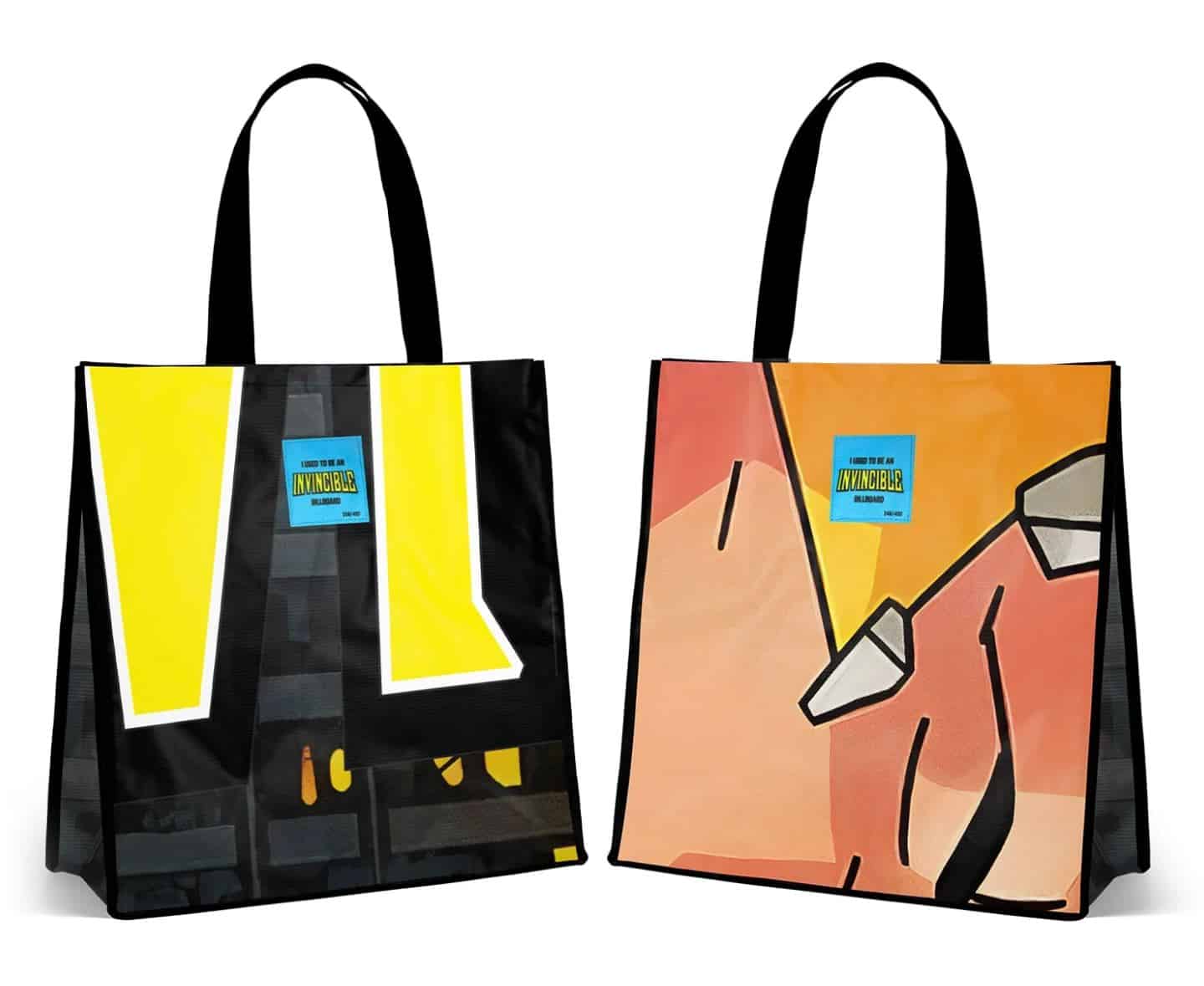 Hats and Beanies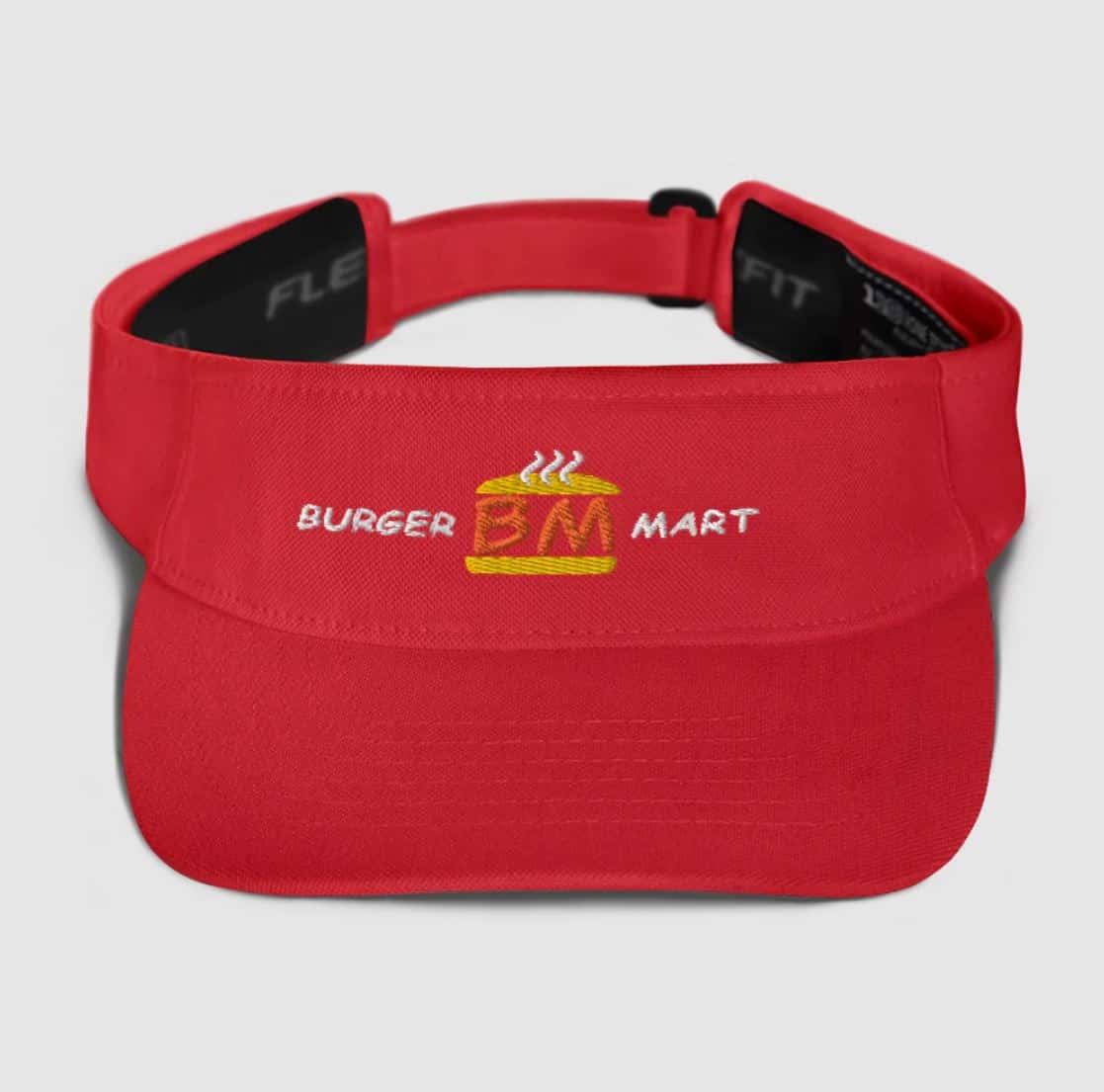 There aren't many Invincible hats available online. However, those that I saw online are usually connected to events and other major occurrences in the show. This category of items is really geeky. In other words, you need to be well acquainted with the series to get most of these references.
Speaking of geeky products, the Invincible "Burger Mart Employee" Visor is something that only fans can appreciate. Although not the best product in the category, I really love its reference (Mark Grayson worked in this restaurant). The hat reminds me of all these random jobs that superheroes do to maintain their identity.
Invincible "Bloody Logo" Beanie is the best item in the category. My main criticism of beanies is that most of them are really dull. For whatever reason, companies use the simplest colors and motifs for these items. However, this particular product turns this concept on its head with a beautiful bloody, teal beanie.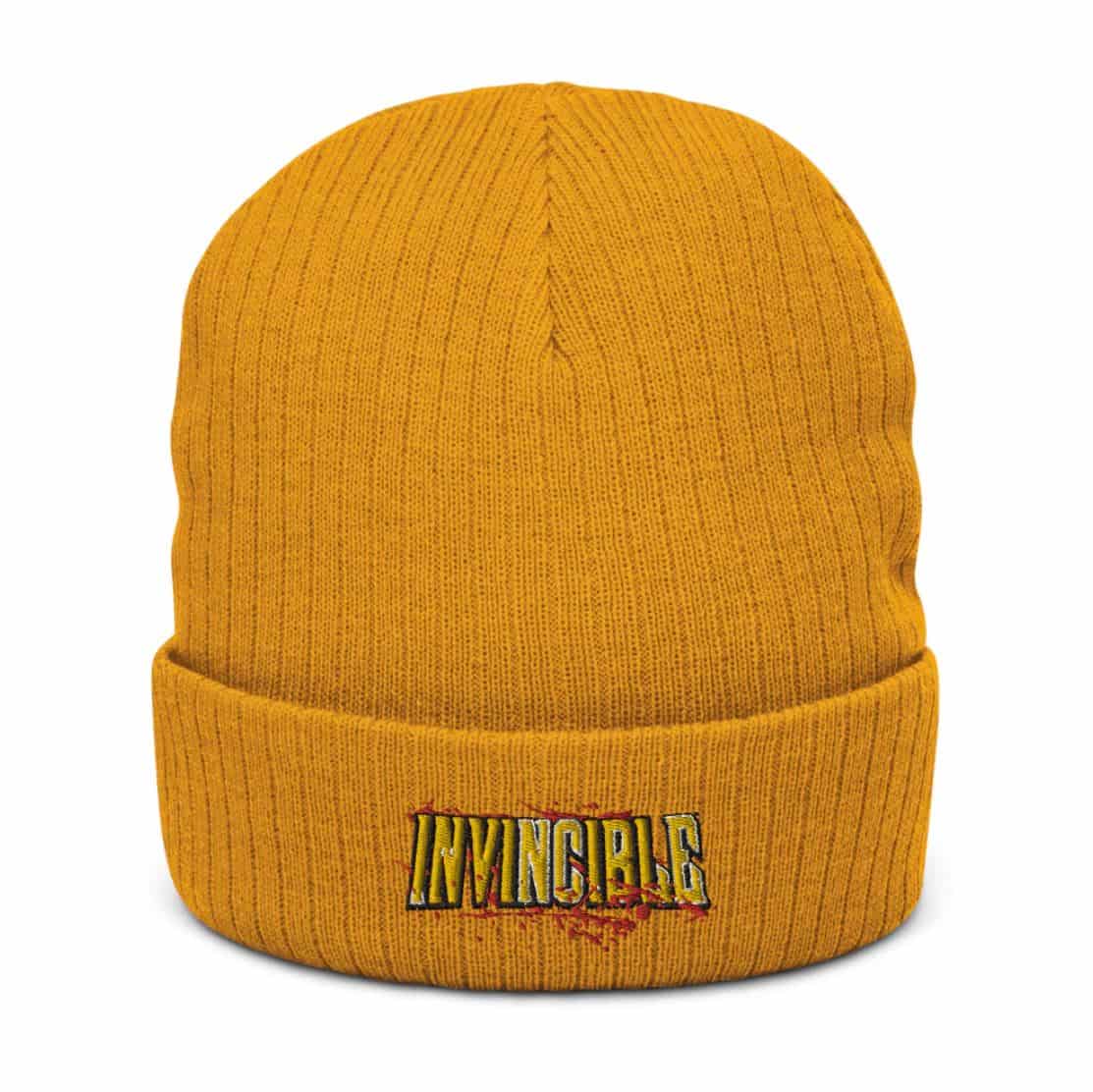 Socks and Footwear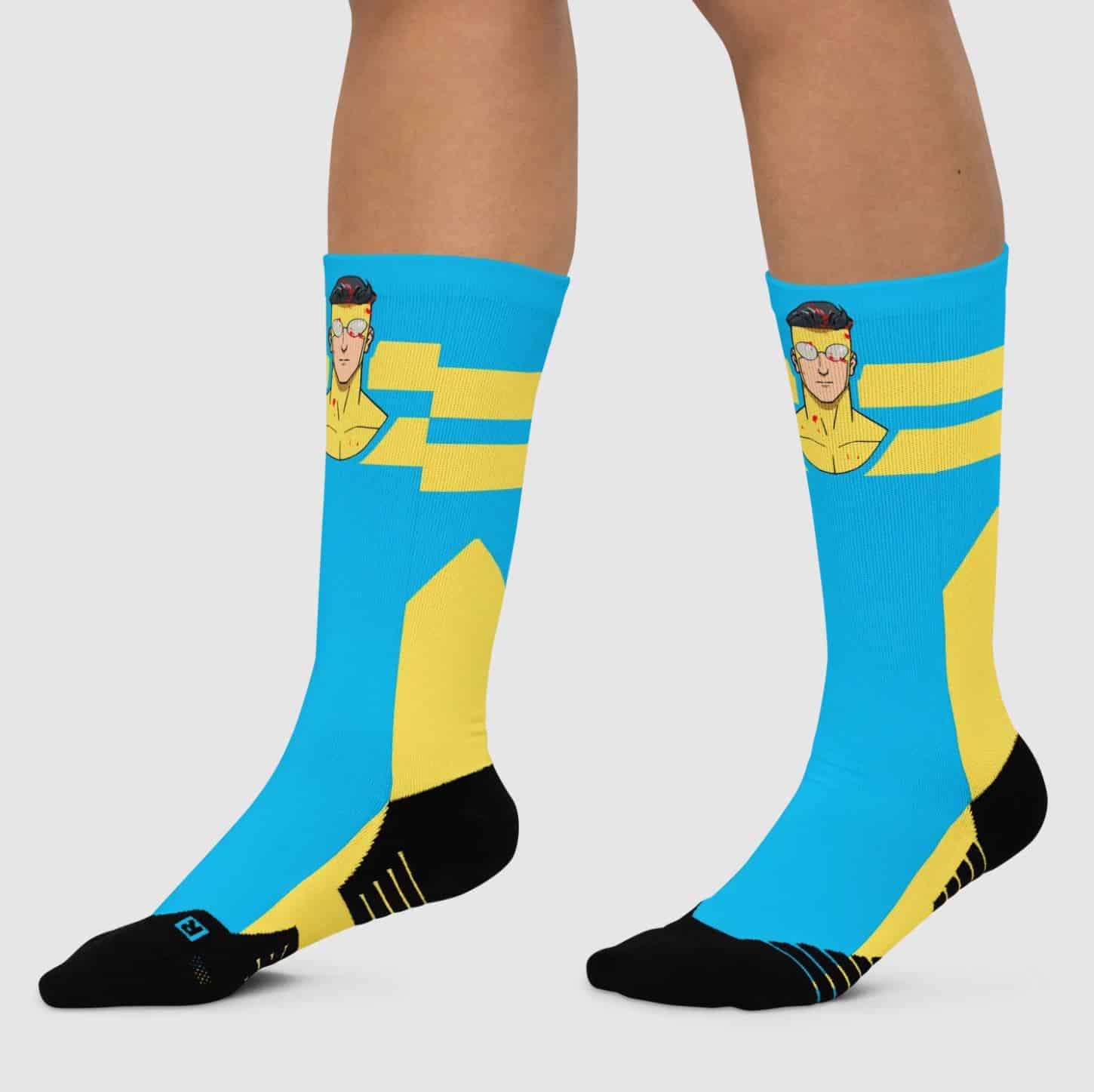 You really have to be a fan of the series or a comic book to buy socks and footwear. Most people don't even notice the socks unless you're taking off footwear in front of them. Speaking of footwear, you are more likely to wear a pair of Nike or Adidas than you're going to wear Invincible-themed sneakers.
These products are really specific, which is why they don't sell as well as some other superhero apparel. However, that doesn't mean you should never buy them. For example, I think that Invincible Socks for Summer '22 are one of the best pairs of socks I've ever seen. They use the same dope color combination as some other Invincible apparel.
Invincible Bloody Logo Slip-On Canvas Shoes (Yellow) might be the craziest footwear ever to be designed. The bloody splatters look so real that people might think you were in a fight. If we disregard the blood stains, the thing that makes this product so amazing is, once again, the color combinations.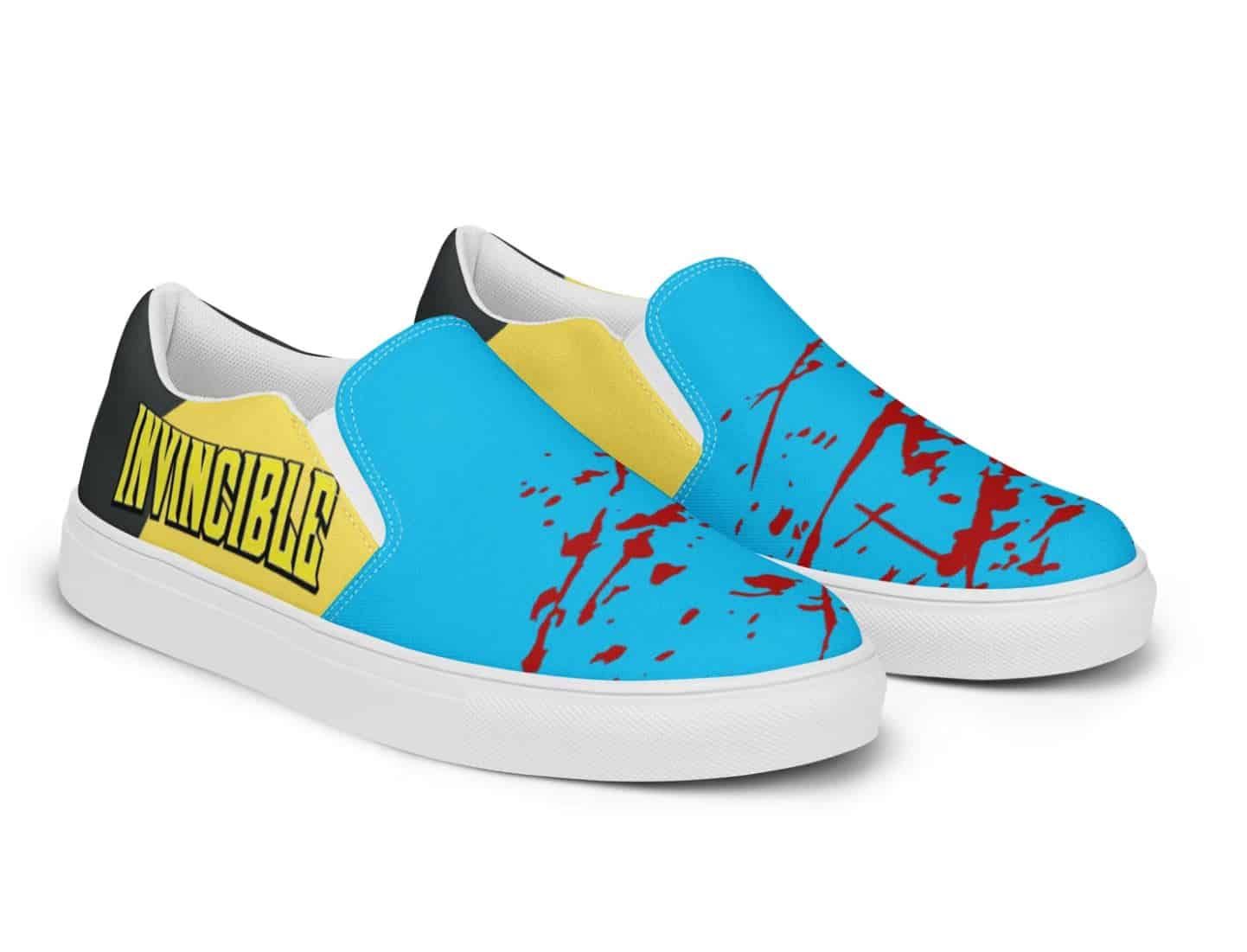 Toys, Collectibles, and Plushies
To my disappointment, there aren't many Invincible toys and collectibles available online. Action figures are one of the biggest draws on the superhero merch market, and it is a real shame that Image Comics hasn't done more to promote its flagship character.
I am especially disappointed with the lack of Funko Pops! These are my favorite action figures, and I often get them for my friends when I don't know what to buy. Funko Pops! are such universal items, and you don't have to be a fan of a show to appreciate the details on these dolls.
The main reason for the lack of toys is that the show is simply too young. Only a handful of people knew about the superhero prior to the animated series. Furthermore, even after the show's first season, the character cannot compare with Marvel's and DC's superheroes in terms of popularity.
Action Figures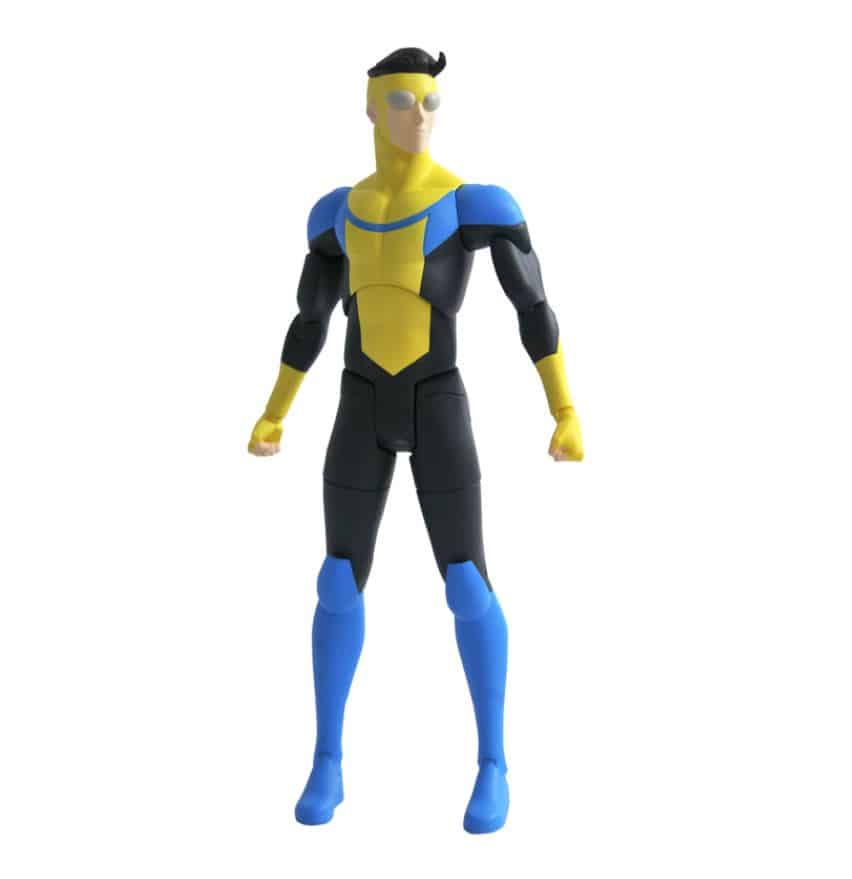 Diamond Select Toys company is the first manufacturer to receive exclusive rights to Invincible action figures. They made toys featuring some of the most popular characters from the comic book, such as Invincible, Omni-Man, and Atom Eve. Hopefully, a few more companies will get licensing for the superhero show, as I would really like to see more action figures.
Overall, I like what these products look like. Each of the action figures is made with lots of details. If I were to complain about something, that would be the lack of additional parts, weapons, or vehicles. Then again, it is good that we have these items in the first place.
Invincible (Series 1) Action Figure is the torchbearer for the collection and the most popular figure. The product is very clean, with vibrant colors and numerous joints. However, if I were to choose a favorite, that would be Allen the Alien (Series 3) Deluxe Action Figure. I have loved the character design since its first introduction in Invincible comics.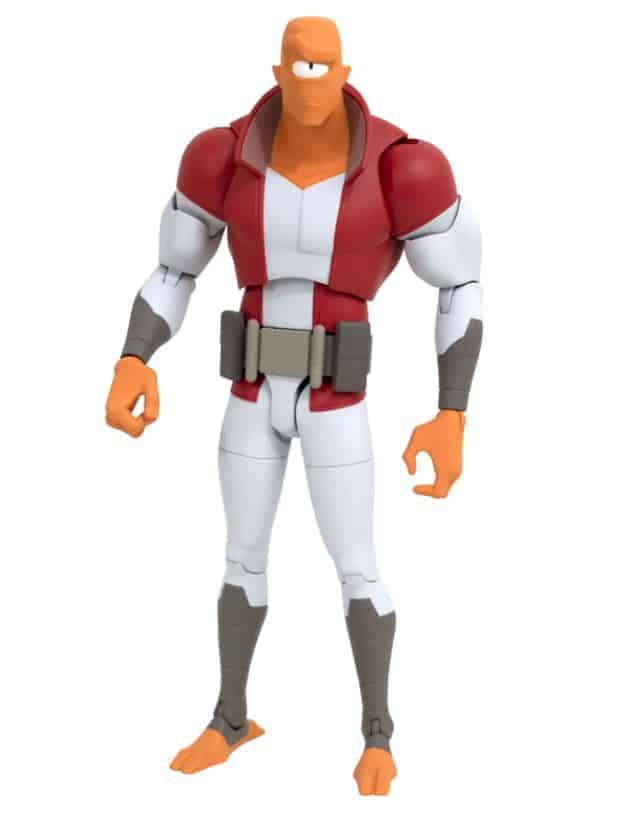 Statues and Collectibles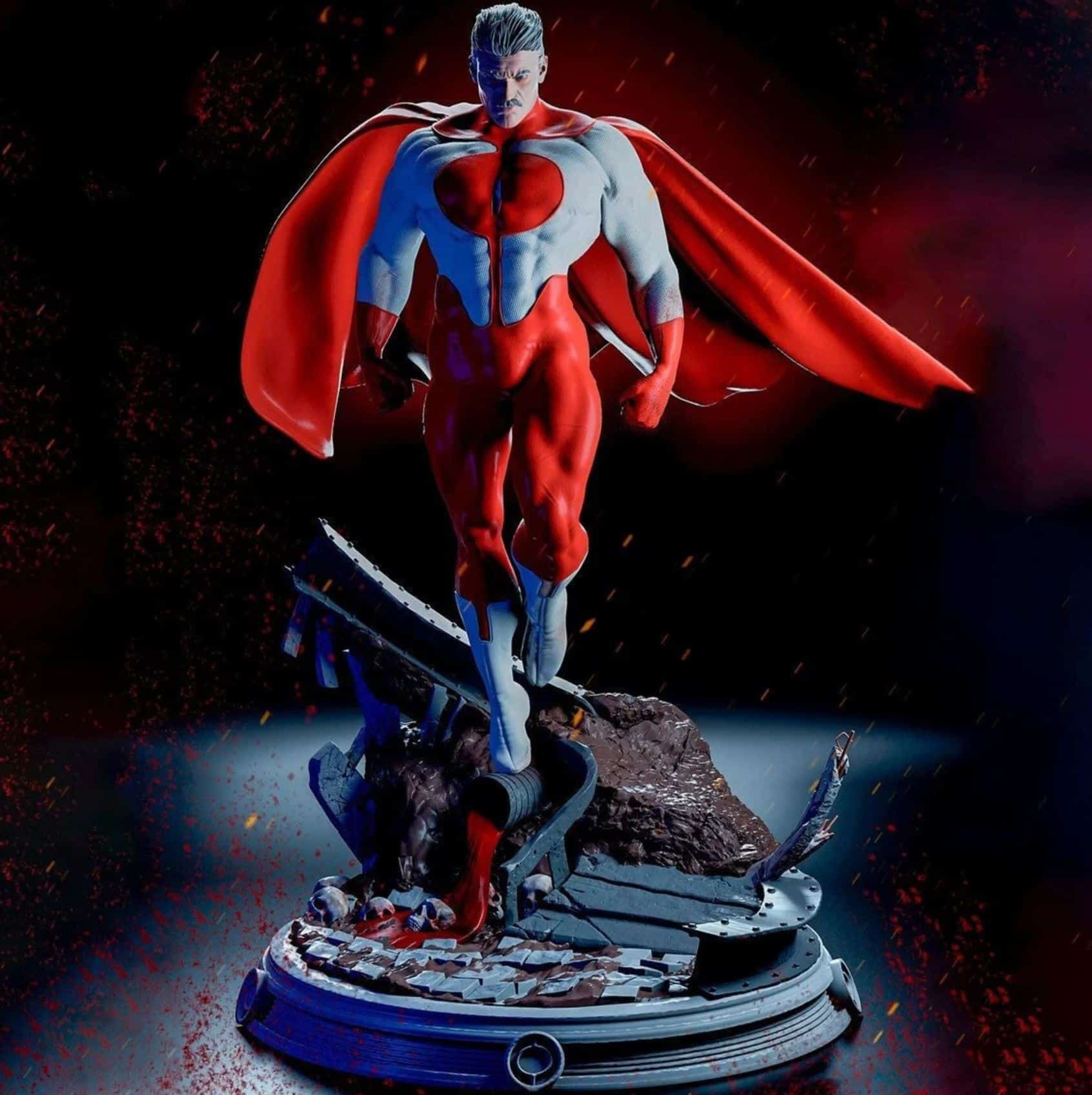 Like with action figures, there aren't many Invincible statues and collectibles. However, I've noticed that people are starting to make more and more fan art based on comic books. This goes to show that the series has acquired something of a cult following and that, presumably, we can expect more merchandise in the future.
The best item from this category doesn't feature Mark but his father. Omni Man Nolan Grayson 3d Printed Figure looks dark and ominous, which goes well with the superhero's character. This highly-prized collectible is a small piece of art and is an excellent purchase for all the fans of the show.
If you're looking to buy a statue featuring the main protagonist, I would suggest going with Robert Kirkman's Invincible Statue. It is a really cool piece that showcases superhero midflight. In a way, he looks regal on this one.
Wall Art and Room Decorations
While there aren't many action figures featuring the superhero, you can find various Invincible bedding sets and wall art online. Most of these are made to decorate kids' rooms. However, given that this is not your usual superhero, it makes sense that companies wouldn't make too many of these products.
Still, if you're a young teenager going through a rebellious phase, you would probably appreciate this type of decoration. For a while now, I have been thinking of buying something similar for one of my boys, who is slowly coming of age. He really likes the superhero, so this seems like a perfect gift.
Invincible bedding sets are usually very colorful, featuring scenes from the comic. Posters are also done and could a lot of liveliness to your child's room. My only issue is that we still don't have many carpets to complete this type of decor. However, I believe this will also be rectified with the launch of Invincible season 2.
Wall Art
When a child first becomes a fan of a player, superhero, or game character, the first thing they ask for is a poster for their room. And although I think Invincible isn't the best fit for a child's room, I dig the graphic solutions used in the comics.
Unlike many other superhero posters, Invincible wall art is really colorful and dynamic. The companies making these products often feature scenes from the comics, which is the best way to honor the superhero and its creators.
Redbubble has some of the best posters I've seen online. My favorite is Son vs. Father Canvas Print. It is a beautiful piece that shows the two superheroes fighting in the last episode of season 1. If this one is a bit too much, you can go with the Invincible and Omni Man Poster. In fact, I think that this product is ideal for children's rooms, as it isn't violent and has fantastic colors.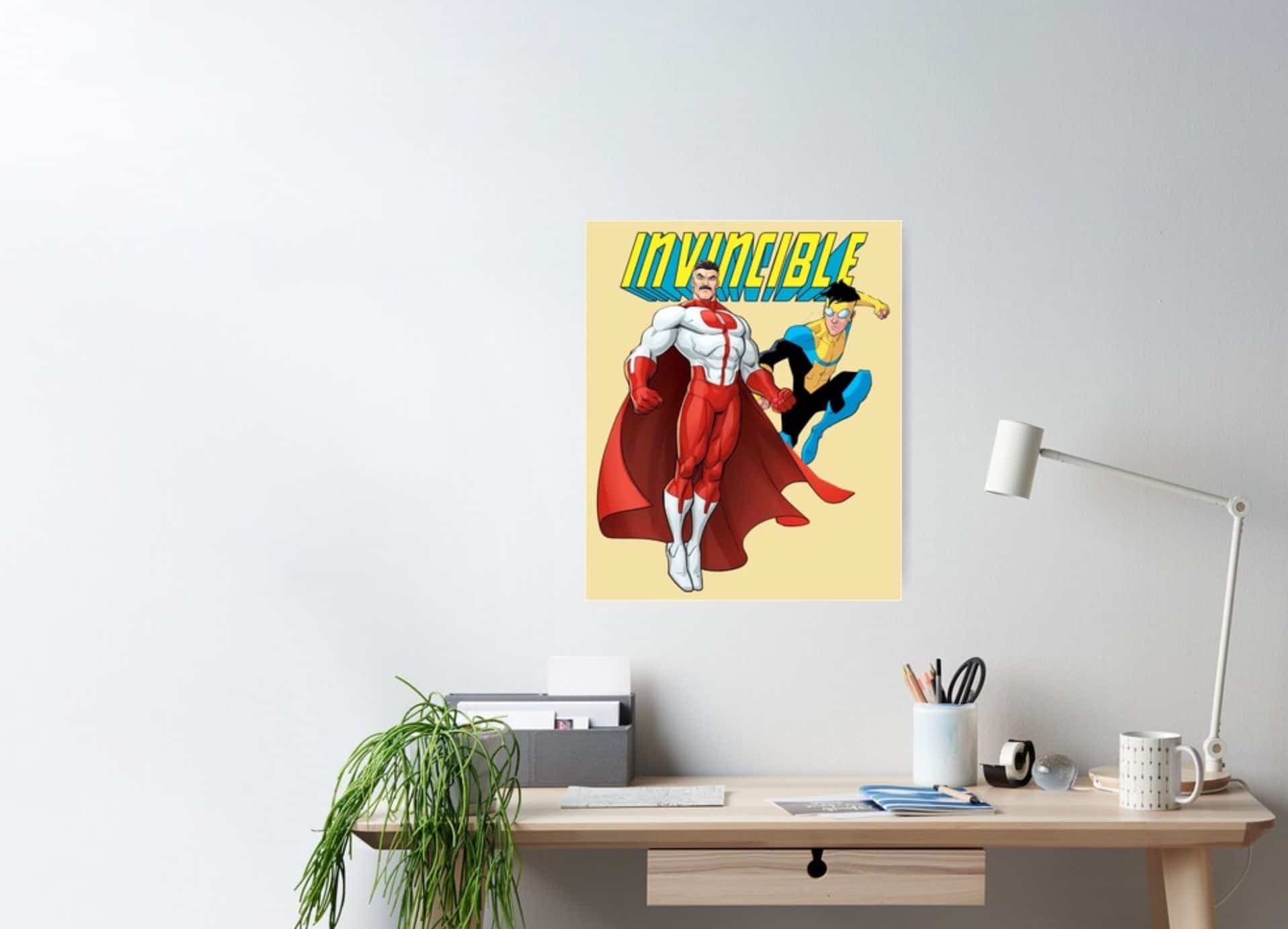 Sheets, Blankets, and Beddings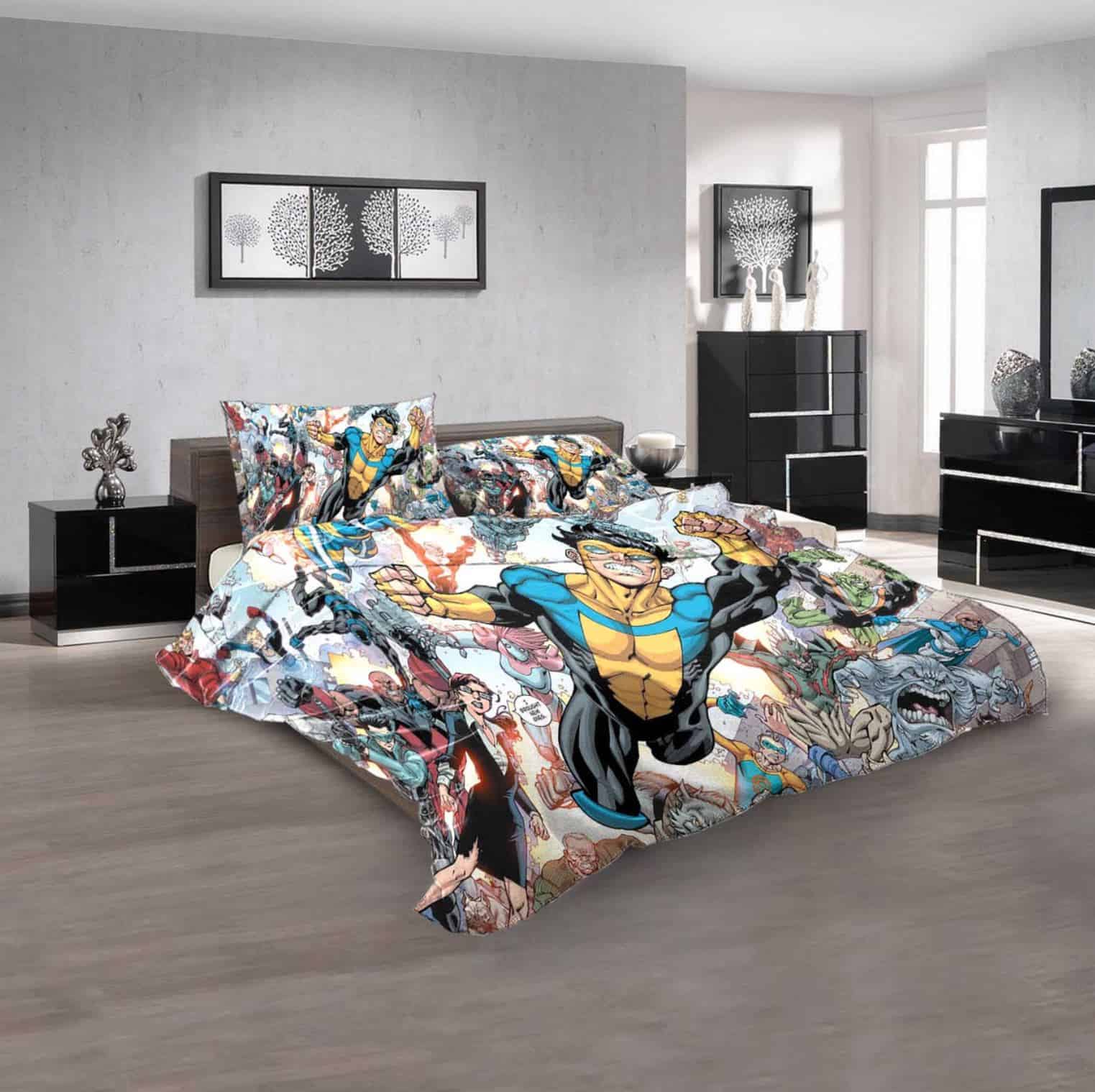 I like the fact there are so many Invincible bedding sets. Most of them are really amazing, and they just might be my favorite Invincible merch. Like other products for the superhero, they are very dynamic, focusing on combat between different superheroes and villains. Then again, you also have harmless sets such as the Invincible Throw Blanket.
After scouring the web, I found some amazing items on the RedBubble website. However, I think that Invincible 3D Customized Personalized Bedding Set sold in the Dalab shop is the best set in this category. It is a colorful item that features numerous characters from the series, aside from our main protagonist.
If you go to the XOCostume site, you can buy an excellent bedding set inspired by the comic. It comes in two styles, with the first one featuring a fight between Thragg and Battle Beast and the other one showcasing Invincible. This particular product is extremely bloody, once again reminding us of the vicious nature of the show.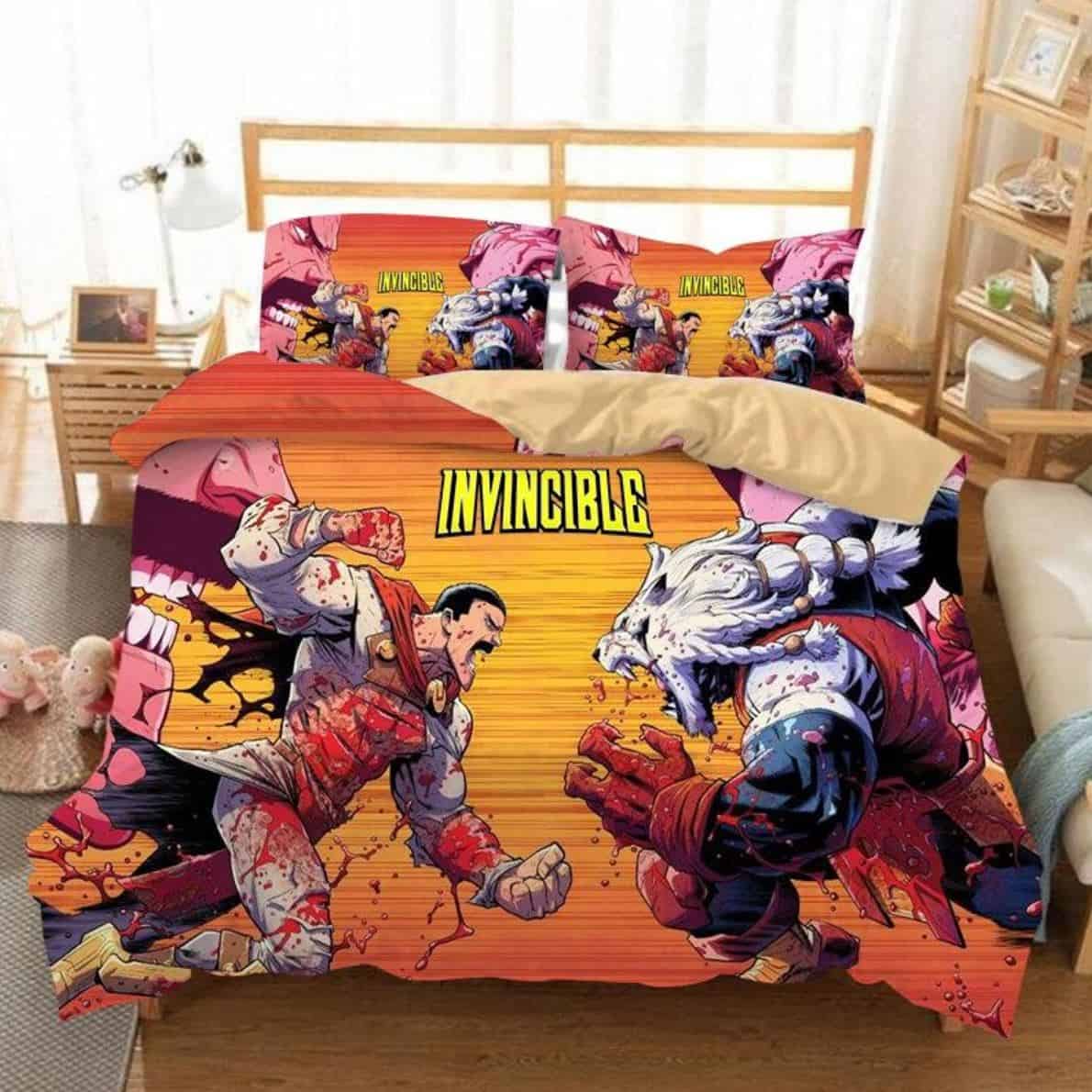 Other Merch
Some people are in love with superhero knick-knacks. Although these aren't items that you'll change every day, it feels good having your favorite comic book character at your fingertips.
I, for once, love keychains and phone cases. They are not particularly expensive, and I can carry them wherever I go. These products definitely beat any other generic phone case you would get from a manufacturer.
Generally speaking, I was surprised by the overwhelming amount of random Invincible merch. Although I couldn't find many action figures or toys for the superhero, I saw numerous other character-inspired scarves, notebooks, and stickers.
Mugs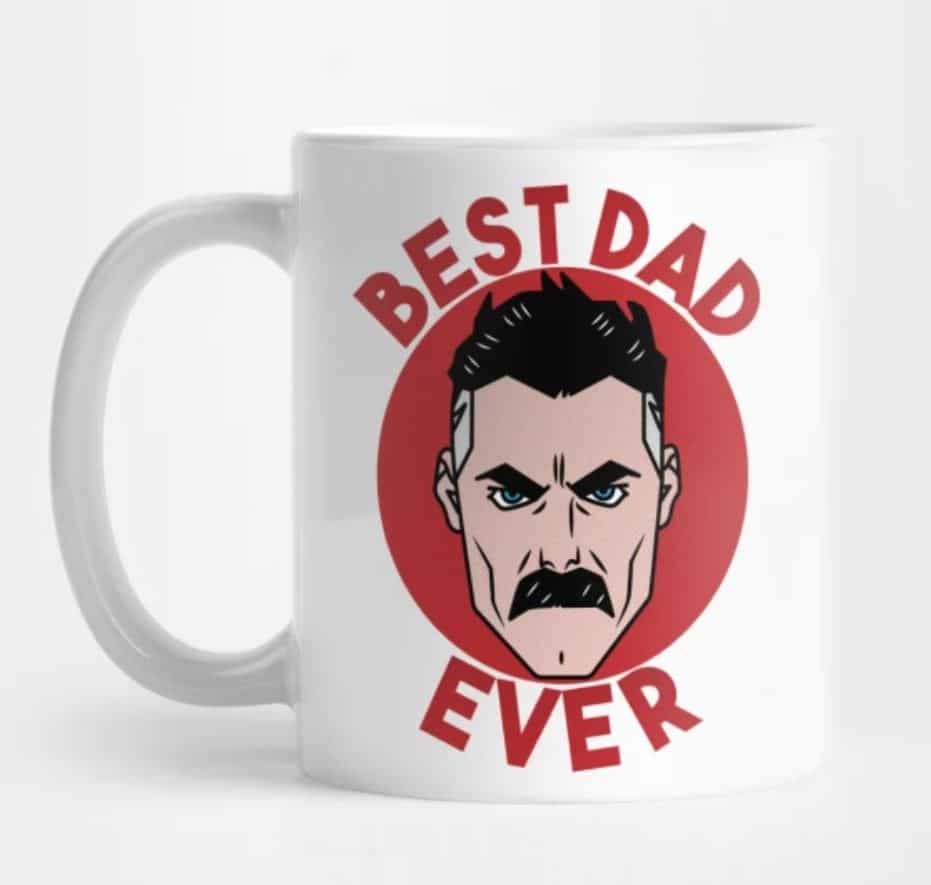 Out of all the other Invincible products, mugs are perhaps the most notable ones. You can gift them to anyone on any occasion. Furthermore, you can always use one Invincible mug for the office and one for your home.
Most of the mugs I've seen online are clean, with simplistic designs. In that regard, they are very different from posters and other decorations that show events from the comics. Best Dad Ever Mug is a simply incredible product. This is a perfect gift for any father, and I adore its irony.
If you're looking for a safe purchase, you should go with Invincible Coffee Mug. This product showcases the superhero alongside other characters from the show. It is a somewhat generic product, but I love its colorful background.
Stickers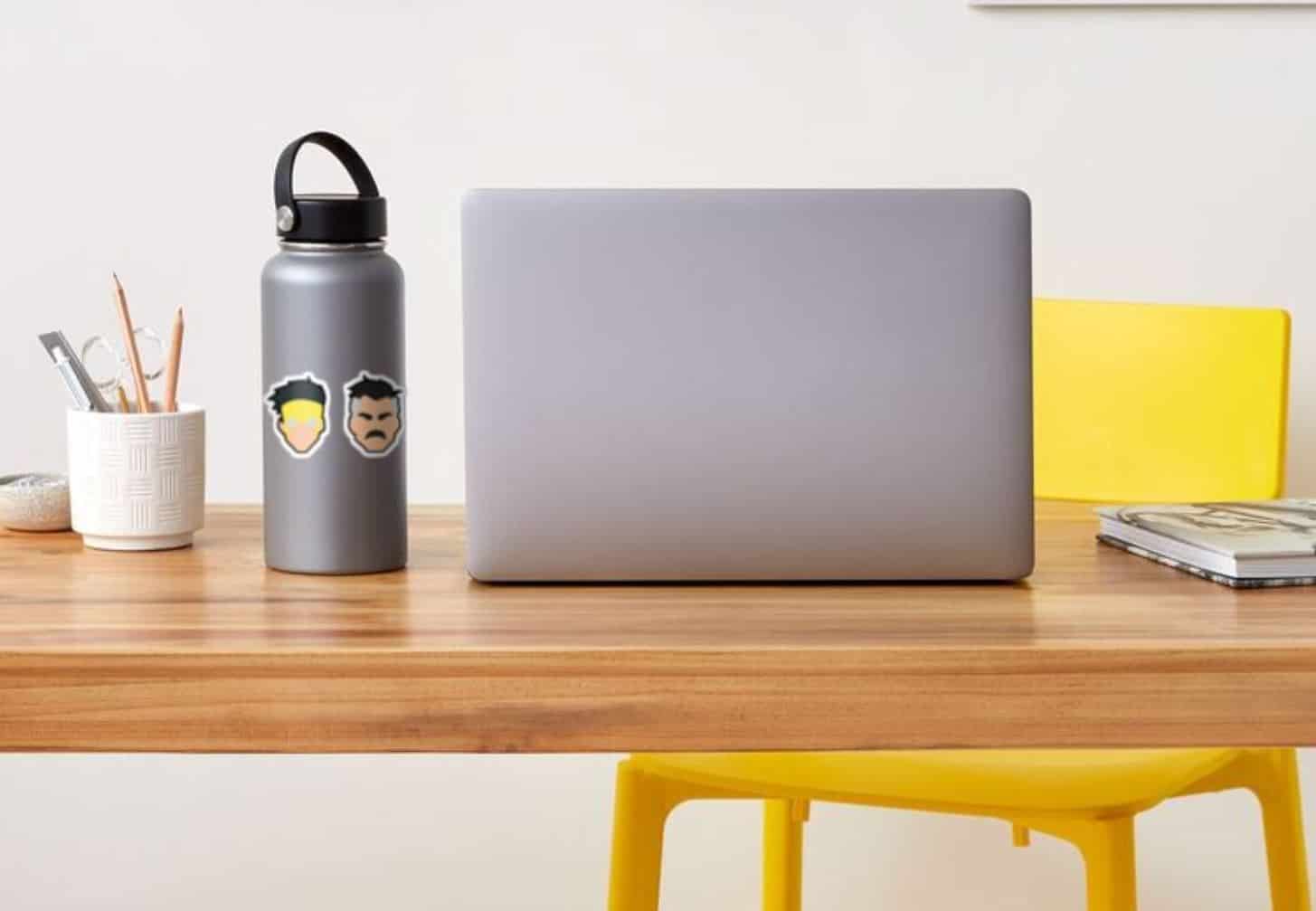 If you have a teenage boy or a girl, you know how much they like stickers. They use these products to "decorate" the whole apartment, usually making a mess of their room. To be honest, I understand the appeal of stickers as you can use them for all sorts of things, and they are not particularly expensive.
My favorite product from the category is Minimalist Super Hero Icon Sticker. It shows Omni-Man's and Invincible's faces, without eyes or mouths. It is a nice, simple item that you can put on your laptop or phone without running the appearance of the base product.
If you're looking for something more colorful, I'd suggest Invincible – The End of All Things Sticker. Although the product has a beautiful design, it also carries a serious, ominous message. Lastly, if you're into memes, you should check out Son Yelling at Father Sticker. It is simply hilarious!
Notebooks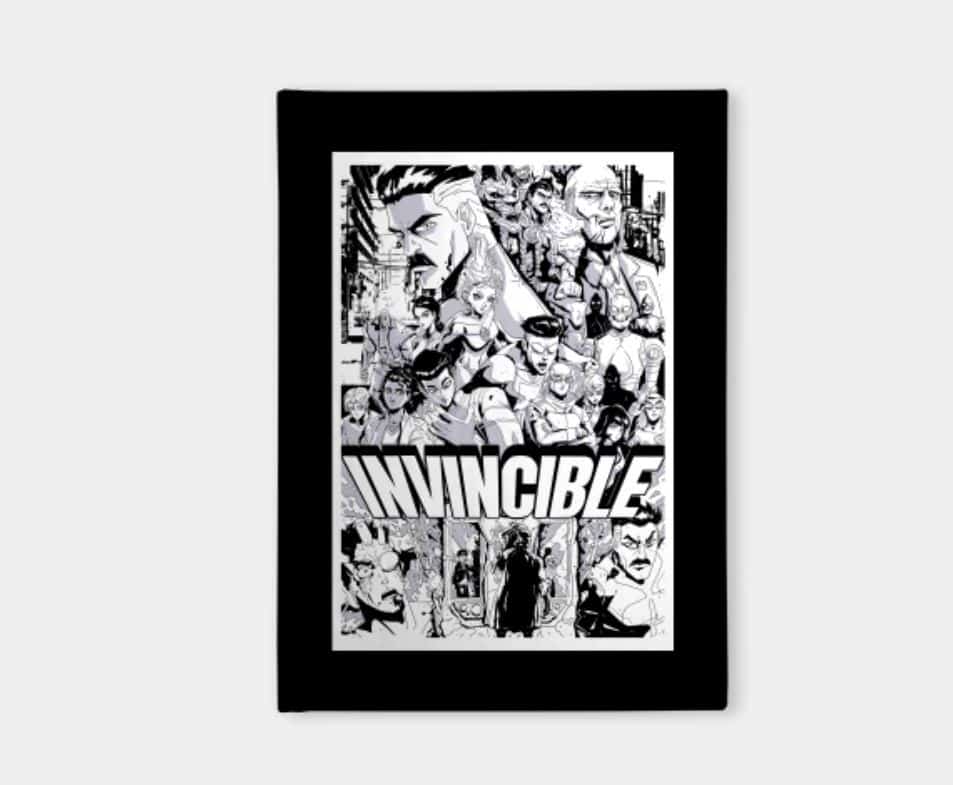 When making lists such as this, I rarely include notebooks because I don't think they are the best representation of superhero merchandise that people are looking for. However, I made an exception in the case of Invincible.
As mentioned, this superhero is much more appealing to the teenage audience, and you won't see many kids clamoring for the Viltrumite. So, people who are buying these items are more likely to purchase notebooks than toys. You can find the best Invincible notebooks at Teepublic.com.
Not That Grayson Notebook is a fantastic choice for both sexes. It is a relatively neutral item, and anyone can appreciate receiving such a gift. As the name implies, Invincible Poster Manga Style Notebook is a nice choice for people who like grittier manga drawing.
Other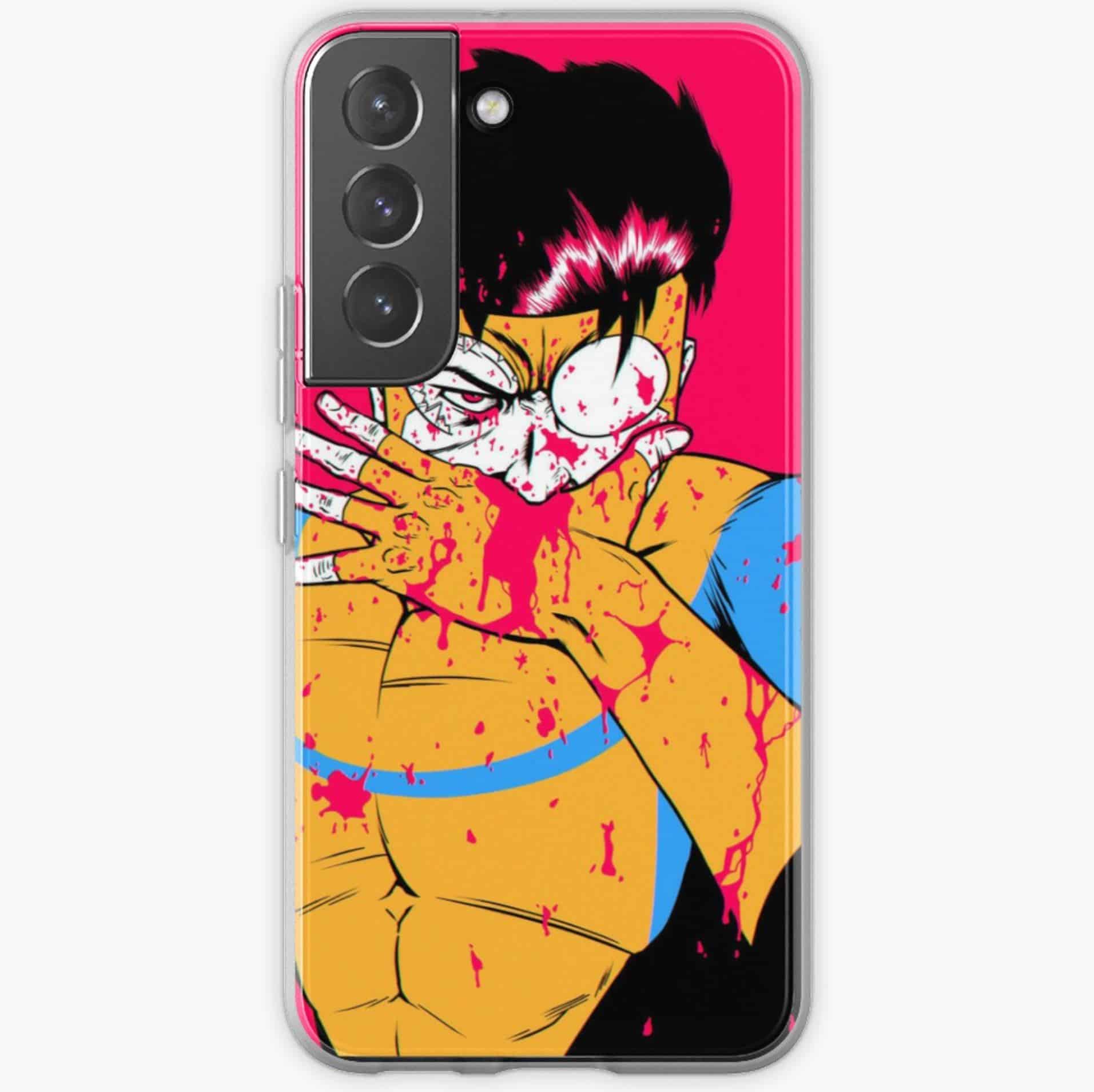 I decided to create another category for all the product types that are not as popular but might feature some interesting items. For example, I would definitely buy the Invincible Cast of Character Mouse Pad, although I understand that this wouldn't be the first choice for most superhero fans.
Although my kids are all grown up now, I saw a beautiful Invincible Son Onesie that all parents should consider buying. It reenacts a scene from the comics, where Nolan asks Mark: "What will you have after 500 years?" Invincible replies, "You, dad. I'd still have you." This one almost brought tears to my eyes.
Lastly, I would also like to mention Invincible Samsung Galaxy Phone Case. This product has an incredibly visceral design, and it somewhat reminds me of Japanese manga.
FAQs
Question: Why aren't there any Invincible Funko Pops!?
Answer: At this moment, there aren't any Invincible Funko Pops! It is hard to say why this is the case, but it most likely has to do with the fact that the series is rather new. Although it has achieved cult status in its short existence, the company probably doesn't want to risk it by creating an assortment of products.
On the other hand, Funko Pop! executives might think that the show is too graphic for the young audience. This is why they might be reluctant to start production. It is also worth mentioning that new comics are no longer being written, which is another potential issue.
Question: Is Invincible owned by Marvel or DC?
Answer: These comics were made by Image comics, the third largest company in the industry. They are most known for The Walking Dead but have also published Spawn, Kick-Ass, and some other great comics.
Question: What is the best Invincible product for kids?
Answer: Invincible has one of the least kids-friendly superhero stories. It is a bloody, vicious experience, where the characters often get killed or maimed. A lot of the official products even feature blood splatters.
Invincible Backpack Summer '22 is one of the better products to give to a small child. You also can't go wrong with the Invincible (Series 1) Action Figure or any other action figure.
Question: Why aren't there any Invincible carpets?
Answer: When it comes to superhero-inspired products, carpets are much more common than you would realize. You can find floor mats for just about any popular Marvel or DC superhero.
Although there are Invincible pillows and pillowcases, bedding sets, posters, and wall art, you can barely find any carpets. It is most likely that the traditional superhero carpet manufacturers are still reluctant to create products featuring the Viltrumite.
Conclusion
Although Invincible merch is not as common as the merchandise for some other superheroes, you can still find some cool items. If you're just getting acquainted with these products, I suggest visiting the official Skybound Store. Alternatively, you might also check RedBubble and TeePublic online shops.
I hate the fact we still don't have Invincible Funko Pops! To make matters worse, there isn't any other Invincible merchandise worth collecting, aside from a few action figures. On the other hand, I think that the merch for this superhero looks much better than some products for Marvel and DC characters.
If I had to recommend one item from the whole collection, I would go with the Invincible "Bloody Logo" T-shirt. Best Dad Ever Mug is another product that everyone would like to receive as a gift.
Recommended Reads: