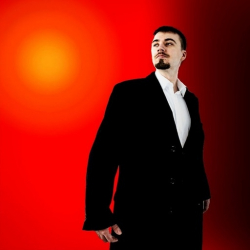 Latest posts by Stefan Stevanovic
(see all)
Invincible is a show that has taken the world by storm. It is a story that completely subverts expectations giving us a new superhero experience. In that regard, I often compare the series to "The Boys," another show that has profoundly impacted viewers worldwide.
The story revolves around Mark Grayson, the son of a renowned Omni Man. His father is considered the Earth's protector and all its residents. However, as we soon discover, Omni-Man has a plan and doesn't mind killing his allies to achieve it.
Due to its enormous popularity, Invincible led to the creation of numerous fan items and collectibles. Unfortunately, we still don't have any official items from Funko Pop! For now, we only got custom-made toys from enthusiasts who posted their work online. Some of them are even selling their custom pieces. I think it is only a matter of time until we get the official items. The series is so awesome, and I cannot wait for the second season.
In this article, I will go through all Invincible Funko Pop! products, their pros and cons, and which one you should consider buying. Remember that these items are currently labeled as custom products and are not sold as other Custom Pop! items. In other words, they are harder to find and are much pricier. Some of them are just an idea, but soon, they might serve as inspiration for real items.
So, I scoured the web to give you some cool ideas about what future Invincible Funko Pops! might look like.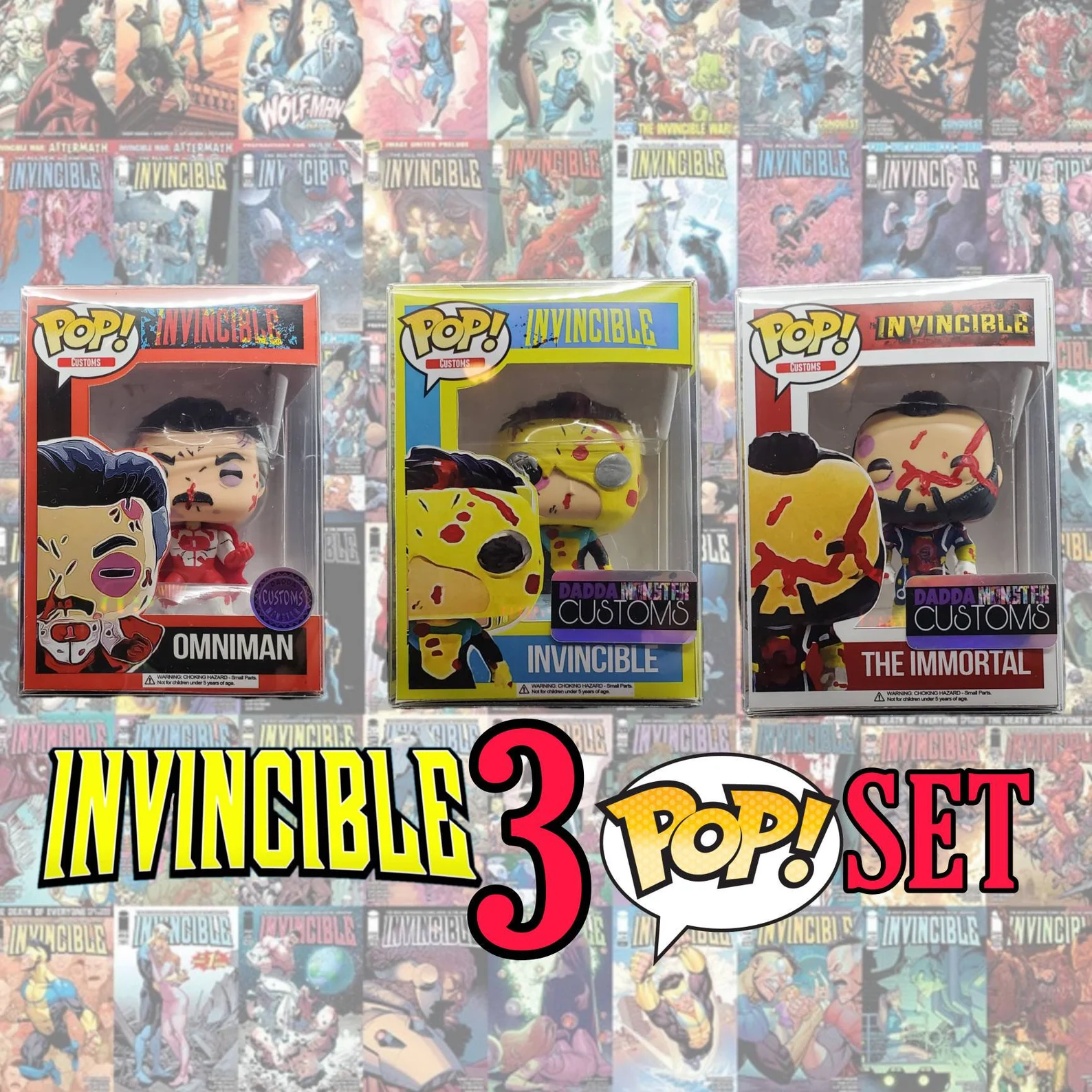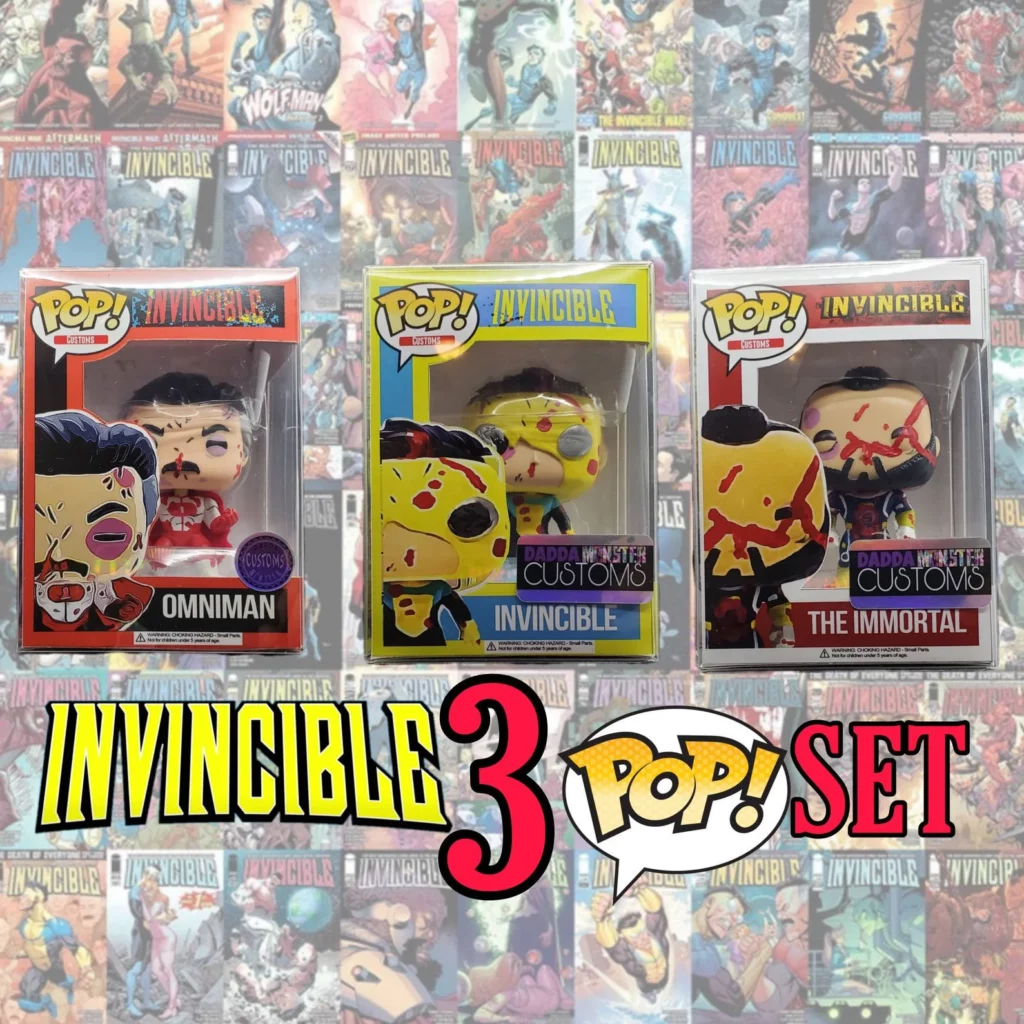 Key Info Up Front
Today, you can find several Invincible Funko Pop! collectibles on the market. These products are a great homage to the series, featuring the likes of Omni Man, Invincible, and the Immortal. As these are not the official items by the company, there are much more expensive.
A few concept arts might also become the real deal in the future. I, for one, cannot wait for the company to start mass producing these bad boys.
Currently, there are just 3 Invincible Funko Pops! on the market (all customs) and a few concept items. My favorite out of the available customs is Omni Man Straight Posture by Bring the Malham.
What Were the Selection Criteria for the Products?
Given that Funko Pop! still hasn't released any official Invisible items, I scoured the web to find cool customs online. I also compiled some Funko Pop! concept arts that I liked.
Although there is a good chance that the company will never use these designs to create their product line, I had to share them with the readers as they look very cool. If you're a fan of Invincible, they are definitely worth your time.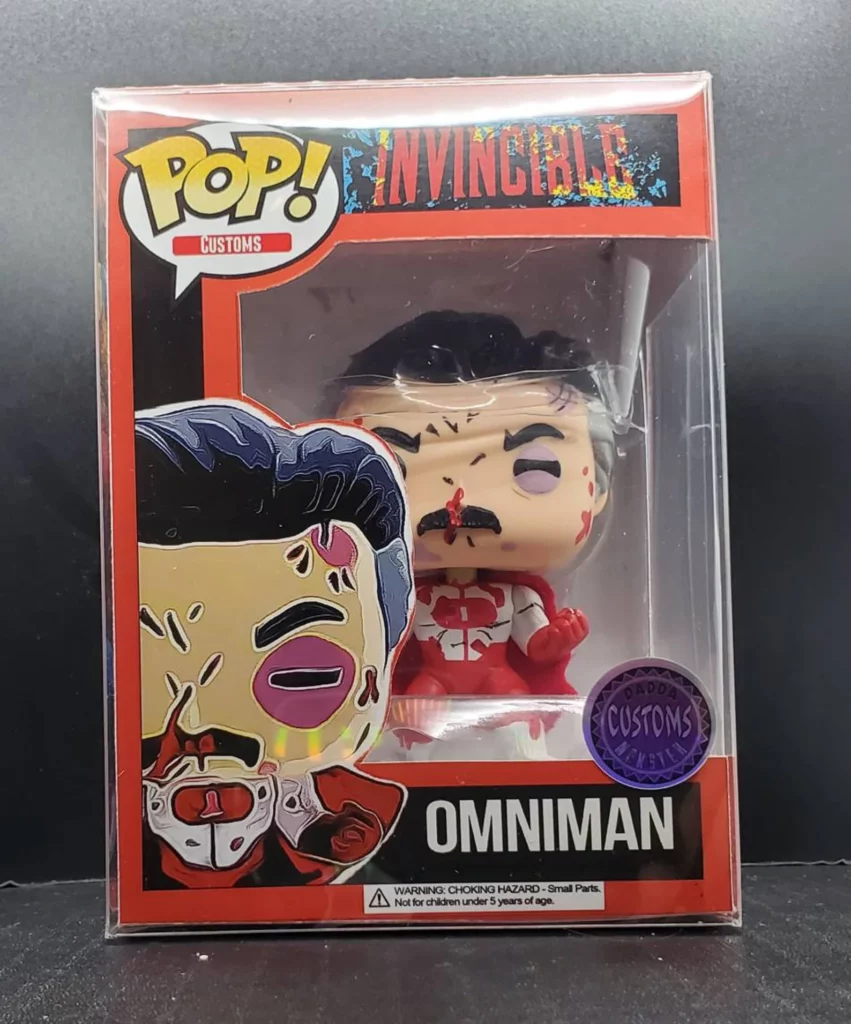 Dadda Monster Customs make the first three pieces I will review. These are the only 3 Funko Pop Invincible items on the market today. All pieces are a part of a set that features Omni Man, the Immortal, and Invincible. I will start by reviewing Omni Man.
It is worth noting that all three pieces have serious wounds. For example, Omni Man has bruising around the eyes to a point where he can't even open them. He also has a bloody nose and numerous scratches on the face. Nevertheless, he is still flexing his muscles, standing in a position ready to fight.
He wears a regular red and white outfit. The superhero has red trousers, red gloves, and a red cape. His shirt is white, with a large O on the front. Like the rest of his body, his shirt shows signs of battle. It shows signs of battle, although it isn't in pieces. He has the usual black hair with gray sides.
All in all, this is a pretty dope depiction of Omni Man. Some people might not like that he is beaten and bruised, but I think it's a cool swerve. In the end, this is the underlying theme of Invincible, a series that constantly subverts our expectations and deconstructs the genre.
Pros
Like other pieces from the set, I liked that Omni Man is banged up. It shows the character's fragile side.

I especially like the costume. Although this is the standard piece from the series, it looks nice on the product.

Omni Man's position is very intimidating, and it goes well with the character.
Cons
I don't like the fact that his eye is closed. I have a feeling that it would be better if he was looking directly at the opponent with both of his eyes. For whatever reason, I don't like this detail.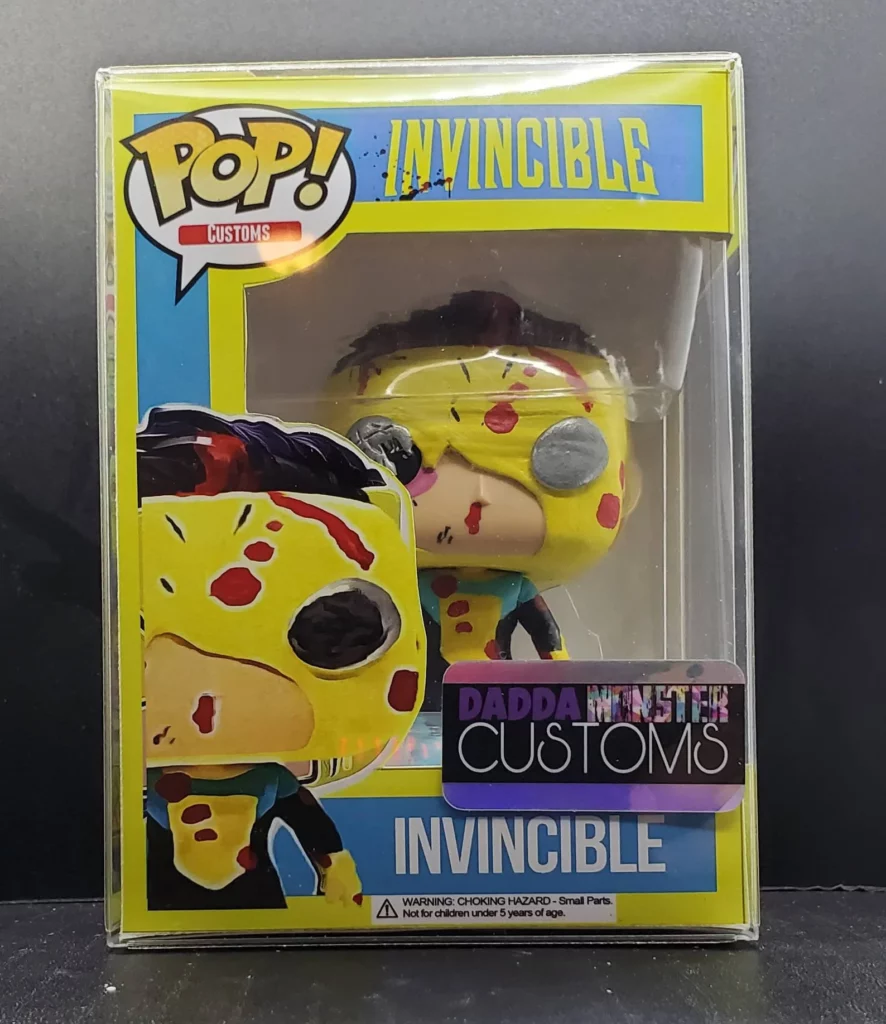 This is the second part of the series. Like his father, Invincible is pretty roughed up. His mask is torn around the center, and he's bleeding from his nose. Furthermore, the right eye protector on the mask is ripped out, showing his eye. There are numerous bloody scars on his face and blood on his suit.
Like his father, he wears the standard outfit from the show. In other words, black clothes with a yellow mask, as well as yellow gloves. Not to be dull, there are a few nice tidbits on the suit, including the yellow belly area as well as the light blue color around the collar. He also wears light blue boots.
Perhaps the most noticeable thing about this product is the eyes. One is black, and the other is silver, signifying that one of the eye protectors has been ripped off. This makes it look like one of his eyes is missing, although it is hard to determine which one is due to product design.
Overall, I prefer Omni Man's design. Compared to him, it doesn't even look that the Invincible was in combat.
Pros
I always liked Invincible's costume. In a way, it reminds me a bit of Wolverine due to its yellow color. The addition of the light blue is also nice, and it works well for the superhero.

Mask ripped in front is a nice homage to the series. During his fight with Omni Man, Invincible's mask was also ripped, so it is a nice detail catering to the fans.
Cons
I really dislike Invincible's posture. As I've just mentioned, it looks like he's relaxed, as if nothing is happening around him. The posture doesn't convey any sense of danger, as if he fell from stairs a few days ago and still has a little bit of bruising.

The model isn't that complex, which is a real shame if we consider that Invincible is the series' main protagonist.
See also: Black Samson Invincible Guide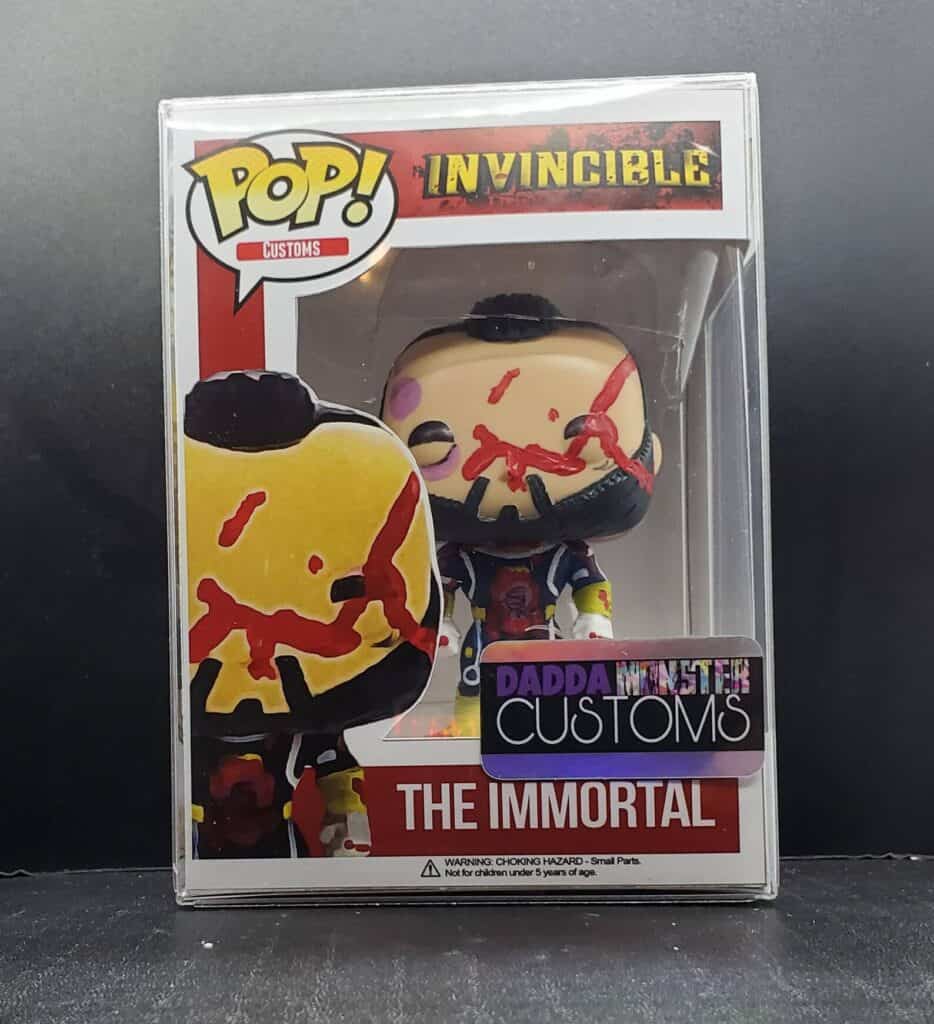 The Immortal is the third and the last item in the series. Although his faction, Guardians of the Globe, is just an afterthought following the first episode, the character was revived later on. He would go on to battle Omni Man in one of the later episodes of season one. However, given that he has a punctured torso, his wounds are probably from episode one, when Omni Man killed him for the first time.
Aside from the large gash in his chest, the Immortal bears numerous other wounds, most of them on his face. There is a lot of blood on the left side of his face but also dripping from his nose. You can also notice the bruising on the right side of the face, while his eyes are semi-shut (not sure if this is due to the beating he received or something else).
The superhero wears a dark blue outfit with white stripes and lots of yellow details. His boots, gloves, and collar area are covered in yellow fabric. I have to mention that the Funko Pop! doll is darker than the Immortal version in the cartoon. He has the usual black beard and thinning hair.
Anyway, I think this is the least impressive piece from the collection and would give the advantage to the previous two products.
Pros
As strange as it might sound, I think that the hole in the Immortal's chest is the toy's selling point. It makes it look really unique, whether we're talking about Funko Pops! or other dolls.

Although I don't like the color selection, I like the outfit's patterns.
Cons
The costume's colors are quite unimpressive. I would rather prefer it if the creator used the original color scheme, which is much more vibrant.

Like with Invincible, the superhero has a bad posture, as if he's given up or is already dead. This could make sense given that he did actually die in the first episode, but you don't necessarily want to buy a dead character's Funko Pop!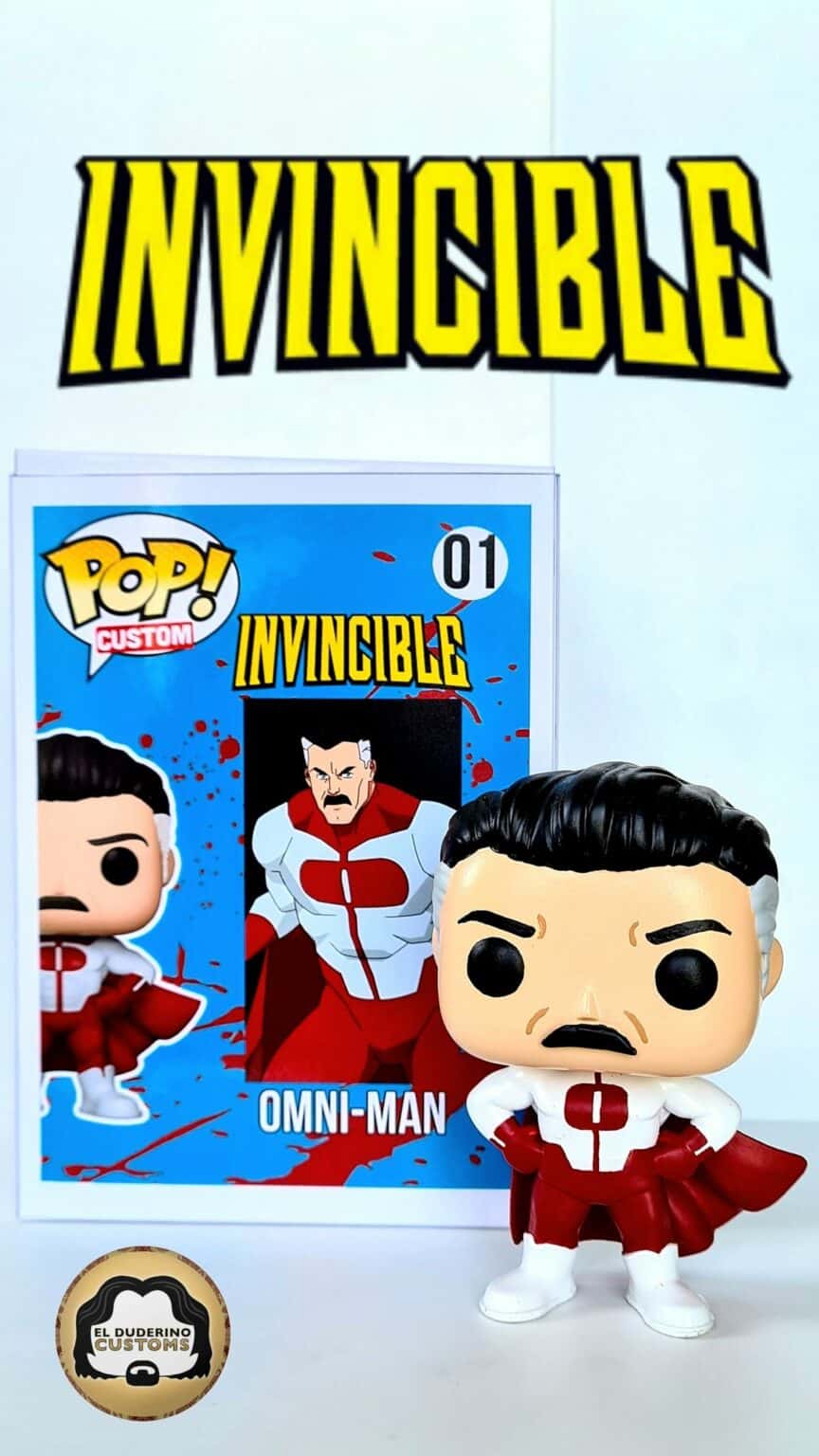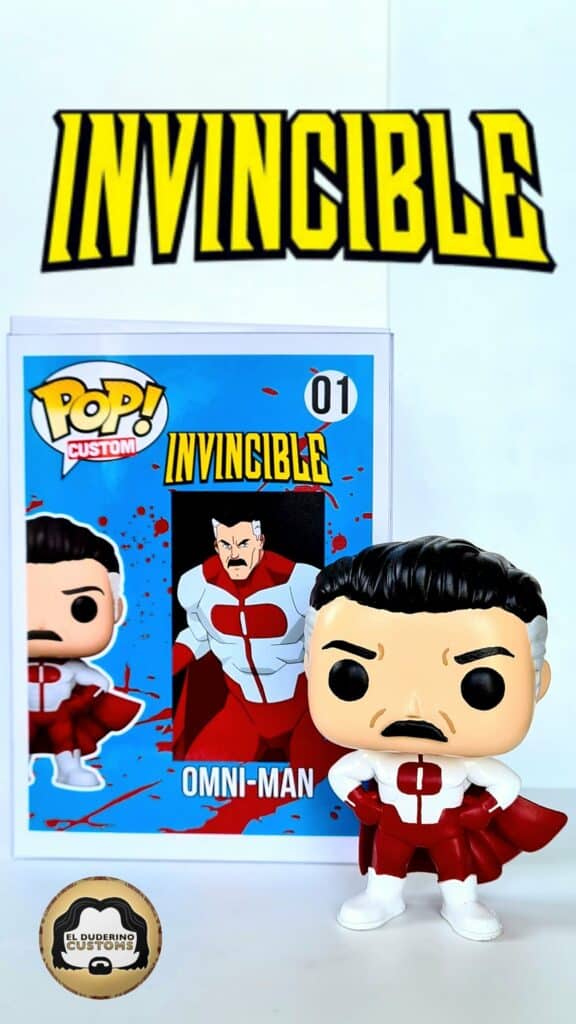 Here is another great custom item made by Duderino Customs. Unlike the previous three entries, it portrays Omni Man in all his glory, without any battle wounds. He has a characteristic superhero pose, with hands on his hips.
The doll is pretty neat and well-polished. The character has the usual red and white costume. The thing that really stands out is the cape that is flying in the wind behind the character. This particular piece has much livelier colors than the one made by Dadda Monster Customs. Although both used basically the same palette, this one looks much cleaner, which makes sense if we consider the fact that the previous Funko Pop! is all covered in blood.
Another thing I really dig is the fact that Omni Man looks rather grumpy. You can see it based on the wrinkles around his eyes and mouth. As per usual, he is dissatisfied with something (probably his son), and he is not afraid to show it.
Pros
I really like this model as it looks strong and vigorous. It is incredible how a small change to posture can improve the item.

It is also cool that the Omni Man looks grumpy as if it fits his character perfectly as well as his on-screen persona.

Also, it feels as if the custom item has the perfect number of colors, not too little, not too many.
Cons
If I was to complain about something, and I know this is a bit farfetched, I would like to add abs or some other muscles to the costume. You can see the pecs and a bit of biceps, but his muscle definition looks like that of an average Joe.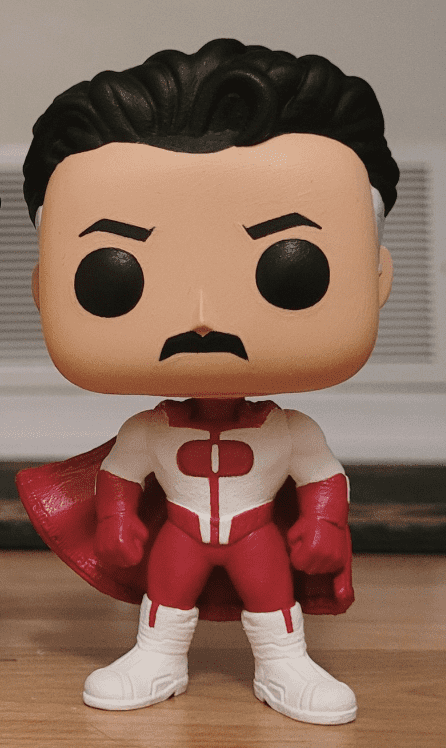 Here is a variation of the previous item, this time made by Twitter user Bring the Malham. Omni Man has the standard outfit with red gloves and white boots. He also has red trousers, a white shirt, a red cape, and a large letter O in the middle.
Although very similar to the previous item, there are numerous intricate details I have to mention. For example, he has lots of small crevasses on his boots as well as on his cape. You can notice them only if you get closer to the piece. In my opinion, this makes the item much more desirable.
What's even better, these small tidbits are not that intrusive and work well with the overall theme adding complexity to the model. Furthermore, they make for a great contrast compared to the superhero face that is rather plain, like all Funko Pops!
Unlike the previous custom piece, Omni Man is not that grumpy on this one. Nevertheless, he has a strong, almost regal posture. Although his hands are close to his body, in a non-intimidating stance, he looks extremely scary. This is especially true if you've watched the cartoon and know how deadly the character can be.
Pros
There are numerous small details on this one adding life to the item.

His muscles are much more pronounced compared to the previous piece.
Cons
I can't complain about anything. This is probably my favorite piece among all the custom Invincible Funko Pops!
See also: Best Captain America Toys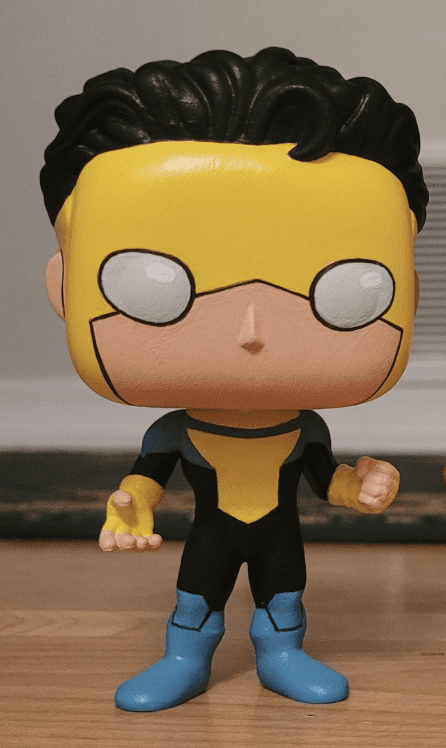 For the most part, this guide focuses on Omni Man figures. In fact, you might even say that he is the real protagonist of the show. Although the series revolves around Invincible, his teenage problems, and his development as a hero, Omni Man is a much more intriguing character.
All that being said, I really like this piece. It is rather clean, sharp, and a good representation of the young superhero. He wears a Black jumpsuit with a yellow midsection, a light blue collar, and yellow hand guards. He also wears light blue boots.
Compared to the previously mentioned Omni Man item, this piece is rather simple and straightforward. It doesn't have intricate patterns, something that most people will probably complain about. I, for once, hate what his boots look like. They are rather dull, as if made with little to no effort. Similar can be said for his face. If you just look at the previous Omni Man entry, you will notice that the father has much more charisma than the son, just based on the fact he has a better facial expression.
One redeeming quality is the Invincible's hands. The left one is clenched in a fist, and the right one is stretched forward as if trying to negotiate or help. This is perhaps the best depiction of his superhero persona: although Invincible has no problem fighting, he prefers solving his problems in a peaceful manner.
Pros
Although this is an uninspiring piece (at least, from my point of view), I like what the creator did with the product's hands. If you take a moment, you will see an incredible symbolism behind them.

The hair isn't bad.
Cons
It is a rather dull piece. The toy lacks details, and even the colors feel like a snoozefest.

I cannot emphasize enough how much I hate the boots. They look like something from 30s Disney cartoons.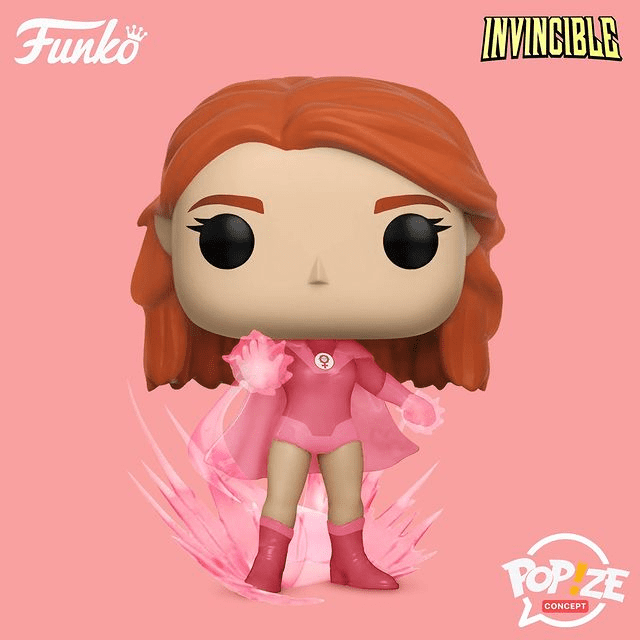 There are so many intriguing characters in Invincible, most of which can be used as a source of inspiration for collectibles and other toys. One of them is Atom Eve, who is a member of the Teen Team in the cartoon.
This particular item was made by IG pop. Ize, and it looks pretty amazing. The thing I especially like is the purple basis. It looks like Atom Eve is using her powers, and there is feedback around her feet.
As for the character, she wears a dress that combines two different pink shades. The same can be said for her boots, which have several cool details on them. In other words, you can see crevasses on the leather, making them look really natural and authentic. The superhero has a light pink cape floating behind her back.
Although the character isn't particularly detailed, there are a few things worth noting. For example, her brooch with a female sign. If you check her hands, you will notice a small glow around them, signifying that she's currently using her powers. This, together with the magic energies swerving around her feet, makes Funko Pop! feel very dynamic.
Atom Even is a redhead, and her hair looks amazing, with lots of intricate details. I also like the eyelashes. Overall, great concept art that should one day become a real Funko Pop! product.
Pros
Very dynamic figure. I love all the spells and effects around her. In fact, this is something that separates her from her male counterparts.

The broch around the neck provides a great contrast.

I also like the combination of orange hair and pink outfit.
Cons
It would be much better if there were more details on her costume, at least some wrinkles or such.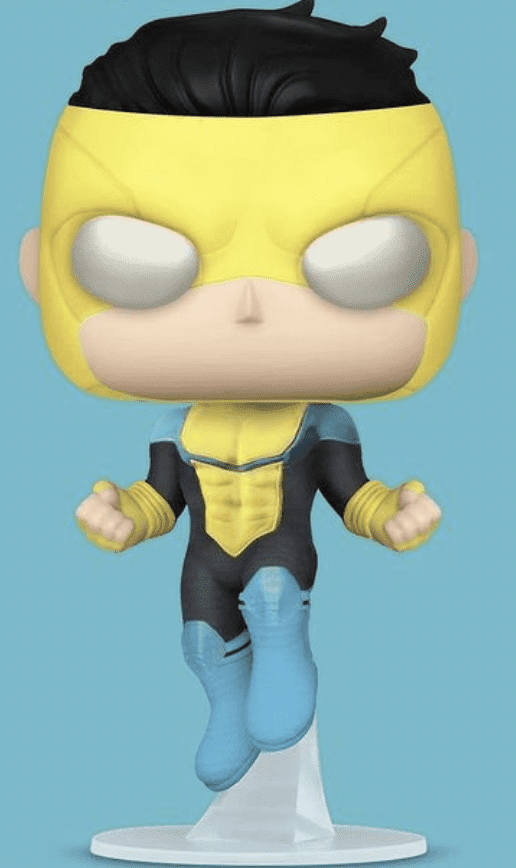 The same creator that made Atom Even also gave us Invincible. Unlike the previous iteration mentioned in this list, this particular Invincible has much more details and life to him. Obviously, this is my favorite out of the two.
The superhero is propped on a translucent stall, making it look as if he's flying. He has his fists clenched but lowered, looking intimidating as he glides through the air. You can easily tell by his eyes that Invincible is ready for action.
I really like all the details on this piece. Finally, we have an Invincible Funko Pop! with muscle definition and, in particular, abs. Although his biceps and shoulders don't look that strong, you can't say that he's in bad shape.
Unlike the previous model's mask, this one has several additional lines that make all the difference. They give the superhero's face depth and a more intimidating appearance. I also like the area around the joints and the yellow gloves. The light blue boots are also worth mentioning; they are very well done with numerous rings and small, intricate details.
Pros
A major improvement compared to the previous Invincible Funko Pop!

The doll has numerous details, and I would like to see it mass-produced.

The face is especially intimidating.
Cons
I don't really have any complaints with this one.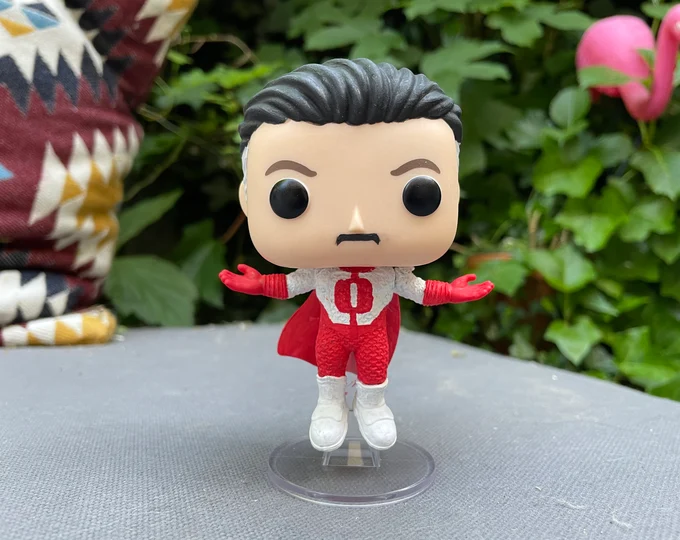 This figurine shows Omni Man in a very calm yet destructive stance. He is hovering in the air, with hands turned toward the sky, in an almost god-like position. It is as if he's getting ready to unleash a calamity on everyone nearby.
The thing I like about this piece is the contrast. From one side, you will notice that Omni Man is quite relaxed based on his facial expression. However, if you watched the cartoon, you know that this villainous superhero's looks can be deceiving. The fact that he's on top of a stand, as if hovering, helps relay that feeling.
Another cool thing about the piece is the numerous details on the outfit. The costume is the same as always: Omni Man wears red gloves, white boots, a red cape and pants, and a white shirt with a large letter O on the front. If you take a closer look, you will notice the small intricate details on the boots, trousers, shirt, and even gloves. Numerous small crevasses and lines are engraved in the model, making it look much cooler.
As for the superhero's face, it is expressionless. Omni Man has calm eyes, and you can't notice any movement around the lips. His hair is slick and combed backward, as per usual.
Pros
The figure perfectly embodies "The calm before the storm."

I like that the creator took the time to add small details to the piece.
Cons
While the item has numerous small details, some look a bit off.
FAQs
Question: Will there be Invincible Funko Pop! figures?
Answer: As you well know, Funko Pop! creates products for just about every major cartoon and comic book released in the US. The Marvel and DC collectibles are the best examples, but there are numerous other comic books, movies, and cartoons that the company has used as an inspiration for its products.
This cartoon has taken the world by storm due to its unusual superhero premise. Currently, there is only one season of the carton, but the company has announced there will be second and third seasons as well. So, given its enormous popularity, I think it's only a matter of time until we see Invincible Funko Pops!
Question: Can Invincible beat Omni Man?
Answer: If we're talking about the cartoon Invincible, Omni Man and Invincible had a major battle at the end of season one. Omni Man took an easy victory pummeling Invincible into the ground. At this moment in the story, Invincible is much weaker than his father. Also, he doesn't have the same control over his power.
Nevertheless, Invincible has shown enormous growth from the initial episodes to the season finale. There is a good chance that the two of them will clash once again in the future, and, when that happens, Invincible might even score a victor against Omni Man.
Question: Will there be Invincible Season 2?
Answer: As already mentioned, there will be a season 2 for this enormously popular cartoon show. However, what's even more interesting is that season 2 was announced before the season 1 finale. In other words, the show's creators knew how popular the series was and wanted to cash in on it as soon as possible.
Conclusion
Suppose you're looking for Invincible Funko Pops! I have to disappoint you by saying that the company still hasn't released any official figures. However, due to the show's enormous popularity, there are a lot of custom pieces online. Fans worldwide have made some incredible concept arts, which might inspire Funko Pop! company when they finally release their collection.
As previously mentioned, if you browse the web, you can see a lot of cool concept pieces. My favorite one is Omni Man Straight Posture by Bring the Malham. It is the best representation of the superhero, and it would look awesome on any cupboard or work desk.
Recommended Reads: