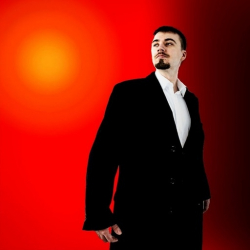 Latest posts by Stefan Stevanovic
(see all)
Batman toys are among the most sought-after toys in the world. The movie was a major success, but we shouldn't forget all the awesome cartoons released as of late. There were a few video games, as well, that made quite a stir within the community.
All in all, both Batman and Joker are extremely popular right now. The toys sell like hot cakes, and new items are released all the time. The fact that Batman is such a dark, cool character definitely helps the sales.
To be honest, I received numerous Batman toys when I was a kid. I simply loved the character, and I'm glad that I can transfer that passion to my boys.
This is why I wrote this guide in the first place; I want to help all the parents who are looking for solid Batman toys. I especially focused on items that are unique and that would provide numerous hours of playtime.
My favorite one is Batman XE Suit Special Edition. Truth be told, this is more of a collectible, but, as an author, I'm allowed to cheat a bit!
Key Info Up Front
In this ultimate guide to Batman toys, I will review some of the best items on the market. I will put emphasis on unique products with special features.
I simply love Batman XE Suit Special Edition, but there are many other products you should consider. Another cool one is Jada – Batman The Dark Knight Batmobile. I would also recommend LEGO DC Batman Batmobile if you're looking for LEGOs.
What were the Selection Criteria?
When making this article, I have set several rules that guided me throughout. Here are the most important factors I considered when making the list:
   

The product has to feel unique. Whether we're talking about the object as a whole, accessories, or special features, there needs to be something that sets it apart from the competition.

     

The product should rely on source material, whether we're talking about movies, comic books, or cartoons.

     

It is made by a reputable company and sold via a reputable store.
Another thing worth noting is that I tried not to include products of the same type. Keep in mind that a lot of these are action figures, but when I could, I tried to add something that is completely different.
Batman XE Suit Special Edition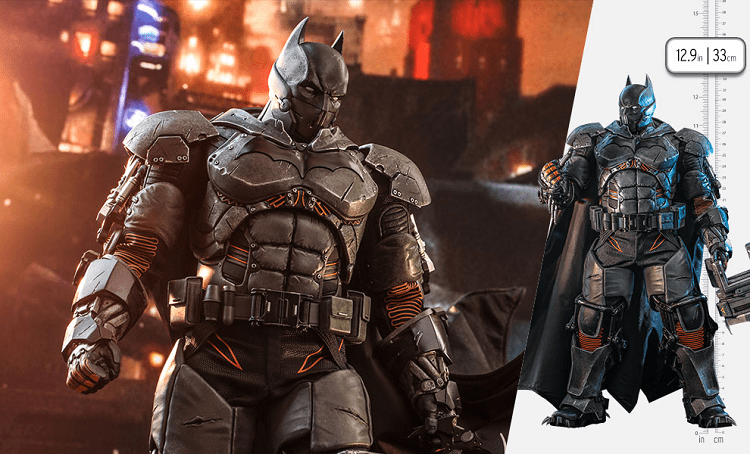 Let's start with my favorite Batman toy. This particular item was inspired by Batman: Arkham Origins. The superhero wears his reinforced XE Suit and is barely recognizable. If it were for the bat sign on the front and bat ears, it would be really hard to tell that Bruce Wayne is inside the suit.
The thing I love is the number of details. Based on what I've seen (and I've browsed numerous products), this is the most complex item on the market.
The product is made by Hot Toys, which has similar action figures to other Marvel and DC characters. When speaking about the Batman universe, they've released Joker, Batgirl, Harley Quinn, and a few other collectibles.
You can move the figure's joints and position it in any way you see fit. It also comes with Cryptographic Sequencer, which is a nice accessory for collectors. You also get Cryodrill, Batarang, and a rope gun. All in all, you have lots of cool items that will allow your kids to play for hours and hours.
As mentioned in the introduction, this is more of a collectible than a toy. It costs several hundred dollars, so you definitely shouldn't give it to a child that breaks just about everything (which is basically both of my boys). It could be a nice toy for older kids who are 12 and above, but I would never give it to small children.
Pros
Lots of cool details
Great accessories
Quality materials
Cons
Not the best toy for small children
Quite expensive for a toy
LEGO DC Batman Batmobile: Pursuit of The Joker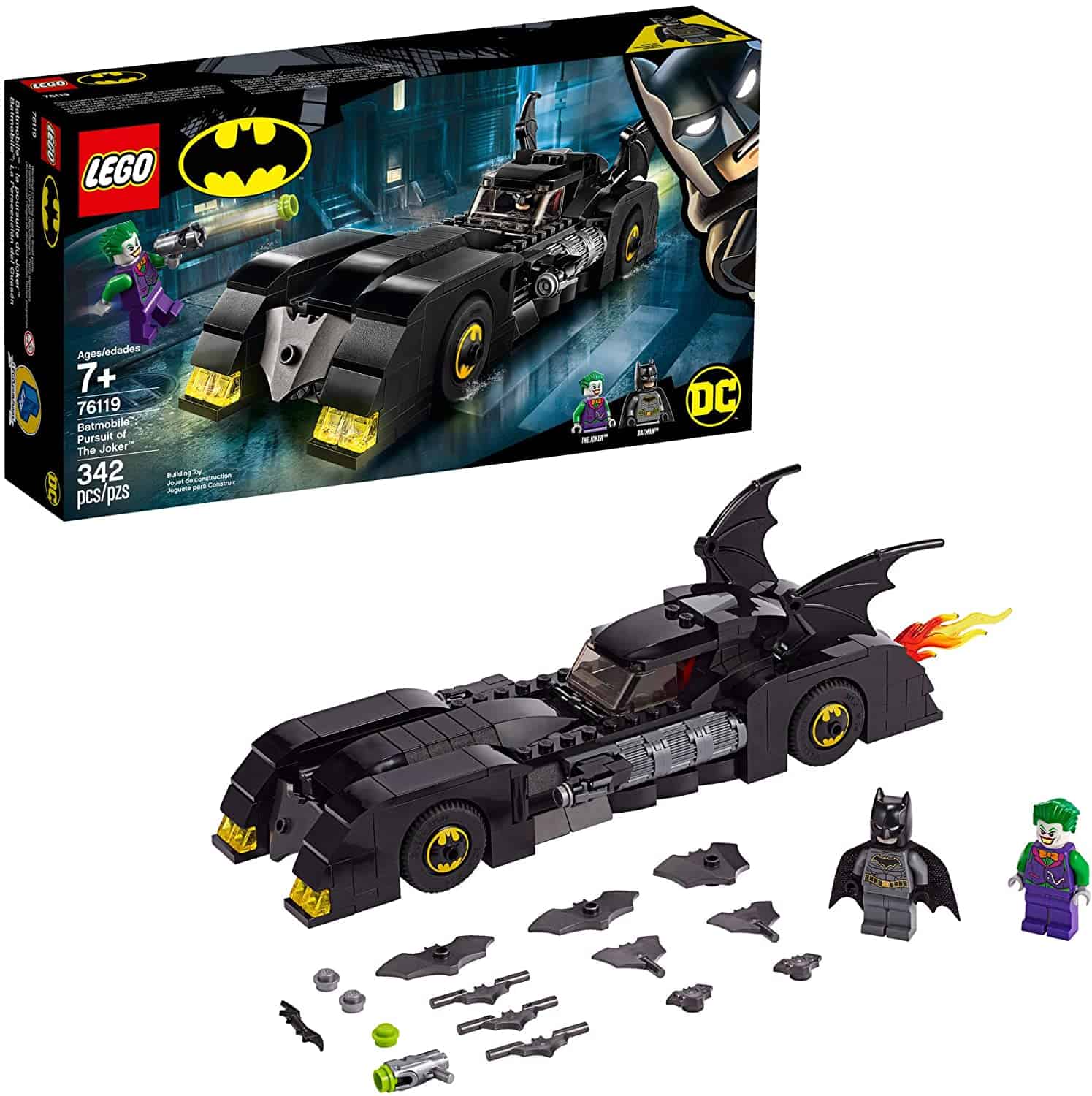 You can never go wrong with LEGOs. These products are perhaps the best thing you can buy your child if you want to increase their creativity. If you have several sets, they can play with them for days without end.
Of course, you also have to consider the chore of collecting the pieces when the playtime is over, as there are so many little parts that end up under the sofa or rug.
However, you can also use this to teach your child how to be responsible by forcing them to collect all the pieces when they finish playing. In fact, I believe this is a rarely mentioned benefit of LEGOs.
As for this particular product, you basically get the best gadgets from Batman. The package consists of Joker, Batman, Batmobile, and numerous weapons. In that sense, you won't need other products as this package will be enough for hours and hours of roleplay.
I especially like the Batmobile as it has numerous cool parts. Batman and Joker figures are very well done, with nice painted details. Given the number of accessories and weapons, your child can also play with a friend, with one being the Batman and the other one being the Joker.
Pros
You basically can't go wrong with LEGOs. Even if a product is below your expectations, you can always pair it up with other packages for an amazing experience
A buyer gets all the best parts and weapons from Batman
Batmobile looks amazing
Cons
Generally speaking, LEGOs are not ideal for unruly children, but then again, you can use these products to teach them responsibility
Jada Toys 1:32 W/B – Metals – Batman Arkham Knight Batmobile
Batman was always recognized for his weapons and vehicles. As someone who doesn't have supernatural powers, the character always had to rely on technology and immense wealth to counter the bad guys. Some of these gadgets are so powerful that they allowed him to beat even Superman.
Here we have another cool Batman vehicle. This one is from the video game Batman: Arkham Knight, and it looks more like a tank than a car. It is a large 4×4 with massive wheels and a small driver space in the frontal part. The vehicle's design is quite unique, with a large rear. It is hard to properly describe the vehicle.
It is worth mentioning that this is like a small toy car. Due to the fact it's rather tinny (1.8 inches in height), it isn't really suitable as a vehicle for Batman action figures. Instead, the child is more likely to use it together with small Mattel cars.
Although I really like the design, I think it's better for you to buy some other, cheaper car toy. Due to its intricate model, it is rather expensive compared to the competition, although it would make for a great collectible.
The only exception is if your child played Batman video games or likes the cartoons, in which case, it would be worth shelling out a few extra bucks.
Pros
Incredible details
One of the rare tiny Batman cars on the market, most products are much larger and suitable for playing with action figures
Cons
If your child wants to play Batman vehicles and Batman action figures together, you shouldn't buy this product as it is much smaller than the usual figures, potentially running a make-believe game
Pretty expensive for this type of product, making it more of a collectible than a toy
DC Comics Batman Figure with Feature Bat-Tech 12″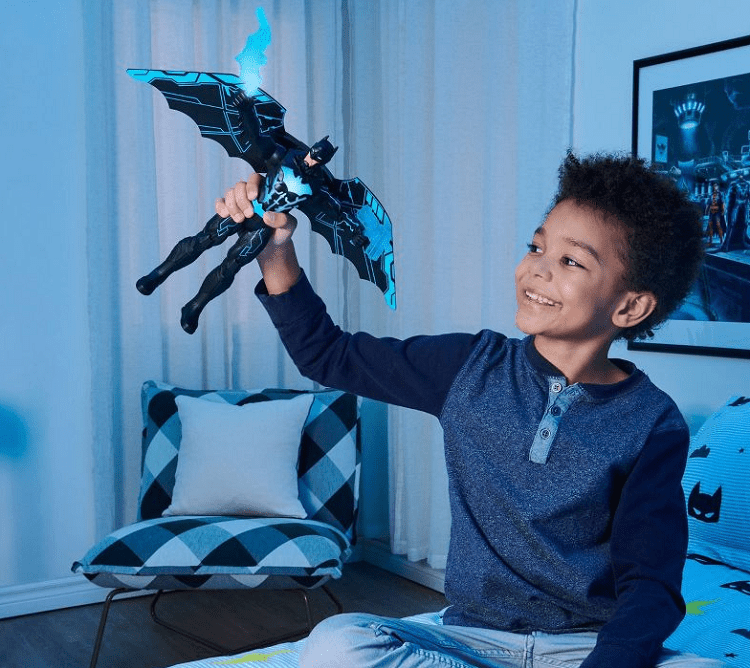 As mentioned, Batman was always known for his high-tech suits and vehicles. A few iterations of the superhero showcase him with massive wings. One of such toys is the DC Comics Batman Figure with Feature Bat-Tech.
First off, I need to mention that this model is quite amazing. I simply adore the mix of light blue and black colors. As intended, it gives the product a sci-fi appearance. Batman's suit has rough edges, and light blue color is mainly used to depict lines on the outfit.
There is a large light blue bat sign on the superhero's suit. When you press it, he spreads his wings, which is an awesome feature. There is also a light blue Batarang in the set, making it a great roleplay item.
All in all, I think your kids will love this particular product for its flying feature. Most superheroes don't have wings, so when children play with them, it isn't as credible when an action figure flies around (even when talking about characters who have the innate power of flight, such as Superman).
In that regard, I think that this particular piece could provide much more hours of playtime compared to the regular action figures.
Pros
Wings are an amazing addition and are great for roleplaying
The color combinations on Batman are incredible
I also like the fact that the creators added Batarang for extra playtime and engagement
Cons
Mechanisms such as the wings often break down quickly. I just hope that's not the case with this particular product
See also: Iron Man vs Batman
Batman The Dark Knight Child's Deluxe Costume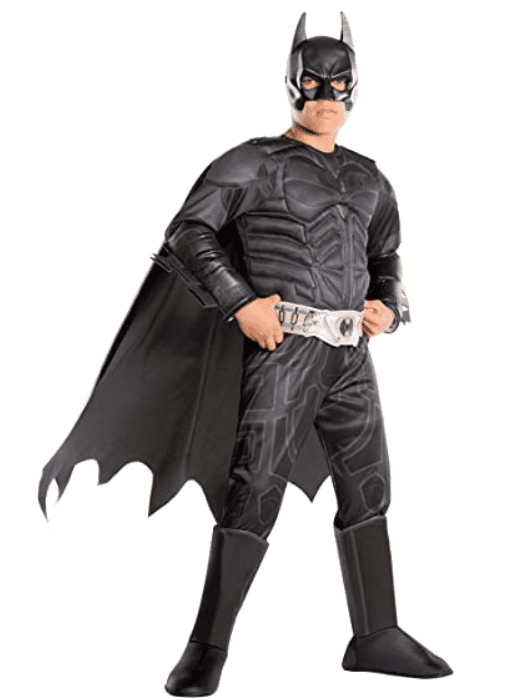 When making these lists, I love adding a costume or a two. While you might not think that these should be considered toys, I beg to differ. In fact, I can almost guarantee that costumes can provide more quality play hours than some other traditional toys.
The reason for this is that kids love running around pretending they're heroes or villains. The costume definitely helps that fantasy. This particular item is suitable for kids from 3 years and above, and it comes in three sizes, which is important to note as most superhero costumes come in just one size.
In my opinion, this is the best, most complex costume on the market. The pants are pretty nice, with numerous details. But the thing that sets this costume apart is the abs on the torso.
The whole area has additional padding making your child look bulky. So, not only will they look like a superhero, but they will also feel like one. The mask is also well done, and it seems that it won't get damaged that easily.
In my opinion, this item is especially good for inactive kids. If a neighbor has a similar costume, they can roleplay in the backyard all the time.
It stimulates running, jumping, and other physical movements, which is amazing for the development of muscles. Even if your child has 100 different toys, I would still recommend that you buy one of these.
Pros
One of the best items for roleplaying
Stimulates physical activity
Unlike other costumes, this has extra padding, making it look like your child is all buffed up
Cons
If your kid is growing fast, they will quickly overgrow the costume
McFarlane Toys DC Multiverse Batman vs Joker Exclusive Action Figure 2-Pack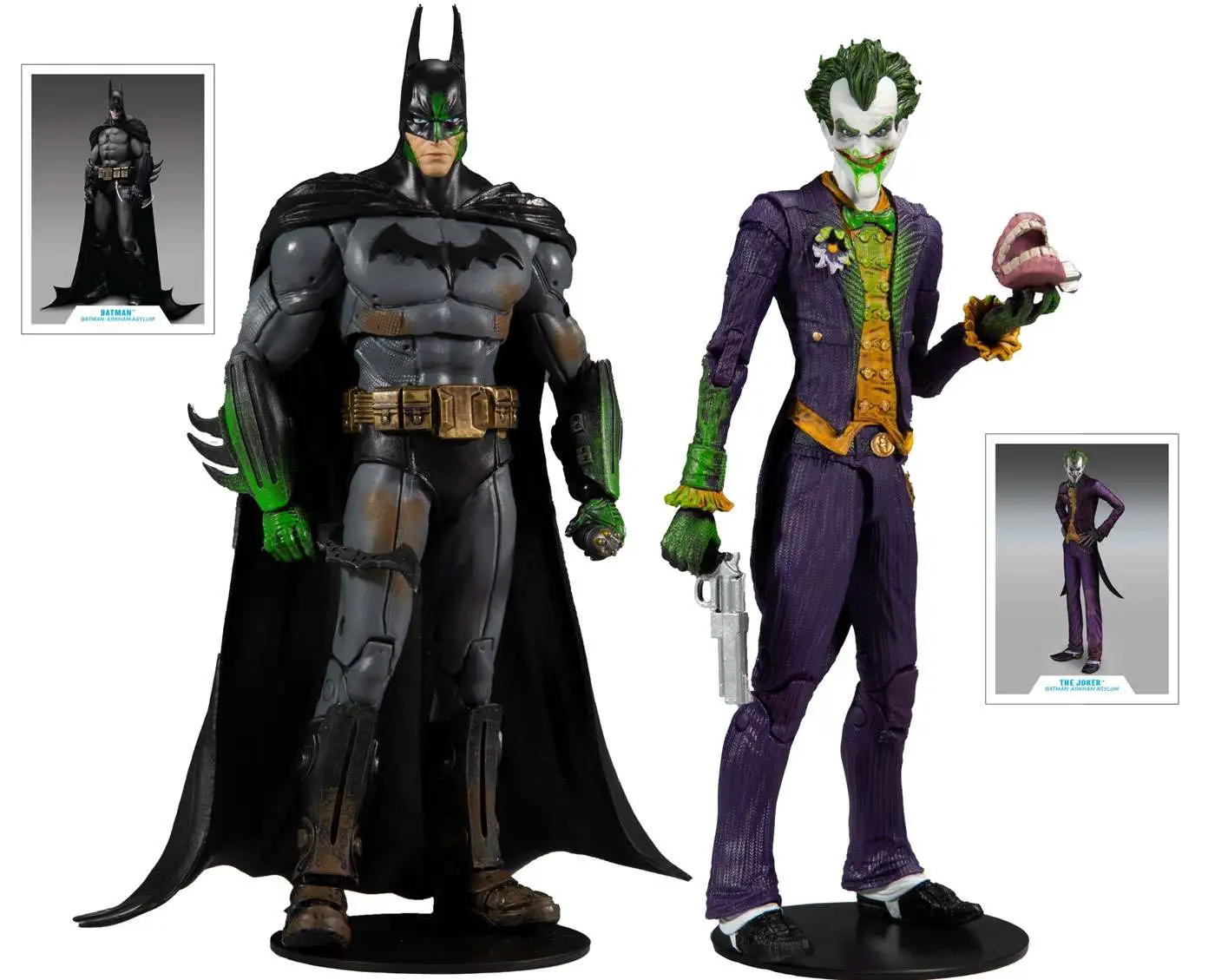 There are only a handful of Batman toys that I would call gruesome and gloomy. This is definitely one of them. In this two-piece package, you get both Batman and Joker, as depicted in Arkham Asylum.
As per usual, the figures have movable joints allowing a wide range of rotations. Batman is shown in a dark gray suit with black boots, a black cape and mask, and black trunks.
His face and hands are covered in green paint, which probably has something to do with Joker. The villain is also covered in green paint, and he wears the usual purple suit with an orange vest and green bowtie.
The thing I really like about this product is the number of accessories. Both toys come with a base, and you also get folded and unfolded Batarang, bomb canister, grapnel launcher, Joker's gun, and fake teeth. All in all, a bunch of cool items for roleplaying.
Despite having all these cool features, I'm not sure if I would give my kids these two action figures. They are simply amazing, with numerous details, and I would hate to see them get damaged. If you wish to buy it as a present, my advice is to buy it for older kids, not necessarily 5, or 6-year-olds.
Pros
Lots of incredible details and accessories
The toys are especially great if you played the Arkham Asylum video game
Cons
Better as collectibles than toys
See also: Best Captain America Toys
Batman, Bat-Tech Batcave, Giant Transforming Playset with Exclusive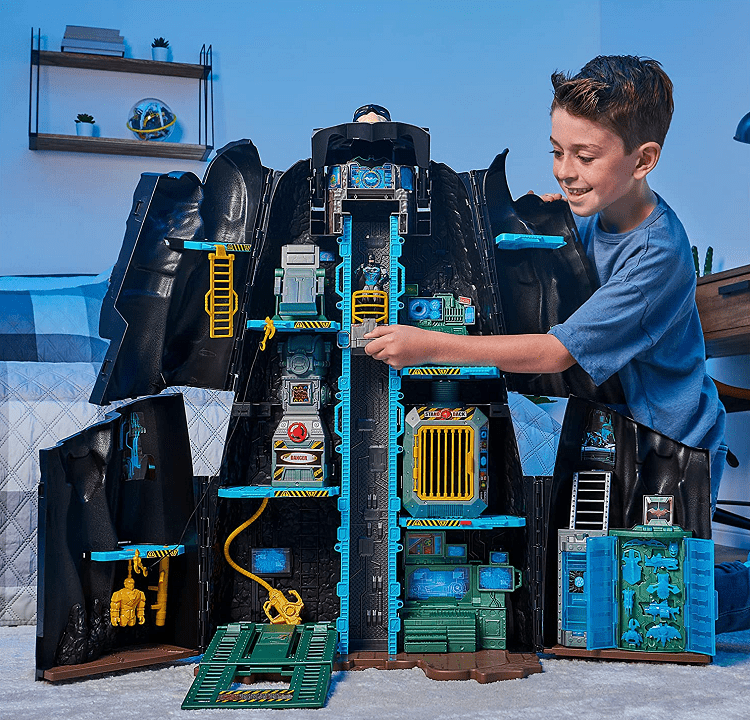 One of the wildest Batman toys I've seen is Batman Bat-Tech Cave. Not only does the item have a crazy design, but it also received several toy awards and nominations. So, if you're looking for something completely different, I would recommend going with this one.
What's the catch with the product? Basically, you get an enormous 33-inch Batman in the package. By opening it up, you reveal an enormous bat cave within.
Describing the structure is very difficult; it consists of numerous small areas littered with various computers and equipment. There is also a small Batman figure inside, and you can use it to climb the ladders, perform experiments, use the computers, and such.
On top of that, some of these devices can play sounds when you use them. There is also a weapon cabinet, and you can open it to reveal various gadgets that you can equip on the superhero. Most of the parts are movable, and your kids will have a lot of fun tinkering around.
Although this product is a bit more expensive compared to some other items on the list, I think that it's more than worth the money. This is especially true if your child is a big Batman fan.
Pros
One of the biggest, most complex products I could find on the market
Cave has numerous accessories and movable objects, ensuring that your child will have fun for days without end
I also need to mention that this is quite a creative toy
Cons
It is a bit more expensive than your usual action figures
Lego PC951 C Batman Block Knight Cuddle Pillow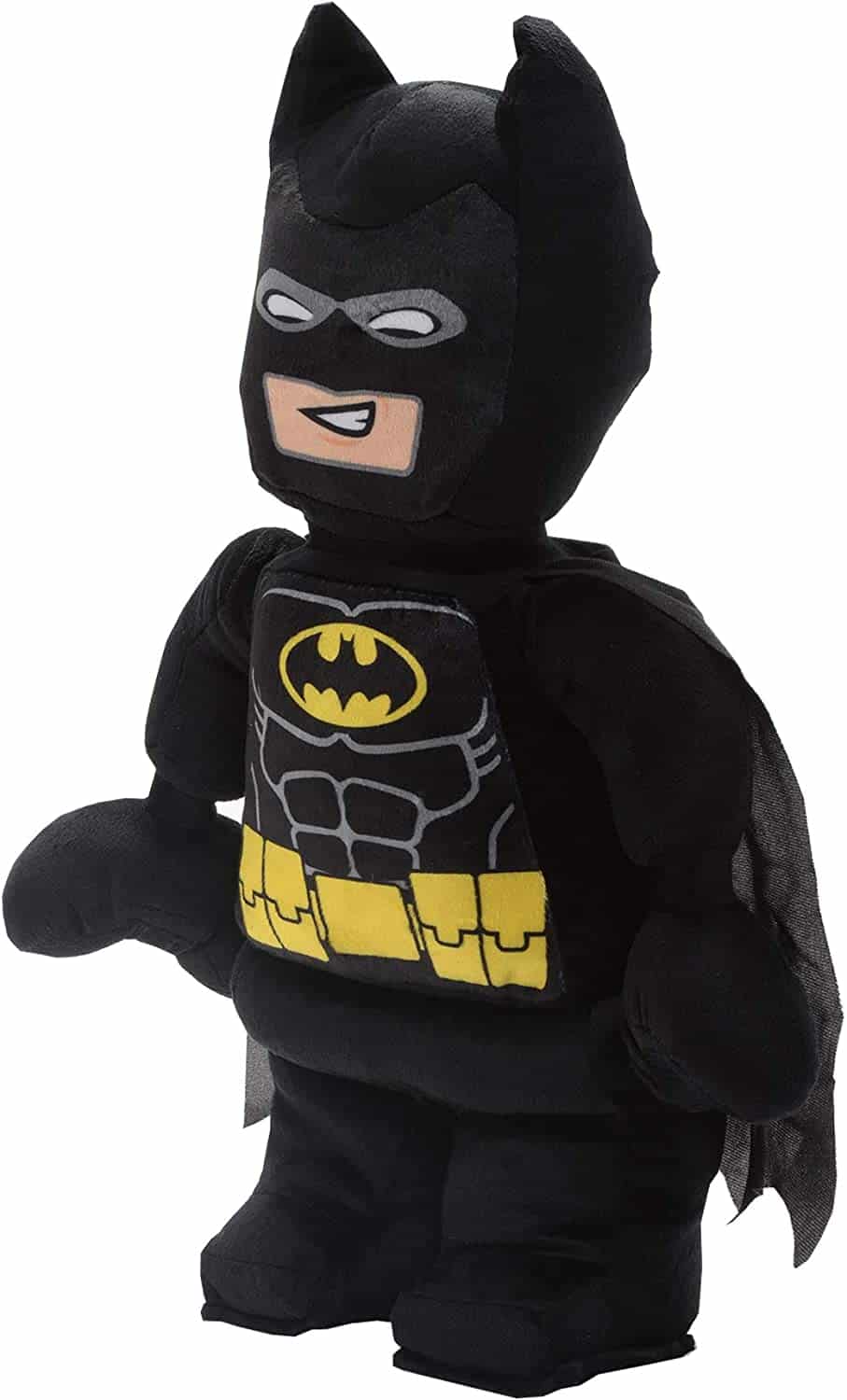 Given that I have two boys, I rarely consider things from girls' perspective. Truth be told, most of these superhero toys are tailor-made for male children with very few items for females.
LEGO and Batman costumes are good examples of products that can be enjoyed by both sexes. The cuddle pillow is one of the rare products that are more popular among girls than boys.
The pillow looks like Batman from the LEGO movie. In other words, he is mostly black with a few yellow details. The superhero has a goofy expression on his face, which fits his LEGO persona. The whole pillow is very comfortable, but you cannot put it in a washing machine.
Overall, I think this is a really cool item for girls, but it is also popular among some boys. It is one of these dolls that can last for a long time, and even when your child grows up, you can keep it as a memorabilia.
Pros
Very cool design
It is rather large and comfortable
Cons
You should wash it in a machine
The Dark Knight MiniCo Batman
Generally speaking, I don't like adding too many action figures to these lists. While I do understand that this type of toy is extremely popular among boys, I love to showcase various items. That way, everyone can find something according to their preferences.
Nevertheless, I had to add this particular product just because of its facial expression. If you take a look at the figure's body, it looks similar to just about any Batman.
It has a sturdy outfit with various reinforced pieces, a golden utility belt, and a dark cape flying in the wind. However, the thing that sets it apart is its head.
The Dark Knight has a disproportionately large head that looks awesome. His lips are curved downward, giving Batman a grumpy look. The superhero's face doesn't look like any actor in particular, nor does it look like the comic book iteration. It is a totally unique face, which sets it apart from other toys.
Would I buy it for my kids? Probably. Is it the best action figure on the list? I don't think so. Anyway, I thought that it's worth adding it as it offers something different compared to other products, and I'm sure that a lot of parents will buy this one for their children.
Pros
The suit is pretty good
I love the facial expression; it is the main reason why you would purchase the action figure
Cons
If you're looking for authenticity, this ain't it
DC Super Friends Bat-Tech Batbot, Transforming 2-in-1 Batman Robot and Playset with Lights and Sounds for Kids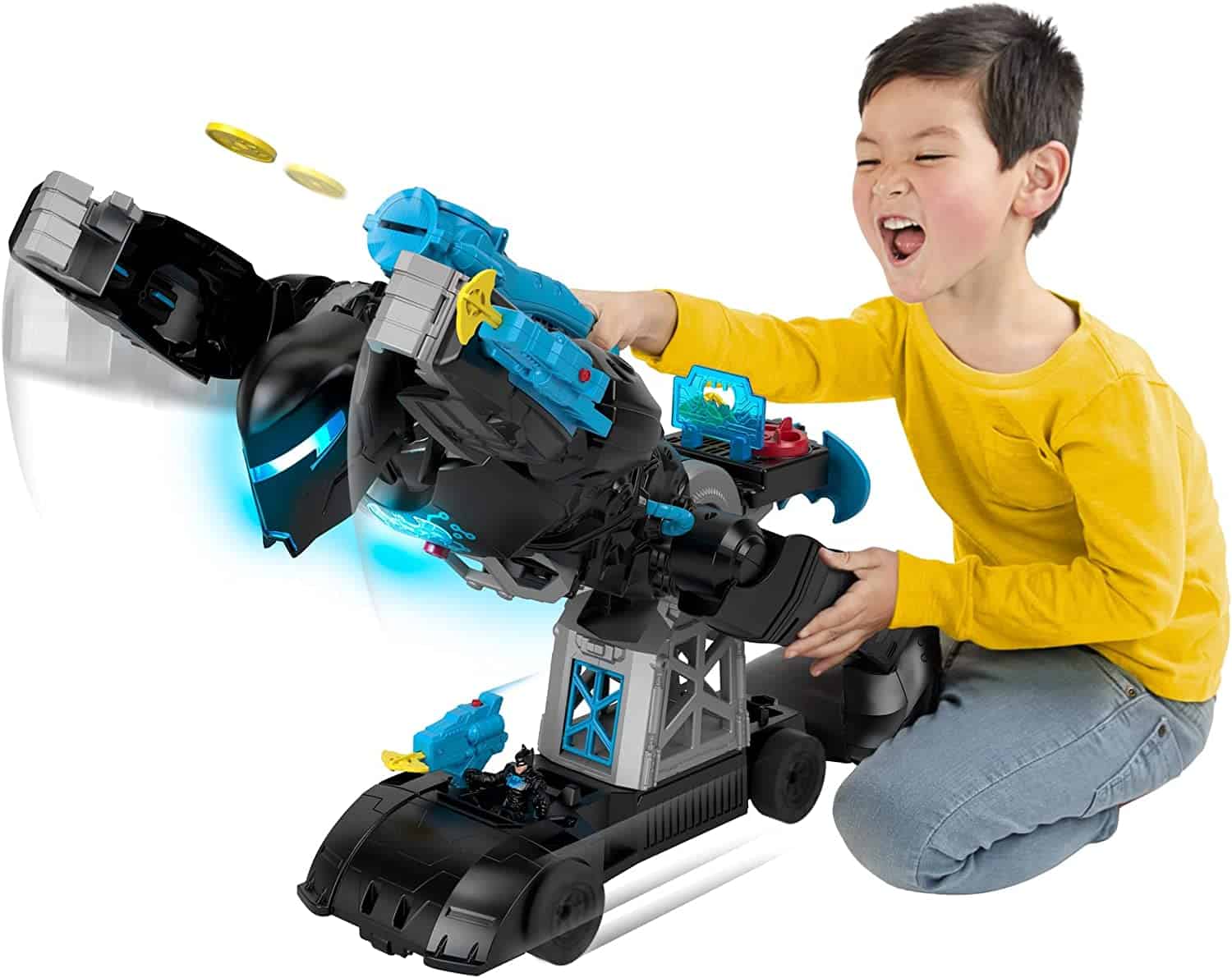 Here is another massive product that looks apart. It has a unique appearance, combining a Batmobile and a giant bat mech. The massive robot is sitting on top of the vehicle that serves as a base. You also get a small Batman figurine, which you can put inside of the car or inside of the mech.
You can drive the car around, and you can also manipulate the robot. It can turn its position, and you can place it horizontally, which will make it look like it's flying through the air. The mech can move its arms and legs, releasing various sounds and having special lighting effects.
In the back, there are numerous accessories your kid can play with. You can use the weapons and other items for an amazing roleplaying experience.
I have to mention that this is quite a massive toy. If you put it close to a child, it will be half its size. My main worry is that some of these parts could easily break.
I'm always conservative with toys that have lights and sounds as these mechanisms often break down or might need constant changing of batteries. Still, I think that the product will give your child a different playing experience.
Pros
I don't think there is anything similar on the market
Kids love sounds and lights, and this toy has a lot of that
Added accessories are also a nice bit
Cons
I'm pretty concerned that something will get damaged or that the mech will get detached from the basis. In my opinion, the whole product looks rather wobbly
BATMAN Voice Changing Mask with Over 15 Sounds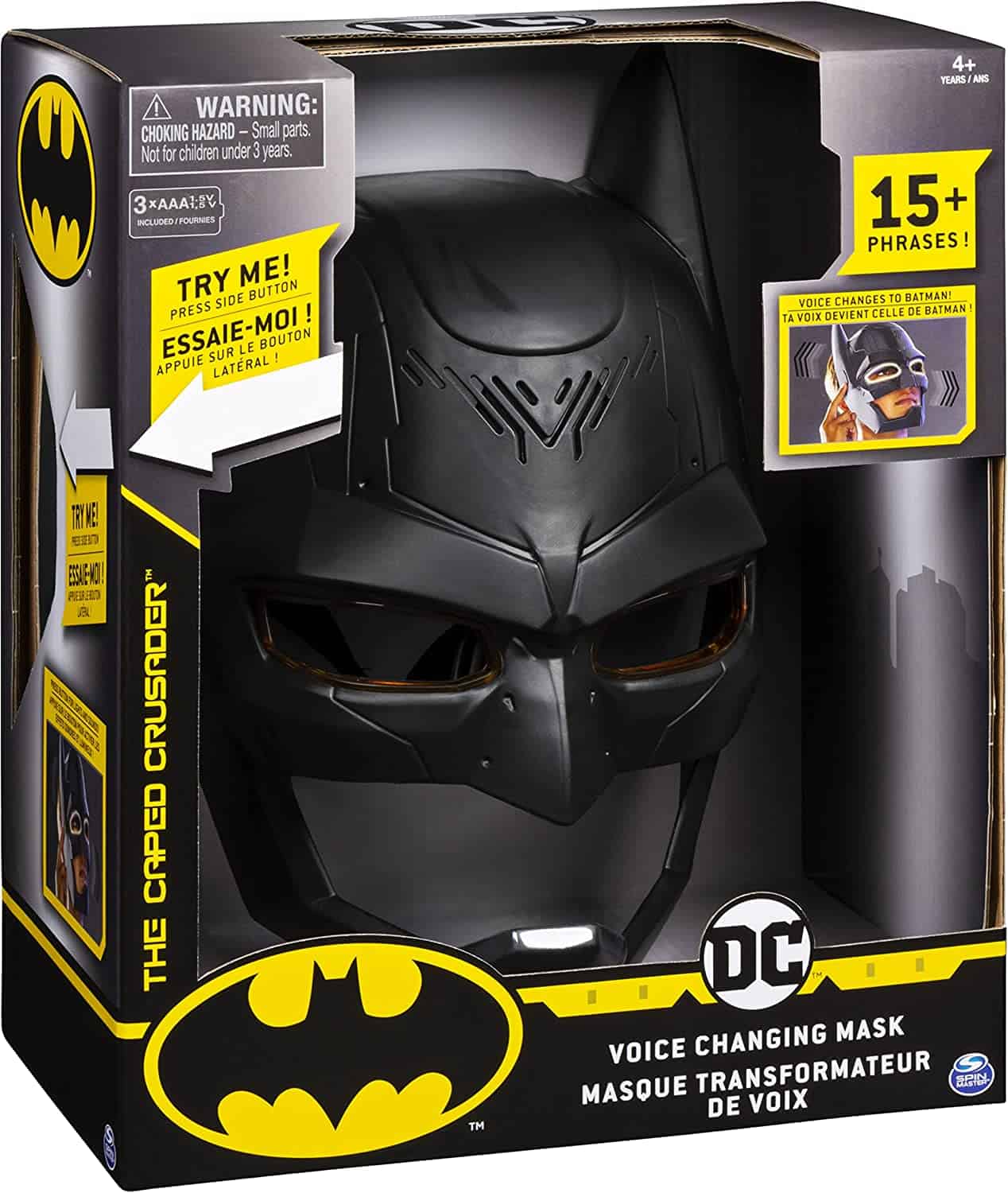 I always give an advantage to products that stimulate active playing and physical activity. Having a traditional costume is always cool, but if you want to take things up a notch, I suggest buying this awesome mask.
First off, I have to mention that the product design looks incredible. The mask is like a piece of high-tech equipment, with yellow edges around the eyes and an empty area in front, for the mouth.
All the edges on the mask are rather rough, adding to the sci-fi theme. There are also a few added patterns on top of the dome, as well as the usual bat ears.
Despite its amazing appearance, the thing that makes this item unique is the voice function. By pressing a button on the side of the head, you can activate one of 15 different voices and sounds.
Of course, the sounds are authentic, and your kid will sound ominous when using the product. As you can presume, it works with batteries.
I really like the toys for roleplaying. As soon as you buy the mask for your child, I can guarantee that he will start running around the house frantically pressing all the buttons.
However, the item's real value can be seen when the kid gathers with friends, and they start chasing each other and roleplaying in the neighborhood.
Pros
Really awesome product design
15 different sounds ensuring that things never get dull
An incredible item for roleplaying with friends
Cons
Changing or charging batteries can be tedious, and I can almost guarantee you'll have to do it all the time
DC Comics Batman, All-Terrain Batmobile Remote Control Vehicle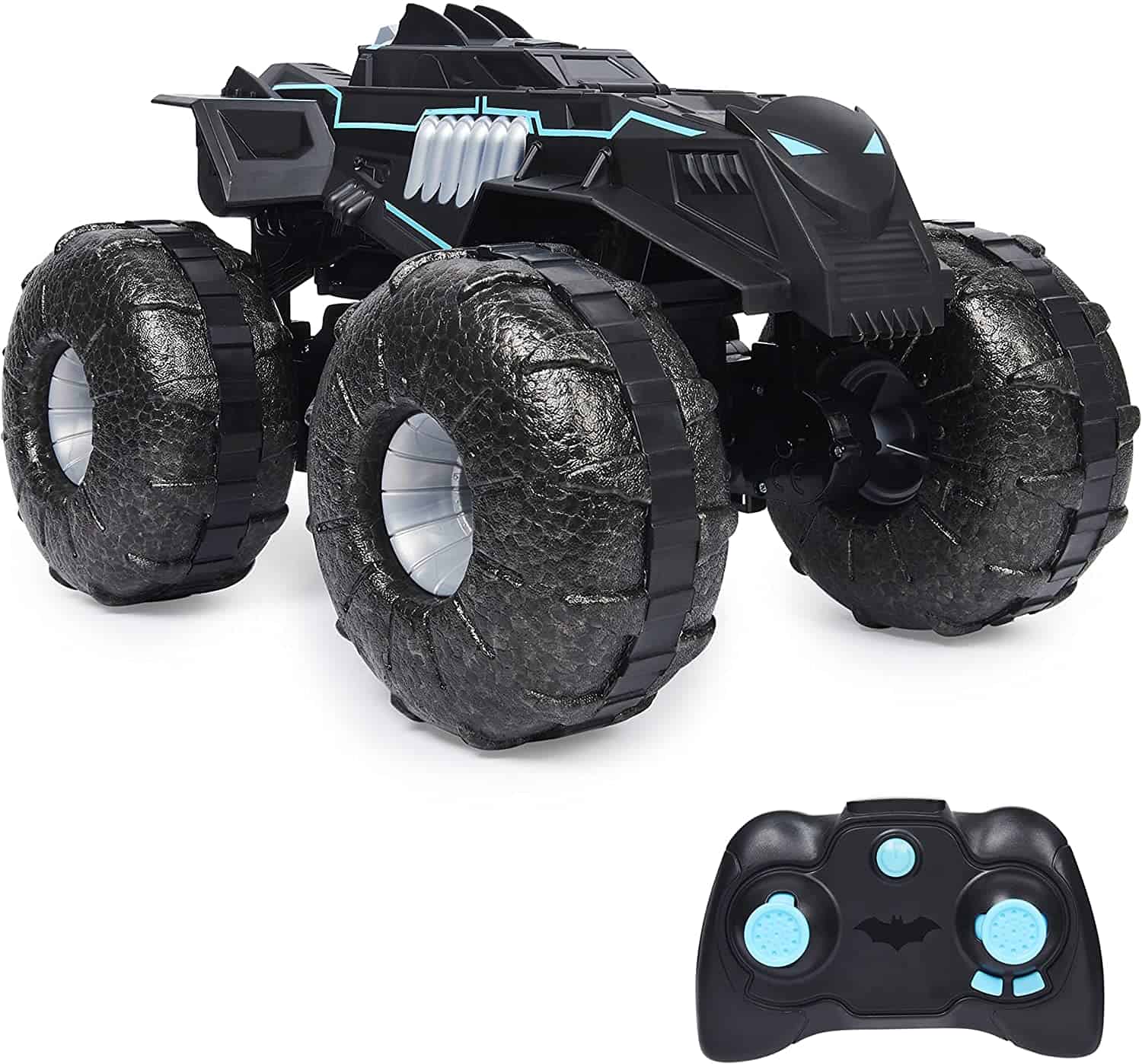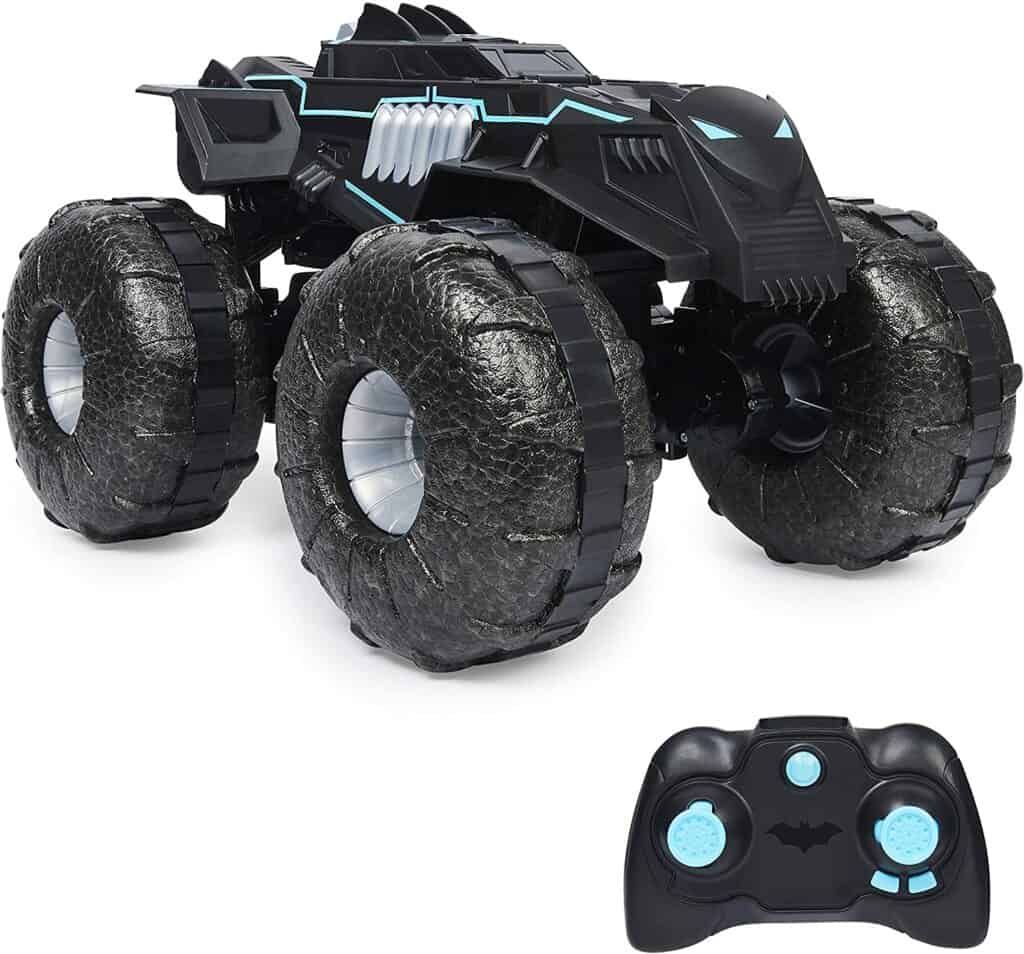 Remote control vehicles are a dream come true for all small boys. Most guys are fascinated by cars and speed, so don't be surprised if your child one day asks for one of these bad boys.
The thing I really like about this vehicle is not the design but its functionality. The car has massive tires making it ideal for rough terrain. You no longer have to look for perfectly cut grass to have fun with a remote vehicle.
According to the manufacturers, the product can "drive on water." This probably means you can get it wet. It also drives in all directions, so your kid can have lots of fun without thinking about restrictions.
As for the model, it is pitch black with a few minor white and light blue details. There is a large bat face on the hood, and there is a hatch that opens. That way, you can put a small action figure inside of the vehicle.
Anyway, I think that this is a great present for boys. It isn't that expensive, and it will force your child to go outside. Although kids can play with it inside of the house, the product is ideal for backyards, parks, and such. Once again, this will force your child outside of the house and on his feet.
Pros
Great for outdoor fun
The vehicle's model is really cool
I like the fact you can place an action figure in it
Cons
If I were to nitpick, I'd say that the car is not that authentic
Spin Master Batman 4-inch Batman with Transforming Tech Armor Action Figure Toy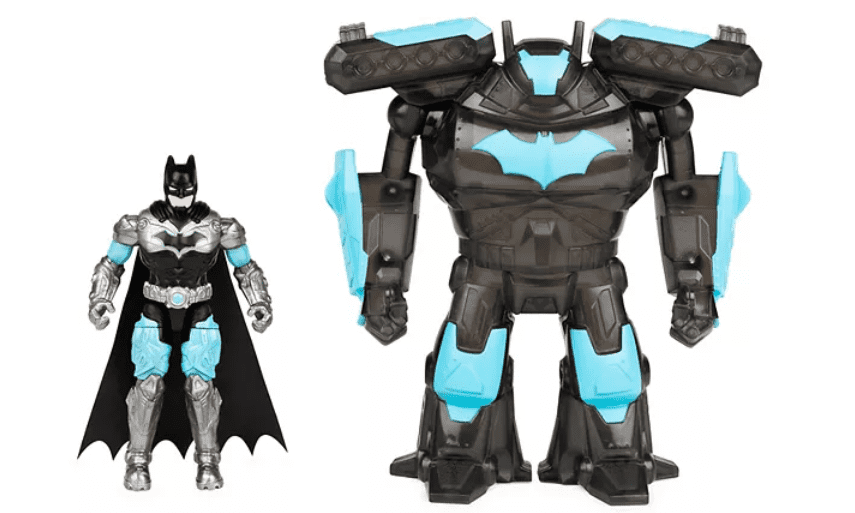 The reason why I like this particular product is that you can actually place Batman inside of the mech and play with two of them combined. This isn't the case with all the Batman robots, which is really annoying.
If you take a closer look at Batman, you will notice that he has numerous metallic enhancements on his body. In fact, he looks more like a cyborg than a human being. The model combines black, silver, and light blue, which are a bit funky together (although the model is quite authentic).
Mech is much more balanced but not necessarily better. It also combines black and light blue, but without silver. While the color combinations are solid, without too much experimenting, it looks a bit like an upward-standing garbage can.
Then again, I have to remind you that this mech, unlike many others, can actually hold Batman's figure.
Anyway, the product looks like a nice plaything. Anything that has additional accessories or parts is usually great as it allows more creativity. Despite what I've said about the robot, it definitely provides something new.
Pros
Batman and mech product where you can actually put the superhero in the robot
It isn't that expensive given how much stuff you're getting
Cons
Both of these models are really ugly. Also, the color combinations are bad
FAQs
Question: Where can I Get the Best Batman Toys?
Answer: Batman toys can be found in just about any online shop. I think that Amazon has some of the best pieces, but you should definitely check Etsy, eBay, and other major resellers. Most of these toys are made by companies such as LEGO and Hasbro, so I suggest visiting their websites as well.
Question: What is the Best Batman Toy?
Answer: There are so many cool Batman items on the market today, so it is really hard to choose a specific product. It also depends on what you're looking for. If you ask me, I really love Batman XE Suit Special Edition because of its numerous details and all the work people invested in creating these masterpieces.
Question: What are the Most Common Batman Toy Types?
Answer: Due to the popularity of the Batman franchise and the fact everyone's racing to create new and innovative Batman toys, we were treated with some amazing pieces.
The most common type of Batman toy is action figures. After that, you have lots of LEGOs, costumes, and cars (featuring Batmobile but also other Batman vehicles.
Conclusion
There are so many amazing Batman toys on the market today, and most people find it hard to choose one of them. It's as if the manufacturers are trying their best to add unique features and designs, separating their products from the pack.
My favorite product is Batman XE Suit Special Edition. It is a bit expensive item that costs a couple of hundreds of dollars, and it is more of a collectible than a toy. Among others, parents can buy their kids items such as Batman masks, bat caves, various vehicles, LEGO Batman sets, and so on.
Recommended Reads: