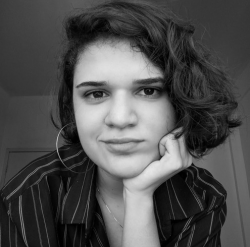 Latest posts by Marjorie Soares
(see all)
I remember when my brother got a Superman action figure for Christmas. It was straight out of the Justice League Animated series, a cartoon I am obsessed with today. 
My eyes were immediately filled with envy. It wasn't that I didn't like my present, I loved Barbie dolls. But my brother didn't even care that much about superheroes. I was the one obsessed with Superman, and my parents had miserably failed to notice that.
But why the sob story? That is my roundabout way of saying that this day made me realize how much I care for superhero products. Toys, clothes, utility items; whenever I see one with a hero I like, my heart warms up a little.
For that reason, I have assembled the Best Superman Merch Guide, so you and I can both lean on that lovely feeling of a cherished purchase.
The Best I Never Knew I Needed
It was never my plan to fall in love with a coffee maker. When I started research for this article, all I expected was wanting new clothes or maybe a collectible. But this Superman 1-Cup Coffee Maker took me by surprise, and now I can't stop thinking about it. Is it the striking colors? The slick design? Or the fact that it comes with a glossy mug? I don't know, but this item reminds me that our deepest desires may be hidden from us.
Top Picks At a Glance
Selection Criteria
As always, good design is a must for me. Good contrast between background and figure, clear lettering, and flawless composition is vital in every product I choose. Moreover, nods to comics and other cherished properties can make items a no-brainer. Of course, I will buy this mug with that unique cover or the figure with the alternate costume I love!
Lastly, variety is something I take wholly into consideration. I try as much as possible to choose different types of products. But of course, with a symbol as recognizable as Superman's S is hard to compile a list without a ton of items with the logo. So don't judge me! Plus, there are enough style variations to make this list spicy.
Apparel
This will be the longest section because I love buying apparel; it's no exaggeration to say that planning my outfits is a hobby of mine. Besides, there are way too many clothing types to narrow it down extensively. Apparel is one of the best ways to make a collection of something you like, for utility and monetary reasons.
Shirts
Shirts are the go-to item when one thinks about themed apparel. They are casual and versatile, so they go well with any design, and there's no shortage of options online. However, I won't be making a list of Superman shirts in this article because I already made a detailed guide with 36 picks here. 
But just so you don't leave this article empty-handed, I've thrown in a shirt I recently found. 
This Superman All Over Logo Black Button Shirt is the bomb. I have no problem with over-the-top items that enunciate loud and clear what they're about. Still, something is alluring about discrete designs. I love how you almost don't notice this shirt is made of Superman logos until you pay close attention. This makes it a perfect shirt to wear anywhere, including in more formal settings!
Hoodies and Sweatshirts
Depending on where you live, you'll need a hoodie or a sweatshirt for at least a few months every year. Hoodies are restricted in design compared to t-shirts. Still, I did my best to choose exciting options, so you don't spend part of your year looking like you just grabbed whatever was nearest you in the morning.
But even if the items had some of the most stunning colors and figures I could find, my favorite by far is Superman Justice League Snyder Cut Black Symbol Hoodie. It's no secret for anyone who knows me that I'm a big fan of Snyder's Superman, and you'll be reminded of that a few more times through this article.
Even with criticisms, people can't say the guy doesn't have a good eye for costumes. This hoodie translates Superman's black costume from the Snydercut in the best way possible. Check out our guide on the Best Superman Costume Ideas here!
It is a simple design yet so eye-catching. I would buy this hoodie in a heartbeat. Even though. I live in a hot city, so I would probably wear it only when traveling somewhere cold.
Pants and Shorts
Superhero-themed pants and shorts are not that common, but a few items have caught my eye. Most things on this list would be fun to wear on the beach or to go to the gym. However, the prize for this section's most versatile and beautiful item goes to Superman Red and Black Joggers.
This item is clear enough about its theme, but strangely it's not too difficult to match with other clothes. These pants are perfect for running or for anything. For instance, I love throwing in jogger pants in my look to give it a casual and playful flair.
Bags
From sports to tote bags, this list will have something useful for you. But my favorites are  Superman and Lois Black and White Tote Bag and Superman S-Shield | Simple Black Outline Logo Tote Bag.
I'm a fan of tote bags because they look good with basically anything I wear. But the two mentioned bags take this quality further by using a simple line art design, mesmerizing onlookers without stealing attention from your outfit. In addition, Lois and Superman's bag has an option with a maroon shoulder strap that is absolutely stunning.
Caps
Once again, I show you how much of a Snyder cut fangirl I am by choosing this Superman Black Armor Justice League Hat as my favorite. Although I must say, the Kingdom Come Cap is a close second.
Is it too much if I wear the Snyder cut cap with the Snyder cut hoodie? 
But it wasn't only my personal preferences that made me choose this cap as the best. The cap's texture is beautiful, especially compared to the others on the list. Besides, I love how the S symbol pops out. It makes the design shine.
Socks
Growing up, I always liked over-the-top socks. This was my trademark in a rigid school where you had to wear uniforms, and shoes could only be black, white, or brown. That infuriated me, but if I didn't comply, security didn't let me enter the school.
Thankfully, they never said anything about socks …
So I wore the most over-the-top socks EVER—cows, giraffes, aliens, red, blue, yellow. Anything goes. So I know my 13-year-old self would stand by my choice to place these Superman Costume Crew Socks as my favorite. I would have LOVED to wear these navy blue Superman socks to school. 
But if that's too much for you, don't worry. Other options on the list aren't quite as shocking.
Other Apparel
While researching, I found a plethora of curious apparel that didn't quite need a category of their own, so I assembled them here. From watches to cuff links and even a bikini, you may find something you want here.
However, what struck me the most was this Superman Comic Blue Men's Tie, and I don't even wear ties! Still, I couldn't help but be mesmerized by this item's sheer detail and stunning colors. Looking from afar, the drawings are almost invisible, making this item suitable for formal settings.
Why am I overthinking something I won't even wear? Maybe, this is a sign I should start wearing ties and rock that Britney look in Me Against the Music.
Figures, Collectibles, and Plushies
Decorating your house with items you care about is vital for your mental well-being and sense of self. I should know that; I'm a soon-to-be architect. So as long as you're not spending your rent and food money or getting credit from loan sharks to buy these following items, you'll be fine.
Funko Pops
Funko Pops have been a mania among collectors for a while now. Their unique design and affordable price made them attractive options for die-hard fans and beginners in the fandom arena. However, I never was much of a fan. What is it about these big heads and weird-looking eyes that make everyone put these alien-looking things on their shelves?
But don't scream at me just yet. Researching items for merch articles made me more fond of them. Lately, I've been finding them kind of cute. The pinnacle of these feelings came with the Superman and Lois Flying Funko Pop!
The 1978 Superman movie has a sweetness that only a cute figure like that could capture. This item just warms up my heart. If I had to buy a Funk Pop, it would be this one for sure.
Action Figures, Replicas, and Plushies
I've always liked more realistic figures, or the ones resembling comics and cartoons. So I wasn't expecting this Batman & Superman Q-Fig Max Figure to win me so quickly. This item brings me joy just by looking at it.
Superman's happy face holding a grumpy Batman while they fly among beautifully puffy clouds is now one of my favorite superhero images ever. Plus, the paint job on this item is flawless.
Though this takes the cake for me, other collectibles on this list don't fall too far behind. Superman running with Flash, a Spartan Superman, and a figure with Krypto, the Superdog, are all a true fan could ever want.
Trinkets
This is the best section if you are on a tight budget. I love these little inconsequential things that are so cheap there's almost no excuse for not buying them. However, when shopping online, you need to consider shipping fees because, depending on the cost, you might be better off coupling this purchase with other items on the site.
Buttons
They're cheap and pretty, and you can pin them almost anywhere. What else is there to say? This Superman in Shadow 2 Pinback Button takes the cake for me because I love Superman's pose and the drawing's placement on the pin.
Besides, if I'm not wrong, this is a Jim Lee design. He is a legendary comic book artist, and I love his style. As an aspiring artist, I know a thing or two about some of the most recognizable comic book artists. So I'm confident that if this is not him, it is undoubtedly someone emulating his style.
Keychains
Keychains are the type of trinket that is actually useful. When I need a new one, I always try to look for something that reflects my taste, just like this Superman Justice League Logo Keychain. In fact, I almost bought a similar keychain on the street these days. The only thing that held me back was realizing that the keychain had a minor defect.
Home Items
A house is only a home when you feel like you belong. From utility items to those wall posters that will make you feel like a teenager again, this section will leave a mark on your home. 
Mugs and Cups
These items are the best of both worlds. They are vital – just try to drink water without a cup – and make splendid decorations. I've thrown in a bit of variation with travel mugs, but all the designs are eye-catching. Still, my favorite is this Superman Valentine's Day.
I love the Pop-Art feel of this mug, and I'm a sucker for romantic content. But don't tell anyone that. I have to keep my tough façade.
Posters and Wall Art
Posters remind me of a sweet aspect of my childhood. My father used to own a video store – back when streaming services hadn't taken over the world – and he would win many giant posters from the DVDs he bought. So I had these enormous frames in my room where I would put the posters of the stuff I liked. There were so many I frequently changed them. It was my own little art gallery. 
Nowadays I'm in shortage of posters, so maybe I should change that. I'll probably begin with this Man of Steel Movie Poster Family Silk Wall Print because it reminds me of one of the best Superman scenes in movie history. The moment in Man of Steel when Superman learns how to fly is magical, and I adore the score.
Random Items
If you didn't find what you were looking for yet, this section might be for you. I have seen stuff I never knew I would want, like this Superman 1-Cup Coffee Maker with Mug. This coffee maker is so flashy for a home appliance; maybe that's why I'm fascinated by it. Plus, it comes with a gorgeous mug!
But please, don't let me buy this coffee maker. I don't even have space for it in my kitchen!
FAQs – Best Superman Merch
Question: Are Superman and Batman Friends?
Answer: Yes, they are good friends. They even had their team-up comic, Superman/Batman, going on for a while. But my favorite representation of their friendship is this Batman & Superman Q-Fig Max Figure.
Question: Can Superman Breathe in Space?
Answer: Technically, no one can breathe in space because, without an atmosphere, there is no oxygen. But Superman can survive in space because he can hold his breath indefinitely. However, some comic stories have shown him using a breathing apparatus, indicating his capacity to hold his breath is not limitless. Or, more realistically, it can be a sign that the writers haven't agreed on this factor. This happens in comics more often than you would think.
Question: Can Superman Breathe Underwater?
Answer: As with outer space, Superman can remain alive underwater because he can hold his breath indefinitely. So technically, he doesn't breathe underwater, but he doesn't need to.
Is It Over Yet?
Now that you've read this article, you probably have some ideas about the kind of Superman merchandise you want. But, if you want to take a step further and plan your next cosplay, your hunt is not over!
Take a look at Best Superman Costume Ideas and have fun trying to become your favorite superhero.
Recommended Reads: