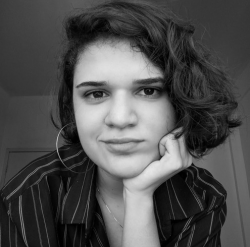 Latest posts by Marjorie Soares
(see all)
I've been a fan of Superman since I first saw him in the Justice League animated series. He established himself as a capable leader, one of the bravest superheroes, and a source of inspiration for his teammates. Following my watchlist with the solo animated series only increased my admiration for Clark Kent.
But comic books taught me to appreciate Superman as an icon. "Superman: Birthright," "Death of Superman," and "For the Man Who Has Everything…" were stories that helped me connect with Clark Kent's humanity. Of course, an alien raised on Earth would experience intense longing and loneliness, making for compelling drama.
So, regardless of what anyone says, Superman is awesome. So awesome I want to show everyone how much of a fan I am with my beautiful new T-shirts. I've compiled the best Superman shirt ideas in this article so you can pay homage to Krypton's last son in style.
Shirts For All Seasons Up Front
Superman's logo speaks for itself and is one of the most defining ways to reference the character. Although many shirt options reimagine and emphasize the big S, others feature Superman pictures. You can wear something that references the comics or movies or create a new style altogether. There is something for everyone.
Selection Criteria
I have focused on selecting various shirt styles, divided into four main categories. 
The first category displays shirts with Superman's logo.

The second assembles shirts that reference comics or have a comic book art style.

The third comprises shirts with cool and unique concepts.

The final one features shirts with the most distinct art styles.
Beauty is subjective, but I chose well-designed shirts with excellent contrast between background and figure. While researching, I couldn't believe how many shirts failed this test. Finally, all of the shirts are reasonably priced. None are more than $30.
My Personal Choice: Metropolis On A Melting Cape T-shirt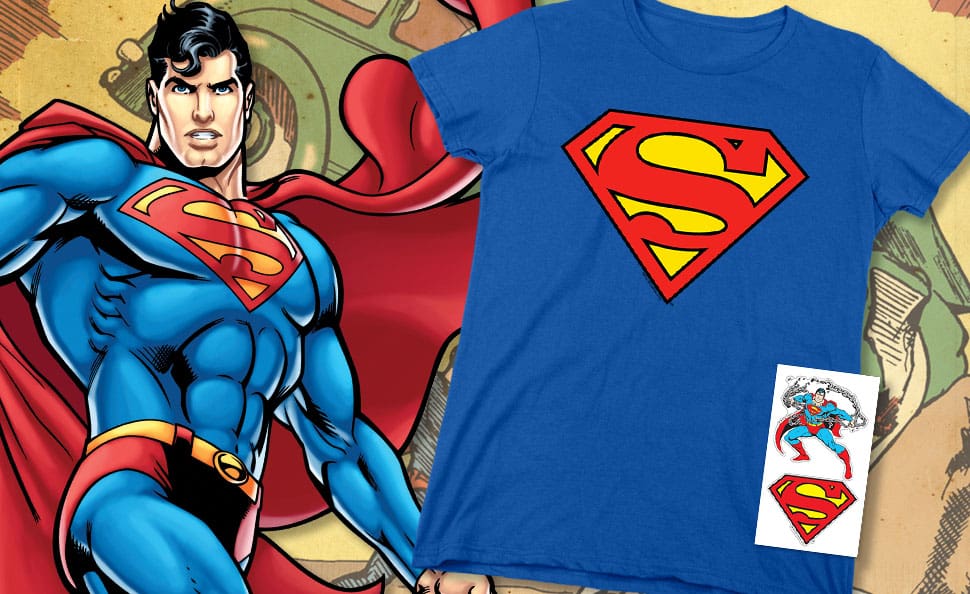 This is one of the most beautiful and poetic shirts I've ever seen. Superman's pose is commanding but relaxed, giving the impression that he is having fun. After all, he is in his element: Metropolis. The city's image on Superman's cape shows how inextricably linked they are, implying that the character is a symbol for Metropolis. Plus, the mantle seems to be melting, giving off a trippy vibe.
Furthermore, the chosen hues of red, blue, yellow, and cream complement one another perfectly. The shirt comes in a few colors, but the navy blue version is undoubtedly the most stunning. 
In addition, the shirt is available in both male and female versions. When it comes to t-shirts, I don't care about gender because I prefer an oversized look. So buying a "men's" shirt isn't a problem for me. However, that is not the case with all women, and it is hard to find a Superman shirt designed for girls. Thus, this is another reason why this shirt is the best!
Reign Of The Super S
In this section, I'll cover shirts with Superman's logo as their protagonist. Some versions are faithful, while others are playful. These selections will please both classic fans and those looking for something new.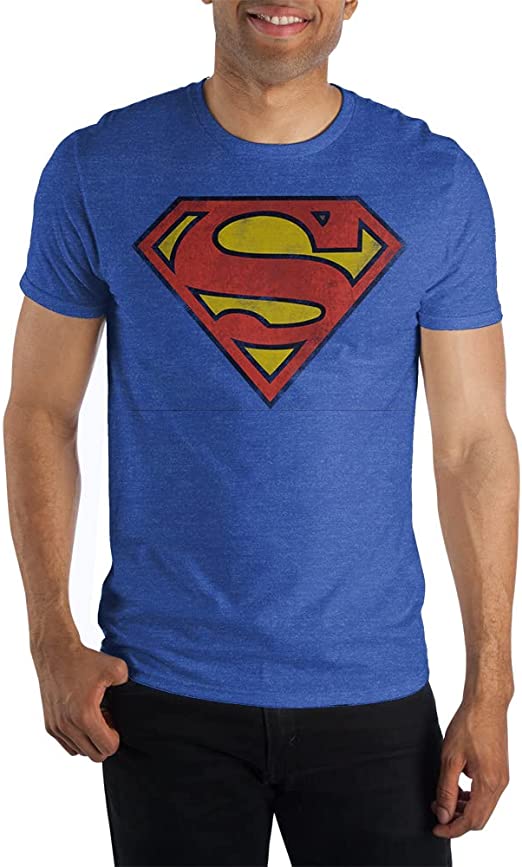 I couldn't compile a list of Superman shirts without including something that faithfully recreates the hero's uniform. You simply cannot go wrong with this one. The most iconic Superman clothing ever is this blue shirt with the famous "S" symbol. Of course, it may not be as pretty as others on the list, but it is timeless and influential.
This S brings back good memories because I used to draw Superman a lot as a kid, and the symbol was one of my favorite parts to do.
Fun fact: this is not Superman's first "S" design, but it is the most recognizable.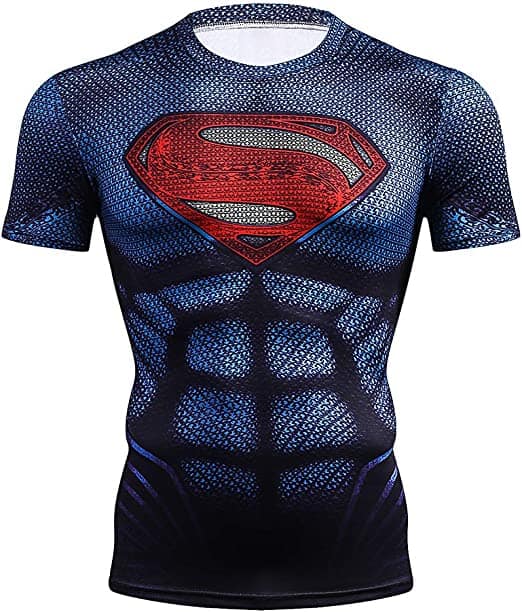 This shirt is great if you want a Superman compression shirt for sports. It's modeled after Zack Snyder's suit, which I like because there wasn't many Man of Steel shirts I liked while researching. The texture is stunning, and the muscles add a playful touch.
I love that the designers chose a more vibrant color scheme than in the movie, except for the yellow. This works well because adding a bright yellow on top of such a texture would make the design too distracting and polluted.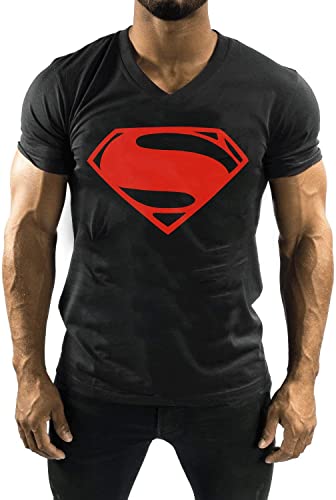 Technically, this is not Superboy's shirt, as it uses the Man of Steel symbol. But the black and red scheme reminds me of Superman's clone's iconic design. This is the perfect example of what a Superboy shirt would be like in live-action. Thus, this t-shirt works great for day-to-day life, but it also makes for an easy costume if you need one for a party but doesn't want to spend too much time on it.
I chose this version over the original because I prefer the Man of Steel symbol. This shirt is fantastic because black and red are always a winning combination.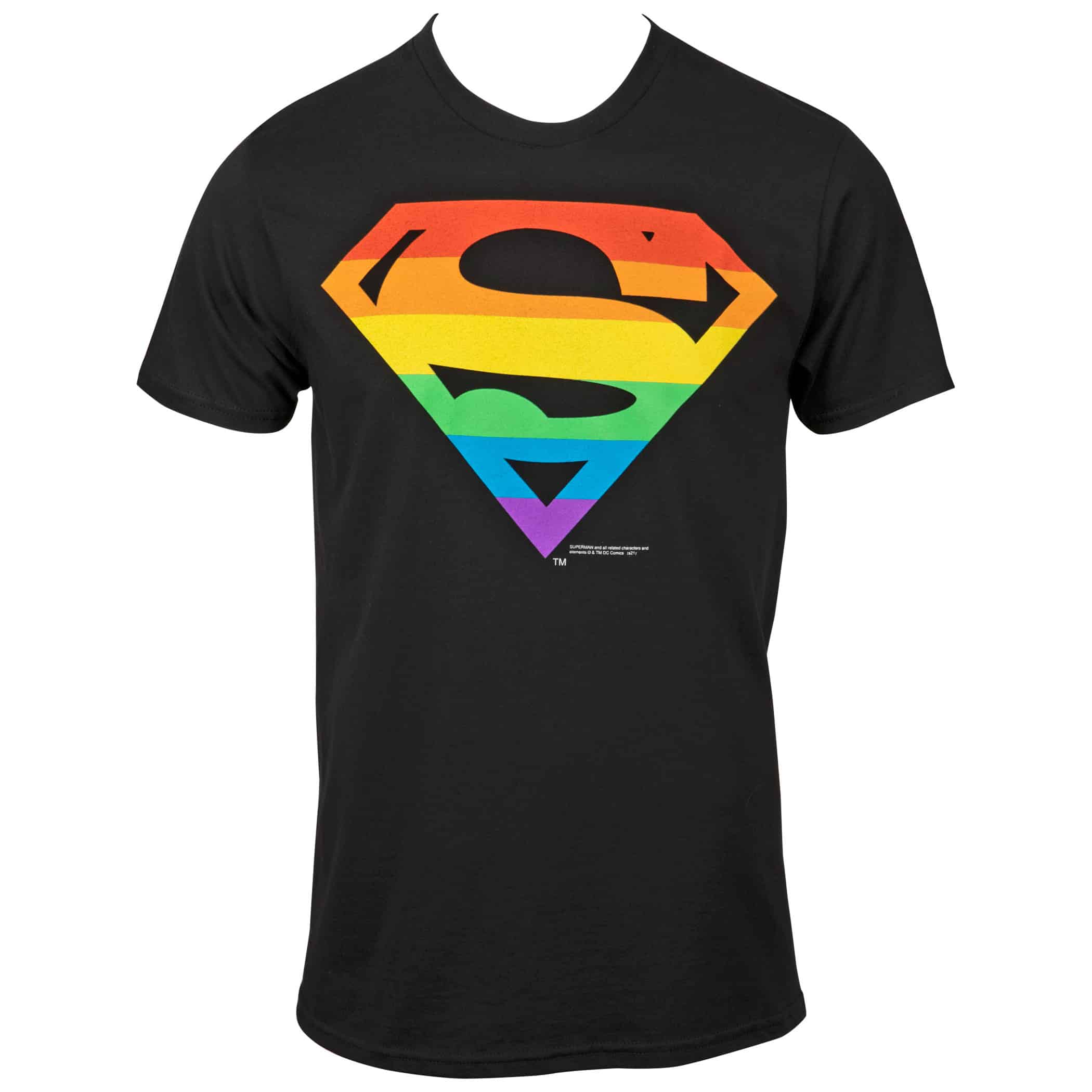 Rainbows are a stunning feature of nature. They are even more special if you are a member of the LGBTQIA+ community. As one of these individuals, having the pride flag associated with one of my favorite characters brings me great joy. 
Besides, rainbows look great with anything because they show a natural and harmonic color progression. I would not have expected this combination to work so well if I had not seen it. A white version is available, but the black background is ideal because it makes the rainbow colors pop out.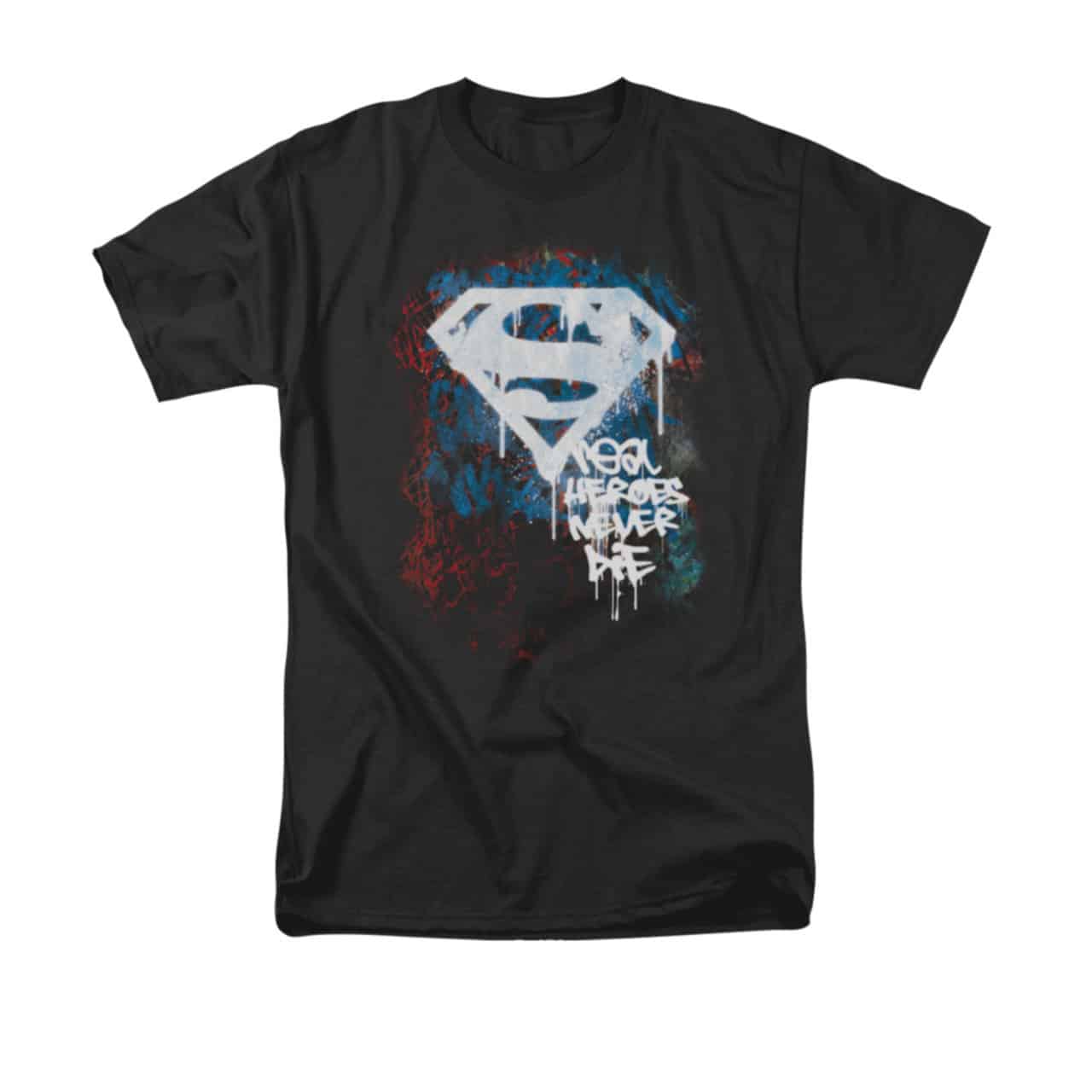 This shirt provides a great twist to the S symbol. It looks less like a symbol on a chest and more like one on a street wall. This idea works perfectly with the beautiful graffiti style, and the phrase "real heroes never die" makes me feel like this is a direct reference to the Death of Superman. 
After the comic's events, I'm sure someone would pay homage to Superman in this manner. The phrase's significance doubles when we consider that Superman has been in comic books for over eight decades. He is an undying symbol in both the real and fictional worlds.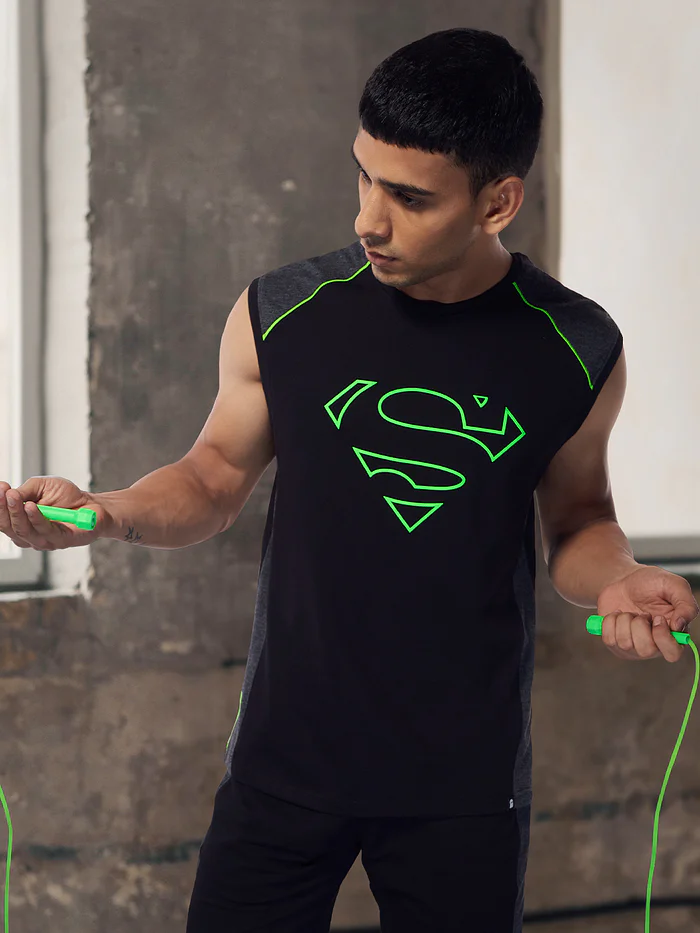 This beautiful black and green tank top is an eye-catching option for those looking for a shirt to work out. The shirt's shape is ideal for highlighting those muscles beginning to show after your workout session.
The minimalist S design also works; removing the outer border makes the S stand out and the design sleeker. Besides, the green color makes this tank top look alien to me.  I could easily believe people in Krypton used this to work out before the planet exploded.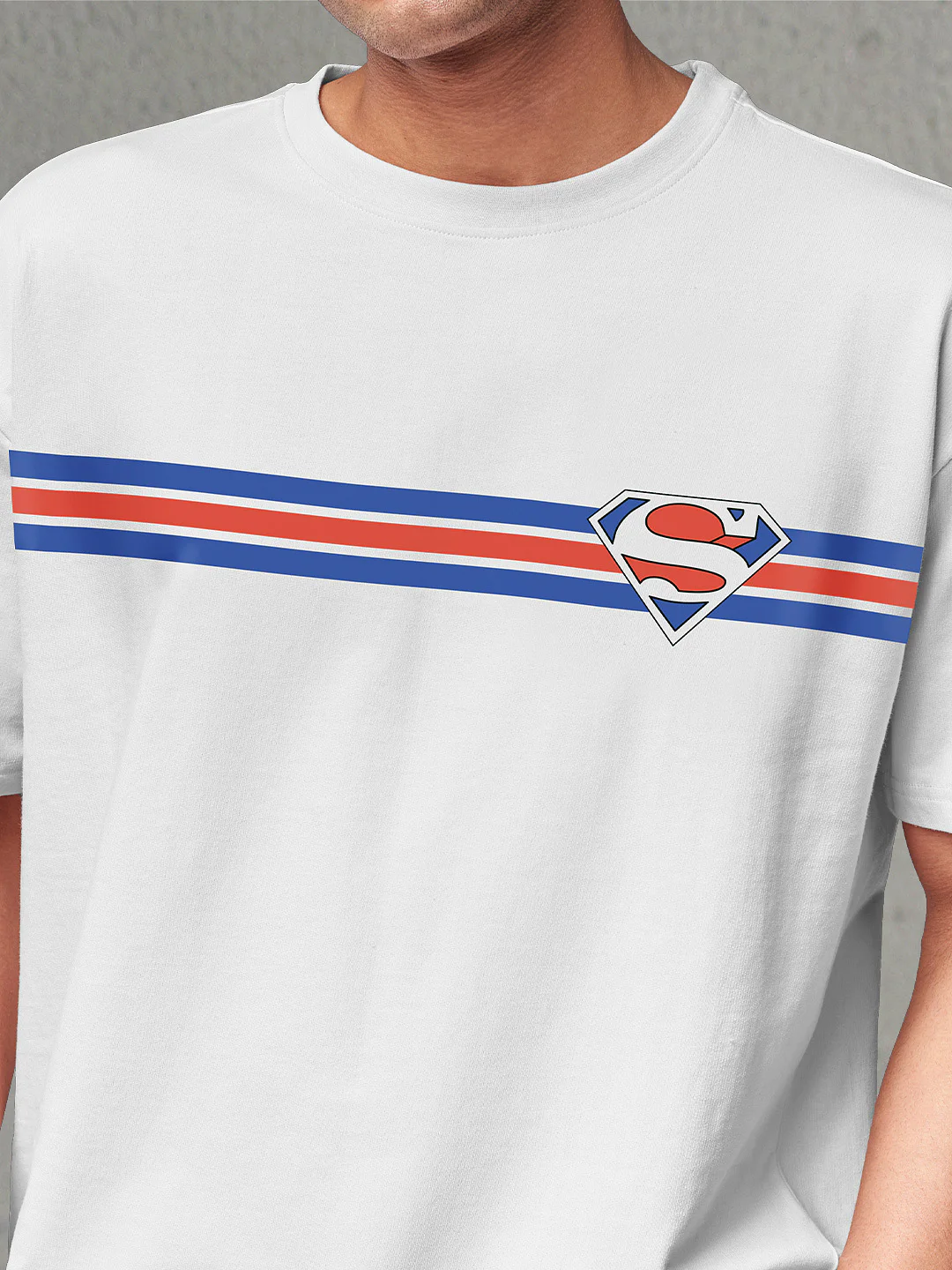 Because it has a symbol on the front but an image on the back, this shirt falls between the current and next categories. I like the different approach to the logo: instead of front and center, it is on the right side with three stripes running through it. 
Aside from that, Superman's portrait in the back is stunning. I love how they painted him on top of the white shirt with only red, blue, and black. It gives a stark look with a lot of contrast and the feeling Superman is bathed in light.
For A Thousand Comics
In this category, I have assembled t-shirts that directly reference the comics or whose art style is very similar.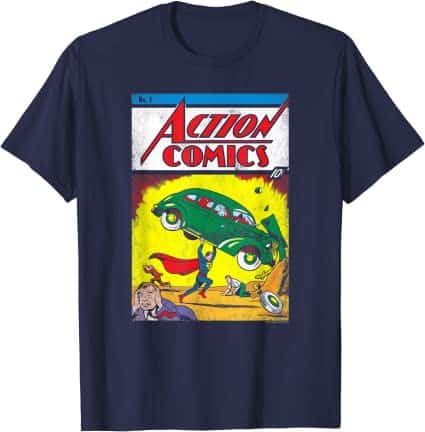 What better way to show you're a true Superman fan than the cover of his first appearance?
I'm a big fan of this cover. Later comics would have so much going on with speech balloons and cheesy quotes that it would take away from the art. Here the art is simple but well executed.
I love how Superman appears in the back, with an explosion behind him, while a man reacts in the front. This gives the impression that a lot is going on, which adds to the drama of the cover without making it too complicated. Aside from that, the lettering is lovely. Finally, the color of the shirt contrasts nicely with the image.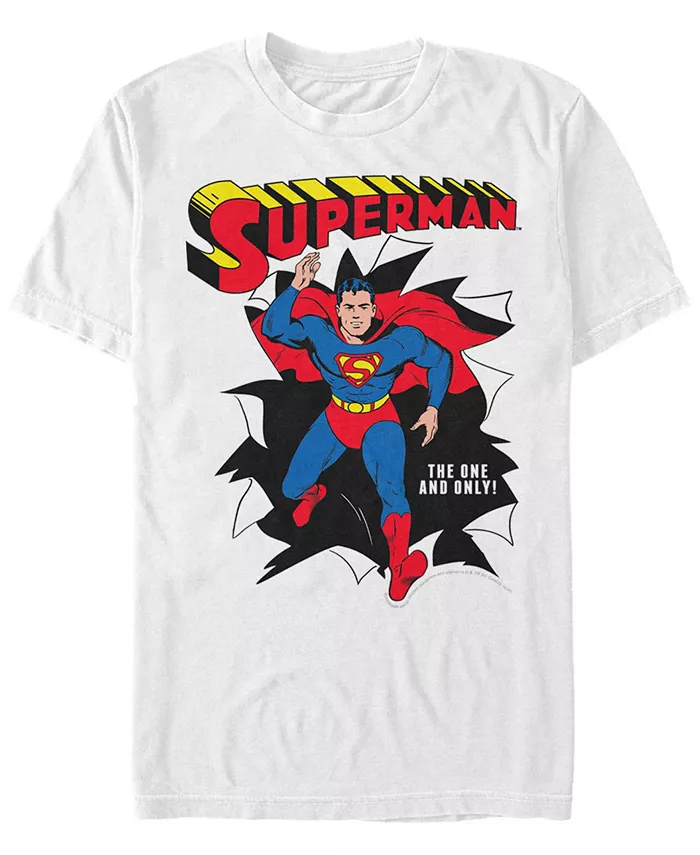 This one appeals to me because it is very dynamic. T-shirts frequently feature an image within a square, but that's not the case here. This shirt makes Superman appear to have run through a wall with a dynamic opening and excellent lettering placement. 
There is a dramatic phrase to add some flair: "The one and only." I like that the sentence is not the center of attention, but it could have been more well-placed. As you almost don't see it, it becomes meaningless.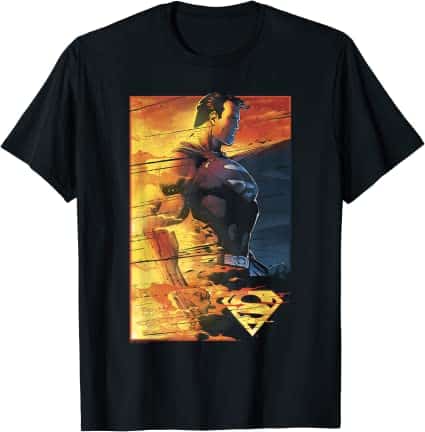 You've probably seen that classic scene in an action movie when a character walks in slow motion while an explosion is bursting behind them. Here, the drama is even higher since the flames are not only behind but over Superman. 
I love this shirt because it is dramatic and shows Superman in a super-powerful pose. The predominantly yellow scheme due to the flames marks an exciting departure from the typical Superman merchandise colors.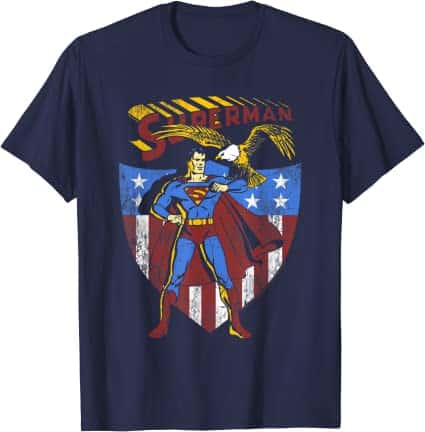 This shirt is a callback to Superman's more patriotic days. Both Superman and Wonder Woman have been unabashedly American in their conception. In Wonder Woman's case, she had red, blue, stars, and even the eagle on her chest.
On the other hand, Superman only had the colors to represent America. But this shirt compensates by having stars on the back and an eagle on his arm. There is no way up for an American patriot from here.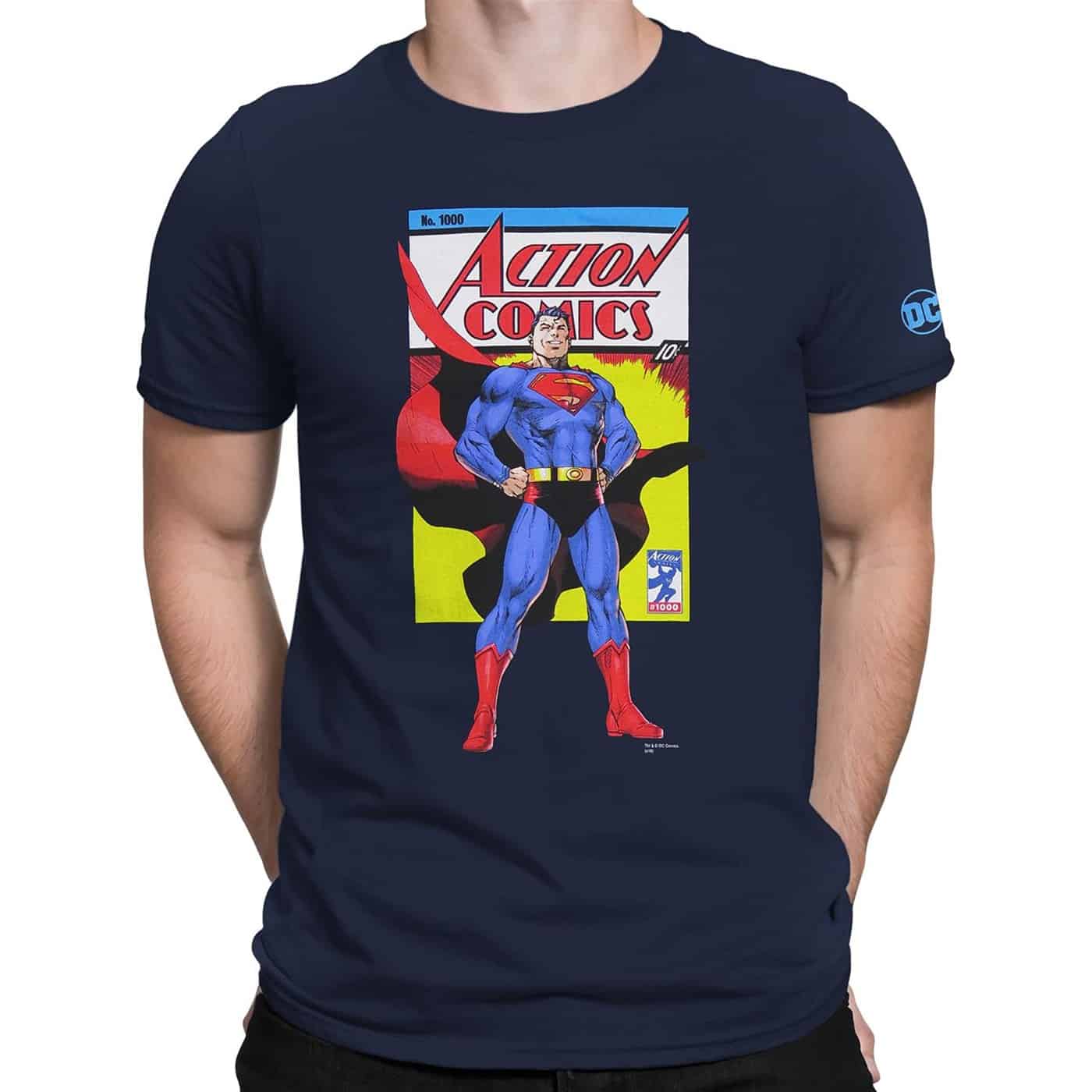 Action Comics, n°. 1000 is an essential milestone for Superman. Even though the image is not a faithful reproduction of the cover, this shirt is a great way to show you're a fan. But being different is actually a good thing! 
This shirt depicts Superman from issue 1000 against the backdrop of issue 1. Furthermore, the original background had far too much going on. This combination highlights Superman's figure and contrasts beautifully with the shirt's navy hue.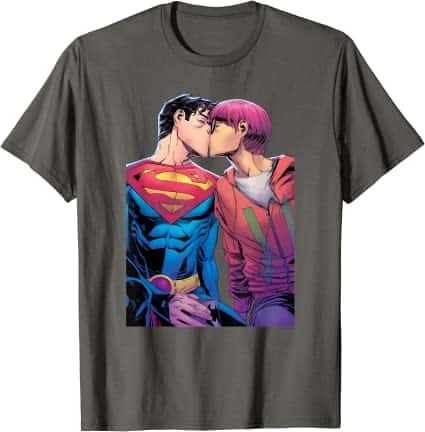 Superman: Son of Kal-El follows Jon Kent, son of Clark and the new Superman. With this new generation, writer Tom Taylor saw an opportunity to make something different and turn this new Superman into a symbol for so many more people. 
Thus, Jon Kent came out as bisexual on issue 5 of the comic. In this shirt, he kisses his love interest, Jay Nakamura. Again, this shirt is a great way to showcase a new representation of the LGBTQIA+ community. Plus, it looks great because the background color matches the image perfectly.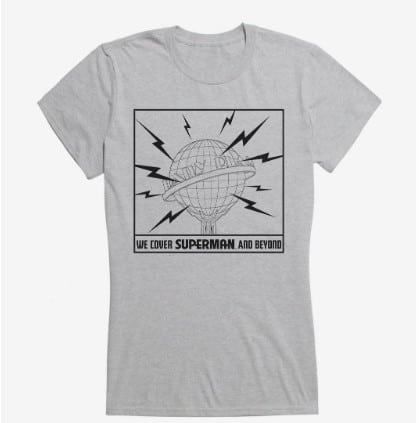 This shirt perfectly represents the iconic workplace where Clark Kent and Lois Lane work. The choice to keep it black and grey is intriguing because it lends itself to a minimalist aesthetic. The page is straight out of comic style; I especially like the lightning bolts coming out. They give that unique, playful pop art flair that old comics had.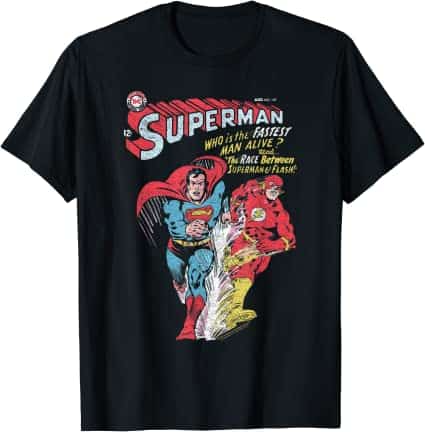 The question of who would win a race between The Flash and Superman man is a heated debate that has persisted through the years. This shirt features another iconic comic book cover, albeit without the background.
In Superman issue 199, Superman and the Flash raced to see who would come out on top. Due to several shenanigans, we don't find out who is fastest, as the race ends with a tie.
Up In The Sky Concepts
I love it when a shirt has a clever idea or makes an interesting reference. This section is all about that. You'll find something beyond the obvious here that will undoubtedly catch people's attention.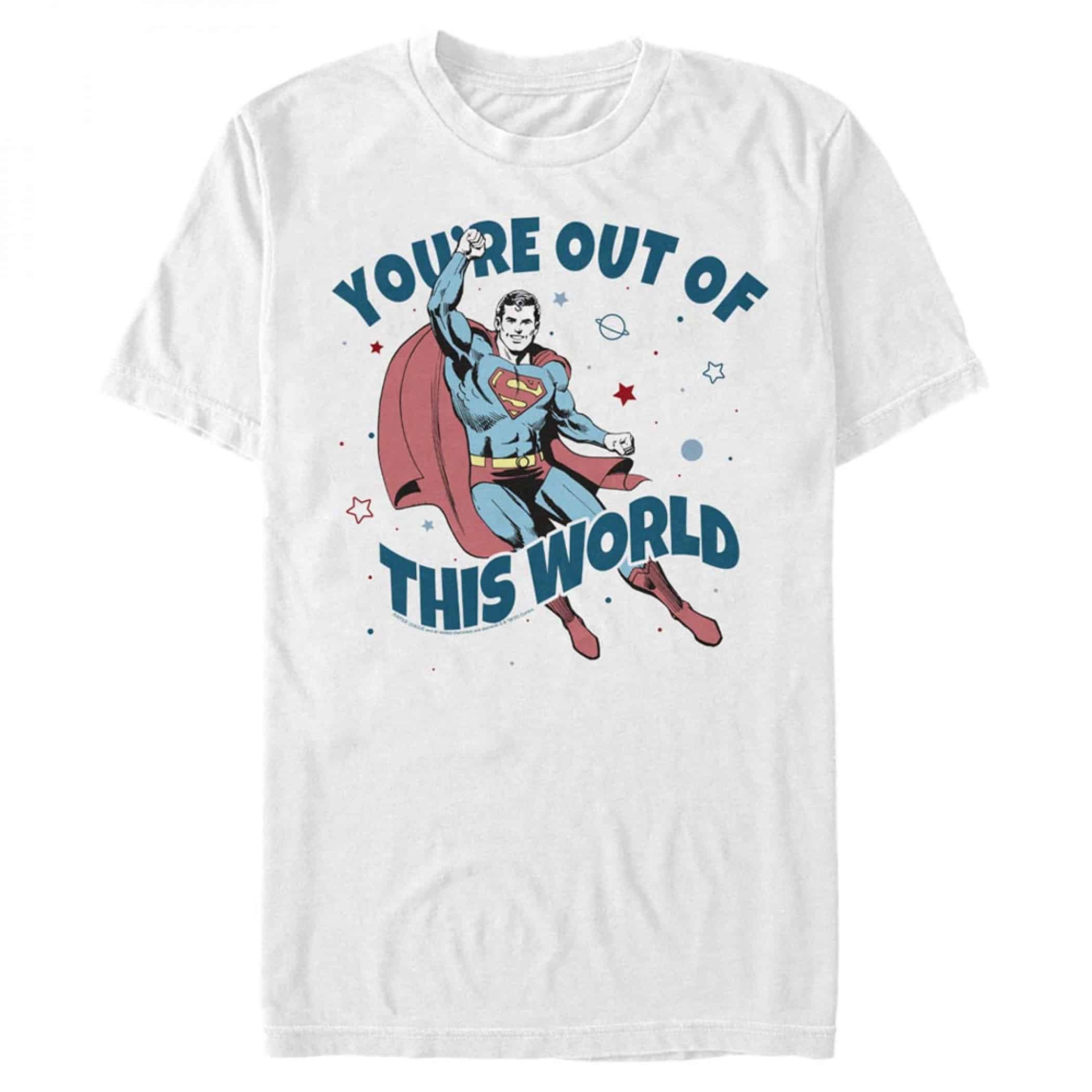 I like this shirt because Superman seems to be having a good time. Furthermore, the placement of the curved letters on Superman works really well and matches the curve of his cape.  The whole figure has a harmonic sense of composition, which is uncommon in shirts. Plus, the little stars and planets in the background add a nice touch.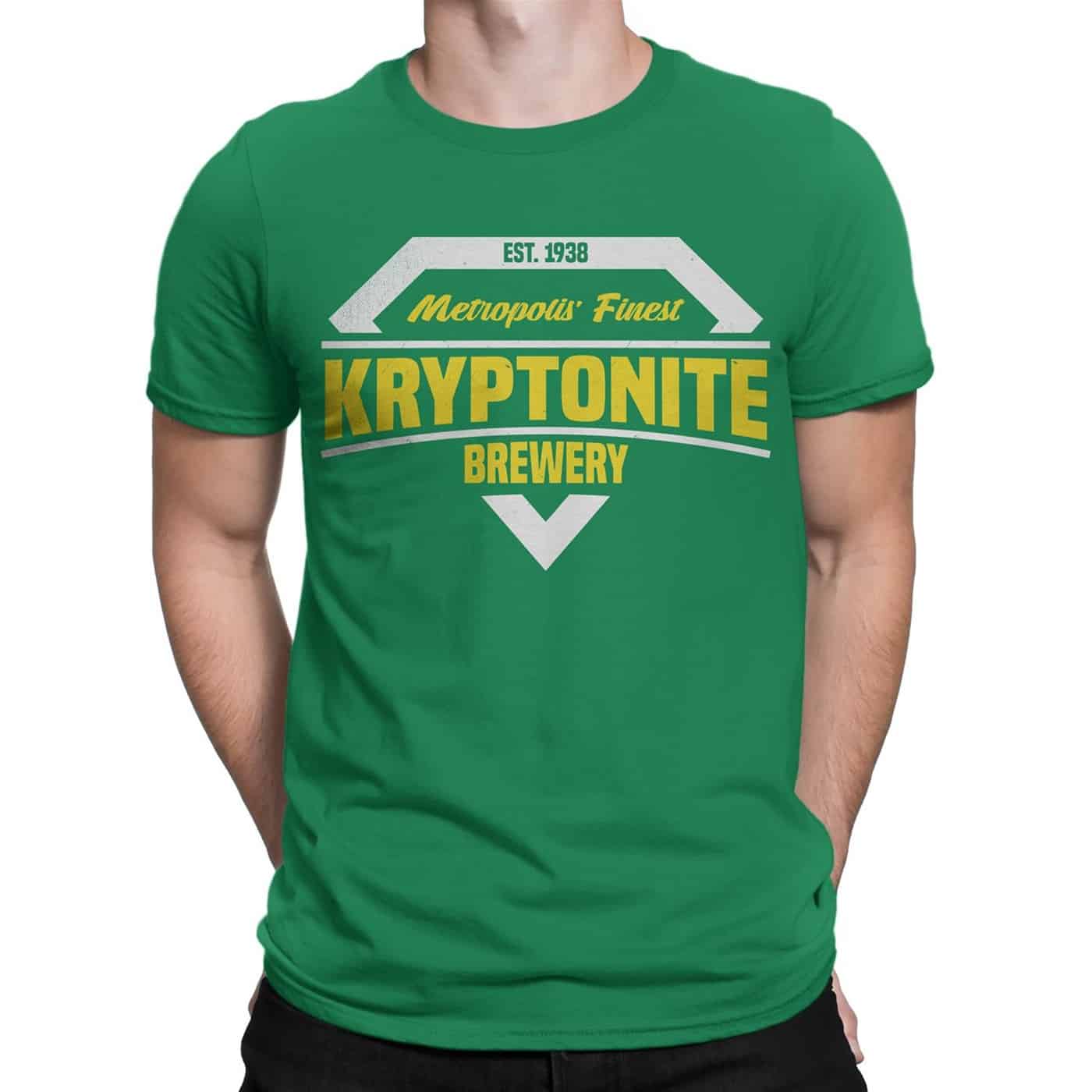 Do you enjoy beer? If so, this is the Superman shirt for you. The green and yellow go well together, and it's a nice change from Superman's usual merchandise color. This is not an accidental change, as the green alludes to Kryptonite.
The letter design and composition are one-of-a-kinds. This symbol could easily serve as the logo for an actual brewery. If a place like that doesn't already exist, it's about time someone created it.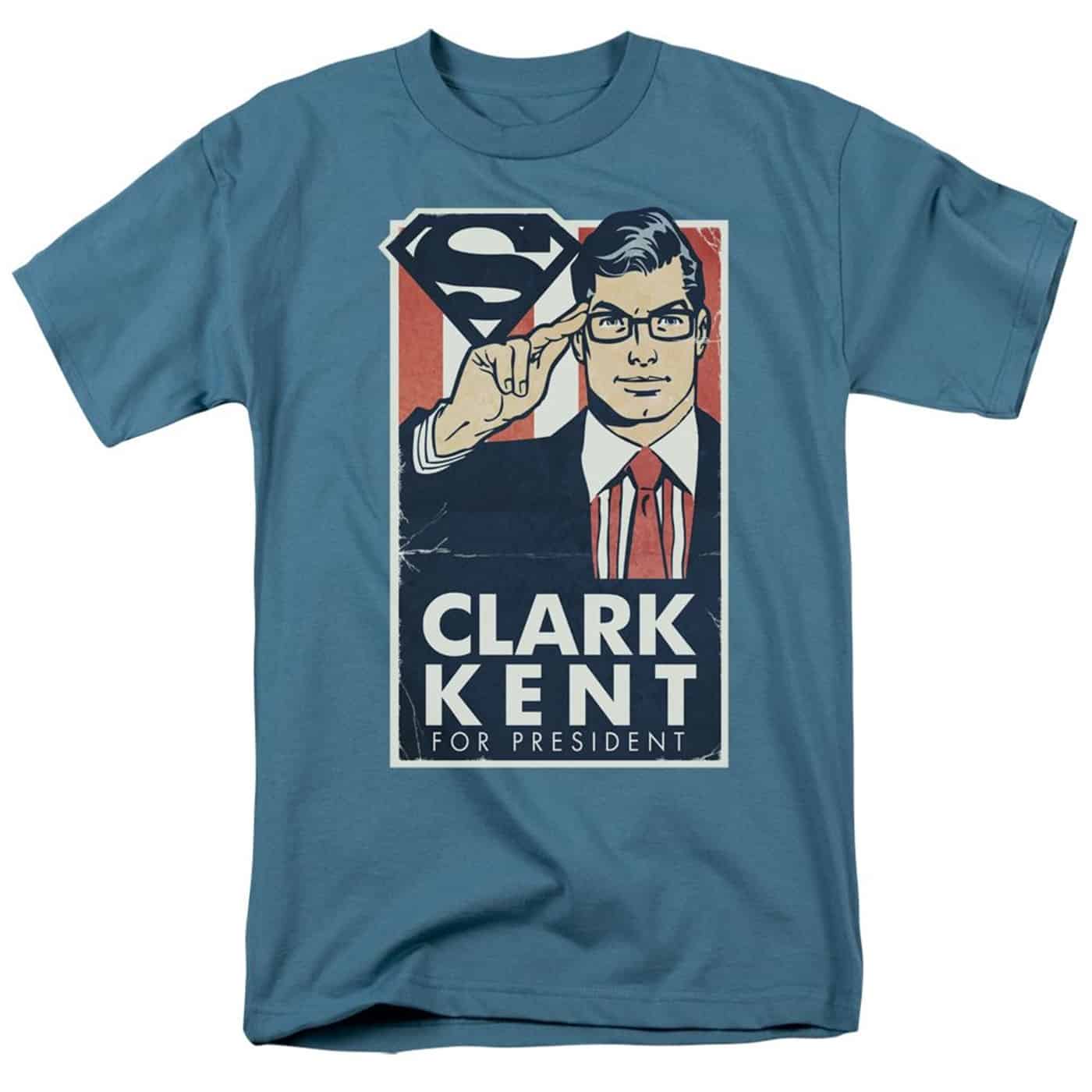 This is possibly my favorite shirt on the list in terms of concept. I love the idea of Clark as president because he is ethical, kind, and relentless.  Besides, Clark is rarely in the spotlight instead of Superman, and  I absolutely love how vintage the shirt looks.
Despite the image being a square, the S symbol stands out a little, providing some movement. The shirt primarily uses red and blue, but the muted colors help it stand out from other Superman merchandise.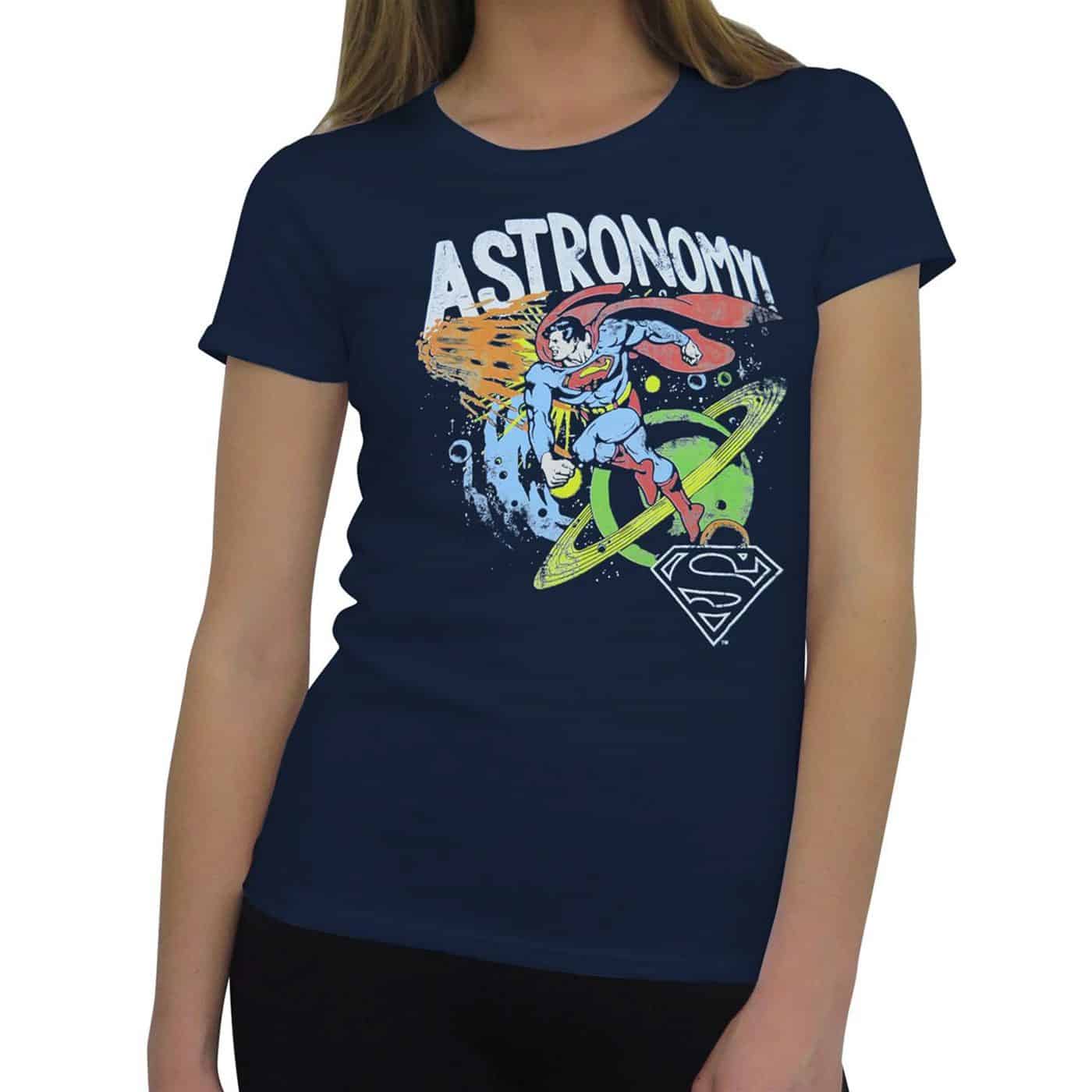 As an alien, Superman is a great candidate for an astronomy t-shirt. I love this one because it is one of the most dynamic on the list. I like that Superman seems to be punching asteroids, how the letters are placed, and how they complement the other elements. Moreover, the letters' diagonal orientation provides an excellent sense of movement.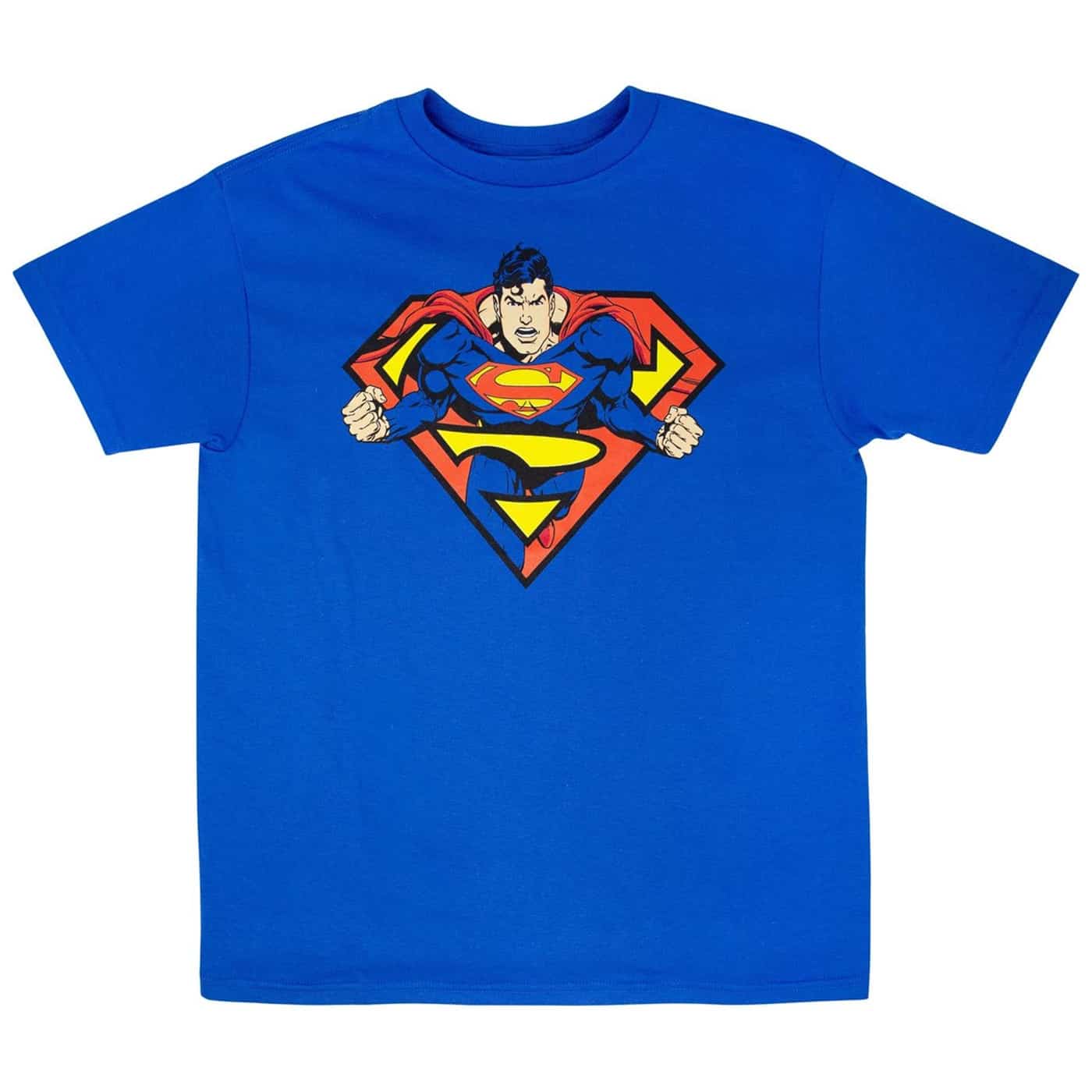 This shirt has one of the most brilliant design ideas on the list. Superman and his logo intertwine perfectly, especially the cape's upper part.  I love how his arms escape the symbol and how vibrant and beautiful the blue is. It would be a fantastic idea for a movie poster, whether animated or live-action.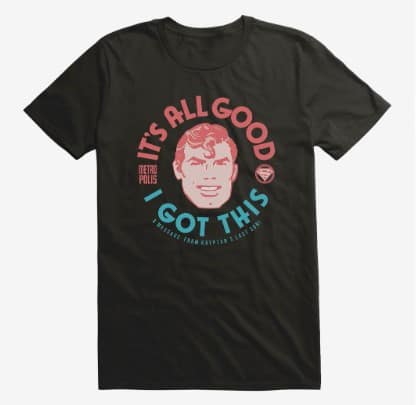 This shirt is cool because it embodies Superman's positive attitude and people's trust in him. In addition, I appreciate the shirt's departure from signature colors in favor of soft blue and pink. The phrase "a message from Krypton's last son" is also a nice touch, as it beautifully circles the image and sounds like it could be from a vintage comic book cover.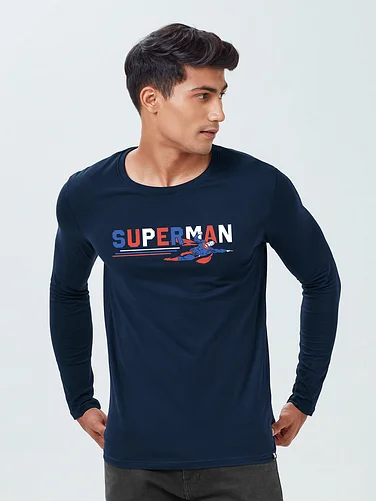 This is an exciting option if you like long-sleeved shirts. Unlike the other options on this list, the image does not take up most of the shirt. This will work great if you want something fun but not flashy. The letters and Superman match perfectly, and the blue background is stunning. Moreover, I like how the colors of the letters alternate.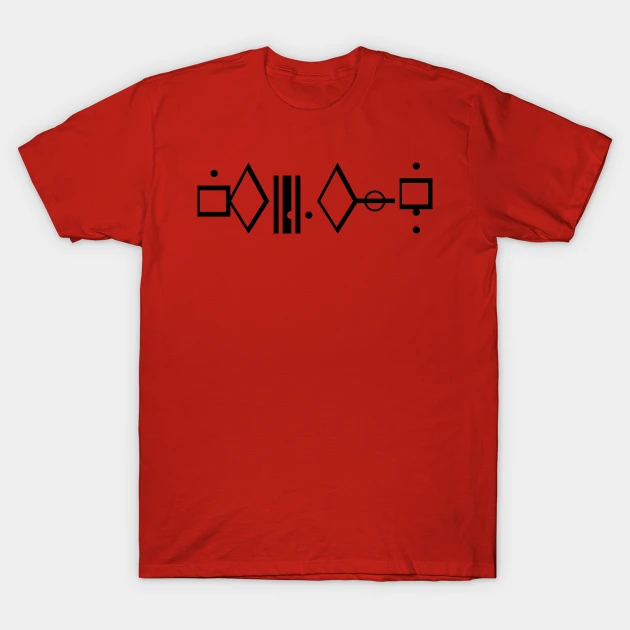 Hope is written in Kryptonian on this shirt, in beautiful and intriguing writing. Because it is so unique and alien, this is one of the shirts I would most likely purchase. I like that this shirt comes in various colors, but my favorite is Vintage Green because of its connection to kryptonite and its beauty.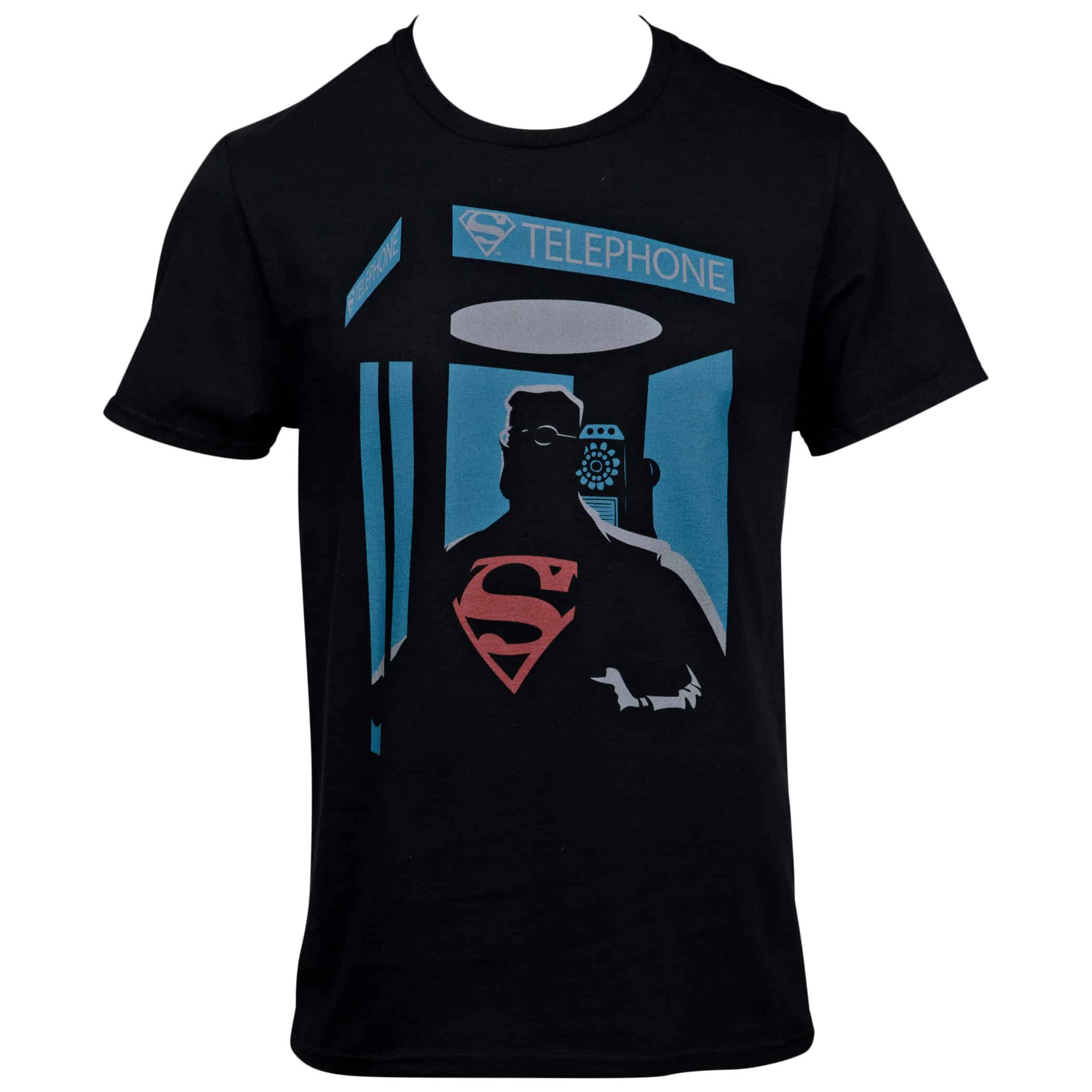 This shirt displays one of Superman's most classic concepts. In early Superman stories, he changed his clothes in a telephone booth. Not only is this shirt meaningful for fans, but it also looks quite nice. The silhouette design is beautiful, and the black and blue work really well together. Plus, the highlighted red symbol draws your attention to the image.
All-Star Art Styles
This section contains some of the most beautiful Superman t-shirts you'll ever see. What can emerge when you deviate from the standard design is fantastic.
I love how mighty Superman looks, flying up front. The simple minimalist design is attractive. Sometimes too many details can spoil a good thing.
In this case, the highlight goes to the cape, which extends in threads giving a speed effect. The Skyline below shows Superman's connection to the city; this whole illustration conveys a sense of what it must be like to fly over the city.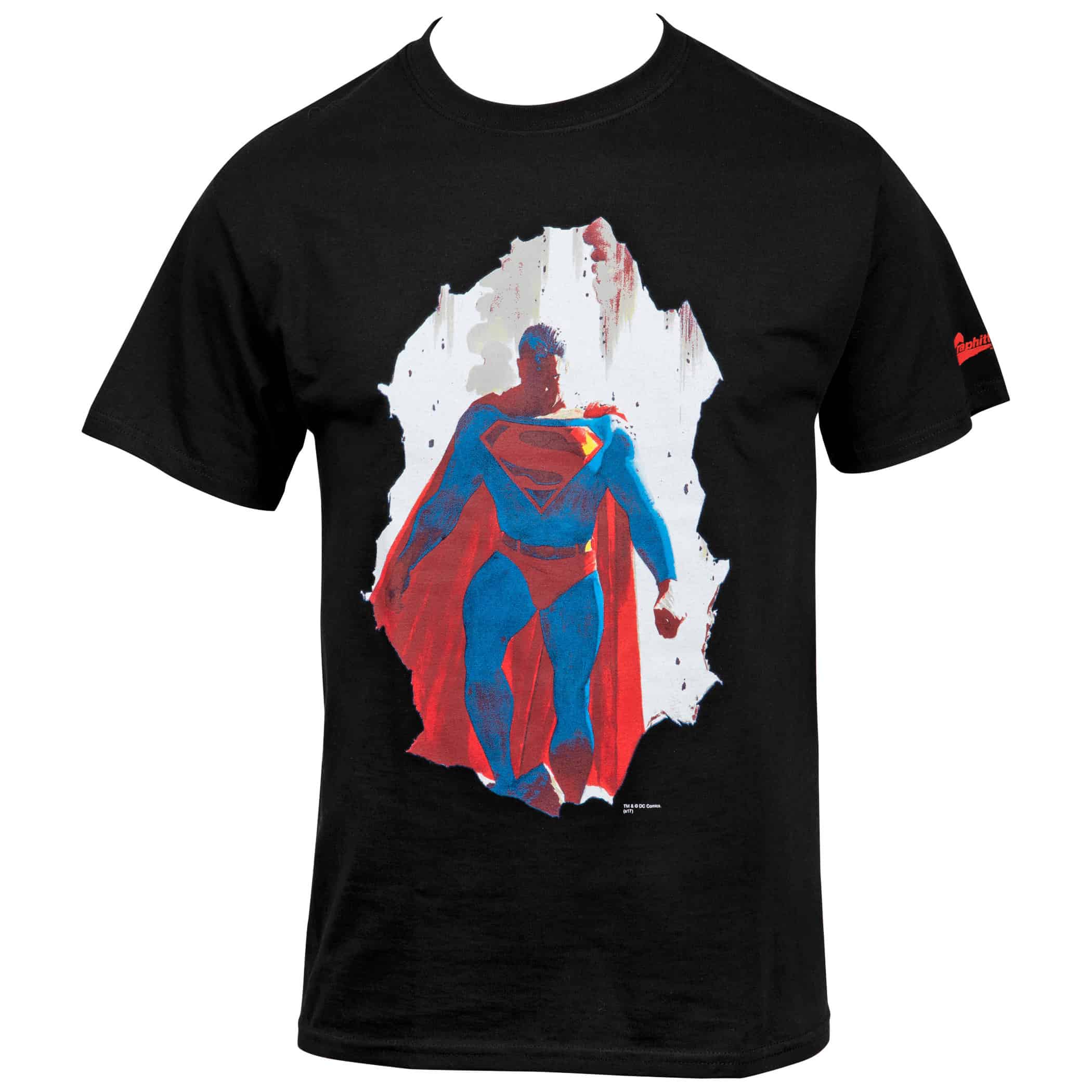 This is one of the prettiest shirts on this list, representing Kingdom Come, one of the most iconic DC stories ever. Alex Ross has a way of portraying DC characters as if they were gods. Up to that point, I had never seen a comic book done with paintings, and it surprised me in the best way.
So this shirt is significant for its unique art style, but also due to the story. Kingdom Come's Superman has a new uniform, a new symbol, and a new attitude that would mark the character forever. 
Superman's mighty pose but downward gaze exemplifies this iteration in the shirt. Plus, the way he emerges from a tear in the picture is stunning.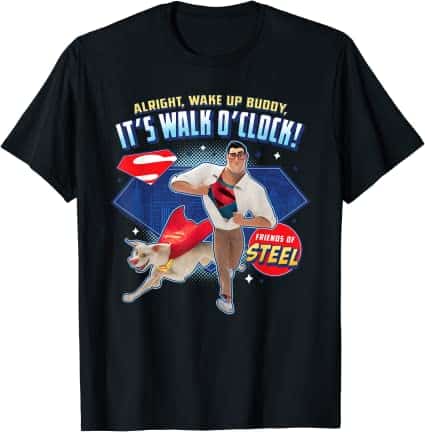 If you have a pet, this might be your shirt. The Super Pets animation has a lovely art style which makes for a stunning shirt. This shirt is great if you want a more playful representation of Superman. In addition, it is one of the best on the list in terms of composition, and the colors are vivid and stunning.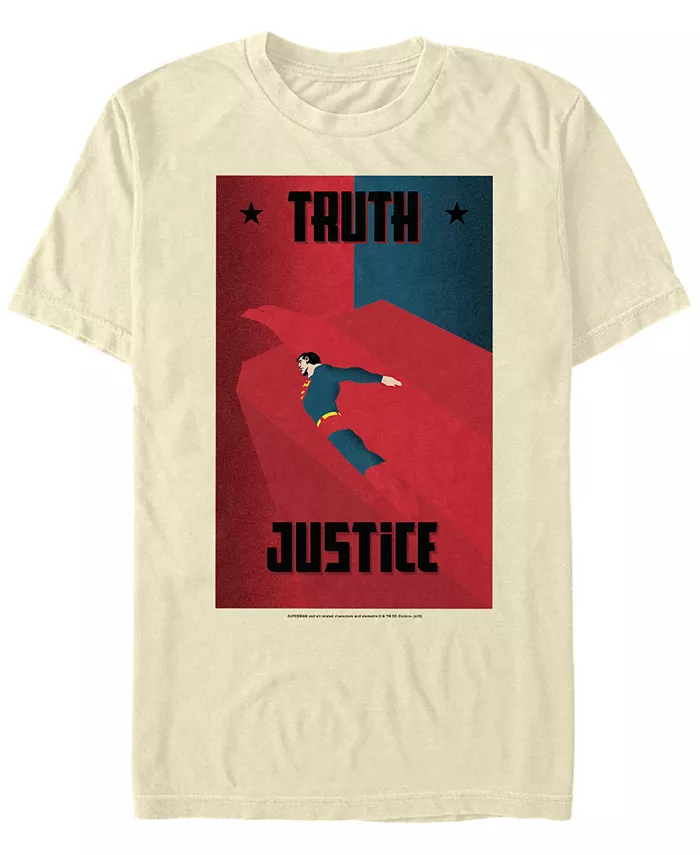 This shirt depicts an integral part of Superman's history: his motto.  The hero has always stood for Truth and Justice, but the final part of the mantra has evolved over time. The motto was changed several times until Jim Lee announced in 2021's DC Fandome that the new motto would be "Truth, Justice and a Better Tomorrow."
Outcries aside, this shirt perfectly mixes the central part of Superman's motto with a beautiful image. The art style is simple but stunning, and the shirt's cream color perfectly matches the image's hues. Besides, an eagle's shape in the background alludes to the classic motto. This one is bound to please all audiences.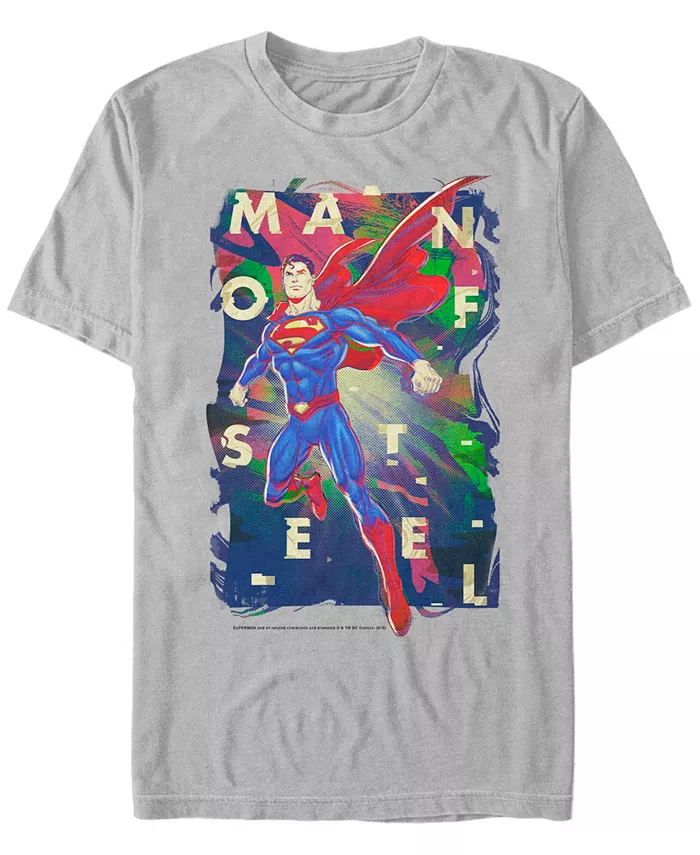 I love when Superman flies out of Earth, and in this shirt, he stands into a reimagined version of outer space with stunning colors. Superman looks like he is in front of a beautiful aurora, and the background's organic shape gives the image even more movement.
However, I'm not a fan of how disorganized the letters are. When something is difficult to read, it indicates poor design. But I'm willing to let that slide because this imagery is one of the most creative involving Superman.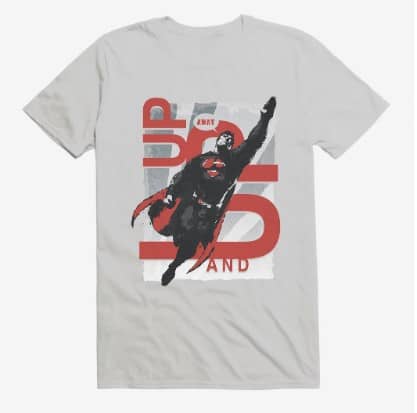 This shirt's composition is extremely well done. Even though the elements are scattered, everything is neatly tied together. My favorite part is how the word "up" is written in various directions, with the words "and" and "away" rounding out the phrase.
Unlike the previous example, this shirt subverts the natural order of the words, but the message remains legible. Furthermore, the black and red color scheme works flawlessly.
When creating a geometric design, there is a risk that your concept will appear too abstract or strange. That is not the case here at all. The combination of Superman's "pointy" design and the colorful triangles all over him is stunning. Furthermore, the contrast between the figure and the background is superb.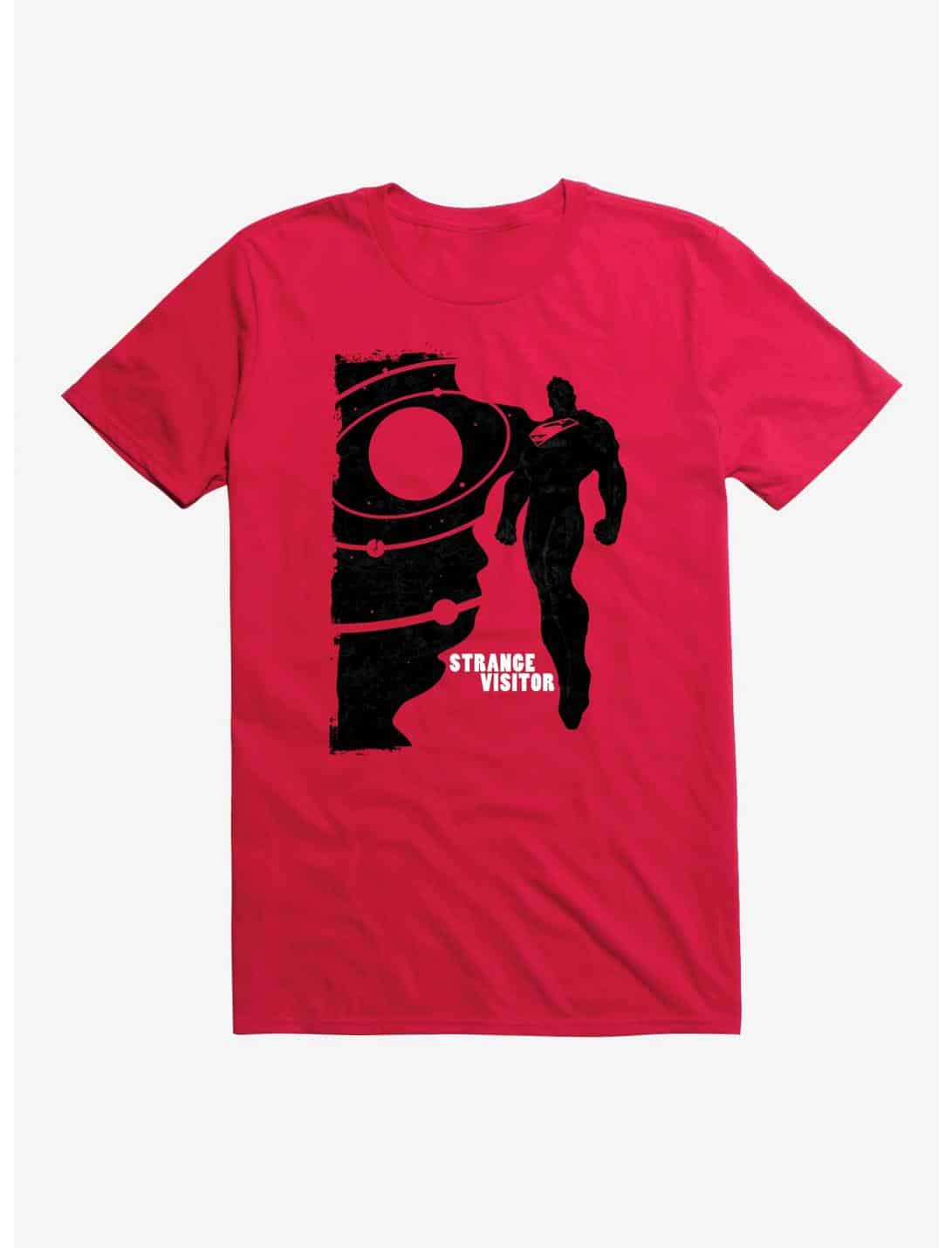 This is yet another example of how red and black always work. However, my favorite aspect of the shirt is how it emphasizes Superman's alien nature. I like the idea of his cape acting as a window to the universe in terms of design, but the shape is a little confusing. I believe the designers could have worked with the shapes to clarify the design.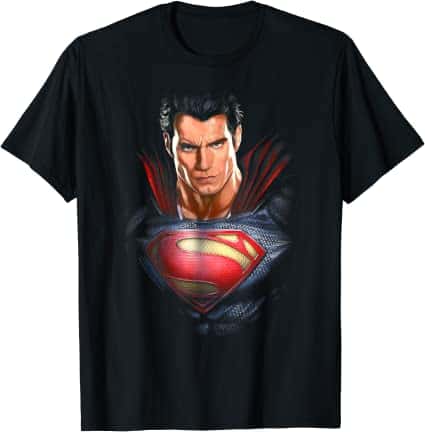 I'm a huge fan of "Man of Steel," but I had a hard time tracking down some cool tees that featured the movie.  Snyder's color design is muted, which means it doesn't look good when placed against dark shirts. Despite this, most of the shirts that could be purchased online have this issue. On the other hand, this item makes Superman's colors more vivid, highlighting how beautiful this painting is.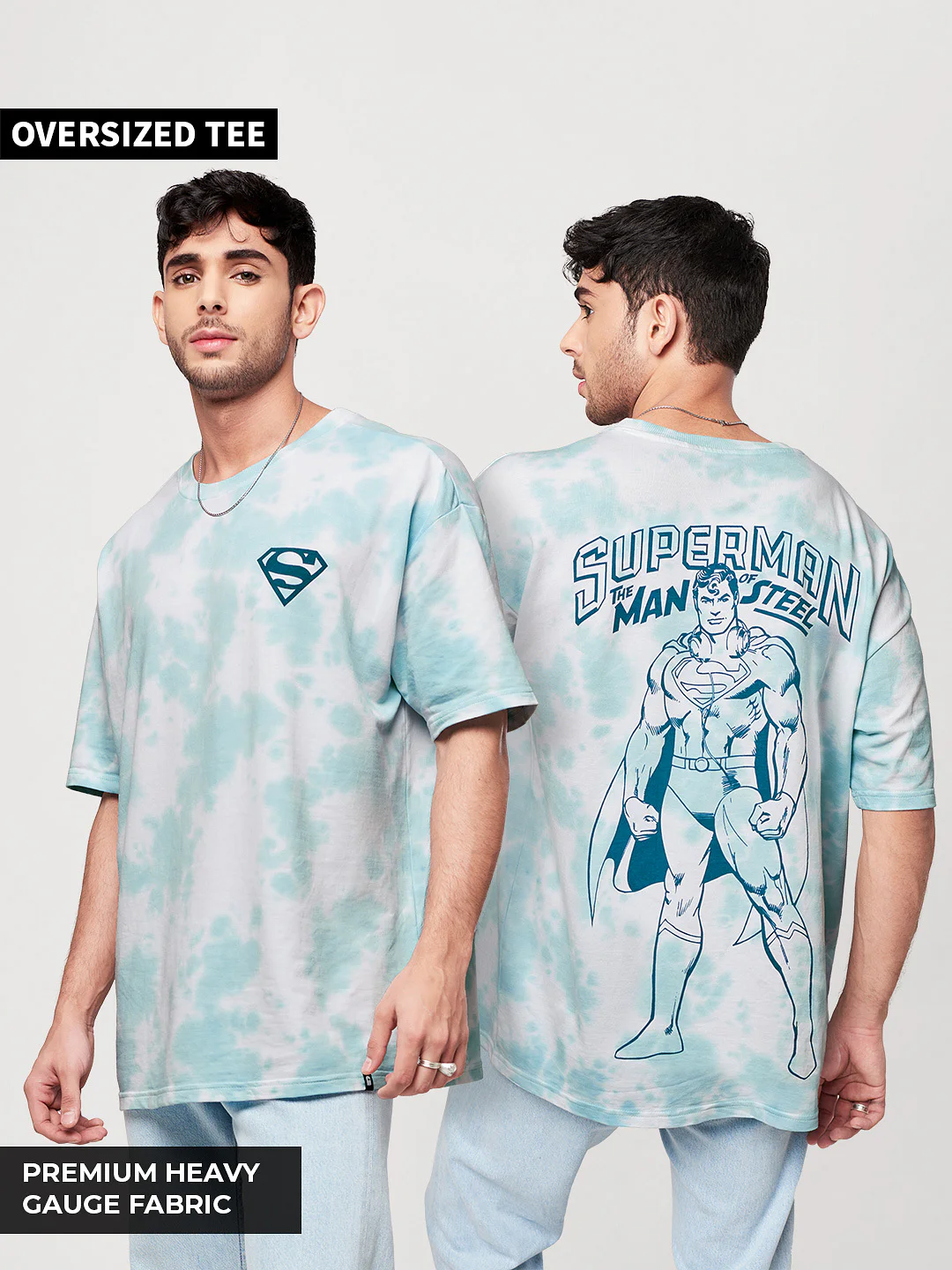 Tie-dye has been in vogue for a long while, but there are times when I really dislike it. However, this shirt changes that by mixing the watered-down effect with a stunning Superman picture. This mix works because the tie-dye effect is all done in blue and white. Another score for this item is that I like shirts with a simple front, but the back is eye-catching.
Frequently Asked Questions
Question: Where Does Superman Put His Clothes?
Answer: This mystery was answered once during the Silver Age era. Superman's clothes were made of a compressible fabric, which made it possible for him to fold them into a miniature tablet safely stored in his pocket. Cool, isn't it?
Question: How Much Did Christopher Reeves's Superman Cape Sell For?
Answer: The original cape from the 1978 film Superman became the most expensive cape sold at an auction in 2019 when it was taken for $193,750 at Julien's sale.
Question: Where Does Superman Change His Clothes?
Answer: Different authors and media have provided many solutions, but the most iconic one is that Clark changes into Superman in a phone booth.
World's Finest Choices
I had a lot of fun choosing Superman shirts for this list: I found more exciting items than I thought possible. Krypton's last son is one of the most recognizable superheroes ever, and I'm sure that people will pay attention to whatever shirt you choose from this list. If you want to check out more Superman articles, some of my favorites are Thor vs. Superman: The Ultimate Face-Off and Superman vs. Darkseid: Battle of the Gods.
Recommended Reads: