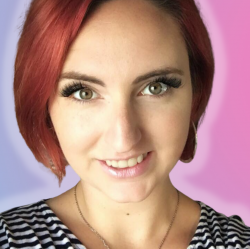 Latest posts by Jessica Vine
(see all)
Lady Deadpool, you say? Who is this chick, and does she hold a candle to our beloved Deadpool from Earth 616?
Don't freak out because Lady Deadpool is not from the same universe as Deadpool. She is from Earth 3010. However, Deadpool did meet her at one point. Our favorite burrito-loving anti-hero was on a mission to return Headpool to his home dimension when he bumped into Lady Deadpool, but more on that later.
Bottom Line Up Front
Lady Deadpool gets into a lot of fights which is very much like Deadpool from Earth 616, but she has her reasons for doing things. Once you learn more about her, she starts to grow on you.
Basic Information on Lady Deadpool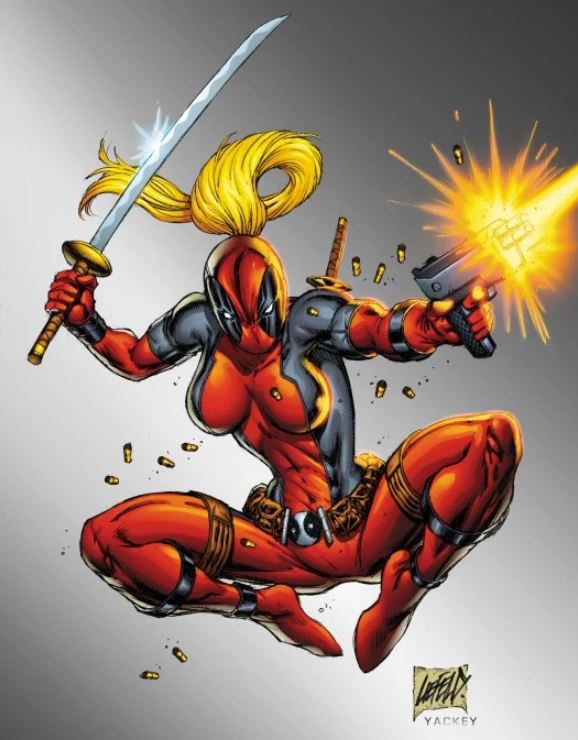 Lady Deadpool is from Earth 3010 and is named Wanda Wilson instead of Wade Wilson. She is a little saner than Wade and the other Deadpools you see throughout the universes. However, she has some issues when she does team-ups because her teammates think she is annoying. This makes sense since Wade also annoys the people he works with because of his whit and craziness.
The question you all probably want to know the answer to is whether Wanda loves saying burritos, chimichangas, and enchiladas like Wade does. Sadly, she says nothing about these three favorites of Wades, which makes me believe that she does not. Frowny face.
In fact, Lady Deadpool only had one comic back in 2010 because they didn't pick it up, so she hasn't said much, and there's not a lot of information on her.
See also: Best WandaVision Merch Guide: 100+ Items!
Lady Deadpool's Personality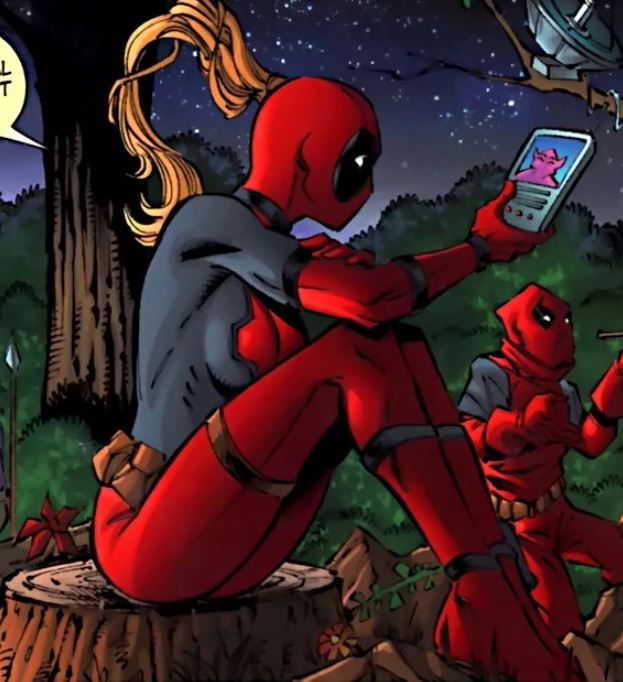 Lady Deadpool didn't have an interest in going outside. She's quite the introvert, but once she did go out, she got herself into plenty of trouble. In fact, she joined a movement and started fighting against Captain America aka General America. The reason she joined the movement was for money and for love and not to truly help the cause.
Wanda fell in love with the failed actor turned Rebel Leader Charles Randolph, and that's how she got into the battle and came up against Captain America/General America.
Keep in mind that Charles was with another woman and had no thought of being with Lady Deadpool. Even so, she was quick to put her face in front of a disgruntled man's foot to save her super crush. She even lost some teeth in this display of love for the rebel leader.
See also: Watchmen Universe Guide
What Lady Deadpool Looks Like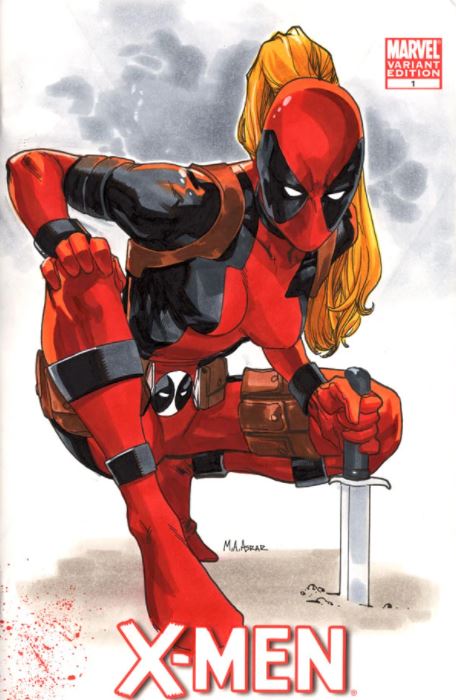 Lady Deadpool is a blonde with blue eyes, but her complexion is a little confusing. In the beginning, when everyone sees her, her face is messy like Wade's face. However, later, her scarring mysteriously disappears. The fans are all confused and no one really has any theories as to why she no longer has scarring.
Fighting with the Rebels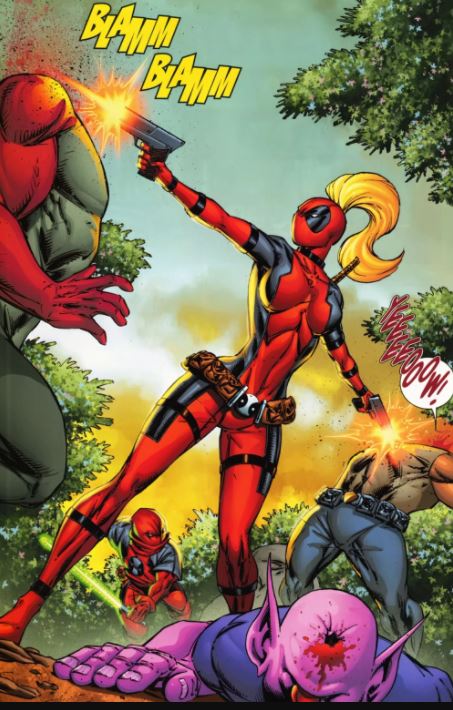 Putting her face in front of an angry man's boot isn't the only thing she did for the Rebel leader, Charles. General America took him to a compound, and she went to rescue him. All she needed was an offer of some delicious food, and she was on her way.
Wanda and General America met before when Deadpool used Headpool to bit General America's arm and take it from him. General America started to beat Lady Deadpool, and that's when Deadpool teleported in and helped her defeat General America.
Deadpool convinced Lady Deadpool to drop what she was doing and come to help him. She is really easy to influence, so she teleported off with Deadpool.
As you can see, her time with the Rebels was short-lived, and she was on to hang out (and some even say co-lead) the Deadpool corps.
Lady Deadpool with the Deadpool Corps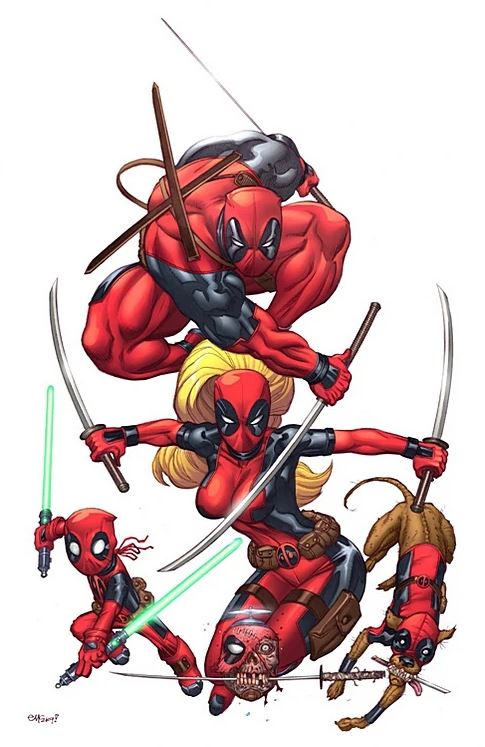 Lady Deadpool traveled to Earth 20110 when she was with the Deadpool Corps. In this universe, the native Deadpool was a part of the Avengers. However, all of the Avengers died, but no one knows why they died. Things really got weird when mind-controlling berets fell out of the sky and brought Thor, Iron Man, and Captain America back to life as zombies.
Have no fear, though, Lady Deadpool and the Deadpool Corps defeated the zombie Avengers. However, one of the berets did land on Deadpool's head, and the Deadpool Corps didn't try to save him. They blasted the Earth 20110 (Mimepool) off to the beret's planet of origin.
See also: Guide to Image Comics: The Plucky Underdogs
It's Time to Die, Lady Deadpool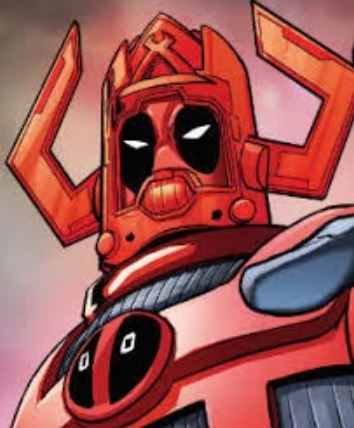 Dreadpool put out a hit on all the Deadpools in the multiverse. He used the evil version of Deadpool to go after all of these other variants. Lady Deadpool was one of the few other Deadpools alive besides Wade Wilson from Earth 616. She warned Wade about this evil Deadpool and invited him to team up.
Lady Deadpool fought with Wade and the others in the resistance. They found themselves on an unnamed world fighting evil Deadpools that didn't care about their own destruction. Galactipool was a pretty might foe, but Lady Deadpool had a plan. She sent The Bea Arthur to the face of Galactipool, and she died along with Galactipool.
Lady Deadpool Frequently Asked Questions
Question: Is Lady Deadpool Married?
Question: Does Lady Deadpool have kids?
Question: Is Lady Deadpool's hair real?
Answer: Yes. It's her natural hair.
Conclusion – A Short Life
While Lady Deadpool didn't have a lot of page time, she was a pretty cool character. Her death still leaves some fans confused since Wade Wilson can't die due to his abilities. They wonder, "How can Lady Deadpool die having his same abilities?"
Superfans remind readers that Thanos cursed Deadpool from Earth 616 so that he can't die. Thanos and Deadpool both had a thing for Death, and Thanos didn't want Deadpool and Death to be together. That's why Lady Deadpool can die, and Wade Wilson cannot die.
Now you know more about Lady Deadpool, even though there isn't that much to say. People wish the comics would have given her some more time on the page, but sadly, it seems like they didn't think she'd be a hit. At least she got to kiss Deadpool and the zombie head Headpool—if that's a good thing.
Recommended Reads: