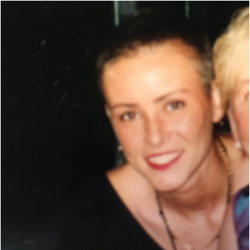 Latest posts by Richelle Tieman
(see all)
Hello friends!  Who is your favorite student bitten by a radioactive spider?  Who slings himself from building to building while protecting his city?  You guessed it, Peter Parker, aka Spider-Man. Born in 1962 and raised in New York City by his Aunt May and Uncle Ben, Peter went to high school in Queens, where he was bitten and endowed with all his Spidey-Senses!
While these shoes won't have you clinging to the side of skyscrapers or engaging in mid-air martial arts, they will give you a sense of extraordinary excitement at wearing your favorite friend and having him accompany you on your escapades.
Bottom Line Up Front
For those of you who just want the end game, or want to make a quick decision, here is the list of Spider-Man Branded Footwear that cut.  (For details on each one, please scroll down).
Criteria for Spider-Man Shoe Recommendations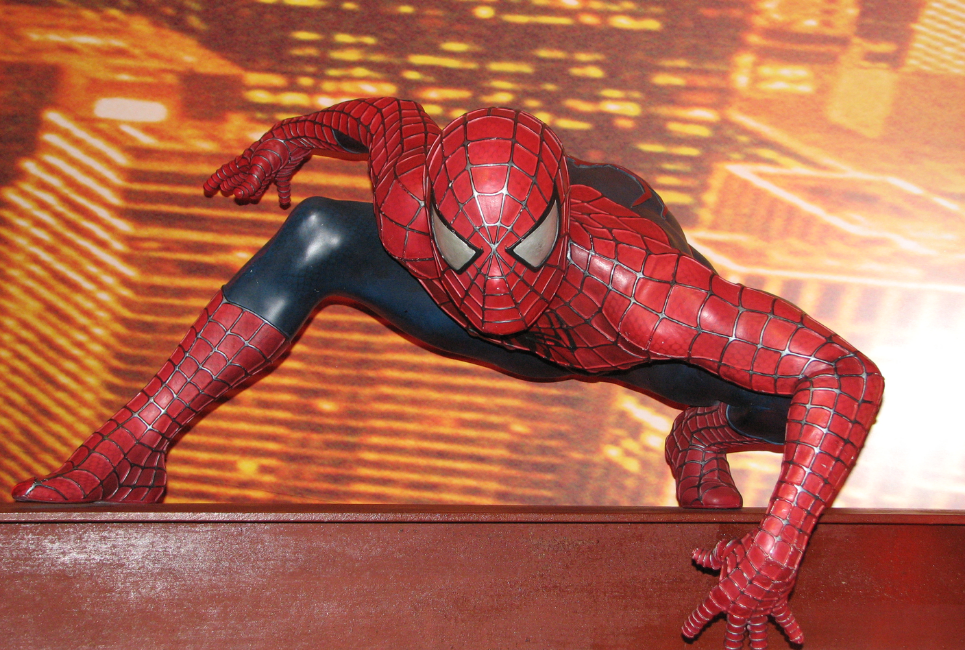 First and foremost, I value safety!  Now, you think, "these are shoes – how can safety be an issue?"  Unfortunately, when marrying design creativity with mass demand, there are sometimes unexpected glitches.  The good news is that there are thankfully few and far between safety issues when it comes to superheroes!

A very close second – in fact, a tie for first place is quality. How well an item is made, the materials sourced for manufacturing, the lifetime of the shoe, etc.  My recommendation will always be based on a good quality item.  Decades of experience have taught me that I rarely regret investing in high-quality anything, especially if it is going on my child!  After-school activities, weekend adventures, climbing, mud, yanking on shoelaces, even friends borrowing the shoes are some of the tests I think of – and of course, the Washing Machine!

Another trait I greatly admire in shoes is the ease of use. I don't think I bought a pair of shoes that had laces until my child was in 5th grade (an exaggeration, but it felt that way)!  Getting out the door in the morning was akin to trying to breathe underwater!  Velcro tabs, elastic laces, slip-on moc styles became my go-to! My reasoning was he's got his whole life to learn how to tie shoes and only a few years to benefit from the enjoyment of Spider-Man shoes, so why make something so small harder than it has to be?  Luckily, it all worked out…lol.

Art Work!!  Does Spider-Man LOOK like Spider-Man, or like some kind of mish-mash ghoul from the garbage compactor?  Some imitation designs leave much to be desired – and are incredibly disappointing to see.  Stick to Marvel branded items.

Comfort.  If your child is not comfortable, you're not going to be relaxed.  Whining, crying, falling, tripping…you get the picture -(and that was just me)! Blisters to bandage and treat later.  Yep.  I know.  Choose comfortable shoes (usually means good quality) for your child, even if only for one season.  It will save you headaches later.  Look for parent reviews, Google "best rated Spider-Man shoes," pick a well-known brand like Adidas or Stride Rite, and stay away from brands you have never heard of.  Make sure the sock wear is appropriate when trying on shoes.  What may have fit "perfectly" with thin knee-highs may be pinching and tight with athletic crew socks.

Toe test. Your youngster's toes should not be right at the edge of the shoe, but instead, you should be able to push your thumb down between your child's big toe and the rubber toe guard of the shoe.
Features such as uniqueness, "wow" effect, water-proofing, coloring, alternative fastening, etc., are all things that I note.  Every child will have their specific ideas of what is appealing, and I run the spectrum on styles.
Disney Branded Marvel Spider-Man Rain Boots by Native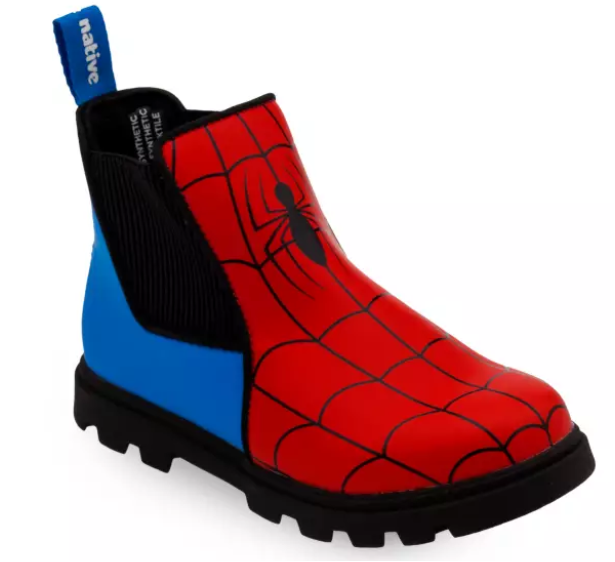 This gets five out of five stars because it is from Disney Branded Marvel merchandise, has satisfying reviews, is made of durable material, and has a very grippy thick sole!
The best thing about this is the slip-on style with easy handles on the back to pull up and stretchy goring on the sides!  This specially treated waterproof boot is high enough to keep your little one dry from puddles and still fit underpants.  Bright colors attract the eye and send a vibe of happiness, and there is no mistaking what superhero is represented by the web!
These water-repellent rain boots by Native are easy to clean, have a mesh liner, and the high traction thick rubber outsole won't wear out before your child outgrows them!  They are perfect for handing down from child to child.
Buying Spider-Man Smart
How about a Spider-Man Santa or a Spidey Shalom?   Such was my challenge when it was announced to me that the holiday season would not be complete unless our entire apartment was littered with all things Spider-Man.   What happened to gratitude? My offspring took their lives and wrapped them around that red costumed, web-shooting superhero-like strands of wispy but steel-strong web.
Friends, I would urge you to do what I did.  Please make use of thrift stores for anything that will get outgrown.  (The money you save can go for a nice framed poster of why kindness and gratitude are essential.)
Also, anything unique, retro, or hand-made can be found in the excellent second-hand condition.  Rarely have I been disappointed with buying from well-reviewed sellers.  However, I do ask questions of all sellers before purchasing from them.  This clarifies any uncertainties about the product and indicates how attentive the seller is to the customers.
There are items for growing children that have hardly been worn because the sellers' children outgrew them before they could dirty them!  Just as your child may only wear the latest trend for a season, so too do theirs!
Unless you are buying Spider-Man shoes for an avid adult collector, or an almost-twenty-something teen, my bet is on second-hand like new shoes.  With the haves and the have nots so prominently fixed in our minds, consider it a Spidey sense skill to scope some fabulous shoes and put them in your child's closet to find when they get home.  Who knew the box didn't come straight from the Disney Marvel shelves?
Spider-Man Canvas Branded Slip-On for Children at POSHMARK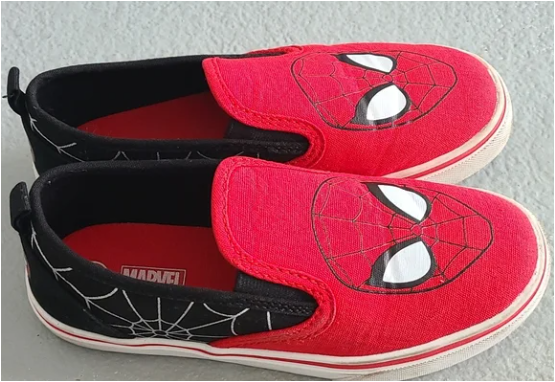 Find these and many other fantastic bargains at POSHMARK.
Brightly colored Spider-Man Branded slip-on for Spring, Summer, and Fall -maybe Winter depending upon where you live! Eye-catching, check!
Ease of use, check – slip them on and use the back tab to pull them up!  Quality and longevity, check – they are Marvel branded, which gives them a name that wants to satisfy! Goring on the sides gives them to stretch.
$, check!  Finding "like perfect" quality shoes for growing feet at thrift stores is a genuine bargain I don't want to miss! In the description, she lists them as being "worn twice."  Sound familiar?
Tricks of the Trade
I have learned a trick of the parenting trade: Use a water-proofing protector on your young one's shoes to minimize wear and tear and provide some puddle-splashing defense!  This will extend the lifeline of shoes that are put to the test every day (and keep your loved one's feet more dry than usual….I won't go so far as to say totally waterproof!).  You can buy this in spray form or paste application; either one is fine.  I will opt for the paste if I feel more energetic with my shoe line-up.  I find that a bit more rugged and long-lasting than the spray.  I have recommendations for both below.  The price point is anywhere from about $6 – $15. It all depends on your budget, how much the shoes cost to "proof," and how long you want the shoes to last.
Some of you will have guessed that I favor buying shoes that last and last…for me, and I will invest time and money into paste proofing.  (I am known to wear my shoes for decades). However, growing feet mean perhaps one season of the shoe with my child!  For this, I will use the spray on and apply it twice.
Always test a small, hidden area of your shoe first.  Spray or rub the proofing treatment on an inch – wait five minutes, and ensure the shoe is compatible with the treatment.
Kiwi Brand Silicon Boot Waterproofer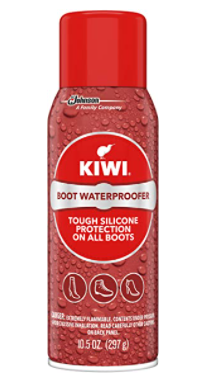 Find this must-have inexpensive water-proofing spray on Amazon.
This adheres to leather and fabric and is made of a silicon-based formula that still allows the shoe or boot to "breathe."

Kiwi brand also has excellent sibling products, such as an all-purpose proofer for sand and dirt, a specialty formula for Gore-Tex footwear, and one for suede and nubuck.

I like this brand because it has all the products you need to clean, polish, and "proof" your shoes!
The Original Huberd's Shoe Grease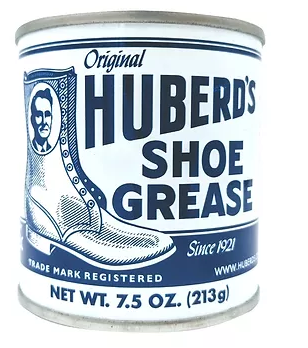 This is my favorite, time-tested water and a life preserver for shoes!
Find this at Huberd's Shoe Grease Company in Colorado!

Wear some thin plastic gloves to apply this beeswax, small-batch treatment to all contours of your shoe.

This contains no animal fats or chemical solvents, something I heartily endorse!

This has provided exceptional damage prevention with its unique barrier since 1921.

I use this on leather and synthetic materials and re-apply it at least every year – more if I see any wear and tear.
Spider-Man Comic Collage Vans Limited Edition Tennis Shoes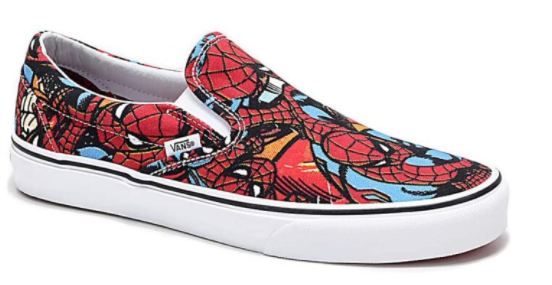 These gorgeous slip-on are a dream (and could benefit from some of that shoe grease above!).  What could be better than a trusted name like Vans sporting Spider-Man?  Two trusted names like Marvel and Vans! Quality, durability, "the real thing," check x3.
This style has been discontinued!  They are available at Red Zone Shop now, however! They come in Men's and Women's sizes from 4 to 12.
Canvas sneaker has deeply printed graphics, a vulcanized outsole, and the collar is padded and leather lined for comfort.  Fans will love this limited edition with comic book scenes splashed together for a vividly stunning appeal, and the shoebox is also a limited edition.
Spider-Man Branded Shoes – Not Just for Kids!
Millions of adults buy super-hero merchandise every year – for themselves!  Adults are now the number one targeted audience for superhero merchandise, thanks to several decades of skyrocketing non-toy superhero sales!  In part, this has been because of the number of superhero films that have been produced since 2016, with more than seven blockbusters smashing through the profit glass ceiling.  Adults are less likely to forget their chosen superheroes as the tide of new characters ebbs and flows.  The notion that "Fame is Fleeting" does not apply.
Spider-Man Shoes for the Whole Family!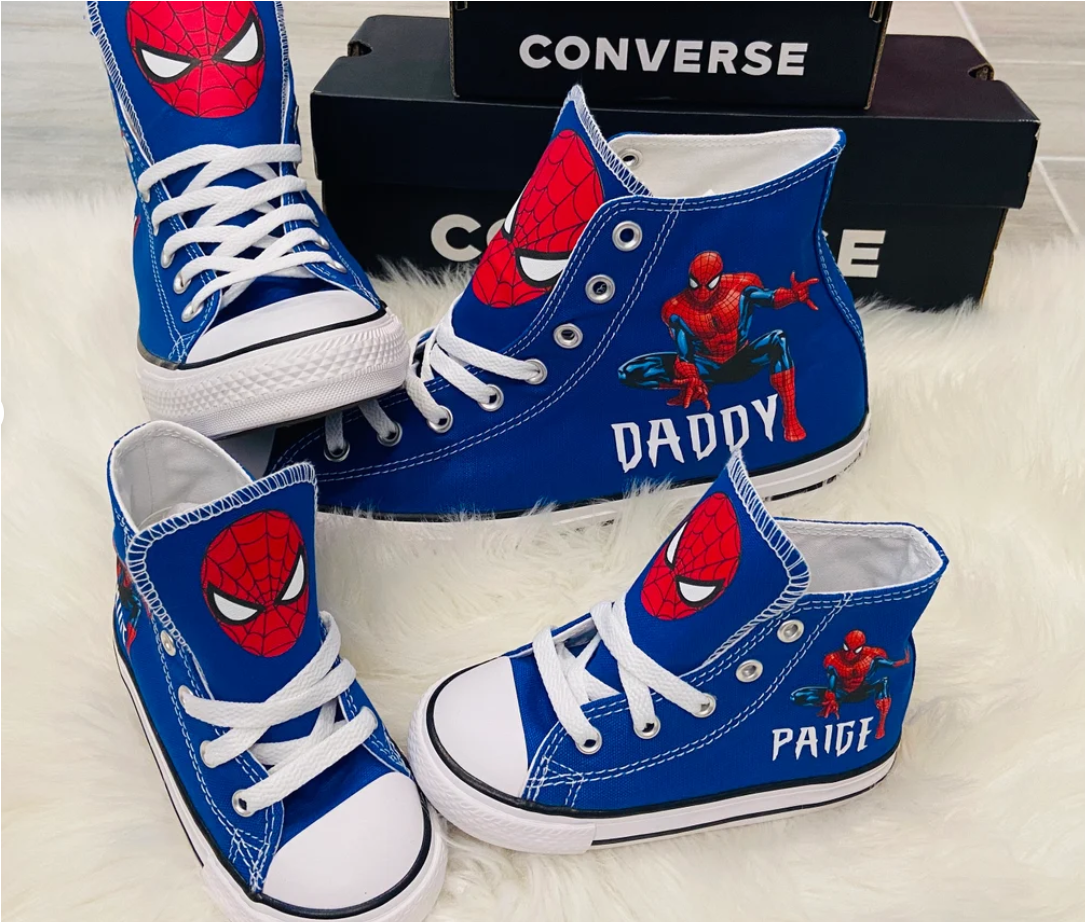 It's a family affair!  What's better than family movie nights?  Family Spider-Man movie nights while wearing your favorite hero's sneakers!
These are custom-made for your family by artisans at Etsy.  I am a big fan of Etsy for promoting the small and independent artisan – keeping skilled crafters able to make a living wage!  Etsy is known for supreme quality all-around.  I find chatting directly with the maker or owner proves to be the best guarantor of exceptional value.
This seller has more than 4800 reviews of 5 out of 5 stars!
These are Converse brand sneakers, so the construction is well done, and it's easy to know your size if you ever tried Converse sneakers on.  They are canvas, so they are probably not great in wet or cold weather (unless you use my trick above to protect and proof them).
Due to the handmade nature of these shoes and the fact that high-quality decals are used, I would spot clean them with soap and water.  The reviews all stated that the designs held up very well.
Little Kids Marvel Spider-Man Sneakers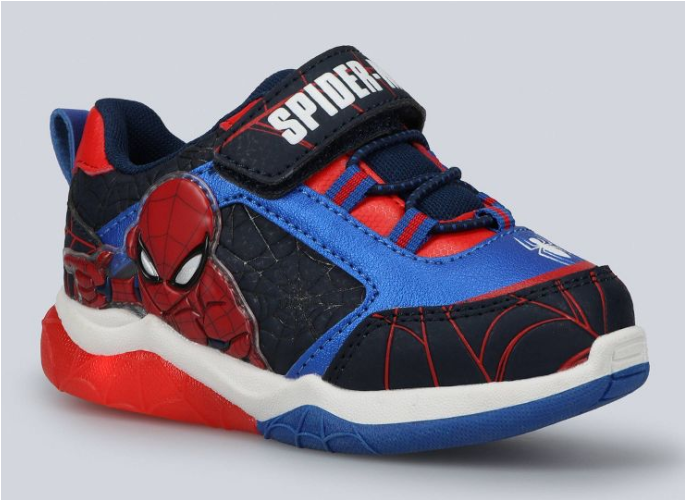 Target sells some quality footwear for all family members, in my experience with dozens of their shoes, so this met the mark for quality and the Marvel branding.  This is a colorful rendition of the superhero all the way around.  It gets top marks for grabbing the eye and holding attention with all the details.
While older children might opt for a more understated superhero look, younger children are all about that over-the-top-look-at-my-new-shoes theme!  This fulfills the popular rhetorical question, "did you know my shoes are Spider-Man?"
Ease of use – practically a must-have for all of us these days – has never been better!  With an adjustable Velcro tab closure, stretchy bungee cord laces, and a pull tab in the back for little fingers, this saves precious minutes getting ready.
Don't forget to do the toe test above in trade tricks!  Find these at Target.
Spider-Man Wow Factor Custom Designed Shoes for Adults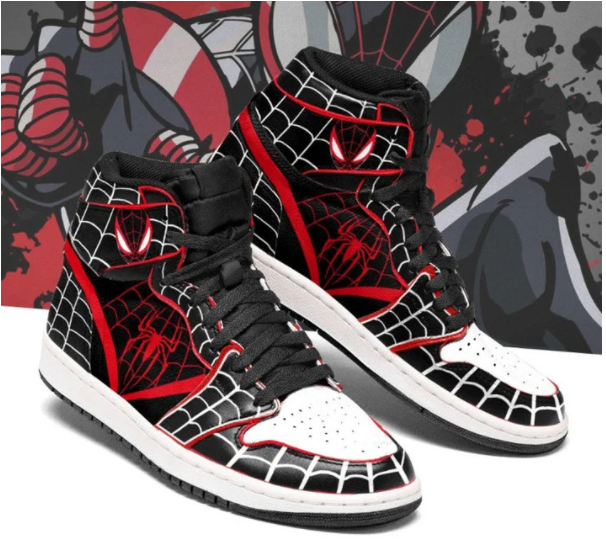 These shoes are for the adult fan and make my most-wanted list!  Sharp, clean-cut, and beautifully detailed in leather, the thick collar and mesh give it both comfort and breathability.
These shoes are custom-made for each order, and the company strives for 100% customer satisfaction.
They have a removable memory foam insole pad and an EVA outsole.
Rated a 4.9 out of 5 stars, reviews state that though standard shipping was longer than expected (ships from NV), it was well worth the wait!
Between the reviews, the unique and bold pattern, and the quality – these made the cut!
Check these out at Clown King.
Web-Slinging Comfortable Fun for the Whole Family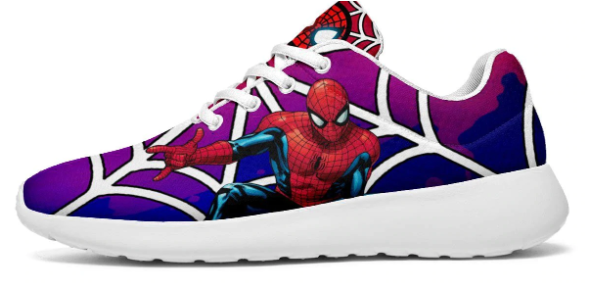 These super comfortable and stretchy shoes are a limited edition print with a 100% size guarantee and a 90-day return policy.  That speaks volumes for the quality when a company stands behind its products.
Made with a breathable mesh fabric and light and boasting a non-skid sole that grips, this shoe gets my vote.
The sole comes in black or white, and sizes come in men's, women's, and children's! Get these unique Spidey shoes at CartoonKicks.
Women's Spider-Man Comic Flats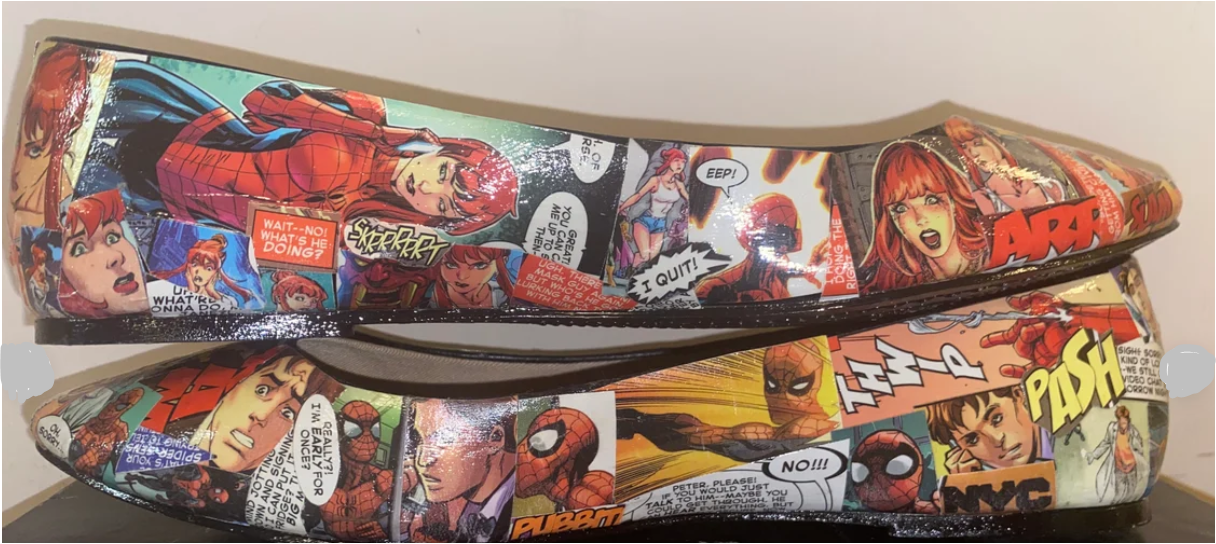 On Etsy are unique shoes that a fan can sport!  The handmade appeal and one-of-a-kind design make these an essential part of any Spider-Woman's wardrobe.  These made the cut for creativity, flat-out style, and the fact of the seller having "Dork Night Shoes" as the shop name!
The shimmery graphics will leave you staring. However, these should be considered collectibles and treated as such (no snow, wet sand, hiking…).
Reviewers report the seller tries very hard to make things perfect, and many custom shoes are ordered for weddings!
Mooshy Squishy Spider-Man Branded Slippers
Ultra-light and soft Spider-Man Slippers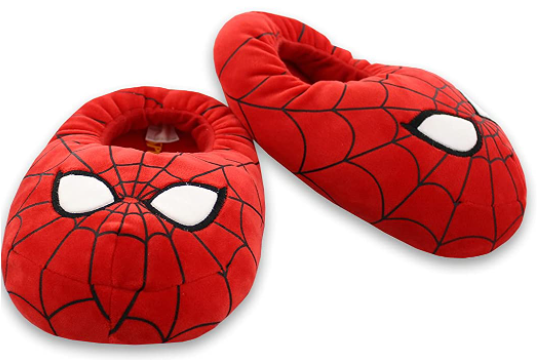 These squishable slippers made the cut due to being so much like Squishables – only for your feet and not your head!  My children had so many days of "slipper shoe" at school that it almost felt futile to get them dressed in the morning!
Though these are not for wearing in anything but the nicest, dryest weather, you will have difficulty getting these off your youngster's feet in the house.  Make sure they don't try to use them as a pillow or clean them first.
Truly Marvel branded with velvet foamy soft cushioning, the eyes are embroidered on, the footbed is spongy, and there is a non-slip sole.
Wear These Shoes and Feel Your Spidey-Senses Tingle!
Peter Parker evolved from a shy high schooler to a brilliant engineer and scientist with a genius IQ.  He has made countless inventions and gadgets, one of which – his wrist web shooter – he uses daily as he hops from vertical to vertical at faster than light speeds.  Once the arachnid bit him, some claimed that Peter's blood turned radioactive.
This young, somewhat clumsy student with a sense of humor has connected with youth everywhere.  They can see themselves in the superhero.  Youth can follow the evolution of Peter Parker's journey as they go through their own.  From learning about his arachnid-like skills to understanding how to use them, this superhero wasn't born knowing how to cultivate his talents.
The weirdest and most scientific sense that Spider-Man has is his ability to detect tiny changes and impulses in the environment.  Spider-Man can "feel" someone's punch or kick before they can even throw it.  This is not so fact-bending, as Dr. Sebastian Alvarado explains in his book The Science of Marvel: From Infinity Stones to Iron Man's Armor, the Real Science Behind the MCU Revealed!
Just as in real life, when someone starts to think of punching or kicking (let's say a punching bag is hanging from the ceiling in the basement as we have), the muscles in their arm or leg contract, which creates a bio-electric impulse.  Spidey-Senses come into play here because, similar to a spider, Peter has extra sensitive hairs on his body.  Just like our arm hair, but super aware of any bio-electric impulse given off.  Spiders are covered in these hairs, which allow them to have the same "fight or flight" response that we do.
Animal instincts, or arachnid instincts, I should say, date back to the beginning of time, and our brain houses them in the amygdala or "reptilian brain.".  This processes the most basic of our emotions and handles fear, which is responsible for helping us sense threats that could endanger our life. Spider-Man's ability to block the villains' attack before they can react is a prime example of this well-honed instinct.
In the movies, look for Spider-Man noticing his goosebumps and raised hair.  He knows there is danger nearby when that happens.  Our bodies stand the hair up to look larger to predators.  Yes, I know that you may be thinking it doesn't make us look any larger when our hair stands on end, but remember our ancestors had lots and lots of thick, long hair that could make a difference!  Raised arm hair also raises our temperature and protects us from the cold.
In Conclusion
Best Spider-Man Shoes for Toddlers
What constitutes a "best" shoe for one person does not necessarily mean it is the best shoe for another, even if it has our building-scaling masked friend jumping out of it. Young children, teens, and adults share a few of the same criteria, such as durability, comfort, and quality.  However, they differ regarding the specific attributes that make it desirable for that age group.
Young children need time…and more time…to get ready.  Even more than adults.  Or at least their time is much less multi-task focused than adults.  So, right up there with quality will be ease of use.  Those three little words make a world of difference in how the day starts. Velcro closures, back pull tabs, and bungee cord laces will be appreciated.  The word adjustable takes on a new meaning.  Slip-on is even better, although they are less likely to stay on the child's foot. (Parents note that I highly recommend online thrift stores such as Mercari, Poshmark, and eBay – just ask questions!)
Stride Rite Spider-Man Made2Play Shoes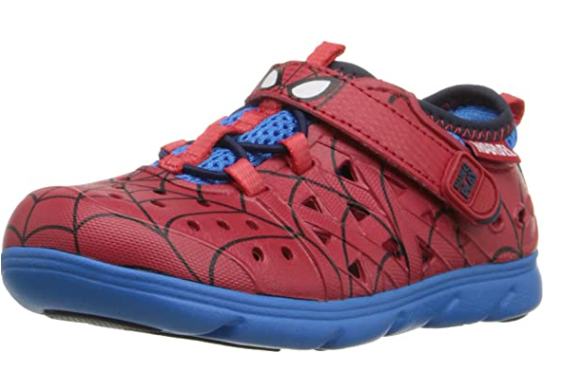 Stride Rite is a tremendously logical brand to buy for children.  They have spent their corporate life tweaking themselves to offer just what parents and toddlers need in a shoe.  Nothing is better than barefoot for unobstructed growing, and the more flexible a shoe is for little feet, the better.
Quality and ideal qualifications for the best children's shoes can be found at Stride Rite.  Lots of checks!  This is a Marvel/Disney branded collaboration with the famous shoemaker that can do everything except romp in the snow.

Being a water shoe and a dry four-season shoe – these shoes will hold up.  With socks, they make the transition to everyday school shoes.  These have anti-microbial treatment, hook and loop closure with back and front pull tab, and the pavement grabbing sole that prevents slips. Machine washable, hose clean, and they are quick drying.  Find them here on Amazon!
Marvel Brand Spider-Man Winter Boots for Toddlers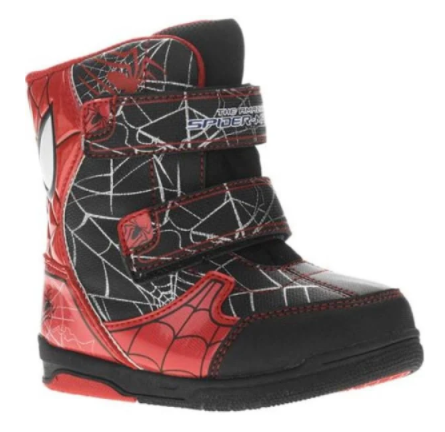 Unless you are in a pinch, I suggest buying Marvel branded children's boots like these at an online thrift store.
Be sure it is a reputable brand, such as Stride Rite, Kamik, or Disney/Marvel.  There is a plethora of every kind of kid's boot ever made on these sites like eBay, Mercari, and Poshmark, and I guarantee you will find something you will like – for a fraction of the price.  Like $10-$20 for a pair of $50 boots. Like new/hardly worn.

These beauties are at Poshmark, are new with tag, rated to negative 10 degrees, and are so thick and cozy your toddler will want them on all the time!

Ease of use for the parent with easy close tabs!
Spider-Man for Teens
Teens want something to belong, but they want it to be unique.  Representing their view of what style is while also being a seamless connection to their foot.  No itches or ouches or to tights to distract their mind and make them more self-conscious than they already are!  They can't run and run and run while ignoring the pain of a broken blister-like toddlers can.  So, comfort and STYLE are significant for this group. (Parents will also want to consider a very well-made shoe, as this age group tends to be involved in rigorous athletic activities).
Nike Air Jordan Spider-Man Sport V364 Sneakers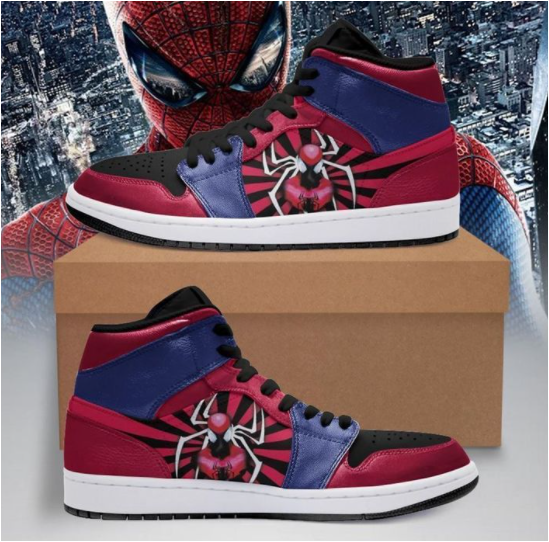 Find these and many other exclusive superb Nike Air Jordan Spider-Man sneakers at Flower Moonz.  The branding of Jordan and Marvel means better quality than non-branded, and with that comes more comfort and longevity not only of the sneaker but of the design as well.
You won't find this shoe on anyone's foot that you know (I am betting), and the supply is so deliciously vast it's like being in a candy store.  I would wear these.

This comes in men's sizes up to a 14 (which is another plus about these shoes) and women's sizes up to 11.  Non-slip sole and a unique, comfortable leather that breathes will encase your foot.

The shoes range in price, and I would suggest my trick of the trade "proofing spray or grease" shown above to extend their life.
Adult Spidey Fans
For adults spending their own money on their shoes, quality is a big concern, as is price and personal style.  Here, we consider everything and try to have our cake and eat it, too.  My advice is to save your money and always go with quality that you know will have the right fit, be comfortable and do exactly what you want it to do.  Adults can take better care of their shoes if they choose to.  This is a massive bonus for the lifetime value that you will get out of your $100 sneakers.  If you wear these sneakers for four years, that's $25 a year in sneakers.  I have some pink Candy brand suede hiking boots that I have had for over two decades.  I adore these shoes, they are so padded and comfortable, and the deep treads are super pliable and grip the road.  I will never let them go!
See also: Spiderman vs Wolverine: Web vs Claw
Not for the Faint of Heart Foamposite Nike Spider-Man Ultimate Sneakers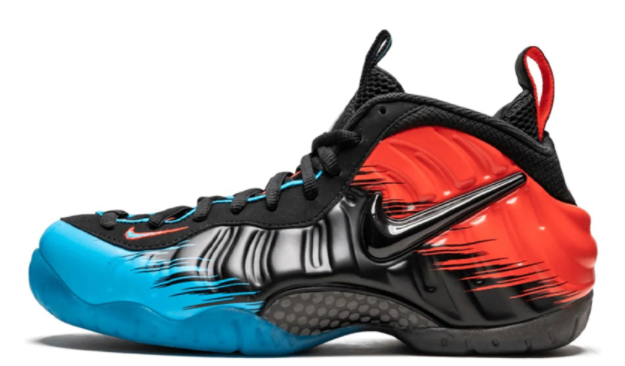 How about a once-in-a-lifetime Spider-Man fan present?  For yourself?  These Nike Spider-Man sneakers can be found brand new at Kicks-Crew even though this edition came out in 2014.  I would wear these.
Sporting front and back pull tabs and the most eye-catching design, these Pro PRM Foamposite sneakers may be the best thing in your closet.
The only possible drawback to these is that they do run small, and the largest size is a men's 13.
Well, the price is a bit…pricey.  It is reserved for super-fans and collectors.
Recommended Reads: