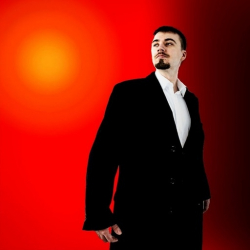 Latest posts by Stefan Stevanovic
(see all)
I was always a big fan of Wonder Woman. She provides a nice contrast within the field littered with male protagonists. Like other Justice League members, Wonder Woman fights for peace, and over time, she managed to overcome some incredible threats.
Given that this is such an old comic book, it makes sense that it would create numerous iterations and spinoffs. Recently, we've seen a masterful Wonder Woman movie with Gal Gadot as the leading lady.
Due to her popularity and the fact that many little girls look up to her, it makes sense to purchase a Wonder Woman product as a gift for your kids or siblings. You can go with things such as jewelry, mugs, posters, bags, t-shirts, shoes, and other nifty presents.
In this article, I will go through the best Wonder Woman gifts, as well as their pros and cons.
Key Info Up Front
Wonder Woman items are regarded as some of the best gifts for little girls, but also for the boys, who love Marvel movies and comics. If you want to make a fast purchase, you can go with something such as Wonder Woman socks, Wonder Woman t-shirts, or Wonder Woman dolls.
Although you might find this strange, I actually prefer buying items such as Wonder Woman mugs for girls in my family. My favorite one is Wonder Woman Logo 20 oz Jumbo Ceramic Mug, which I will review a bit later. The reasoning behind this is that girls will quickly grow out of socks or t-shirts, while mugs will last them forever. That way, they can always remember their grumpy uncle.
What were the selection criteria?
I considered numerous things when making this list. Here are the main factors I focused on:
·

       

I tried to add an item from every category, whether that's shirts, socks, costumes, jewelry, and so on.
·

       

I focused on items that are both esthetically pleasing and functional.
·

  

The list features products that can be utilized for longer periods and are not necessarily one-and-done products (although I've added clothing pieces)
·

       

They are sold through the largest online shops.
Anyway, I tried to provide something for everyone. I'm well aware of the fact that my personal tastes do not fit yours or might be slightly different, so I created a list with various goodies.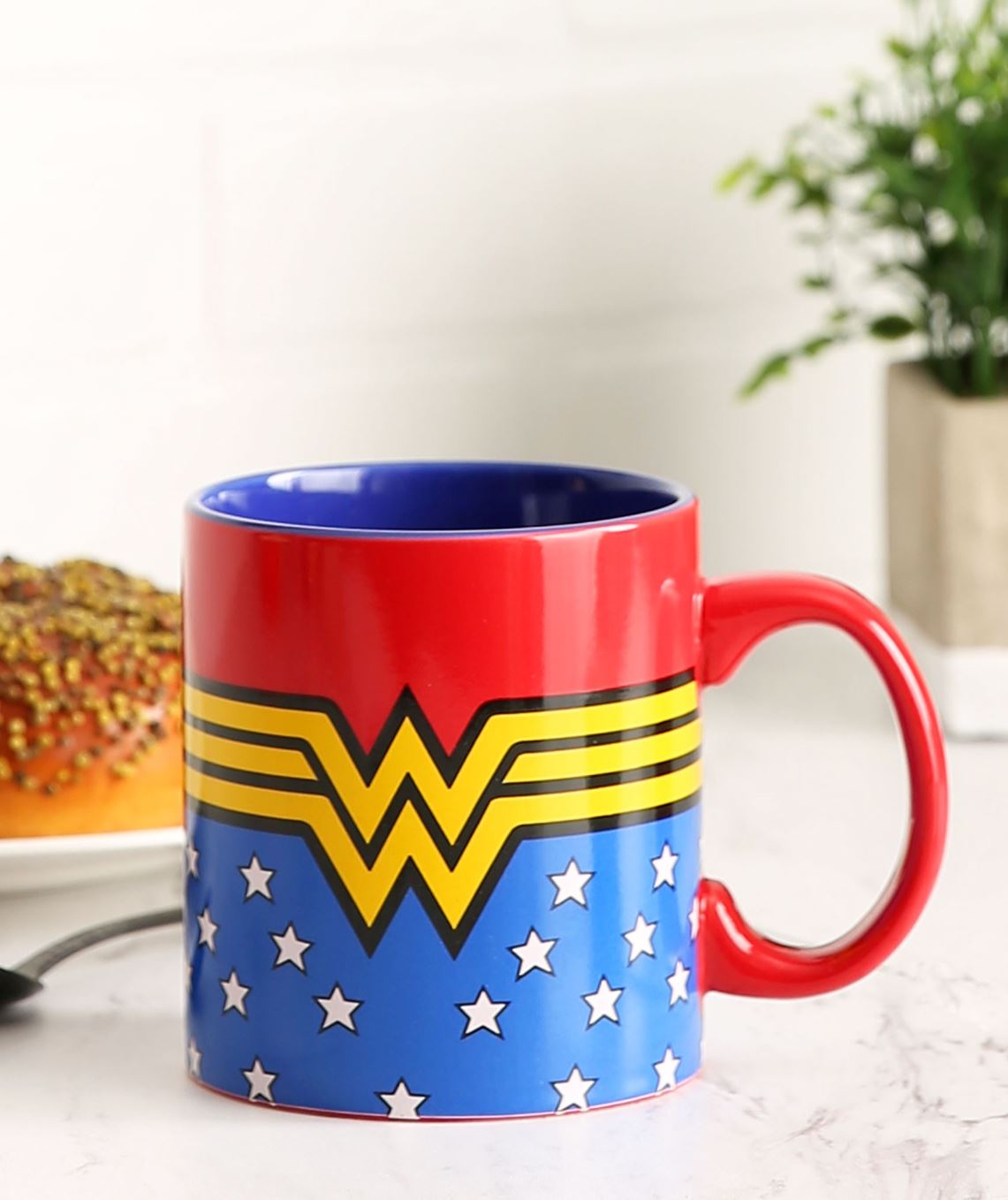 When you start reading an article about Wonder Woman gifts, you probably don't expect to see a mug as the first entry. As I previously explained, I consider these products as a perfect present as you can give them to women of all ages, and a mug can last for years without losing its basic purpose. That way, whenever a person wants a hot cup of coffee, they will remember you.
As for the product design, it is rather straightforward. It has a red handle as well as a red upper section. The upper and lower sections are split with characteristic yellow Wonder Woman stripes, with a large letter W on both sides of the mug. The lower part of the cup is blue, with white stripes.
Another thing I really like about this item is that it's so universal. Most people dig this design; it won't stand out from other mugs in your cupboard. You can place it in a dishwasher or a microwave, so that's another major benefit.
However, I have to mention that the design is both its biggest advantage and flaw. For example, I think that a lot of people won't understand that this is a Wonder Woman item. Then again, that isn't necessarily a flaw as long as they like the design.
Pros
·        Clean, crisp design. The majority of people will like it even if they're not Wonder Woman fans.
·        It is an officially licensed product (if you care about that).
Cons
·        Some Wonder Woman fans might want a bit flashier product; with a bit more Wonder Woman persona.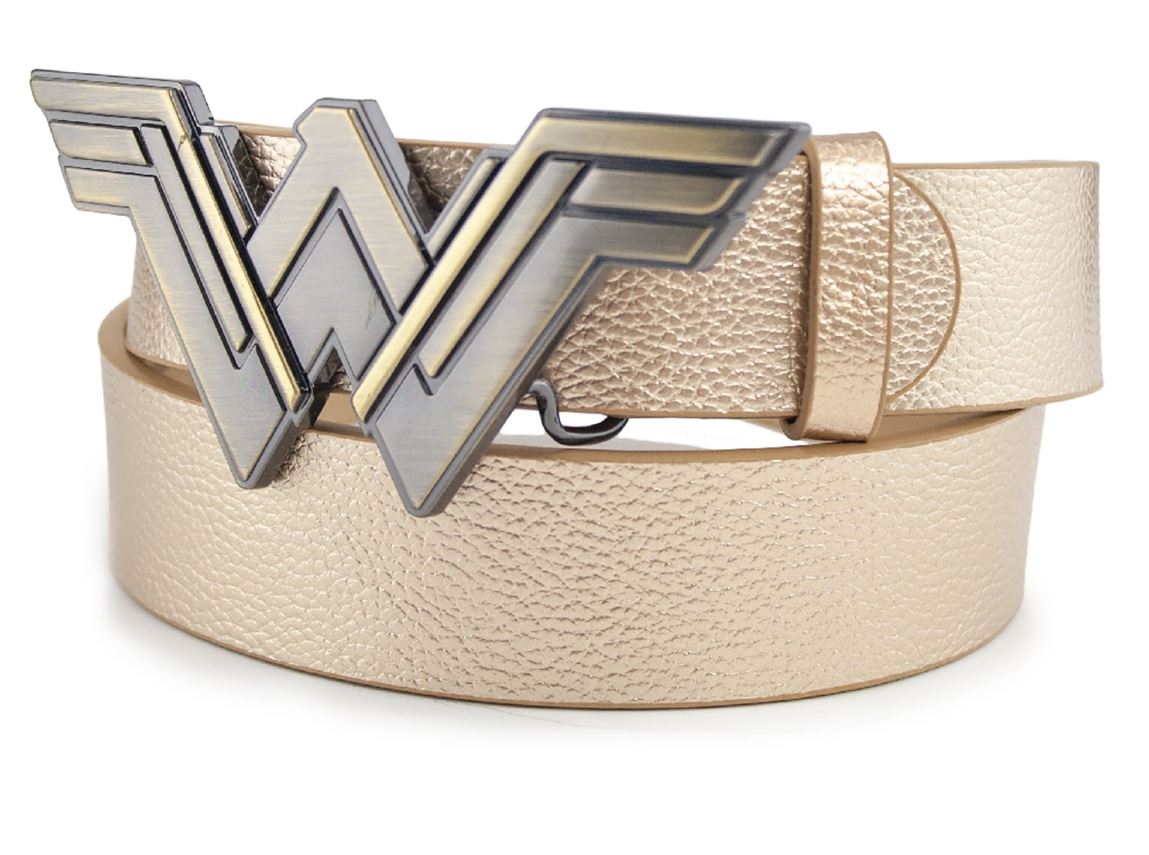 The superhero's belt and bracers are the most recognizable parts of her costume. And while you cannot run around the city in body armor, you can definitely put on this cute, white belt.
Like the previous item on the list, the belt has a large W buckle in front, which is the hero's sign. The buckle is very detailed, and if you're a fan of the movie or the comic book, you will instantly recognize it even from afar. Of course, given that this is a white belt, it won't go well with every outfit, but at least you can choose between different product sizes.
In my opinion, this is a really nice gift for the teens and adult ladies. The buckle is not that large, so it won't be disruptive. Furthermore, I like the fact that both the belt and the buckle are of similar colors, so you won't have to experiment too much with styles. It looks like something that would go great with pants but also with summer dresses.
Pros
·        I think this is one of the better Wonder Woman gifts for teens. However, I can see how it would be great for adults, as well.
·        It would fit perfectly with simply white pants and dresses.
·        The sign on the buckle can feel very empowering.
Cons
·        It might not be according to your fashion style.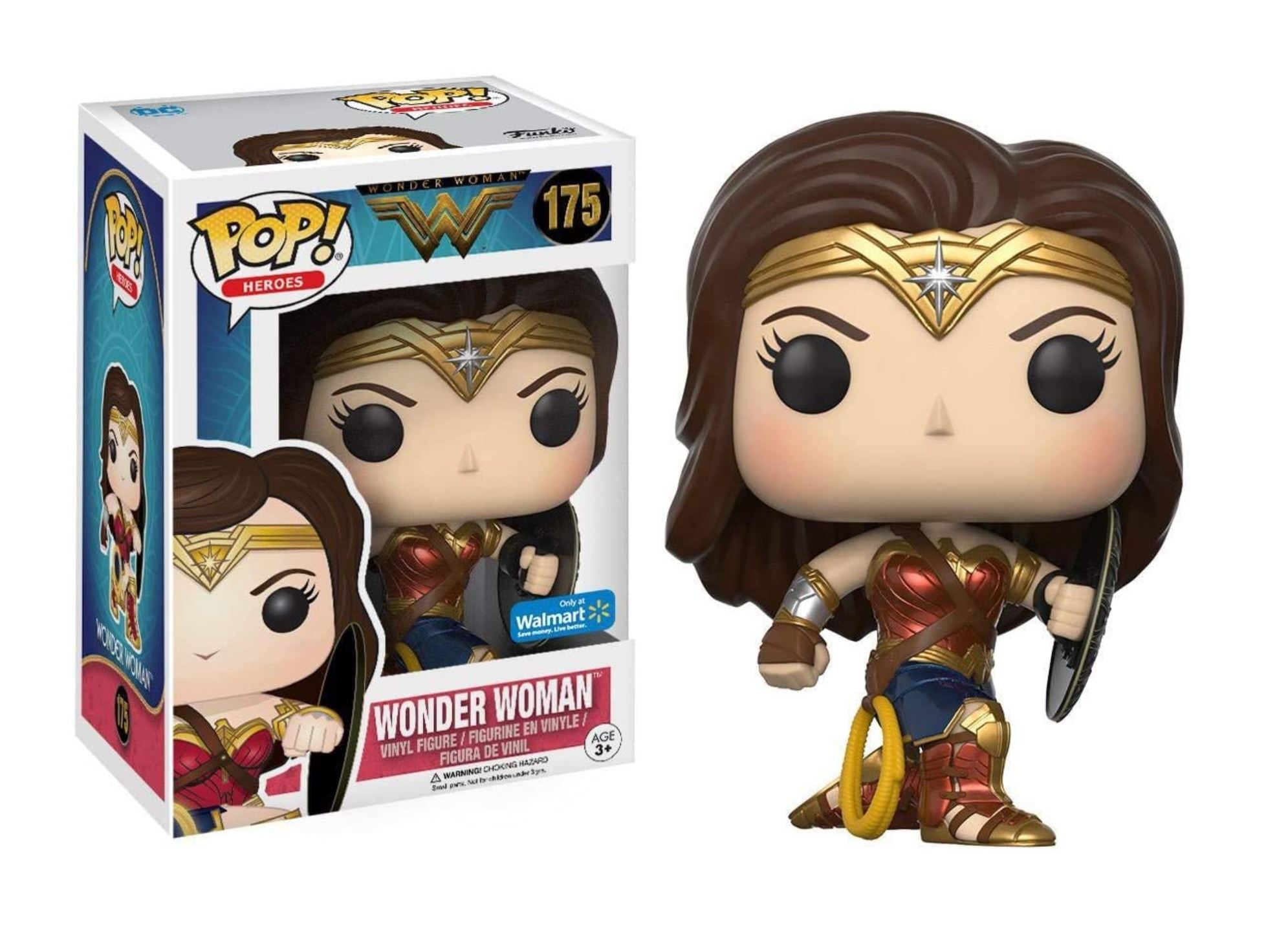 There are several reasons why Funko Pop! figures are so amazing. First off, you can buy them for just about anyone. Men are much more receptive to these items than they are to some other Wonder Woman products. Furthermore, even if you're not a big fan of the character, you can always put one of these toys on your desk, and it will most definitely improve your workspace.
Wonder Woman is shown in a kneeling position, holding a shield with her left hand. She has the outfit from the movie. In other words, her costume is bronze, with golden elements and blue shorts. The superhero carries the Lasso of Truth on her right hip and has her traditional braces and tiara. Wonder Woman has a serious look on her face as if ready for action.
All in all, this is one of those products that you can buy when you don't know what to get for a person. It is great for desks, cupboards, and various other surfaces. Of course, you can even use it as a decorative piece. Wonder Woman an especially awesome collectible for Funko Pop fans.
Pros
·        Like all other Funko Pop! products, this is a rather awesome model.
·        You can buy the item for just about anyone, including adult men.
·        It is a nice collectible.
Cons
·        The product is a bit more expensive than some other gifts on the list.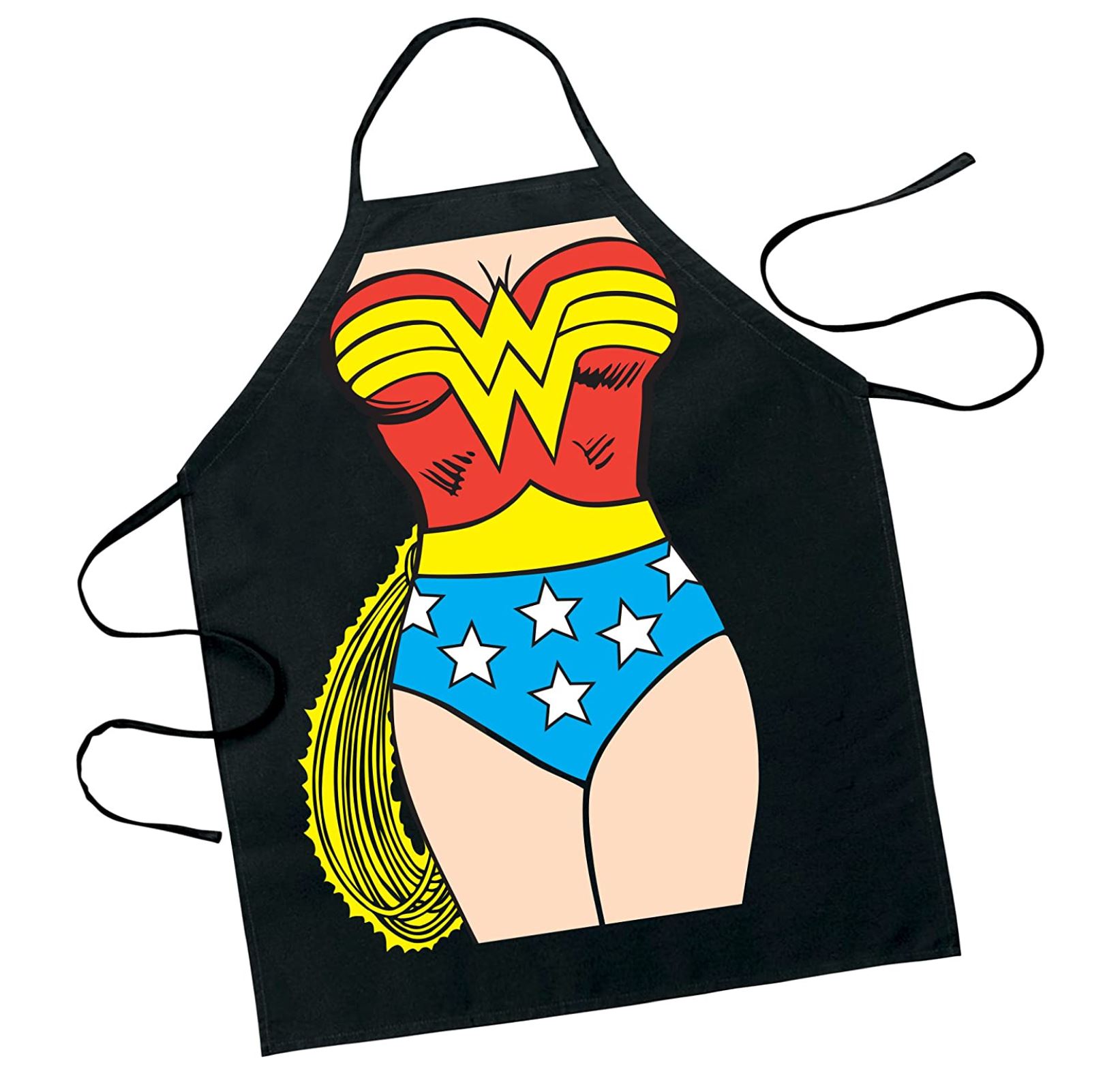 Given that Wonder Woman serves as a source of inspiration for females and is meant to inspire courage and leadership, some women wouldn't appreciate receiving an apron with her body. Then again, I think that most people would still like getting this product, as we rarely buy new aprons for ourselves.
The item is rather simplistic yet cool. The apron is black, and it has Wonder Woman's torso printed on the front. She is depicted from the chest to the thighs with rather vivid colors. There isn't too much shading or experimenting; it's just Wonder Woman's body on a black apron.
I somehow feel this is one of those items that would be popular among men. Her body looks rather raunchy, and I, for once, love it. My main concern is that some women might find it degrading, but then again, you have lots of men who would wear just about anything with Superman print on it.
Pros
·        If you need a new apron, you might as well go with this one, even if you're not a big fan of the superhero. It is a universal, cheap product that is also very fun.
·        Although the colors are very simple, I like how they look.
·        It is both cool and sexy.
Cons
·        As mentioned, some people might find it degrading as it sexualizes women in the kitchen, but you can argue that even men can wear the product.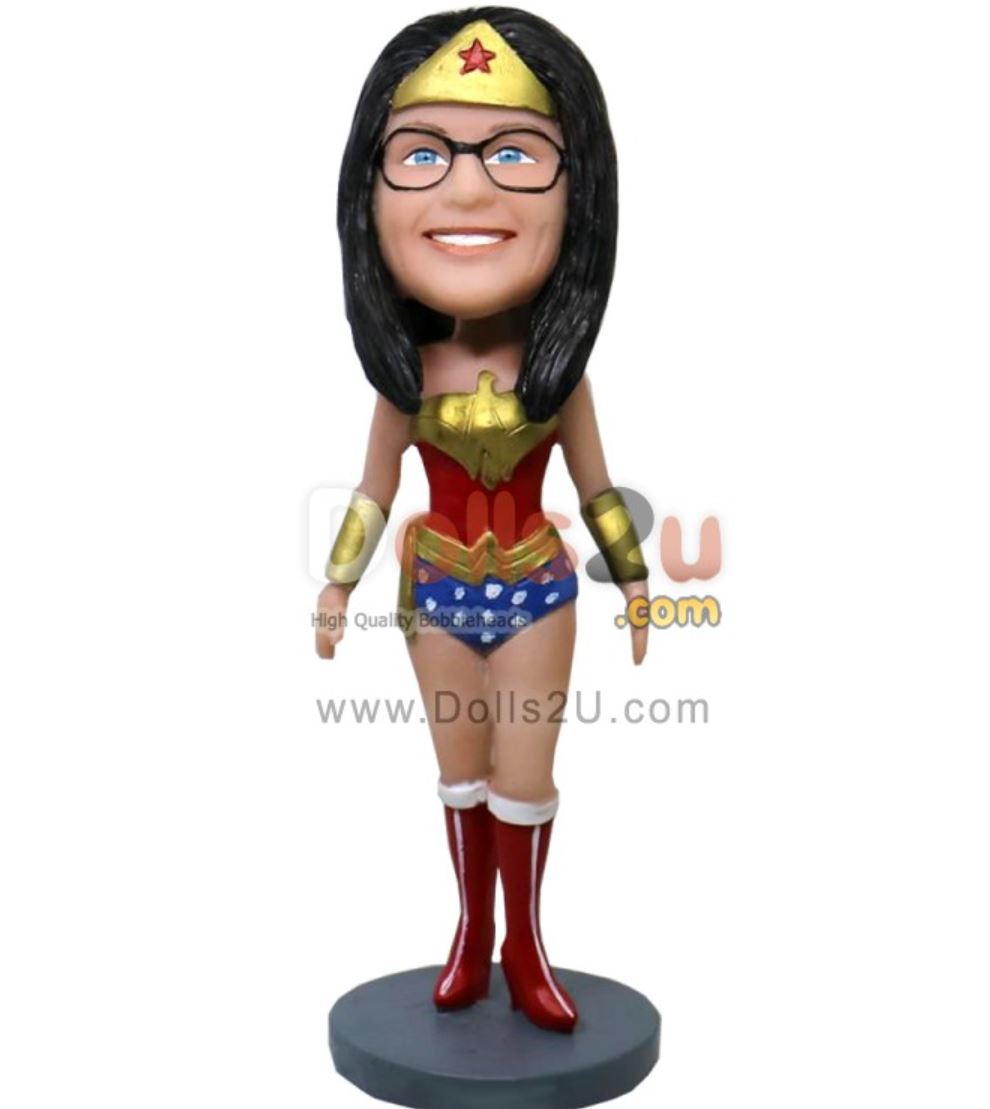 The reason why females like Wonder Woman is because she is such a major source of inspiration. Like Superman, for males, a lot of girls would like to be just like her. So, it makes sense that companies would create customizable items.
Although I already added a figure to the list, I decided to add this bobblehead as well. The reason for that is that you can customize this item. You get a nice handmade product with your face on it. As this is a customized item, you can even ask the company to change the basic color scheme of Wonder Woman's outfit.
The only issue I'm seeing with this one is the price. As you can expect, the item is a bit more expensive just because it involves manual labor. However, if a person is a real fan of the comic book hero, it is more than worth a while to buy this product for them. Keep in mind that, as long as you have the person's photo, the company can make this product for you.
Pros
·        This is a very inspirational product that you can put just about anywhere.
·        Based on the photos provided on the site, the craftsmanship is of the highest caliber.
Cons
·        It is a bit more expensive so it can be a risky gift if you don't know the person.
See also: Best Spider-Man Fan Art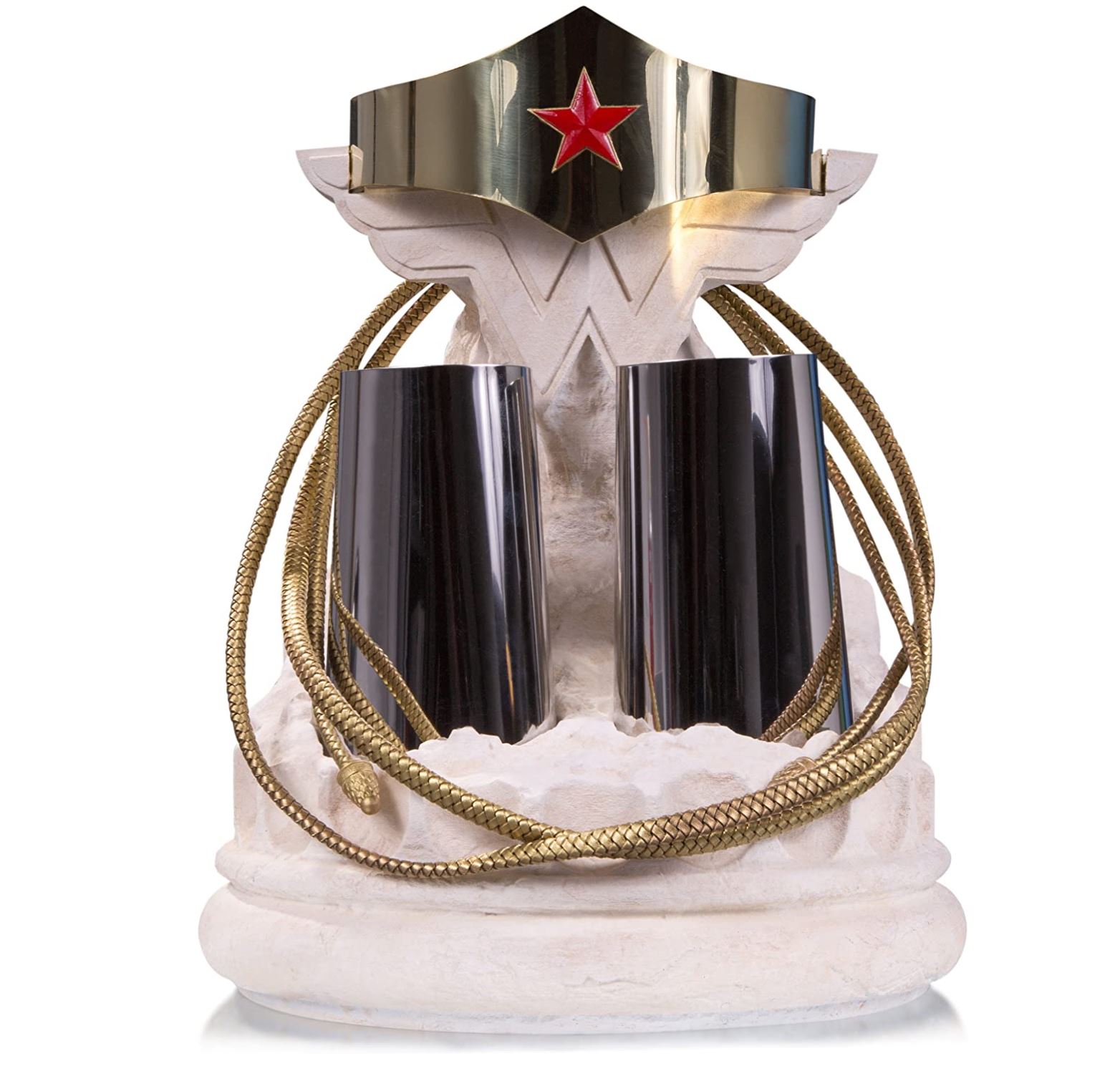 If you wish to roleplay as a Wonder Woman, you cannot do so without her bracelets, tiara, and lasso. All of these items are somewhat of a rarity for comic book heroes, especially the lasso. Can you even remember the last time you've seen a superhero, aside from Wonder Woman, using this weapon?
First off, I need to mention that all these products are made on 1 to 1 scale. In other words, they are ideal for teens and adults, not so much young girls. Each one of these is really well made but without many details. In that sense, they have retained their authenticity.
In my opinion, this set would go great with Wonder Woman costume. Most costumes have the clothing, but they don't necessarily have accessories. So, you can pair all of them together. The product would be an amazing gift for your daughter and also other girls from your family.
Pros
·        There aren't many accessories such as this on the market. While you might find many costumes, there aren't many tiaras, lassos, and bracelets available.
·        Overall, they seem well made and sturdy.
Cons
·        It isn't ideal for young girls as the bracelets and tiara could be too big.
·        There isn't a price on the website, so it is pretty much a guessing game as to how much they could cost.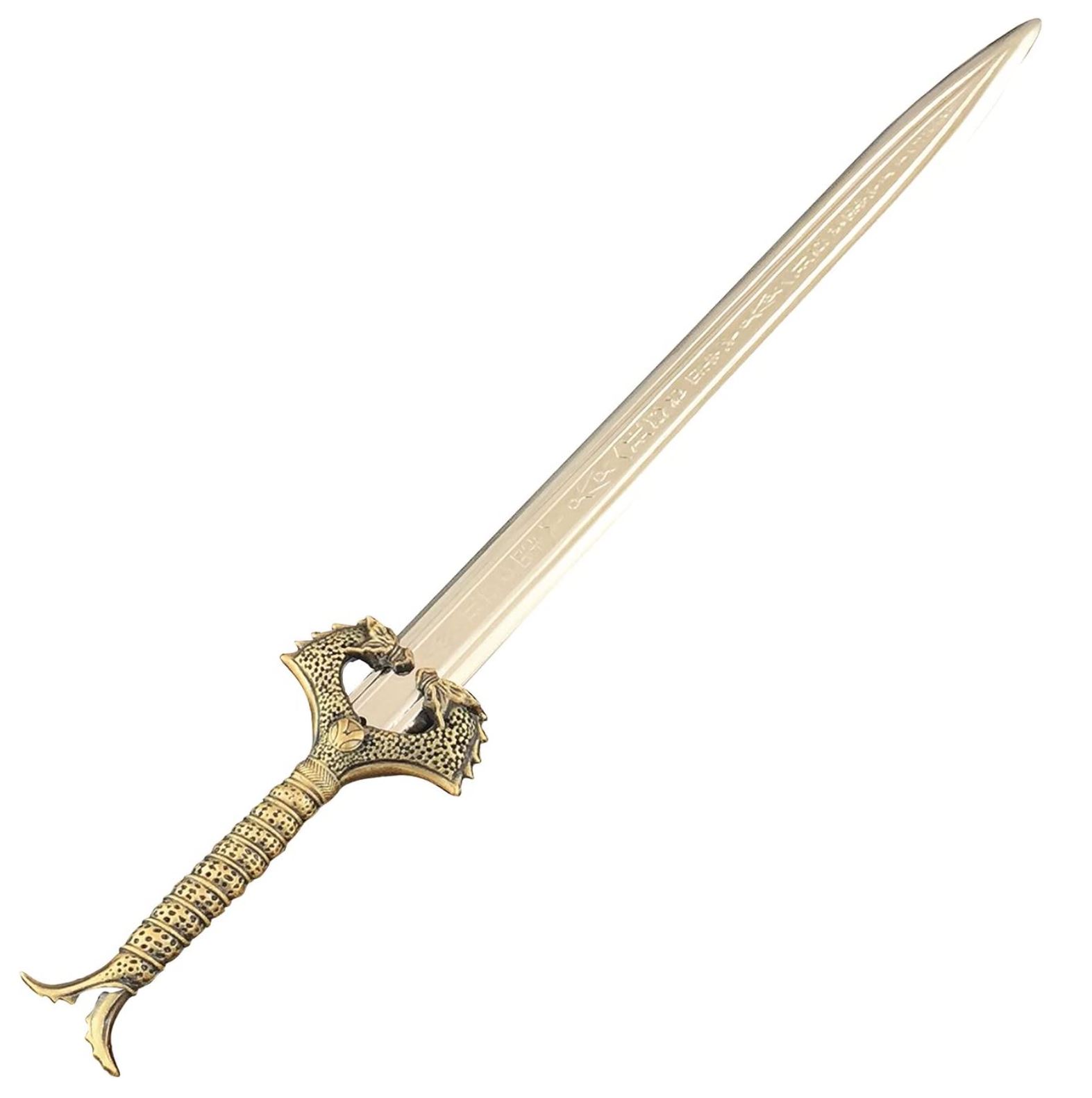 Letter openers are among the rarest products on Amazon and in other online shops. This makes sense because there are a handful of people who still use this form of communication. Even though this particular item is not that functional in my opinion, especially for the younger generation, I feel that it would be an awesome gift.
If you take a closer look at this product, you will notice that it's really well made. It is a replica from the movie, and it utilizes a sturdy zinc alloy. The hilt has numerous details on it, and there are two dragons meeting each other at the blade. Speaking of the blade, there is a cool inscription engraved in it that will definitely leave an impression on anyone.
All in all, I really dig this item. Although most people don't need something like this, and it might stay on their desk collecting dust, the cool engravings will ensure that the recipient doesn't throw it into the garbage. Keep in mind that besides the letters, you can use it to open your bills, but then again, you might start despising the letter opener.
Pros
·        It is an incredibly well-made product that can be an awesome present even for people who don't know anything about the superhero.
·        There aren't many items such as this one on the market, which makes it a novelty.
Cons
·        Keep in mind that it doesn't have Wonder Woman's sign, so you can easily confuse it for a random letter opener.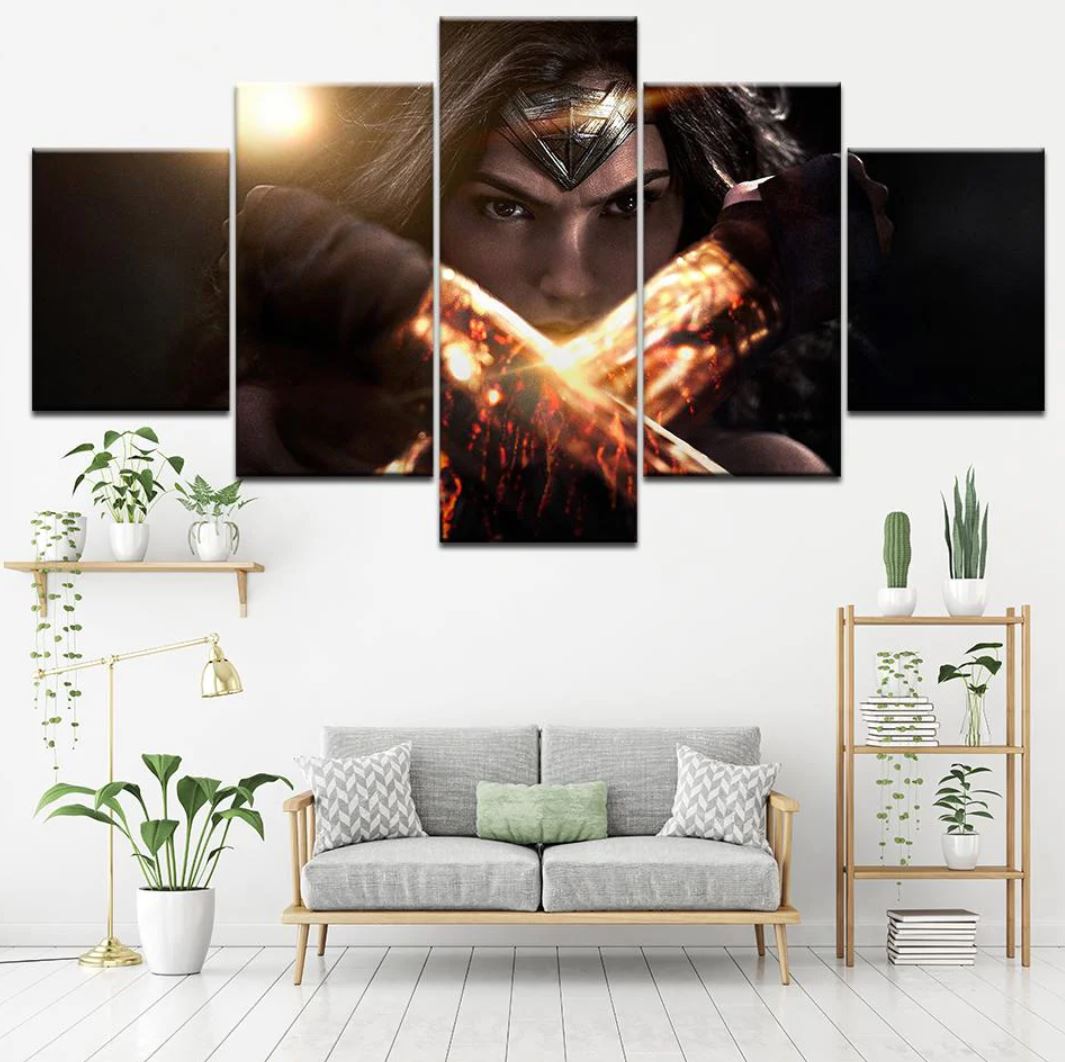 Today, more and more people are putting posters and canvases with their favorite heroes than they're using traditional art. If you're one of these guys and love Wonder Woman, you should definitely consider this item.
The thing I like about these canvases is that they come in three sizes: medium, large, and huge. That way, you can measure a wall in your home and decide what size of a poster you need.
Wonder Woman is depicted in one of her characteristic position, with arms crossed in front of her face. Her bracelets are glowing gold, and you can also see a sun in the background. Otherwise, the poster is really gloomy and gritty, which is perfect for DC movies.
All in all, if you have a female friend or a member of a family who just moved into a new house, this would be a perfect gift for them. The 5-panel canvas is especially great for modern homes with a minimalistic design.
Pros
·        It is a great piece for modern homes. The panel could be a great replacement for traditional art.
·        I love the layout of the panels and the fact you can choose several sizes.
Cons
·        Keep in mind that this is print-only, so that sucks a bit.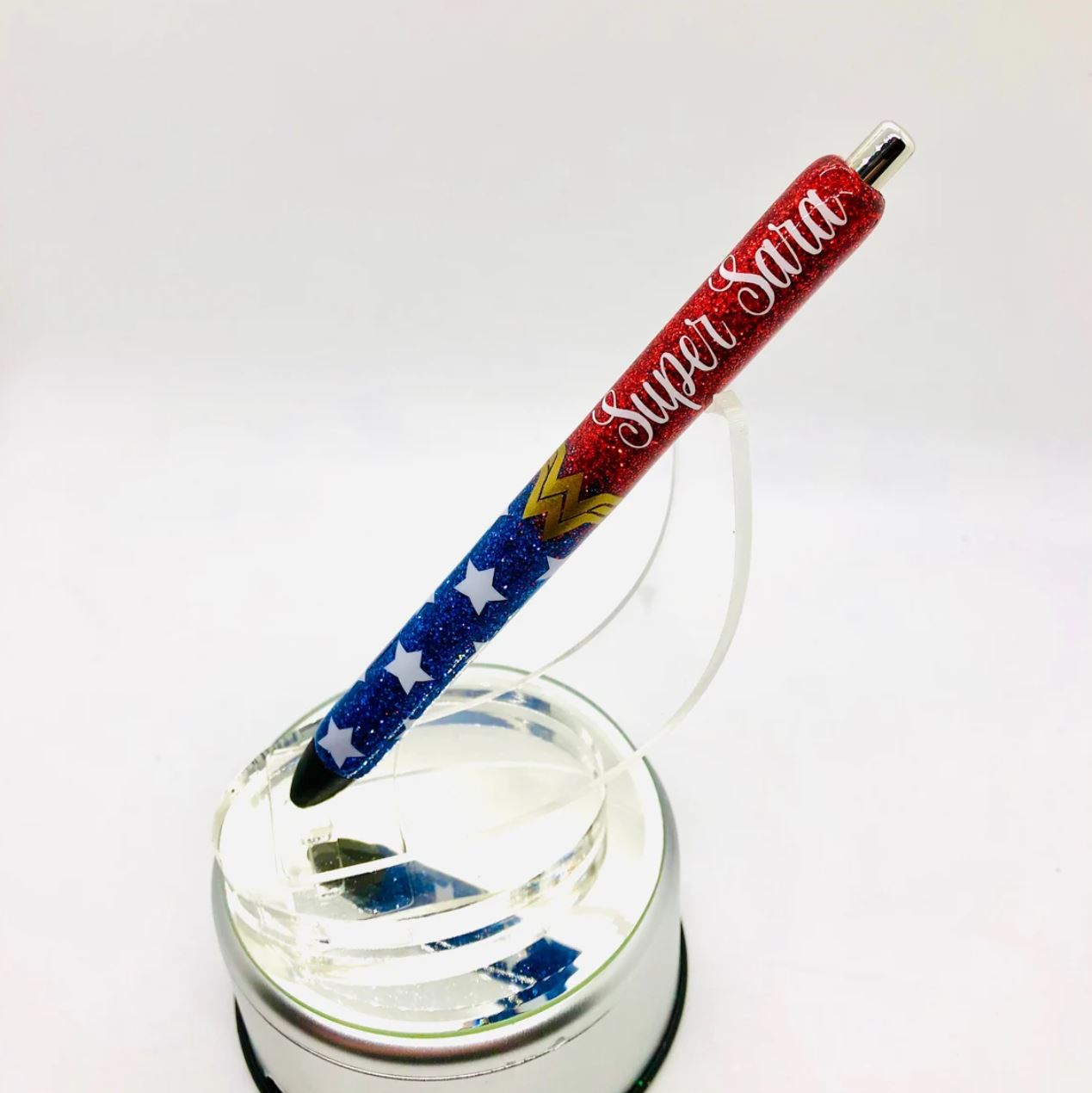 The thing I like about Wonder Woman products, in general, is that many of these items are customizable. You can add your name to them, making the object that much more personal. Of course, not everyone likes this, but then again, you can also tell the company not to write anything.
The glitter pen is a good example of a customizable item. Unlike the previously mentioned letter opener, which has limited value, just about anyone can benefit from having a glitter pen. Even though it is a girly product, I bet that most guys wouldn't mind using it (I know I wouldn't have a problem with it). In that regard, the product can be really great for trolling your male friends, who will likely use it nonetheless.
The company paid a lot of attention to small details. For example, they used a type of glitter that is approved by the FDA. The thing you need to pay attention to is the text orientation; as per usual, these products are meant for right-hand users, so you will have to specify to the manufacturer if you're a left-handed person.
Wonder Woman glitter pen is a cheap but awesome gift that most girls will like and will use on a daily basis. This is especially true for girls and teenagers in school and in college.
Pros
·        A very functional item that anyone can use regardless of sex.
·        It can last for a long time as long as the person refills it regularly.
Cons
·        I'm always a bit concerned about such products because glitter and similar substances tend to peel from the object. So, after prolonged use, you might not even notice the Wonder Woman sign. However, given that this is a cheap item, it isn't the end of the world.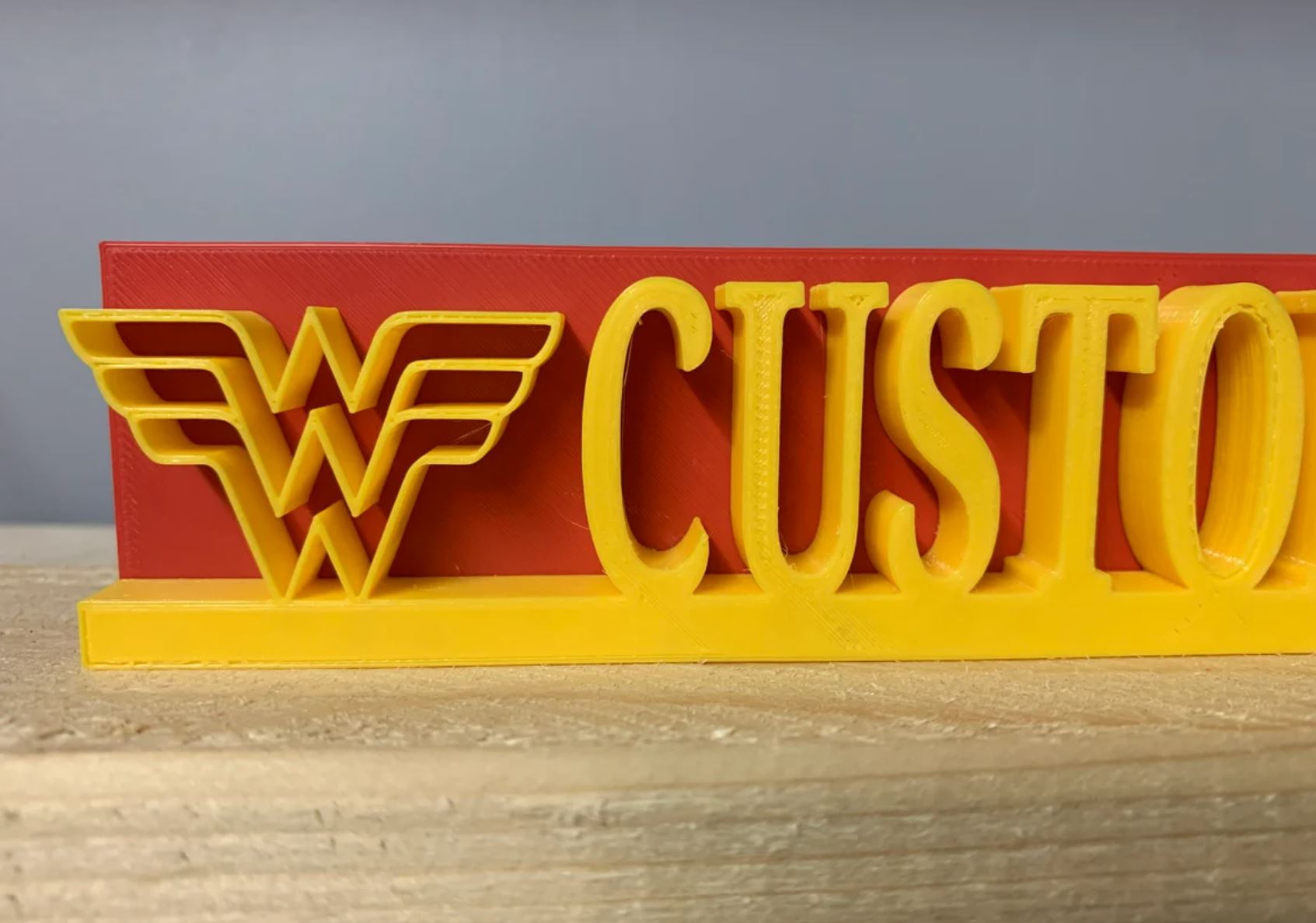 Speaking of customizable items, it doesn't get much better than a custom Wonder Woman nameplate.
The product includes a red background plate and a yellow frontal plate. The frontal plate has Wonder Woman sign on it, which is followed by customizable letters. All in all, it is a rather simple yet effective item.
I feel this would be a great purchase for young women who have just started working and might struggle with confidence. Obviously, it is an office product, but if your friend/sibling works from home, they can also put it on their work desk. Even if the receiver doesn't have any trouble with confidence, it can be a nice object to have close by.
My main issue with the product is that it's incredibly expensive for what is basically a piece of plastic. What's even worse, there are some much better things you would like to see on the work desk, such as the previously mentioned Funko Pops!
Pros
·        Cool item for women starting their first job.
·        It will help your coworkers remembers your name.
Cons
·        It is way too expensive.
·        I would rather have some other things on my table.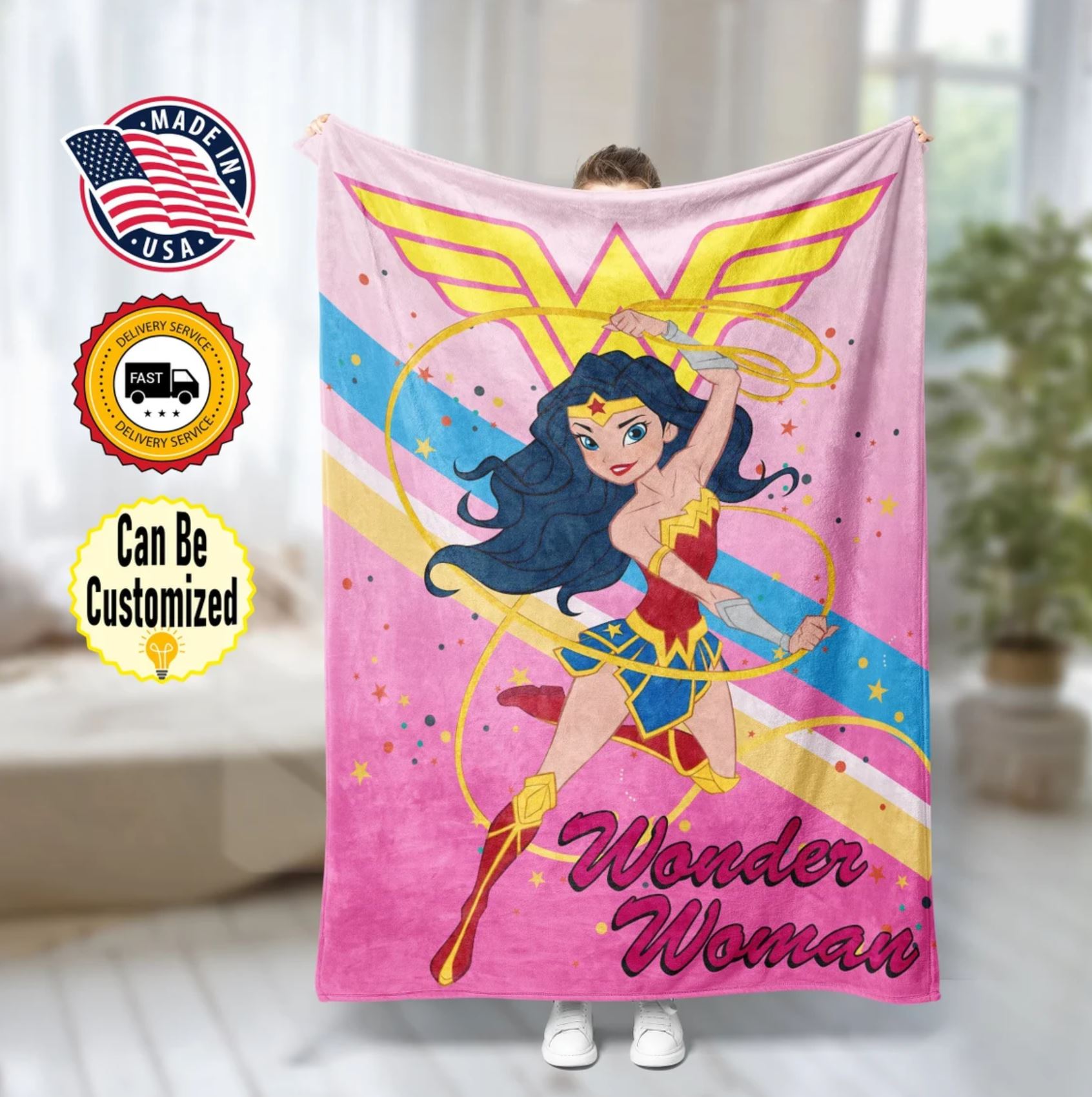 When we were little, we loved having all these superhero items lying around our home. I just remember myself from back in the day; I have numerous t-shirts, blankets, socks, and underwear featuring the likes of Superman and Batman. As a major DC fan, I love when I see some of my female and male siblings appreciating Wonder Woman and other characters from this universe.
A personalized blanket is a perfect gift for little girls. It is very colorful, putting emphasis on the pink color. There are lots of dots and stars in the background, as well as large "Wonder Woman" letters in the lower right corner and the Wonder Woman sign on the top.
As for Wonder Woman herself, the manufacturers used a cartoon version of the character. She is very jovial and relaxed, which is something I really like about the product. For example, I don't think that having Galt Gadot on such an item would be optimal. This iteration of Wonder Woman is much more relaxing, with nice bright colors, which should help the girl go to sleep.
Another nice feature is a customizable face. If the gift receiver wants, you can swap the Wonder Woman's face with their own. Now, I'm not saying that I like these features. I just think that it's nice to have the option as some of the girls might want to have their faces on the blanket. The blanket comes in three sizes, which is also great.
Pros
·        Really nice and colorful design.
·        The blanket comes in several sizes, and you can choose different types of materials.
·        The customization option is really nice, and some girls will love it.
Cons
·        It is a bit troublesome for maintenance as you can't dry clean it or press it with iron.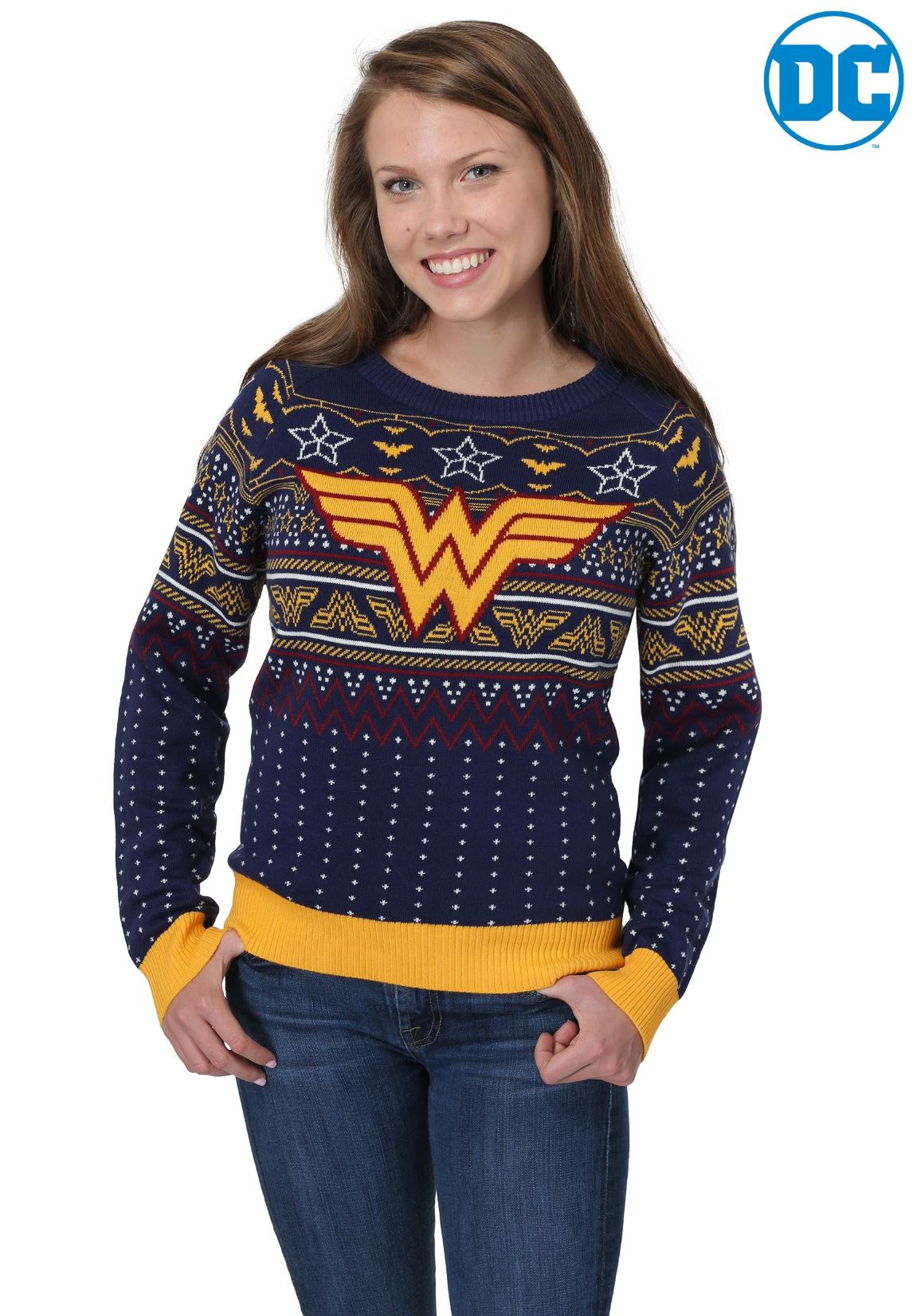 This just might be my favorite piece of Wonder Woman apparel. It is a winter sweater with dark blue as the dominant color, with a few noticeable yellow areas (end of the sleeves, Wonder Woman logo, etc.) The product also features some white and red colors, and the sweater is littered with stars and dots. Although some of you might think there are too many details on the item, I would beg to differ.
The product is hand-knitted, which is something I really appreciate. I always give advantage to handmade items on my lists, as they require a lot of manual labor. It comes in numerous sizes, so you can buy it for little girls or adult women.
To me, this feels like a universal female product. There aren't many indications that this is a Wonder Woman item, except for the large superhero logo on the front. For the most part, it looks like a regular sweater, although you will know that this is a Wonder Woman-themed product.
Pros
·        A really nice handmade product that deserves your attention.
·        It comes in different sizes, and it doesn't feel like a regular Wonder Woman item.
·        You can wear it on different occasions.
Cons
·        Some people might not appreciate all the small details.
·        It doesn't have too much red, which is one of the main Wonder Woman colors.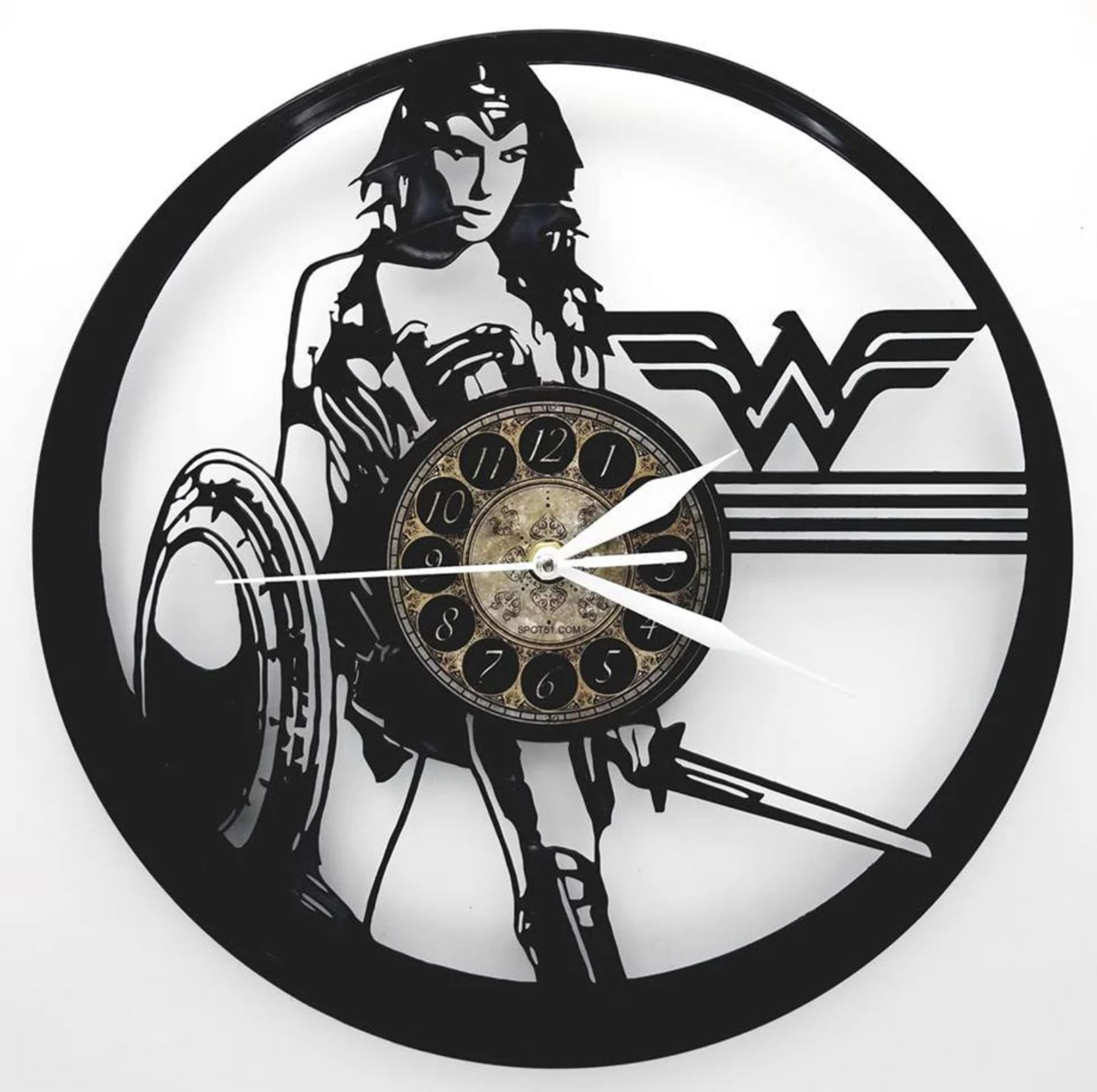 This product is cool on several different levels. In fact, it just might be the best-designed Wonder Woman product on this list. Yes, I am aware of the fact that these are different items and that we can't compare them like that. Still, I need to emphasize how amazing this clock actually is.
The item is made from vinyl. It is in the shape of a circle, with dark edges and a transparent central area. The manufacturer used the same black color to showcase Wonder Woman, and there is also a Wonder Woman sign to the left.
The inner, central part is reserved for the clock itself. It looks quite rustic, with numbers resembling those on the old phones. In my opinion, this is a perfect match given that Wonder Woman is quite an old character.
Anyway, if you're looking for something funky that would help decorate a modern house with a minimalistic design, this is just the thing.
Pros
·        I love the design.
·        The clock looks really awesome, and I think it meshes well with Wonder Woman.
Cons
·        I don't have any real complaints about this one.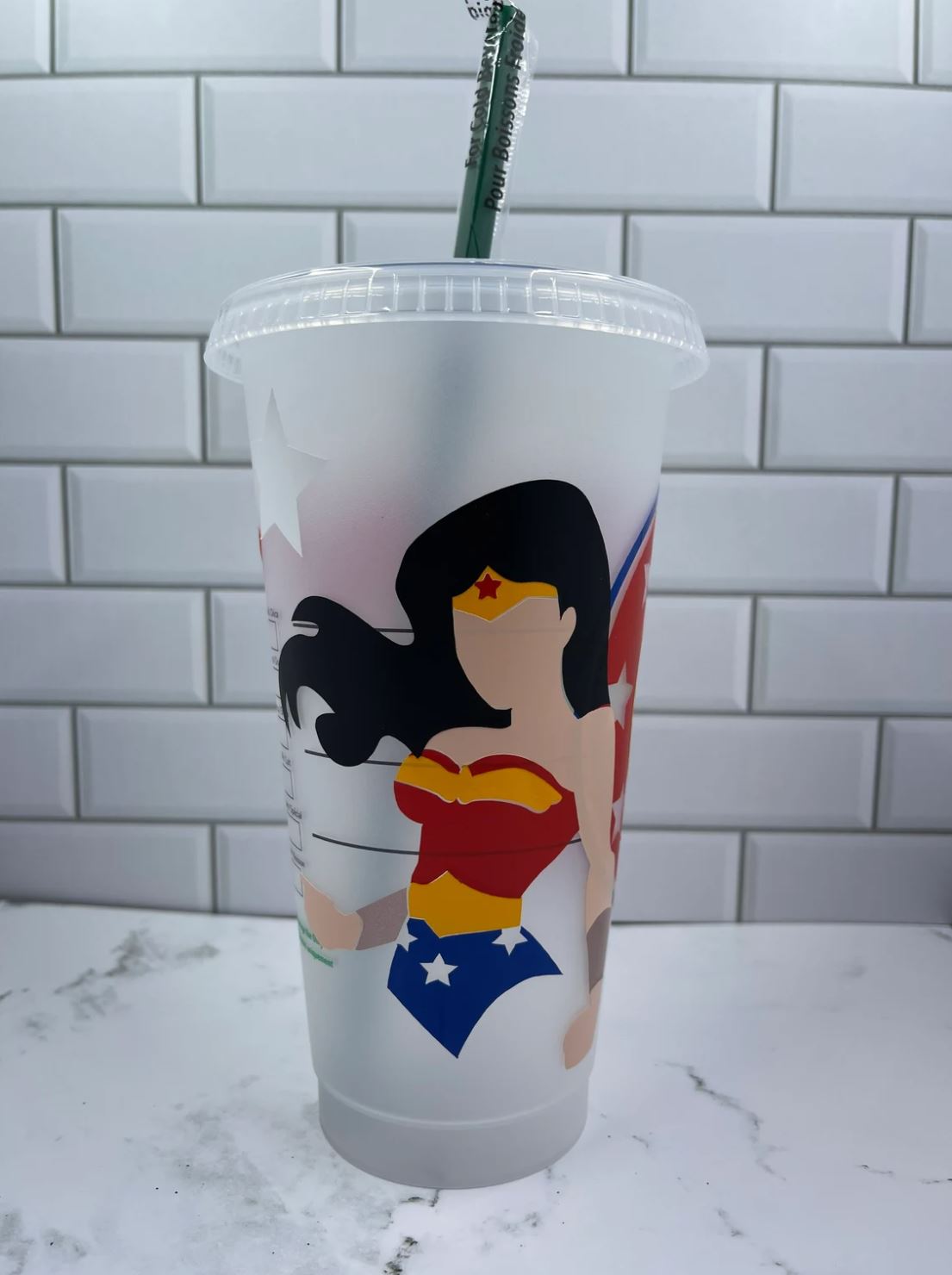 Given how much young generations like Starbucks and their coffee, this item can be a perfect gift for many young women.
It is basically a plastic cup that has the Wonder Woman logo, as well as the Starbucks logo. The combination might seem a bit odd, but, as I mentioned, this is primarily a product for ladies who like both Starbucks and Wonder Woman. In that regard, it might not be the right gift for everyone, but some women will definitely appreciate it.
The manufacturer provides a few customization options. The first thing I need to mention is that you can change the color of Wonder Woman. This is something you rarely see, but young generations will definitely appreciate this socially conscious decision. You can also add customized letters on the cup, just below the Wonder Woman sign.
My biggest issue with this one is that it can only store cold drinks. The cup utilizes a light material, so it isn't suitable for hot drinks. This makes the product even more specific, as many women prefer their coffee and tea hot.
Pros
·        There aren't many products from this category.
·        I like all the customization options.
Cons
·        You can't use it for hot drinks.
·        There are too many elements on the item, and it feels a bit stuffed.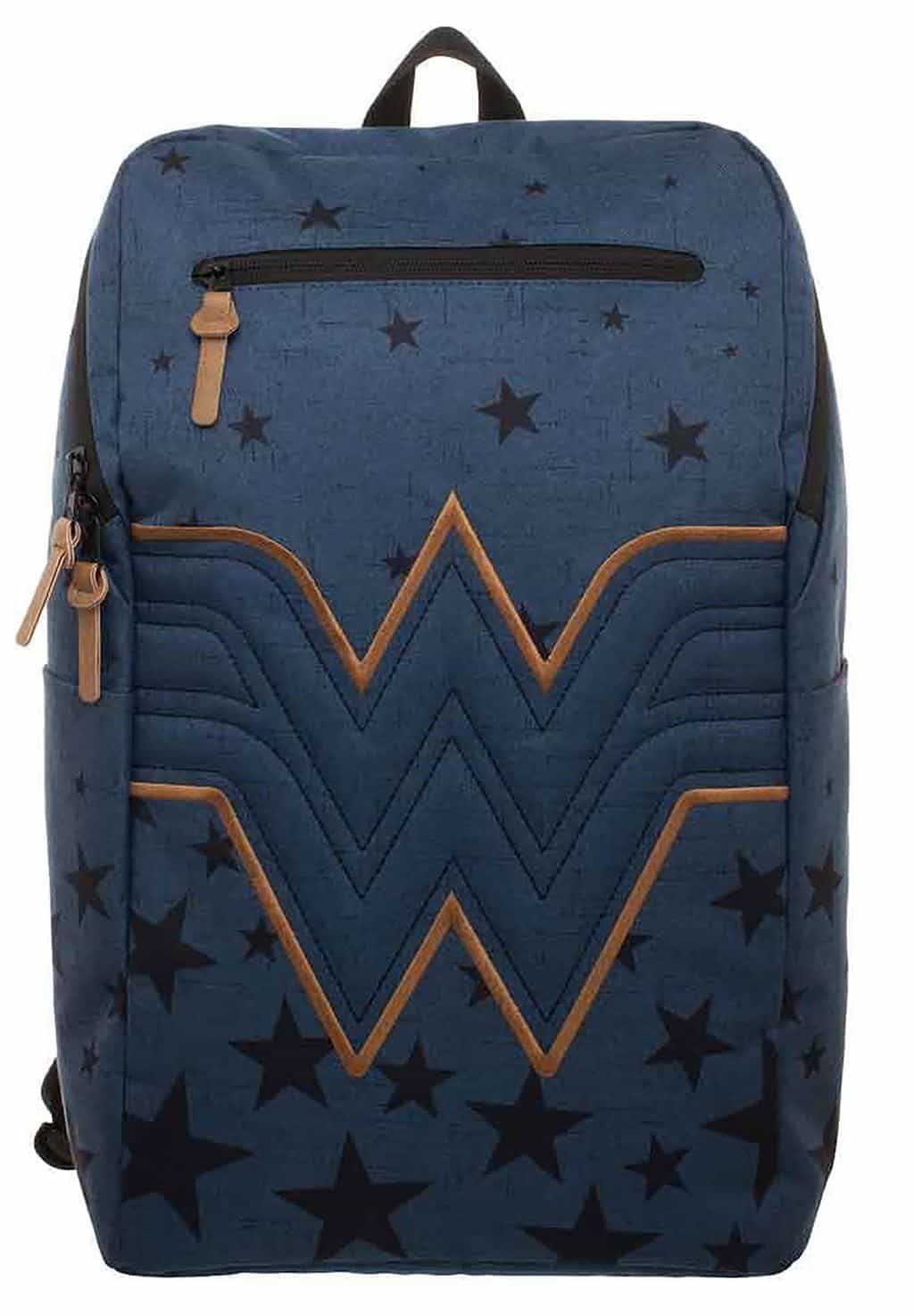 Here is another item that is geared towards younger generations. If you're buying a gift for a freelancer, or a student who relies on her laptop, this will be an optimal purchase.
In terms of the design, the backpack utilizes a dark shade of blue. It has numerous black stars on it as well as a large Wonder Woman sign on the front. The edges of the sign are made in brown, which looks pretty awesome on dark blue background.
The backpack is not that big, and it should primarily be used for a laptop. You can also add a few books inside. It has two pockets: the big one for the laptop and a small one on the top. This is mainly a product for girls, and I wouldn't recommend it for males. Among others, it would look rather small on the male back.
Pros
·        Nice, clean design with great color combinations.
·        I especially like the Wonder Woman sign in front.
Cons
·        It has limited space inside. Although the product is great for laptops and books, as it is rather long, I would recommend it for carrying other stuff. So, if you're looking for a universal backpack, this isn't it.
If your sibling or friend has a pet, this would be a perfect gift for them. The best thing yet is that this is a unisex present. In other words, you can give it to both your female and male friends. The only catch is that they need to have a female pet.
The item is rather big so you can use it for both cats and dogs. It has extra padding making it really comfy. The interior of the bed has yellow Wonder Woman letters, and there is a yellow Wonder Woman sign on the exterior. The inside of the bed is red, while the outside is light blue. All in all, the manufacturer used all the traditional Wonder Woman colors.
Anyway, this is a pretty awesome present that you can use as long as you have a pet. In that regard, it is also one of the most functional items on the list. If your friends just got a new puppy or a kitty, and they still haven't bought a bed, you can surprise them with this awesome item.
Pros
·        In a way, it is a unisex item as you can buy it for both male and female friends. Although it is better for female pets, you can also use it for a male pet (I don't think they'll care too much).
·        The colors are nice and vibrant.
·        The extra padding is really important, in my opinion.
Cons
·        As I mentioned, it might not be ideal for male pets, but that's neither here nor there.
FAQs
Question: What is the best Wonder Woman gift?
Answer: It is really hard to say what the best Wonder Woman gift is given there are so many different items on the market. My personal favorite is Wonder Woman Logo 20 oz Jumbo Ceramic Mug, but you can also go with something like Wonder Woman Vinyl Record Clock or Blue and Dark Red Wonder Woman Pet Bed. Generally speaking, your optimal present will depend on the receiver and their personal preferences.
Question: What is the most common type of Wonder Woman gifts?
Answer: I think that apparel represents the most common type of Wonder Woman gifts, closely followed by action figures. After that, you have numerous other products such as blankets, pens, mugs, toys, wall panels, clocks, and so on.
Question: What is the best Wonder Woman gift for guys?
Answer: Generally speaking, Wonder Woman products are made for females and, in particular, little girls. Still, there are a lot of guys who like the superhero and would love to have one of these items. Mugs and pens are a good choice, but I would recommend going with Funko Pop Vinyl Heroes Wonder Woman. This is a perfect item for DC fans and comic book collectors.
Conclusion
There are so many cool Wonder Woman products on the market, and most of them can be great gifts. If you're looking for something unique and special, you can go with Icon Heroes Wonder Woman Movie: Sword Letter Opener. You should also check some other products from this list, such as Blue and Dark Red Wonder Woman Pet Bed or DC Comics- Wonder Woman Laptop Backpack.
My personal favorite is Wonder Woman Logo 20 oz Jumbo Ceramic Mug. This product is great for both sexes, it is very functional, and it can last for a very long time.
Recommended Reads: