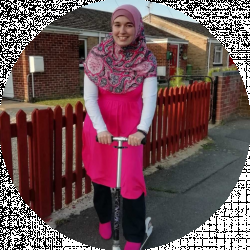 Latest posts by Melika Jeddi
(see all)
Batman has been delighting children and adults alike since his inception in 1939, and the character has played a huge part in my own life. I remember eagerly awaiting new episodes of Batman: The Animated Series every week as a kid, and I would jump off the sofa with my arms outstretched, pretending I was Batman jumping off a building to save the day. It's with this passion for the franchise that I'm creating the ultimate Batman gifts guide.
I want you to be able to choose the very best presents for the Batman fans in your life, whether they're young or old. I've tried to cater for a range of ages and budgets, so that no matter who you're buying for, you'll be able to find something wonderful. When choosing the items, I was primarily looking at three factors – how much it will be enjoyed, whether it's good value for money, and whether it's something a fan would actually want. Often, merch companies just slap a logo on a random item without putting effort into a design, and I wanted to avoid that with this article. So, here are some excellent ideas for products!
Bottom Line Up Front
Selection Criteria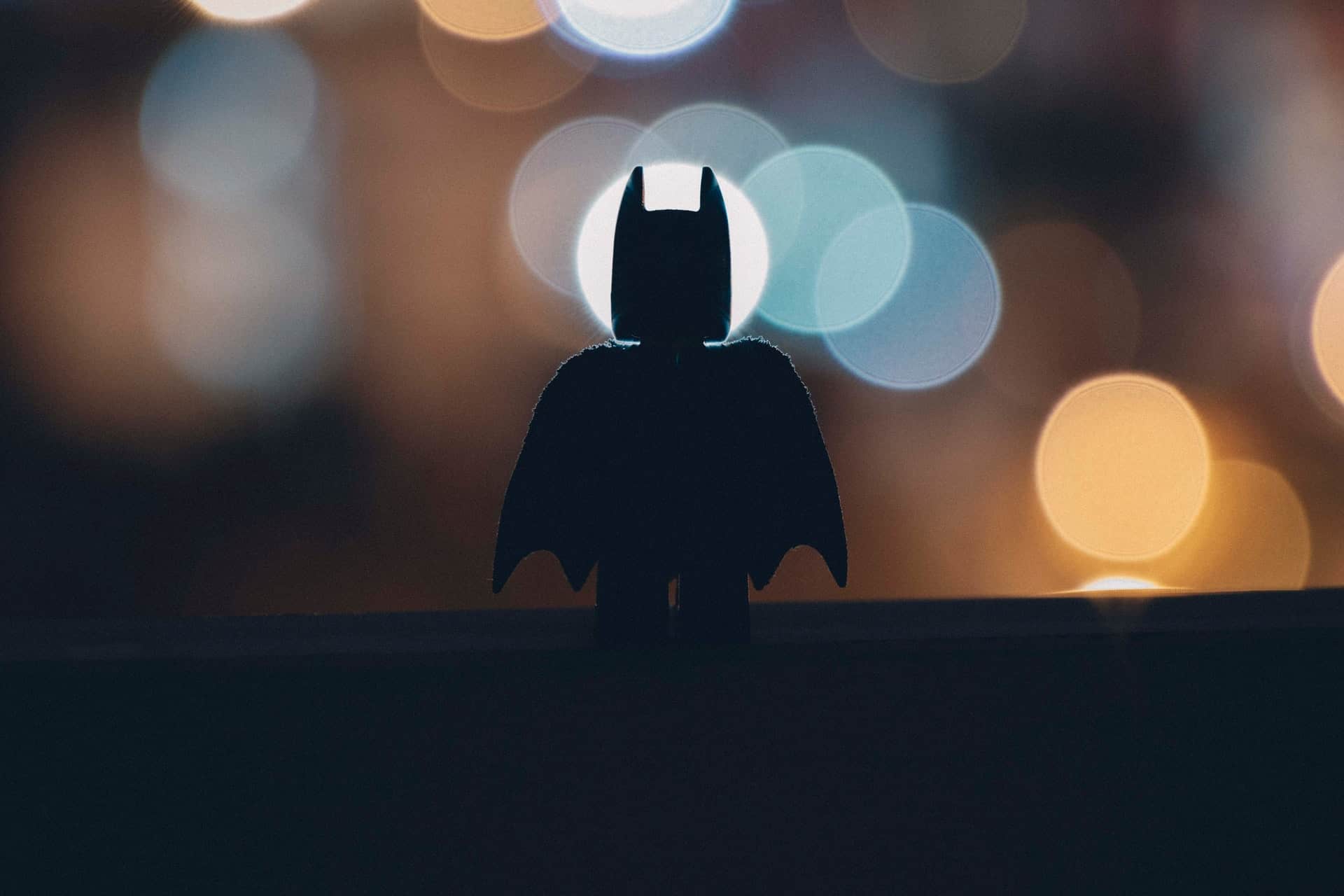 When choosing the items for this list, I wanted to pick the best of the best. After all, this is a list of the ultimate Batman gifts, not the okayest. I wanted to make sure that they were easily accessible for people to buy, and so every product on this list is available for purchase online. I've chosen to source American links as those items are usually available internationally too, whereas smaller countries such as the UK (where I'm from) may not ship to other countries.
As mentioned in the introduction, I was considering the following three factors:
Enjoyability – Is this a gift that will spark joy. It doesn't necessarily mean something you play with or use or every day, but it should be something that would bring a genuine smile to the recipient's face. Ideally something that could either be used multiple times, or could be displayed prominently. For any decorative pieces, I made sure they were high enough quality that someone would want to see them on a regular basis, and that they're the kind of item that someone would be proud to have in their home.
Value For Money – This doesn't have to mean 'cheap'. Far from it, in fact, many of the items in this list are in the upper budget ranges. However, I want you to be able to get good bang for your buck when buying these items as gifts. I want to be able to look at the price listed, and think "yup, that's a fair amount to pay for this". Nobody wants to feel like they're being ripped off, so with the higher value items, I've included them because I think they're genuinely worth the money.
Fan Approval – Arguably the most important factor is whether it's something that would actually appeal to a Batman fan. That's where this guide gives you the most benefit, as instead of randomly googling 'Batman gifts' and hoping for the best, you now have a list of items cultivated by someone who's an actual fan of the Batman franchise. There are so many items out there that don't really hold much interest for fans, and so I've chosen items that would appeal to dedicated Batman lovers.
The Ultimate Gift Recommendations
Lego Batmobile Tumbler
At $229.99, this Lego Batmobile Tumbler is the perfect gift for the Batman fan in your life, assuming they also like Lego. I recently had the pleasure of building this for myself, and it's probably my favorite display piece out of all the Lego I own! The thing I love about Lego is that you get a 2 in 1- the fun of the building experience as well as the delight of the finished product. I will say that when it comes to building this particular set, it is a rather tricky process, and would be best for someone who's already built Lego/ other modelling toys previously.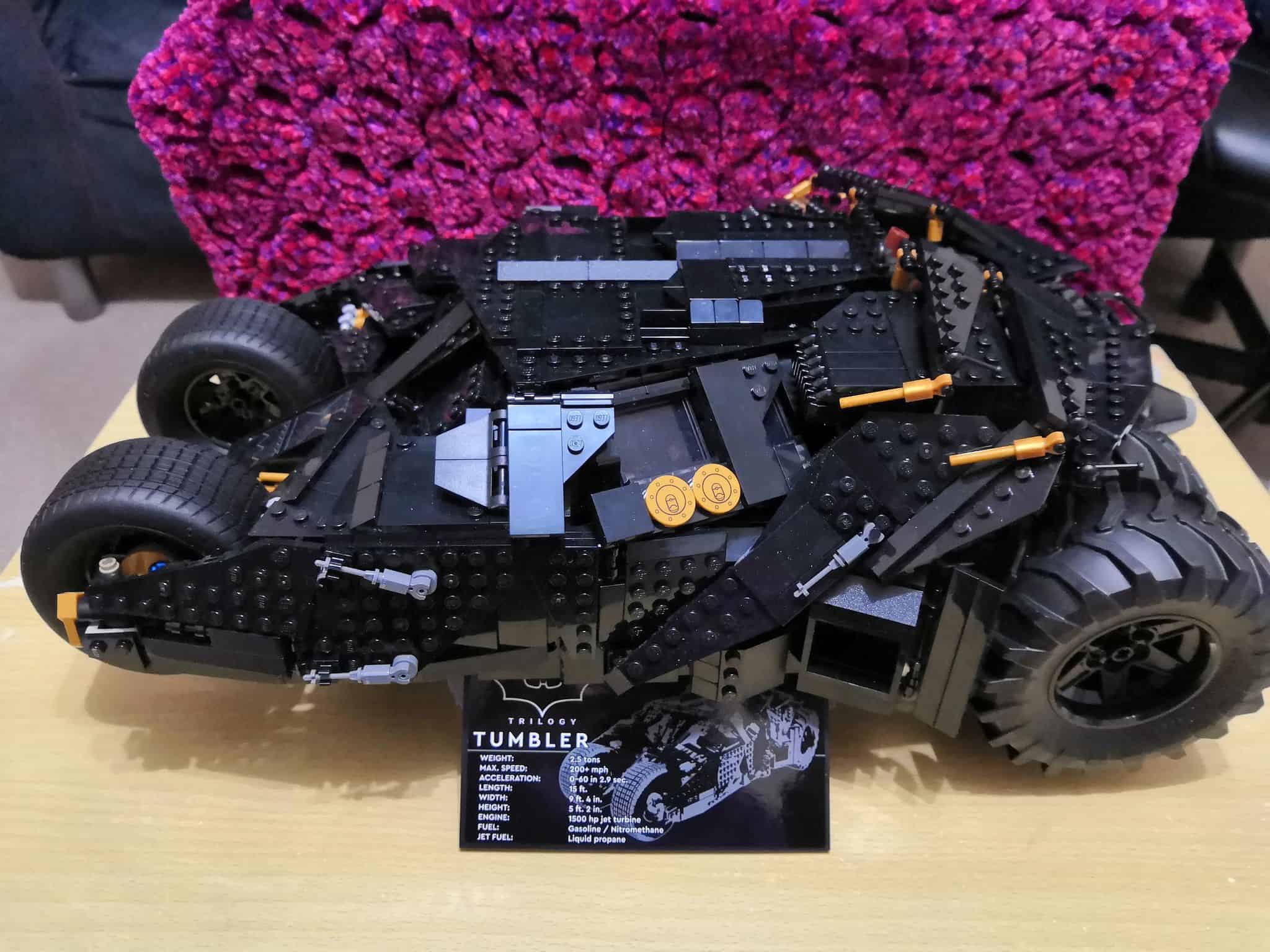 This set is based on the Batmobile Tumbler from The Dark Knight Trilogy and it looks phenomenal. My own one has pride of place in my living room, and I love how elegant it is. It's mostly black, but with flashes of gold and gray, and the roof even lifts off to showcase all the interior detail. There are stickers with displays, and so it really does give the appearance of a highly advanced technological vehicle. The vehicle can be placed on a rotating stand that's built separately, and there's a plaque attached which conveys stats for the Tumbler.
My favorite part about this set is the minifigures. They come on their own stand, designed to look like a rooftop with gargoyles. There's a Batman minifigure with an intricate design on his costume, and a black cape that billows out behind him. However, the Joker minifigure is the star of the show. The vibrant green and purple of his outfit really stand out, and his facial features are so intriguing. In my opinion, it's the best Joker minifigure Lego have ever produced.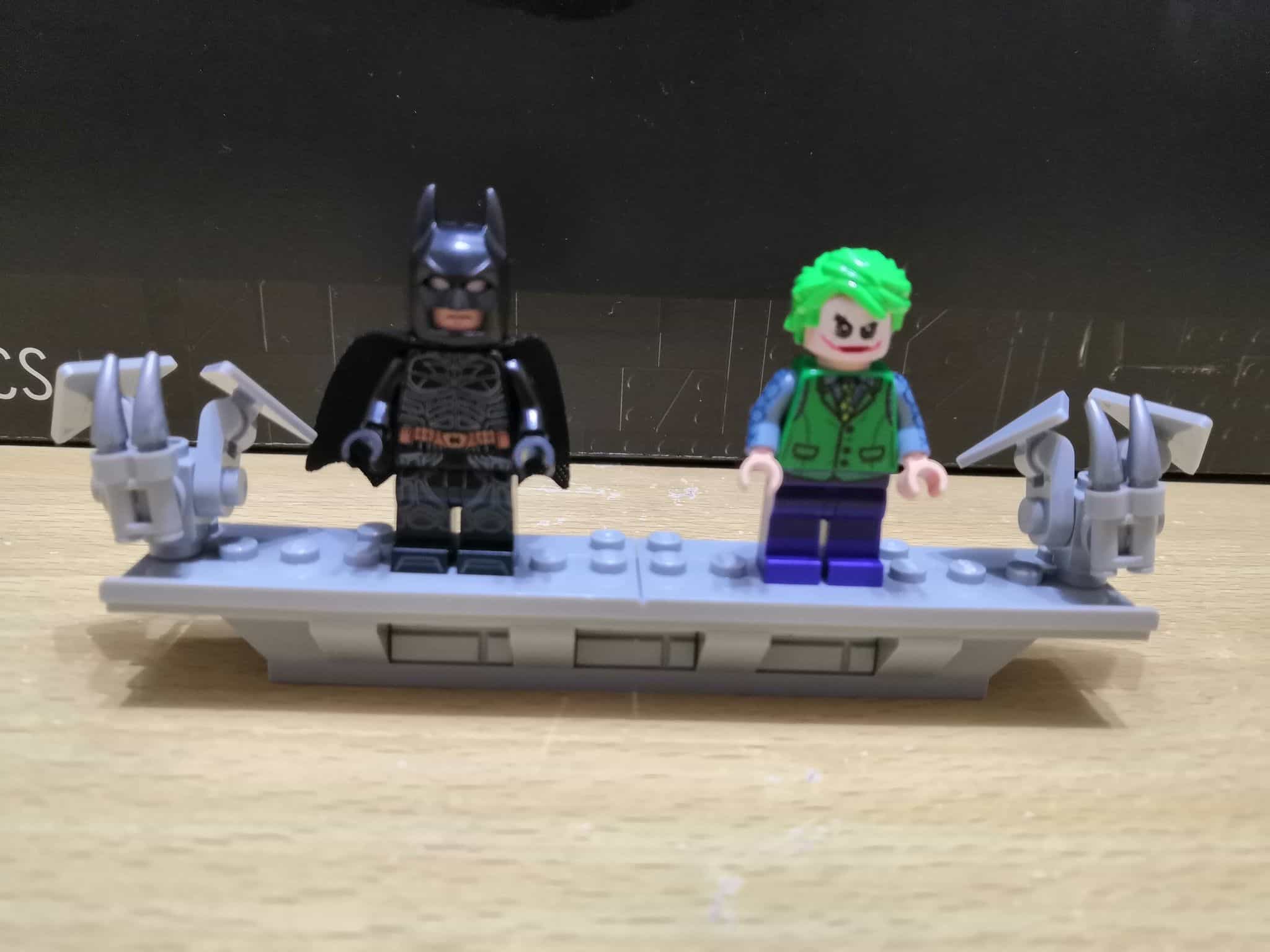 Pros:
Exquisite display piece
Beautifully detailed minifigures
Offers a building experience as well as just a display piece
Cons
Very expensive at $229.99
Difficult to build, so only suitable for more experienced adults.
See also: Ultimate Guide to Batman Toys
Batman Build-a-Bear
If the child you're buying for is under 10, then chances are they'll love this adorable Batman themed bear. It's so cute and cuddly, and even comes with accessories to dress him up in so he looks even more like the World's Greatest Detective. The great thing is that everything is available separately, so if you're on more of a budget, you can buy just the bear, or if you're able to afford the higher prices, you can buy the clothing too.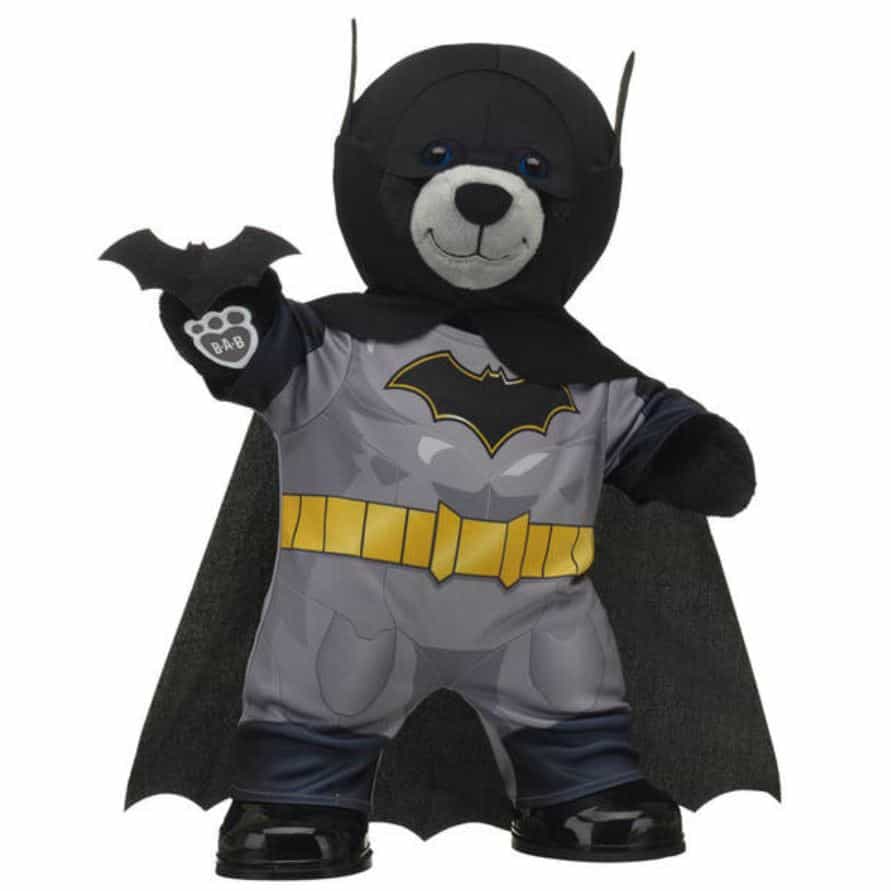 I would definitely recommend splashing out on including the costume, as it makes such a difference. He has a cowl and his own batarang for taking down the bad guys. The costume even includes a cape, so the child can pretend the bear is gliding through the air on his way to dish out justice. The full set comes out to $53.50, but  the additional accessories are optional, so you can get just the bear and the costume for under $50 if you don't want all the extras.
Pros:
Looks cute and feels soft
Can be accessorized from any Build-a-Bear store
Excellent for younger Batman fans
Cons
Rather pricey compared to other cuddly toys
Imaginext Bat-Tech Batcave Playset
If your kid likes to play, then you might consider this Imaginext Bat-Tech Batcave Playset which comes in at $39.97. When you picture a kids toy in your head, chances are you're thinking of something along the lines of Imaginext, as they're the stereotypical plasticky playset. However, plastic doesn't necessarily have to mean low quality, instead, you're able to get more bang for your buck as the materials aren't as expensive. Imaginext is pretty much the big name in toy recreations of locations.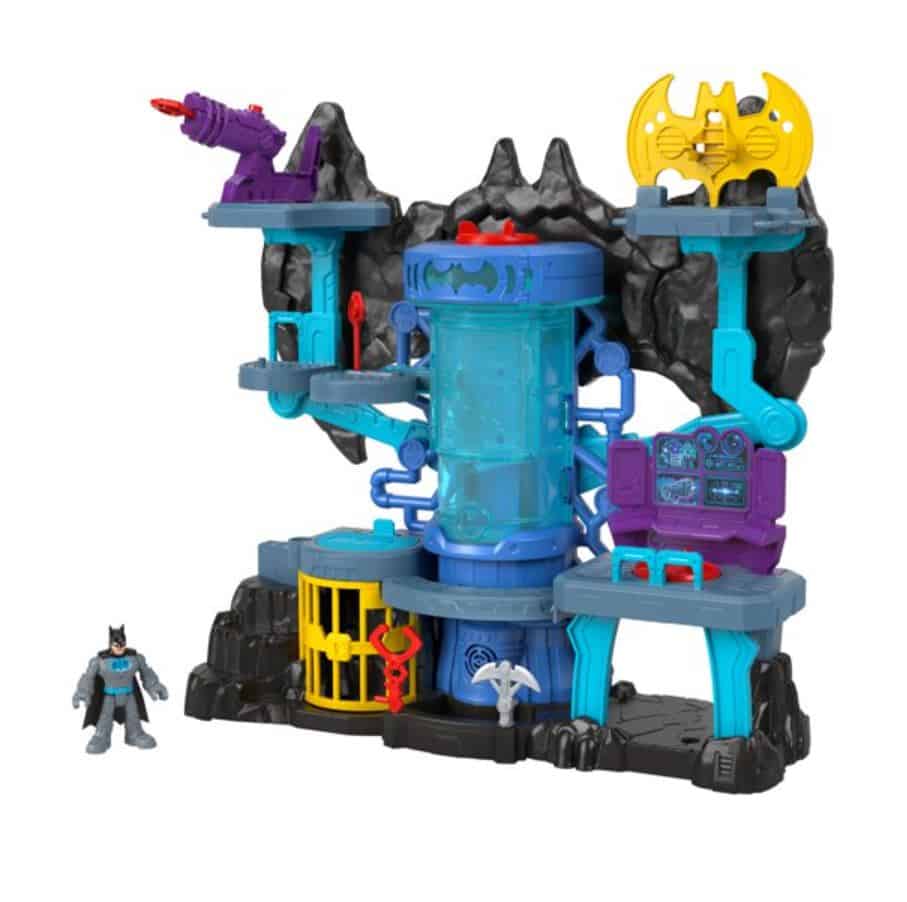 This Batman playset features a colorful and vibrant Batcave in shades of blue, purple, black, and yellow. It also comes with a figure of Batman himself, which is the perfect size to fit in all the nooks and crannies of the toy. One thing that's really cool about Imaginext is that they make it so there are feet marks in the playset that the figure can be slotted into to make something interactive happen. So you can use the figure to open doors, and things like that.
Funnily enough, I used to work as a playworker for an after school club, so I've actually used with this toy myself when playing with the children. They loved how interactive it was, and they came up with all kinds of exciting scenarios for Batman to get into. There are even projectiles that can be launched into the air. This toy is recommended for children aged 3-8.
Pros:
Relatively large size, good as a main present
Affordable compared to similarly sized playsets from other brands
Interactive features that can hold a child's attention
Cons:
Made of plastic, so doesn't feel super high quality
The action figures can get a bit brittle after extended use
Batman: The Complete Animated Series
This Blu-ray boxset of Batman: The Animated Series is my strong personal recommendation. It's $59.97 to buy it new, or you can get it cheaper used/ if you get DVDs instead. Although it first aired a long time ago, this series is what I would consider timeless, and I think kids today would still really enjoy it. This series is what first made me fall in love with Batman, and so it definitely holds a special place in my heart.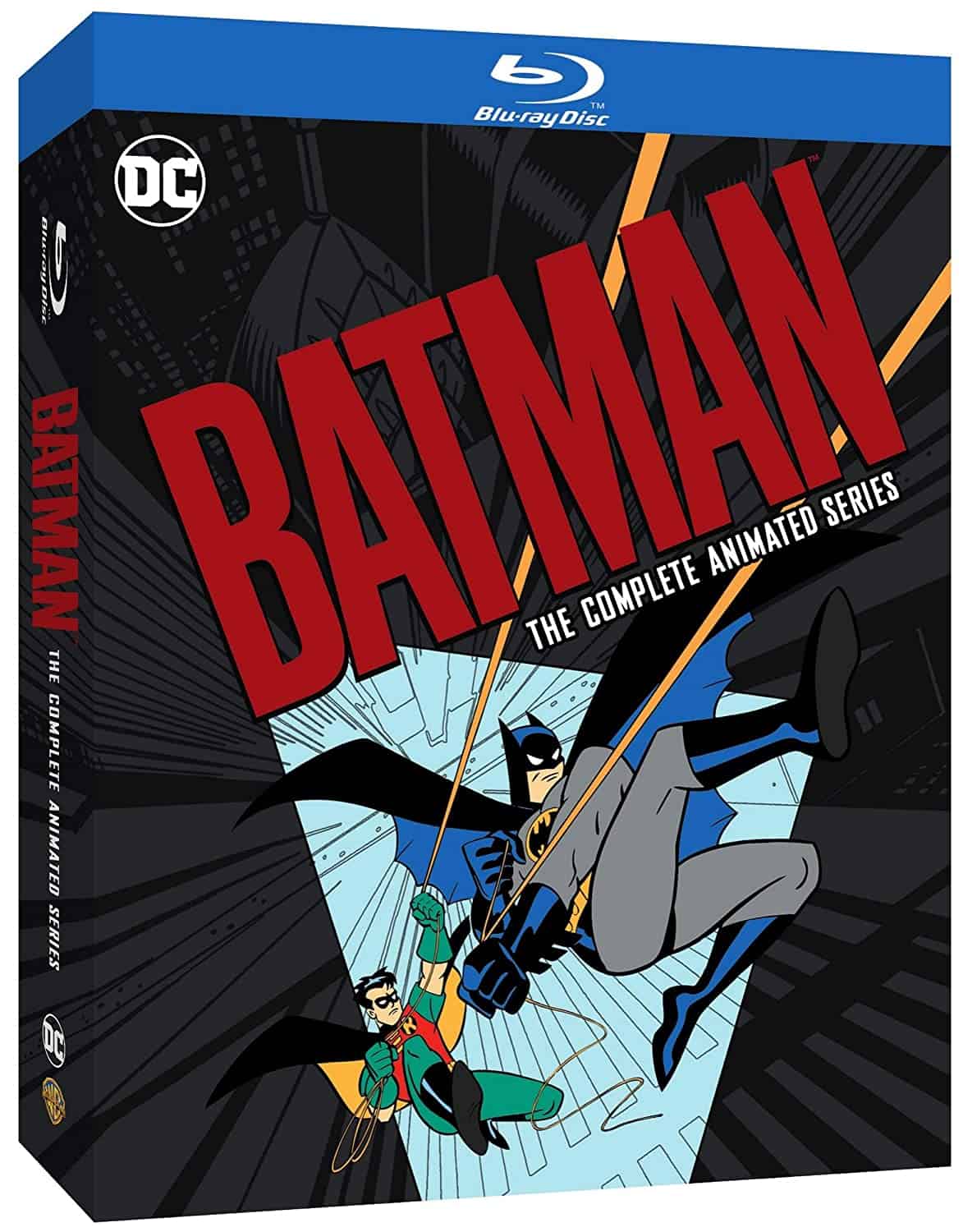 The boxset contains all 109 episodes of the series, which is over 35 hours of running time in total! That makes the price well under $2 per hour, which is very reasonable compared to some Blu-Rays these days. The product also includes two animated films – Batman: Mask of the Phantasm and Batman & Mr Freeze: SubZero. I love the cartoony art style in this series, and the plots are exciting and engaging. I would recommend this for children aged 6-12, or for nostalgic adults.
Pros:
Fantastic plot and high entertainment value
Well priced for all the episodes you're getting
Includes two bonus movies as well as just the series
Available in both Blu-ray and DVD formats
Cons:
Discontinued series, so other kids probably won't have seen or heard of it
There are other cartoons that children could watch for free on TV instead
See also: Best Batman Car Accessories [2022] 
Lego Batcave The Riddler Face Off
At $79.99, we have this Lego set of the Batcave The Riddler face off. Although this set is based on the 2022 movie The Batman which younger kids probably shouldn't see due to its dark and gritty nature, the build itself is suitable for ages 8 and up. It would probably be more meaningful to older kids who have actually watched the movie, but I don't think that's a prerequisite for a child enjoying playing with this one.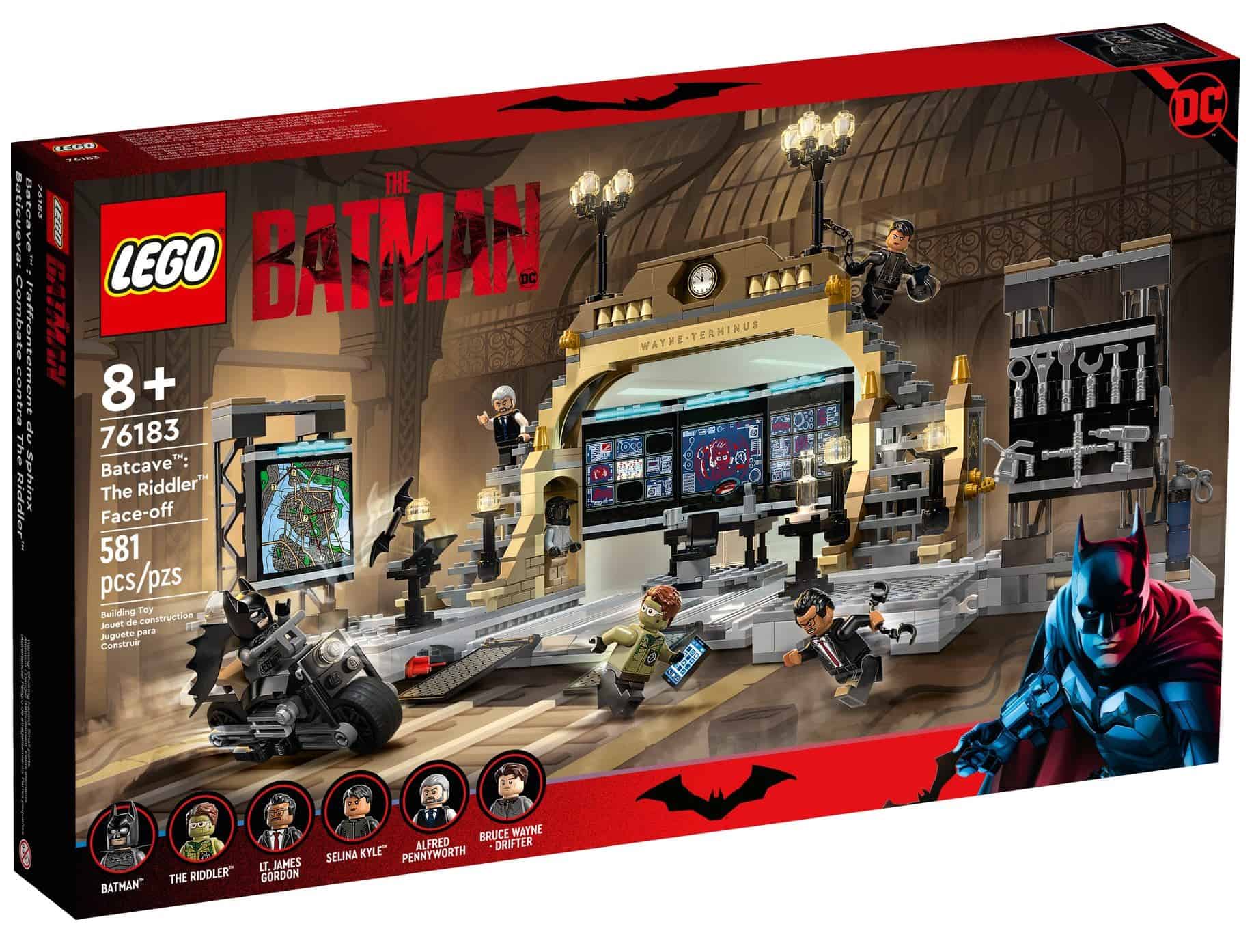 The set features the interior of the Batcave, and there's some impressive detail. There are stickers to represent the many technological displays, and the aesthetic feels very superhero-y. Any child familiar with Batman would be able to recognize this set-up. There are loads of accessories such as weapons, tools, helmets, and even a motorcycle. The set also comes with several minifigures including Batman, the Riddler, Alfred, and Selina Kyle. This looks like it would be a very fun set to put together, and it offers plenty of playability. It would be perfect as a main present for slightly older kids.
Pros:
Decent size for the amount of money it costs
Plenty of interactive elements to play with
Works well as a display piece as well as a toy
You get the fun experience of putting it together
Cons:
Lego is expensive compared to other toy brands
The setting won't be recognisable for younger recipients who haven't watched the movie
Loungefly Mini Backpack
Any child could be the coolest kid in school with this sleek mini Batman backpack by Loungefly. If you've never heard of Loungefly, they're pretty much the premier name when it comes to bags and wallets themed around specific fandoms. They make all kinds of incredible designs from Disney to Harry Potter to all things superhero. The mini backpack might be a bit small, but what it lacks in size, it makes up for in style.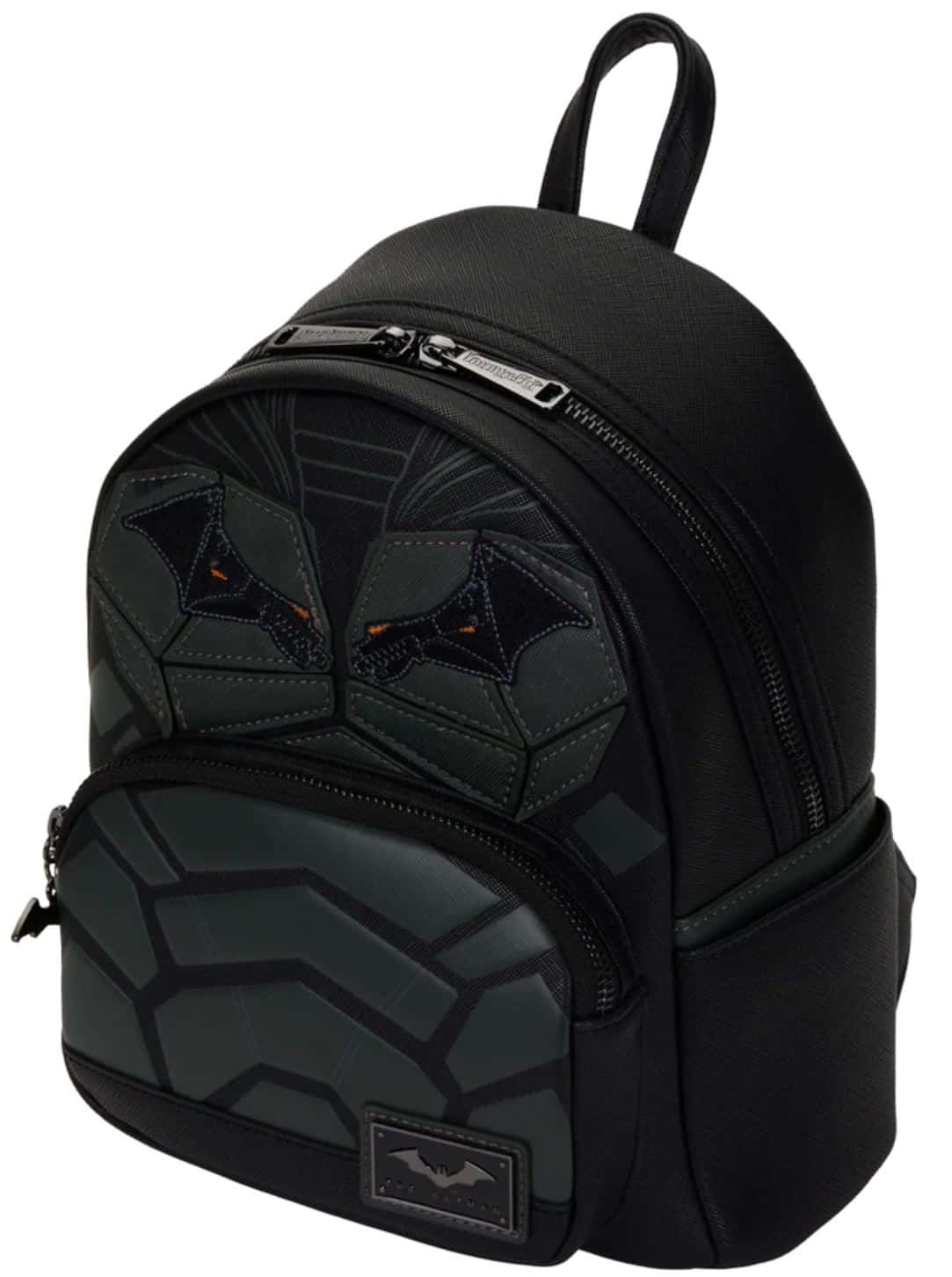 Much like Batman himself, this backpack is all black, except for a few flickers of orange on the Batman logo insignia. It's incredibly elegant, and immediately recognizable as being related to our impressive Dark Knight. Not only is the minimalist design fun and stylish, but on the back, and embroidered message reads "I am the shadows". The bag is free of animal-cruelty and uses only vegan leather. The $80 price tag may seem hefty, but it's what you expect from a brand like Loungefly.
Pros:
Unique and elegant design
Bag is small enough for children to wear without it being heavy
The company is ethical and no animals were harmed making the backpack
Cons:
The small size might make it inconvenient for school if they have to carry large books
Much more expensive than other backpack brands
Batman Funko Pop
I am myself an avid collector of Funko Pops, and their low price combined with their fun aesthetic makes them the perfect choice as a gift for an adult fan. Instead of narrowing it down to just one, here's a guide to the best Batman Funko Pops so you can choose your favorite from the selection. Just bear in mind that these aren't toys, and are intended as display pieces, so consider whether the adult you're buying for would have space to put one.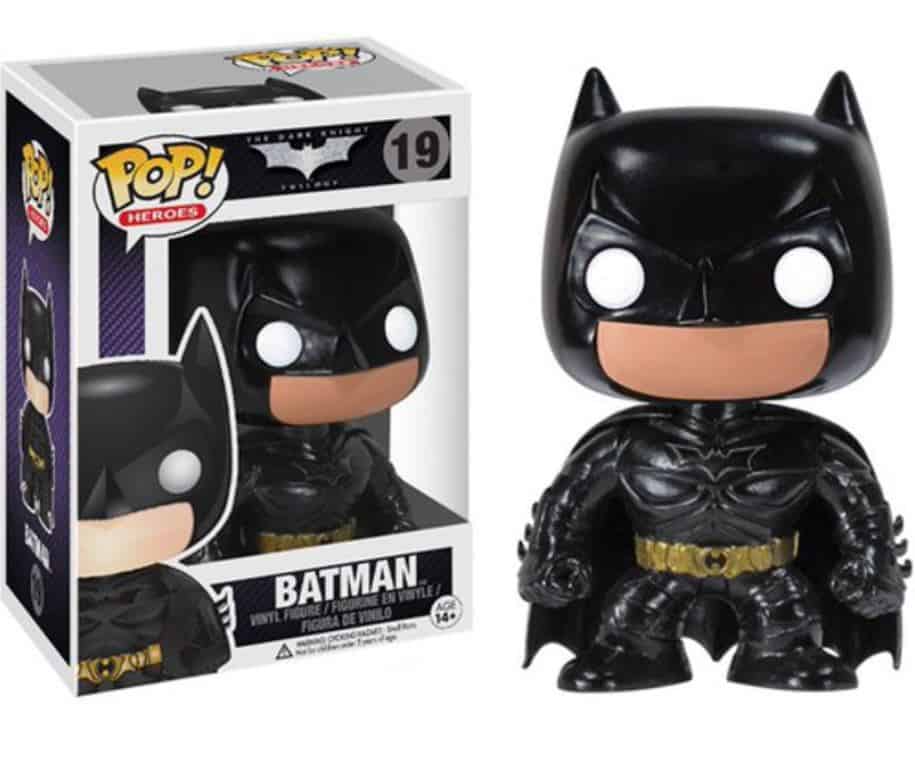 Honestly, the best thing about this gift is that you're not only giving an awesome collectible, but you're potentially introducing them to a new hobby. My first exposure to Funko Pops was when a friend gave me a Game of Thrones one for my birthday, and now I have over 50 of them! I get so much enjoyment out of discovering new ones and displaying them in my room, so hopefully the Batman fan in your life can experience the same joy as I do!
Pros:
Very affordable, often only around $10-15 for a regular one
Huge variety available
You can choose a gift specifically based on that person's favorite color/ character
Collectible figure that could potentially increase in value in the future
Cons:
Some people dislike Funko Pops as they oversaturate comic shops and conventions
Can be an addicting and expensive hobby if the recipient decides to start collecting
Joker Blazer
A high budget item at $99.90, this Joker blazer is the perfect gift for a Batman fan with an eccentric sense of style. Definitely not for everyone, its bold design would definitely make the wearer stand out. If you're planning to buy this, I'd recommend considering the wardrobe of the recipient to make sure that they like wearing items that draw a lot of attention.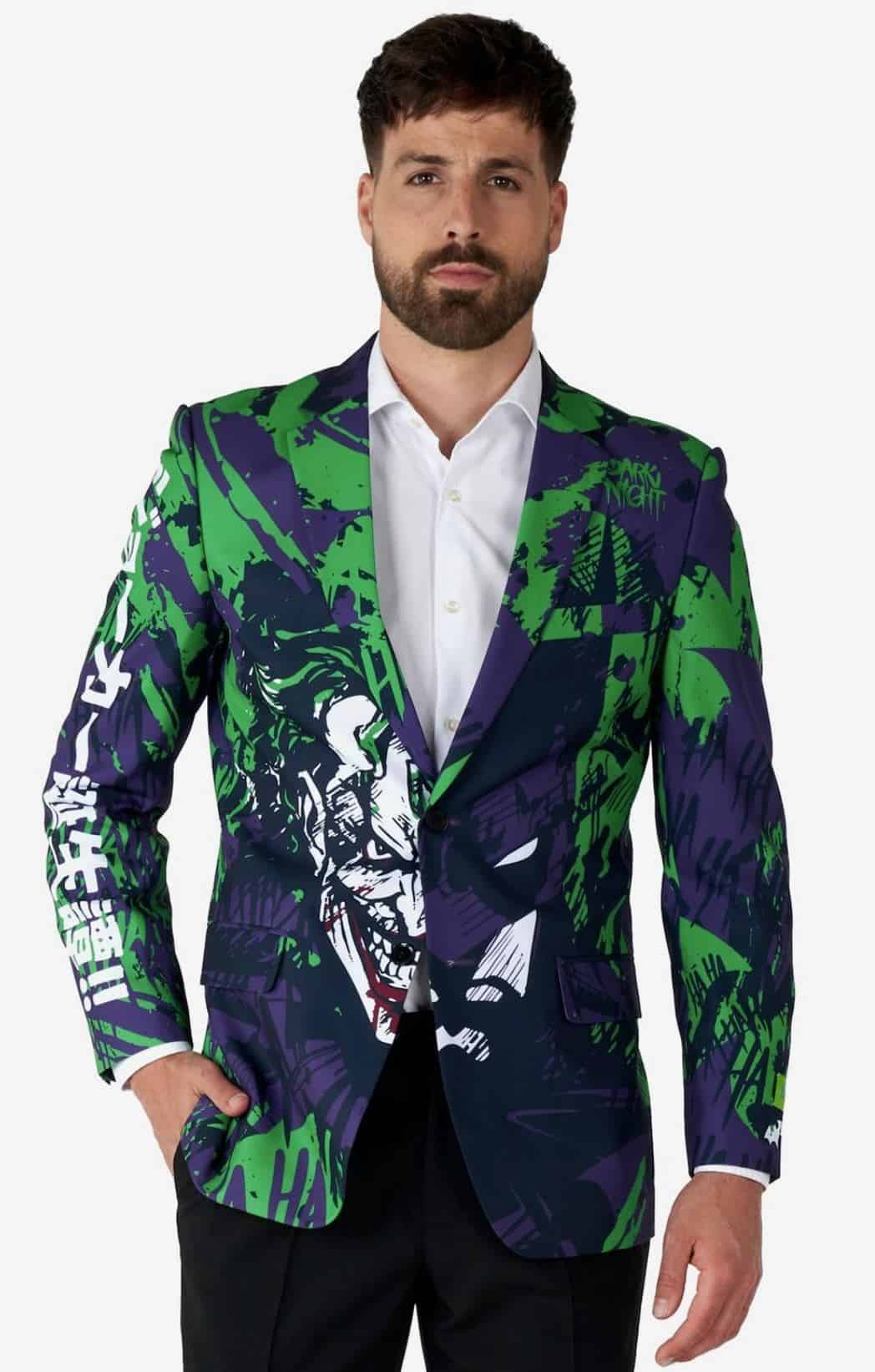 For the right person, though, this blazer would be incredible. It's a chaotic mix of purple and green, with the face of the comic version of the Joker in the middle. Naturally, as you would expect from Joker merch, the word 'ha' is written repeatedly across the design. Honestly, I love this, although admittedly I wouldn't be brave enough to wear it myself.
Pros:
Bold and unique design
The recipient is unlikely to already own anything like this
Stands out and is great for people who love eccentric clothing
Cons:
The design would not suit everyone, so you'd have to know the recipient's sense of style
More expensive than most other items of clothing
Wayne Manor Statue
Department 56 is well known for making high quality replicas of various locations, and their Wayne Manor Statue is no exception. At $161.70, it's not exactly cheap, but for that price you're paying for a lot of quality. The statue is created from a combination of porcelain and resin which gives it an excellent finish, and all the details are impeccable. It even has lighting included so that you can illuminate your statue as you wish.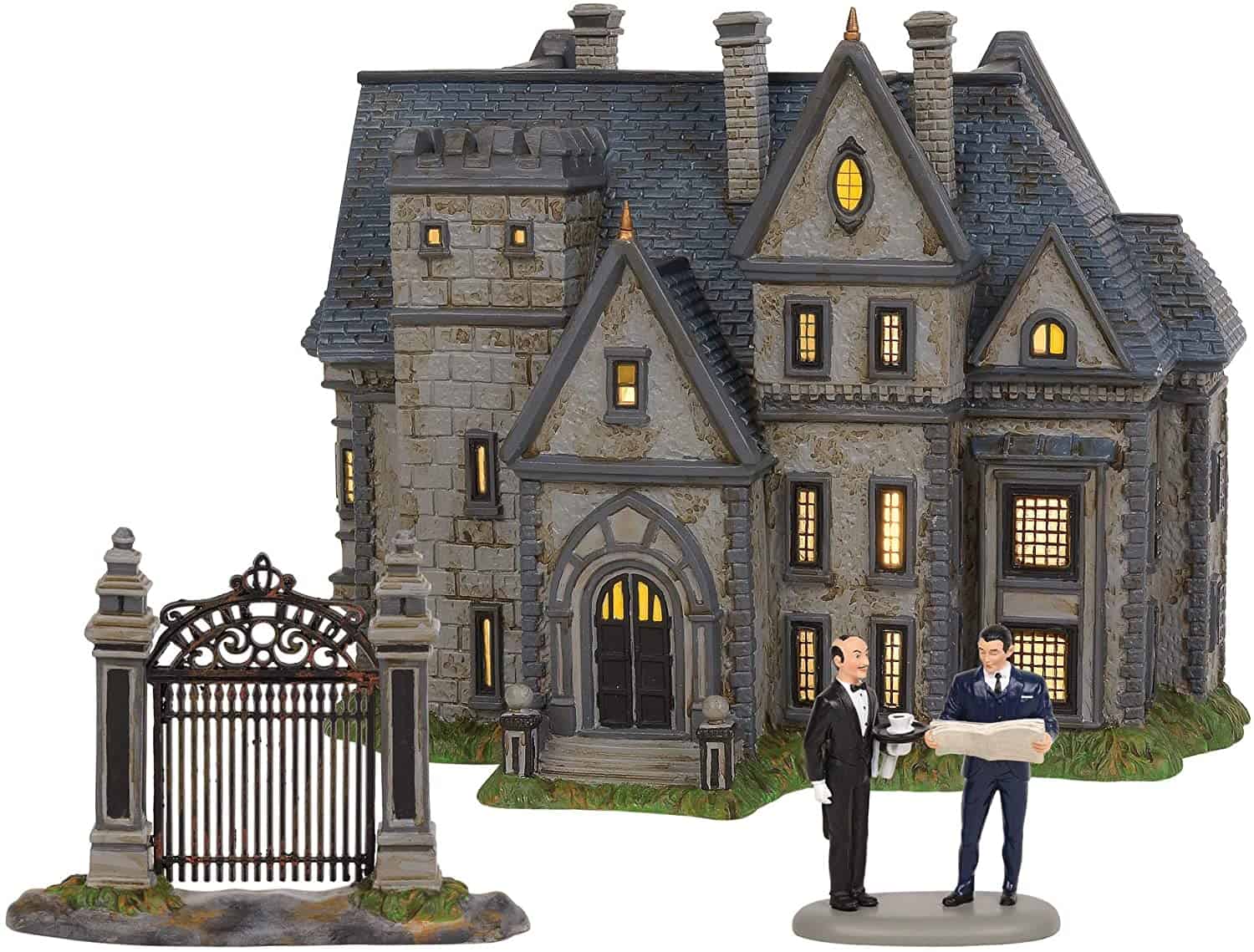 The manor itself looks gritty and foreboding, very true to the aesthetic from the movies and comics. The roof panels are in a dark charcoal gray, whereas the façade is a lighter, more brownish gray, with marks showing the age of the building. Included separately is an impressive metallic gate with an intricate design at the top. This statue also includes a figure of Bruce Wayne reading a newspaper whilst his butler Alfred stands next to him holding out a tray with a hot drink that's presumably coffee.
Pros:
Exquisite detail
A well-known brand so you can be assured of quality
A fantastic display piece
Includes lighting so the recipient can illuminate the statue
Cons:
It wouldn't suit all home aesthetics
Expensive for the size
Glow-in-the-Dark Action Figure
At $22.99, this glow-in-the-dark Batman action figure is perfectly priced so as not to break the bank, whilst still assuring you that it's of decent quality. It's a truly unique figure, and the sculpt is based on the character design from Batman Beyond with the very tall ears and slim face. The expression is a little scary, so I'd recommend this for slightly older kids, maybe 5 and up, just in case the younger ones felt intimidated by it.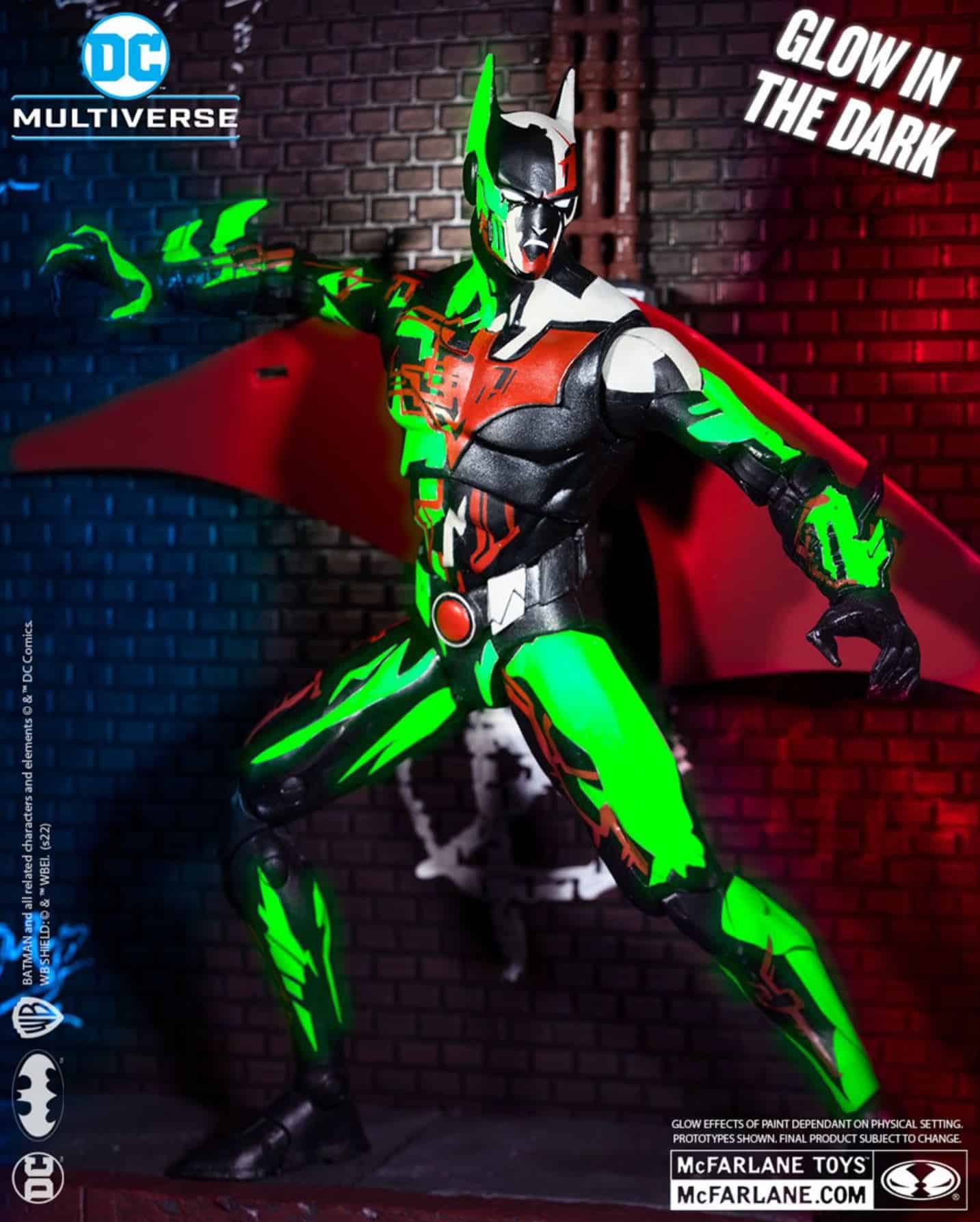 The coloring is rather eclectic, featuring a mix of red, black, and white. The white parts are coated with glow-in-the-dark paint, and shine a yellowy green when exposed to darkness. Not only does the figure look super cool, but it has 22 moving parts, which allows for lots of freedom when the child is playing with it. It also comes with a batarang and jet booster effects that can be attached to the feet to make it look like Batman is flying. You can even attach it to an acrylic stand so that it gives the appearance of Batman hovering in the air.
Pros:
Fantastic for young children who enjoy playing with toys
A cheap and fun gift
Lots of interactive elements to be played with
The glow-in-the-dark feature sets it apart from other action figures
Cons:
The color palette may be unfamiliar to some Batman fans
The facial features are designed to be rather scary
Wall Decals
Give your Batman-obsessed child the perfect bedroom with these epic peel-and-stick wall decals featuring various characters from the comics. Now, seeing as these need to be applied directly to a wall, I would recommend only buying these if the child in question is your own, or at least asking the parent's permission first. At only $17.90, they're a wonderful budget option.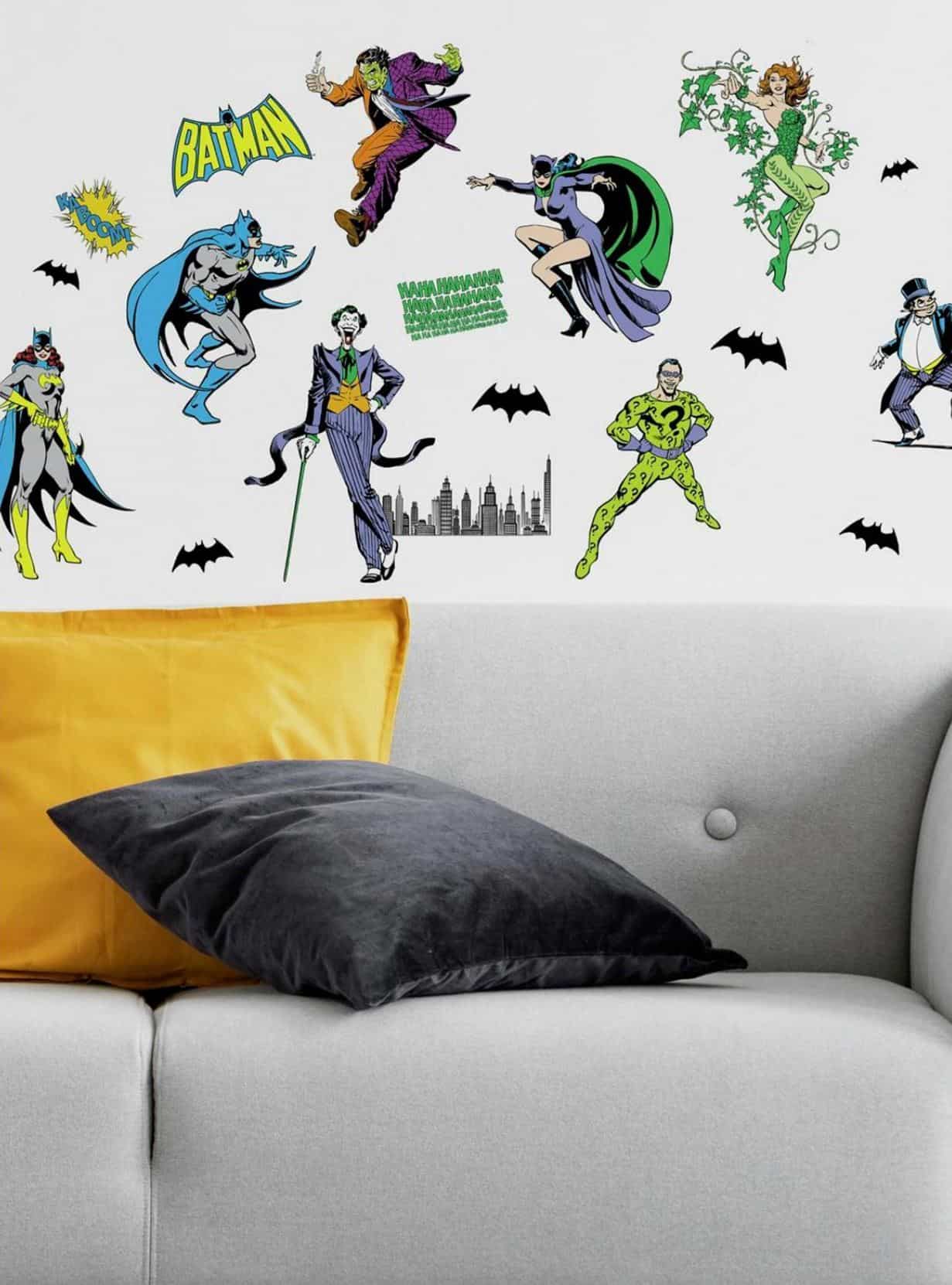 These fun decals can really liven up a space, and would be amazing for creating a Batman themed vibe. There are classic characters like the Joker, the Riddler, Poison Ivy, and of course Batman himself. As well as this, there are phrases like "Kaboom" and mini Batman logos. The coolest thing is that as they're vinyl decals rather than a solitary poster, they can be arranged in any order the child chooses to really make the decorative style their own.
Pros:
Can be arranged however the user wants them to be
Includes plenty of classic characters and phrases
More convenient than a poster
An affordable price point
Cons:
The design choices are a bit obvious, nothing particularly unique
You'd need to check with the kid's parents to make sure they were happy for the kid to stick these on the wall
Hot Toys Batman Figure
This extraordinary figure costs $300, but for that price you get an exceptionally impressive product. This is not just any old kiddie action figure, this is a highly detailed display piece intended for adults to enjoy. Based on the latest DC movie, The Batman, its sculpted based on Robert Pattinson's portrayal of the eponymous superhero. It has interchangeable heads so you can have him with or without the cowl. The level of detail on the facial features is so incredible that I genuinely did a double take to make sure I wasn't looking at a photo of the actor himself.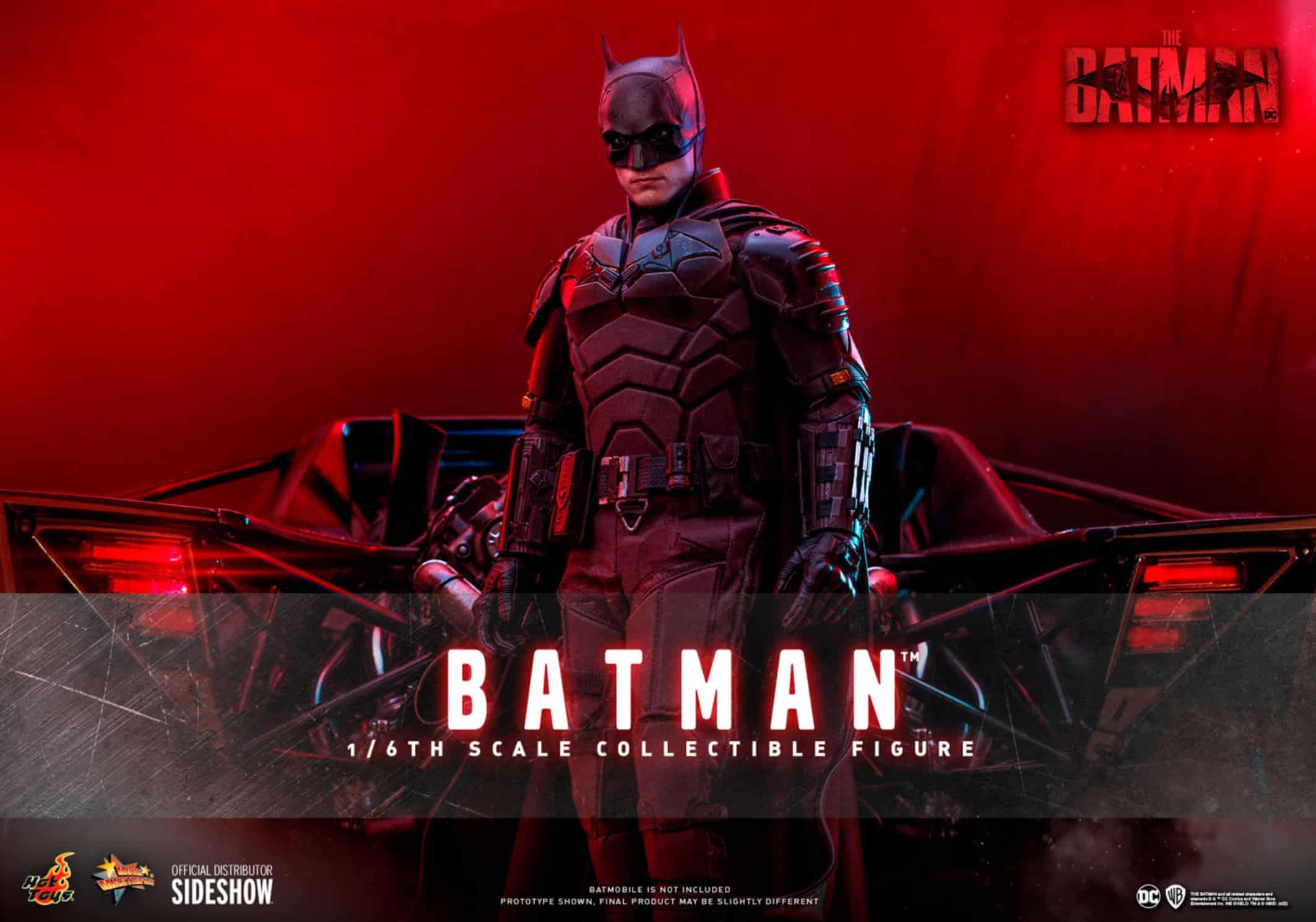 The sculpt of the body is designed to show off Batman's muscular physique, and truly gives the appearance of a superhero. The arms and legs are posable, and you can even change the expression on Batman's face. As well as the figure himself, there are a ton of accessories, including a detachable batarang on the costume's chest, a letter from the Riddler, grappling hooks, and handcuffs. It's honestly an immaculate product, and if you know a hardcore Batman fan, this figure would easily be their favorite gift ever.
Pros:
Absolutely incredible attention to detail
Made by one of the most renowned brands in the comic industry
Plenty of customization options
A beautiful and highly sought after display piece
Cons:
Prohibitively expensive for many gift buyers
Batman Alarm Clock
No kid likes waking up for school, but maybe it'll feel like less of a chore if they're being woken by this snazzy Batman alarm clock. It has the classic style with the large round bits at the side (I have no idea what their official name is, but I'm gonna refer to them as 'ring-a-dings' because that's what they do). I've never actually had an alarm clock like this myself, but I always see this type in shows and movies, so I've always associated it as the quintessential childhood experience.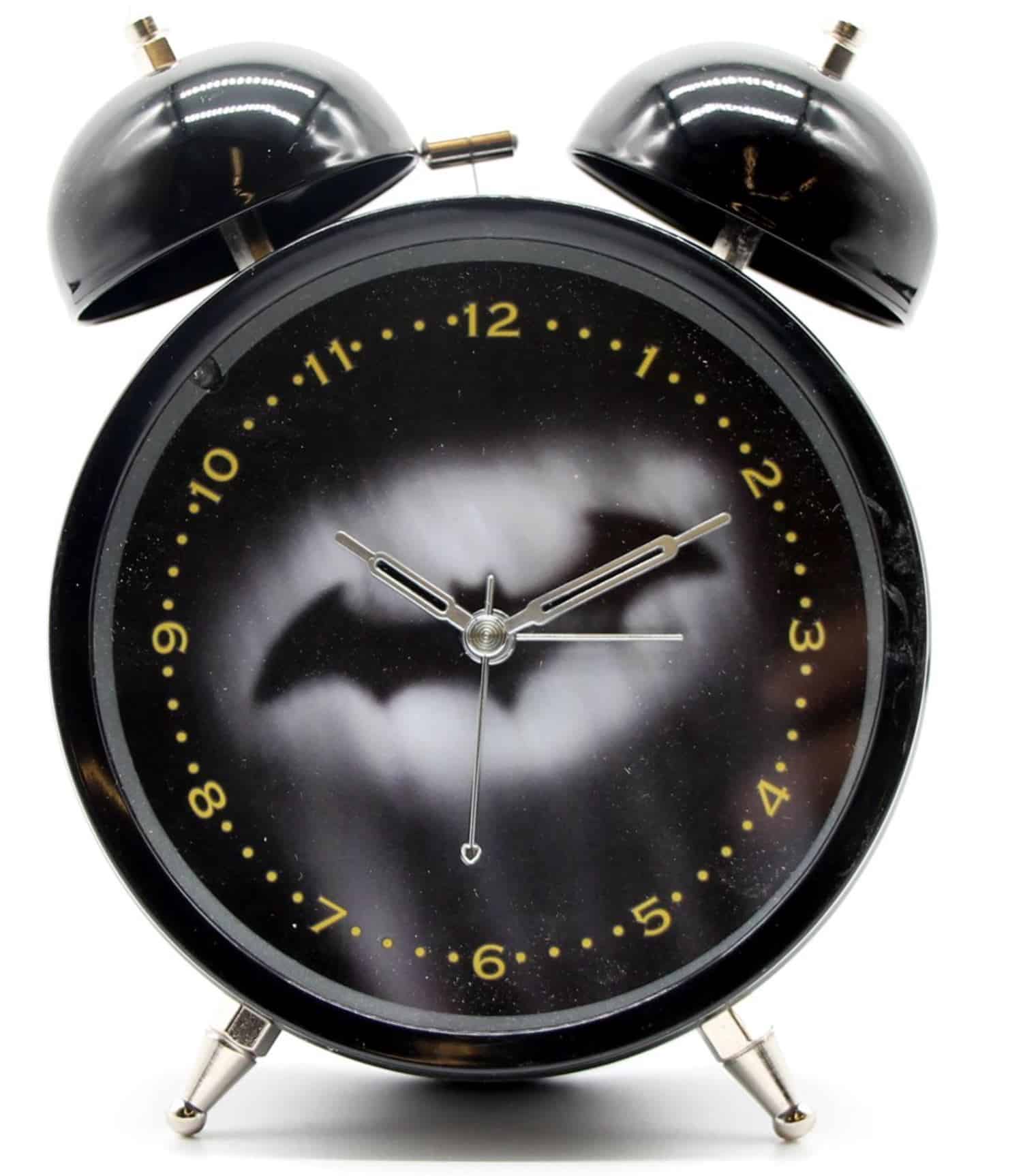 The clock is primarily black, but has the Batman logo in the centre. It's surrounded by what looks like fog, so I can assume this is based specifically on the Bat Signal as it pierces the night sky, calling out for Batman to come and deliver his unique brand of justice. The child could pretend that the alarm clock was calling them to justice too, which could perhaps motivate them to get out of bed. The hands are a shiny silver, and the numbers are written in gold lettering around the edge of the circle. Overall, a great little alarm clock, and only $16.99.
Pros:
A gift that's useful as well as fun
On the lower end of the budget so can be bought as a secondary present
Sleek design that conveys the Batman theme
Cons:
Not every kid is going to be thrilled with getting an alarm clock as a present
Batmobile Pedal Go-Kart
If you've got $199.99 to spend, and want to absolutely make a kid's day, then you have to get this incredible Batmobile pedal go-kart. I would have killed for this when I was younger (probably even as an adult if I weren't too big for it) and it looks like it would be so much fun. It's got pedals to control speed, as well as a functional steering wheel for perfect handling.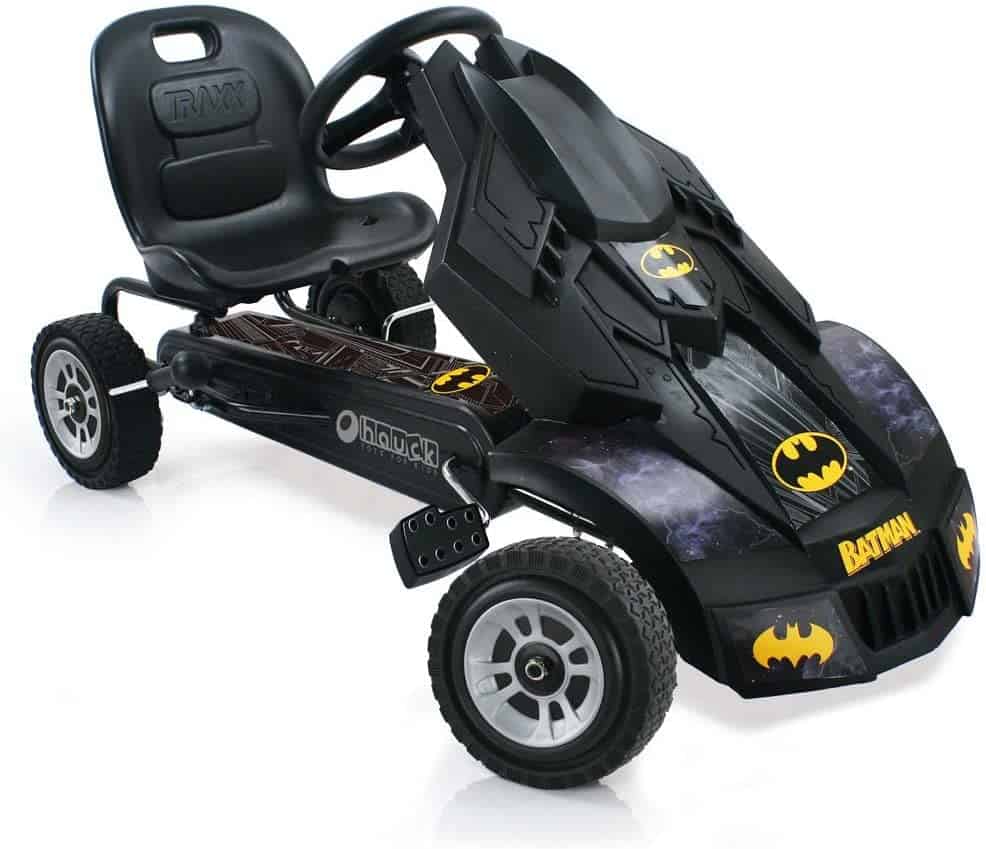 The go kart itself is decorated with a Batman design, with the franchise name emblazoned on the front, and several bat insignia across the sides. The rest of the go-kart is a sleek black, just like Bruce Wayne would want. It has an adjustable bucket seat so that kids can get the positioning just right for their heights. This product is recommended for children aged 4-8.
Pros:
Fantastic gift as it's super fun even aside from the Batman theme
The pedals allow the kid to control their speed
The wheel is specifically designed for smooth handling
Adjustable seat so kids can change it depending on their height
Cons:
Only suitable for kids of certain heights (children aged 4-8)
Very expensive for a kids toy
Cheese Board and Tools
If you want to get a unique yet practical gift, you might consider this Batman cheese board with tools for $65.90. Whilst it's probably not the first product that comes to mind when you think of a superhero, I actually really like that it's not mainstream. I love when companies think outside the box, and honestly this is brilliant for someone who enjoys Batman but doesn't like owning items that don't serve a functional purpose.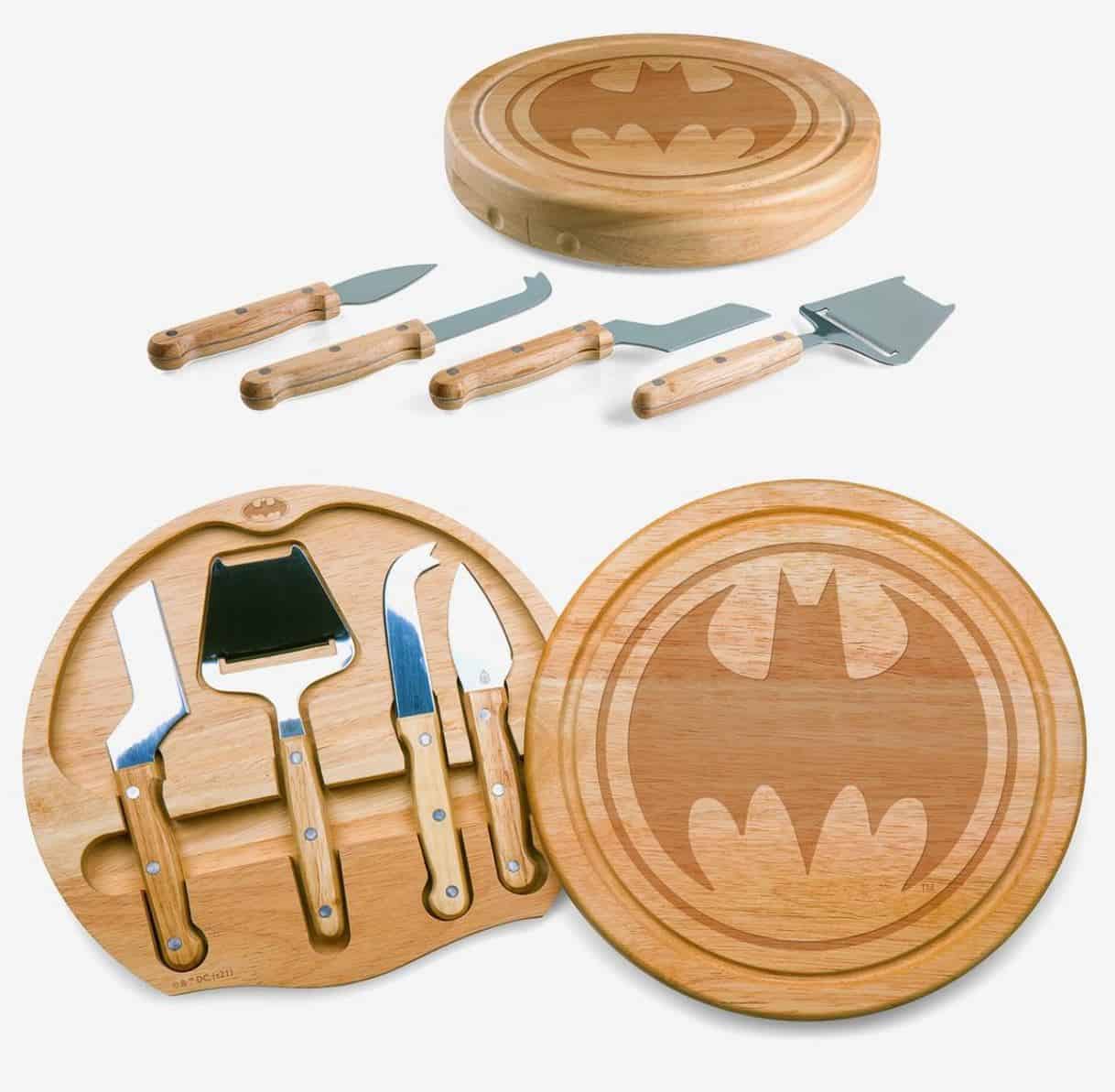 The Bat signal is engraved on the top of the wooden chopping board, which swivels off to reveal the tools underneath. There's a variety to account for preparing and serving different types of cheeses, and this is certainly a classy gift for someone to receive. If your recipient likes to host dinner parties or spends a lot of time in the kitchen, this could be brilliant for them.
Pros:
It's functional as well as decorative
The recipient probably won't already own anything like this
It's perfect for someone who loves to host dinner parties
It comes with tools as well as just the cheese board
Cons:
Not everyone is going to like something like this
Quite expensive for what it is (even though the price is justifiable)
Conclusion
As you can see, there are plenty of excellent Batman themed products out there to suit all ages and budgets. Hopefully this guide has been inspirational for you, and you've found the perfect gift for your loved one. If you're interested in learning more about the history and lore of the franchise, then check out this detailed guide explaining the Batman universe!
FAQs
Question: How should I wrap a Batman gift?
Answer: This will depend on the age/ mentality of your recipient. If you're giving the present to a child/ someone with a colorful style, then bright wrapping with scenes from the comics or repetitions of the Batman logo would be amazing as they convey the theme and make the experience more exciting. However, if your recipient is an adult who takes themselves more seriously, then sleek black, gold, or gray wrapping would probably be better for staying on theme whilst also being elegant. Of course, you could potentially use a gift bag instead if the present isn't too large.
Question: When was Batman first created?
Answer: Batman first came on to the DC Comics scene all the way back in May 1939. He was first written by Bill Finger and his original artist Bob Kane. He was a huge hit with the fan base, and has evolved a lot since then, seeing many iterations and even alternate universe versions of the character. Batman's first movie appearance was in 1966 in the adequately named Batman: The Movie.
Question: What was the most commercially successful Batman movie?
Answer: There have been plenty of movies of the popular Caped Crusader over the years, often attracting a large viewership. But which one made the most money? That honor goes to The Dark Knight Rises, which made a whopping $1.081 billion dollars at Box Office! Interestingly, despite making the most money, it wasn't quite the most popular one in terms of rating, as The Dark Knight is widely regarded as the best Batman movie. TDK also made serious bank at Box Office, coming in second with $1.06 billion dollars.
Recommended Reads: