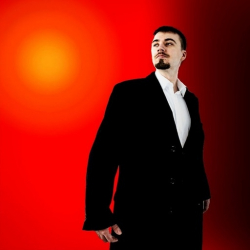 Latest posts by Stefan Stevanovic
(see all)
Although Captain America's helmet is not a popular piece of the superhero's equipment, it is still an important part of it. In a way, it makes him much more mysterious, which has become an inseparable part of the superhero persona over the years.
Nowadays, these helmets are mostly used for Halloween and other masked events. However, they can be great roleplay items for your kids while they're playing in the backyard. Depending on the manufacturer, some of these helmets can be very sturdy and resilient, lasting for years and years without experiencing any wear and tear.
I was always a fan of Captain America. In fact, I had one such mask when I was a little child. Back then, the design was a bit different as it fit Captain America's iteration in the comic books. Since then, a lot of things have changed. There are much more helmets to choose from, and they are generally much sturdier.
Their design has also changed to encompass all the changes within the comic books. They are modern, slick, and still look awesome. Nevertheless, if I had to choose, I would always go with my childhood helmet. Check out our guide on the Captain America Merch: 85+ Items!
In this guide, I will review the best Captain America helmets and what makes them so unique.
Key Info Up Front
Captain America is an iconic Marvel character. Often portrayed as the leader of the group, he stands for valor, freedom, and the American way of living. Captain America's helmet is the second most-recognizable piece of his equipment, right after his shield.
My personal favorite is IICoser Superhero Mask Latex Steven Rogers Captain Helmet. This is a very sturdy product that will certainly last for a while. It has an impeccable design, and it is made from really nice resilient materials that are, at the same time, very soft.
The Selection Criteria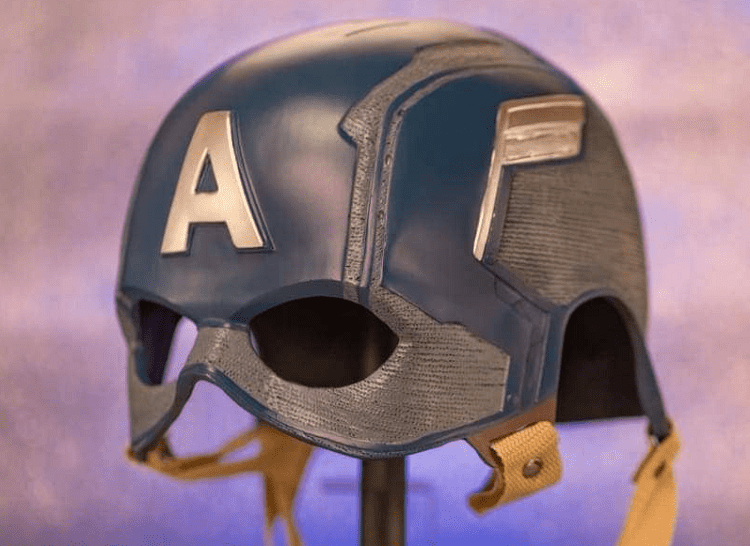 If you want a Captain America helmet, there are a few ways to go about things. First off, you can buy it in one of the numerous stores, or you can create it at home.
The homemade products provide much more leeway for experimenting. In fact, most cosplayers prefer making these pieces in their garage, as they can modify the basic formula, adding a personal touch to it.
However, if you like authenticity, you will likely go with store-bought items. You can buy these items in just about any major store, including Walmart, Amazon, Aliexpress, and so on.
Aside from web stores, Captain America items, including helmets, are usually available in specialized comic book shops and other stores for collectibles.
Here are the selection criteria I used when choosing these helmets:
It needs to be sold in a reputable store.
The product needs to have enough reviews to make it relevant.
It is made by a reputable company.
The item looks nice, and it looks like something you'd like to wear.
Keep in mind there are so many similar Captain America helmets out there. Sometimes, it can be hard to differentiate one from another. As a rule of thumb, you should always go with items sold within reputable stores. That way, even if something goes wrong, you can easily return it.
Whatever the case may be, these items are amazing even if you're not a Captain America fan. You can wear them on various occasions, and they're not necessarily that expensive.
Best Captain America Helmets
Anyway, if you're looking for a premium Captain America helmet, here are some of the products you should definitely consider:
Cosplay Captain Mask America Infinity War Helmet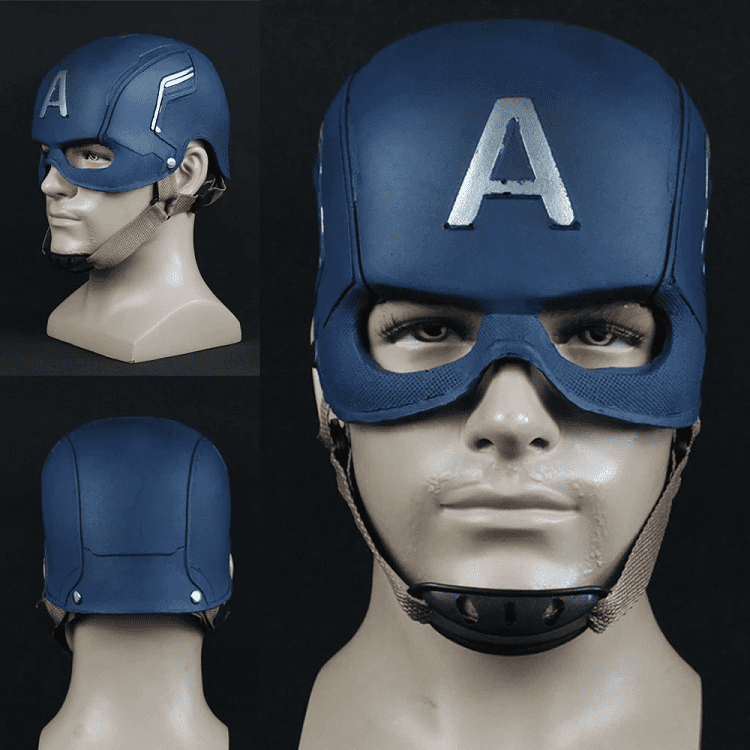 If you're looking for the most traditional Captain America helmet, it doesn't get much better than this one. The product is made in China (like most other Captain America items), and it is a perfect thing for any cosplay event. I really like the colors on it. On the other hand, some other items have more details.
Cosplay Captain Mask America Infinity War Helmet is made from soft PVC, and what's even more important is that it can fit almost any head type. The product is very stretchy, and you can get it in different diameters ranging from 55 to 62 centimeters. That being said, I'm pretty certain I could also put it on this big head of mine.
As for the product's appearance, it is dark blue, with a large A on the forehead. The central area is made from one piece, while its sides have small holes. The item is held in place with brown straps, and there is also a black reinforced chin holder.
Pros
The colors are pretty good.
The item is handmade, which you can see based on numerous imperfections. However, this makes it that much more unique.
Cons
Although the product looks very detailed, you might want to go with something else if you prefer complexity.
2021 Captain 3 Civil America War Captain Helmet America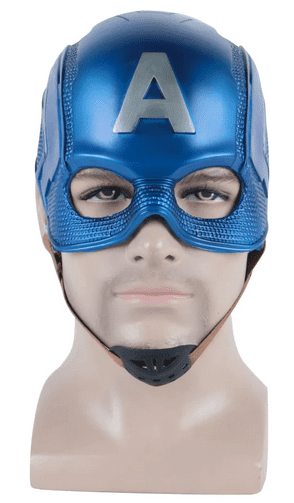 This mask is very similar to the previous entry on our list. The product is inspired by the events during the Avengers: Civil War, where Captain America's mask is made from slightly different materials.
As a result, it has a blue, lucent glow. This is what I like the most about it; most other Captain America helmets look rather generic. Although this one is not authentic, that is, according to movies, it brings something different to the table.
Generally speaking, everything that was said for the previous item goes for this one. It has the same straps and chin holder, made from the same material. The main part of the mask is also made from similar material and has the same small holes on the sides.
The thing that separates this item from the previous one is the color used for the helmet. Captain America's mask is much shinier, almost reflecting light.
Like most other items on the list, the helmet is ideal for cosplaying and other fun events. It doesn't offer much protection, as it is made from light materials, so you can't wear it as a real helmet (the name is more of a placeholder referring to the real Captain America's item).
Pros
This Captain America helmet is very unique in terms of the colors. It doesn't use the standard dark blue, but instead, it has sparkling light blue.
It is very well made with little to no imperfections.
Cons
While the color is pretty nice, it can become overbearing to look it at for prolonged periods of time.
See also: Captain America Characters
Marvel Avengers Captain America Scope Vision Helmet, for Kids Ages 5 and Up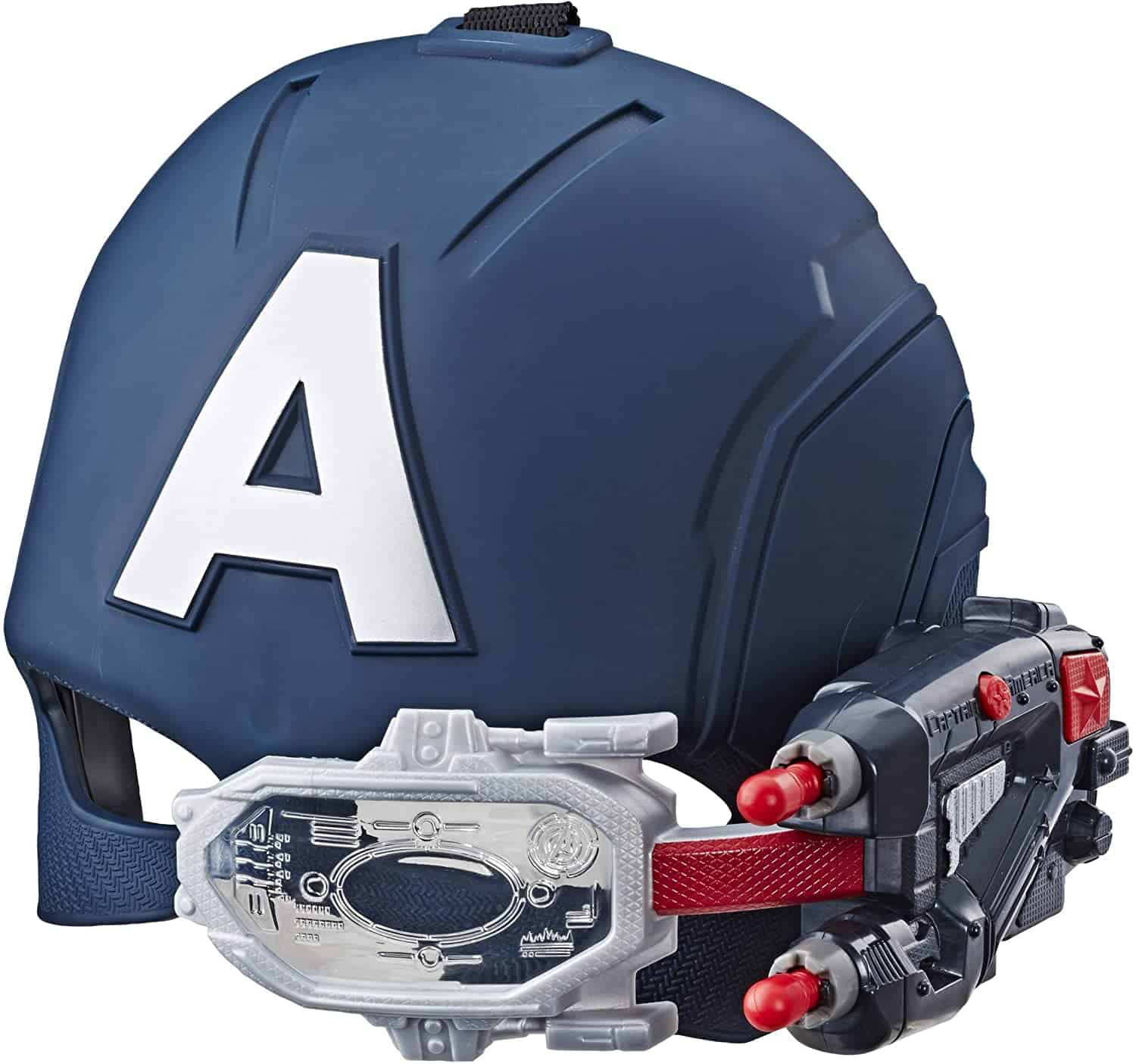 If you're looking for something a bit more fun, you should definitely consider getting Captain America's scope vision helmet. As the name implies, the thing that separates this product from others is the fact it has a scope attached to it, but also two dart shooters.
This makes it a great product if you want to mess around with your friends or wife. Keep in mind that you're doing it at your own peril!
Let's start from the top. The helmet is dark blue, with the standard Avengers logo on the forehead. It isn't an exact replica of Captain America's helmet as it lacks details.
However, it is much sturdier, making it better for kids who like to run around and do all sorts of crazy things. Even some adults might use this product, as long as they have a smaller face. In that regard, you can one day repurpose the toy and start using it as a cosplay mask.
It is also worth noting that the helmet doesn't cover the whole head but instead just its front part. There are black straps on the side that fix it in place so it will remain safely attached to the kid's head. The helmet's eye sockets look very cool and intimidating.
As mentioned, the product has a firing scope. It is attacked on the left side of the helmet together with dart shooters. When you press a button on the side of the head, you can shoot up to two projectiles toward the enemy. Keep in mind that these small darts can be a choking hazard, especially if you give them to a young child.
The product also comes with instructions showing the parents, but also the child, how to use it properly. It is ideal for kids from 5 to 13 years of age, and it comes with an alkaline battery. The helmet has 5.51 x 9.02 x 10.51 inches dimensions.
Pros
If you're looking for a mask that is more of a toy than a cosplay item, this is the perfect piece for you. It is great for people of all ages, and you can easily put it even if you have a bit larger head.
As a toy, the product is awesome. It allows you to shoot darts by pressing the button on the side of the head.
The product looks really well polished.
Cons
This isn't a helmet, but more of a mask.
There are much better items if you're looking to go to a masked event.
Captain Steve Rogers Mask America Helmet Halloween Headwear Shield Cosplay Costume Accessories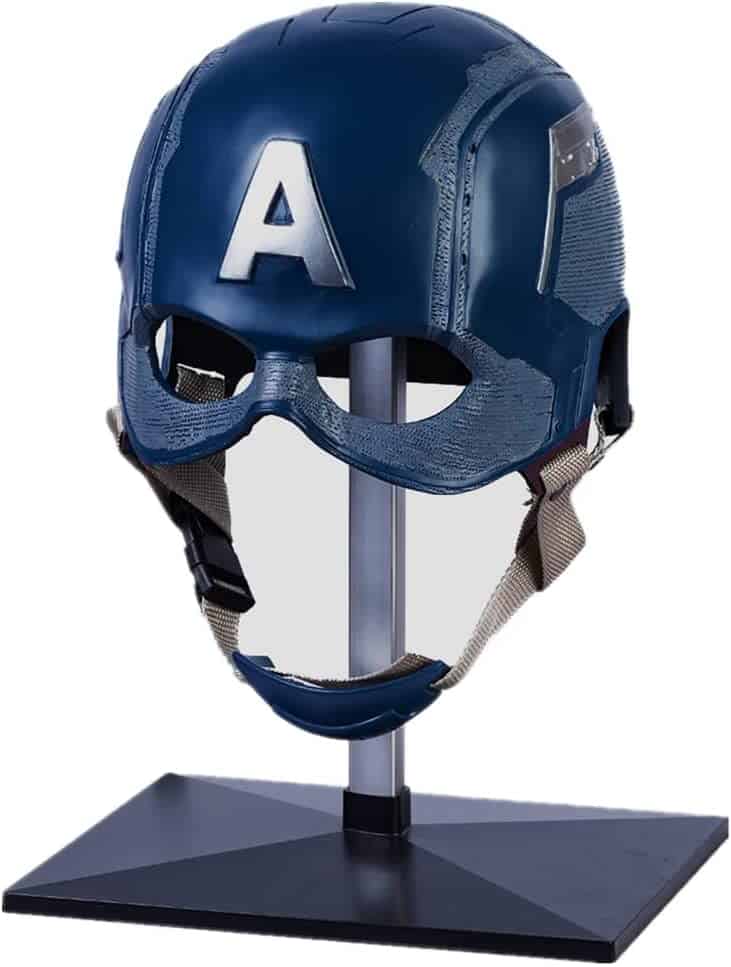 Here is another item that is much better for cosplaying than as a toy. Like all other Captain America helmets, this item has a large blue headpiece. The central area of the mask is smooth, and it becomes rather rough below the eyes and on the sides.
The product has a large letter A on the forehead. You can also notice gray adjustable straps and a blue chin holder.
Another cool feature of the mask is that the company used a quality durable finish for the color. It is unlikely to peel even after prolonged use. As the manufacturer explains, the color scheme resembles a cold, metallic weapon.
As for the materials, the manufacturer combined hard resin and soft latex. In other words, you won't even feel the helmet as you're wearing it on your head, but it will still provide enough protection if someone were to hit you. The product can be used by just about anyone, regardless of their age. That is, as long as the mask fits them.
It has dimensions of 0.39 x 0.39 x 0.39 inches, and it weighs 1.88 pounds. In other words, it is more suitable for teens, but you might also put it on as it's very flexible.
Pros
The product looks very clean and polished.
What I really love with this one are the chin straps. They look much sturdier than those on other items.
Cons
Brown straps make it look much older and rugged than it actually is. Some people might even think that it's used item when it's brand new.
Captain America Superhero Latex Overhead Adult Teen Helmet Mask
This particular product is among the most detailed Captain America helmets on the market. Like all of them, it is made from a blue material with a large A on the front.
The central area is clean, without any holes, crevasses, and other details. The area around the eyes is a bit different, with small holes and a different fabric. Still, the holes are big enough so you can easily see through them.
The sides of the helmet are also very complex. They also utilize a different type of material, and you can notice silver stripes on the sides. If you take a look at the sides, you will notice that the product has holes for ears.
I love the fact that the chin straps are also a bit different compared to other items on the list. The material used for the straps looks very sturdy, and you can adjust it at will.
One thing that definitely separates this item from others is that the details are hand-painted. The artwork is done by Trippy Lights, who did an amazing job with the product. As for the dimensions, it has 12.91 x 10.83 x 1.81 inches and 4.3 ounces.
However, don't be fooled by this as the material is very stretchy and will accommodate your face and head. You can wear this product during just about any occasion, including parties, dress-up, festivals, cosplay events, birthdays, surprise visits, Mardi Gras, and so on.
Pros
All the parts on this helmet are handmade. Among others, the product is handpainted giving every object a unique feeling.
One size almost fits all. Like most other items on the list, this one is rather flexible and accommodating regardless of a person's age or head size.
Cons
Due to the fact that these items are handmade, don't be surprised if they come with a few flaws.
Marvel Avengers Captain America Basic Mask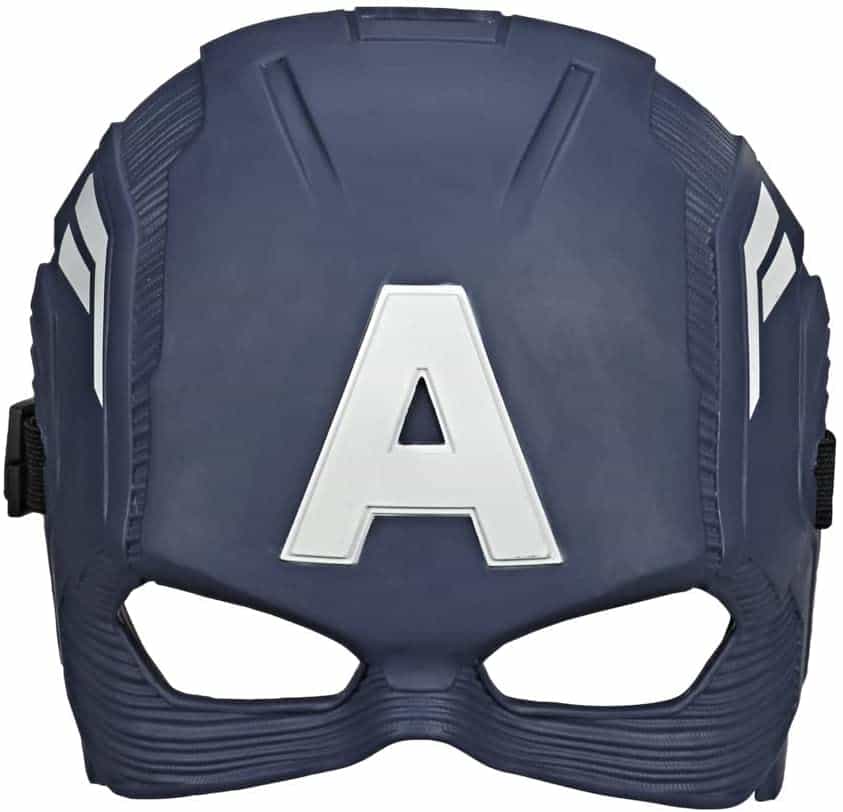 If you're looking for something more simplistic, it doesn't get much better than Marvel Avengers Captain America Basic Mask. As the name implies, this is a basic item with minimal details on it.
Unlike the previous entries on the list, it doesn't even have the traditional chin straps or holder. The item resembles the previously mentioned mask with scope (number 3 on my list).
However, that doesn't mean it is less cool than the alternatives. The product is made by Hasbro, a reputable toy manufacturer that has full trademark rights for Marvel-related collectibles and items.
The mask weighs 3.98 ounces and has dimensions of 4.02 x 7.52 x 11.5 inches. Given that it's only a mask, and it is attached to your head with adjustable straps, it can be worn by people with various heads and face types.
In terms of the design, the mask utilizes a dark blue scheme. It is worth noting that you can buy exactly the same mask but with light blue colors. You have a woven latter A on the front that stands for Avengers.
The central area is rather clean, and you can notice two crevasses on the top. The area below the eyes is slightly different, and so are the areas on the side. There are two white stripes on each side of the head that slightly resemble wings.
Pros
Unlike the helmets, this mask allows your skin to breathe. This makes it ideal during the summer and for longer masked events in closed space.
The color combinations are awesome. The item is made from a very resilient material that will last for years.
Cons
It really lacks details. Compared to some other entries on the list, it feels basic.
IICoser Superhero Mask Latex Steven Rogers Captain Helmet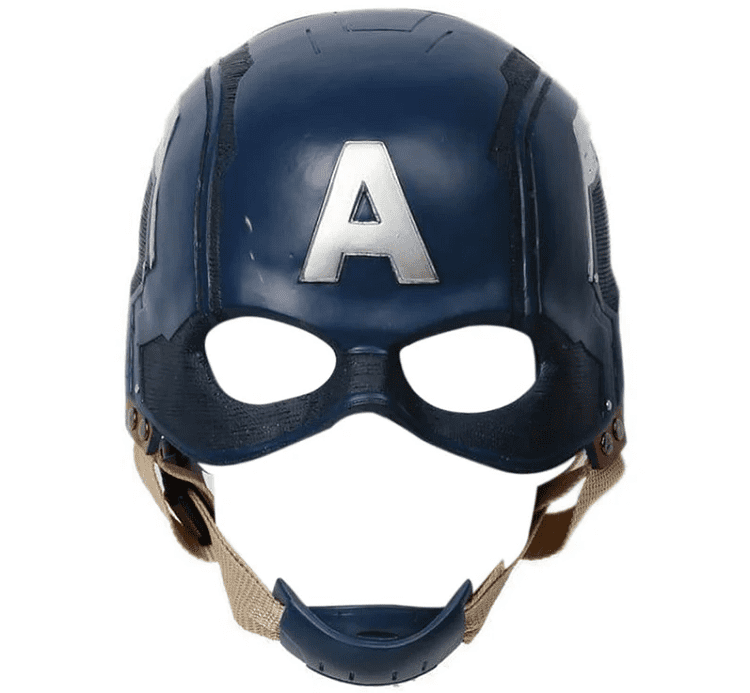 This particular product is made by IICoser, and it features various cool details.
The helmet looks very clean and polished. As per usual, the central area doesn't have many details aside from the Avengers' letter A. However, you will notice small differences on the side of the mask, as well as under the eyes.
Captain America's helmet has two silver stripes on its sides that look much better compared to the same stripes on some other products. In fact, the sides of the head have numerous intricate details that make it worth your while.
The mask has sturdy straps on the sides and below the chin. All of them are interconnected and additionally secured. In front, there is an adjustable mechanism that allows you to fasten or loosen the straps, so they fit the shape and size of your head. I tried this particular helmet myself, and I had no problem putting it on.
The company placed a lot of love into this piece. Everything is hand-drawn and looks very realistic, as if you're wearing the real Captain America's helmet. They used natural latex, making it resilient yet comfortable.
As for the size, the mask has 10.39 inches in height, 9.69 in length, and 3.86 inches in width. It weighs 8.78 ounces. Nevertheless, due to its stretchiness, it can be worn by people of different ages and head sizes.
Although products such as this are much more suitable for male kids, the girls can also play with them. The product doesn't have any small pieces that can be ingested, making it suitable for children and teens of all ages. In fact, even adults can wear it so, go bonkers with it!
Pros
Soft resin is amazing for these types of products.
The color combinations are really cool, and you would look awesome during various cosplay and masked events.
Cons
Some of the details could be better.
FAQs
Question: What is the Best Captain America Helmet?
Answer: If you browse online shops, you will notice that there are so many different Captain America helmets to choose from. Some of them are pretty basic, made from elastic latex, while others are much more complex with intricate pieces.
If I were to pick one specific item, I would have to go with 2021 Captain 3 Civil America War Captain Helmet America.
Question: What Type of Helmet does Captain America Wear?
Answer: Captain America wears a reinforced helmet that protects him from various battle-related injuries. It is completely blue, with the white letter A on the forehead as well as leather chin straps. The helmet is open around the beard area, and it has wing-like emblems on the sides.
Question: Why does Captain America have Wings on his Helmet?
Answer: This type of helmet was first introduced several millennia ago. It is used for portraying Greek and Roman gods such as Mercury, Roma, and Hermes. The wings symbolize swiftness, loyalty, and duty.
That being said, Captain America is the best person to wear such a type of helmet as someone who is patriotic and puts his duty above everything else.
Conclusion
Captain America helmets are readily available on Amazon, Etsy, AliExpress, and in various other web stores. These products are mainly bought by cosplayers, but they can also be great toy. Your kids will have so much fun wearing one of these pieces.
Keep in mind that Captain America helmets are not helmets, per se. They are not meant to protect you from serious injuries, nor should you use them instead of the standard helmets.
If I have to go with just one of these products, I would go with IICoser Superhero Mask Latex Steven Rogers Captain Helmet. It is very sturdy, nice looking, and made by a top cosplay company.
Recommended Reads: