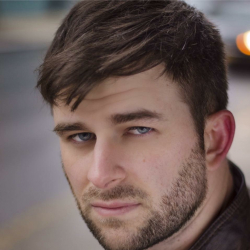 Latest posts by Adam Braunstein
(see all)
Deadpool has recently become one of the biggest characters in the Marvel Universe after having decades of a niche fanbase at best. Thanks to the mega-success of the Ryan Reynolds-led movies, Deadpool has become a hotter commodity than just about any hero in the Marvel world, and with that comes the demand for the best Deadpool toys. Marvel has always killed it in the toy department, and Deadpool is no stranger to that treatment.
I've been a Deadpool fan for years now and was just appalled when he got the original on-screen treatment he got Thor vs Superman: The Ultimate Face-Off with X-Men Origins: Wolverine, so when Ryan Reynolds took the franchise to the promised land, I was a happy camper and more than happy to grab a few Deadpool toys of my own in the process to celebrate it.
Deadpool toys come in a ton of different varieties and can be found everywhere from Amazon to Etsy, and the types of toys are pretty awesome as well, with some being fully useable props or fully interactive action figures. Let's check out everything we can find in the universe of Deadpool toys.
Selection Criteria
Well Made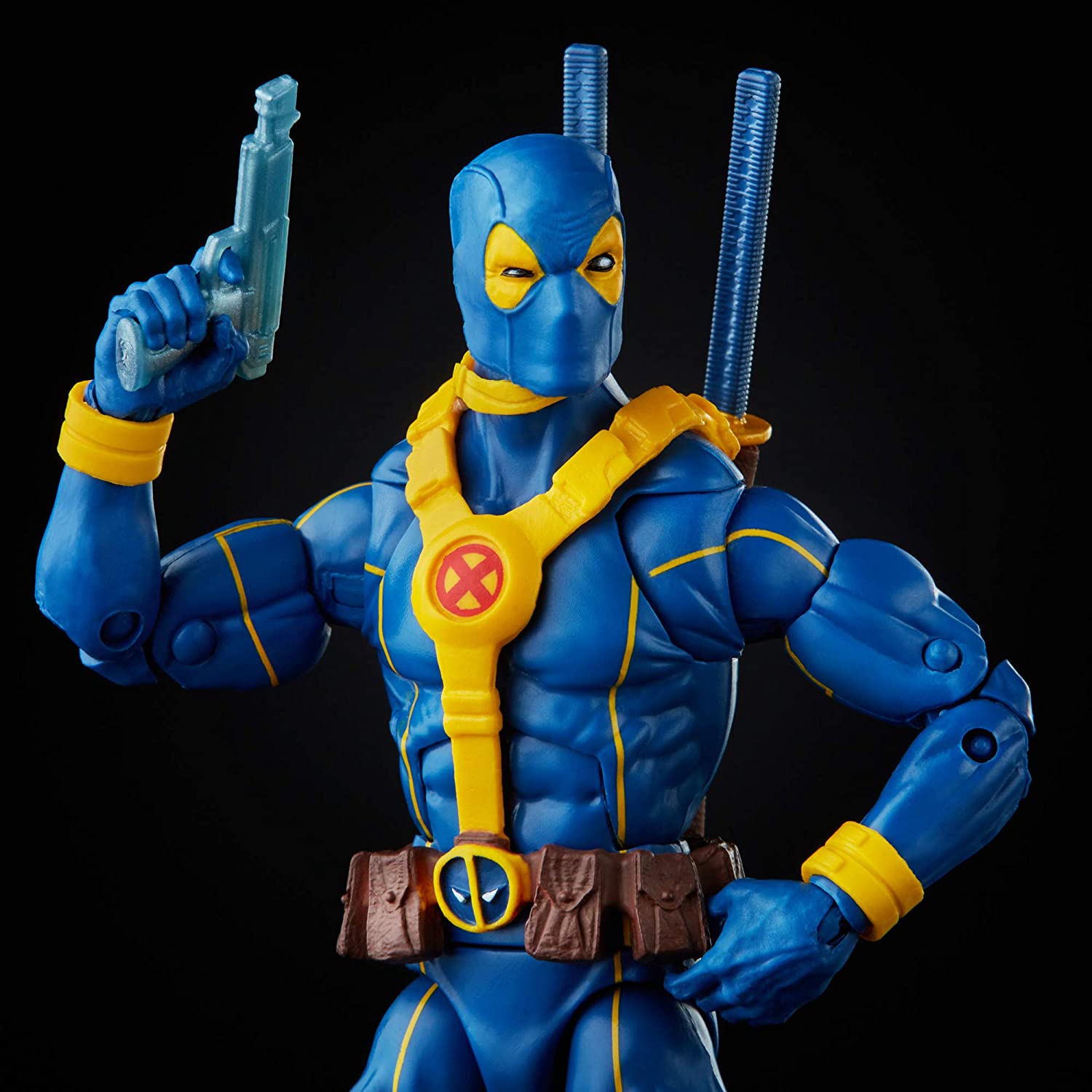 We're going to be looking for Deadpool toys that are not only cool looking but come ready to handle the trials and tribulations that most toys go through when being played with. That means the material has to be good enough to survive multiple play sessions.
Accuracy
We want our Deadpool toys to look like they lept right out of the comics and into our hands, so things like fan interpretations and the like will be allowed as long as they are accurate to the character.
Fun to Play With
What good is a toy if you can't play with it? While some toys are definitely cool for just decorating places with, most of the toys on this list need to be able to be played with. Whether that's setting them up or having cool attachments, it's got to have something cool or unique about it.
Flexible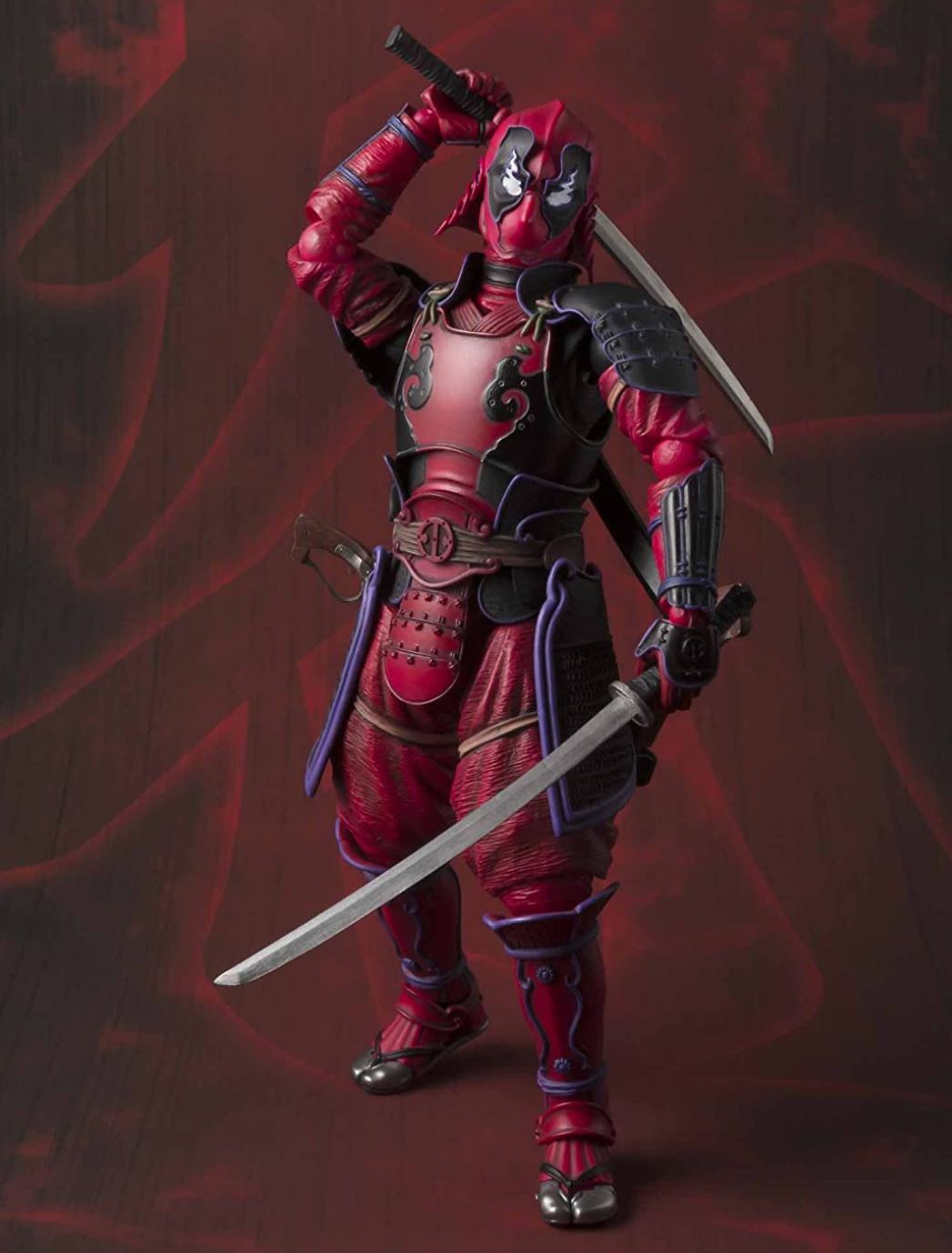 Action figures are best when their limbs can be moved in various directions, and that's a need for us here. Deadpool is an incredibly athletic character, so his toys need to be equally athletic so they can match his overall awesomeness.
Accessorized
Deadpool's arsenal is pretty nuts, and the anti-hero is known for carrying all varieties of guns, swords, and explosives, so our Deadpool toys should be along the same lines for sure when it comes to an equippable arsenal.
Bottom Line Up Front
Samurai Deadpool is the best toy you can find in the Deadpool world. It's incredible looking, has great accessories attached to it, and is also sizable, flexible, and is just overall awesome to look at. It's a bit pricey, but if you want the best Deadpool toy, there is, then you will find nothing better.
See also: Ultimate Guide to Batman Toys 
Best Deadpool Toys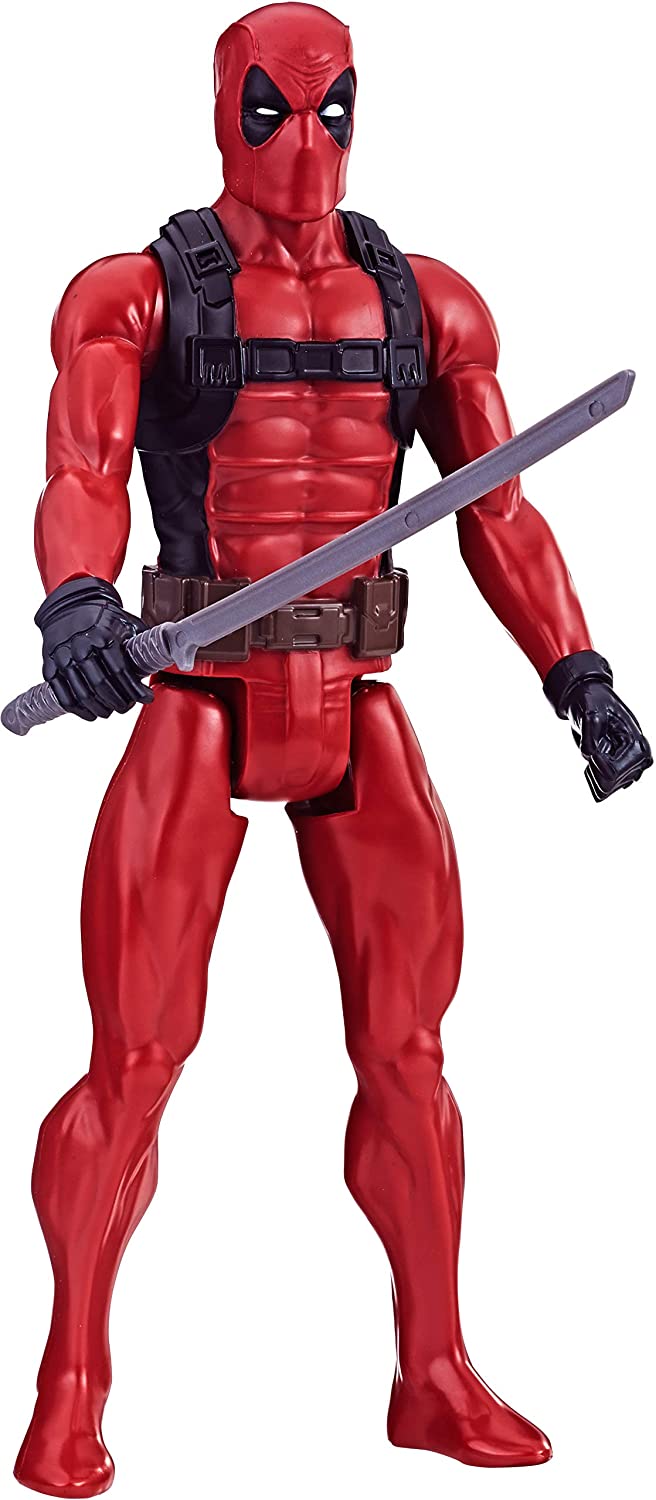 It's always great when an action figure puts the emphasis on the action side of things and actually moves around. This significantly large action figure gives you full motion as well as a moveable weapon to play around with as well. You can move the arms and legs in any motion you'd like. It's pretty well made to boot, giving you pretty much anything you could want from an action figure.
Pros
Posable

Comes with a weapon

Looks Great

Affordable

12 inches tall
Cons
Lack of detail

Could use more accessories

Expensive for what is offered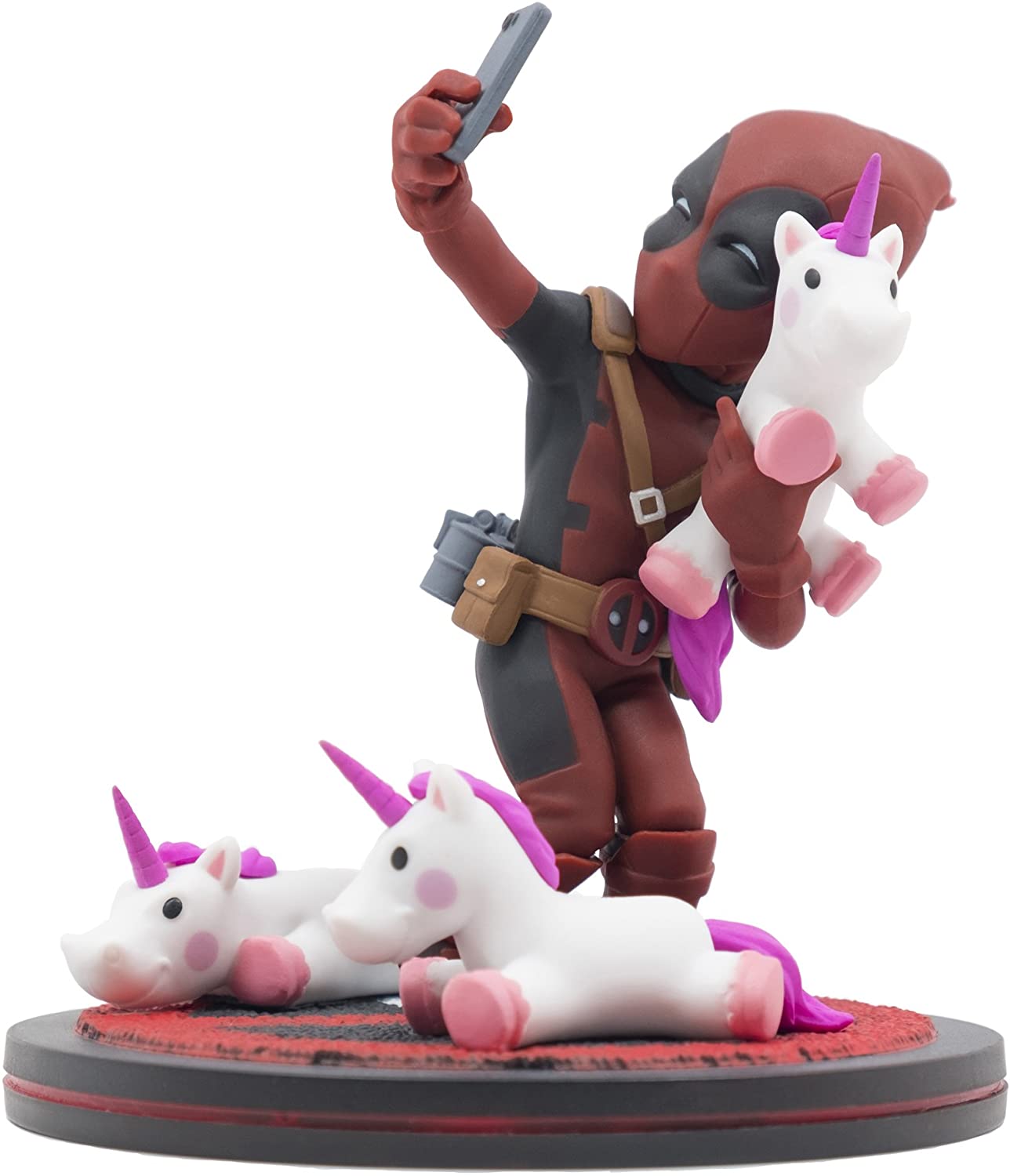 Part of what makes Deadpool an incredible character is how off the wall insane he is, and a lot of the time, action figures don't fully show that and are rather generic in their representation of the merc with a mouth. Here, you get a glimpse at the wonderful insanity that Deadpool has to offer as this toy depicts Deadpool posing with stuffed Unicorns while taking a selfie. It's the exact kind of weird that endeared people to the character in the first place and is harnessed faithfully here.
Pros
Looks amazing

Hilarious

Color is great

Deadpool, in every way

Multiple unicorns
Cons
Not posable

Lack of accessories

Too expensive for what comes with it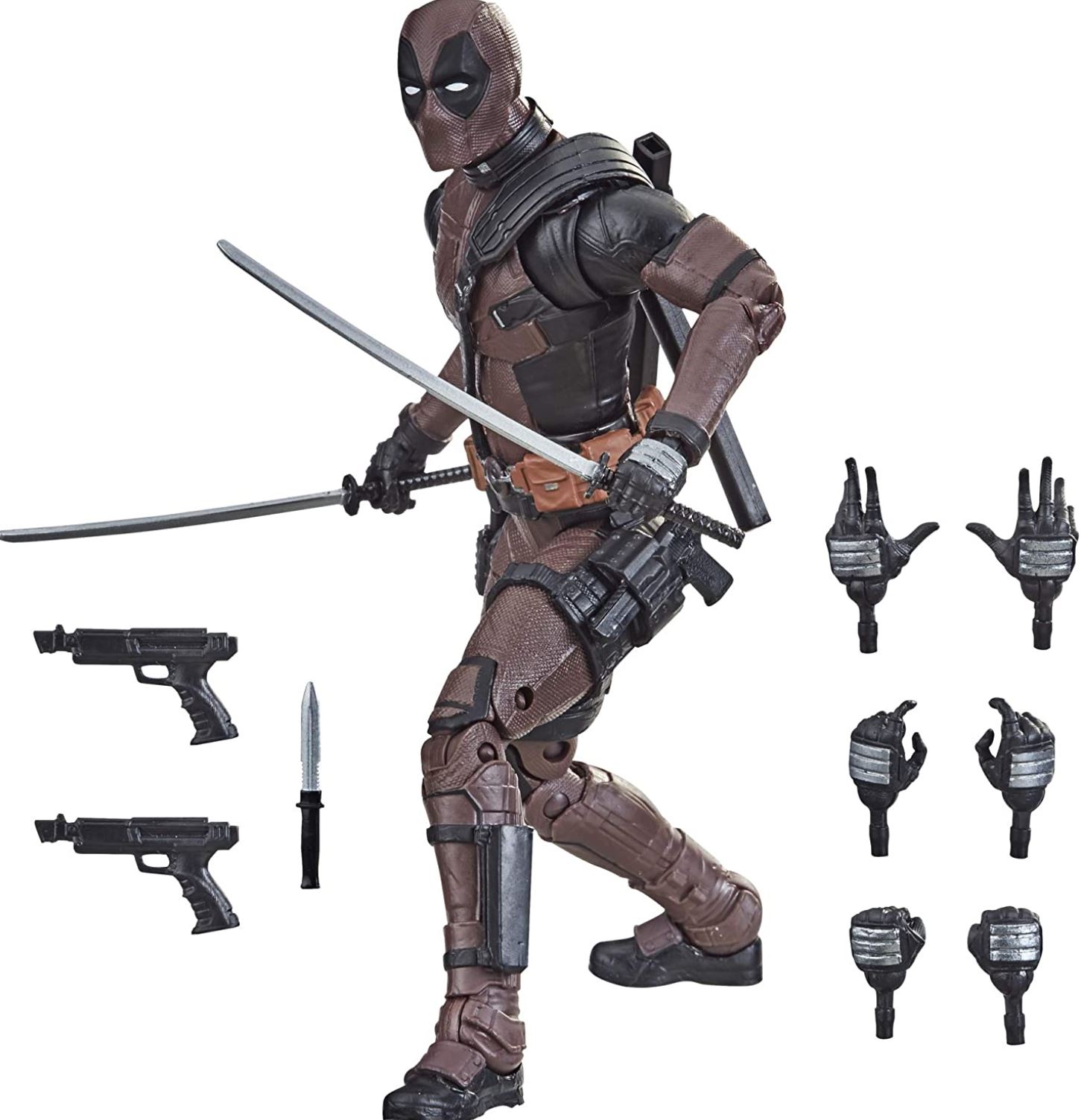 While it's not as big as the other action figure, this awesome Deadpool toy comes packed to the brim with an incredible amount of bells and whistles. First, you've got awesome flexibility with the arms and legs, letting you pose the figures in any way you'd like. You also get multiple different hands to attach to Deadpool, letting you equip many kinds of weapons, including dual swords, knives, and two different guns as well. The design on the toy is also spot on, giving you an exact replica of Deadpool from the movies.
Pros
Incredible looking

Multiple accessories

Detachable hands that let you equip different weapons

Unique design looks right out of the movies

Easily posable
Cons
A bit expensive for a toy

Mimics movie Deadpool rather than comic Deadpool

May be too complex for young people

Smaller than most Deadpool toys
See also: Best Batman Car Accessories [2022]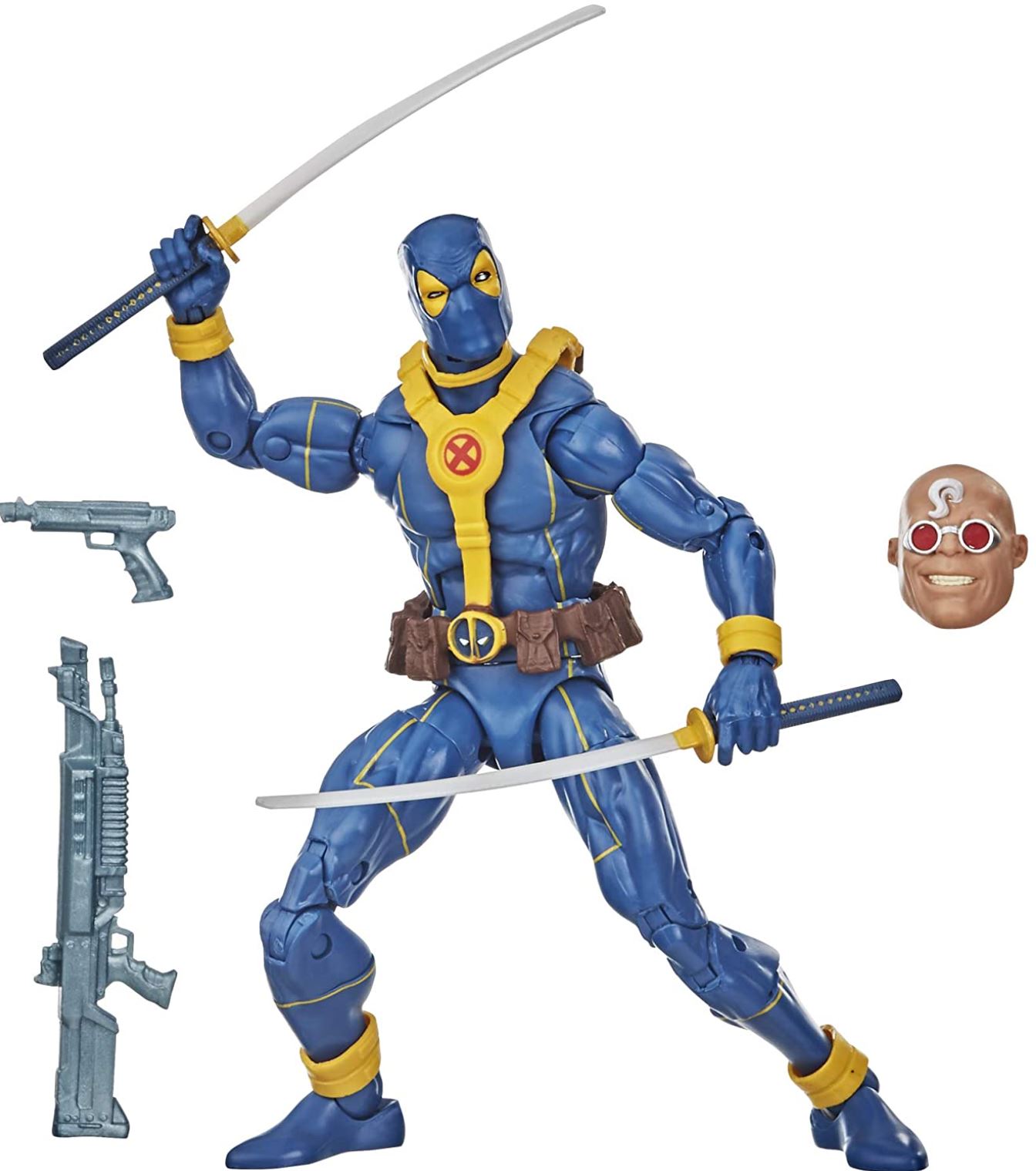 Deadpool is classically in a red and black costume, but on certain occasions, he has donned a different look on occasion and here, that look comes to life as he dons the X-Men original blue and yellow to apparently parody the force that he has been close to joining over the years but never quite been accepted. Deadpool comes with two swords here and multiple guns, and the smooth, metallic blue color gives this action figure a different flavor than most. You can also fully move the arms and legs in any direction you'd like allowing for plenty of different playing scenarios.
Pros
Unique design

Little used Deadpool costume

Multiple accessories

Easily posable

Very affordable

Detachable face
Cons
Design might confuse some

Material is not the most sturdy

Smaller than most toys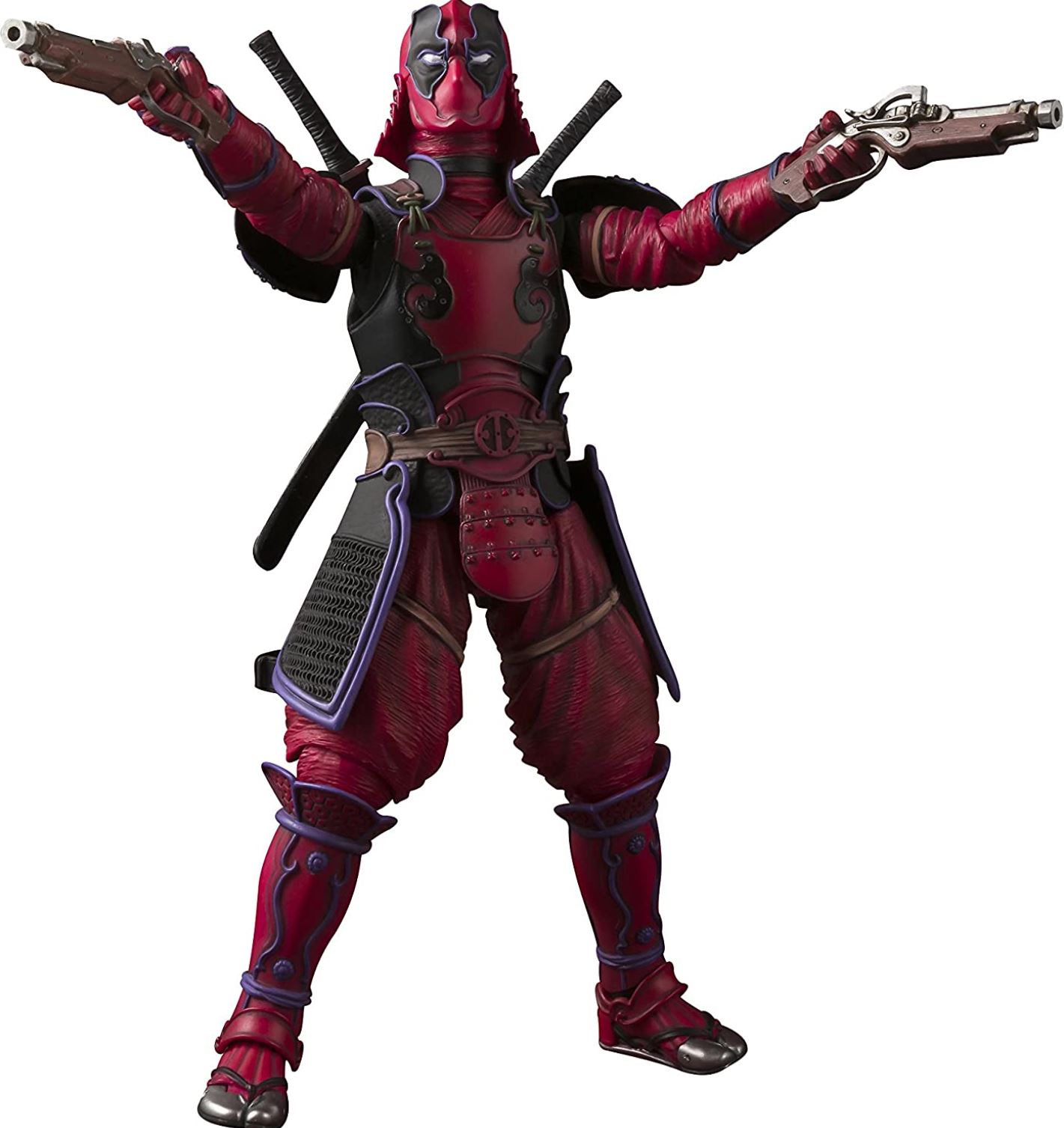 Deadpool has come in many different forms over the years, but one of the best variations has been samurai Deadpool. This figure might cost you a bit more than most, but that cost is reflected in the quality here as it's painstakingly created with incredible detail, right down to the Japanese-inspired guns and outfit. Deadpool comes across as a samurai badass here with a fully moveable figure that comes equipped with two unique guns and two swords to go along with his excellently detailed samurai outfit. This is a helluva toy for collectors to get a hold of, although it's fully able to be played with as well.
Pros
Little known design

Tons of accessories

Great use of color

Easy to pose

Incredible detail
Cons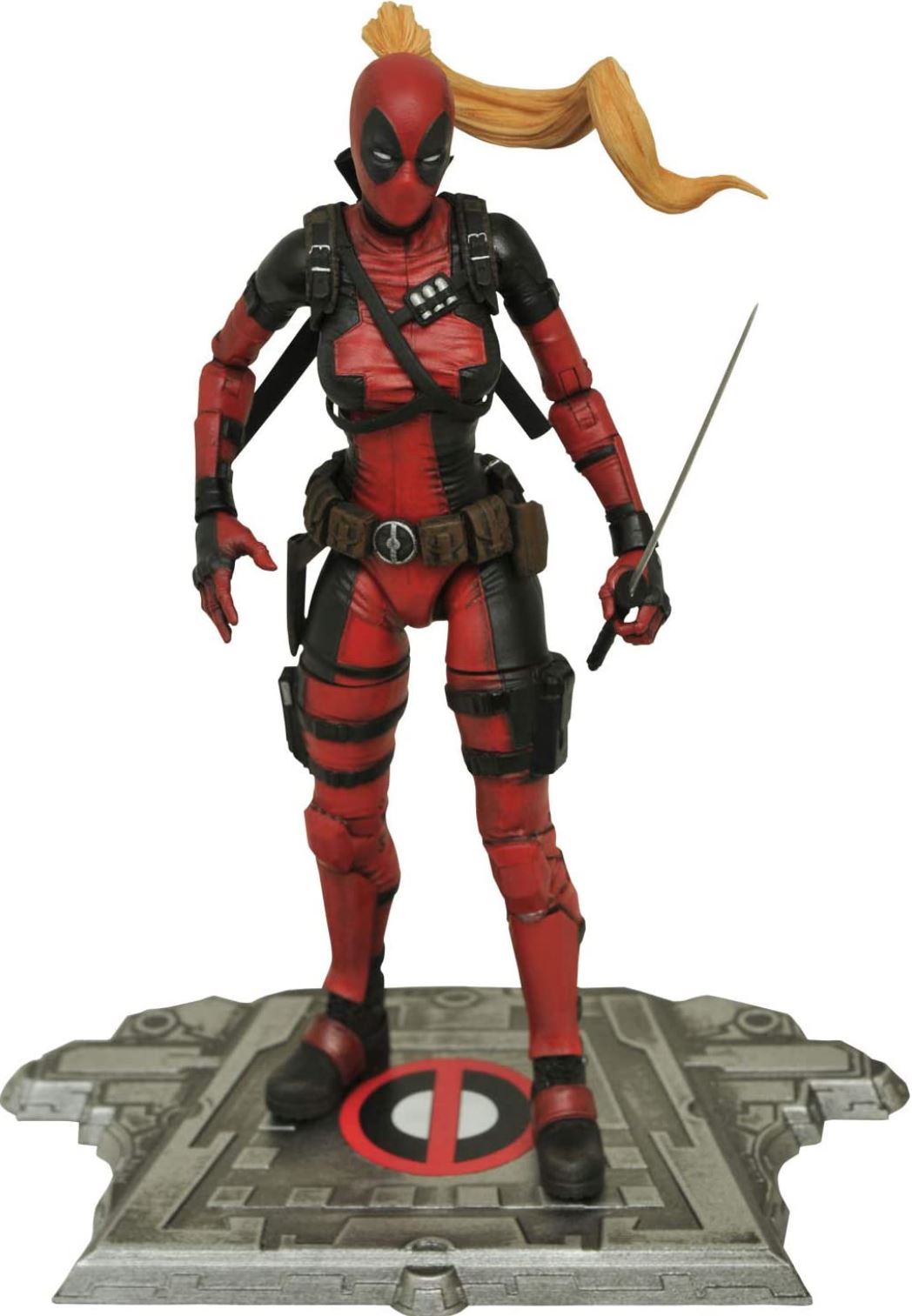 Deadpool has existed in many different universes, and in one of them, Wade Wilson was a woman in the form of Lady Deadpool. Just as deadly as the male version of Deadpool, with a little bit less on the insanity front, Lady Deadpool is an awesome character, and it's really rare to find a figure of her, so this toy needs to be snatched up as soon as possible. She comes equipped with an extra pair of hands, a bazooka, a gun, 2 swords, and even a guest appearance from Headpool. You get a lot of bang for your buck here, and this is one awesome and unique toy to grab.
Pros
Lady Deadpool is awesome

Comes with a stand

Multiple accessories

Great detail

Comic accurate

Comes with Headpool
Cons
A bit expensive for a basic toy

Missing some key accessories

Not easy to play with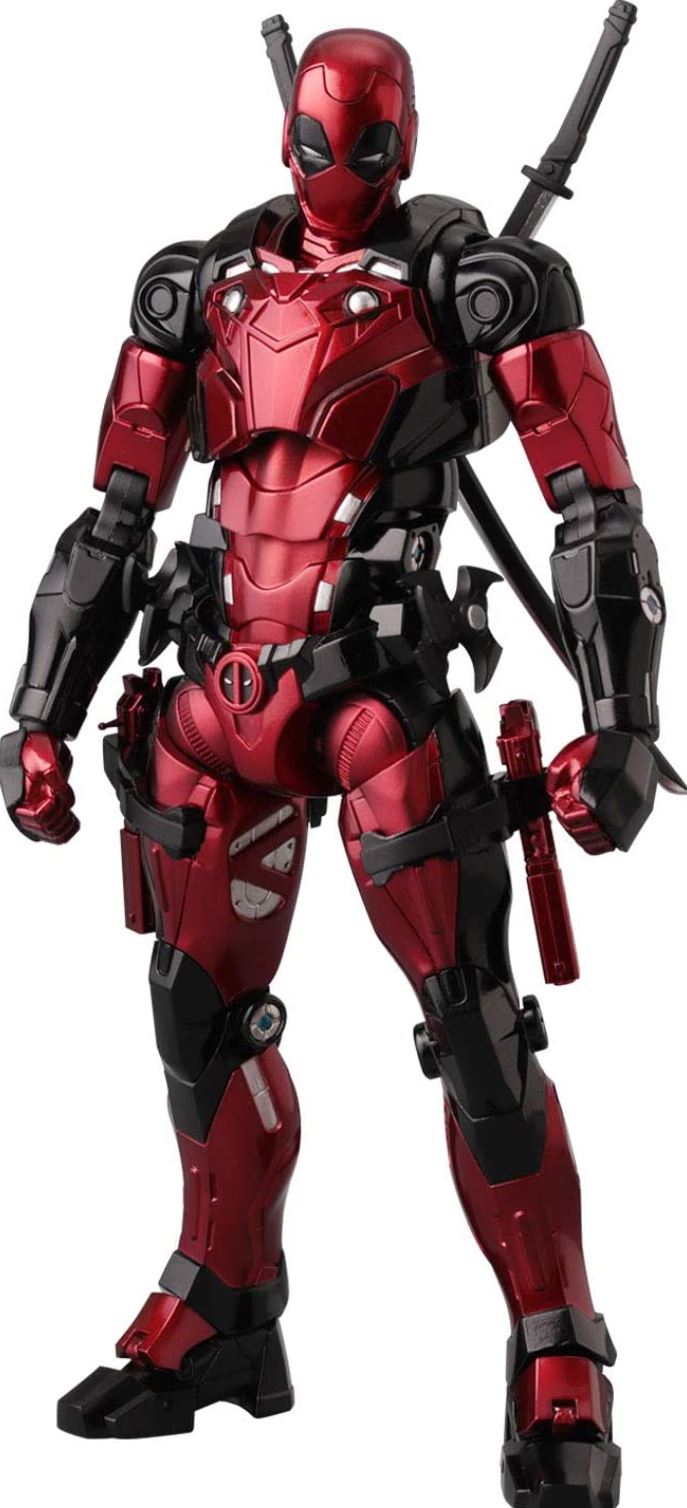 Deadpool is one hell of a fighter, but even if he comes up against enemies, he can't take them down on his own. When it comes to that, he can don this awesome Deadpool armor that makes him look like Iron Man. This action figure is completely metal but also fully posable and comes with two katanas. It's incredibly well made, pretty weighty, and can be used as either an action figure or a model to place around the house. It's also just awesome to look at as well.
Pros
Awesome design

Great accessories

Sturdy material

Easily posable
Cons
Very expensive

Might be too expensive to play with consistently

Heavy, could be dangerous for young kids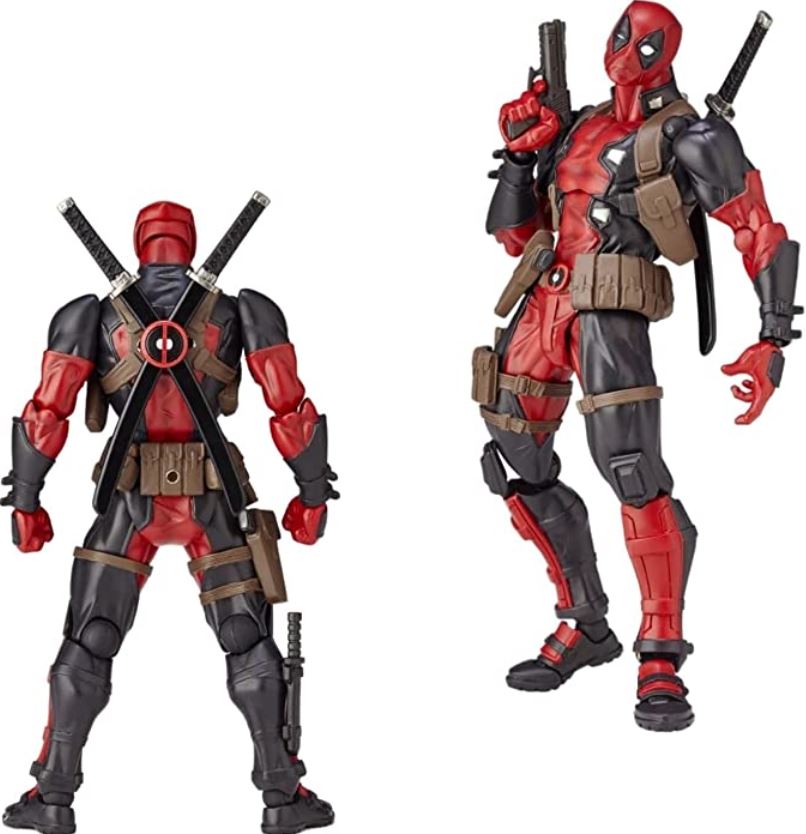 This Deadpool action figure is a bit different than the others, with his design being more based on the Ultimate universe than the normal Marvel universe version of Deadpool. This figure is fully posable and comes with a pair of guns, multiple heads, different hand styles, and also two katanas. Deadpool is wearing an awesome amount of holsters here, making him look like one of the most fearsome versions of the character yet. It's one of the most accurately detailed Deadpool toys that I've seen, and the possibility of it is just a treat, allowing you to make it a model for display or a toy to play with.
Pros
Amazing Deadpool design; he looks dangerous here

Great accessories, including multiple guns and swords

Posable and well made, easy to play with without breaking

Multiple faces and hands to equip
Cons
Complicated to put together

The design isn't totally accurate to the comics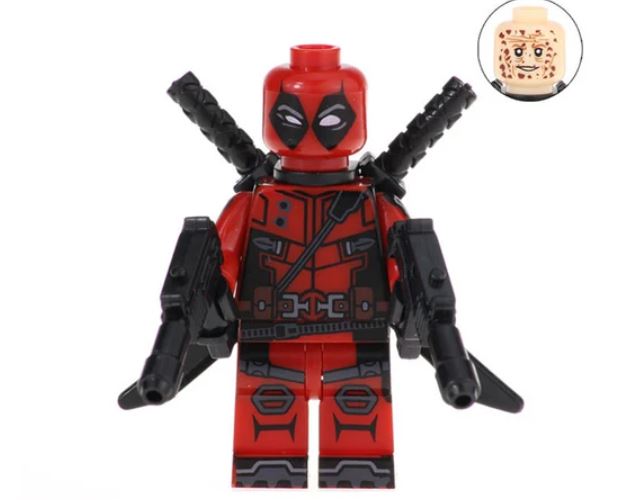 Deadpool has invaded all of the most popular forms of entertainment, but not till now has it been available in one of the oldest toys in existence, legos. This awesome Deadpool Minifigure comes with two guns, two swords, and Deadpools trademark quizzical look to give your Lego sets a bit more attitude than you're used to. This is fan-made, but it looks like it could've been made in any official lego set and can be integrated into any of the Lego sets that you currently have.
Pros
Usable with every lego set

Great detail

Looks official
Cons
Not many accessories

A bit expensive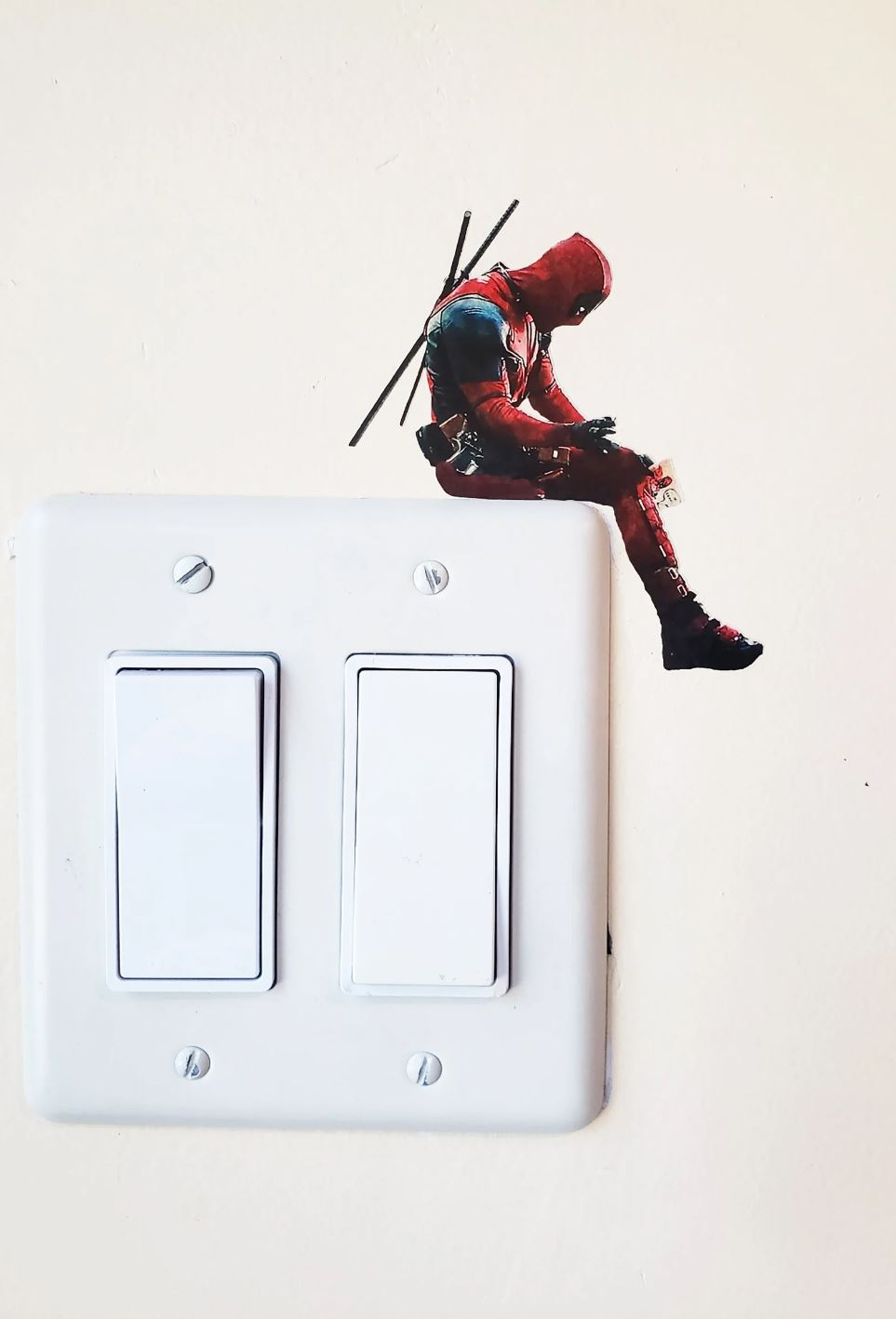 This is one of the more unique toys on this list as it's more of a decoration, but it's able to make just about any light switch in your house into a fun space for Deadpool to hang out. You can get it in a few different sizes, and it is overall just a unique and cheap toy to play around with and can liven up any room.
Pros
Great decoration

Usable anywhere

Absurdly cheap
Cons
Not technically a toy

Very small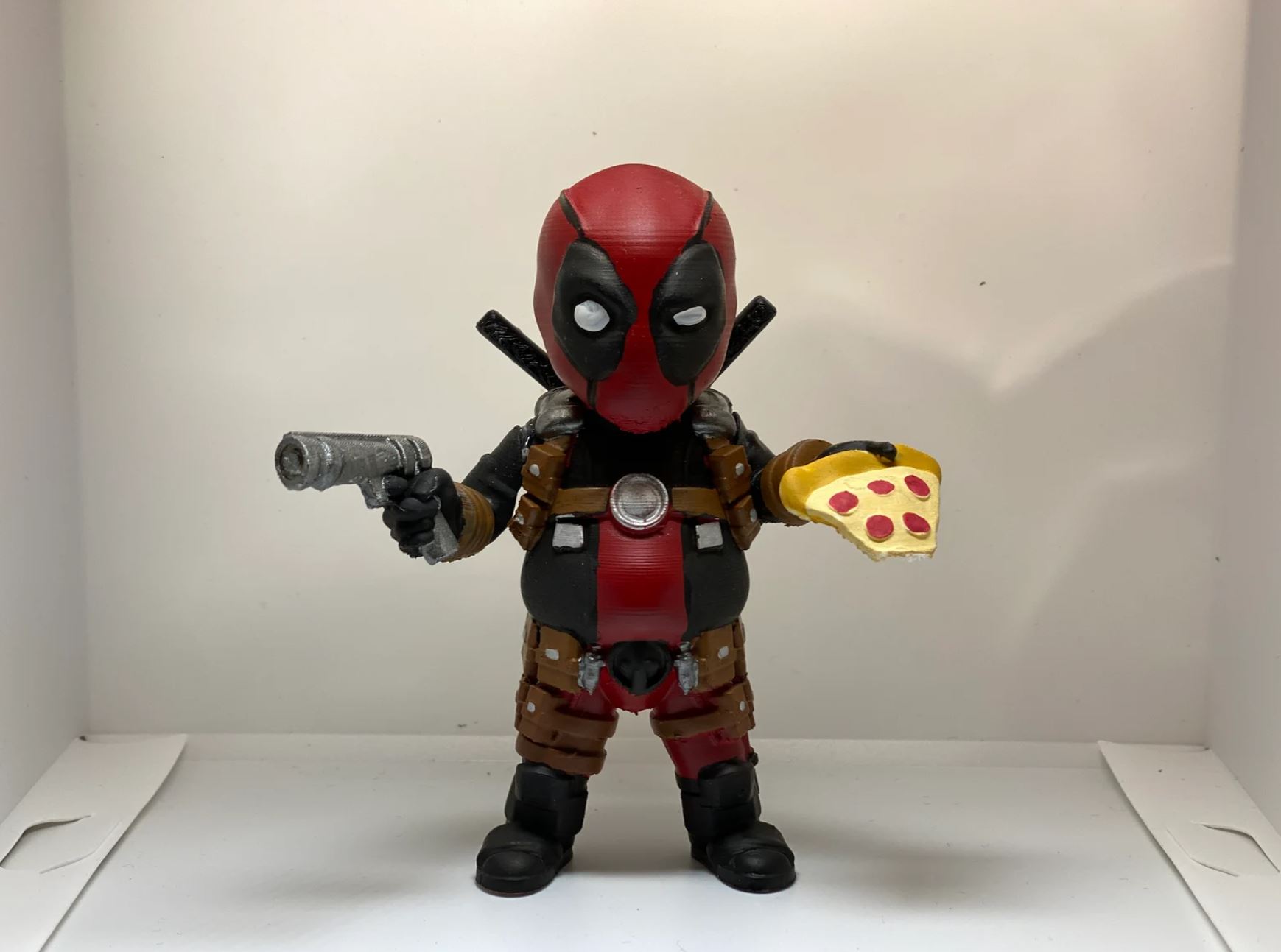 Deadpool has never been one who has cared about what kind of food he puts in his stomach and has frequently spoken of his love for chimichangas; well, what if he went overboard at some point? The result could be something like this hilarious action figure, which gives you a posable Deadpool that has had a bit too much to eat and is holding a pizza. He's still got a gun in the other hand, though, so even though he's a bit bloated, he's still deadly. He's also got a stuffed unicorn strapped to his back, so yeah, this is very much a Deadpool toy.
Pros
Deadpool holding pizza

Well detailed

Cool accessories
Cons
Can't really pose it much

More of a decoration, although it can be played with as well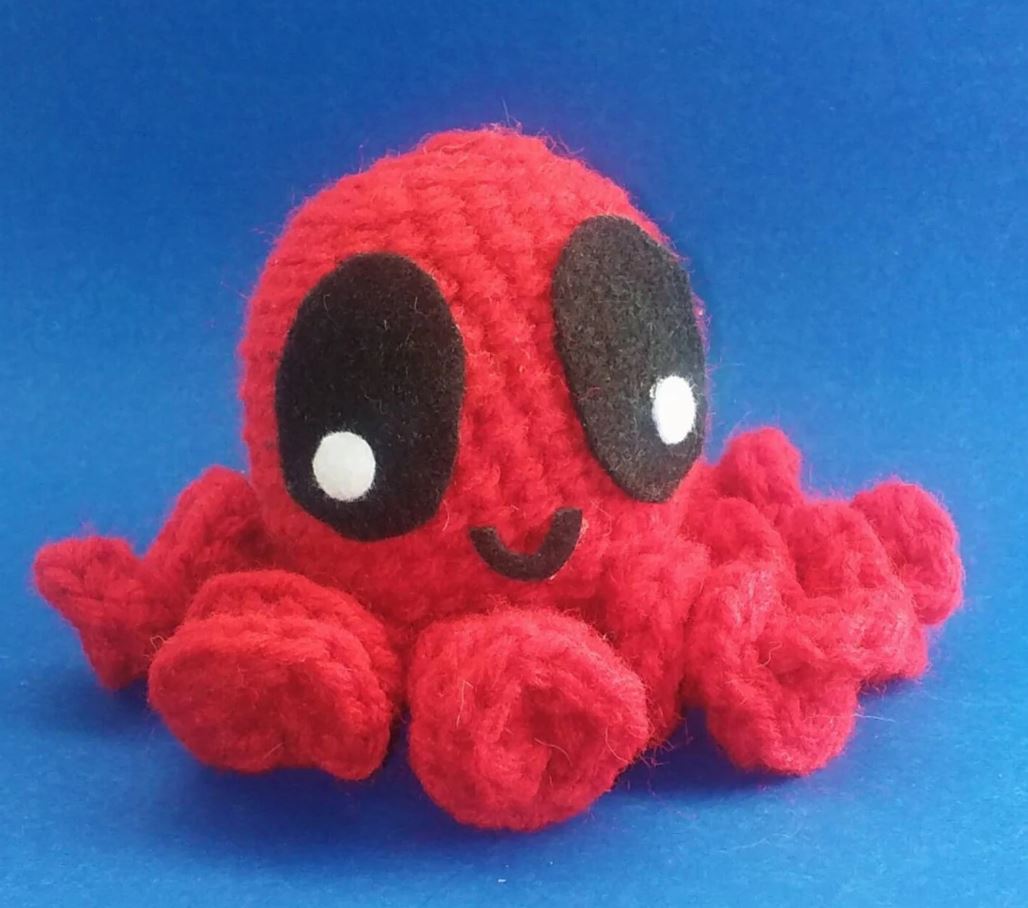 How weird do you like your Deadpool? I mean, there is a Birdpool that exists as well as a Squirrelpool, so why not an Octopuspool as well? This hilarious and disturbing-looking crochet toy is one of the more unique and weird Deadpool toys out there. You can use this one as a decoration or combine some of Deadpool's other weird iterations to create the Deadpool universe in your home.
Pros
Very different and very weird

Easily posable

It's a Deadpool octopus
Cons
Not easy to play with

Not an official design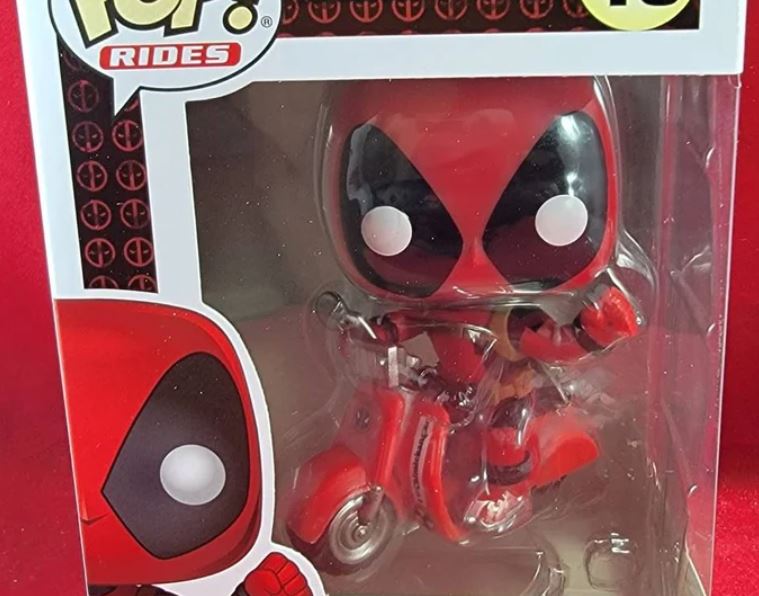 Deadpool just fits the Funko Pop style of toy incredibly well, as his insane brand of comedy just makes sense with an oversized head and exaggerated expression. Here you get Deadpool riding a scooter while giving a joyful fist pump, and there are tons of other Marvel toys you can combine this within the Funko Pop universe, so there are plenty of fun scenarios you can come up with here.
Pros
Cute design

Fun accessories

Great color
Cons
Not the easiest toy to play with

Some might want a more serious kind of Deadpool toy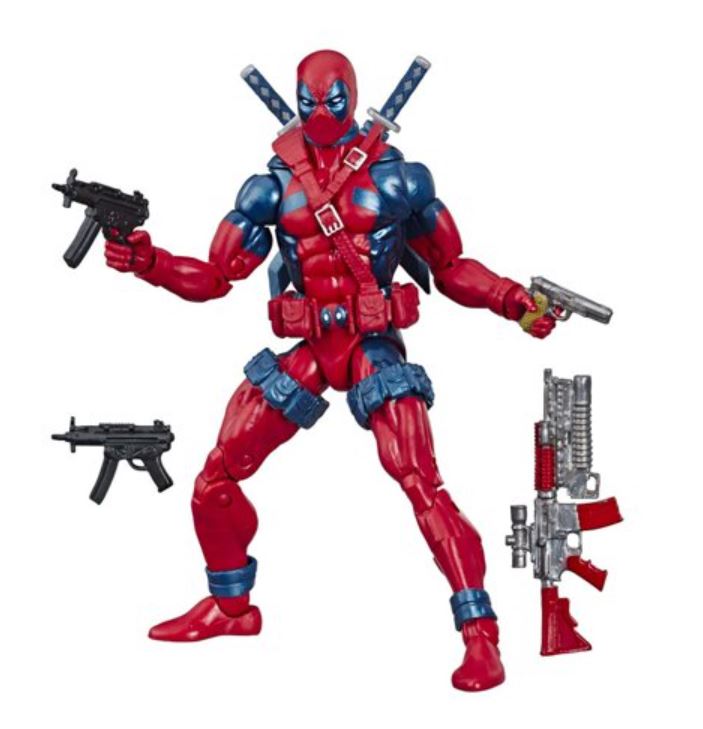 Deadpool has played the hero on more than one occasion in the Marvel universe, and here, you get him all decked out in his heroic X-Force garb. This gives him a bit of a blue shade to his normal red and black to give him a more heroic look than normal, but make no mistake, the merc with a mouth is fully decked out in typical fashion here with two submachine guns, a pistol, two swords and even a machine gun to boot. You can pose this toy any way you like to create some fun scenarios. You don't often see Deadpool toys in X-Force gear, so collectors will want to take note of this one for sure.
Pros
Excellent design

Tons of weapons to choose from

Color is bright and vibrant

Easy to pose
Cons
Color is slightly off from the comic version of Deadpool, though it is accurate to the Uncanny X-Men version of him

Decently expensive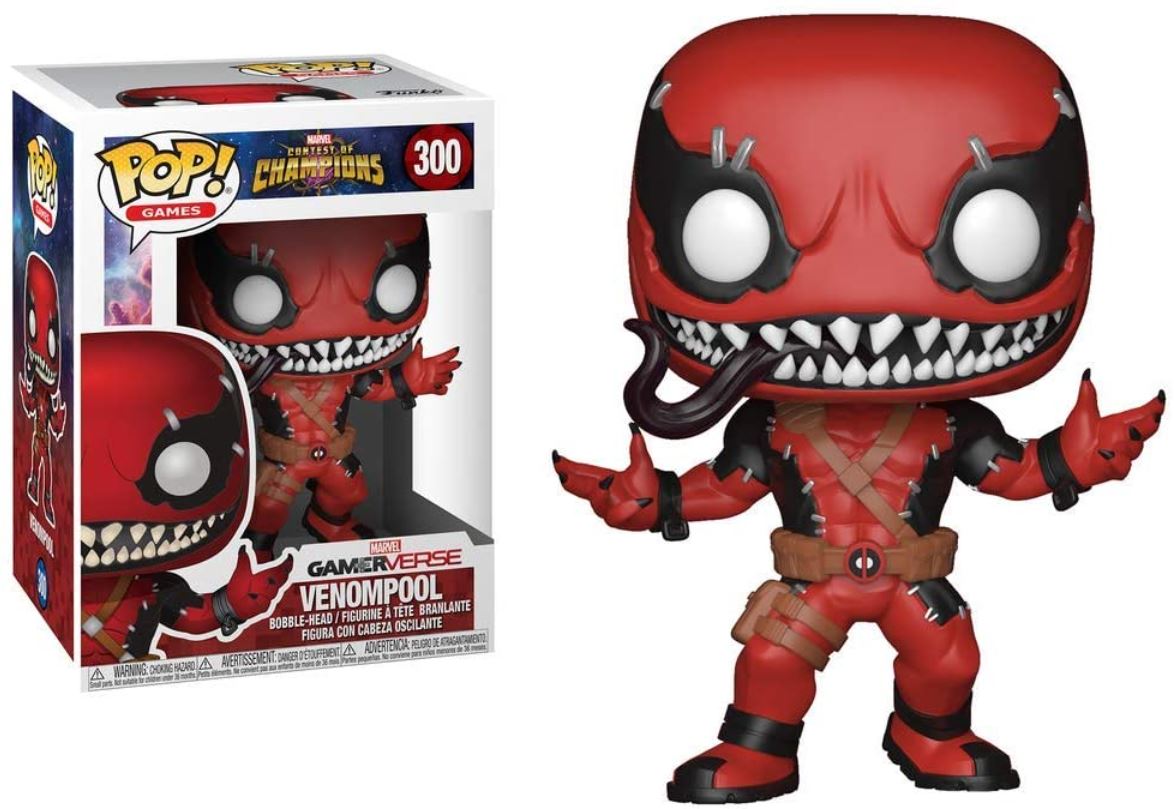 To say this toy is a rarity is an understatement. It stars the underused but clearly awesome in every way Venompool, which is the unique amalgamation of Venom and Deadpool in another universe. This Funko Pop is bursting with personality and is also a little bit creepy as well, which is just what you should expect from a character like Venompool in the first place. I've rarely seen a toy for Venompool before, so jump on this one to a rare owner of one if you want to add it to your Deadpool toy collection.
Pros
Venompool is amazing

Accurate detail

Looks just like the comic version

Terrifying looking
Cons
Not posable

Disturbing to look at
Top Picks
The fighting armor is definitely different from most Deadpool toys, but it's an awesome design. You've got a rock-solid toy here that can survive many play sessions and comes with a ton of accessories as well.
Samurai Deadpool is just incredibly cool looking and comes with a ton of awesome accessories too. It's a unique design compared to most kinds of Deadpool toys, and the detail on it is astounding as well.
Lady Deadpool is a little-used character in the comics, but an awesome one nonetheless. This toy comes with some great accessories and also comes with the amazing Headpool character as well. It's rare to find a Lady Deadpool toy, and I haven't seen a better one than this.
FAQs
Question: Is another Deadpool movie being made?
Answer: It's been a while, but another Deadpool movie is fully in the works, although nothing about a trailer or potential release date has been mentioned.
Question: Can Deadpool die?
Answer: Deadpool is technically a mortal, but Thanos cursed him with eternal life, so killing him these days is not something that's doable.
Question: Is Deadpool in the X-Men?
Answer: Deadpool is not a member of the X-Men, but he has worked with them on multiple occasions and has been allied with them for much of his career.
Conclusion
Believe it or not, it's actually pretty tough to find Deadpool toys out there. So many are not what they look like or way too expensive for what you're getting, so I hope this list showed you a true balance of multiple kinds of toys that you'll enjoy having in your home.
Recommended Reads: