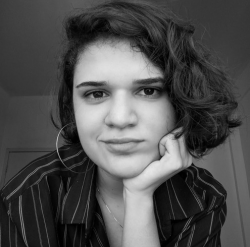 Latest posts by Marjorie Soares
(see all)
I have never been to a geek event where I didn't see dozens of Deadpools walking around the place. Funnily enough, three or four of them are usually hanging out together.
It's a weird scene, but I have seen it so often that Deadpool's multiverse of madness doesn't scare me anymore.
But what I realized after meeting dozens of Deadpools is how integral the mask is to the costume. It is the most critical part, and the movie's designers agree. So, to help you rock your next cosplay, I assembled the best Deadpool masks you can find online.
My Bottom Line Up Front
Deadpool masks usually have at least one flaw unless you invest in a top-notch handmade item. At the end of the day, only you can decide which problem bothers you the least.
But after browsing dozens of maks, I believe the Deadpool Mask 1:1 Prop Movie Replica offers the best cost-benefit. It solves most of the cheap masks' problems for less than double the price.
My Top Picks At A Glance
Things to Consider
The first thing to have in mind before you buy a Deadpool Mask – or anything, really – is your intent. The different items on the list span from 15 bucks to over 400 hundred dollars. There are great options for a reasonable price if you aim to impress everyone at the next Halloween party.
However, suppose you want to win a cosplay competition and have the means to invest in your costume. In that case, the high-end quality items on this list are well worth your money.
The second thing is to always read the descriptions. A product's description will clarify most of the item's characteristics. What materials is it made of? Is there more than one size? What should I do to ensure the item's longevity? All of these questions are likely to be answered there.
Moreover, the description can also undo misconceptions brought by the images. In one of my picks, the image showed an item that wasn't included in the purchase. In this case, reading the description will spare you the disappointment when the item arrives at your home.
The next thing is to always research the site where you're buying. Sites like Amazon and Walmart are well respected and safe, so choosing their products is always a good idea.
But when you find captivating items in less well-known stores, you might want to try a few things. You can run a background check on the site, analyze their social media presence and see if anyone has done reviews about their products on blogs or YouTube.
Lastly, always read the reviews. Just because a site is safe doesn't mean all customers are satisfied with the product. For this article, I've read all reviews for each item and only chose those that were primarily well-rated.
Still, you should check the reviews for yourself. Everyone is different, so maybe something I don't think is much of an annoyance can be a dealbreaker for you.
Full Shell, Half Shell, No Shell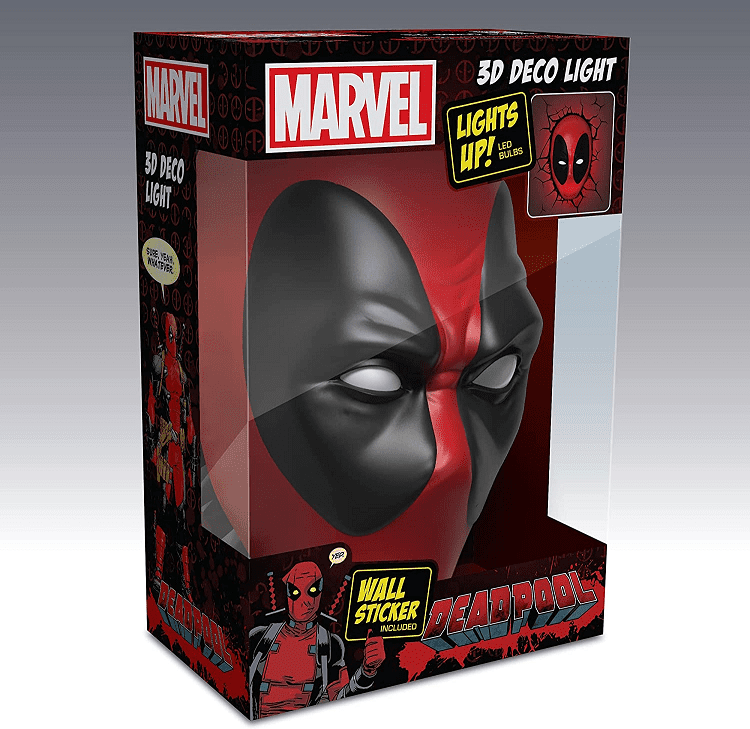 When buying full face masks, there's an essential component you must pay attention to. Before you buy any Deadpool mask, you need to know if it is a half-shell, full-shell, or if it even has a shell at all.
Each option has different advantages and disadvantages, so understanding them is crucial for you to choose the best option. This single feature can make all the difference depending on your facial features and comfort preferences.
So here are the explanations for each type of mask and its characteristics.
Full Shell
This type of mask is made of a hard shell from top to bottom. On one side, this is good because it preserves an excellent and commanding shape. Even if you don't have a strong jawline, it will appear you do because the mask shapes everything.
On the other hand, these masks aren't custom made, so if you're a short person, it can make your face too long compared to your body which can look weird.
Besides, when wearing a full shell mask, people can't see your chin and mouth move, which is a downside if you want to be more performative in your cosplay.
Half Shell
This type of mask has a hard shell from the top of the head until right below the nose. This way, you have a definite shape in most of the mask while making the mouth movements visible. Deadpool's mask in the movie is a half-shell, so if that's your reference, that's the more authentic look.
The downside is that the mask may not look as good if you don't have a strong jawline. However, some high-end premium masks offer a jaw prosthesis to fix this problem while keeping your mouth and chin movements free.
No Shell
This type of mask has no shell; it's only cloth that molds according to your face. The lack of a rigid material makes this a cheaper option, however, depending on your face's shape, this type of mask can look incredible or weird and all over the place.
Ultimately, no matter which type you choose, it is essential to remember that you won't know the best fit until you try it. Besides, Deadpool's mask looks perfect in the movie because the designers scanned Ryan Reynolds's face and 3d printed models until they reached the exact look they wanted.
So although the movie is a good reference for cosplay, remember to be fair with yourself and the masks you see online and try some until you find the best fit.
Selection Criteria
As mentioned, Deadpool masks come at different prices. So I've included several options from the cheapest to the most expensive with several in-betweens. However, I ensured that even in the affordable options, the quality was good enough to make a decent costume.
Moreover, whenever I found two items with similar prices and options, I compared them until I found a winner. For this comparison, I considered the quality of the materials, the ratings, and how many people rated the item.
There's no sense in choosing almost identical items, so each product has a clear advantage over the others, whether in quality, price, design, or usefulness.
Lastly, I read the customers' reviews and only included items with a rating of at least four stars. There might still be caveats with some products in this list, but considering affordability and the majority of reviews, they will most likely be a satisfying purchase.
So here you go. Now, Let's head to the masks!
Ilustrastudios V3 Halfshell PRO Mask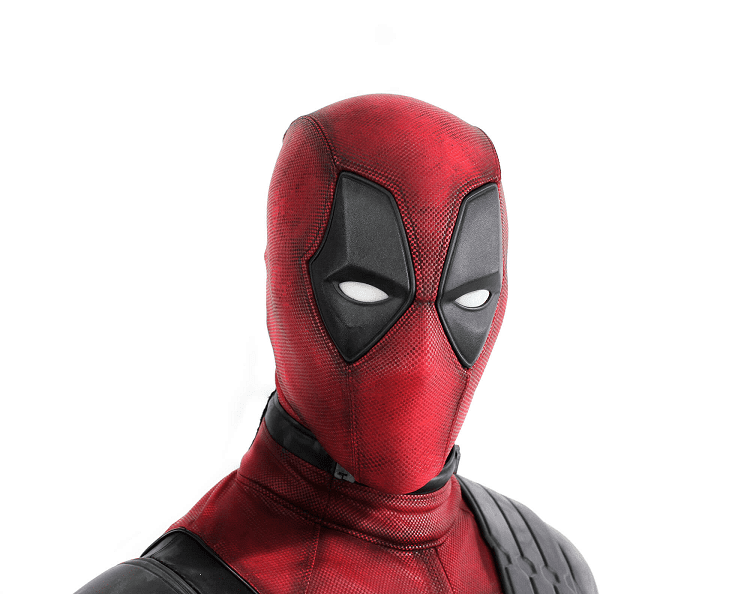 If you're willing to spend a lot of money to get the perfect top-notch Deadpool movie replica mask, this is it.
Illustrastudios is an expert company that sells handmade Superhero props that will blow your mind. The site offers various other versions of Deadpool's mask, but V3 is the most complete they have to offer.
The interior shell is padded, the fabric stretches and is breathable, and the jaw prosthesis guarantees you'll look majestic while wearing this mask.
But my favorite feature is the removable expression lens. 
Watching the Blu-Ray bonus features on the Deadpool movie, I learned that the designers wanted to show Ryan Reynold's expressions through the mask. But when they realized that due to the hard skull shell, that wouldn't be possible, they animated the facial expressions digitally.
We still can't mix the digital with the real world, so Ilustrastudios' solution is the best you can get. Their lens pack makes you look neutral, sad, angry, or even crazy.
The lenses use neodymium magnets, which make them pretty easy to attach. All in all, this is the closest you'll ever get to the movie mask.
Pros
It comes in various sizes.

Handmade product.

Identical to the movie mask.

It comes with a jaw prosthesis.

It is padded on the inside. 

The different eye lenses make this a highly customizable item.
Cons
It costs over 400 dollars for the whole set. 
Ilustrastudios V2 Lady Deadpool Mask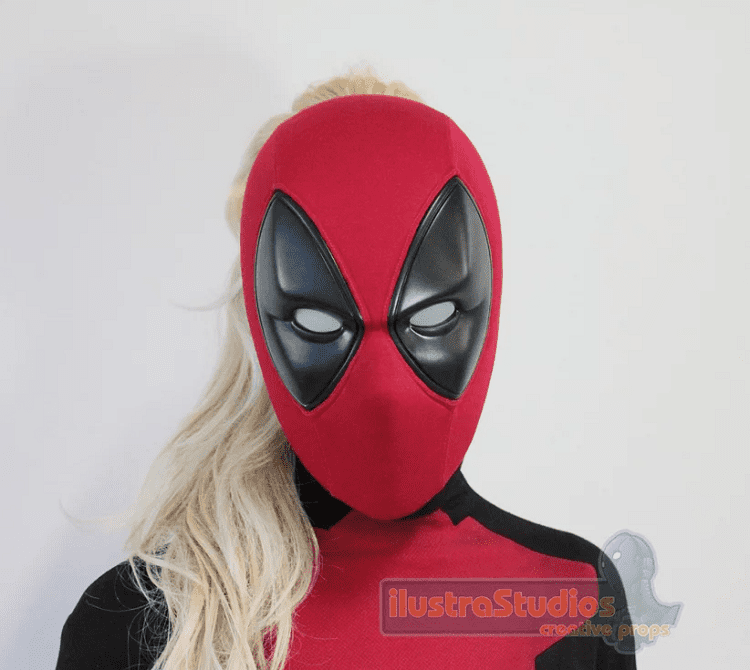 Another hit from Illustrastudios, this time for the ladies.
When I saw this mask, I had an intense urge to cosplay as Lady Deadpool. But unfortunately, this item still doesn't fit in my budget. However, this is undoubtedly a worthy buy if you have money to spare.
The fabric is breathable, the stitching between the different materials is top-notch, and the mask looks outstanding. The only thing that bothered me is that it doesn't come with the hair shown in the pictures.
If you are such a well-respected company, you should offer everything necessary to make the client's cosplay accurate, even if you charge more. I would welcome the comfort of receiving the wig with the mask. 
Pros
It comes in various sizes.

Handmade product.

It is made in a highly elastic and breathable material.
Cons
It doesn't come with a ponytail.

It is expensive compared to other options on this list.
Deadpool Knitted Mask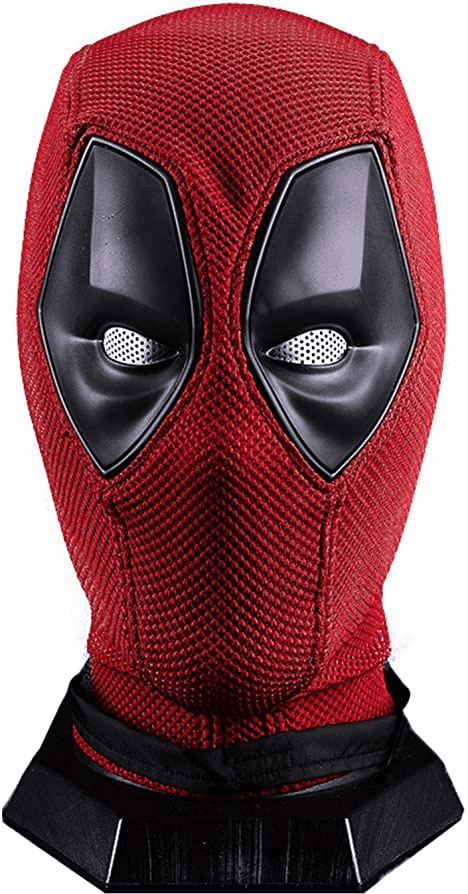 This mask offers formidable value for a reasonable price. The material looks durable, and I think it is prettier than many others on this list. The black material also looks good, and the stitching between these two parts is decent.
However, as I explained before, masks without a shell may look great on one person's face and kind of weird on another's. But overall, this mask does a good job of offering higher quality than the cheapest on this list for an affordable price.
Pros
Comfortable material.

Great quality for the price.

Good visibility.

Good breathability.
Cons
The zipper is hard to close. 

The eye can look displaced depending on your facial features.

Only available in one size.
Deadpool Lycra Fabric Mask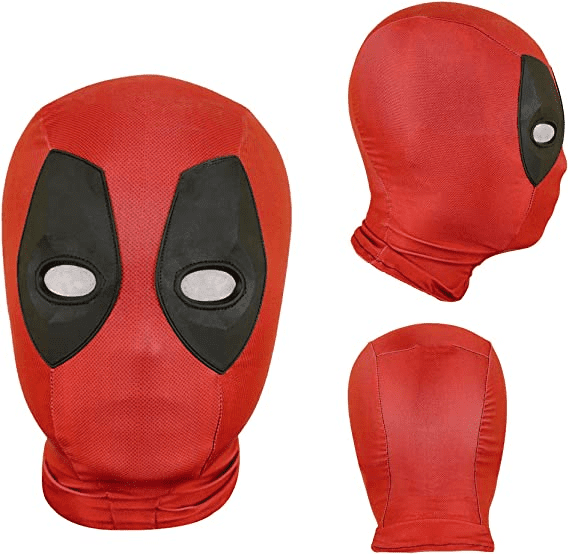 This mask looks decent enough for a Halloween party, even though it is sold at a shockingly low price. It's made in lycra, a material stretchy enough to fit just about anyone.
The mask also has a nice texture, adding a little depth to the material. The black sections of the item are made of rubber, which looks durable. However, I didn't like the eyes because the shapes have no expression.
Still, this is a great mask if you want to spend as little as possible on your costume and look good.
Pros
One of the cheapest on the list.

The fabric is highly elastic.

The material around the eyes seems to be resistant and looks good.

It comes in adult and children's sizes.
Cons
The eye shape looks dull. 

Bad visibility.

As there's no shell, the eyes may look displaced on your face.
Deadpool Latex Full Head Mask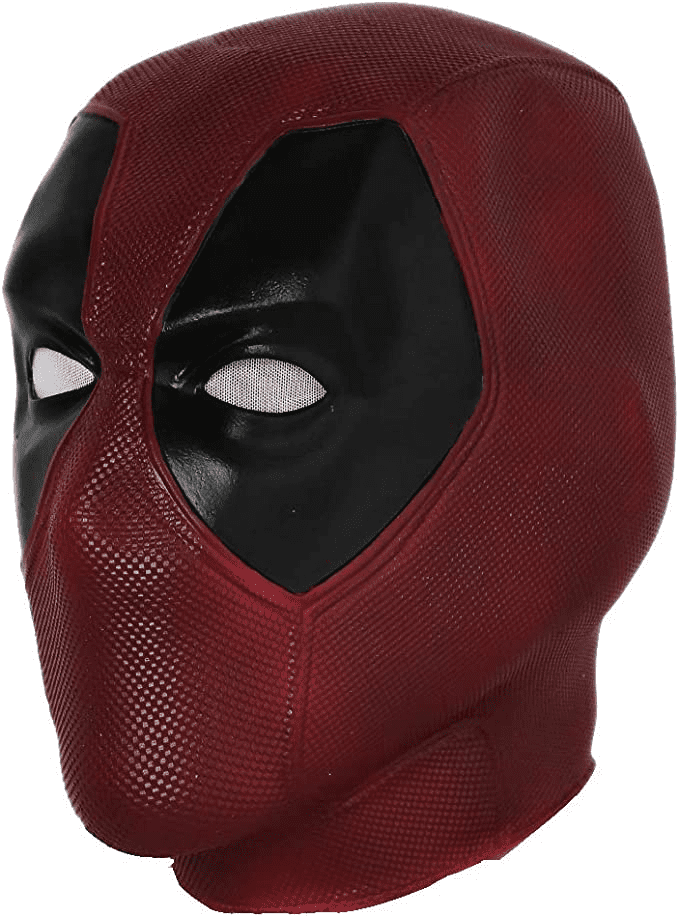 Finally, a full shell mask is on this list, and it is way cheaper than one you would get from Illustrastudios. This mask is great if you want to emulate Ryan Reynolds' Deadpool. The shape and the burgundy color make this mask look like it came straight from the movie.
However, there's a caveat for that nice jawline you'll get for this low price. This mask is made of latex, which means it will be hot and pull your hair if it's too long. Besides, this material makes it impossible for the mask to have a zipper, so it stays open behind.
If you have a costume that can cover the opening, then great! If not, this might be a hell of a dealbreaker for you.
Pros
Nice facial structure.

Excellent texture and similarity to the movie.

It is cushioned on the eyes area.
Cons
It's hot inside. 

The mask doesn't close on the back.

Bad visibility.

It only comes in one size.
Deadpool Cotton Mask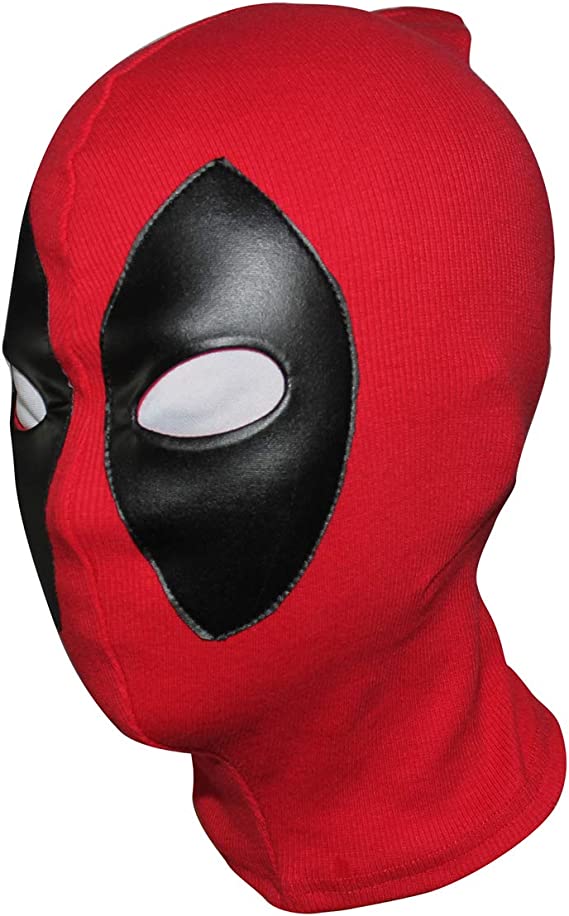 This is the cheapest Deadpool mask you'll get that still looks nice. It is made of stretchy cotton, making it easy to fit just about anyone. The black area around the mask is leather stitched on the cotton fabric.
So this part doesn't pop like in other masks, making it less eye-catching. Still, the eyes' shape makes this look better than the other extremely cheap option on this list.
Pros
The cheapest on the list.

The fabric stretches well.

Comfortable.
Cons
Bad visibility.

The black area around the eyes looks glued on top of the fabric.

It only comes in one size.
Deadpool Mask 1:1 Prop Movie Replica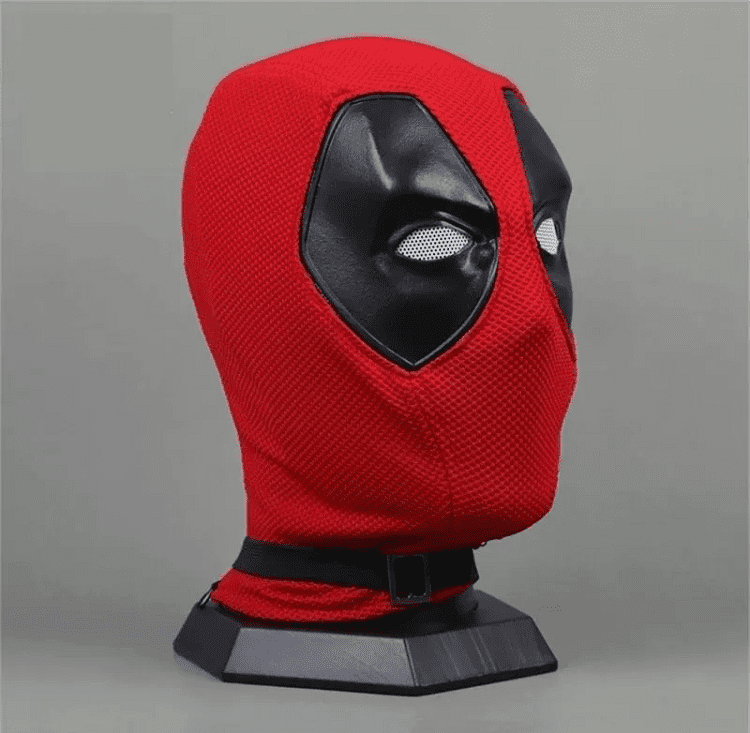 This mask is definitely the best cost-benefit on this list. It costs a little more than the medium-priced options on this list but offers a lot more. The look and feel are similar to the Deadpool Knitted Mask, but this item comes with a face shell mask. 
The face shell mask solves the problem of most of the cheaper options on the list –not fitting people's faces — while providing the advantages of a soft fabric mask. Contrary to the latex option, it doesn't need to leave an opening to keep a solid facial structure.
This is undoubtedly worth the money if you're willing to spend a little more.
Pros
It comes with a face shell that gives an excellent shape to the mask.

The material seems to be comfortable and durable.
Cons
It only comes in one size.
Skull Deadpool Paintball Mask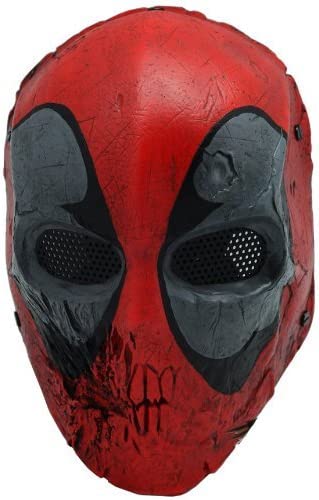 Now the list gets a little wild with this zombie skull Deadpool mask. This design immediately struck me when I found it. I believe it would provide a great twist for a Deadpool Halloween costume.
I wish there were more Deadpool masks with a different concept, but this was the only one I could find.
Technically, this is a Paint Ball mask, so if you like this game, this double downs in its utility. On the other hand, these types of masks don't have a back, which makes them underwhelming for a Deadpool cosplay.
However, if you bet fully on an alternative look, you can wear a hoodie, which will look great.
Pros
It has a unique design.

It can be used to play paintball, airsoft, and bb gun.

The materials seem to be solid and durable.
Cons
The back of the mask is open. 
3D Deco Light Deadpool Mask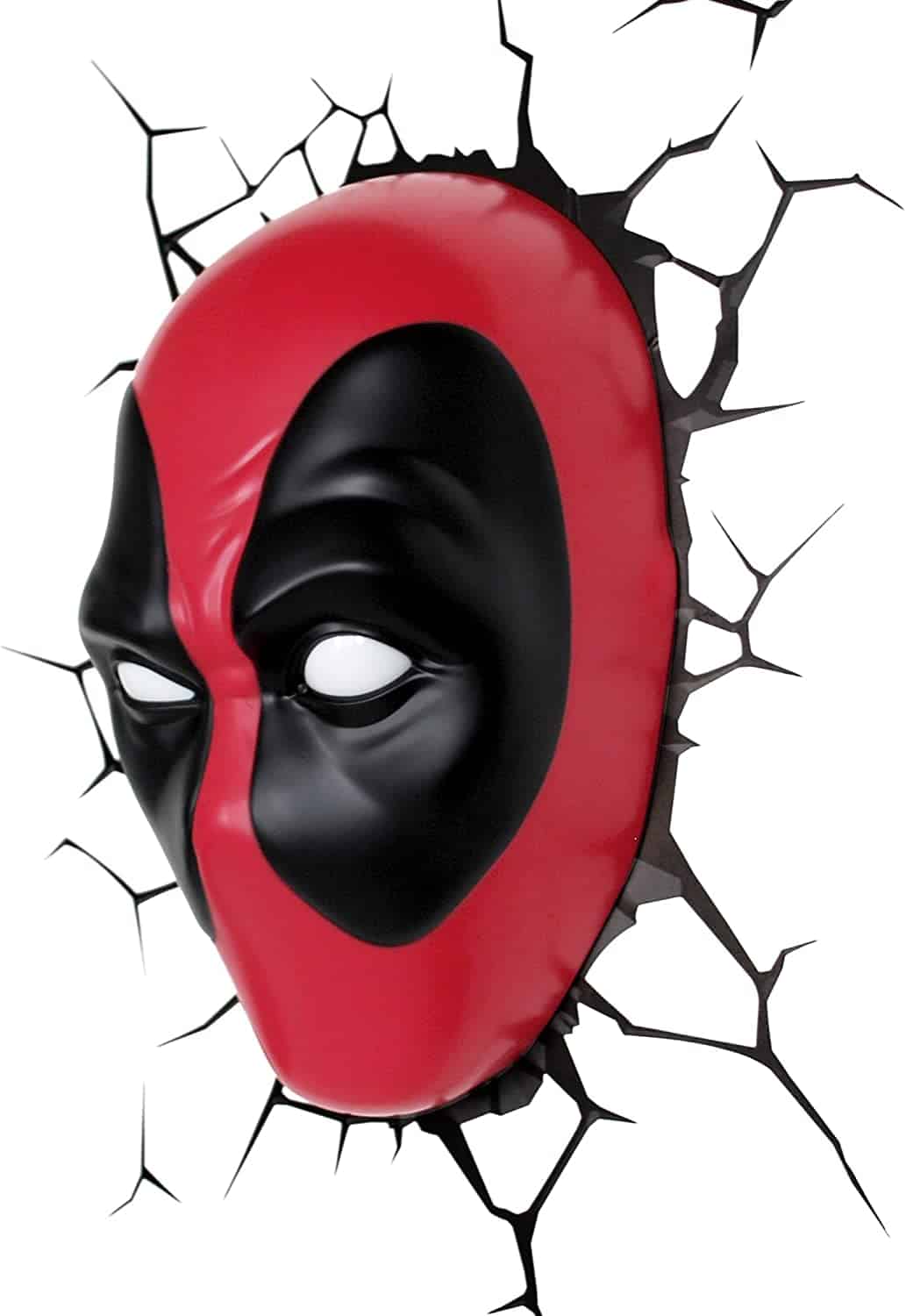 I never thought a Deadpool mask I couldn't wear could be so cool. This is an excellent piece of decoration for your room. The face looks well done, and judging by the photos, the sticker that comes with this light gives the impression that Deadpool is breaking through your wall.
This decoration piece emits a soft light that highlights the red part and makes the character's eyes glow. It is a beautiful look!
But remember, this light is not supposed to illuminate the whole room like a conventional lamp. Instead, think of it like a neon sign. So buy with that in mind.
Pros
It looks great on any wall.

The crack effect looks realistic.
Cons
Best DIY Tutorials
I know many superhero fans love doing things themselves, so I couldn't finish this article without a few helpful tutorials.
The first one is simple. You can turn a plain paper maché mask into a Deadpool one. I have zero crafting abilities, but I believe I could do this mask without much problem. So this tutorial is perfect for anyone, regardless of ability.
However, if you like a little bit of a challenge and happen to have access to a 3d printer, this second tutorial is for you. The caveat is that you'll have to buy the schematics for the mask.
But that's a worthy investment if you like crafting and want to look breathtaking at your next convention. The result is fantastic!
FAQs
Question: Is Deadpool's Mask CGI?
 
Answer: No, it isn't. Deadpool's mask in the movie is a physical prop with a half shell – a hard interior from the top of the head to right below the nose.
Question: How Does Deadpool's Mask Work?
Answer: Deadpool's mask in the movie is a physical prop and doesn't move. However, they scanned actor Ryan Reynold's face doing various movements to place his expressions digitally on top of the mask.
Question: Why Does Deadpool's Mask Have a Point?
Answer: There is not an in-Universe answer for that. In Deadpool's first comics, his mask didn't have a point. Then some artists began to draw this little detail on some issues, but it wouldn't be consistent until Mark Brooks had his run with Deadpool. The point is just something that some artists thought was cool.
But in my view, it gives the impression that Deadpool's mask doesn't fit perfectly, which I believe aligns with the character's chaotic nature.
Question: How Does Deadpool See Through His Mask?
Answer: It depends on which mask we're talking about. Actor Ryan Reynolds revealed he used several masks throughout the movie, each with different degrees of visibility. The regular mask used for close shots was completely opaque, and he couldn't see anything while wearing it.
However, the eyes were removed whenever the actor did stunts. Moreover, in some action sequences, Reynolds wore a version of the mask with meshed eyes, which allowed him to see much better.
Maximum Effort
I really put in maximum effort to compile this list of awe-inspiring masks. But if you're a true Deadpool fan, you know that is just the tip of the iceberg. So be sure to check out the Best Deadpool Action Figure Guide to build the most incredible Deadpool collection.
But if figures aren't your thing, I'm sure you will find something worth buying with your favorite mercenary in this complete Deadpool Merch Guide.
Recommended Reads: