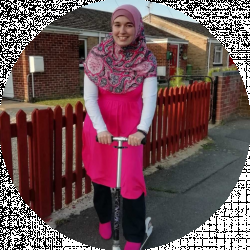 Latest posts by Melika Jeddi
(see all)
I'm not usually into cartoon shows, but Invincible was definitely an exception. I love that it's targeted at adults, and delves into some intense plots. Superheroes are probably my favorite genre of media, so I'm always keen to try out any shows or movies that feature them.
Mark Grayson's alter-ego is the titular character Invincible, and he's fascinating to watch on screen. Watching him straddle the line between superhero and regular teenager makes for a really fun viewing.
Published by Amazon Studios, the show is based on the comics by Robert Kirkman, and definitely carries over that comic vibe.
If you're looking to figure out how you can view it, then this where to watch Invincible guide will be perfect for you! I also suggest some alternatives for when you've finished watching Invincible and want something else to get your teeth into.
The Basics
Invincible is an Amazon Prime Video exclusive, so it's only available to stream legally on their streaming service. However, it's also available on DVD and Blu-Ray, although these releases are unofficial.
Where to Watch Invincible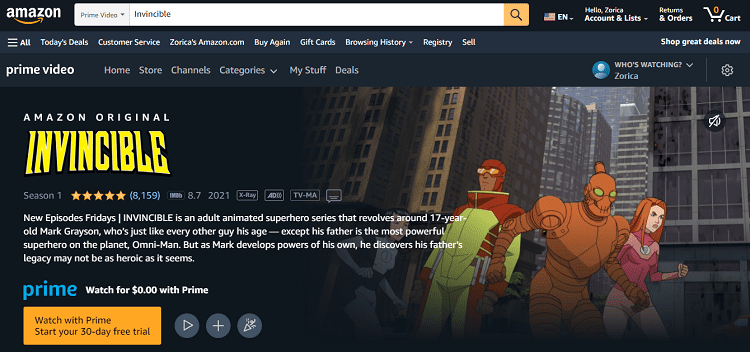 If you've heard good things about Invincible and are wondering where to watch it, then you've come to the right place! There are a very limited number of places to watch this show, so I'm going to cover all your options.
Streaming
For the purposes of this article, we're going to pretend that illegal streaming sites don't exist. I'm not going to judge people who do choose to use them but it's not something that I'm going to condone in this guide.
Besides, the streaming quality is inevitably much worse on those illegal streaming sites, so you'd be missing out on the full joy of watching Invincible as it was intended.
So, with that in mind, the only place to stream it is Amazon Prime Video. Invincible is an Amazon Prime exclusive, so there are no other streaming platforms with the rights to it.
Amazon offer a 30-day free trial to new users, so if you've never signed up for their service before, you'll be able to take advantage of that.
However, if you've used Prime in the past, then a monthly subscription will cost you $8.99 if you get just Prime Video, or $14.99 if you're also including their delivery service.
If you're a student, then the subscription is only $7.49 for the full membership (there's not a student option for video only). There are also cheaper options for US citizens receiving Medicaid or the like, whereby you'd only pay $6.99 a month.
Amazon Prime Video is available in all countries except for the following:
Mainland China
North Korea
Iran
Russia
Syria
Other
If you don't have an Amazon Prime subscription, or it's not available in your territory, then you do have alternative options.
As it's a Prime exclusive, there's no hope of it coming on a regular TV channel. However, you could buy Invincible season 1 for yourself on Blu-Ray or DVD. You'll want to make sure to search 'Invincible TV series', as there's an unrelated movie with the same name.
There doesn't seem to be a standard price for either of these, and it will depend strongly on where you're purchasing it from.
It's worth noting that it seems there wasn't an official DVD/ Blu-Ray release for Invincible, so you should make sure that any site you buy from is reputable. The last thing you want to risk is being scammed into buying a low-quality item.
Personally, I would only recommend getting the DVD/ Blu-Ray if you're in a territory where Prime is unavailable. Otherwise, getting a 1-month subscription and watching the series on Amazon Prime is going to be much better value for money.
Shows Like Invincible on Amazon Prime
If you've decided to get Amazon Prime, you'll want to be able to make the most of your subscription. After all, if you're anything like me, you'll end up binging all of Invincible in just a couple of days.
Sure, rewatching is always an option, but I prefer to wait until I've watched something else in the interim. Here are some other shows on Prime that might be right up your alley:
The Boys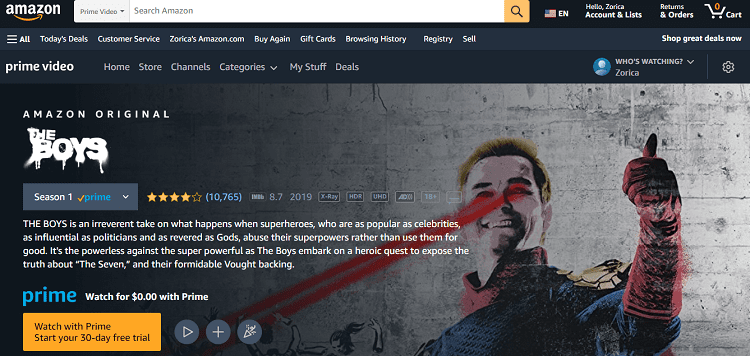 It's not uncommon to see lots of comparisons between these two shows online, as they both run off a similar premise – "What if the heroes were the bad guys"? The Boys is a live-action show, and currently has 3 seasons with the 4th estimated to be launched in Fall 2023.
This is a dark, gritty take on what a world with superheroes would really be like, but with plenty of humor sprinkled in. The range of characters is incredibly diverse, and the acting is superb across the board. Definitely worth a watch.
The Boys Presents: Diabolical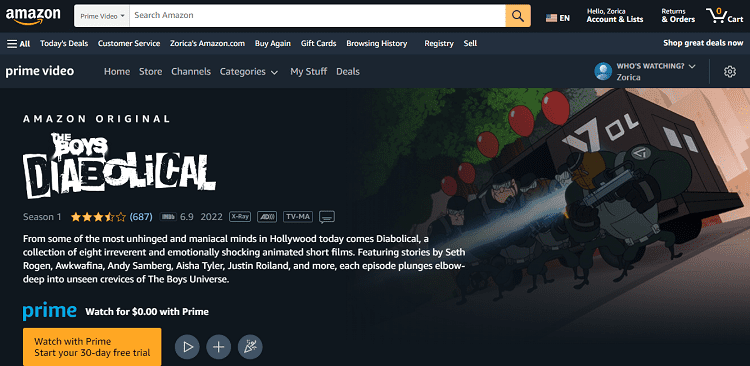 You can watch this before or after The Boys, as the stories are separate. This is an animated show set in the world of The Boys, but only the last 3 episodes are canon.
Each episode features a different animation style, and the plots range from ridiculous to incredibly emotional. If you like Invincible, this should be right up your alley.
The Legend of Vox Machina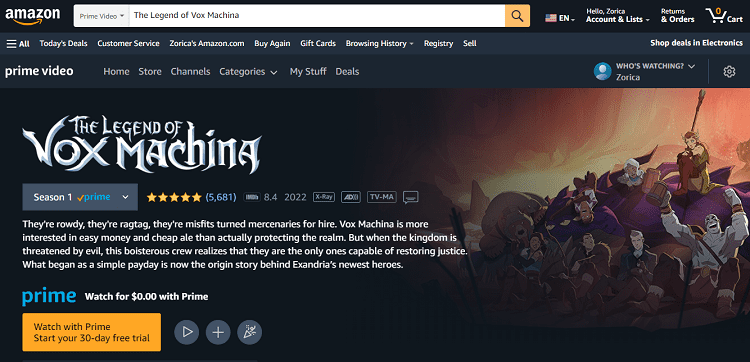 This fantasy animated series is aimed at adults, just like Invincible. It's got jokes aplenty, whilst also tackling more emotional storylines.
It's got a great balance of drama to character development and is sure to captivate your attention. If you enjoy adult cartoons, this is a great way to get value out of your Amazon Prime subscription.
Conclusion
As you can see, the main place you'll be watching Invincible is through the Amazon Prime subscription service.
You won't be able to find it online anywhere else, and I expect the vast majority of you use streaming as your primary source of viewing shows. However, I've also included an option for those of you wishing to buy it on DVD/ Blu-Ray.
If you enjoy Invincible, why not check out this fun article looking at the best cosplay options!
Related Read